10 Best Beginner Climbing Shoes in 2021
Climbing isn't easy, especially for complete beginners. Not only do you have to learn a whole host of safety techniques, climbing skills, and specialized language, but you need to make sure that you have the best gear possible. Unlike running, where a slip will usually result in a grazed knee and some slight bleeding, making a major mistake during a climb can have much more serious consequences for you and your climbing buddies.
It is not just a case of picking the biggest, bulkiest boots with the best grip possible. Everybody has different requirements and preferences, and you won't all be taking on the same hiking conditions. You might be a beginner, but you still need to think about the best climbing shoes to start you off. See our guide to the ten best beginner climbing shoes we could find, as well as some info on what makes them so useful.
View the Best Beginner Climbing Shoes, Below.
1. La Sportiva Men's TarantuLace Climbing Shoe
These leather-based climbing shoes use a quick-pull harness-based lacing system, making it really easy to tighten and loosen to your exact preferences. The general design ensures that it will fit snugly on your feet, and the high-friction rubber soles make it easy to keep your grip on awkward surfaces. The symmetrical design of each shoe, combined with the moisture-wicking and breathable materials used in the upper section, makes it much easier to tackle uncomfortable ledges or awkward angles without feeling any direct pain.
On top of that, these climbing shoes are made with high-quality materials, allowing them to withstand poor weather conditions. They use a strong midsole and comfortable insole to keep your feet safe when you are dealing with awkward cliffs.
These climbing shoes are simple yet effective, offering a good fit and plenty of stability that makes it easy to climb rough surfaces. The lacing system makes them very adjustable, too.
Check Price on Amazon ➞
2. La Sportiva Mythos Climbing Shoe
These men's climbing shoes use leather both inside and outside, with a strong synthetic shoe that keeps the bottoms of your feet protected from almost any hazard. The no-heeled design gives you a stronger grip on uneven surfaces, as well as making it more versatile in general. Thanks to the comfortable materials used in their construction, they won't hurt your feet if you are climbing for a long time.
The great amount of grip offered by the outsoles makes it much easier to tackle slippery or smooth surfaces and helps you avoid falls or other injuries caused by losing your balance.
These shoes are very simple, but in a good way, giving you all of the features you need to take on a huge range of different climbing surfaces and situations. The added comfort also means that you will be able to avoid unwanted pains and soreness.
Check Price on Amazon ➞
3. Climb X Rave Strap Climbing Shoe
These comfortable climbing shoes have extra collar and heel padding that make any kind of climb much more comfortable, as well as keeping them suitable for absorbing small shocks if you slip. The double-stitched design adds some extra durability to a fairly simple shoe shape, and the large hook-and-loop straps used to tighten them are very easy to adjust. This means that you can tighten them on the fly - even in the middle of a climb if needed – and you don't need to worry about tripping over undone laces.
Thanks to the high-performance and one-piece-style design, these beginner climbing shoes are perfect for a vast range of climbing situations. They are also curved in a way that allows you to get a better grip on awkward terrain, rather than relying purely on the sole.
These shoes look basic, but they are still an amazing choice if you want something that you can quickly slip on and adjust to the perfect tightness.
Check Price on Amazon ➞
4. Black Diamond Momentum Lace Climbing Shoes
These synthetic shoes use a flat-soled design and a long lace-up upper section to give you full control over how you wear them, letting you tighten them up to your exact preference and get a grip on nearly any climbing surface. The medium-flex midsole strikes a great balance between flexibility and durability, offering the best of both while still giving you enough room to use them in your own way.
Thanks to the NeoFriction rubber used as part of the sole, you are able to keep your balance even on wet or smooth surfaces, and the synthetic construction offers a good level of strength for taking on tougher cliffs.
These shoes might feel funny as a beginner, but they offer some useful features for keeping you safe and comfortable during a difficult climb. Thanks to the way the laces are handled, you can also get very precise with how tight they feel.
Check Price on Amazon ➞
5. Evolv Men's Defy Climbing Shoes
These climbing shoes combine a range of different materials to create a comfortable, protective and reliable piece of gear. The synthetic sole stretches around to the back of the heel, allowing you to hold your grip even if you are at an awkward angle, and the asymmetrical designs mean that you have more control over your foot placement.
Not only that, but these climbing shoes use a 1mm-thick midsole and 4.2mm high-friction rubber sole to provide extra climbing strength without being too bulky – this helps you make sure you are putting your foot exactly where you predict it will go, rather than having to fiddle with extra material that gets in the way.
The amount of versatility offered by these shoes makes them ideal for first-time climbers who want to be prepared for every situation, or those that need something reliable rather than gimmicky.
Check Price on Amazon ➞
6. Mad Rock Drifter Climbing Shoe
These sandal-like climbing shoes seem like casual footwear at first glance, but they are actually carefully designed to help you climb a range of natural and man-made surfaces. The hook and loop system makes it easy to adjust the overall fit of your shoes in seconds, and they are designed to offer a snug fit to prevent them from slipping.
While they might feel slightly painful if they are the first pair you're wearing, they compress your feet and make it easier to "feel" your way around a surface while climbing, rather than having to rely on your vision to find every single safe foothold or ledge. Over time, you will adjust to how they feel, letting you use them almost like a second skin to complete tougher climbs that require a higher level of coordination.
These shoes take a very useful physical shape and condense it into a simple design, giving you all the benefits of a larger and more visually distinct climbing shoe without being too bulky or wide for smaller climbs.
Check Price on Amazon ➞
7. Five Ten Anasazi Moccasym Climbing Shoe
These unusual-looking climbing shoes are designed with three pull tabs, rather than using regular straps or laces. This gives you a very different way of adjusting its fit, and the "slingshot" heel offers more protection and padding than usual. They are designed in a way that allows you to replace the sole if it wears out, but the existing gum rubber sole is durable enough to take on almost any climbing challenge with minimal damage.
Alongside that are the seams on the side, which make it easier to quickly swap into your climbing shoes if you are relying on hiking boots for the rest of your trip. This, combined with the hidden rubber used to boost and support its design, ensures that you can have them ready in a backpack or bag and pull them out at a moment's notice, ready to use.
These climbing shoes are odd, but they make up for it by being very easy to carry and whip out at any time.
Check Price on Amazon ➞
8. La Sportiva Finale Climbing Shoe
The suede leather used in these climbing shoes gives them a much more comfortable and professional design, as well as providing a great amount of support and structure. The toe box is made with a tougher leather that protects you from accidental bashes against the surface you are climbing, and the extra rubber used around the heel ensures that you will always have a good grip on anything below you.
The perforated upper panel offers more ventilation than standard shoes but doesn't expose too much, keeping you safe from rain, dirt and other nuisances. Thanks to the simple lace-up design, it is really easy to tighten or loosen these climbing shoes as the situation demands.
These shoes are a great starting point for people who want professional hiking gear, but isn't too over-the-top to become a hassle if you are just starting out and need more time to learn the basics.
Check Price on Amazon ➞
9. Scarpa Origin Wmn Climbing Shoe
These low-designed climbing shoes use standard hook and loop straps alongside an asymmetrical body to give you a soft, padded set of protective footwear. The rubber on the outsole is both sticky and smooth, allowing you to keep your grip on surfaces while also ensuring you can keep moving up or down your climbing surface with ease. The general thinness of the design works in its favor, making sure that you have full control over the placement of each step – there is no bulk getting in the way.
As with most leather shoes, it offers greater support and protection than standard fabrics. The mesh in the tongue area also gives you slightly more ventilation, helping you stay cool in situations where slippery sweat can be a problem.
This climbing shoe is very convenient and reliable, offering a great mixture of features for users of either sex without being too large and heavy.
Check Price on Amazon ➞
10. Scarpa Helix Climbing Shoe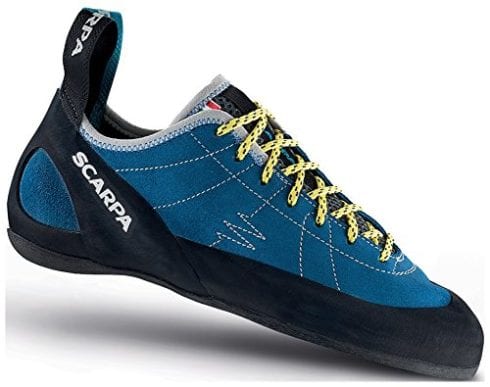 These trainer-style climbing shoes take inspiration from your classic running shoes, offering the same kind of ventilation and flexibility that you'd expect. However, they also have strong and durable soles that extend past the end of the suede materials on the upper section, providing far more protection and ensuring that your toes are kept safe from accidental harm.
The flat design and slim profile make them great for precision climbing where every step and foothold counts. To help with this, the gum rubber used in the sole offers great traction and makes it much easier to keep your balance on almost any surface or terrain type.
These shoes are a perfect middle step for people who are already into running, offering a very similar profile and style while still keeping all of the useful features and quirks that make climbing much easier.
Check Price on Amazon ➞
Beginner Climbing Shoes Buyer's Guide
Choosing shoes is difficult even for casual use, but climbing is an entirely different level.  Not only do you need to pick something that is comfortable, but you also need to be wary of how well they can protect your own body. A bad slip can be a serious injury, even if you are only a few feet off the ground, and you can't really compromise in the same way you might for jogging shoes or hiking boots.
There are certain features that become far more important when climbing is involved. These might not all be obvious at first, but it is important to know what you should be looking for.
Materials
Like all shoes, materials can make a huge difference, but it matters, even more when you are relying on said materials to help you keep your grip during a climb. First of all, you will want to choose a decent upper section – for climbing in warm weather and climates, this should generally include ventilation, but you will also want to make sure that you are not using something too thin to protect your feet properly. Damage to your feet, even just from a sudden bash against the climbing surface, can make it really hard to get back to the top or bottom safely.
You will also want a sole made of a durable material, but still flexible enough to bend when necessary. A shoe that is completely rigid will protect you, but it will also make it hard to get your feet into small ruts or ledges properly, even if you can see and reach them. On the other hand, a floppy sole can make it very easy to grab on and keep your balance, but it won't absorb any shocks if you slip or stumble, and it is also more likely to catch on something or get worn out through repeated damage.
Finally, make sure the inside is comfortable. While it might not seem like it matters, especially if you don't usually try longer climbs where foot pain can be a serious risk, it can make it very hard to concentrate. It is not easy to adjust your shoes when you are suspended in mid-air or hanging onto a surface with your fingers and toes. A shoe that is a little bit too abrasive can dig into your skin or scratch away at your feet, leaving you with blisters and small rashes that will hurt until you can take them off. If you are really unlucky, you could even end up getting cut if the shoes contain reinforced metal parts.
Lacing System
Do you prefer laces, hook-and-loop designs, or shoes that are just designed to be slipped on? It matters a lot when you are climbing since each type of shoe is adjusted in different ways. One of the rarest types is slip-on shoes: if they are done poorly, they can slip off just as easily, but some are designed to stay tight on your feet until you actually pull them off. They are easy to use, but hard to adjust with any precision.
Standard laces are often the way that many people go since they secure the shoes to your feet and don't have much risk of coming undone (unless you don't tie them properly, of course). The huge range of knot types you can use, combined with the ability to replace the laces at almost any time, makes this the most popular type of climbing shoe. It still has downsides, though: laces that come undone can't be tied easily when you are climbing, and it is easy to trip over them once they become loose. They might even snag on something.
Hook-and-loop shoes are a good balance between the two, having the same kind of reliability as laces with the simplicity of a slip-on design. Of course, it also has a mixture of the same problems, being harder to adjust than laces and still having a risk of loosening up while climbing. Everybody has their own preferences, and many companies offer shoes of all types, so it is really down to your own choice.
Climbing Performance
The main thing you will want out of a shoe is the ability to climb well. This seems obvious, but it is not something many people think about when they are actually browsing for shoes. Try to avoid getting drawn in by fancy designs and colors – a shoe might look good, but is it actually going to give you the climbing performance you want?
Like all products, you should focus on the basics before anything else. Performance is always one of the most important things when it comes to any climbing gear since most climbing activities will put you in some kind of danger, even if it is very minor. This might not be too important, to begin with, but as you start to take on tougher challenges, you will rely on your shoes more and more. The riskier things get, the more important the overall performance and reliability becomes.
There is not a single way to measure this, though, since everybody has different climbing styles and experiences. Reviews are usually a good way to check how people feel about the way their shoes have improved their climbing experiences, but you will still need to keep your own preferences and requirements in mind.
Expert Tip
Most climbing shoes won't be as comfortable as other types of shoe. This is often intentional, so don't be put off by a shoe that feels slightly rough or tough. If a climbing shoe is too comfortable, it probably doesn't offer much protection.
Did you know?
Women's climbing shoes are often smaller than men's, especially around the heel and ankle. Men with smaller feet and women with larger feet might find the other sex's shoes more comfortable.