10 Best Rock Climbing Shoes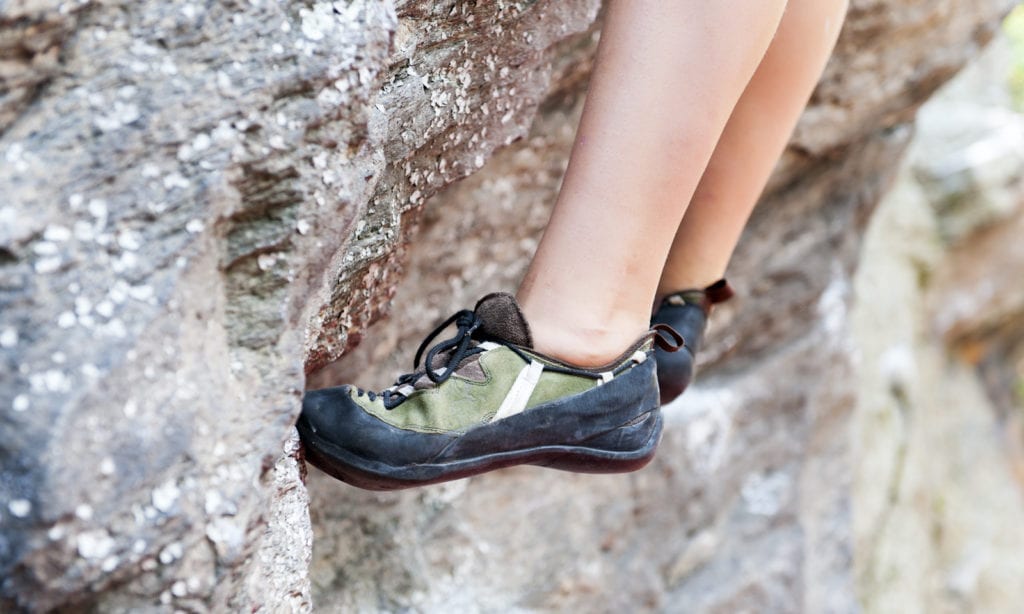 Rock climbing involves a lot of risks, no matter how much experience and skill you have. Even some of the top outdoor climbing experts in the entire world rely on their gear for support, protection, and comfort, and many have spent hours trying to piece together the perfect outfit and set of equipment for their needs.
As you'd expect, shoes are no exception: to some people, they are the single most important part of any climber's collection, acting as both a safety measure and a way to keep your climbs comfortable, fun, and easy to handle. However, as with buying normal shoes, you can't just go and pick out a random pair – it takes a lot of time to narrow down the exact style you will want to buy.
View the Best Rock Climbing Shoes, Below.
1. Black Diamond Mens Momentum Lace Climbing Shoes
These lace-up climbing shoes use a mixture of synthetic materials to offer improved flexibility, grip, and strength on a variety of surfaces. It uses the same comfortable design as the Black Diamond brand's hook-and-loop hiking boots but adds a reliable set of laces to improve the fit and offer a greater level of adjustment, giving you an excellent balance of comfort and practicality.
The medium-flex midsole and NeoFriction outsole also offer something that all climbers need: grip and traction. The soles are able to bend slightly for difficult terrain and surfaces while still possessing the strength to help you climb on smooth materials, making them great for general-purpose climbing too.
While these rock climbing shoes aren't as bulky as some other designs, they make up for it with excellent grip, softer materials, and a more flexible design that can take on a vast range of surfaces with ease.
Check Price on Amazon ➞
2. Scarpa Men's Instinct VS Climbing Shoe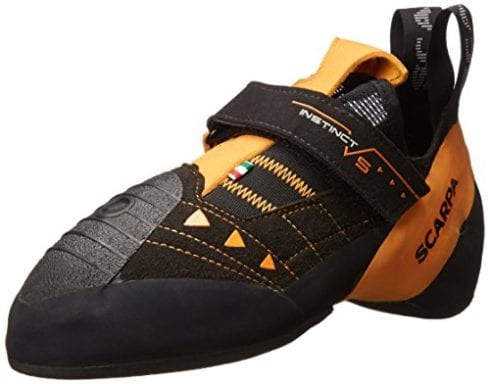 These men's climbing shoes are constructed with specially-chosen synthetics and textiles for maximum climbing performance, even on rough rock faces. The special Vibram XS grip helps you perform the heel hook without putting your heels in harm's way, giving you easier access to one of the most versatile moves in the history of professional climbing. On top of that, the forefoot also uses Vibram XS Edge to improve durability and grip strength at your toes.
The shoe's synthetic sole offers all the protection you'd expect, as well as the ability to resist most types of deformation when you are climbing up footholds or thin ledges. Thanks to the strap, you can easily adjust the fit at almost any time.
These are some of the best rock climbing shoes for up-and-coming professionals who want maximum grip at all parts of their feet, especially if they prefer tough surfaces.
Check Price on Amazon ➞
3. La Sportiva Men's TarantuLace Rock Climbing Shoe
These leather-based climbing shoes have a quick-pull, lace-based adjustment system that helps you quickly and efficiently tighten or loosen the shoes to your exact preference. Not only does this improve comfort, but it makes the rubber outsoles and heel padding far more effective, allowing you to stay gripped onto a surface without putting your feet in unnecessary pain.
La Sportiva has lined the tongue and interior with moisture-wicking materials that control perspiration during a long climb, and have added a synthetic overlay to offer better structural support. The lack of symmetry in the design means that you have a clearly-defined left foot and right foot, improving your climbing performance simply by wearing them.
If you want a combination of strength, grip, and natural-feeling comfort, these shoes can offer all three without sacrificing general utility and reliability.
Check Price on Amazon ➞
4. Five Ten Men's Anasazi Moccasym Climbing Shoe
While these climbing shoes may seem unusual at first, their design offers a great range of performance and safety benefits. To start with, the three-point pull tab design allows you to quickly slip them on at any time, while the gum rubber outsole ensures that the bottom of your feet are getting the protection they need. They are also fully resoleable, so you can replace them with your own if you prefer.
The Stealth C4 rubber used for the main sole offers a versatile flat gripping surface that can handle almost all rock shapes, rather than focusing on one particular design over another.
Slip-on shoes are often overlooked by professional climbers, but they can be some of the best rock climbing shoes on the market if you buy a pair like this that can offer a range of useful features and design choices.
Check Price on Amazon ➞
5. Evolv Shaman Climbing Shoe
These colorful climbing shoes have a very performance-focused design, using a notable downturn to make climbing uneven surfaces far easier. The strong heel design gives you plenty of extra support regardless of the situation, and the easy-to-use sets of three single Velcro straps help you make easy adjustments along the way. Unlike many climbing shoes, the design also includes a mesh-based tongue to increase airflow and wick away sweat that would distract you from a challenging climb.
Each heel is made using tough materials that increase the life of the shoes, while the upper sections are designed to be as supportive and reliable as possible after long-term use.
The great downturn, tough design, and reliable shape of these shoes make them an excellent choice for any climber that wants to take on harder and more intense climbs, especially ones in which having a good amount of grip is extremely important.
Check Price on Amazon ➞
6. La Sportiva Men's Skwama Rock Climbing Shoe
These heavy-duty rock climbing shoes use a special heel cup that is supposed to give you increased grip and hooking power on almost all surfaces, adding more flexibility to your movements during a climb. The carefully-designed toe box works in a similar way, using patches of sticky rubber to give you an increased level of grip on both rough and smooth rock surfaces while avoiding abrasion and direct damage. Both of these directly contribute to an increased level of stability and safety during climbs.
The shape of these rock climbing shoes is also supposed to provide greater comfort, using non-rigid but supportive materials that can stretch and flex without opening up obvious weaknesses or limitations.
These shoes are ideal for a huge list of different situations, offering plenty of performance-boosting features that can help you pull off tricky climbing techniques, or keep you safe while dealing with hard-to-grip surfaces and poor weather.
Check Price on Amazon ➞
7. Five Ten Hiangle Men's Climbing Shoes
The strong rubber sole used in these shoes makes them perfect for taking on tougher surfaces and harder climbing conditions and offers improved grip thanks to the flat-yet-solid design on the very bottom. The upper surface is made with comfortable and supportive split-grain leather, with a built-in single Velcro strap closure system to help you easily adjust the fit on the fly.
The toe box is specially designed to feel stiff, giving you more control over your movements and the way your feet react to different surfaces. This also provides a more aggressive level of grip and control, making it easier to tackle harder climbs if you don't know what to expect.
These rock climbing shoes are ideal for taking on harder climbs and weather conditions, giving you plenty of useful design features that can make tough surfaces far less difficult to handle.
Check Price on Amazon ➞
8. Tenaya Oasi Unisex Rock Climbing Shoe
These unisex rock climbing shoes have a versatile, adaptable, and flexible design that can be used for almost any climbing activities, including complicated maneuvers or situations where bulkier shoes would be impractical. Despite this, they are also perfect for more extreme conditions, using comfortable and supportive materials that are able to keep your feet safe and stable.
The curved downturn and angled toe-box help place your heels lower to the ground, giving you a higher level of control over your movements and making it far easier to grip onto surfaces with the very front or back of your feet if necessary. This also means that they are perfect for aggressive or persistent climbing styles.
They won't look conventional to newer climbers, but these shoes offer a lot of stability and strength without missing out on other key features, making them some of the best rock climbing shoes for people who enjoy harder climbing trails.
Check Price on Amazon ➞
9. Butora Endeavor Wide Fit Climbing Shoe
These wide climbing shoes are made with a mixture of various materials, including stable leather and flexible, breathable mesh. The special Poron memory foam used in the interior adds far more comfort and protection to each step you take, while the polyurethane supports and reinforcements back up the standard materials without layering over them entirely.
Unlike a lot of modern climbing shoes, this pair is made with a design that is very similar to normal exercise shoes, meaning that they are perfect for newcomers. Even then, the 3D injection-molded insole and stick rubber outsole ensure that they will stay useful for professionals who want something simple, yet effective.
These shoes mix familiar design with a range of specially-chosen materials and features, making them some of the best rock climbing shoes for climbers of any skill level.
Check Price on Amazon ➞
10. La Sportiva Men's Miura VS Climbing Shoe
The large, very notable downturn on these shoes, along with the slingshot-style rand that adds more spring to your movements, makes them incredibly useful for climbers who want the best possible performance out of their footwear. The simple Velcro straps mean that you can adjust each shoe's fit at almost any time, even mid-climb.
Thanks to the sticky rubber outsole, you can easily keep your grip on a wide range of surfaces, both smooth and uneven. The leather upper section means that the shoe will retain its shape rather than collapsing like softer materials, which also translates to higher protection and stability for your own feet in difficult conditions.
The huge downturn used in the design of these shoes makes them ideal for difficult climbing surfaces, but they can also be excellent for nearly any kind of climbing situation as long as they are used correctly.
Check Price on Amazon ➞
Rock Climbing Shoes Buyer's Guide
Shoes are one of the most difficult pieces of clothing to buy, regardless of the reason you need them. The more specific you get, the more difficult it becomes to find a pair that fill your needs perfectly, so you may end up being stuck in a cycle of trying to track down shoes that come with everything you want. However, what you want isn't necessarily what you need, and it is easy to overlook the small details, especially if you are relatively new to climbing in general or haven't bought new gear in a long time.
The easiest way to narrow your search is to figure out which features matter the most, then rule out anything that you don't want or need. For example:
Stickiness and Grip
Having a good grip on a surface is one of the single most important features of any climbing shoe or any exercise shoe in general. The better your grip strength, the easier it becomes to handle difficult surfaces and steeper angles, and you will be much less likely to fall or slip as a result. In fact, there are hardly any situations where too much grip is a bad thing unless your shoes are so sticky that it is hard to walk around in them.
A grippy surface and a sticky surface aren't necessarily the same thing. You can have a shoe that is sticky without having any nubs, indents, or other gripping features on the outsole, in the same way, that you can have a high-grip shoe with no sticky materials on the bottom. In some cases, you might find both, but it is not always necessary.
Grip almost always leads to higher safety and better climbing performance, so make sure you don't overlook it. All shoes have a different grip design and stickiness level, so it can be difficult to judge exactly what you will be getting – it doesn't always matter, as long as you are getting something that will work. A small amount of grip is still better than no grip at all.
The grip strength also doesn't matter if you can't apply it to the surface: try to find designs that have gripping sections all across the shoe's outsole, at the very least. Some designs extend the gripping parts to the back of the heel and the very front of the toes, but others might only limit them to certain areas – this doesn't matter as much on flat ground but can be very dangerous if you are trying to climb in them.
Durability
Climbing shoes endure a lot of punishment, so the best rock climbing shoes would be the designs that can take this punishment without breaking down or showing signs of wearing out. In reality, you won't always be able to find a shoe that can handle all kinds of damage, but many rock climbing shoes are made with more durable and reliable materials than casual footwear.
This mainly depends on the kinds of climbing you are hoping to do. If you just like to rock climb on a gym's climbing wall or on mostly-smooth, solid rock walls in publicly-accessible climbing and hiking paths, then strength isn't as important. On the other hand, if you are going out of your way to find dangerous and unexplored areas that you can climb, you will want as much protection and reliability as possible. A damaged shoe might suddenly lose its grip or expose your feet to sharp rocks mid-climb, which can cause serious problems for everybody involved.
Keep in mind that short-term durability is also important, too. A shoe that can withstand a heavy amount of abuse from rocks will still feel useless if it can be pierced by a pebble – your footwear has to protect your feet at all costs, especially on climbs where you won't be able to simply climb back down and treat the injury.
Overall, durability might also matter in relation to the cost: a cheap shoe that breaks often and needs to be replaced can end up being more expensive than a higher-priced pair that never breaks. A durable pair might even last you for multiple years of regular climbing if you are lucky, and you maintain them properly.
Comfort
Like all shoes, comfort is an extremely important part of all rock climbing shoes. If you aren't comfortable, then your feet are being harmed in some way, even if it doesn't feel like it.  It may be something as small as muscle stress or foot fatigue, but a lack of comfort will eventually lead to issues that make hiking harder – and these issues will only pile up as you spend longer without a decent amount of comfort.
You don't need to actively search for the most comfortable shoes of all time. Just make sure you look for things that could reasonably make the shoes more comfortable while wearing them – foam insoles, softer interior linings, moisture-wicking materials used around the tongue and neck, and so on. The more areas you can cover, the less likely you will be to accidentally hurt your feet or tire yourself out.
Remember that comfort sometimes applies differently mid-climb, compared to on the ground. For example, downturns often feel odd if you are walking around on a flat surface since they are designed to take advantage of edges or rounded rocks, which can make them slightly uncomfortable. However, once you are actually climbing, they might feel far more secure. The reverse can also be true – some shoes are comfortable on flat surfaces, but extremely painful when you try to bend them or put them on steep ground.
Related: Beginner Climbing Shoes.
Expert Tip
Your feet will "grow" during the day, due to gravity (and your weight) pressing down on them. Measure your feet at the end of the day, if possible – this will mean that you are getting shoes that fit your largest size, so your feet won't "grow" inside shoes that are designed for their smallest size.
Did you know?
Certain shoes can look almost identical but have slightly different profiles. A flat, curved, and hooked profile may look similar, but they offer different kinds of downturn that are meant to handle very specific situations.