10 Best Hiking Boots for 2021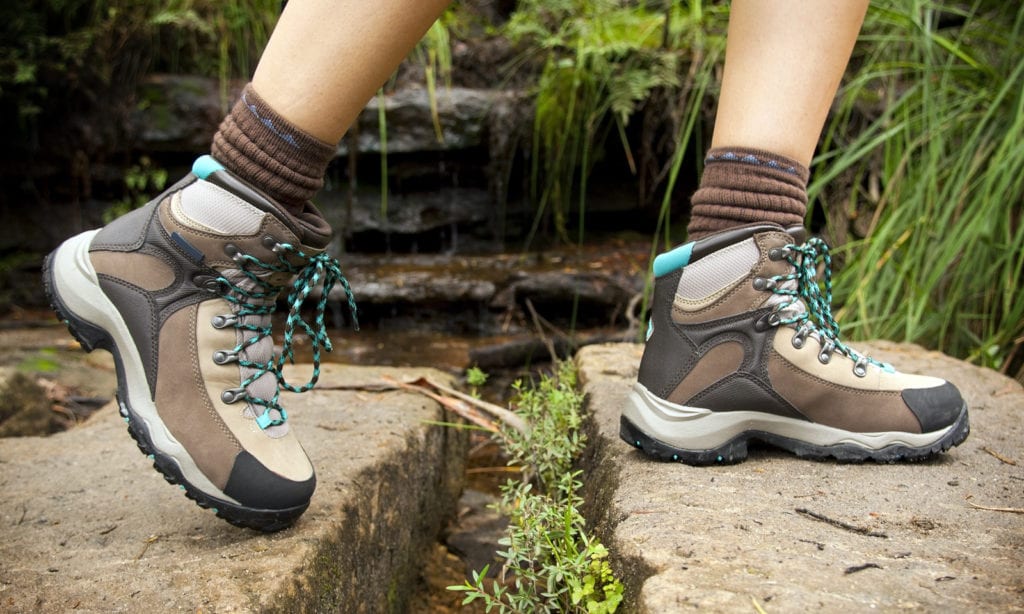 Wearing the right hiking boots makes a massive difference when you are in the middle of a tough walk, helping you stay comfortable and safe without slowing you down too much or tiring out your feet while you are still halfway through the hiking trail. A bad pair of hiking boots might even cause long-term harm to your feet, especially if they are the wrong size or don't offer all the features you actually need for various weather conditions and hiking styles.
Like all footwear, choosing a pair of boots isn't just a question of the style you like: you also need to understand which features and accessories are going to help you the most when you are actually wearing the boots.
View the Best Hiking Boots, Below.
1. Columbia Men's Newton Ridge Plus II
These lightweight, comfortable hiking boots are made using a mixture of suede, mesh, and leather, improving breathability and adding extra protection against bad weather. The mesh tongue helps the top of your feet breathe without leaving you exposed to rain, and the rubber outsole uses an Omni-Grip design that helps provide much higher traction on slippery surfaces. In terms of design, it uses a regular hiking shoe lacing system, meaning that it is a familiar option for new hikers and can easily be adjusted to fit different foot shapes. This is backed up by the seam-sealed construction, making each boot fully waterproof under most normal conditions.
These hike boots expand on a regular boot design without changing too much, giving you comfortable, waterproof, and lightweight hiking footwear that doesn't take much fiddling to put on or adjust. The improved traction also makes them perfect boots for wet-weather hiking, too.
Check Price on Amazon ➞
2. Lowa Men's Renegade GTX Mid Hiking Boot
These specially-made hiking boots use a climate control footbed to manage the amount of moisture on and around your feet, helping you stay dry in wet weather and getting rid of sweat caused by warm weather. The Vibram EVO used in the construction adds a huge amount of durability without increasing the weight of the shoes much, and the Gore-Tex membrane makes them waterproof while still letting air flow in to keep your feet dry. Thanks to the PU materials in the midsole, each boot also offers a good level of shock absorption to reduce fatigue and muscle pains during long, difficult hiking sessions.
The great level of cushioning and comfort offered by these hiking boots make them perfect for day hikes, wet weather, and situations where you want to stay comfortable for as long as possible. The added waterproof layer and moisture-wicking in the boots make them even more effective.
Check Price on Amazon ➞
3. Hi-Tec Women's Bandera Waterproof Hiking Boot
These durable and waterproof hiking boots are designed for maximum comfort in most types of weather, using a mixture of leather and various fabrics to provide a comfortable interior and durable exterior. Alongside this is an EVA insole that offers far better cushioning and shock absorption compared to regular materials, as well as a special ghillie cross lacing system that makes sure they will fit comfortably and tightly regardless of the situation. The outsole is made of a tough rubber that uses a multi-directional grip design, leading to far better traction on a range of surfaces during both light and heavy weather.
These shoes mix a straightforward and comfortable design with plenty of useful foot and ankle support, as well as great protection from a huge range of bad weather types. This makes them perfect boots for long backpacking trips or day hikes through puddles and rain since they're excellent for keeping your feet dry.
Check Price on Amazon ➞
4. KEEN Men's Targhee iii Hiking Boot
These low-rise hiking and walking boots for men have a useful breathable lining that helps keep your feet comfortable and protected from sweat and moisture, all while using a leather material upper section to provide a decent amount of waterproofing. Thanks to the gum rubber sole, EVA mid padding, and angular grip design, each boot offers better stability on both smooth and rocky terrain, and the easily-adjustable lace-up design means that they could even work as trail running shoes. Not only that, but the Clean Sport technology built into the design gets rid of odors and makes sure that your feet are happy and healthy for longer.
These hiking boots are perfect for people who want to stay comfortable and secure while hiking, regardless of the weather or the length of the trail they are walking. The added traction and waterproofing also means that the boots work well on wet or uneven ground, especially in the rain.
Check Price on Amazon ➞
5. Columbia Women's Newton Ridge Plus Hiking Boot
These leather, nylon, and rubber hiking boots are made using a special mixture of lightweight and durable materials, providing a much higher level of comfort to make sure that you stay safe and protected for longer. The high energy return adds more of a spring to your step while the rubber outsole helps you retain a strong grip on almost any surface, all while using a durable mesh tongue to make sure that your feet are kept sweat-free and protected from the rain. Unlike many boot designs, they use a TECH LITE mid-layer that is designed to prevent foot fatigue while helping your feet bounce back with each step, making longer hiking sessions much easier to handle.
These hiking shoes offer a great mixture of protection, low weight, and comfort, keeping your feet safe and sound while also offering great toe and ankle support, a better grip, and a reduced chance of foot fatigue.
Check Price on Amazon ➞
6. Merrell Men's Moab 2 Mid Waterproof Hiking Boot
The synthetic soles used in these hiking boots provide plenty of extra protection and stability, while the simple laces make sure that you can easily adjust how they fit on the fly. The Merrell Moab 2 Mid design uses a special Vibram TC5 outsole that contains an air cushion, absorbing shocks well and adding more stability while still feeling comfortable. Right above that is the EVA mid-layer that improves this comfort even further, followed by a strong leather upper that can protect your feet from bad weather under almost all circumstances. The 5mm lugs also mean that you get a far better grip on a range of surfaces, both wet and dry.
These Merrell Moab hiking boots are well-made and offer a range of useful benefits for almost any kind of situation, from casual day hikes to places where regular boots wouldn't be able to get a proper grip.
Check Price on Amazon ➞
7. Timberland Women's Norwood Hiking Boot
These leather and textile shoes are made with waterproof materials in mind, using special types of leather that can stay comfortable while also blocking water from getting inside. This is backed up by a fully waterproof mid membrane design and gusseted tongue, providing a good level of breathability without forcing you to expose your feet to the rain. Thanks to the compression-molded mid-layer made of EVA, you also don't need to worry about foot fatigue, since it can help reduce the amount of force on your feet and make it easier to keep your balance on uneven ground. The boots' rubber outsoles use unique lugs to improve traction on most surfaces, too.
These boots take one basic design and re-create it from the best materials available, giving you far more traction, comfort protection, and overall foot safety while still being simple enough to wear as generic work boots.
Check Price on Amazon ➞
8. Salomon X Ultra 3 Mid GORE-TEX Boots
The Salomon X Ultra series of boots offer plenty of added protection from bad weather and terrain, using materials like Gore-Tex and synthetic fabrics to ensure maximum comfort and stability when you are out hiking. Designed as climbing shoes, they use a 100% textile upper to allow for better flexibility and comfort while you are on the move and have a special Salomon X Ultra Gore-Tex design that is supposed to help your feet breathe while also rendering your boots entirely waterproof, even to puddles you are stepping in. The mid-height design ensures that you will get the best possible balance of traction across all terrain types, giving you far more freedom in your hikes.
If you need general-purpose shoes that you can rely on for outdoor activities, this is one of the best boot options on the market. They are perfect for all-terrain types rather than just one, making them much more versatile than other boot designs.
Check Price on Amazon ➞
9. Danner Men's Mountain 600 4.5″ Hiking Boot
These mountaineer's boots use a combination of suede and full-grain leather that is both lightweight and comfortable, making them a great option for almost any kind of day hike. The special Fuga outsole has been purpose-built for improved grip on both wet and dry terrain, making sure that you won't be caught off-balance, and the OrthoLite cushioning used on the insole adds far more comfort to each step you take. One of the most notable materials used is the Vibram SPE midsole, which improves the 'rebound' feeling and makes it much easier to keep moving while also avoiding foot fatigue and soreness. You also get better heel and ankle support thanks to the TPU heel frame, improving stability and balance even further.
These shoes offer a bit of everything, acting as a great option for anybody who needs hiking boots that can double as boots for walking without needing to change inserts or adjust the laces.
Check Price on Amazon ➞
10. Oboz Men's Bridger BDRY Hiking boot
These all-leather hiking boots are designed with waterproof nubuck leather that provides far greater wearer protection to your feet, as well as a molded toe box made of rubber that can prevent stubbing or sudden pain. The sole, like the toe box, is made with strong rubber that can help you keep your grip on difficult surfaces, using a special lugged design that makes it far easier to keep control of where your feet are going. The Ofit insole has been custom-molded to fit this shoe specifically, improving performance and comfort in a way that feels completely safe and natural. Alongside that is the dual-density midpiece made of EVA, allowing for better shock absorption.
These boots are durable and secure without being overly bulky, making them one of the better options for people who put protection as their number one priority.
Check Price on Amazon ➞
Hiking Boots Buyer's Guide
Buying shoes is not always as easy as it sounds, especially when it is hiking boots you are after. Your personal pair of the best hiking boots won't always be the one you see in plain sight, and plenty of them are hidden away on the internet in places you might not think to look. Understanding what you actually need is always the first step towards refining your search and getting more accurate results: even something as simple as "walking boots men" can give you dramatically different results to "walking boots," so figuring out the right things to search for is worth the effort.
Hiking Boots vs. Hiking Shoes
Hiking boots are such a widespread type of boot that many people lump boots and shoes together, but that doesn't mean that you will necessarily want to look at both of them. Still, it is important to understand which of the two is more appealing to you, since boots and shoes can still be very different in practice.
A boot, ranging from a mid-weight boot to a heavy design, is almost always focused on protection. Things like the Lowa Renegade and Salomon Quest 4D 3 are good examples of this – bigger than a shoe, more protective and often designed to work well for serious hikers, usually reaching higher up the ankle and leg to provide better skin and foot protection from bad weather. They will also have things like a stiff foot, and ankle support reinforced upper sections and other features designed to make them one of the more protective options around, which can also include things like waterproofing and EVA layers.
As an example, the Lowa Renegade is a very classic, leather-based boot that is designed for hiking in less-than-ideal conditions. This means that the Lowa Renegade is suitable for walking through bad weather and dealing with long day hikes, but might struggle in terms of breathability. The Salomon Quest 4D 3 GTX solves this through the second part of its name, "Quest 4D 3 GTX", which means that the design uses Gore-Tex instead of regular mesh.
On the other hand, designs like the Merrell Moab 2 are considered shoes, using a lighter and more flexible design that looks similar to the general shape of a running shoe. The Merrell Moab 2 has more flexibility and breathability, since it uses GTX mesh in it's upper, but loses some protection as a result.
Because of this, each shoe appeals to a different person. The Merrell Moab 2 is one that is more suitable for people who need to run or move quickly, the Salomon Quest 4D 3 GTX is better for bad weather conditions where protection and airflow are equally important, and the Lowa Renegade works as a conventional shoe for full protection. The Merrel Moab 2 and Salomon Quest 4D 3 GTX offer very similar features, but their designs set them apart.
Boots usually have a longer break-in time than shoes, too. Even if they don't, the break-in time will feel longer, since you can't usually wear hiking boots in your day-to-day routine to break them in faster, so you will be limited to hikes and walks that might be few and far between.
Brands
One of the biggest positives and negatives of any hiking shoes or boots can be the brand they are part of. La Sportiva is a good example: they produce a range of boots, many of which use mesh and Gore-Tex (GTX) materials for added breathability. Because of this, if you want Gore-Tex materials, La Sportiva is great – but if you don't, La Sportiva doesn't offer many alternatives. Each one brand has their own quirk or feature that appears in many of their products: for example, the Salomon Quest 4D 3 GTX is designed for high grip, a feature present in a lot of Salomon products – the Quest 4D 3 GTX isn't the only boot they offer, but many of them share a similar design.
Something similar can be said of the Merrell Moab 2, which has quite high laces like a lot of Merrell footwear. In La Sportiva's case, you will be dealing with mid-GTX or mesh more often than not, which can make La Sportiva either an amazing place to get walking boots for men's' hiking, but only if that is a feature you want. Always look at brands like La Sportiva from your own point of view: do La Sportiva offer a boot design you want, and do those La Sportiva hiking boots have the features you like? Everybody has their own personal preferences.
Materials and Durability
The durability of your boots directly feeds into how long they will last, the types of situations they can deal with, and how they will actually hold up in extreme conditions. To the average person, a hiking shoe won't need to be very tough since they are just going to be used for occasional hikes: however, if you are serious about it and want the best hiking boots on the market, you need to start looking carefully.
Durability isn't a measurement of any one thing since each feature and layer in your boot could break down separately depending on how you use them. For example, if you are taking on tough terrain often (including rocky areas with stones that can stick into your boots), the durable choice would be one with a strong outsole to help withstand all that damage. On the other hand, if you are in wet areas, the best durable option could be one that provides maximum protection from bad weather and/or water. Different types of hiking call for different types of hiking boot.
General durability is always good to have. Good boot construction and improved sole designs are always beneficial since they will protect your feet and help you avoid running into problems with fatigue, pain, sharp objects, or other threats that might hurt you. However, certain materials are far better than others when it comes to protecting you or offering certain types of damage resistance:
Leather
Genuine leather is one of the more common options you will find, and it offers a range of benefits that generally cause it to be one of the best options for regular shoes. However, with hiking boots, it is not always in the number one spot, especially when you are dealing with situations where very specific features and materials are needed if you want to stay as comfortable as possible.
The main advantages of leather are its natural durability, its ability to transfer heat well, and the way that it can easily be adjusted to create a range of shoes, meaning that it is very widespread and can appear in almost any designs. It is also fairly comfortable as long as some kind of inner layer is used to prevent abrasion on your feet, and it is often naturally water-resistant as long as the stitching keeps the entire upper layer properly sealed. Not only that, but since it is so durable, it is not easy for holes to get poked in it by rocks or other sharp objects, at least not compared to most fabrics.
However, leather can also be difficult to maintain, which can result in a lot of scuffing. This won't matter much for hiking boots, but it can still be harder to see damaged areas. There is also the issue of fake leather being common: you are not always getting genuine leather, and synthetic alternatives can lose out on some of the benefits, even going as far as to be worse than other options. Breathability can also be a problem, since not all leather designs really allow for a heavy airflow, which can result in moisture getting trapped inside if you aren't careful.
Suede
Suede is often used alongside leather, but you can sometimes get boots that only contain one of the two. They are very similar materials, but suede has the added benefit of being much more breathable and lightweight, as well as being softer in most situations. This makes it much more comfortable and lets it adapt to different foot shapes, which can make a big difference on long hikes where foot fatigue is a problem. The same benefits of being able to transfer heat mean that it is ideal for cold weather since it traps the warmth inside.
On the other hand, suede is also quite bad at resisting dust, dirt, and other debris that might damage it or get inside, which can be a problem on many hiking trails. It depends on the design and construction of each boot, but if you aren't careful, it is very easy to overlook this fact and end up having to constantly shake things out of your boots while you are in the middle of a hike. It is also difficult to maintain, like leather is, which can be a problem for dedicated hikers.
Nubuck Leather
Nubuck leather is often used as an alternative to suede and offers the same benefits as most leather hiking boots with an increased amount of durability and resilience. Because of this, it has a rougher surface, trading some long-term style for a much more rugged and reliable option. It is still comfortable and doesn't take as much time to clean, and the extra breathability may earn a few more points in its favor.
However, it is not perfect. It is not great for dealing with water since it is easy to darken and stain if it is not treated, and doesn't have the same level of liquid protection that other leather types do. If you don't care about staining, this won't matter as much, but it can still be something you will need to watch out for.
Synthetic Materials
There isn't a single synthetic material that can be singled out since they are often used together rather than separately. A boot can either be partially synthetic (i.e. leather and nylon) or fully synthetic, depending on the design. Each of these materials has something different to offer, but they are all part of a full whole and don't usually get used independently.
Most synthetic combinations lose out on the naturally waterproof nature of leather, but they can sometimes use a waterproof membrane to re-create it. They will also usually be less expensive and can come in more unusual designs that aren't practical with regular materials, which can lead to very niche creations that fill a specific role or purpose really well. For example, some might be extremely lightweight, whereas others might flex well. A few designs even have individual cut-outs for the toes, creating 'toe shoes' that can grip extremely well.
However, synthetic shoes are only as good as their design. The materials have very few natural benefits on their own (mainly flexibility and breathability), so a design that doesn't use something like a mid-GTX layer won't have that kind of extra comfort. Each boot relies on its design rather than its materials, which can mean that each individual set of boots is either one of the best or one of the worst options for you.
Stability and Outsoles
Hiking takes you on a lot of difficult trails, and not all of them will be as simple as a walk through one woodland path. In fact, depending on the location you are spending one day hiking in, you might even walk past cliffs, waterfalls, fast streams, or extremely uneven ground. In some places, one slip might hurt you slightly, but in others, it can be a serious life-threatening risk, especially if you don't have a hiking partner that can help you. The more stable you are, and the better you can keep your footing, the safer you will be, and the more miles you will be able to cover without falling over or losing your balance.
Stability comes from both the boot design and the materials used in it. The width of the sole can help a lot, but if that sole doesn't have a proper grip surface, it is basically just a flat pad that you need to stand on: the moment you try to go down a sloped surface, you might just slip all the way down, since there is nothing to provide traction. Your outsole is usually the only part of the boot that touches the ground, so you will want to focus your attention there if stability matters to you.
For a start, look at the grip surface. There are certain "hot spots" that matter more than others, such as on the ball of your foot or by your toes, but the entire design can matter. The arch of your feet is often the part that you use to grip onto rounded objects or climb up steeper surfaces, so being able to hold on properly with this section of the boot is incredibly useful. Designs like the Vibram sole style offer more traction at the front and back of the foot, but others put all their effort into adding traction in the middle.
Don't think the uppers and midsoles don't apply here, though. If you start to trip or slip, you will want enough support to help you keep your balance. Heavier boots can be good for places where standing on your feet is important, but another useful feature is a good, solid construction. If your boot is built in a way that has all materials connected to each other with stiff stitching, it becomes much easier to keep your balance, since the materials do their best to hold your feet in the same place as each boot.
Weather Suitability
Let's say you are getting hiking boots for bad weather, and then summer comes around: are you still going to use the same hiking boots? Will you need to buy a different pair of hiking shoe styles? Or are you just going to wear the same hiking boots you always have and power through the new weather conditions? Thinking ahead about what you are likely to face makes a big difference.
One of the biggest threats to your feet is rain. Mid-spring, mid-summer, mid-winter, and mid-spring: it doesn't matter the season, rain is a constant risk, and one that can very subtly harm your feet without you even thinking about it. Aside from the usual discomfort it might cause, there is also the issue of your hiking boots getting flooded with water: that can damage the internal materials, especially the mid-layer, and leave them much less effective than they used to be. Even worse, until you get the water out, a short backpacking trip might become a horrible slog.
One of the other big risks is heat. Mid temperatures are fine, but the hotter the weather, the less comfortable you might feel. Most boots are designed to stay comfortable at mid to low temperatures, but not high, so finding good boots that can balance both is worth it.
What is the most Comfortable Hiking Boot?
Comfort is a very subjective thing with most clothing, but not with hiking boots. Most comfortable hiking boots will have nice internal padding, a soft insole, and midsole, good protection from the elements and other, similar features. One of the best ways to find a comfortable pair is just to try them out: the best way to compare one pair of boots with another pair is to try each one individually, if possible.
What are the Best Hiking Boots?
Choosing one pair of hiking boots as your best option isn't easy. However, the best option for any hike is the boots that fit you the best and offer the right kind of support. It doesn't matter if they are cheap, look ugly or don't have a feature you really want but don't need: if your hiking boots can keep you comfortable and safe with no major drawbacks, they are the best option (or at least one of the best options). Trying to pick gear isn't easy, but there are lots to try on: your top pick is always the best, even if you have a wide list of alternatives to select from. Only narrow down your search if you are still not finding something that works.
What is the Best Waterproof Hiking Boot?
Again, there is no one answer to finding the "best" hiking boots in terms of waterproofing. While certain materials are better than others, waterproofing isn't the one feature that boots need. The best option might be hiking boots with slightly worse waterproofing but a better level of comfort and protection, depending on your personal needs.
Expert Tip
Always clean your boots. Even if you only have a little bit of mud on the exterior, it can be a big problem for runners or people who want to avoid material damage and staining.
Did You Know?
Many materials shrink and crack around heat. Be careful when you're drying leather boots, and keep them away from hot sunlight amplified by windows or greenhouses, etc.