10 Best Hiking Shoes For Men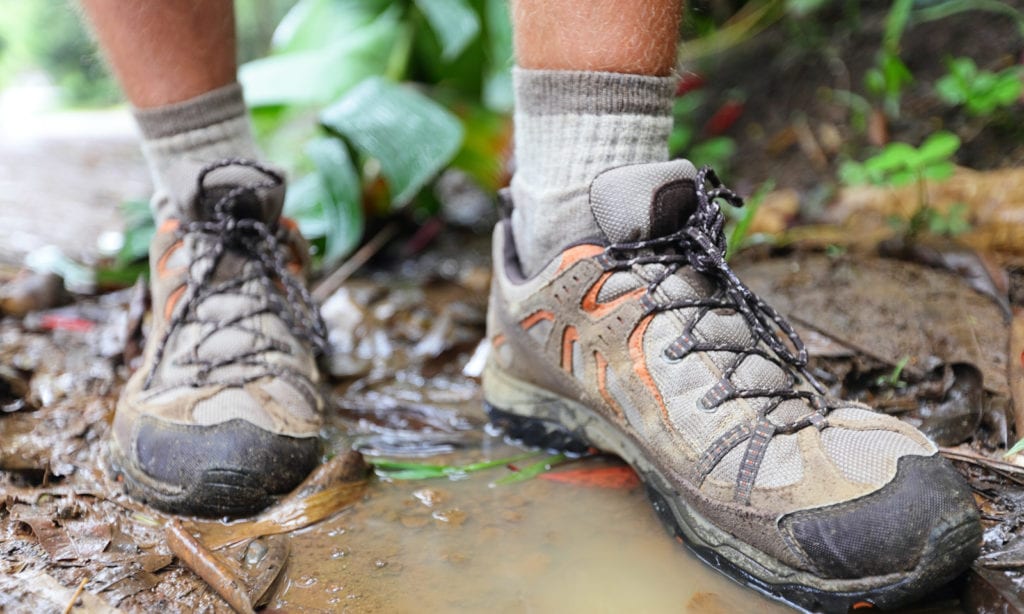 When you are going hiking, you will want the right gear for the job, and shoes are obviously no exception. In fact, hiking shoes are some of the most important items you can buy for a hobby like this since they are designed exactly for the kind of situations you will be facing while hiking. However, not all designs are the same, and some are much more specific or situational than others.
This all comes on top of the usual issues of having to buy new shoes, too, which can make the entire process take hours if you are not prepared with knowledge of what you actually want. Thankfully, there are a few designs that are generally suitable for most hikers, regardless of how much experience they have.
View the Best Hiking Shoes For Men, Below.
1. Merrell Men's Moab 2 Waterproof Hiking Shoe
These waterproof hiking shoes are based on the recognizable design of a standard trainer or sneaker, but combine it with a range of durable and reliable materials to make it much more useful in harsh weather. The durable synthetic Vibram TC5 outsole gives you far more sole protection and shock resistance, as well as improving your grip on natural ground of almost all types. The lace-up design also means that you can adjust the fit to your exact preferences, and they won't come loose easily.
The suede, leather, and mesh upper section provides a balanced mixture of comfort, breathability, flexibility, and strength, keeping these hiking shoes for men useful for most general situations without being pushed into a very niche role.
These hiking shoes for men are an excellent general-purpose choice, offering everything you might need without being too specific to handle sudden problems like bad weather or rough terrain.
Check Price on Amazon ➞
2. ALTRA AFM1855F Lone Peak 4 Trail Running Shoe
These special running shoes use a durable mesh upper layer to add more ventilation to their design without weakening the overall structure, helping you stay cool during hot weather, but avoid the risk of your footwear being too weak to survive long-distance hiking. The other synthetic outer materials are all chosen for their durability and strength, while the gum rubber sole at the bottom provides great protection and shock resistance.
The design of these shoes also includes a specially shaped toe box that makes it easier to naturally spread your toes, helping you walk comfortably and deal with harsher surfaces without causing indirect harm to your toes. These hiking shoes for men even include a heel loop on each shoe that you can use to carry them.
Like many hiking shoes for men, this design uses a great mixture of comfort and strength, offering the best of both without being too weak or uncomfortable to ruin a longer and more intense hiking trip.
Check Price on Amazon ➞
3. adidas outdoor Men's Terrex AX3 Hiking Boot
These hiking shoes use lightweight but durable materials to give you a great balance of protection and speed, making sure you aren't being weighed down by your own footwear. The strong EVA midsole gives the bottom of your feet even more protection from harm and sudden impacts, while the molded insole helps your feet sit in the right position to stop you from feeling foot fatigue after short distances. The rubber outsole backs this up with a great amount of gripping power, even if you are moving on wet terrain.
Like many hiking boots for men, you can expect a regular lace-up design that is easy to use and won't untie itself quickly, making sure that the shoes stay on your feet for as long as possible.
These hiking boots for men are very straightforward and reliable, offering all of the usual features without leaving any obvious weaknesses or shortcomings behind that you will struggle to handle.
Check Price on Amazon ➞
4. Salomon XA Pro 3D Mens Trail Running Shoes
Although these are technically running shoes, they will work well as hiking shoes for men, offering plenty of protection thanks to a reinforced toe cap and tough construction. The special chassis-based design gives you much more stability on open terrain, especially slopes, while the wet traction grip helps you keep your balance even on slippery surfaces. Thanks to the Contagripma system, it can work well on nearly any surface, including loose ones like sand or dry dirt.
The shoe itself uses EVA foam as part of its sole and insole designs, absorbing shocks efficiently and keeping the bottom of your feet safe from harm regardless of the situation.
These shoes are an amazing choice for almost any surface and situation, keeping you stay stable and keep moving no matter what weather you are facing, the angle you are having to climb or the type of ground you are walking on.
Check Price on Amazon ➞
5. Merrell Men's Intercept Fashion Sneaker
These heavy-duty-looking hiking shoes for men make use of full-grain leather to give your feet a layer of natural-feeling protection, combining it with well-ventilated mesh to stay breathable in warm weather. The compression-molded EVA used as part of the shoe's frame offers a great level of cushioning, while the gum rubber sole boosts protection and shock resistance on weaker areas of your foot. Not only that, but the heel section has its own special air cushioning, giving you more stability on any surface.
Each shoe also has a specially-designed odor-removing system that helps get rid of bad smells, which can make the post-hike rest much more pleasant for you and anybody around you. The mesh-lined tongue also helps remove sweat around that area before it can cause bad smells.
The strong materials used in these hiking shoes for men make them incredibly tough and reliable, meaning that they are suitable for almost any kind of hike, even long endurance-based hiking challenges.
Check Price on Amazon ➞
6. Saucony Men's S20483-2 Trail Running Shoe
These simple, stylish trail running shoes take an existing design and make it more suitable for hiking, using a special set of sole designs to help you stay comfortable and safe on tough terrain. The Everun top sole provides the same level of cushioning as regular running shoes, while the PWRFOAM midsole includes plenty of protective foam to help soften every step before the impacts reach your feet. The PWRTRAC outsole holds all the durability and traction, resisting most types of damage and helping you keep a grip even while running at high speeds.
The rest of the design is no slouch either, using an ISOFIT dynamic upper section to ensure that it feels comfortable on your feet, regardless of how yours are shaped or how big your arch might be.
Although they look like trainers, these are great hiking shoes for men who like efficiency, taking a normal design and packing it with extra protection.
Check Price on Amazon ➞
7. Under Armour Men's Mirage 3.0 Hiking Shoe
These hiking shoes look fairly plain at first, but they are designed for a great mixture of comfort, strength, and utility. The breathable mesh on the upper section improves ventilation while reducing each shoe's total weight, while the synthetic and suede overlays add more protection than standard mesh-based footwear. The TPU reinforcements on the heel and toe cap areas add more protection and stability to the design but don't weigh it down with more materials.
The midsole is made with a lightweight layer of EVA, letting it dish out comfort and support in equal measure while also resisting impacts from heavy steps or stumbles. The outsoles are lug-based, helping you keep your balance on natural ground even if it is wet or soft.
Low weight normally comes with a lack of protection, but these are great hiking shoes for men who want to stay secure and safe without loading themselves down with unnecessarily-heavy footwear.
Check Price on Amazon ➞
8. The North Face Hedgehog Fastpack GTX Hiking Shoe
These simple, boot-style shoes make heavy use of rubber in their soles for a great level of traction, even on surfaces that are too wet or soft to walk across easily. This Vibram rubber is more durable than the standard kind, which works well alongside the lightweight design to help you move quickly. A large portion of the upper section is made with soft mesh, allowing for better ventilation, but it is all reinforced with normal materials to help each shoe keep its shape.
The laces are easy to handle and don't interfere with the mesh areas at all, while the lugs on the outsole provide even more traction than the Vibram rubber would on its own, making them suitable for almost all kinds of terrain and weather.
These shoes look more like boots, and take a lot of design elements from them, meaning that they are perfect for all kinds of outdoor hiking trails and challenges.
Check Price on Amazon ➞
9. SALOMON Men's X Ultra 3 GTX Hiking Shoes
These shoes use two separate kinds of rubber to give the outsole a huge amount of gripping strength, especially when combined with the thick, angled lugs built into the bottom. The heel also has a special pattern that helps you handle descending slopes really well, something that is a challenge to even the most experienced hikers. The stable chassis design and great cushioning keep you feeling comfortable and protected in most weather conditions, even in bad weather.
Unlike a lot of hiking shoes for men, the shoe is designed to hold your foot in place when going downhill, using a reinforced design that can help it keep its shape and stay stable in these situations.
These shoes still make use of mesh, but they are mostly aiming for stability and strength, something that can be incredibly useful for professionals who are taking on difficult hiking paths and trails.
Check Price on Amazon ➞
10. La Sportiva Men's Spire GTX Hiking Shoe
These mostly-synthetic shoes make heavy use of Gore-Tex materials to offer a good amount of waterproofing, making them very useful for bad weather or areas where you need to cross streams and wet ground. This material is built into the lining, along with abrasion-resistant mesh that avoids hurting your feet or rubbing against your skin.
Each shoe has a reinforced toe cap and heel section, giving key parts of your feet more protection from impacts or bashes against solid objects. The Ortholite insole also means that the bottom of your feet get far more protection, helping you keep your balance on rough ground.
Waterproofing can make a huge difference, and these shoes weave it directly into the design, meaning that you won't need to worry about sudden rain ruining your shoes or soaking in and adding more weight while you are miles from anywhere dry.
Check Price on Amazon ➞
Hiking Shoes For Men Buyer's Guide
In a way, hiking shoes are basically the same as regular shoes, only with a much wider range of features that they can offer. This means that you need to go through all the same steps of checking sizes, looking at materials, and figuring out what you actually want from them – but that is not all. Hiking is a much more intense activity than just walking around a street or park, so certain features become much more desirable – and in some cases, almost mandatory, depending on that type of hike you are actually planning to do.
Before you start sorting through thousands of shoe designs, try to find the basic features you will want – this will make it much easier to simplify your search later on, and might even help you avoid missing out on features that could make a future hike far easier.
Durability
Hiking takes a toll on your footwear. Not only will you be walking for potentially half a day, if not more, but you will also be moving across open terrain – which can be anything from a flat grassy field to a muddy, snow-covered rocky slope. It is entirely possible that you might even end up having to walk through a small lake or across an area that is basically nothing but sharp rocks, depending on where your hiking trail takes you and trying to go around them can lead to even more difficult terrain instead. Because of this, durability is almost essential.
However, there are different types of durability to think about. The most obvious is physical resistance since you will want a shoe that can stand up to the punishment you are putting it through. If your shoe breaks, you lose whatever protection and comfort it was offering, and walking several miles back home with one ruined shoe is a miserable experience.
You might also value durability in terms of the protection it offers you, though. A shoe can technically still be durable while having a weakness that can lead to you getting hurt, such as a weak heel or no ability to stop sharp objects. It is very easy to find shoes that offer protection without actually stopping any water from getting in or designs that hold together really well without offering the same level of security to the people wearing them.
There are three main components to durability: design, materials, and quality. It is impossible to cover everything at once since there are literally thousands of combinations on the market, but it is not that hard to filter out designs that don't offer the kind of durability you want or need.
Weather Suitability
Some hiking shoes for men will only be designed for a certain climate or type of weather. By default, most assume that you will be hiking in dry, sunny weather, but that won't always be the case. If it is going to rain, or you live in an area with constant flooding or snow, you will need to make sure your shoes are suitable for handling them well.
On the other hand, a shoe that is too specific might become useless elsewhere. Footwear that is designed to take on snow is fine until there is no more snow around, at which point it might show weaknesses like poor durability or an inability to deal with hard, dry surfaces. Most experienced hikers either go with a single "generalist" option, or have multiple pairs that are meant for different weather conditions, but that isn't always an option for new hikers that might have a limited budget.
The easiest way to solve this problem is to use common sense and think about when you will actually be hiking. For example, if you are not the kind of person who will go outside to hike when the forecast says it will rain, there is not really much reason to get waterproof shoes. On the other hand, if you stick to a hiking schedule regardless of the weather, it might be a vital feature that you need.
Stability
Support and stability play a huge role in hiking, especially on tougher paths or terrain that aren't just a smooth slope up a dirt road. If you don't have enough, it is easy to slip over and fall – and depending on where you are, a fall can quickly turn into a lethal drop, especially on hard surfaces or high mountains.
Stability can come in a lot of different forms, so it isn't always easy to choose a single feature that can provide it properly. It can be anything from a reinforced frame or chassis to the materials used as part of the outer layer, so you will need to look carefully at reviews and product descriptions before you can find the best option here. It is one of the most complex parts of buying hiking shoes for women, men, and even children, regardless of how experienced they might be.
Remember that everybody's feet are different, so stability might be a simple case of having a different insole or using a custom insert. This is especially true for people who have odd foot shapes or conditions that affect how they can walk and stand since standard insoles might actually make them feel less stable.
Expert Tip
Breathability and waterproofing don't always work together, so you will usually have to choose one or the other. This is due to how Gore-Tex and regular mesh work since the two are designed in a way that counteracts one another unless they are used very carefully.
Did you know?
Laces are important, but they are not the most valuable part of a hiking shoe, so you can easily replace them with your own laces if you prefer to. The lacing system itself will be built into the design, but the laces are almost always removable, so you can swap in a sturdier pair if you feel like the standard ones are too weak or flimsy.