10 Best Waterproof Hiking Shoes in 2021
Hiking is becoming an increasingly enjoyed pastime, with more people taking to local trails in their spare time to improve their health, exercise more, or detox from the digital world we now spend a large portion of our time in. It is important that when participating in any outdoor activity that you have the appropriate dress for the activity being completed. When hiking, this is, of course, the correct pair of shoes.
Whether you are planning a local trail or park walk or a hilly trek, it is important that you are wearing specially designed hiking shoes, wearing specially designed boots for walking will help to ensure that you are not damaging your feet while hiking. As you cannot definitely say that you will not encounter wet or boggy ground when hiking, we have gathered the 10 best pairs of waterproof hiking boots to help protect your feet both from blisters and from the elements.
View the Best Waterproof Hiking Shoes, Below.
1. Merrell Women's Moab 2 Mid Waterproof Hiking Boot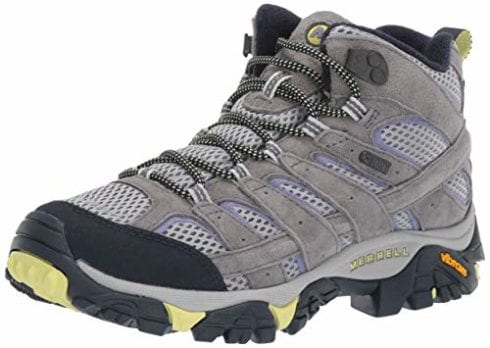 Merrell has created a fashionable pair of hiking boots which come in a range of colors, meaning you are able to wear a color that suits your personality and hiking wardrobe. The Merrell Moab 2 continues to build on its highly recommended original design, adding upgraded features.
With a removable insole that will allow you to adapt these Merrell Moab 2 hiking boots to suit your needs and comfort requirements, you will be able to customize this hiking shoe to suit you. This pair of hiking shoes have a moderate heel of 1.5 inches, which will give you better foot support. A rubber sole gives excellent grip, in all weather, on all types of terrain, the Merrell Moab 2 is an excellent all-round waterproof hiking boot.
We liked the range of colors this pair of hiking boots are available in, it gives a great opportunity to show some individuality and color to what can otherwise seem a uniform clothing option.
Check Price on Amazon ➞
2. Danner Men's Trail 2650 3″ Hiking Shoe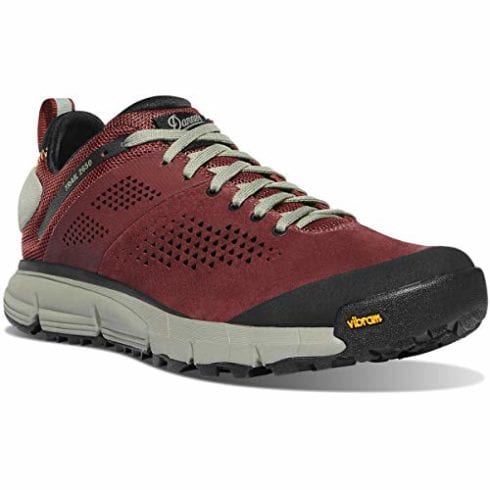 Danner has produced a pair of waterproof shoes that comprise a Gore-Tex breathable mesh, which in addition to being waterproof, allows your feet to breathe while you hike. With a durable leather upper, your feet will feel fully supported while you are hiking, which is important for comfort but also will help to protect your feet and give you support to prevent injury.
The Vibram rubber soles offer you an excellent amount of grip on all surfaces and in all weather, with a midsole that allows for a brilliant level of shock absorbency to further protect your feet and spine when hiking, especially over rough terrain.
We liked the excellent level of grip these hiking shoes have, they are brilliant for walking on rocky trails and loose surfaces.
Check Price on Amazon ➞
3. Merrell Women's Siren Edge Hiker
Merrell has created a very stylish pair of shoes, this design has a huge range of colors to suit your personal style and hiking wardrobe, while still providing you with the level of support and comfort you have come to expect from this designer. This shoe comprises a shock-absorbent air-cushioned heel that protects your feet especially on longer hikes, full-day hikes can be punishing to your lower body, but in this pair of athletically designed shoes, Merrell has provided you with a pair of shoes that you can wear all day without discomfort.
This shoe is made completely of a mesh upper which allows excellent breathability and allows your foot to get a good level of airflow as you walk, ensuring that you do not become too hot, while still ensuring you remain dry. This shoe includes a bellows tongue which keeps dirt and stones from entering your shoe and makes for a more comfortable trail walk.
We loved this pair of hiking shoes because of the flexibility of movement when walking, they are excellent for all-day hikes where you are able to move with agility and comfort.
Check Price on Amazon ➞
4. Columbia Men's Newton Ridge Plus II
Columbia has created a durable pair of waterproof boots that have fully sealed seams to ensure you stay dry throughout your hike. You can make plans for long trail hikes in these shoes as the suede upper is extremely comfortable and moves with your foot for more mobility.
The midsole includes shock absorbency with a sole made of non-marking rubber that provides excellent traction when walking on any type of terrain, with both of these combined you can be certain of a safe hike in a pair of optimized walking boots for men's hiking needs.
We like the space in this shoe without compromising on the level of support we get when walking longer distances, with lots of room in the toe box you do not experience pinched toes or blisters.
Check Price on Amazon ➞
5. KEEN Women's Targhee II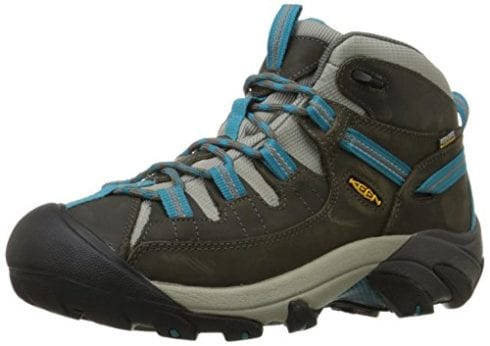 KEEN's waterproof Targhee hiking shoe has a removable footbed and EVA midsole, which gives excellent shock absorbency while suiting your comfort levels. The KEEN.DRY™ textile membrane is warm and comfortable and allows for hiking on all terrains, while the carbon rubber sole gives excellent grip on all types of surfaces while keeping this a lightweight hiking shoe.
This shoe comprises a secure lace-up design that can be easily adjusted to fit your foot shape and support requirements. When purchasing this shoe, you can be sure of a secure fit from heel to toe. Which will make your hike more comfortable without being too taxing on your ankles and knees if you go for a long hike. We advise that you order a half size bigger than you actually need, as in our, and other customers' experience, these shoes can be a small fit.
We liked the weight of this shoe, the lightweight nature with the secure fit allows for a comfortable hiking experience without the weight of the shoe dragging further into the day and becoming uncomfortable or tiring.
Check Price on Amazon ➞
6. Merrell Men's Moab 2 Mid Waterproof Hiking Boot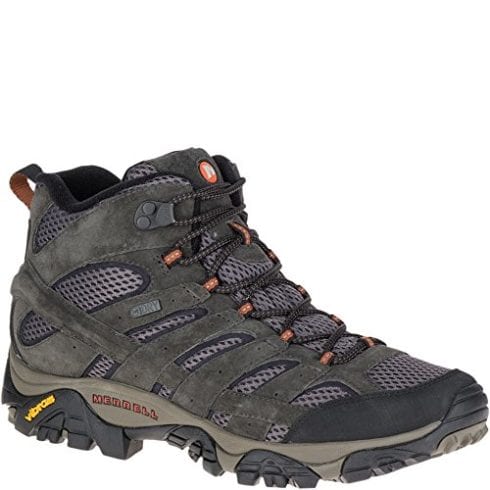 The Merrell Moab 2 builds on the previously loved Merrell Moab design that has been a firm hit on the trail for a number of years. They have built upon this with their new shoe which is practical and stylish and hailed as one of the best hiking boots on the market by consumers. The Merrell Moab 2 was definitely worth the wait. If you have a previous version of this shoe, you can be confident in your upgrade. With the same out-of-the-box ability to begin hiking in this shoe you will be getting better features without any compromises.
The Merrell Moab 2 mid hiking boots include an EVA midsole that contours to your foot shape to ensure comfort while you hike on any trail. The Moab 2 also includes a precise instep. Which affords you more support for long-term wear and a better level of comfort to reduce and remove cramping sensations when hiking.
We liked the Merrell Moab 2 because of the build on the original design, Merrell has spent the time between designs of this hiking boot ensuring that they remain one of the best in the business. With this comfortable and lightweight boot, you can be sure of a comfortable hiking experience.
Check Price on Amazon ➞
7. Columbia Women's Newton Ridge Plus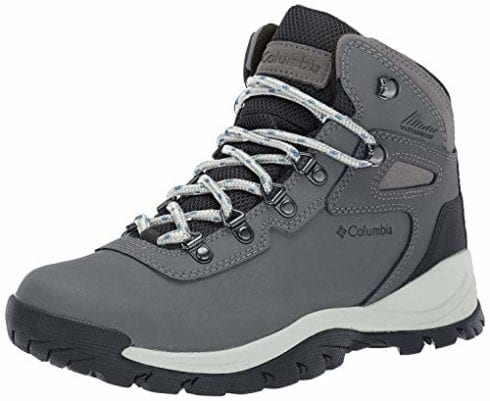 The Columbia Newton Ridge Plus is an excellent example of a waterproof hiking boot, this design remains completely dry even after being submerged in water for an hour. Columbia has included its fully sealed seam feature to ensure that your foot remains warm and dry whatever the conditions you are hiking in. They also afford great traction on wet and mossy surfaces so they can be worn on any kind of trail.
We did find that there was not as much breathability in this pair of hiking boots, so using in cooler weather is our recommendation to ensure you remain comfortable on longer hikes. This shoe comprises a lightweight midsole that gives more comfort and cushioning while hiking.
We liked that this shoe is available in a design for men and women to suit both genders, and the design has been optimized for different foot shapes.
Check Price on Amazon ➞
8. Danner Men's Mountain 600 4.5″ Hiking Boot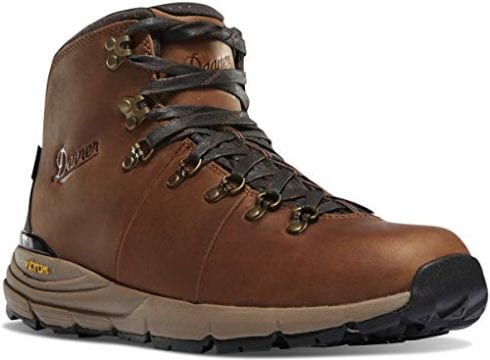 Danner's fusion of hiking boot and modern style is advertised as their city-to-mountain boots, which is an extremely lightweight boot than transforms from city walking boot to trail boot seamlessly. This boot has a comfortable, rubberized EVA midsole while maintaining an excellent grip on all surfaces, which affords you a more comfortable wearing experience while ensuring you feel safe on any trail type. The midsole encourages rebound and gives a high energy return when walking, helping to conserve energy and ensure you can hike for longer.
Danner has created a roomy fit while remaining fully supportive across your entire foot, but still maintaining a stylish design that you can be confident wearing in both the city and on trails. We have found that this shoe does feel big when wearing, so we recommend buying a half size smaller than you usually wear to avoid having to wear thick socks, which could make you more uncomfortable.
We liked the versatility of this pair of shoes, the design moves seamlessly from a city to a trail hike, perfect when exploring new towns where you move from paved streets to beautiful countryside.
Check Price on Amazon ➞
9. Ariat Women's Terrain H2O Hiking Boot
The Ariat Terrain H2O is the newest part of their Endurance range, with advanced technology to ensure a comfortable wearing experience. The materials used provide comfort and durability for full-day hikes while supporting your foot throughout. With a padded top collar that removes chafing during long walks, also helps to keep you dry, working with the Waterproof Pro membrane that completes the waterproof barrier.
The midsole and heel of this shoe uses layered support from Ariat's patented technologies to ensure your foot is fully supported and to allow air to circulate throughout the shoe while you walk. A polyurethane footbed gives long-lasting support while ensuring that any pressure to your foot is spread across the length of your foot and not concentrated on any one pressure point.
The best aspect of this pair of shoes is the patented midsole, which gives full-day comfort, dissipating any pressure along the full length of the sole of your foot, ensuring that you do not experience blistering or discomfort while walking or residual pain in the following days.
Check Price on Amazon ➞
10. Salomon X Ultra 3 Mid GORE-TEX Men's Wide Hiking Boots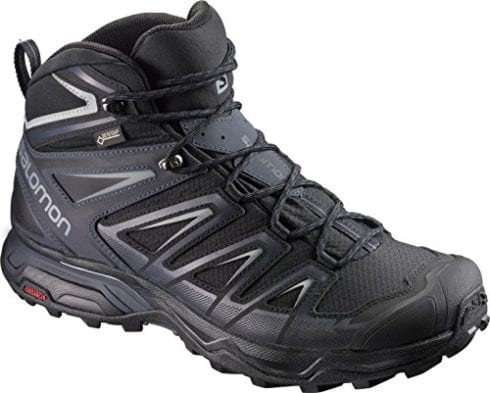 Salomon's X Ultra 3 GTX boots are a best seller in their range because of their ability to be worn for multiple purposes. With a full cuff giving excellent ankle support, you can be sure of a comfortable wearing experience that you could wear all day without chafing. Due to the versatility of this design and the mid-height ankle cuff, this boot can be worn in a variety of situations and would not look out of place on a city street or on a trail walk.
The X Ultra 3 GTX provides excellent grip on all surfaces, in all weather, due to the Contragrip rubber sole and tread pattern. You can be confident when walking on loose or wet surfaces that you will not be sliding and stumbling. The X Ultra 3 GTX midsole offers additional comfort and support due to the combined midsole and foam cushioning, which supports your foot while relieving pressure from any one point along the sole.
We love the support offered from this pair of boots, they have been specifically designed to support your ankle and whole foot to ensure the longevity of wear in any circumstance.
Check Price on Amazon ➞
11. Danner Men's Mountain 600 4.5″ Hiking Boot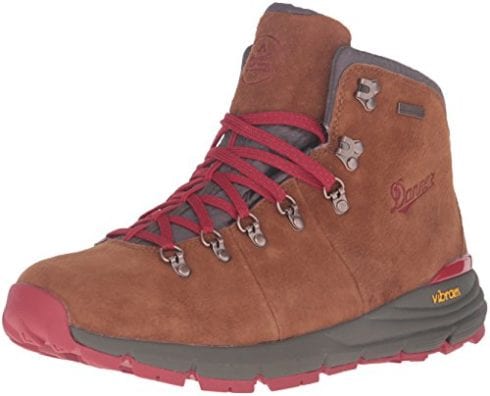 These walking boots for men are durable and provide waterproof protection as they are made from full-grain leather and suede. The Vibram outsole offers great grip and stability, making these boots suitable for hiking in wet and dry locations. As well as keeping the feet dry, these walking boots are also incredibly comfortable due to the cushioned insole. The ortholite footbed is designed to contour to the shape of your feet to provide targeted support the pressure points, reducing pain and fatigue.
These waterproof hike boots feature a Vibram SPE midsole that is responsive to provide maximum support where you need it most. These boots are designed for repeated wear and longevity as they feature a TPU heel frame that keeps the foot in the correct position while walking and reinforces the shape of the shoe. These hiking shoes are designed for every trail you come across as they are protective with a great grip
These waterproof boots have a great grip that can provide stability on both a wet and dry trail, making them highly versatile.
Check Price on Amazon ➞
Buyer's Guide to Waterproof Hiking Shoes
When looking at the best hike boots to buy, you should consider what it is that you want from them and what you find comfortable when you are hiking. We recommend that you always purchase waterproof hiking shoes as you will invariably hike in wet conditions at least once, and hiking with wet feet will not only make your hike uncomfortable it could also cause damage to your feet.
We advise that you look at the material you are most comfortable in, the level of shock absorption that will best suit your needs for the trail you are planning to hike on, the closing method for the shoes, and the level of support you require for your foot shape.
Support
Some hiking shoes provide support to your ankle, whereas hiking boots will provide the best full support, which we have found really makes a difference depending on the trail you are walking and the distance that you want to walk. The most important consideration when deciding which are the best hiking shoes or boot for your needs is which level of support you want. The best way to find this out is to try several pairs on before you buy them.
Whether you are planning to get your hiking boots from an online store or in person, you cannot go wrong with trying pairs on and seeing how they feel on your feet. There is nothing worse than setting off on the trail only to find that your ankles are not supported or that you are experiencing chafing.
The next thing to decide is what type of material you want your new hiking boots to be made of, a lot of pairs we have reviewed are made of leather or synthetic leather, this gives an excellent level of durability and stability for your feet and ankles when hiking. When you are out walking the trail, you will be thankful for durability to reduce the chance of injury if you stub your toe on rocks on the trail.
This is also important if you are planning full-day hikes as you will want a shoe that will move with your foot and begin to feel more and more natural as you walk. An excellent upper material for this is suede leather as it can be more supple and mixed with a part mesh upper you will get the breathability with the range of movement.
The only thing to consider with suede leather is that it can mark easier so if you want to keep your shoes looking new for longer you may want to consider a protection spray. They are easy to get your hands on online, and in outdoor equipment stores and in our opinion it is well worth the dollars you will spend on a spray. The beauty of these types of sprays is that they can be used on multiple types of material, so they are great for tents also if you are planning to camp along the hiking trail.
Protect your sole
Another important aspect of each pair you consider is the sole and midsole; the sole will determine the level of grip you will have on the trail you are on, while the midsole will determine the level of shock absorption you experience. This is important as with the incorrect pair of shoes, you can end up feeling each stone or uneven surface in the soles of your feet or each jolt of the trail in your ankles and knees.
Having shoes with the right sole will also give you excellent traction on the trail surface you are walking, which is especially important when walking in wet conditions. Keeping your feet dry is not always about the material used for the upper of the shoe but also about the material of the sole. A flimsy sole will allow you to feel more of the ground surface you are walking on, whereas a thicker sole will stop this from happening while it will also keep your feet dry.
You will also want to look at how the boot closes, this will be a lacing system but could be different depending on the shoe. We recommend you get a hiking shoe which has robust laces, and where you will be able to really adjust the tightness of the laces. Some pairs can be difficult to pull the laces in tighter if you have narrower feet. So you need to ensure that the closing method suits your feet and will keep the shoes you buy comfortably in place on your feet to avoid chafing.
This is especially important on all-day hikes or when hiking on a particularly difficult trail. There is more chance over long distances or rough surfaces where more traction is required, that you will exert yourself more, waterproof shoes that lace correctly will keep your feet dry in addition to pain and blister-free.
Due to the differences in men and women's feet shape and sizes, most of the pairs you will find are specifically designed for either gender. Walking boots for men and women will differ very slightly, although walking boots men choose may be less colorful than the options available for women.
Finally, we recommend that you look at the type and level of support that your feet need, this is all linked to the type of hiking that you are going to be doing. If you plan to move from walking to trail running, you may prefer a pair of hiking shoes rather than boots, as this gives more flexibility to your feet and ankles and make it easier for you to transition from stepping to running.
The best way to make the decisions regarding the level of support you require is to plan ahead for the type of trails you are going to be walking on and make a decision early about trail running. While firm support hiking boots can be used on softer terrains, it is a costly situation if you don't buy the best waterproof hiking boots for the most extreme trail you plan to walk.
Shop Painlessly
For the reasons above looking at customer reviews is also an excellent way to check out new boots, as you will be able to read about personal experiences of those who have worn the same shoes and find out how they feel when being broken in and after a few wears also.
Do be mindful of where you are looking for information about the best walking boots and shoes and don't always go by the first image you see online, look for images on the manufacturers' website or for an authorized image (look out for the rights reserved sign if using third party website). There is nothing more disappointing than thinking you have found the perfect pair of new shoes only for them to be different when you open the box.
When shopping for any of the above products, you will find the market is saturated with brands, who have multiple pairs from the same range, and the information can become disorientating for beginners or people new to this market. This is why we have pulled together a list of the best products available from each manufacturer to help you to narrow the scope of your searches and make the purchase as quick and painless as possible – leaving you with the ability to enjoy the activity you enjoy more quickly.
Expert Tip
Choosing the best hiking shoe is not always about ensuring it is waterproof because you will be using them in the rain, waterproofing your boots is also important if you will be using them in the early morning or on muddy terrain.
Did You Know?
The difference between boots and shoes is defined by the level of ankle support they give you, fuller support will be classified as a boot while a shoe will provide less ankle support overall.