10 Best Hiking Shoes in 2021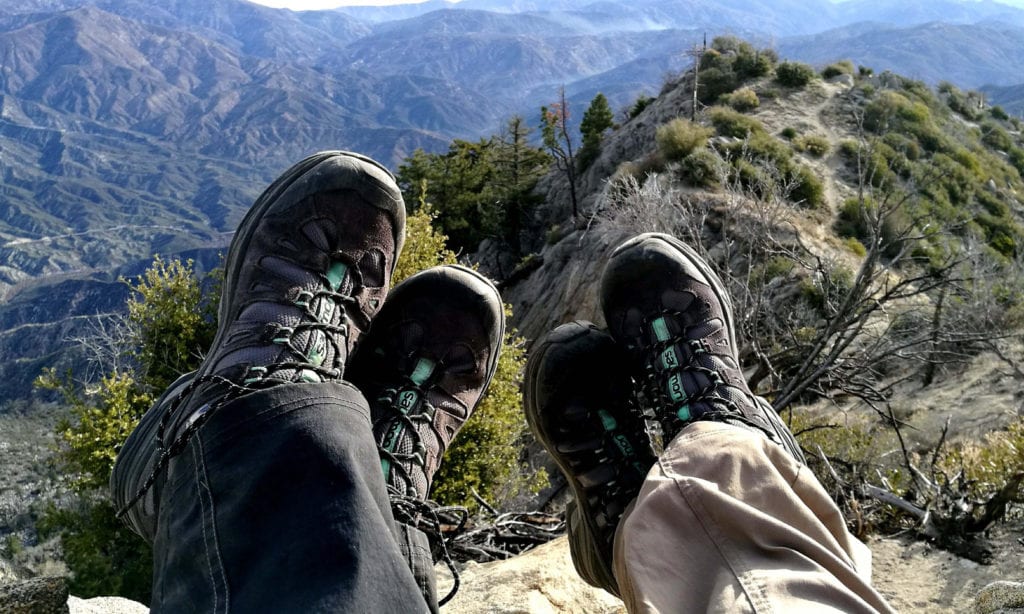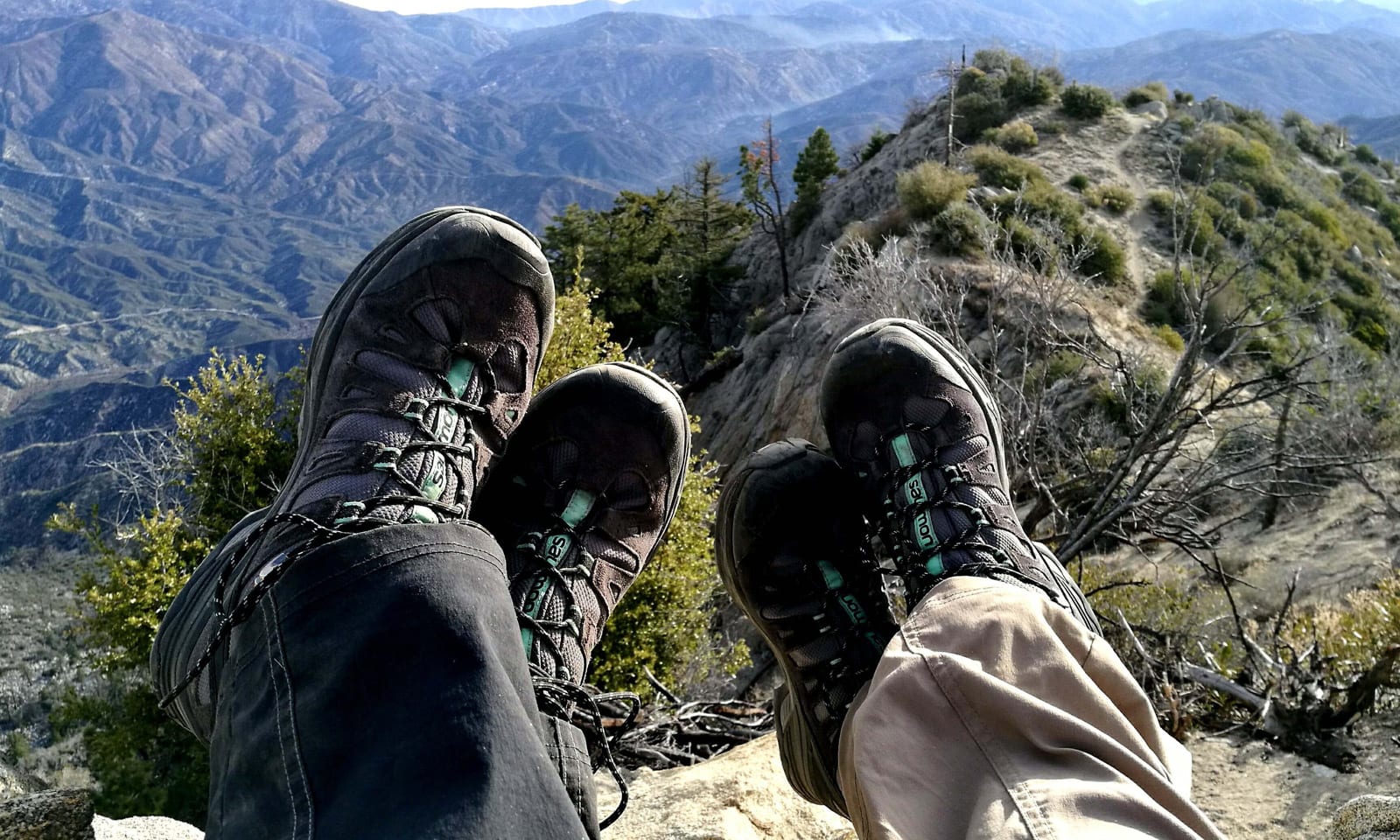 Hiking can be a hobby or a way of life – regardless, if you do not have the correct hiking shoes for your precious feet, it will soon become a painful endeavor. Whether you are a weekend dabbler or a hardcore practitioner, muddy treks across fields or snowy mountains, you still need to equip yourself with the right pair of hiking shoes to avoid injury and to assist in comfort and mobility.
As with all hobbies, the possibilities for said hiking shoes (also known as approach shoes) are endless and seemingly infinite, but if you know what you need to be looking for, then the process can become rapidly less daunting.
Below are some reviews of some of the best hiking shoes that are around at the minute. They have been judged on style, size and fit, material and general features. Read on to get some ideas for your next hiking adventure.
Shopping for a specific gender? Try these hiking shoes for ladies.
View the Best Hiking Shoes, Below.
1. Timberland White Ledge Mid Ankle Boot
This hiking boot is from a well-known shoe and fashion company, Timberland. They have produced an ankle boot intended for hikers and walkers, made from leather and mesh and padded insides to ensure comfort, durability and a boot that looks good as well as feels good. It has laces to add extra ankle support and comes in a classic Timberland design.
The boot itself is waterproof which means it can handle tough terrains and wet conditions, something the more serious hiker may find a very desirable feature. A waterproof shoe is generally stronger and easier to clean and maintain in the long run as well because the material is a bit tougher.
Though limited in design choices, this hiking boot looks classy enough to have limited options and it still looks great and keeps you warm and cozy and comfortable on your hikes.
Check Price on Amazon ➞
2. Salomon Men's Speedcross 4
These hiking shoes for men made by Salmon are made for running on trails, a popular hobby for which you have to have proper footwear otherwise you risk falling injured or worse. These shoes are supportive and have a strong sole that is hard, thick and has good traction features to ensure a better grip to floor ratio.
You can get this shoe in a variety of different colors and designs, and each one is as top quality as the next, there is not skimping on features across the board.
With great designs across all the different styles available, well built and well-designed features such as strong traction and breathable material this running shoe is a brilliant option for runners and enthusiasts.
Check Price on Amazon ➞
3. New Balance Women's WX608v4 Comfort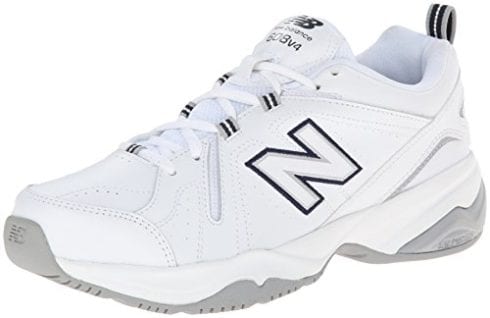 Comfort' is in the name of the shoe, and comfort is what you will get if you make a purchase with this product. New Balance has created a women's shoe for hiking and other exercise purposes that is built for comfort and durability. Your feet will be cushioned and protected over longer periods of use, and you don't need to worry about aching, blisters or sore toes thanks to the way the insole is designed with memory foam and padding.
The shoe itself comes in a range of colors and patterns, which is always nice when you have found a shoe that ticks all the feature boxes you need it to. You are then able to find a pattern and color that suits you personally.
This shoe is a little bit on the expensive side; however, the quality of the product and long lasting nature are the reasons behind this and the reasons why this shoe has made the list anyway.
Check Price on Amazon ➞
4. Skechers Men's Afterburn Sneaker
Skechers, a well-known and well-loved brand of shoemaking have created an absolutely wonderful sneaker here that can be used for hiking owing to its optimum comfort. The comfort of the shoe is brought along entirely by the memory foam insoles and a strong and supportive rubber sole. The material of the sneaker itself is leather and synthetic which means waterproof, and breathable.
This is a subtle design, not overpowering but not so understated that it doesn't draw the eye thanks to the classic Skechers 'S' symbol. This is another hiking shoe that is highly durable and good quality, though a little on the expensive side and not marketed exclusively for hiking.
Skechers Company gets good reviews all around for this shoe that can be used for hiking and other exercise purposes. It is comfortable and well fitting.
Check Price on Amazon ➞
5. Columbia Mens Newton Ridge Plus II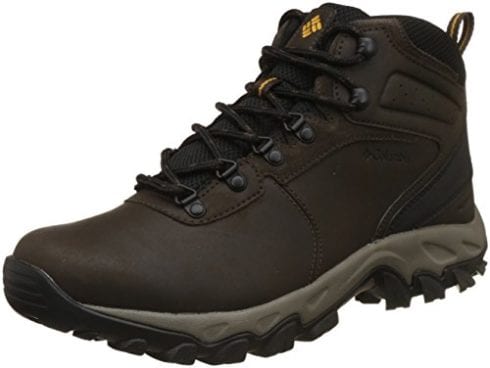 Columbia Men's Newton Ridge Plus II are a classy looking hiking shoe which come in a variety of different colors and sizes to suit even the most fussiest of feet. They are made from leather material which is strong and durable but also adaptable and over time will create a perfect fit and comfort for your tired hiking feet.
One thing that is great about this product is the fact that it comes with extra cushioning, so if you have feet that are a little bit more sensitive than average, this shoe would definitely be a good choice for you.
This shoe has really good reviews from a wide range of customers and can be used for long or short hikes while providing the exact same levels of comfort either way.
Check Price on Amazon ➞
6. Merrell Men's Moab 2 Mid Hiking Boot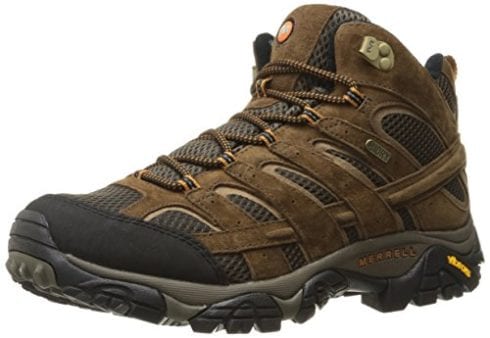 This is a good size, decent shoe boot. Merrell has created a men's hiking boot here, with ankle support and strong laces as key features. It has a breathable material (mesh/leather) which is very important to allow the feet to not become overheated and over smelling. This breathable material also provides added comfort while out and about for example in a hike in warmer weather.
The sole of the shoe, made from rubber, is strong and durable and has added gripping features to help you stay on your feet, and help your feet stay on the ground.
These boots have great reviews and are built in a traditional style, available in multiple colors to suit lots of different tastes. They do their job efficiently and are an affordable option for hikers and walkers.
Check Price on Amazon ➞
7. Columbia Women's Newton Ridge Plus
Columbia Women's Newton Ridge Plus is a walking boot with laces to offer a good level of ankle support, which is essential for longer hikes when you are out and about. A strong lace up support helps the ankle to stay firm and supported, lessening the risk of injury. The material is waterproof and easily washable, which means that the boot itself is long lasting and very durable.
This boot is made for more serious hikers because of its design and durability; however, more novice hikers can get good use out of it as well to keep them feeling comfortable and supportive!
This boot comes with a large number of great reviews attached to it. There are a limited number of options when it comes to designs; however, the strength of the boot more than makes up for that.
Check Price on Amazon ➞
8. Merrell Women's Siren Edge Hiker
This is a lace up shoe made from a well-respected brand. Merrel Women's Siren Edge Hiker is made from a breathable material that is waterproof and strong so the shoe will last for a long time if looked after properly. The mesh material allows a more hygienic shoe which means fewer odors and comfier wear in general.
It also has a shock absorb heel which means your foot will not suffer from prolonged steps and running. All of these are great features to have in a shoe, and that is why the shoe has such great reviews in general.
Available in a wide range of colors and styles and very affordable, this is a great hiking shoe to complement any hobbyist or enthusiast or serious hiker.
Check Price on Amazon ➞
9. adidas Men's Rockadia Trail
Adidas have been making shoes for many years and always produce top quality products that you can trust. This hiking shoe is no exception. It is marketed as a running shoe for trail running, though it could be used as a hiking shoe as well. Running shoes are often a good option for hiking as they are generally made with waterproof material, durable and have strong grips for extra safety and protection.
The shoe itself comes in a variety of designs in colors, so there is something for everyone. Each design is classy and made with the main purpose of the shoe, with top quality materials and fabric.
This is an affordable hiking shoe/trail running shoe from a trusted brand and comes with a high number of good reviews as well.
Check Price on Amazon ➞
10. Merrell Women's Moab 2 Mid Boot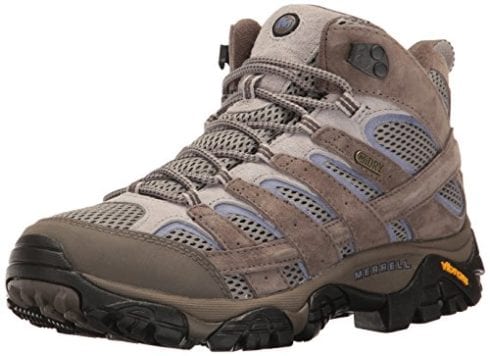 This Merrel Women's Moab 2 Mid Boot hiking shoe comes in boot form, a low boot, but a boot nonetheless. It is made from a suede leather, which looks great and adds a touch of luxury to the product. It is a waterproof shoe so you can wear it in a variety of terrains, whether you are walking the dog or climbing a hill.
It has a raised heel to add to your overall comfort and add extra protection between you and the ground, something which is quite important when trekking through rougher terrain. You want your feet to be protected, and with this boot, they definitely will be.
The Merrell Women's Moab 2 Mid Boot has great reviews and is definitely worth the price it is marketed at for value, durability use and comfort.
Check Price on Amazon ➞
Buyer's Guide
With hiking shoes, the same as purchasing any shoe, there are several things to factor into the buying and selection process. These include material, style choices (including color, design, etc), purpose, foot size, foot type, ankle support, waterproof capability, traction, and durability.
Ankle Support
Finding a hiking shoe that properly supports your ankle is a major concern when buying footwear. You want to be properly and sufficiently supported when hiking and walking for any stretch of time, and therefore you need a boot or shoe that can support these needs. This ties in with the design of the shoe, strength of the sole, material of the sole, insoles, laces vs. Velcro and height of the shoe.
Durability
It is safe to say that hiking shoes are an investment. They are not something to be bought on the cheap, unless there is a great sale or offer on somewhere, as cheap products often lead to complications and pain for your feet. This is a product you don't mind spending a bit of money on and treating yourself and your feet to secure comfort and enjoyable time.
Therefore, the shoes you buy you want to last. This is down to how it is made, what material it is made out of, how often you are going to wear them and how you maintain them in the meantime.
Traction
Traction should be considered when it comes to hikes in bad weather, hikes uphill and hikes on more dangerous paths such as steep cliffs and rough terrain. If you are a novice or hobbyist, you might not need a hiking shoe with massive amounts of traction on the bottom.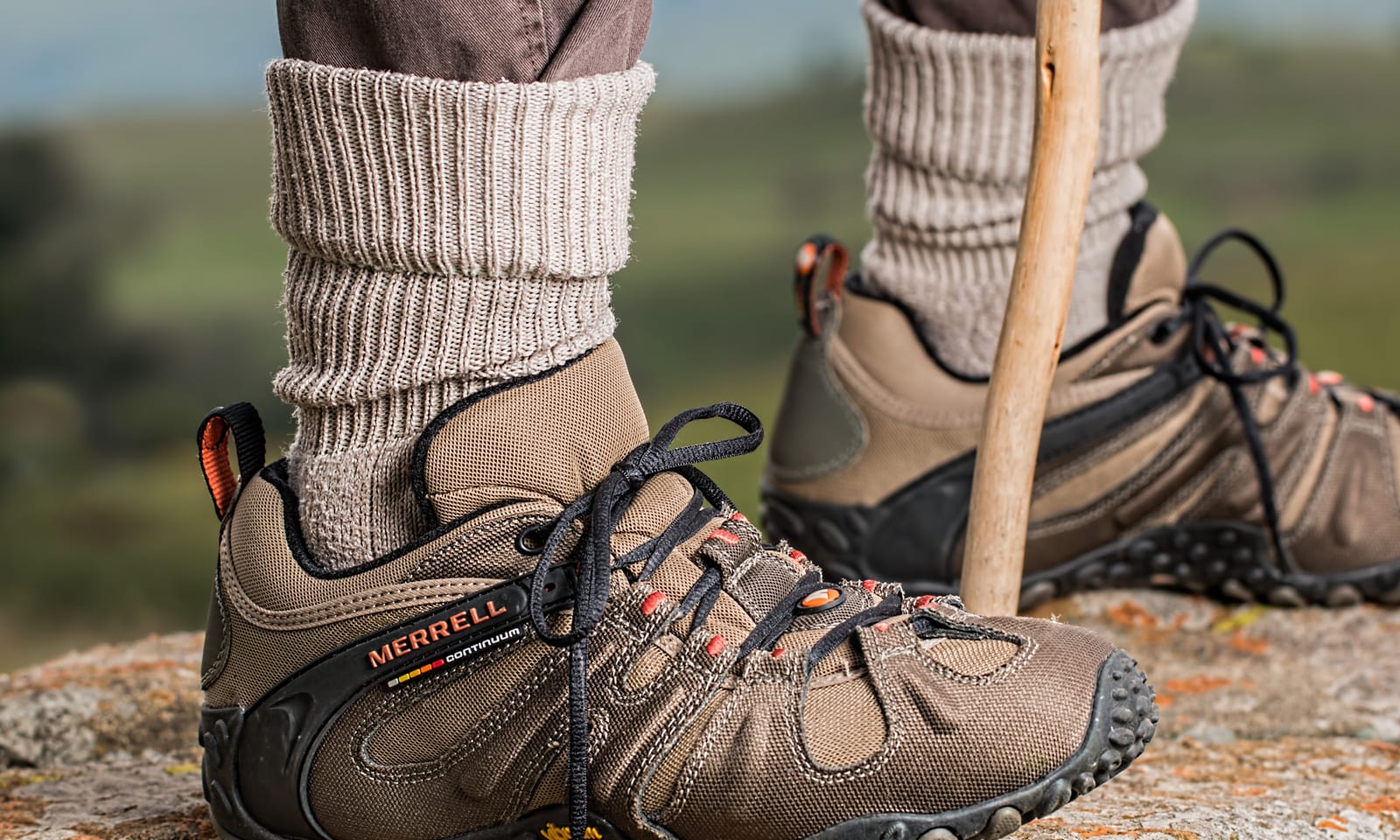 However, if you are into the more extreme end of hiking that isn't just wandering around nature, then you may need to think about what traction you need on the base of your hiking shoe.
Foot Type
Foot type is one of the prime considerations when buying shoes. When it comes to feet, of course, like every other part of the body, they come in various shapes and sizes, and though it is important to make sure you get the right fit length and width wise, you also have to take into consideration your foot arch.
There are three types of foot arch – which basically means what shape foot do you have. As you can see below, what type of arch you have in your foot will dictate which type of shoe you need to fit you specifically, so it is a good thing to find out and cater to.
Prefer light shoes? Try these lightweight hiking shoes.
Low arch
A low arch is sometimes called flat feet as well. Generally, this will be a foot that looks flat or very close to the ground. Though the foot may be more flexible than other types of arches, it can also be more problematic and cause foot and knee pain more frequently than other types of arches. Don't despair if you do have a foot with a low arch though, there are shoes specifically designed to give you comfort!
Medium arch
A foot with a medium arch will have a slightly defined arch that is visible to the eye. It will look almost like a mini rainbow in the middle of the foot, between the foot and the floor. People with medium arches are still quite susceptible to foot problems and aches and pains, though this can be minimized with proper shoes and comfort aids such as insoles.
High arch
People with a high arch will have a noticeably visible arch in the middle of their foot. The front of the foot and the heel often take most of the pressure, which means they can become worn out and uncomfortable rapidly with the wrong shoes. Again, there are tailored options for people with high arches, so it is nothing to worry about. Alongside this, you should take note of whether you have wide feet or narrow feet.
Wider feet need a more comfortable, breathable material to avoid unnecessary blisters and discomfort. Narrow feet can handle harder materials such as stiff leather. A wider foot with a low arch has very different needs to a narrow foot with a low arch, so it is all worth taking on board if you want your feet to be comfortable and pain-free.
Get professionally measured and assessed, it is easy and free and can be done in the majority of shoe stores.
How Should Hiking Shoes Fit?
This has been covered in some parts above. Above all, it is important to know your foot inside out. Ask yourself these questions, and you should come out with the perfect fitting shoe, something Cinderella herself would be envious of.
– What type of foot arch do I have?
– Do I have wide or narrow feet?
– What size shoe am I actually?
– What material suits my feet?
– Do I need insoles?
– Are there any other factors I need to take into consideration (medical or otherwise)?
If you are struggling with coming up with an answer, and you feel particularly worried that you are going to purchase a product that will not suit your feet don't hesitate to go and take advice. Customer service sales representatives in shops that sell hiking shoes will be trained in what works best for you and will always be willing to help.
How to Choose Hiking Shoes?
Hiking shoes come in a variety of shapes and sizes. To chose the best hiking shoes you should think about how serious you are about hiking.
– Do you want a boot style or a trainer style shoe?
– Does the hiking boot need to be waterproof?
– Do you want laces or something more convenient/less hindering?
There are multiple considerations, not to mention what color you want your hiking shoe to be. However, don't get overwhelmed. Stick to what you know and like and make sure the hiking shoe ticks all of your boxes, and your choice will be the best one for you.
How to Clean Hiking Shoes?
Many hiking shoes can be cleaned in the washing machine. Like most products, they will come with manufacturer's guidance and guidelines. These aren't just for show or commodity; they are actually full of useful information alongside the boring stuff you don't ever want to read.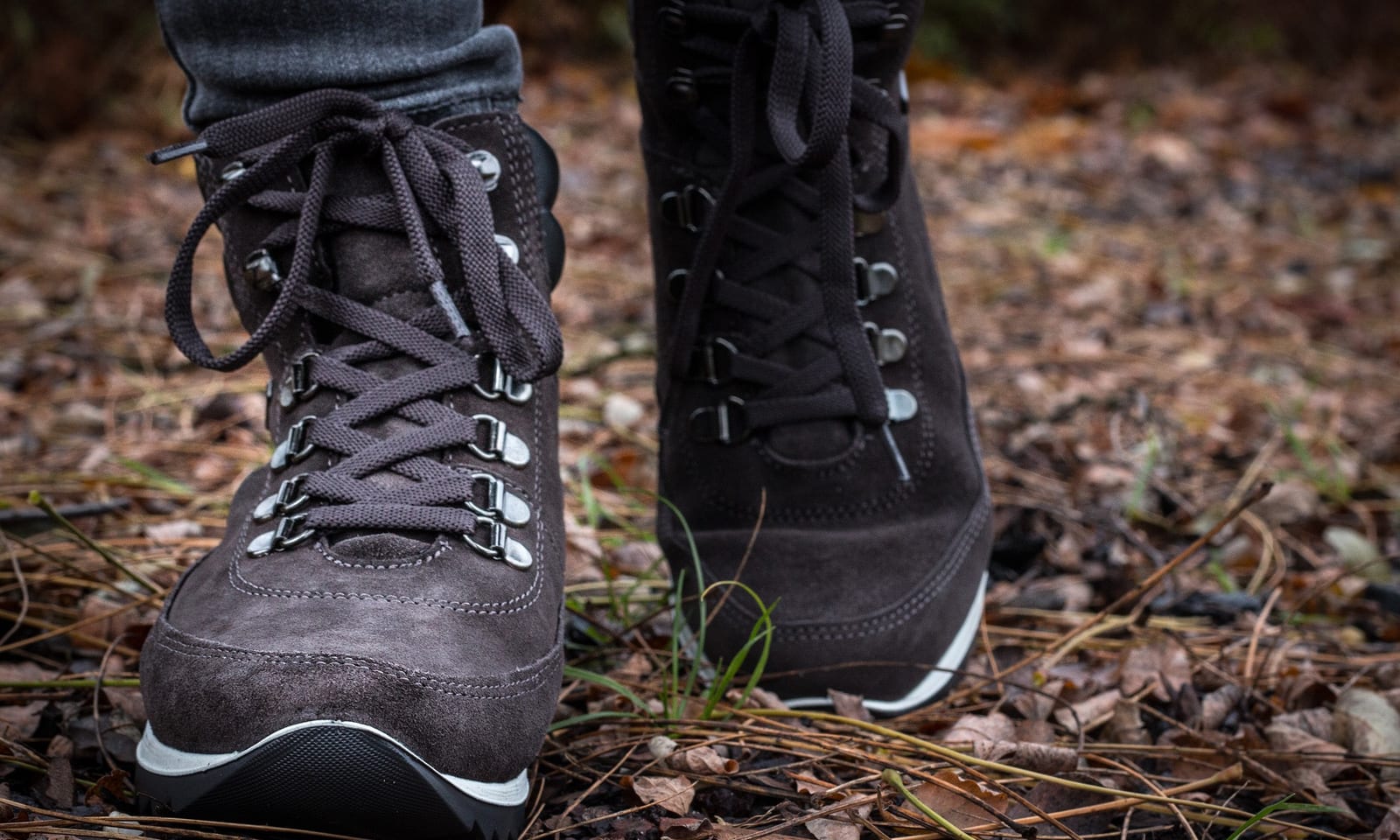 Most manufacturer's will including cleaning instructions in with the hiking shoes themselves, as often the material used in the shoe will become damaged if cleaned in an incorrect manner. This is what you want to avoid, so make sure you read up and do your homework before attempting this task!
Expert Tip
When it comes to hiking shoes, size is everything. If you have the wrong fitting shoe, your feet will be in absolute misery – there is no escaping this fact! Make sure you know what size your feet are, what they need, and try a few styles and sizes to ensure the optimal comfortable fit.
Though this is true of any shoe, it is especially important for specialist footwear such as hiking shoes which are perhaps going to be used in more strenuous conditions than your everyday trainers.
Did you know?
The highest mountain in the world is Mount Everest, standing at nearly 9000 ft! This is a popular hike for the more pro hikers and is undertaken as an adventure quite frequently! Though you will need to right footwear to even begin to tackle this mountain, it would be quite the achievement.