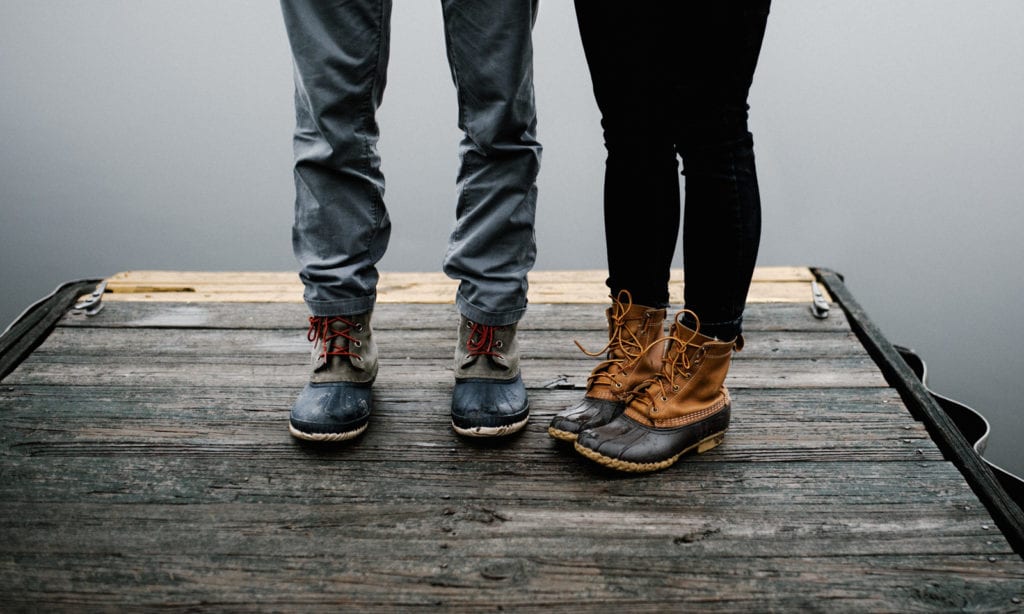 When you are dealing with difficult or unpredictable weather conditions, a good pair of boots is a must. Whether it's light rain or thick mud, there are plenty of situations where a waterproof cold-weather boot can come in handy, and muck boots provide good defense against difficult terrain or poor weather. However, different conditions require different needs: some people need work boots, others want hunting boots, and many people simply want to keep their feet safe and dry.
Here are ten of the best muck boots, along with a buyer's guide to help you choose something that is durable, comfortable, and high-quality.
View the Best, Below.
1. Muck Boots Hale Multi-Season Women's Rubber Boot
These multi-season muck boots are made with a consistent layer of neoprene that offers better flexibility and comfort, allowing for greater freedom of movement. The completely waterproof construction ensures that you can keep your feet dry on even the wettest day of the year, and the women-specific shape means that they can provide perfect support to the most important parts of your feet. Extra shock absorption and heat retention features keep you comfortable and make winter conditions far more bearable, while the softer interior means that chafing and blisters are much less likely to form. On top of that, you have a self-cleaning ribbed outsole that can get a good grip on almost any surface.
These muck boots take a standard design and improve every element, giving you a great set of cold-weather boots with a tough rubber outsole and a flexible waterproof lining.
Check Price on Amazon ➞
2. Muck Chore Classic Men's Rubber Work Boots
These men's rubber work boots are made with flexible neoprene, providing a more comfortable lining while also offering the best possible combination of flexibility and durability. Great heat retention and full waterproofing make them a great option for winter weather, while the long-lasting rubber overlays and soles improve the amount of shock absorption on offer. Not only that, but a steel shack provides greater support while you are on the move, which is backed up by a triple-toe and quadruple-rubber-heel reinforcement design that doesn't bulk up the size of the boots themselves. Despite being so durable, each boot also uses a breathable air mesh lining that can keep you cool and stop you from sweating in warmer weather.
These are some of the top general-purpose muck boots for men who need a tough, waterproof, flexible, and reliable set of boots for braving difficult weather conditions or rough terrain.
Check Price on Amazon ➞
3. Muck Boots – Arctic Ice Extreme Conditions
These Arctic muck boots come straight from the original Muck Boot company, making use of the best quality materials and designs that they have available. A strong rubber outer and sole ensures that the outside of the boots are always durable and well-protected against physical weather conditions, while the synthetic inner offers extra comfort features and padding. 5 millimeters of CR Flex-Foam boost the flexibility of the boots for easier movement, and the Vibram Arctic grip outsole can create much better traction on a wide variety of surface types. The design is obviously meant for winter conditions, meaning that the rubber boots work best when you are taking on snow and ice for long periods of time.
If you want a balance between high quality and practical reliability, these rubber boots are an excellent choice, especially if you need winter weather protection on a regular basis.
Check Price on Amazon ➞
4. TIDEWE Hunting Boot for Men- Insulated and Waterproof
These insulated hunting boots are built for excellent heat retention, keeping your feet warm and comfortable during long stretches of time out in the cold. The lightweight rubber neoprene construction offers more flexibility to make moving through snow less of a chore, and the low weight can help you avoid foot fatigue or exhaustion if you are walking non-stop. Thanks to the waterproof materials used for the outer layer, you won't need to worry about icy water getting into your shoes and causing chills or blisters. Alongside that is the fact that the boots themselves are tough and durable, using heel guards to protect you from rocks or other underfoot hazards.
This boot design is great for people who work out in the cold often, especially if you like to stay warm without needing thick socks or a portable heater that can slow you down.
Check Price on Amazon ➞
5. HUNTSHIELD Woman's Neoprene Muck Boot – Camouflage
These camo-pattern boots are insulated and waterproof, making sure that your feet are kept warm and dry through snow, rain, or even just cold breezes. The precise traction offered by the high-grade aggressive rubber outsole means that you get much more control over where you place your feet, and the use of a back gusset allows you to tweak the fit of the boots with much more versatility. An insulated and scent-free fleece lining boosts your overall comfort and warmth even further than normal, letting you stay warm and comfortable in temperatures down to -4 degrees Fahrenheit. Each boot also boasts reinforced toes for extra protection against physical bashes and impacts.
This boot design might not seem like much at first, but it makes use of some great techniques and features without relying on a single brand gimmick, making it suitable for long winter hunting trips and other outdoor activities in the snow.
Check Price on Amazon ➞
6. Muck Boots Chore Cool Soft Toe Warm Weather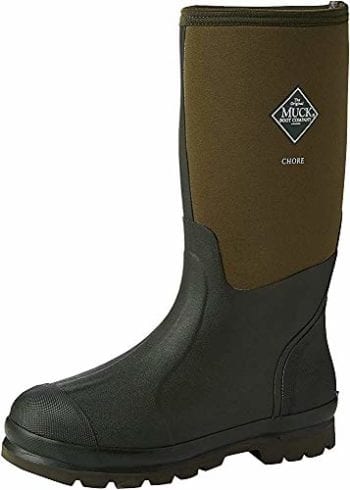 These simple muck boots are almost completely rubber, providing a simple fit and a good level of protection without relying on over-complicated features. The 4mm neoprene layer boosts comfort and allows for greater flexibility without creating gaps or weak points in the design, and the special anti-microbial XpressCool fabric used as lining helps remove excess moisture from wet weather. Thanks to the waterproof outer layer and high level of abrasion resistance, each boot can endure bad conditions very well with minimal wear and tear, and the steel shank support improves your traction on various types of terrain - even slopes. Extra reinforcement around the toes and heels improves impact handling and prevents sudden pains from ramming your foot into a rock or tree stump.
This is another great boot choice for anybody who wants warmth, protection, and something that they can rely on that feels simple and practical on a day-to-day basis.
Check Price on Amazon ➞
7. TIDEWE Rubber Work Boot for Men – With Steel Shank
These rubber and neoprene muck boots have been designed to provide high anti-slip reliability and great waterproofing, making sure that you can stay stable and dry regardless of the weather conditions you are having to take on. The boot design uses the best possible lining options, including 6mm neoprene, to boost comfort and warmth while also keeping any outside water away from the skin on your feet. A steel shank between the outsole and insole leads to better arch support on most men who wear them, and each boot also has a pull-on top tab that makes it easy to slip them on or off. Alongside that are extra reinforced pieces on the toes and heels, bolstering the protection of the rubber itself.
If you want muck boots that can help you stay even and stable on a huge range of surfaces, including Arctic-level snow and ice, then these are an ideal boot choice for almost any activity.
Check Price on Amazon ➞
8. Muck Boot Men's Wellington Boots
The molded rubber outsole used on these muck boots enables them to reach high levels of traction, making it very easy to move consistently and safely across ice and snow. The 2mm thermal foam instep design adds an underway that can retain heat and keep you warm for longer, something that will work wonders if you are ankle-deep in soft snow and don't have any other way to warm your feet up. A removable footbed in each boot provides an optional contoured set of support that can increase comfort and help you move faster, tailored specifically to the foot shape of most men. Each boot pair is completely waterproof and contains no leaking spots or cracks, reducing the chance of water getting in.
This is an excellent boot choice when you need warmth above everything else, retaining your body heat and making sure that you don't run into problems when you spend time out in the cold.
Check Price on Amazon ➞
9. Muck Boot Muckster
These muck boots use a breathable air mesh lining that can keep your feet breathing properly and use an extra layer of CR flex-foam to allow for a better stretch fit than most muck boot products. Pull-on top closure makes it easy to simply pull the boots on before work and pull them off when you get home, while the rubber outer layer gives you better comfort on a colder and wetter day. Even when dry, the improved synthetic inner can make you much more comfortable, and the design doesn't have any brand gimmicks that force them to be used for specific things or in certain ways. This simplicity allows them to fit a range of roles and different activities with ease.
If you want a muck boot that is comfortable, breathable, and not as tall as other products on this list, then this is an excellent boot choice.
Check Price on Amazon ➞
10. Servus MAX 15″ PVC – Chemical-Resistant Soft Toe
These chemical-resistant muck boots come with a high level of protection thanks to injection-molded triple-density PVC, making sure that they keep your feet safe from all kinds of hazards (including dangerous chemicals). The removable contour cushion insole offers extra support to get your arch and heel in the right spots, and a wide steel shank boosts this even further. The soles are made with a dual-compound design that self-cleans with each step, creating a stronger and longer-lasting work boot that can handle all kinds of hazards. The tall lugs and pull-on top design make them very suitable as emergency boot products, too.
These are incredibly useful work boots if you want to keep your feet fully protected and out of danger at all times, regardless of the context.
Check Price on Amazon ➞
Best Muck Boots Buyer's Guide
Which muck boot company is best?
The best muck boots vary from person to person since no two men or women want the same products. Each muck boot company will make different muck boots and work boots, whether that is lines like the Arctic Sport from the original Muck Boots brand or another pair of muck boots from a lesser-known brand. Whatever the case, you want to find at least one pair that can fit well (usually being advertised as true-to-size, unless you don't mind a non-true-to-size option that is half a size bigger).
For some people, the best muck boots that they can get are the ones that keep them warm. The Arctic Sport line (part of the original Muck Boot brand) can keep you going up to -60 F depending on the situation, and many other brand names have struggled to even get close to -60 F protection. However, some people may prefer a pair that uses a steel toe for added protection or muck boots that have a good fleece lining layer for improved comfort.
How do I choose?
Looking into the all-rights-reserved branding names can sometimes make it harder to find good muck boots. There are a lot of distinctions to make even without considering that brand, especially since the all-rights-reserved nature can obscure a lot of the key details: are they the best terms of a steel toe, do they have the best use of neoprene, do they come in the best size for your feet, and so on.
Remember that boots for men and women can also be very different, with one for women not necessarily fitting men properly (and the other way round). It is best to choose boots that work for your foot shape and size since even something small like the open-top can be a problem if you get the wrong type of muck boots.
Conclusion
Whatever one you choose, you should find the best muck boots for your specific needs. One of the key things to consider when choosing muck boots is how they stack up against the "ideal one" – the best possible muck boots you could theoretically buy. If you find a pair that matches up with your idea of the "ideal one" for you, then they might end up being the best muck boots you will find within that budget. If you end up with boots that aren't even close to the ones you had in your head, then they are probably not going to serve you very well.
Boots come in all shapes and sizes, and one person might have very different expectations from another. Don't hesitate to look into boots that might not be that popular or well-known because your preferences and requirements could always point you towards products that other people aren't even aware of.
Expert Tip by Alexis DeSalva Kahler
Considering the height of the boot is important, as a boot that's too tall or too short may impact mobility.