10 Best Composite Toe Boots
Composite toe boots can offer plenty of protection in the workplace, and a good composite safety toe is easily one of the best ways to keep your feet out of harm's way. However, just like any kind of shoe, there is a lot that can go into choosing the best composite toe boots for your situation. Knowing what you need and how to find it is not easy, especially if you have not looked into buying any work boots options before. What are the best protective-toe work boots on the market at the moment, and how do you decide if they are right for your needs?
Here are ten of the best composite toe boots you can buy today, along with a quick buyer's guide to help you understand what they might be offering you.
10 Best Composite Toe Boots
1. Timberland PRO Men's Pit Boss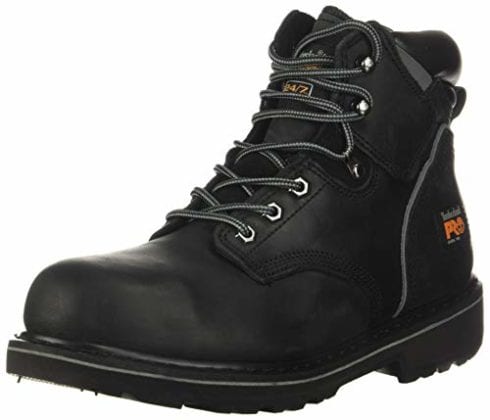 These men's composite toe work boot designs are made with a combination of tough nubuck leather and various other minor materials, creating an outer surface that can resist oil, water, and multiple other kinds of damage on a day-to-day basis. The 24-hour Comfort Suspension features mean that you can tackle full shifts at work without suffering foot fatigue, as well as bolstering your arch support and cushioning every step you take. The Goodyear welt construction and mechanical bond processes have turned the simple design into something very durable, designed to ANSI safety standards, and perfect for tough or dangerous environments where protection is everything.
These steel-toe workplace boots are made simple but effective, letting you keep your feet dry and protected while relying on a slip-resistant outsole to take on difficult ground well.
Check Price on Amazon ➞
2. Timberland PRO Men's Boondock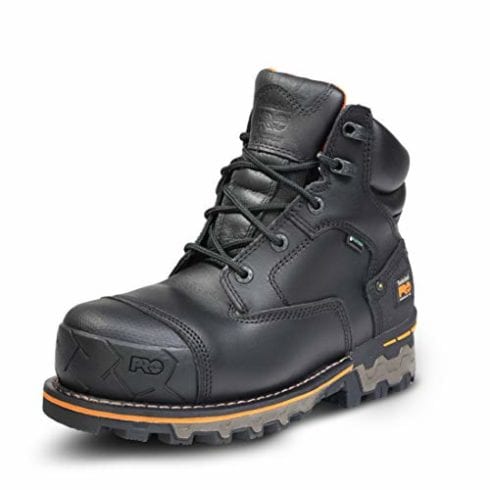 These well-made waterproof composite toe work boots are made with great shock absorption features thanks to an internal geometrical design, giving you better comfort throughout the entire workday. The strong TPU outsole boasts deep lugs that boost traction to a much higher level, making each boot oil, abrasion, and slip-resistant both indoors and outdoors. Numerous other high-quality materials have been used in the design, such as a moisture-wicking mesh lining that improves breathability and an anti-microbial layer to remove odors from your feet if you have not had time to sit down and rest. Excellent waterproofing ensures that you can handle wet weather well, especially while working outdoors.
This pair of composite safety toe boots provide you with a massive amount of protection from all kinds of workplace hazards and can keep you comfortable for hours at a time.
Check Price on Amazon ➞
3. Skechers Men's Burgin-Tarlac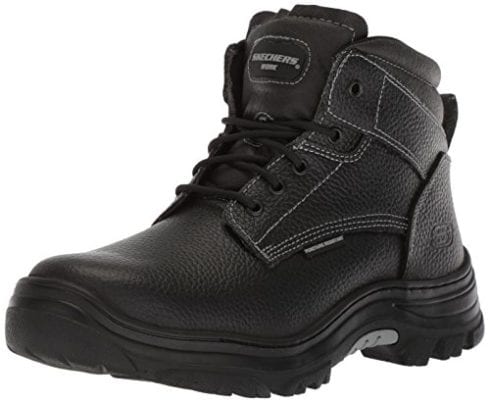 These industrial-focused steel toe work boots use a layer of memory foam to cushion the interior, providing a much more personalized fit that will naturally become more comfortable the longer you are wearing them. A tough rubber sole gives you far more stability on tough or wet surfaces, keeping the soles of your feet away from harm while also giving you better electrical hazard protection in the workplace. The straightforward lace-up closure makes it easy to adjust each boot at any time, and the entire pair of work boots use 100% embossed leather for a greater level of water resistance when outdoors. A shock-absorbing midsole, gusseted tongue, padded collar, and all-terrain sole design all contribute to a massively improved performance in almost any condition.
These are amazing steel toe boots for anybody who is terrified of getting hurt on the job, with each steel toe boot offering a massive range of protective features and improved comfort options.
Check Price on Amazon ➞
4. Skechers Men's Relment Pelmo Chukka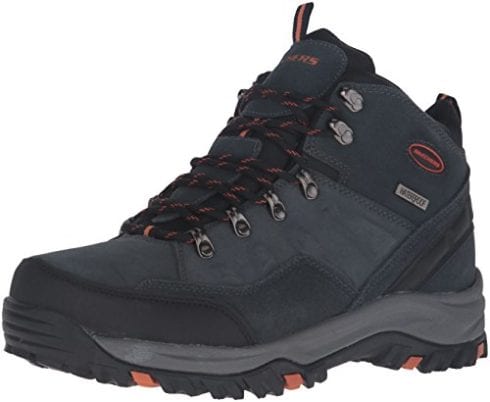 This waterproof composite toe boot design relies on a variety of different materials, combining regular suede and rubber with multiple synthetic layers to boost comfort and safety. A familiar lace-up closure system and relaxed fit make them comfortable work boots for first-time wearers, and the memory foam used as an inner layer means that the boots will slowly adapt to suit your foot shape and movement style. The fabric mesh collar allows for faster cooling on hot days, and the flexible rubber outsole uses a great lug pattern that can take on all conditions. Despite the synthetic materials, a high level of waterproofing makes these excellent shoes for outdoor work.
Waterproof work boots are always useful outdoors, and these steel toe boots combine great protection with excellent grip to make moving around varied terrain types extremely simple and convenient.
Check Price on Amazon ➞
5. Caterpillar Men's Second Shift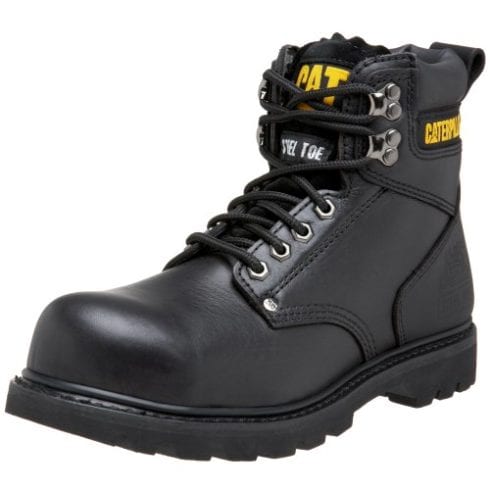 These all-leather steel toe work boots options are designed with a strong synthetic sole that can take on multiple types of ground with absolutely no problems, using oil and slip-resistant outsole materials to keep you upright and safe. The ankle-cut design allows for a better range of movement in the workplace, using a high-quality tongue and collar design to keep your feet dry and safe from harm without restricting how you can move your leg. Made with high-quality leather for maximum durability and strength. These boots hide steel toes that can protect the front of your feet from sudden impacts without transferring any force back into the rest of your foot. The rugged design also means that they will last a lot longer than many other work boot choices might.
This is another simple work boot that provides a great design with plenty of benefits, keeping everything basic and improving on the designs set by older boots you may have owned in the past.
Check Price on Amazon ➞
6. Under Armour Men's Valsetz Military
These Under Armour waterproof tactical boots are built to withstand a massive range of different conditions, handling hot and cold weather well both indoors and out. The excellent synthetic outer layers create a very protective shell around your feet that can fend off water and a variety of other weather-related hazards, while the protective toe section means that the front of your foot is safe from bumps and bashes. Simple laces act as the closure system, making it instantly accessible to anybody who has owned boots before. The rubber outsole is able to handle indoor and outdoor surfaces equally well without forcing you to stick to either, with plenty of small lugs that can help you keep your balance on slopes or wet ground.
These boots are made with a variety of materials, but all of them work together as a single unit, giving you great protection from water damage, physical hazards, and the rough surfaces you might be walking over.
Check Price on Amazon ➞
7. WOLVERINE Men's Overpass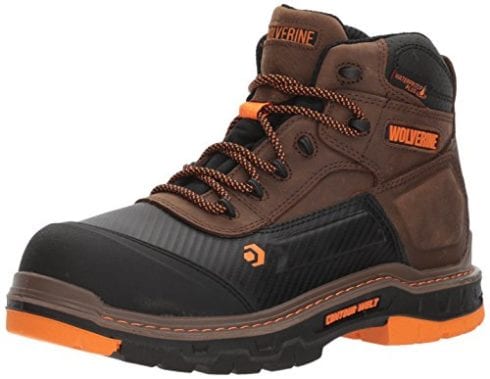 These durable and heavy-duty work boots use an excellent welt construction that can flex and stretch with your movements, allowing them to survive much more frequent use without slowly wearing down or becoming rigid. The high-quality waterproof leather and high abrasion resistance on the protective toe allow it to tackle both indoor and outdoor hazards, offering a huge amount of water, abrasion, chemical, oil, and slip resistance compared to most other boots. Thanks to the removable Ortholite footbed used inside each boot, it becomes much easier to wear them for a full shift without taking them off, giving you great anti-fatigue technology without weighing you down or making the boots too bulky to use properly.
Thanks to the amazing quality and durability on show, these are a work boot choice for people that prefer protection across all parts of their feet, not just the toe caps and heels.
Check Price on Amazon ➞
8. Ariat Groundbreaker Square Toe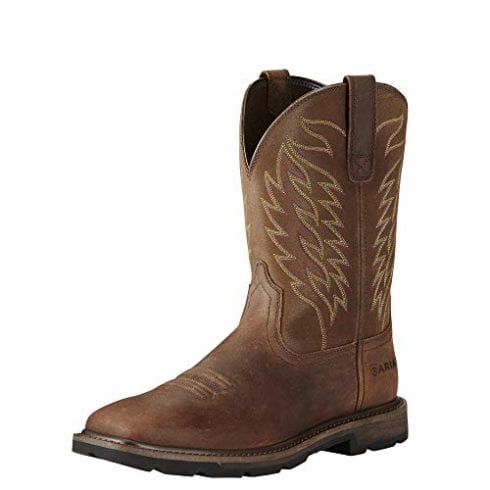 These 100% full-grain leather boots use a fancy western design that makes them stand out from others in this list. Despite the added style, they are still just as sturdy and reliable as any other option, providing extra metatarsal support and protection along with improved cushioning. The safety toe - which has been properly ASTM rated - keeps the front of your foot safe and secure, while Four Layer Rebound technology extends the same comfort and air flow benefits to the rest of the boot. Not only that, but the 90-degree heel leads to much greater stability in the long-term, which can make it much easier to move up and down awkward floors in industrial buildings or on concrete pathways
: These are excellent boots for a wide range of different situations, combining the simple style of a western-style casual boot with the protective nature of your average industrial workplace footwear.
Check Price on Amazon ➞
9. KEEN Utility Men's Lansing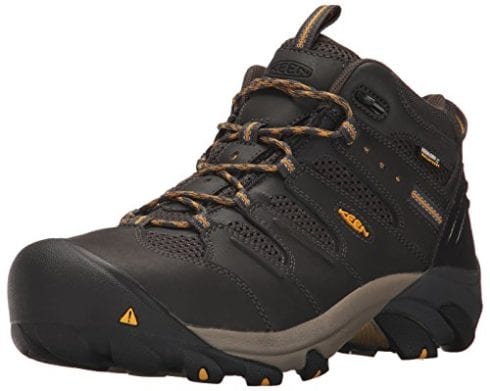 These textile shoes use an asymmetrical design that aims for maximum anatomical correctness, improving your stability and grip without adding to the bulk of the shoes themselves. The slip and oil-resistant rubber outsoles use a custom lug design that allows for much better traction, and the entire outer layer of the boots themselves is waterproof to limit the amount of damage that water can do. On top of that, you get electrical hazard protection from the rubber included in the construction and a TPU stability shank to make sure that you do not slip or fall when working on uneven surfaces. Reflective elements along the side improve visibility in dark spaces, and the odor-removing probiotics mixed into the mesh lining stop your feet from stinking after a hard day of work.
: These are the ideal boots for people who want better safety features but also prefer a lighter and easier-to-wear shoe that does not slow them down too much while they work.
Check Price on Amazon ➞
10. KEEN Men's Targhee II Mid
These hiking boots make use of a breathable, waterproof membrane that is able to keep the water out while letting air flow freely, making water vapor far less of a problem in humid environments. The water repellent used in the nubuck leather upper is able to keep your feet dry and make you more comfortable by allowing vapour out and the air in but also does not include any harmful PFC chemicals. High-quality non-marking rubber outsoles boost your traction in all weather, both indoors and outdoors, with an external support shank in each work boot to improve this even further. Thanks to the ankle-cut neck, you get a lot more mobility while still seeing the same kind of safety features, making it easier to move around quickly while you are on a work schedule.
The waterproofing is the main selling point of these composite toe work boots, but that does not make them any less appealing for dry weather, especially considering the great quality of the outer layers and outsole.
Check Price on Amazon ➞
Buyer's Guide
Finding the best composite toe boots on the market can be a daunting task since there is not any "perfect composite toe boot" available. Each of the best composite toe work boots you might see online or in physical stores is going to be suited to a different purpose, and some are outright marketed as the best composite toe work boot for a highly specific niche.
On top of that, your work environment or daily routine might demand particular things: people who work in wet areas will want waterproofing, for example, whereas a warmer place might require better ventilation or materials that do not trap heat inside your boot.
If you are not sure where to look, then it is a good idea to try and consider what you want first, then use that to slowly narrow down the list of potential options available to you. The more you understand about what you want and need from a boot, the easier it becomes to track down something that fits that niche.
Here are some things to consider if you are looking into the composite toe boot options that you might like and some explanations of what might be best.
Comfort
Comfort is always a key part of any composite toe boot, especially ones that are going to be used in the workplace. The more comfortable you are, the easier it becomes to go about your day safely and without any kind of pain or hassle. Unfortunately, since comfort can come in a lot of different forms, it is not always clear exactly what would be the most comfortable option at first.
Comfort is also a very personal thing. Some people may prefer specific things from their composite safety toe boots, whereas others could just be happy as long as their feet do not hurt. Too much comfort is also entirely possible, especially if it begins to take over the design instead of other important elements such as stability or waterproofing.
Cushioning
Most composite toe work boots are designed for protection, but that does not mean that they can't be comfortable too. Good padding and cushioning can make a big difference if you are on your feet for most of the day since it reduces foot fatigue and muscle pain. It can also be much more appealing in general, which is good if you have never worn proper composite or steel-toed boots before.
A rubber outsole and soft leather uppers can sometimes double as comfortable cushioning too, but the midsole is the real star. Do not ignore the midsole if there is one, even if it is a removable design.
Memory Foam
Memory foam is another major part of some designs, and while it technically works like cushioning, it is a much more long-term solution. Memory foam creates impressions of whatever rests on it, meaning that you can have great memory foam interiors to create a personal fit that molds to whatever your foot shape and size is. However, you should expect a price increase to match sometimes.
Anti-Fatigue Support
Wearing shoes often means that you are generally moving around often, and in the workplace, you can sometimes be standing up for hours at a time with no real way to sit down for very long. This quickly leads to fatigue and can eventually cause muscle pains or sores if you are not careful in fixing it quickly.
Any kind of support that keeps your feet comfortable will also reduce fatigue, which is essential in basically every situation. Even if you are intentionally pushing yourself further than normal with a hike or run, there is no reason to let fatigue happen if you can avoid it.
Heel Support
A good heel matters a lot. The heel changes the angle of how you wear your boots and can sometimes adjust how your toe boxes lie. This does not mean that you need a large heel that raises your feet up high, but having something that feels appropriate for how you walk is important since you do not want your boots to force you into an uncomfortable walking pose.
Heels should also have padding. In some designs, there is actually more padding around the heel than anywhere else since the heel is responsible for a lot of key foot movement. Even a simple six-inch shuffle forward requires that you use your heel as part of the motion.
Toes
If you are getting composite safety toes, then you need to know what they actually do and how they work, as well as the different types that might be involved.
Steel Toe Work Boot
Steel toe boots are boots that use a steel toe cap at the very front for added protection. These toes are incredibly durable and are meant to prevent problems with items bashing into your toe area, adding extra protection from physical harm without altering the boots themselves. Steel toe boots are often heavier than normal boots due to the weight of the toe materials.
Composite Toe Work Boots
Composite toes are any toes made from non-metallic materials, such as fiberglass, Kevlar, and so on. Composite toe boots are designed to be lighter than steel toe boots, and the composite toe itself is also lighter since it is non-metallic. However, the non-metallic materials are generally weaker, so they do not offer the same level of protection.
Which Do I Use?
If you have to choose between composite toe waterproof boots or steel toe waterproof boots, then it all depends on what you are looking for. A composite toe boot won't be as tough overall, but the reduced weight and ease of movement (as well as slightly increased comfort) make them slightly more versatile.
Steel toe boots are the opposite. They are heavier, tougher, and provide a lot of physical protection at the cost of some mobility, meaning that steel toe boots are sometimes the best boots for industrial settings or in places where physical damage is a real threat.
Choosing based on the brand can sometimes be a valid choice because they often make their own toe caps. Timberland Pro composite toe boots are going to have a specific Timberland Pro flair and will use the materials that Timberland Pro feels are appropriate for their composite toe work boots.
Are They Equal?
Composite toe work boots and steel toe working boots are not equal since they serve two different purposes. They are similar in how they look and what they are meant to do, but that does not stop them from still being different enough to not really relate to one another.
If you know that you want composite toe boots, for example, then you should make sure you get composite toe work boots. Using steel alternatives can seem like a good idea, but most composite toe work boots are designed to be lightweight and simple to use, whereas steel ones are more like a pure shield.
Construction
Construction is how a boot has been created. Looking at boots like the Carhartt Men's CMF6366 or Thorogood Men's boots will bring up construction, but it is not always clear what that means. Here are some key things you will want to understand if you care about the materials and designs used in your shoes.
Waterproof Comp Toe Boots
Composite toe waterproof boots are just composite toe boots that are also designed to be waterproof. In wet weather, the best composite work boot is one that can resist water and moisture, so composite toe waterproof boots are quite common in many different situations. Many of the best composite toe work boots are waterproof because they offer more benefits than drawbacks – there are not many reasons to not have waterproofing if you can get it.
Cement Construction
Cement construction is the process that attaches the parts of the shoe together after they have been separately created. Cement construction can be risky, but it is a good way for companies to quickly prepare shoes that work well. They have a shorter lifespan, however, since they can fall apart or wear down slightly faster.
Goodyear Storm Welt Construction
Goodyear Storm Welt construction is a classic construction type that uses multiple layers and indirect attachments that are designed to act as a makeshift waterproof membrane, preventing moisture from causing as much harm and sealing the shoe more effectively. This is often how you end up with waterproof leather shoes, although waterproof full-grain leather also exists in other forms.
Full Grain Leather
Full-grain leather is the highest possible quality of leather you can get, with a premium full-grain leather upper fetching quite a high price. These are often used for waterproof comp toe boots meant for actual workplaces since they make the composite toe boots far more durable. Not all full-grain leather is waterproof leather, though, and waterproof membrane layers are generally left to synthetic shoes.
These leather uppers are more expensive than regular leather uppers but also provide the most protection among all standard, natural leather uppers you can buy.
Electrical Hazard Protection
Sometimes a 6-inch waterproof comp toe work boot will still have a weakness to electrical shocks, even if the boots use rubber in certain areas. Leather uppers are quite vulnerable to this, as are many synthetic ones, and a lot of shoes in product lines like Timberland Pro or Keen Utility won't be designed to handle the shocks.
Good electrical hazard protection means that you can wear composite toe work boots near electrical hazards with much less fear of something going wrong. Even if it never becomes necessary, having the proper protection can always be a relief if you regularly have to work with electrical equipment in your daily routine.
Slip Resistance
Slip-resistant composite toe work boots are designed to prevent slipping and sliding in the workplace, something that matters a lot if you work in an area with a lot of uneven surfaces and wet floors. They can also become very useful in outdoor areas since slips can easily lead to injury or even death depending on where you are and how far you fall.
Conclusion
If you are still looking for good composite toe work boots, then remember that most composite toe boots are designed to do specific things and often have a certain niche behind them. If one composite toe boot does not fit with what you need, then another composite toe option will. The main thing between them is the use of a composite toe, which is often the main selling point of most composite toe shoes as well.
A good composite toe makes a big difference, and in most cases, you will not really run into a bad composite toe. They are either good at being a composite toe that can protect you from harm, or they just add some more protection and do not do much else.
Expert Tip
A composite toe is not always going to be exactly what you expect, but do not be disheartened. Most composite toe designs still work very well, even if they use a different material.
Did You Know?
Some comp toe work shoes allow you to place your own composite toe inside. Keep this in mind if you feel like you would rather swap the existing composite toes out for something else.