12 Best Winter Boots For Men in 2021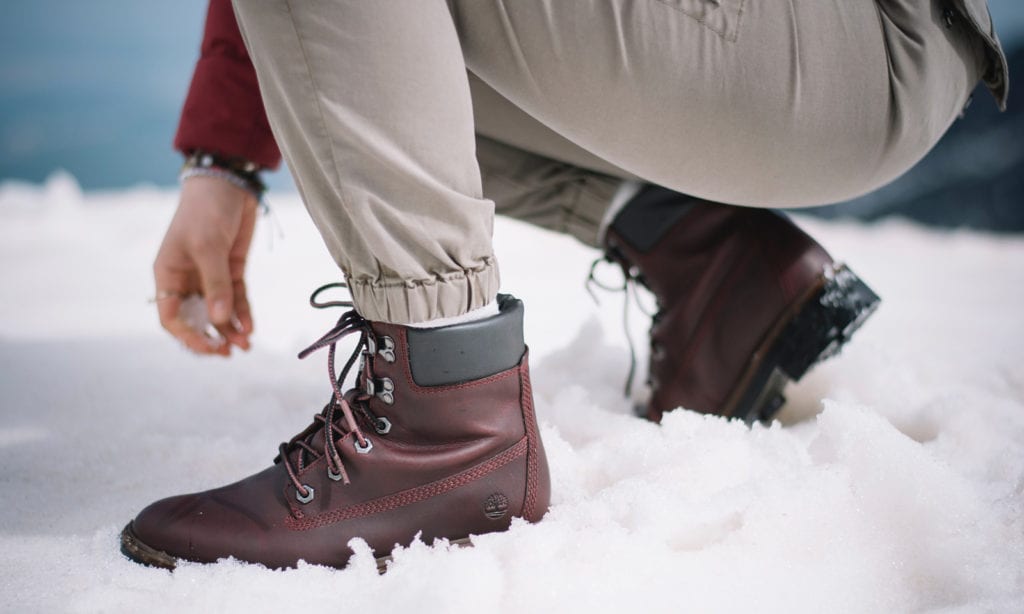 A good pair of winter boots can make even the worst winter weather much more bearable, whether you are using them for heavy-duty manual tasks as part of your day-to-day job or just want them for casual hikes and walks in the snow. Even the most basic pair of boots for winter can offer you a range of useful benefits over generic all-season shoes, and there are so many different types of boots on the market that you can always find something that suits your needs, preferences, and style perfectly if you search for long enough. The problem isn't finding the shoes – it is knowing what to look for in the first place.
Here are twelve winter boot pairs that make up some of the best on the market, as well as details about what makes them so good and what situations they are best in.
View the Best Winter Boots For Men, Below.
1. Timberland Men's White Ledge Mid Waterproof Ankle Boot
These tough ankle boots are made with fully waterproof full-grain leather to provide maximum protection from both physical and weather-related damage, making it much easier to move through deep snow without getting your feet wet or cold. The entire design is seam-sealed, and the lacing system is made with rustproof materials, ensuring a longer life, even if the winter boots are used frequently in bad conditions. Underneath all of that is a dual-density EVA insole that provides maximum protection and shock absorption, making them work well as hiking boots in cold weather, as well as a simple lace-up system that allows for very precise adjustments.
These waterproof snow boots are perfect for keeping your feet safe and dry during bad weather, especially when things get wet.
Check Price on Amazon ➞
2. Muck Boots Arctic Rubber Men's Winter Boot
These tall rubber boots have a comfortable fleece lining that can keep your feet warm and provide much better heat retention in cold weather. This, combined with the durable rubber exterior and a tough synthetic sole, makes them an excellent option for conditions where comfort and protection are equally important.
A new midsole design created specifically for this boot gives you an extra level of foot support and comfort with every movement, and there are no laces involved: you can simply pull or slip the boots on whenever you want, making them a very convenient choice for people who are constantly on the move and have to head outdoors often.
These boots are incredibly reliable, offering you a good level of protection and comfort without being overly complicated or hard to put on.
Check Price on Amazon ➞
3. WHITIN Men's Insulated All-Weather Boots
These insulated boots give you plenty of protection from cold weather, working to keep your feet warm through a comfortable sock liner, enclosed design, and water-resistant exterior. The slip-resistant outsole makes these boots much safer to wear on ice or other slippery surfaces, and the easy lace-up system means that you can adjust the fit as needed to keep you feeling comfortable and protected. While not completely waterproof, the added water resistance is enough to keep deep snow from becoming a problem, meaning that you can keep your feet dry for longer. Finally, the lacing system is designed in a way that allows for maximum comfort, letting you quickly slip on the shoe if needed.
These boots are good all-round winter boots for a variety of situations, with no particular weaknesses and quite a few useful strengths.
Check Price on Amazon ➞
4. Columbia Men's Fairbanks Omni-Heat Hiking Shoe
The reflective silver dots used in these boots are designed to regulate heat by reflecting it back into your feet, essentially blocking some of your body heat to keep your feet warm for longer without requiring other measures. This also helps reduce the overall weight of the boots and makes them much easier to use for long hikes. Proper water resistance has been added thanks to the built-in siped zone drainage, and the multi-directional tread on the outsole gives you far more traction and grip on a wide range of surfaces. A lot of this traction is focused on the forefoot, making the boots much better for hiking on loose surfaces and uneven terrain.
Unlike many options, these winter boots are ideal for handling varied terrain without being built for any specific situation or weather conditions.
Check Price on Amazon ➞
5. Skechers Men's Relment Pelmo Chukka Boot
These waterproof boots are straightforward and easy to wear, using a relaxed fit that is much more comfortable than your average hiking boots. The memory foam used in the design can mold to your foot shape each time you wear them, meaning that they are great work boots for people who need to be on their feet for long periods of time.
A strong, well-designed rubber sole gives each of the boots much more traction and makes movement easier, giving you plenty of extra control on uneven surfaces or soft terrain. The space around the lace area also uses mesh to improve cooling, keeping your feet and toes dry while still removing excess heat and sweat.
These boots are ideal for winter hiking and long walks, keeping your feet warm even if you are moving through deep snow.
Check Price on Amazon ➞
6. SOREL Men's Caribou Winter Snow Boot
These boots are made with tough waterproof leather that is backed up with a range of supportive synthetic materials, giving you much better results and a higher level of comfort while you are outdoors. The removable insole helps with heat management and keeps you feeling warmer for longer, while the durable outsole is able to handle both wet and dry surfaces with very little effort. Not only that, but the seam-sealed outer design of the boots combined with the waterproof materials makes them highly resistant to snow, rain, and other weather conditions. At the top is some faux fur that helps stop debris from getting into the boots while you are on the move, as well as adding some extra style.
These are the ideal winter boots to wear if you are concerned about water giving you a chill, keeping you warm even when you are standing in cool puddles or patches of thick snow.
Check Price on Amazon ➞
7. Columbia Men's Bugaboot Plus IV
These heat-focused winter boots are perfect for staying warm, using air-permeable protection that allows for full breathability while still being waterproof and keeping snow away from your feet. Not only does this mean that the boots offer you proper dry conditions, but their design also uses an injection-molded shell to give you 200g insulation straight away. An excellent omnidirectional grip gives each boot much more traction on natural terrain, as well as making it easier to stay stable on slippery surfaces or move across soft ground. Even better, they are able to handle surprisingly low temperatures without breaking or suffering material cracks, making them ideal for people who want better durability in the long-term.
These winter boots can make a big difference when it comes to staying comfortable and protected in extremely cold temperatures.
Check Price on Amazon ➞
8. Merrell Men's Moab 2 Mid Waterproof Hiking Boot
The materials used in these boots make them extremely useful for all kinds of purposes, giving them a huge amount of cushioning and damage-resistance compared to many other boots. The high-performance leather, mesh, and suede upper keeps you comfortable and provides a good level of breathability while still managing to make the entire design waterproof, letting moisture escape without leading to your feet getting wet. The rubber toe cap and air-cushioned heel padding add much more shock absorption to the design, which works well alongside the supportive insole and high-traction Vibram outsole. The laces, while simple, allow for plenty of quick adjustments and changes in almost no time at all.
These winter boots are very well-cushioned and offer great performance on most terrain types, all while keeping your feet warm and dry.
Check Price on Amazon ➞
9. Kamik Men's Greenbay 4 Cold-Weather Boot
This winter boot design is meant to keep your feet warm and dry through temperatures up to minus 40 degrees Fahrenheit, letting you take on extreme temperatures with ease. The shaft opens up wide to allow larger feet to enter, with a wide opening section for maximum mobility and comfort. Each of these boots is designed to be as waterproof as possible, using a well-stitched and non-leaking design made out of durable synthetic rubber that can withstand plenty of punishment. Even better, it has a removable thermal guard liner for extra heat retention, and you can quickly adjust the way each boot will fit using a very accessible Velcro strap.
These are some of the best winter boots you can get in terms of waterproofing, making your feet completely dry and safe from cold water chills.
Check Price on Amazon ➞
10. Danner Men's Mountain 600 4.5″ Hiking Boot
These men's winter hiking boots are 100% waterproof, letting moisture from your own body escape while keeping your feet safe from rainwater, snow, and other sources of cold liquid. This improves both comfort and protection, working with the self-adapting lugs and special Megagrip compound materials on the sole to give you a much higher level of grip on all surfaces, no matter if they are dry or wet. The upper section is made with a thick, protective suede that can stand up to regular natural conditions, and the straightforward lacing system means that you don't have to spend a lot of time tightening and loosening the fit.
These men's winter boots are perfect for anybody who wants maximum protection from water without having to pick a larger, less flexible boot option.
Check Price on Amazon ➞
11. Kamik Men's Nationplus Boot
These warm work boots are designed to work well in winter weather, giving you a design that is completely waterproof and seam-sealed correctly to keep all kinds of bat weather conditions from affecting your feet directly. Despite this, they are also surprisingly flexible: the upper is made with waterproof suede, while the rest of the design focuses on a strong synthetic shell that can endure a lot of bad conditions without any signs of damage. Lace-up closure lets you adjust the fit exactly to how you like it, and the 200b 3M Thinsulate insulation gives you an extra boost to your heat retention when you are in cold locations.
These boots are reliable, waterproof, rugged, and generally useful for almost any situation where water and cold air are going to be a problem for your feet.
Check Price on Amazon ➞
Winter Boots Buyer's Guide
When they are buying a new winter boot, men will all have their own opinions on what they want and what is most important to them. This isn't an incorrect way of thinking: the best winter boots for men will be whichever ones suit their personal needs the best since no two people are guaranteed to like the same boots best. Here are some key features to keep in mind during your search, especially if you are not that familiar with what a winter boot might offer.
Weather Resistance
Boots without good durability are hardly boots at all, and it is very easy to end up buying snow boots for men or work boots that aren't actually suitable for the task at hand. The best winter footwear will be ones that can stand up to winter weather, and you will usually need something quite durable for that, especially if you want to avoid water leaks, scratches on the soles, or other types of damage that can get around their protective features. The weather is your biggest threat during winter, and your feet are no exception.
Material Resistance
Even if you aren't walking directly through snow or muck, boot designs of all kinds are still going to be under much more stress from the changes in temperature. You'd be surprised by how many different materials can crack in extreme temperatures, absorb water and become waterlogged, or even simply start to fall apart in conditions they weren't meant to handle. Choosing sensible materials is the best way to know that you are getting a quality product and won't be putting your feet at risk by wearing them.
Many people make this mistake with warm or padded boots: just because a boot is warm doesn't necessarily mean that it is safe to use as a winter boot. Things like real wool and fur being used on the outside can result in those materials getting clogged up with water: this isn't just going to add more weight to each step, but can easily result in skin irritation, discomfort and sometimes even more serious conditions like frostbite. After all, you'd basically be surrounding your feet with a freezing cold block of wet material.
You don't have to go for any highly-advanced materials to get around this problem. Even a simple leather shoe can be better at resisting water and snow that something like an UGG boot, so it is mostly about common sense. The only time more niche materials matter is if you are trying to get something very specific, like full waterproofing for Primaloft insulation. If all you want is something basic, one of the best ways to choose materials is to use your common sense and go through them one by one.
Water Resistance and Waterproofing
Waterproofing is, of course, one of the biggest features you can find in winter boots. A good amount of waterproofing, even if it is a natural part of the design rather than something that's been specifically aimed for, can go a long way towards keeping your feet warm and safe. The same reasons apply here as they did above: waterproofing keeps you warm, makes sure that the materials touching you are warm, and generally helps you make sure that you will always be able to avoid water or small pieces of snow.
If you are aiming to get waterproofing, remember that it is not going to solve every problem at once. A great cold-weather boot will provide you with at least one method of waterproofing and one way to keep warm, but the best mens' boots winter can offer will give you a mixture of different features that all lead back into the same design. Waterproofing on its own won't help that much if you are not able to resist scratches and tears, for example.
Size and Type
Some winter boots are very tall thigh-length boots that protect most of your leg from harm, whereas others are a muck boot that only goes up to your lower leg. Some still will be snow boots that take on the same shape as regular trainers and other footwear types. All of these have one thing in common: they are meant for a specific kind of situation.
Tall Boots
Tall boots (for example, ones that go up to your thigh) can be restrictive, and for many men, winter boots this tall are something they want to avoid. Larger boots like this are often used by women more than men, but they still have plenty of uses if you are outdoors in heavy snow during winter. They may earn a lot of your respect if you are ever caught in so much snow that it comes up above your knee: no matter what you do, a shorter boot will struggle to keep you warm. Any boot like this is great for large amounts of snow, water, and dirt, but you might find it nearly impossible to run or move smoothly in them.
Medium Boots
Men's winter boots that come up to a middling length, such as ones that are designed to protect up to your knees, are generally said to be some of the most reliable in terms of protection. They strike a balance between full boots and shoes that only cover your feet, making them one of the better choices for anybody who is worried about not being able to avoid getting cold and wet if the snow and ice are higher than they expect. Just remember that these can also be one of the most widespread types, so there will be a lot of great options to sort through.
Hiking Boots
There are so many men's winter hiking boots that it can be an entire section on its own. In most cases, these are great for keeping yourself warm and protected while moving over rough ground. They are also the type of boots best suited to physical protection since they are the most likely to have things like a toe box or use an insulated boot design. In wet conditions and/or winter conditions, they can be the best choice for almost any situation: however, there is so many of them that it can be really difficult to choose one pair you think is best.
Work Boots
Trainers, work shoes, and any other kind of boot that stops around your ankle are generally going to be the one that offers you the most movement and flexibility. This is great for people who have to move around a lot during the day, but it can also mean that you will have to compensate for the smaller size: if you don't wear trousers that cover your legs complete, there will be space where your skin is exposed, and the snow or winter conditions can cause more problems. That being said, they are one of the best ways to stay comfortable if the snow is only a minimal amount, so don't be afraid to get them if they suit your needs.
What is the Best Brand of Winter Boots?
There isn't one single brand that may earn the right to be called "the best" at something since it is an entirely subjective point. Every boot is different, and different boots perform in different ways under different kinds of winter weather. For example, if you pick the brand L.L.Bean, you might get extra durability out of them at the cost of something like flexibility. On the other hand, L.L.Bean might also make one type of boot that you think is great, even if every other L.L.Bean boot doesn't hit that same niche for you.
Don't look at boots as if they are a brand: look at them on the level of each individual men's winter boot. The only way to find the best option is to decide which boots are great and which are not so great, and doing that at a brand scale will get you nowhere.
What Brand of Winter Boots are the Warmest?
Again, warmth isn't something that is exclusive to one boot brand. Warm winter boots are the best kind of winter footwear to have, but no brand can create great products every time, and there will always be products a brand makes that don't live up to the others. Warmth is one of the most important features to have during winter, so it is a good idea to focus on your own needs: if a cheaper or less valued brand does a great job at keeping you warm, there is absolutely nothing wrong with going for one of their boots instead!
Keep in mind that winter isn't always the same in every country or area, either. A boot that works best in heavy snow might struggle if you live in an area where "winter weather" is more likely to be heavy rain or cold winds. At the end of the day, only you can decide what is great according to your own preferences, so don't ignore any boot brands unless you are absolutely sure they won't help.
Who Makes the Best men's Winter Boots?
Physical design, construction, and overall quality are other features that can make any boot better, but once again, it is impossible to choose a single brand. Each boot can be designed in different ways, so you might end up having to deal with a variety of products that range from 'incredibly durable' to 'extremely flimsy,' all under the same brand name. There is not much to say here since this question is extremely vague: what is 'best' varies from person to person.
What are the Best Boots for Ice?
Ice often gets overlooked, but it is one of the bigger problems that can occur during winter. Unlike snow, you can't always see where ice is, and it has a direct effect on your ability to move around. Slipping on ice is painful, after all. The best way to get around this is to avoid going for winter boots that are exclusively meant for snow: snow is only one of many changes that occur during winter, and great boots will be designed with that fact in mind.
Usually, when ice is involved, your biggest threat is slipping. To avoid this, make sure you choose a boot with a really good gripping surface and a high level of traction. It doesn't matter what kind of design it is or how it is shaped: as long as a boot can keep your feet planted firmly on the ground, you are almost guaranteed to be able to use it properly on ice. Stability is the key to getting around it, especially 'black ice' that can be hard to see until you are already starting to fall over.
Expert Tip
Some boots will let you adjust the top of the neck to change how they fit around your leg. This can be really useful if you want to minimize the chance of snow getting inside and making your feet uncomfortably cold.
Did You Know?
Your feet swell during the day – if you are trying on sizes, schedule it for the end of the day, since your feet will be at their largest size.