10 Best Shoes for Swollen Feet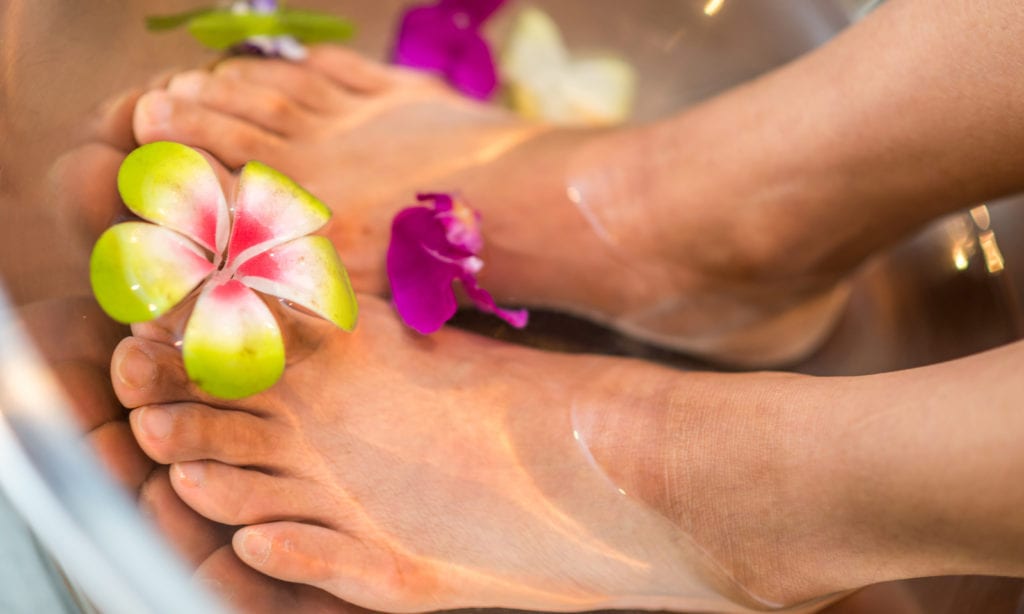 Swollen feet or peripheral edema, isn't a problem that you can easily solve and very common. There are numerous reasons for having swollen feet in the first place such as pregnancy, injuries, or a host of other conditions that you might need to talk to your doctor about. Regardless of the cause, finding the best shoes for swollen feet can give you relief and comfort. This guide will start you in the right direction on your search can be the first step in finding the perfect footwear for your situation.
Here are some suggestions for the best shoes for swollen feet on the market at the moment, along with advice on how to decide if they are right for you.
View the Best Shoes for Swollen Feet, Below.
1. UGG Neumel Mens Boot
The unique design of these bulky fur boots means that they are excellent when it comes to comfort, using a well-padded interior made of real sheep's wool to comfort your swollen feet and help you move around with less pain. A synthetic sole provides better traction across most terrain, and a soft suede upper adds a nice level of protection without restricting your movements too much.
Even better, it can be worn as an indoor slipper with no major issues thanks to the foam insole, meaning that it can work well as an indoor comfort tool if the swelling is far more painful than you expected it would be.
This isn't the most extreme footwear you can find on the market, but when your foot is sore and swelling, having this much wool and soft foam can be the difference between a painful limp and a casual walk.
Check Price on Amazon ➞
2. Orthofeet Springfield Mary Jane Shoes
The specially-made orthotic insole in these woman's shoes provides improved pain relief and arch support, as well as absorbing shocks that would otherwise hurt your feet directly. This, along with the seam-free lining and additional padding, makes them great swollen feet shoes due to the amount of comfort and pain-prevention they can give you.
A single hook-and-loop closure on each shoe allows for quick adjustment, and the lightweight design is meant to help you keep moving forward. Thanks to the simple construction and non-binding leather, there is also plenty of extra room for free movement, meaning that even swollen feet will have space to flex and stretch naturally.
These are great shoes for swollen feet, giving you an extra-wide space and toe box along with great support compared to many other shoe options. These woman's shoes are also very easy to tighten and loosen due to the one-strap design.
Check Price on Amazon ➞
3. Foamtreads Men's Extra-Depth Wool Slippers
These wool slippers are designed to be as wide and comfortable as possible, using a hook-and-loop closure that allows for a custom fit on swollen feet. Each shoe uses genuine leather in the upper section, offering high comfort while also acting as a heat insulator to keep your feet warm and safe. The reliable rubber outsole is made with softer, non-marking materials to prevent damage to either your foot or the floors you walk on.
One of the less obvious benefits is the excellent protection against bacteria, stains, and odors. This can make a big difference if you wear the slippers often and can also ensure that you aren't putting your swollen feet at risk of any unexpected harm.
These slippers are perfect for anybody suffering from swollen feet who wants comfort above everything else, giving you extra padding and real sheep's wool to help keep you warm and happy around the house.
Check Price on Amazon ➞
4. Crocs Women's Isabella T-Strap Sandal
These sandals for women combine a very sleek, feminine style that is perfect for staying comfortable outdoors, using the same style of support and comfort as most flip-flop sandals while retaining the same style as a fancy pair of women's shoes. The resin sole offers good protection and comfort alongside the reliable ankle strap, and the construction doesn't take very long to 'break-in' compared to a full shoe.
A Croslite foam footbed ensures that the bottom of your swollen feet are kept comfortable by dampening pain from each step, and the lack of constricting walls means that you don't need to worry about the added foot width from the swelling.
These are great sandals for any women who don't mind having their swollen feet out in the fresh air, offering a much more open and free feeling than normal sandals might.
Check Price on Amazon ➞
5. Hush Puppies Men's Gil
These leather-based shoes are built with flexibility and comfort in mind, providing a protective yet soft design that makes them excellent swollen feet shoes. The full-grain leather exterior handles all kinds of wear and tear easily, while the Strobel construction of the upper offers a good amount of flexibility. The ZeroG outsole is made with lightweight materials to help you manage long walks or days where you have to stand often.
On the inside is a removable and custom-contoured EVA footbed that uses an open-cell mesh cover to keep you comfortable and help your swollen feet relax, reducing dull pains from walking around.
If you don't want to let your swollen feet get in the way of your normal life, these leather shoes are an excellent combination of comfort, protection, and style that you can wear in both formal and casual settings.
Check Price on Amazon ➞
6. Alegria Women's Debra Slip-On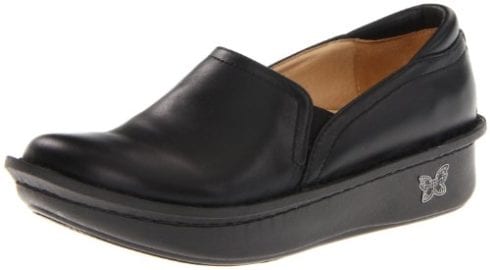 The synthetic rocker outsole of these women's shoes offers a good amount of protection and grip from the surface beneath. Layered underneath is a removable footbed that boasts excellent arch support and a high level of comfort. Thanks to the simple slip-on design with a closed heel, it doesn't take much effort to put these shoes on, even with swollen feet.
A set of double elastic gores mean that the shoe can even stretch open to accommodate swelling feet if needed. The outsole is both non-marking and slip-resistant, meaning that you can use the shoes indoors with much less risk of you damaging something or falling over on a smooth surface.
These shoes are perfect for swelling feet and are designed to open up with the elastic gores if you need more room. The great outsole also makes them suitable for a wide range of situations, including indoor use.
Check Price on Amazon ➞
7. Propét Men's Cush N Foot Slipper
The all-synthetic design of these slippers means that they are designed to get as much comfort as possible surrounding your foot, using stretchable and deceptively soft materials to accommodate swelling width without causing rubbing or irritation. In fact, the shoes are so good for helping with swelling that they are Medicare-approved and can accommodate a range of different foot sizes with no need for adjustment or loosening.
The upper section is made with neoprene and corduroy, two soft and flexible materials that can stretch with ease. A large hook and loop system act as the only closure on the shoes and can be closed or opened in almost no time to help you slip the shoes off at any moment.
These are some of the best shoes for swollen feet recovery, using Medicare-approved materials and techniques to give you extra-wide slippers that can always stretch and expand to accommodate your swelling foot sizes with minimal hassle.
Check Price on Amazon ➞
8. BIRKENSTOCK Unisex Arizona Leather Sandal
These leather-based sandals are made with a mixture of tough leather and custom synthetic materials that provide great amounts of protection and comfort, helping you work through a swelling condition while also keeping your feet exposed to the fresh air. A buckle closure means that they won't loosen over time during long walks, and the flat heel ensures maximum stability on a wide range of surfaces.
The rubber insole means that you get a lot more traction between the sandal and your foot, while the ethylene-vinyl acetate outsole keeps you safe and stable both indoors and outdoors.
These sandals might seem like a strange choice at first, but the fairly wide width and ease of adjustment mean that they are great for getting some sunlight and fresh air on your feet to (hopefully) help them heal.
Check Price on Amazon ➞
9. Propét Women's TravelActiv Mary Jane Flat
These fabric shoes are made with stretchy materials and an asymmetrical shape for maximum comfort, combining plenty of freedom with a simple hook-and-loop closure to help your feet stay comfortable yet contained. The removable footbed provides improved protection from shocks and stepping impacts without being a permanent fixture, but even with it attached, the shoes weigh almost nothing.
Thanks to the perforation in the upper fabric, breathability is also improved, making it easier to stay cool and sweat-free on hot days or during long walks. With no built-in heel, they are also perfect for use indoors or on flat surfaces where other shoes might struggle to feel comfortable.
These are excellent shoes for any women who want maximum comfort, ventilation, and control over their swollen feet while recovering, providing plenty of benefits and no real downsides.
Check Price on Amazon ➞
10. Propet Women's Cronus Comfort Sneaker
These comfortable slippers are designed for a wide range of uses, from casual relaxation to post-operation recovery. The design uses soft, stretchy neoprene as the upper to allow for maximum comfort without sacrificing protection entirely, and the open-top means that slipping them on takes only a second. Below that is the cushioned insole that offers both durability and extra padding in every situation.
Thanks to the low-heeled design and leather sole, these shoes are also great at keeping the bottoms of your feet safe from harm, regardless of the surface you are walking on. This combination of cushioning and durability makes them some of the best options for letting your sore, swollen feet have a break.
This is another pair of shoes that seem designed perfectly to help with swollen feet, foot pain, and other issues that need proper protection, as well as speeding up the recovery if you have already had your feet swollen by an existing condition.
Check Price on Amazon ➞
Shoes for Swollen Feet Buyer's Guide
Finding shoes for swollen feet isn't as easy as you might think. Most shoe companies do not take swelling into consideration when making their shoes.  Not only are most shoes made for swollen feet hard to fine but their designs seem to be fixed or in other cases, the best shoes for swollen feet might not even be marketed as shoes specifically for swollen feet. If you are suffering from swollen feet, here are some things to look out for when trying to track down the best pair you can.
Stretch, Stretch, Stretch
When you are looking for shoes for swollen feet, most people will instantly gravitate towards extra-wide slippers or other designs with wide width dimensions. While swollen feet do generally expand outwards like that, it doesn't mean that an extra-wide shoe will solve the problem. However, this isn't always the case, so you should find footwear that can expand rather than ones that are basically just wider than your normal foot width.
For example, extra wide women's shoes you buy for your swollen feet might rub against your skin in all different places as your swelling changes which might even make your swollen feet hurt more or worse, cause a blister or wound. Instead, try to find slippers or shoes that can expand outwards with your swelling due to the fabrics or materials they use. Many fabrics, like neoprene or spandex, can stretch out to accommodate larger feet. This means that the product is still going to be the same size as your feet normally would be but can also stretch out if your foot has swollen to a larger size. Also, most of these fabrics or materials are soft enough to avoid skin irritation too.
Stretchy materials aren't always the perfect option, though. If your swollen feet aren't actually very swollen, the stretchiness can also become somewhat pointless. Another design to look for could be adjustable shoes or straps offering the same thing as stretch but with more control. There is no perfect choice between stretchy shoes and non-stretchy shoes, so choose whatever works best for you. Some people prefer one, some prefer the other.
Support
Proper support can go a long way to making shoes for swollen feet effective and can even help you recover from having swollen feet, if you are lucky.  Most footwear is designed to support a certain kind of foot shape or position, and a high level of support in one area can mean a low level of support in another.
In general, if your feet are swelling, you will want shoes that can eliminate the cause of the inflammation. If they are swelling from improper support, then getting correct support could help. If it is a fluid build-up from your veins or other causes, then you might need a targeted set of supportive areas to try and flush it out so that your condition can be helped faster.
Protection
Finding shoes for swollen feet isn't just about fixing the issue, but making sure that you don't make the condition worse. Sometimes, this swelling or inflammation can be so painful that it becomes hard to walk in certain ways or times in the day, and good protection can minimize the chances of you causing even more swelling or pain to your feet.
Protection can come mostly as comfort features, as well as solid outsoles and supports. Anything that prevents your feet from suffering more damage and harm while your swollen feet condition is still an issue definitely counts.  Padding, cushioning, a removable insert, a thick outsole, or even something like a shock-absorbing midsole could work for you.
Price
Finally, there is the price. It is no secret that new shoes can often fetch a high price, especially footwear from a major brand. You won't easily find new footwear in a good condition for free (unless you get a medical prescription from a doctor for your medical conditions such as diabetes), so you will have to weigh the price of the product up to the benefits it can offer you. Some of the best footwear you find for your swollen feet might be more expensive than you can afford, but keep looking and use this guide as the second-best might be far cheaper than you expected.
Comparing prices is free, so it is worth it to save money in the long run!  For example, if you work a job where your feet are constantly at risk of bulging due to minor injuries (such as a construction site), then you might want to pay slightly more for a better product that you will use often and is needed. Try to make sure that you are getting something worth the price for the reason you need it.
What Causes Feet to swell?
Understanding the cause of your swollen feet or peripheral edema is the key to finding the best shoes for your feet to recovery since you will want an idea of the reason behind your feet swelling. This is to make sure that you aren't accidentally making the condition worse by possibly doing the wrong thing, especially if you end up causing more swelling in another spot while trying to fix the original swelling problem.
Common Causes of Swelling Can Include:
General Edema
Edema is a form of bulging caused by excessive walking and standing and will gradually become worse if ignored. However, it takes a long time to develop and can be avoided simply by not walking or standing as often unless you absolutely have to.
Pregnancy
A lot of women experience peripheral edema or swollen feet during pregnancy, often due to increased blood pressure that changes how their body and kidneys handle blood flow. This often extends to the ankles too, and can sometimes even cause swelling in unrelated areas. It will generally vanish after pregnancy but might take a while, depending on how severe the swelling was.
Medication
Finally, certain medications and treatments can cause swollen feet, along with other issues like skin irritation. Certain drugs and medications by themselves can cause swollen feet but sometimes if taking them beyond a recommended dose can cause swelling to your arms, face, and other areas of your body and can be increasingly dangerous. Only take medications as they are prescribed and tell your doctor of all reactions you may have from medications.
Blood Clots
If unchecked, blood clots can create blockages that can allow infections to cause fluid leakage, making your ankles and feet swell. This can occur more often in women, diabetics, sedentary people and people with high cholesterol levels.
Injury
General foot injury is another major cause and can happen at almost any time in nearly any way. This means that every new case of foot injury can cause a completely different kind of foot swelling in terms of the exact place it originates from.
Plantar Fasciitis or other Foot Conditions
Plantar Fasciitis is one of the most common forms of heel pain in both men and women but can be prevented or fixed through wider shoes, including loose slippers. Other foot conditions such as tendonitis and arthritis can cause swelling too.
Conclusion
There isn't a universal option for dealing with foot swelling, so take your time and look at your options. If you are trying to find a new footwear product for your swelling or that can help you get rid of a swollen foot, take the measures to get as many ideas as possible. Every foot is different, and a product that suits one person's foot well might not suit another's. Men and women will also need to make sure that they filter out shoes built for the opposite sex too. In simple terms, you need to be smart with your searches and keep your options open.
Expert Tip by Dr. William Naughton
Letting your feet breathe freely can be a natural remedy to certain types of foot swell, so open or ventilated shoes are a great choice. Elevation throughout the day could help but always talk to your doctor about your swollen feet as it could be a more serious condition needing to be treated.
Did You Know?
Some minor cases of swollen feet can be lessened by simply taking a walk, so don't worry if your shoes suddenly feel slightly too large during a stroll.