10 Best Shoes for Achilles Tendonitis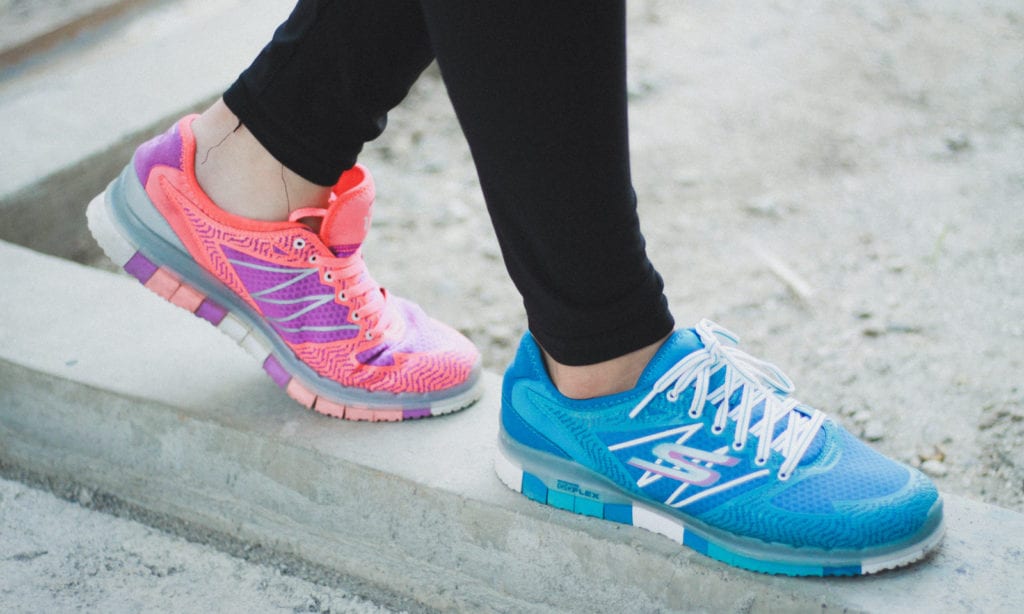 Whether you like to run, walk, or just try to go about your day in comfort, Achilles tendonitis is one of the most disruptive issues that can get in your way. Anyone can suffer from Achilles tendonitis, regardless of how active their lifestyle might be, and the pain can be a huge obstacle to try and overcome. Most of the time, regular shoes just cannot provide the support needed to rid yourself of this hindrance while on the move, but fortunately, there are some comfortable shoes and sneakers available to make life that little bit easier.
It can be tempting to rush into the first pair of orthopedic shoes you see when struggling with foot pain, but this article gives some tips to help make sure you find the right pair. The following product reviews should offer some insight into which shoes are available to help with Achilles tendonitis, and which are the best ones for your needs.
View the Best Shoes for Achilles Tendonitis, Below.
1. Birkenstock Essentials Unisex Arizona EVA Sandal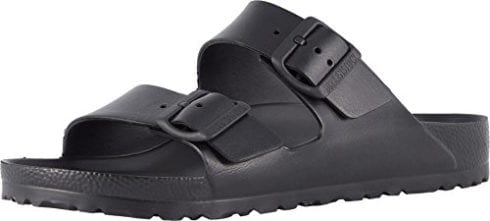 The first orthopedic shoe to look at is the Birkenstock Essentials EVA Sandal. Sandals are quite possibly the most comfortable footwear there is, with the exception of fluffy slippers. Whether you wear them around the house, on the beach in the sunshine, or simply just to feel at home while walking the streets, sandals are a must-have item for everybody, regardless of ability. When it comes to shoes for Achilles tendonitis, these sandals can add that homely feel, while still minimizing any pain.
Available in a range of colors, these sandals could be perfect for helping those who suffer from Achilles tendonitis to enjoy relaxing on holiday or lounging around the house. The durable synthetic soles mean that they are just as good for strolling around town too. The extra shock absorption in the soles makes this a great choice of shoes to give you a more relaxing time on your feet.
As well as being comforting for Achilles tendonitis, these sandals are ideal for wearing around the house or on holiday.
Check Price on Amazon ➞
2. Orthofeet Orthopedic Mens Loafers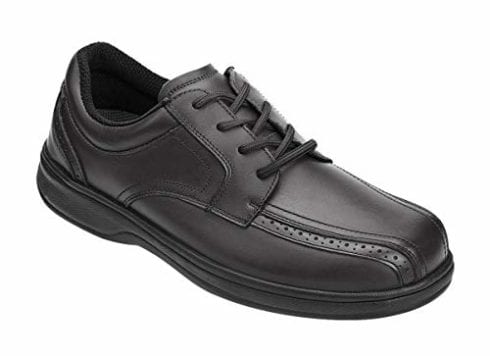 People who suffer from Achilles tendonitis can have a hard time trying to find a smart pair of shoes for work, or for special occasions, that will help minimize that irritating pain. Orthofeet have created these men's loafers to help solve the problem. With an air cushioning sole, these loafers can act as the ideal work shoe for someone who needs extra comfort in their footwear.
Available in black or brown, these orthopedic loafers can act as an appropriate dress shoe for any occasion. They may not be the most stylish shoes available, but the premium orthotic insole can help anyone with Achilles tendonitis when they need a simple, smart orthopedic shoe. Arch support and extra depth in the toe box allows your feet more flexibility, whether you are hard at work or just socializing with friends.
This is a simple orthopedic shoe that provides plenty of relief while maintaining a smart appearance.
Check Price on Amazon ➞
3. Saucony Women's Grid Omni Walker Sneaker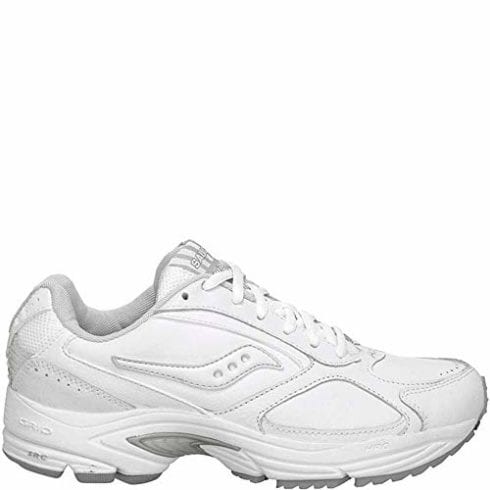 For women who like to be a bit more active, Saucony's Grid Omni Walker is a great sneaker to accommodate Achilles tendonitis. Available in white or black, these sneakers have a stylish, sporty design that won't look out of place in any gym or on a long walking trail. The wide toe box and arch support give these orthopedic shoes an extra degree of comfort when walking, making them ideal for those who suffer from Achilles tendonitis.
Whether you're a seasoned walker, trying to be more active, or just want to look cool, Saucony's Grid Omni Walker sneakers give you the freedom to be out and about without the pain barrier. All sneakers are meant to be comfortable, and these make that possible regardless of your Achilles pain.
The extra comfort in these sneakers makes them a great choice of women's shoes for those who want to enjoy long walks without the pain.
Check Price on Amazon ➞
4. ASICS Men's Gel-Cumulus 20 Running Shoes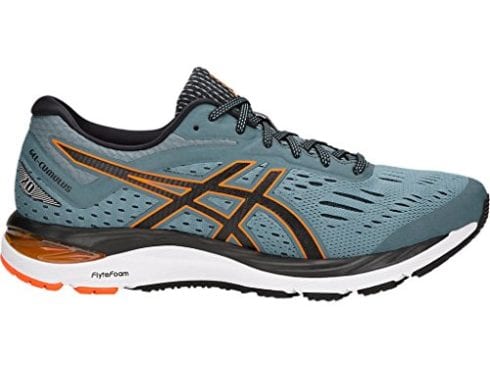 The ASICS Men's Gel-Cumulus running shoes offer relief from Achilles pain for those who like to exercise. GEL cushioning technology gives added comfort while you move around, making them feel more flexible as well as comfortable. The mesh design lets your feet breathe more while you exercise, so they are ideal for sports or other physical activity.
Again, these are orthopedic shoes with extra room around the toes to allow for more movement, and the seamless design prevents friction and discomfort while you run. Not only this, but they come in a fantastically colorful design, to make your feet look as lively as you feel wearing them.
These men's running shoes are made up of lots of pain-relieving features, giving extra comfort while looking lively and stylish at the same time.
Check Price on Amazon ➞
5. Nike Women's Air Zoom Pegasus 35 Running Shoes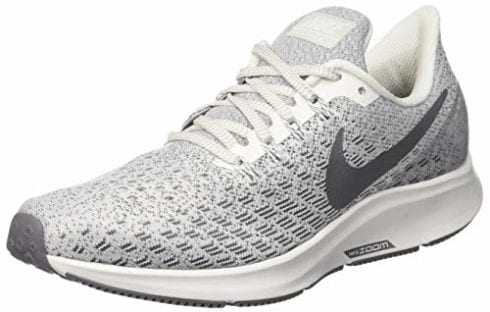 Another pair of women's shoes for Achilles tendonitis are these Nike Air sneakers. Women who like to run, but suffer from annoying foot pain, can find solace in these running shoes, which are engineered to give your feet more freedom while you train. The mesh design makes these breathable while exercising, and the stylish range of color options simply cannot go unnoticed.
Nike Air sneakers are famous for their fashionable look, so these will be just as good for socializing as they are for running. The heel has been specifically designed to relieve stress on the Achilles tendon and makes these orthopedic shoes optimal for the weight transition in your foot while running. They are not the cheapest orthopedic sneakers out there, but the cool design means you can wear them for any occasion, rather than just at the gym.
These sneakers are not only engineered for pain relief while running but are stylish enough for socializing in too, making them well worth the price tag.
Check Price on Amazon ➞
6. Vionic Unisex Wave Toe-Post Sandal

Another sandal option for those suffering from Achilles tendonitis is this flip flop design from Vionic. These sandals come in a range of colors and provide fantastic foot support when you just want to relax. Designed by podiatrists, these orthopedic walking sandals give a great deal of stability when you are on your feet. The large footbed is designed to support your arches closely, and the rubber sole is very thick and durable.
They may be comfortable, but these sandals do come at a higher price than their competitors. However, the support they give to those who suffer from foot pain is undeniable and the thick soles mean that they are built to last. If the price doesn't put you off, then these sandals should give you the comfort you need and last a very long time.
These sandals are designed perfectly to give support through their extra-thick rubber soles, making them great for casual wear.
Check Price on Amazon ➞
7. Saucony Ride ISO Women's Shoe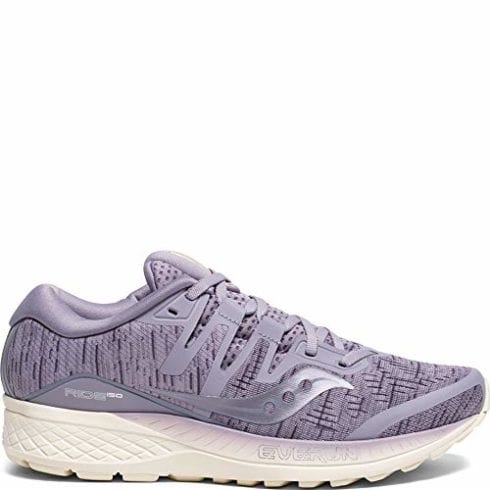 The second offering from Saucony is a sneaker designed for more proficient runners who suffer from Achilles tendonitis. The Ride ISO running shoe is another stylish option, which comes in a range of bright colors, or a plain black alternative for those who don't want to attract too much attention. These sneakers are made to be comfortable running shoes more than they are day to day orthopedic shoes, so those who aren't too active may not get quite as much out of them. However, they are still comfortable and supportive casual wear if that is how you want to wear them.
Again, these sneakers have a breathable mesh upper material and strong rubber soles to give some relief to your Achilles and your arches, whether you are running or not. The cushioning above the sole gives shock absorbency to withstand impact while you train, and take the stress out of a daily run.
These sneakers are professional orthopedic running shoes, offering structure and support to the heel and flexibility while you train.
Check Price on Amazon ➞
8. CLARKS Men's Cotrell Edge Oxford
For men who want a firm, sturdy, orthopedic shoe to wear in all circumstances, look no further than the Cotrell Edge Oxford by Clarks. Oxford shoes are a staple piece of smart footwear, but they can often be quite rigid, limiting the foot's ability to move and breathe as you walk.
These shoes for Achilles tendonitis overcome this problem by using a flexible leather outer material, giving more flexibility to your foot. The simple design makes them suitable for work, social events, or just walking around, and the range of colors means you can find a pair to match any outfit.
The benefits of a sturdy shoe like this are great for those who suffer from Achilles tendonitis, as the padding around the upper material, and cushioning on the sole, surround the full length of the foot, making them as comfortable as possible. This orthopedic shoe also has a breathable ortholite footbed, which feels lightweight and comfortable as you walk.
These orthopedic shoes from Clarks are a sturdy and supportive everyday shoe for men, with as much padding and cushioning as possible around the foot.
Check Price on Amazon ➞
9. Rockport Cobb Hill Women's Angelina Dress Pump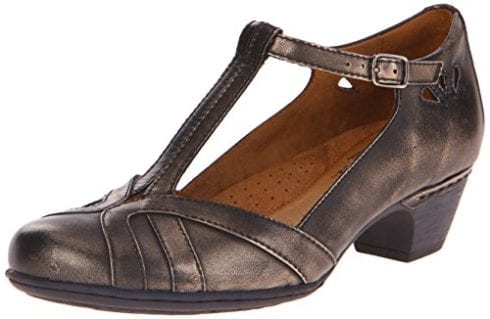 When it comes to women's dress shoes, it often seems like style is prioritized over comfort. This is all well and good on the catwalk, but for women who suffer from Achilles tendonitis, it is difficult to find a pair that are supportive enough to wear on an evening out. Rockport has offered these Angeline Dress Pumps, which are designed to be both comfortable and stylish. A one and a half-inch heel would typically be off-putting to someone with foot pain, but the comfort insole and extra cushioning in these shoes makes it possible to wear them without any struggle.
These dress shoes come in a range of colors and a range of sizes and widths so that you can find the perfect pair to match any outfit and any foot shape. The soft leather stops irritation around the foot, and the outsoles are engineered to support your natural walking style.
With this design, Rockport succeeds in making orthopedic shoes classy, as the range of sizes and comfortable insoles support the foot while enjoying an evening out.
Check Price on Amazon ➞
10. Mizuno Men's Wave Rider 22 Running Shoe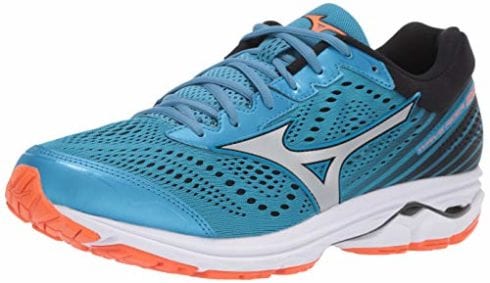 The final shoe for Achilles tendonitis in this list is this men's sneaker from Mizuno. These running shoes come in a range of colors, all of which are bright, so you will stand out at the gym or in the park. As well as looking the part, they are made to be comfortable orthopedic shoes through their thick rubber soles and articulated heels for a better transition while running. The soft heel center takes the strain away from your Achilles while you're active, and the stretched mesh design lets the shoe move with your foot, so it adapts to your running style.
The material is breathable, making them ideal when you're on your feet, and the mix of materials used demonstrates how they are both comfortable and high performing running shoes. They can be quite expensive, but if you are looking for a professional running shoe, these can give you plenty of comfort and promise you a smooth ride.
These sneakers make running feel easy by adding great comfort through their thick soles. The bright and colorful design makes them even more attractive.
Check Price on Amazon ➞
Shoes for Achilles Tendonitis Buyer's Guide
The Achilles tendon is one of the strongest tendons in our body however if it gets injured it causes great discomfort to those who have experienced it. The right pair of orthopedic shoes can help reduce this discomfort, but finding the right pair is not always an easy task. Acilles tendonitis can happen from a wide range of incidents and can be common in diabetics. You don't have to be a professional athlete for it to happen to you. This also means that a vast range of shoes for Achilles tendonitis have been engineered to deal with the problem. Whether you need running shoes for the gym, sandals to relax in, or dress shoes for special occasions, there is a pair on the market that can suit your needs.
Before you go looking, it is important to understand what it is you are looking for, and what makes the shoes good. The support you need around your heel should never be too hard to find, but it can seem like there is a limited range that will fit you just right. The product reviews above and the tips for shopping in this buyer's guide should give you all the information you need to find comfort under your feet.
Related: Shoes for Plantar Fasciitis.
Why Do You Need Them?
The first, and perhaps most obvious thing to think about is what you need these shoes for. Of course, you will already know if you want running shoes, dress shoes, work shoes, or casual sneakers, but you should also think about how often you want to wear them and under what circumstances. For example, you may not want to invest too much money in orthopedic sandals if they are just for a holiday, but if you want everyday work shoes, then it is sensible to spend a little more time and money when shopping for them.
The level of comfort and support is the most important thing when it comes to shoes for Achilles tendonitis, but that does not mean they can't look good while you wear them. Finding the right balance is vital if you want to wear a shoe frequently, especially since a lot of the more comfortable orthopedic shoes aren't the most attractive. On the other hand, if you don't need to show them off, then you may as well select a pair that are the most comfortable in your budget. The cost of these orthopedic shoes can vary quite a lot, too, so it is always good to know what you want them for before you go looking.
What Should You Look For?
The best tip for those who suffer from Achilles tendonitis is to know what to look for when you shop. Certain features make orthopedic shoes better for you, and by understanding what those are, you will be able to tell if a shoe will work right for you. The first thing to think if you are suffering from Achilles tendonitis is insoles. These don't necessarily have to come with a pair of shoes, but they can be an excellent tool for increasing the support you have under your feet and around your arches making a stylish shoe you like a perfect fit for you.
The best insoles should give you an extra bit of height especially at the heel, as well as plenty of padding so that you can maintain good balance through your body and take the strain off your Achilles. Shoes for Achilles tendonitis should also provide proper arch support too. This will likely prevent over stretching or pain to the Achilles, but the right type of support depends on whether the arches of your feet are high or flat.
Most importantly, good orthopedic shoes should provide plenty of comfortable padding throughout the sole, which will take the pressure off your feet when you walk. They also need to be flexible around the balls of your feet, so you have more freedom when on the move. Heel height is also important but can be challenging to get right.
The heels of the shoes should be high enough to relieve strain, but low enough to let you move freely.  Similarly, the collar around the ankle should be suitable for providing comfort and preventing your foot from bending on impact with the ground and pressing on the Achilles tendon itself.
Final Advice
If you take advice from this article, you should be able to find appropriate shoes for Achilles tendonitis. It is important to keep in mind what you are looking for, and always try on a pair before buying, to ensure that the heel height, ankle collar, and padding are right for you. The wrong pair of shoes could lead to increasing symptoms and possible causing severe damage or rupture. It is vital that you find shoes that are comfortable and supportive so that you are free to move around as you please.
Expert Tip by Dr. William Naughton
Achilles tendonitis is most common 1/3 above its insertion into the calcaneus (heel bone) which it is important to add height to your heels to alleviate this strain and also protection or padding to the back of your shoe to decrease external pressures allowing the tendon to heal. Also, diabetics are more common to have a partial or complete rupture of the Achilles so it is highly recommended they seek medical advice if they have any discomfort in the back of their heels.
Did You Know?
Good orthopedic shoes are made to bend only around the balls of your feet, relieving stress on the other areas like your heel, where pain tends to come from.