12 Best Comfortable Shoes in 2021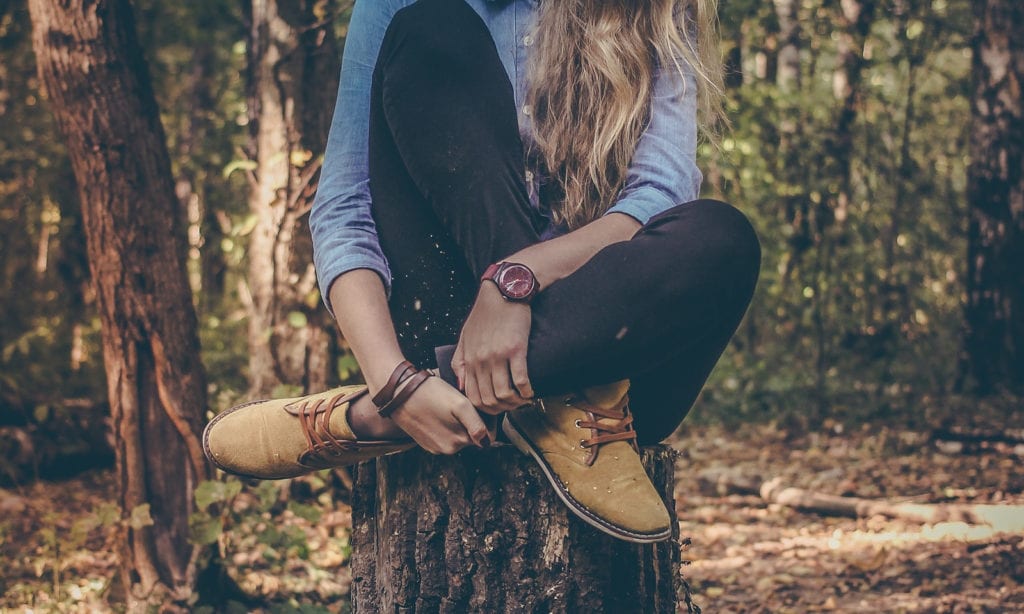 Having comfortable shoes is essential to making your day-to-day life easier, whether this is walking around your local department store, sitting in traffic, or rushing around your place of work. There is nothing worse than putting on a new pair of shoes and having them pinch and chafe all day, causing irritation, or even pain, with every step, making your day feel longer and each activity you complete more draining. It is especially important to have comfortable shoes every day if your job includes prolonged time standing on your feet or walking around.
We have gathered together a list of the best comfortable shoes to help you to choose the right pair for you, something that is going to support your feet throughout the hours of wear, and that will keep your feet cool but protected from the weather. Read on to check out our recommendations.
View the Best Comfortable Shoes, Below.
1. Skechers Women's Bobs Plush Peace and Love
These simple, yet extremely comfortable shoes are made by a brand that can be trusted, Skechers has a reputation for the durability and comfort of their shoes over long periods of time and the support that their designs give to your feet and ankles. This pair of Skechers is almost totally flat-soled with no heel, it is a slip-on design that is easy to put on and take off at the beginning and end of a long day and has a great color range too. The ease of wear for these shoes is a great selling point, as they will move with your feet throughout your day, the upper is a soft textile material that is not too heavy to wear.
However, we would not recommend walking in these shoes all day outside, as the design may not support your feet well for long-distance walking or outdoor terrain. The inner sole of this shoe is made of memory foam so that it will mold to your foot and keep its shape for immediate comfort when wearing, and the material is designed for air circulation throughout the shoe during wear, which will keep your feet cooler all day. The stretch afforded by the fabric makes these shoes highly practical for the majority of wearers as the material accommodates your foot shape comfortably.
We love the movement of these shoes, with the stretchable fabric and memory foam inner sole you really will have a pair of shoes specifically for your feet after a couple of wears, these features make it very easy to forget you are even wearing shoes – in the best possible way.
Check Price on Amazon ➞
2. KEEN Men's Austin Shoe
We recommend this as a work shoe for men who work on their feet all day, as this model of shoe includes a removable insole allowing you the level of comfort best for you. This shoe looks a little more casual than some office or dress shoes, looking a little like a sports shoe, but it is perfect for men working in restaurants, shops, or factories. With a lace-up design, you can control the tightness of the shoe and the amount of support afforded to your feet, depending on the tightness of the laces.
This shoe includes a breathable membrane on the inside, which helps your skin to breathe and improves your comfort for longer periods of time. The use of the membrane also reduces moisture inside your shoe, keeping your skin dry and aired to ensure your feet remain cool. The material that comprises the outer of this shoe is also waterproof, meaning if you are moving in and outside during your working day, you will not be worrying about puddles of water in your shoes for the rest of your shift.
We like that this shoe is waterproof, it means you don't have damp socks and discomfort because your feet got wet on the way into work or on your way out for the day, which saves you from additional discomfort for the rest of your day.
Check Price on Amazon ➞
3. Crocs Women's Mercy Work Clog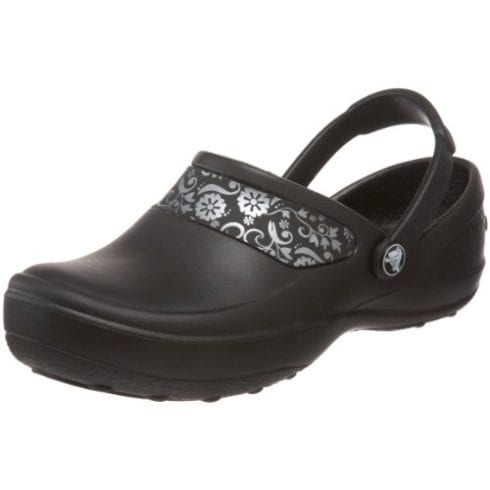 Crocs are known for their all-day wear working shoes, and this one is no different, with the standard heel backstrap and the Crocs Lock™ tread to stop you from slipping while you work. These shoes were specially designed for work situations, in laboratories, and schools, etcetera, so you can be confident with wearing them during your working day without risk of slipping or tripping because of your shoes.
The inner sole of this shoe includes small nubs that, when walking, give your feet a massaged feeling for additional comfort during those longs days on your feet. The sole is also designed to specifically provide arch support to your feet – there is nothing worse than cramp in the arch of your foot half-way through the day. The material of these shoes makes them easy to wipe clean and also odor-resistant, meaning no embarrassing odors from being on your feet all day.
We liked the inner sole of this comfortable shoe the best, the massaging nubs which keep your feet feeling good while you walk and the added arch support keeps your feet healthy and minimizes pain.
Check Price on Amazon ➞
4. New Balance Men's 608v5 Casual Comfort Shoe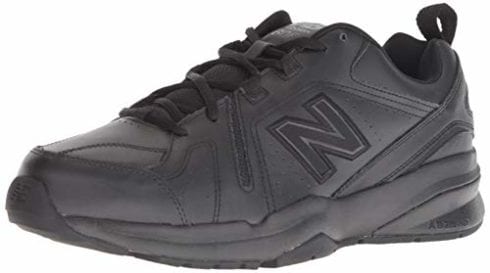 New Balance has designed a casual trainer style shoe that can be worn all day, whether at work or during leisure activities; with faux leather and mesh upper and rubber sole, you can be sure that this model is durable yet flexible for all-day wear.  The upper gives security in the movement with a lace-up design that allows you to choose the tightness of wear.
This shoe also includes an ABZORB heel pad to give the maximum amount of support and cushioning for every step you walk, and removable insoles to allow you to adjust the shoe as needed for premium comfort. New Balance is a company that has dedicated time to making shoes for athletes, demonstrating their versatility through years of refining their product and this shoe shows that.
We love the flexibility of movement in this comfortable shoe, it is a casual shoe that allows you to move around while still providing you with full support while you train, walk or work.
Check Price on Amazon ➞
5. Clarks Women's Emslie Warren
This heeled pump looks professional while keeping your feet comfortable, with a leather upper and smart two-button detail you can stride confidently into any board room in these stylish shoes. They can also seamlessly transform into a casual evening shoe for after-work drinks or dinner.
The ortholite technology used for the insole of this shoe means your feet will be cushioned and comfortable throughout the time of wear, whether this is for work or socializing. With a slip-on design, this model of comfortable shoe is easy to get on and off and does not compress your feet during wear.
We love the design of this comfortable shoe, the way it can move from a work shoe to an evening shoe seamlessly is one of the biggest attractions, after-work dinner or drinks would not be an issue in this smart shoe.
Check Price on Amazon ➞
6. Rockport Men's Leader 2 Bike Slip on
These leather loafers are comfortable yet smart with a durable leather upper and synthetic sole, giving you day-long wear in any situation. The design of these comfortable shoes is perfect for casual or smart use and would not look out of place paired with suit trousers, chinos, or jeans for a versatile wardrobe look.
The insole of this shoe has a memory foam infusion which molds to your foot shape for comfortable wear and cushioned step. With only genuine soft leather used in the construction process, the entire shoe will be flexible and durable to give you the best range of movement while walking and comfort while sitting and standing. Rockport has designed this shoe with innovative materials used for the lining to ensure climate control, ensuring your feet are always cool and dry no matter how long you have been wearing your shoes.
We cannot get over the beautiful materials used to create this shoe, the soft leather upper and flexible insole make this a very comfortable pair of shoes that can be worn all day without any discomfort.
Check Price on Amazon ➞
7. Skechers for Work Women's Ghenter Bronaugh Shoes
Another great pair of comfortable shoes from the award-winning company we showcased earlier, these shoes are designed for safety in a working environment, with a slip-resistant sole and an electrical hazard safe design. This shoe also comprises a removable memory foam insole, which affords you extra comfort during your working day and general walking.
The mesh upper gives you a wide range of movement when working in these shoes, and a synthetic overlay at the laces increases the durability of this design. The tongue of this shoe is padded, giving further comfort to this lace-up design with you being able to choose how tight you want the fit to be. These shoes have been designed with casual workwear intended, but accents on the stitching make these comfortable shoes a little more fun and unique than your average casual work trainer.
We appreciated the memory foam insole in this shoe, this gives an excellent level of comfort when you are walking around and the ability to remove this if required is an added benefit.
Check Price on Amazon ➞
8. Clarks Men's Tilden Cap Oxford Shoe
This smart and detailed design is perfect for formal occasions and the leather upper ensures it is durable. The beautiful detailing is what stands out in what could otherwise be a standard Oxford design. This is another shoe featuring the ortholite insole to provide cushioning and comfort over the entire period of wear.
This comfortable shoe comprises a lace-up design, but the eyelets are hidden for a smarter, more formal look, with a 1-inch heel giving added stability and support to your feet. This shoe is excellent for full-day wear with a steel stabilizing soleplate you can be guaranteed of long-lasting support from a reliable brand.
We like the design of this formal shoe which can be worn for work or social occasions comfortably and with confidence in the design and construction of the shoe.
Check Price on Amazon ➞
9. VenusCelia Women's Comfort Walking Flat Loafer
These light slip-on shoes have a unique design in a moccasin style with a slight platform sole, which can double as flat outdoor shoes or comfortable indoor slippers. We don't recommend these as a business shoe, but they would be great as a casual office shoe in the summer due to them being soft and breathable with an excellent level of flexibility.
These shoes are great for a variety of activities and are comfortable for walking, working, driving or shopping with a straight-line design and a variety of colors to choose from, you can really show your personal style with these comfortable shoes.
With this shoe, it is all about the personality, with their unique design and variety of available colors you can really showcase your fun side with these great comfortable casual shoes.
Check Price on Amazon ➞
10. Skechers for Work Men's Flex Advantage Mcallen Slip On
This slip-on design is our third featured shoe from Skechers, demonstrating the durability and popularity of their designs, this shoe is excellent for work with the synthetic mesh upper affording an excellent level of flexibility while moving. This comfortable shoe also features an anti-slip sole and memory foam insole to cushion your feet while ensuring safety also.
This comfortable shoe includes a cushioned collar to ensure that it does not rub against your ankle during those long shifts and has an inbuilt small heel to provide support to your foot. These shoes are also waterproof, but not stain resistant, so you can be safe in the knowledge you won't have damp uncomfortable feet if you get caught in the rain on your way to work.
We like the simple design of this comfortable shoe, it is great for working on your feet and with a breathable and flexible upper to the shoe you can move around very easily in these plain work shoes.
Check Price on Amazon ➞
11. CLARKS Women's May Marigold Slip-On Loafer
These low-heeled slip-on loafers are another pair of shoes to feature the ortholite cushioned sole for greater comfort throughout your working day or a casual day out with friends. The versatility of the design means you could wear these shoes around the office or out for a social meal or drink without any concerns.
You can choose between the plain leather design or the synthetic animal print to suit your needs, but both are extremely durable and made to last by a household name in the world of shoes. The simple design of these shoes means you will be able to pair them to any outfit and walk out of your house looking your best in an extremely comfortable pair of shoes.
We like that this pair of comfortable shoes will complement any outfit, with a simple design and neutral colors you can wear these shoes with almost anything in your wardrobe.
Check Price on Amazon ➞
12. CLARKS Men's Escalade Step
With breathable leather upper and simple smart design, these are great comfortable shoes for the office environment and will pair well with whichever style of dress you wear for work. The leather used is durable but breathable, giving you full day comfort and flexibility of movement while you work or walk.
This shoe also comprises a comfort footbed, which will help you to remain comfortable if standing for long periods of time at work and the flexible sole allows for a great range of movement in addition to a high level of support for your foot. There is a small heel on this shoe, which gives you a nice shape and support without becoming uncomfortable.
We like the quality of this comfortable shoe, Clarks has been making shoes for over a century and they know what makes a great quality product, with excellent leather and a thought-through inner design, with this brand you know what you can expect.
Check Price on Amazon ➞
Comfortable Shoes Buyer's Guide
When looking at which pair of comfortable shoes to purchase to wear day-to-day there are a number of factors to consider; which activity are you planning to use them for, how long per day will you be wearing them, and if there are any requirements – if wearing them for work, is there a requirement for color or formality of design?
With so many varieties of design on the market currently, you can choose a pair of comfortable shoes that suit your style and personality and most are available both in stores and online. We definitely recommend you try the shoes on for a period of time longer than a few steps in the shoe store – that way you can see if the shoes will suit you when wearing them for an entire day. One way to do this is to wear them on cushioned flooring, such as a rug or carpet, so that the soles do not become damaged and see how you feel after several minutes in the shoes.
The Cheapest and the Best
Good shoes cost a little more because they last longer, so you should be looking at the material your comfortable shoes are made from to check if they are durable and weatherproof. There is nothing worse than working all day in a damp pair of shoes because it rains unexpectedly and you spend half of the day with puddles in your shoes.
Multi-purpose
Next, you should be considering if your comfortable shoe has more than one use, do you need to wear it in the office throughout the day and then on an evening to entertain clients? If that is the case, the design is extremely important, but so is the insole of your shoe; it needs to be something you can walk on all day and then continue wearing into the evening. You also need to be confident that the material will not rub on your feet and that there is enough airflow throughout the shoe to enable your feet to breathe over such a long period of time.
We suggest you research the type of insole that will best suit your needs, what does it consist of and what does that design do for your feet over such a long period of time. Look at the reviews available online from people who have walked a mile in the shoes you intend to buy; if several are saying that they are uncomfortable over long periods of time, be cautious before you purchase them and maybe try them on in a store before you buy.
Expert Tip
Trying your shoes on walking on a soft floor will not damage the sole of the shoe, allowing you to have a longer trial walk in them than in-store or outside.
Did You Know?
The insole makes a big difference in your overall experience of the shoe. Removable insoles are a great idea as if they don't suit, you can change them for ones that do.