10 Best Shoes for Ankle Support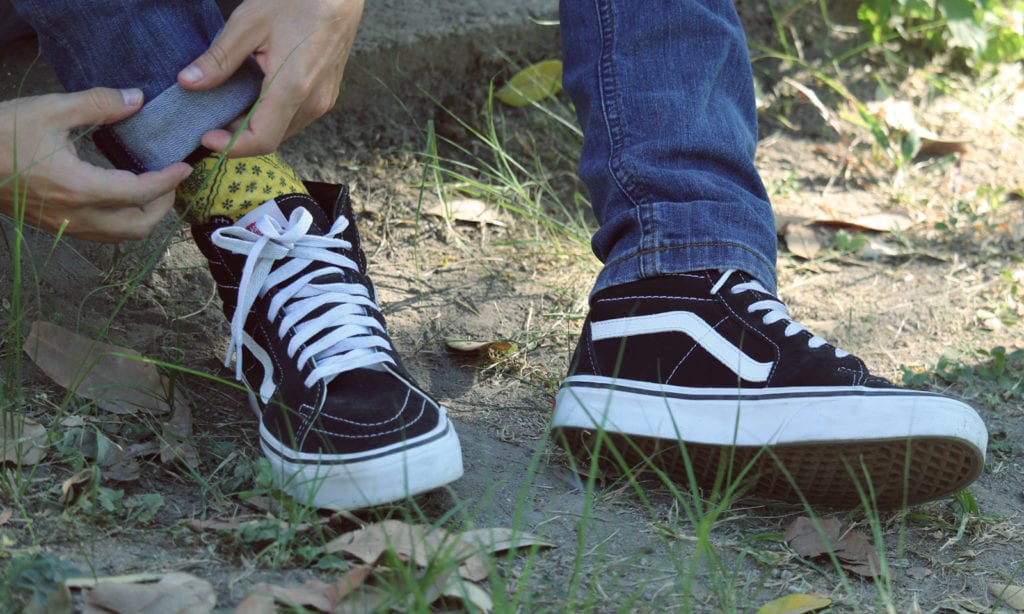 Ankle support can be important for a lot of people, and for multiple different reasons. Maybe you are wanting to avoid an injury when you are exercising, or you want to make sure that you won't misstep on rough ground or high stairs. You might even be recovering from a past injury, and need as much protection as possible to ensure that it doesn't happen all over again.
Whatever your reasons, you will want to be sure you are getting the best shoes for ankle support and protection you can, as well as a pair that suits your personal style and doesn't stick out like a sore thumb when you are doing about your day-to-day routine. Below, you will find our list of ten of the best shoes for ankle support that we could find, as well as their main pros and the reasons we chose them.
View the Best Shoes for Ankle Support, Below.
1. Skechers Work Sure Track
These genuine leather shoes have a familiar lace-up design that is easy to adjust, meaning that you can quickly alter them to suit your feet without even having to take them off. The interior has a memory foam footbed and padded tongue to keep you feeling comfortable, as well as a ventilated lining that helps improve airflow without harming your feet or exposing them to water and humidity.
The pull tab at the top of the heel also makes them easy to remove, even if you've got an injury that would normally make removing your shoes awkward and uncomfortable. The slip-resistant rubber outsole is the icing on the cake, keeping you stable even on smooth and/or wet surfaces.
These shoes are practical, simple, and comfortable, making them an excellent choice for people who want functional and supportive shoes for everyday use.
Check Price on Amazon ➞
2. Under Armour Men's Valsetz Tactical Boot
These tactical-style boots are made with a breathable synthetic and textile outer layer, yet still manage to stay water-resistant, keeping your feet dry without making them feel stuffy or hot. The abrasion-resistant interior helps prevent rubbing and other painful issues, while the ClutchFit technology around the ankle helps the shoe adjust to the size of your upper foot for maximum support.
The insole is made of Micro G foam that is designed to provide as much comfort as possible while still keeping the bottom of your shoe rigid and stable on almost any surface.
These boots bridge the gap between a comfortable casual shoe and a durable military-style boot, mixing padding and protection really well into a very supportive piece of footwear.
Check Price on Amazon ➞
3. Ryka Women's Devotion Plus 2 Walking Shoe
These walking shoes are built specifically for maximum padding and protection while exercising, even if you are just walking from place to place. Thanks to the breathable mesh, it can keep your feet cool even on warm days. The molded EVA outsole adds more protection without weighing you down, and the skeletal rubber frame on the interior ensures that the shoe keeps its form without putting your feet at risk of getting hurt easily. Not only that, but the anatomical insole makes it much more comfortable to wear for extended periods of time, as well as reducing natural foot fatigue.
This shoe takes a standard walking shoe design and builds on it, adding more support as well as ensuring that you are placing your foot on a comfortable, protected insole.
Check Price on Amazon ➞
4. ASICS Men's GT-2000 7 Running Shoes
The lightweight, protective foam used in these running shoes makes them far more comfortable and protective than a regular pair but doesn't add any extra weight or bulk to slow you down. Thanks to the excellent gel cushioning system at both the front and rear of the shoe, your toes and heels will be protected from sudden shocks or slips, and the flexible midsole means that you'll have extra support no matter what surface you're standing on. On top of that, the high-abrasion rubber outsole is designed for maximum durability during general use, drastically reducing how fast they wear out.
Supportive running shoes can be hard to find, but this pair manages to be the best of both worlds at once.
Check Price on Amazon ➞
5. Saucony Women's ProGrid Integrity ST2 Walking Shoe
These sneakers are designed for walking, running, and intense cross-training, making them ideal for anybody who needs casual footwear. The lace-up design makes them immediately familiar to almost anybody, and the strong gum rubber sole is durable enough to take on any kind of terrain.
Thanks to the excellent grip pattern, you also won't struggle to keep your balance on all but the most slippery terrain. The interior, on the other hand, is very soft and comfortable, giving you plenty of padding and protection while also supporting your foot in a natural way.
If you need good shoes for hiking, nature walking or other off-the-path activities, this walking shoe can suit you really well.
Check Price on Amazon ➞
6. Propét Men's LifeWalker Strap Walking Shoe
These 100%-leather walking shoes use a very simple strap-based design, meaning that you can take them off or adjust them in mere seconds. Thanks to the hook-and-loop connection, they won't undo themselves easily, either. Beyond that is the brushes nylon lining and the extra-stable heel, which is designed for maximum support and balance on most standard surfaces.
It also uses an orthodontic insole made with memory foam to add extra comfort and padding to each step but doesn't increase the overall weight of the shoe or add any awkward bumps underneath.
These shoes are smart and comfortable, bringing in some extra support without being too flashy or showy.
Check Price on Amazon ➞
7. KEEN Men's Targhee II Hiking Shoe
The leather used in these hiking shoes makes them extremely durable and weather-resistant as long as you remember to clean them off occasionally. The padded collar and tongue help protect your ankle while offering more support, and the hydrophobic mesh used as a lining keeps out water and humidity on wet days.
The lugged sole provides far more grip than a standard shoe, as well as offering more protection from sharp stones or objects you might step on, and the lace-up design gives you lots of options when it comes to adjusting how it fits on your feet.
Walking boots are already great at providing support, and this pair takes it even further without ruining the overall purpose of the boots.
Check Price on Amazon ➞
8. Under Armour Men's Curry 3Zero Basketball Shoe
These basketball shoes use a mostly-mesh upper section for maximum breathability in every situation, keeping your feet cool and improving circulation and sweat removal. To back up the mesh, the design uses sturdy heel and toe sections to keep your feet properly supported during a basketball game or other activity, all while the strong anti-microbial sock-liner molds to fit the shape of your feet for extra comfort.
The midsole uses both Micro-G foam and Charged Cushioning padding to provide even more protection, as well as keeping your feet stable no matter what kind of court or field you are playing on.
Exercise shoes usually offer good support, but these basketball shoes take it to an even more extreme level while also adding excellent ventilation and comfort.
Check Price on Amazon ➞
9. RYKA Women's Tenacity Cross-Trainer Shoe
These trainers are designed for as much support and protection as possible, using a skeletal-looking exterior design and a mesh second layer to increase breathability without losing its shape. The lace-up design is complemented by a single strap, making it easy to adjust your footwear in two different ways, and the reinforced heel ensures that the vulnerable back of your foot is kept safe.
Not only that, but the padded sections around the collar and tongue keep you comfortable in all kinds of situations, no matter how high or low your socks are.
These trainers strike a good balance between comfort and convenience without sacrificing other features in the process.
Check Price on Amazon ➞
10. Vans Men's Sk8-hi(tm) Core Classics
These skate shoes take a very simple design and add a range of useful extras, including proper collar padding, strong materials and long-lasting triple stitching on weaker seams. On top of that, the EVA layer used in its design adds to its durability without weighing you down, while the waffle-style outsole provides better flexibility and grip on most common surfaces, both indoors and out. The cotton lining on the interior gives you a nice boost of comfort, while the canvas exterior protects your feet from most debris and dirt really well.
Skate shoes make great casual footwear, and this pair keeps the simple concept of the original shoe while adding extra materials and features that don't get in the way of your normal routine.
Check Price on Amazon ➞
Ankle Support Shoes Buyer's Guide
Buying a good pair of ankle-supporting shoes isn't easy since all the usual rules and guidelines for buying shoes still apply. Not only are you looking for specific designs in specific sizes, but you'll also need to pay more attention to things like support, durability and the overall level of protection your shoes offer you, especially if you're trying to get ones that help you avoid (or recover from) injuries.
There are certain things that make a bigger difference than others, so it's important to understand what you should be looking for:
Support
Good support is key when you're trying to avoid injuries, especially when it comes to sports, running, or other activities that require a lot of foot movement and sudden impacts. An unsupportive shoe will leave the weakest points of your foot exposed to harm, and can also result in sprains or sore areas becoming even more damaged if you're not careful. Even worse are shoes with incorrect supports or designs, which can cause far more harm than they can prevent, especially if you don't notice anything wrong until it's already causing problems.
You can usually tell which shoes will be supportive, either by their general design or by the type of insole and outsole they're using. Support can be given in multiple ways, with some shoes focusing on keeping your feet in a healthy position while others provide more comfort and padding for the bottom of each foot. These are both technically supportive, but in different ways, and they have different results.
A shoe with great insole padding will be comfortable, but will also support the natural shape and movements of your feet, providing excellent comfort and making it far less likely that your feet will get hurt from prolonged activity. On the other hand, a good frame and collar design can help your upper feet and ankles stay in a good position, reducing the chance of them being damaged if you misstep, stumble or trip over.
Keep in mind that not all support methods are meant for everybody. For example, some ergonomic insoles are designed specifically for certain types of foot, meaning that they can be uncomfortable for people with a different instep or arch size.
Style
It's obvious that shoes come in dozens of different designs, but they're not just visually distinct – they also have different limitations as a result of how they're designed and constructed. For example, a low-top shoe without a raised collar won't be able to provide support above your ankle, while a high-top shoe will give you a smaller range of movement.
There's also usually a big difference between lace-up shoes and strap-based shoes, although some shoes can use a combination of both. Strap shoes are usually much easier to put on and take off since they're a very simple shoe and are generally similar to a slip-on shoe. Lace-up shoes, on the other hand, are more reliable and take longer to put on or adjust.
You'll have your own personal preference, but they'll also usually be different in terms of visual design or comfort, so not all shoes will be readily available in both types. The best shoes for ankle support will fit your needs, rather than stick with a certain style, but you won't always be able to find exactly what you're looking for if you're sticking to just a single design or style.
Comfort
Staying comfortable is also important since it will affect how good you'll actually feel while wearing shoes. Having support on its own is fine, but if your shoes are causing discomfort, it'll be a lot harder to wear them for extended periods of time, and you can even run into issues with your posture or gait if they don't fit as you expect.
Cushioning provides most of the comfort in a standard shoe since it makes the shoe far softer while walking, running, or doing anything that puts pressure on your feet. This cushioning can be as simple as the shoe using a soft insole, but many designs will add extra layers of foam or gel to provide a much higher level of comfort. They might even mold to your foot shape, especially if they use memory foam.
Maximum comfort isn't always the best choice, though. The more a shoe focuses on comfort, the less it'll focus on things like support, durability, or weather resistance. It might also be lacking certain useful features, and might have to make certain sacrifices in its design that make it less reliable in certain situations. A common example is waterproofing, with many comfortable materials being far less water-resistant than their more rigid or solid counterparts.
When it comes to preventing injuries, solid materials are extremely important, so it's a good idea to try and find shoes that use a tough exterior and a soft interior. This helps the shoe keep its shape without harming your feet in the process, as well as providing good support and relief to your feet even if they're injured or sore.
Size
The first thing you should look into is the size of the shoes themselves – shoes that are too tight can hurt your feet or dig into your skin, whereas shoes that are too loose might cause your feet to slide around inside them, making it much harder to keep your balance or move quickly. This is even more important if your footwear has specially-molded parts or inserts since they might not be scaled to your foot size: this can make them far less comfortable (or even painful) to wear.
Keep in mind that most people have one foot that's half a size larger than the other, so you should always try to use the measurements from your largest foot as a reference. A shoe that's slightly too large is less uncomfortable than one that's too small, so getting a suitable size can do a lot for your everyday level of comfort while wearing shoes.
The overall size of the shoe isn't the only thing that matters, however. Even if a shoe fits around your foot, it can still be too snug for your toes, have an unwanted arch or instep, or might even have a tongue that's too snug for your ankles and upper feet. If you try on a shoe and it feels wrong, either while you're standing still or walking around in them, then don't force yourself to wear them – they would probably harm your feet more than they'd help.
Design
Even if you're just buying shoes for support, the visual design still makes a big difference, since it'll impact where and when they're acceptable to wear. For example, let's say you're recovering from an injury and are wearing casual shoes for the added support – you might not be able to wear them in the workplace or at formal events, which can be an issue if you're relying on them to prevent pain or other injuries in the future.
It also matters from a personal standpoint, since fashion is something that a lot of people put a great deal of effort into. If you are clearly wearing something that doesn't fit in with your normal clothing, it can make you really stand out in an uncomfortable way and might ruin the rest of your outfit that you've spent time putting together. Just like buying normal shoes, try to follow your own personal style.
Expert Tip
Cushioning isn't just for comfort and support – it also helps you with move fluid and natural movements, especially if you're recovering from an injury, and it can make it easier to transition between different stances if you're exercising or playing sports.
Did you know?
Midsoles are often ignored by both shoe designers and buyers, but they can add a great level of extra comfort and protection, so they're worth getting if you're able to find a pair that uses one properly.