Olympic Track – How Big Is It?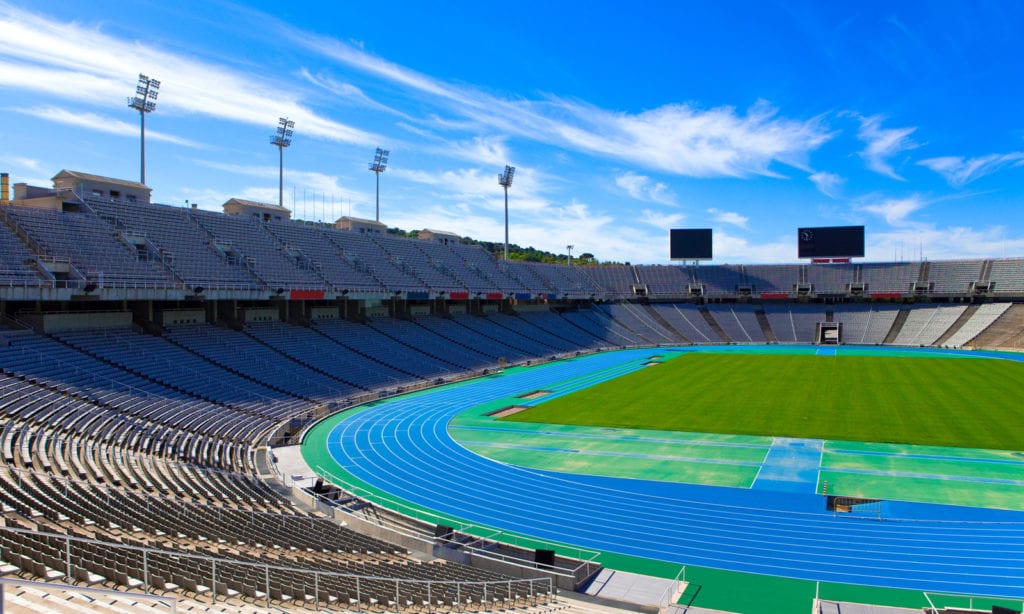 Olympic level athletics is never going to be a starting point, all Olympic and Paralympic Games athletes, both men and women, begin at an earlier point in their lives. On a practice athletics track somewhere else, whether this is in school or college athletics program or as a hobby they will not start out on an Olympic games track field. So, when beginning to think about whether or not you are aiming for Olympic and Paralympic games level jumping and throwing events, you might ask yourself which of the multiple sports available you would like to compete in?
While there is no better way to make a decision about which track field discipline you would excel at, than trying those events for yourself. If you are more into research before trying, then we have gathered information regarding what the Olympic and Paralympic games events are like and where you can find information about trials for upcoming games.
In addition, the Olympic athletics events for both the men's program and women's program are widely televised every year, which will allow you to see the events in action throughout the games. If you are lucky enough to live in the country where the games are being held or have the ability to travel there in person to experience the electric atmosphere of the athletics events and the prowess of the men and women competing.
Running Tracks
Whether you are a beginner to running or a seasoned runner, you need to educate yourself regarding running on the athletics track if you are seriously considering trying out for the Olympic and Paralympic games. You may be pleased to know that the track at the Olympic and Paralympic games level is the same size as the track you will have used or will be using at school or college level track running.
The athletics track measures 400m in the inside lane when running one lap, and the lanes are staggered the further your lane is from the inside field to ensure that all men and women running will run an equal distance to the finish line. This means you will not need to make any changes from training to competing in terms of laps, when completing the 400m hurdles you will still have one lap of the track field to complete, and depending on which event you are competing in you will use one or multiple laps of the track to achieve the required distance.
As with none Olympic games athletic tracks, the start positions may be staggered around the track field to ensure that all runners run an equal distance and have the same finish point on the track field. Also, the men and women may have different distances depending on the discipline, so it is important that you look at distances for the events depending upon your gender so that you do not have to decrease or increase the distance when moving to higher-level competitions. As changing distance can impact on your pacing for the run, you are completing.
Athletics Track Events
The athletics track is an extremely versatile equipment ground, it can be used throughout the athletics events of the Olympic and Paralympic games for both men and women. It can also be transformed easily to be used for running events, long jump, shot put, triple jump, high jump, discus throw, 400m hurdles and pole vault without the need for multiple arenas or areas being built or adapted.
Due to this versatility, both men and women can compete on the same athletics track, although the distances may be less for some of the women's events than the men's. This is especially important due to the differences in the distance for men and women in athletic running; if there had to be one arena for men and a separate one for women this would increase the overall costs for the country holding the games, and for any training arenas around the world.
The fact that the running lanes are laps rather than a strip is also easier for the events planning committee, men can run more laps than women to ensure that they meet the distance requirements. Some of these events at the Olympic and Paralympic games will use the main athletics track, including; all men's and women's running events, the 400m hurdles, and relay races.
While others will use the inside field, including; high jump, pole vault, long jump, shot put, and triple jump. Having the inner field in addition to the running track all in one competition area allows for a more compact Olympic and Paralympic games arena and will enable you as an athlete to train for multiple events all in one area.
Track, as you may call it in high school, is not something you will see named at the Olympic games, however, if you are looking to try out for an Olympic or Paralympic athletics men's or women's team you would do well to participate in track events at your school's track field or at your local community athletics track.
When looking at track field events at a none Olympic and Paralympic games level you may be able to participate in more than once discipline of events, for example, shot put, long jump and men's 400m hurdles, however, when competing at an Olympic or Paralympic games level you would usually stay with one athletics track discipline. You may also, at a more junior level, practice events such as long jump, shot put, triple jump, high jump, and discus throw as part of your school's athletics program or men's and women's community center athletics events.
This mix of different disciplines is a great way of finding out what you enjoy in addition to what you excel at, you may also have this opportunity at your local community center. The one aspect to be aware of if participating in these events at a mixed opportunity is that the distances can be different depending on if the Olympic events are for men or women.
Olympic and Paralympic Games
Competing at the Olympic games is an intense experience in any sport, and men's and women's athletics is no different, drawing huge crowds, and with an intense atmosphere, these athletes are highly competitive. The winners of the 100m sprint are crowned the fastest men and women in the world for winning on the athletics track during the Olympic games, with both the men and women striving for personal bests and world records to secure their names in the history books.
Training for the Olympic athletic events is grueling, with strength and conditioning being especially important for both men and women in the throwing events, like the hammer throw, discus throw, javelin, and shot put; each requires the thrower to throw the projectile the furthest distance. With both the shot put and discus, used in the discus throw, weighted the men and women competing are required to complete intensive training to ensure they are performing at their best during the games.
Due to the men and women competing in separate events during the games, the results are more comparative, and there is a higher opportunity for newcomers to participate and reach the Olympic standard. However, if you would like to compete at an Olympic level it is important that you study past games to see the rules of each event at Olympic standard, we recommend looking at recent games such as London 2012 and Rio 2016 men's and women's athletic events.
It can also be helpful to look at upcoming events, if you can, it could be helpful to look at Tokyo 2021. If you are beginning your journey toward Olympic field events, it might be beneficial to attend Olympic trials for track and field events in your local area, this will give you an idea of each of the events.
The American Olympic trials are being held in Eugene, Oregon in 2021 and tickets can be purchased for spectators to attend both the men's and women's try-outs, this is a great way to observe the level of the men and women trying out for the current games and will give you an idea of where you need to set your sights for your own trials in the future. Seeing the Olympic trials before you are ready to try-out for the games is a great way to see what you would be expected to do and how the field events are set up for both men and women.
While you may see the same men and women competing in multiple running events of a similar distance, either short or long distance, you will not see the same men and women competing in the long jump, triple jump and high jump events, or combining discus throw, hammer throw and shot put. That is unless they are competing in a decathlon, which is a track field combined events, and men and women must compete in several disciplines consecutively.
We recommend that once you have decided which event you are interested in, you begin practicing and observing other men and women who are competing in these events. In addition to attending the Olympic trials, you can attend local track field events and practice time, seeing each of the disciplines in practice and giving each a try are excellent ways to find out if you enjoy them.
There are other events on the annual athletic competition calendar, so observing or watching some of these gives you more opportunity to review the world standard in athletics' men's and women's competitions. Some of the disciplines have specific rules, for example, when competing in the men's and women's triple jump, you must ensure specific foot placement and technique to ensure you are not disqualified.
Each track field event will have specific rules; watching and learning about these rules is an excellent way to hone your technique, putting them into practice at the earliest opportunity is a great way to ensure that all of your practice at these disciplines is in line with competition rules, that way you will not have to make vast changes to the way that you participate if you move to a competition level event.
Practice Makes Perfect
The best advice we can give is, regardless of your natural ability in any sport, practice will help you in multiple ways; you will be able to perfect your technique in each discipline, learn how to best your personal records, and build strength as you practice. This can be especially important in the shot put; as your body becomes used to the weight, you will be able to build strength, meaning you will be able to throw further, achieving better throws as time passes and you condition your body to use the weight to achieve better throws.
This is the same with practicing jumping events, such as the men's and women's high jump, when first beginning this discipline you may find that you are unable to jump very high as you will need to hone your technique. As you practice the high jump, you will find the technique that works best for you, the one which will allow you to achieve a better height on approach to the high jump and the way in which you will need to move your body to jump over the bar without touching it.
Both men and women will practice together in mixed training sessions. However, they will compete in separate men and women's events in both the summer and winter competitions. While the men and women competing are striving for the gold medal, it will take everything you have to get onto the winners' podium, which is why practice is so important to each athlete hoping to compete at an Olympic level.
The athletics track field is a highly competitive arena for all of the men and women competing, and the Olympics organizing committee is essential to the smooth running of each event on the timetable, their ground rules will help each competitor to remain within the rules of their sport. We recommend you research rigorously the events you would look to compete in and ensure that you are aware of the organizations you would be competing for as all athletes must ensure that they do not contravene the rules of the sport they participate in.