10 Best Adidas Basketball Shoes in 2021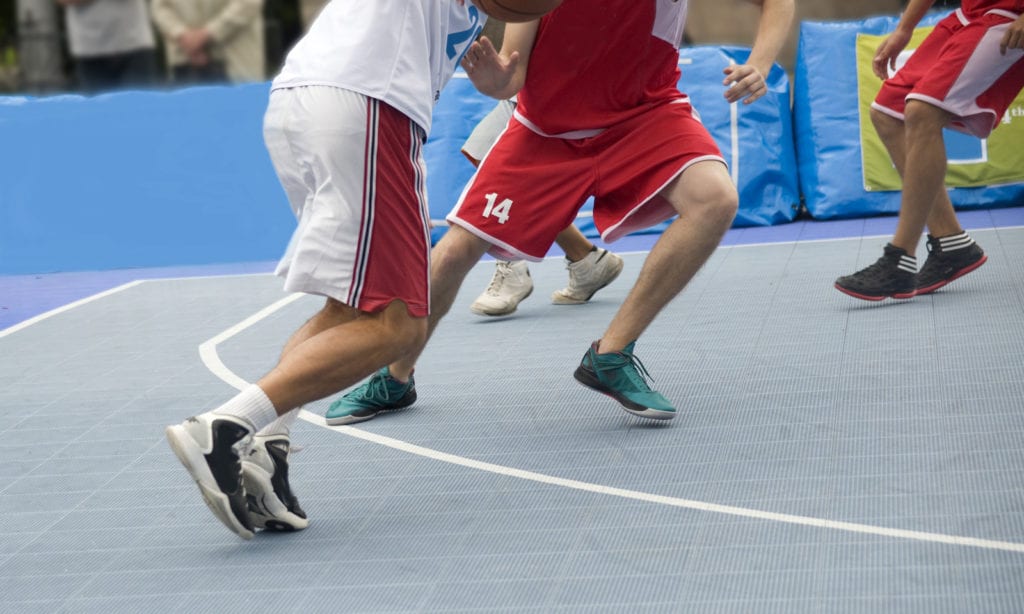 Adidas is one of the most famous shoe brands in the world and has produced thousands of pieces of sportswear that have each tried to fill a certain niche or work best in a specific role. Because of this, there are plenty of Adidas shoes to choose from, even if you are limiting yourself to a single sport or shoe type: one good example is basketball shoes, which can be both comfortable and very easy to use for high-energy sports or exercises. The only problem with having so many options is that it gives you far more to sort through if you are looking for the best possible choice.
View the Best Adidas Basketball Shoes, Below.
1. adidas Men's Ownthegame Basketball Shoe
These simple basketball shoes are designed to be as breathable and soft as possible without losing durability, making them both strong and comfortable. This breathability comes from a mesh upper that works alongside synthetic leather to give you the best of both worlds, and the Coudfoam midsole design can boost cushioning with every step for an even greater level of fatigue prevention. Not only that, but the design uses a tough, flat synthetic outsole with a dual-zone traction system to help you keep your balance and stay stable across almost all surfaces, which works well alongside the comfortable OrthoLite insole to keep you ready to move at a moment's notice.
These basketball shoes are straightforward and reliable, giving you excellent comfort and protection straight out of the shoebox!
Check Price on Amazon ➞
CHECK PRICE ON ZAPPOS ➞
2. adidas Men's Pro Next Basketball Shoe
The sloped design of these adidas basketball shoes, combined with the tough and durable synthetic sole, gives them a very game-focused design. The dual-zone traction system in the outsole makes it much easier to keep your grip properly when you are on the move, and the debossed toe cap adds slightly more durability without bulking up the shoe or weighing you down. Not only that, but you get Cloudfoam cushioning built into the midsole for maximum energy-boosting and fatigue reduction. Since they use a platform-style design, they are also capable of giving you a bit more physical protection from rough ground.
These well-cushioned basketball shoes are ideal for people who need a little more bounce in their step without losing grip or durability.
Check Price on Amazon ➞
CHECK PRICE ON ZAPPOS ➞
3. adidas Men's Hoops 2.0 Basketball Shoe
These synthetic and textile adidas basketball shoes use a straightforward and easy-to-wear design that is very simple to slip onto your feet, offering a standard lace-up closure that gives you freeform adjustment without being too tight around your feet. A tough gum rubber sole and sturdy exterior make it far more durable than you might expect, while the interior is well-cushioned and comfortable enough to handle all terrain types and activities. The raised tongue and collar also mean that you can protect your ankle a little bit better during difficult sports or long runs.
These adidas basketball shoes are both comfortable and reliable, making them the ideal choice for a wide range of outdoor activities.
Check Price on Amazon ➞
CHECK PRICE ON ZAPPOS ➞
4. adidas Men's Harden B/E 3 Basketball Shoe
These basketball shoes are easy to wear and combine tough synthetic materials with breathable mesh to give you as much comfort as possible, relying on the cushioning and strength of the materials rather than any gimmicks. This includes a padded collar and textile upper, as well as special textile lining for improved flexibility. On the bottom is the specially-designed rubber outsole, which uses a grooved design for better grip, as well as a Bounce cushioning insole to keep you comfortable for longer. In terms of the closure system, you get a single strap that can easily be loosened or tightened without having to spend time fiddling instead of playing.
These shoes use a range of soft and durable materials to give players plenty of comfort and protection during basketball games and other sports.
Check Price on Amazon ➞
CHECK PRICE ON ZAPPOS ➞
5. adidas Men's Entrap Mid Sneaker
These comfortable basketball sneakers have been made using the best possible materials to give you strong, durable, flexible, and reliable mid-top shoes that can keep you comfortable through all kinds of activities. They are made with tough leather and suede that provide a strong upper section and offer a padded ankle area for better comfort, all of which connect to a grip-focused rubber outsole that can help you stay upright during awkward movements. The OrthoLite insole also gives you some extra cushioning as you move, and the mid-cut design means that you can stay better protected from both physical harm and bad weather during your exercises.
These adidas basketball shoes are durable and comfortable, making them great for players who want to stave off fatigue and muscle pain.
Check Price on Amazon ➞
CHECK PRICE ON ZAPPOS ➞
6. adidas Men's Harden Stepback Basketball Shoe
The reliable rubber sole used in these basketball shoes gives them plenty of grip compared to other shoe types, which works well when combined with the flexible but breathable mesh. Not only that, but the entire upper has been reinforced with stronger stitching and a separate synthetic overlay for the toe, improving the durability of each shoe dramatically. Alongside that is a padded heel that provides better comfort and internal eyelets to protect the laces from harm. Each shoe has a Cloudfoam midsole that boosts your comfort and cushioning even further with every step, both during sports like basketball as well as regular walks.
These basketball shoes are all about comfort, reducing fatigue, and making it easier to keep playing for much longer than expected.
Check Price on Amazon ➞
CHECK PRICE ON ZAPPOS ➞
7. adidas Originals Men's Pro Bounce Basketball Shoe
These all-synthetic adidas basketball shoes have been made using heat-pressed and TPU-covered fibers that act as the upper mesh, providing incredibly good support and breathability while also being exceptionally durable. Alongside this is a range of other synthetic materials that provide a more stable backing, as well as an excellent amount of internal bounce cushioning for improved comfort while you are moving. Even better, the simple lacing system makes them easy to adjust with very little effort, using webbing eyelets that aren't hard to use and don't run the risk of popping or snapping off easily.
This is another pair of basketball shoes that work best right away, giving you good breathability and protection with no real downsides.
Check Price on Amazon ➞
CHECK PRICE ON ZAPPOS ➞
8. adidas Men's Pro Vision
The tough textile and fabric materials used in these adidas basketball shoes make them much more reliable than you'd expect, giving you plenty of cushioning and protection alongside a high level of durability in the shoe itself. A low-top design and comfortable padded tongue provide more flexibility and faster movement during exercises, and the rubber sole has a very subtle grip pattern that can keep you stable for much longer. The midfoot cage keeps your feet physically locked down inside your shoe for even greater comfort, as well as making pivots and other sudden movements much easier.
These adidas basketball shoes are extremely useful for moving fluidly and keeping your balance on a variety of terrain types.
Check Price on Amazon ➞
9. adidas Men's Dame 5
These adidas basketball shoes use a soft suede upper section that provides much better comfort than other shoe designs, as well as a range of internal pods that are meant to boost this cushioning even further while you are on the move. A Bounce cushioning midsole in each shoe gives players a much better level of fatigue prevention and overall strength, making it much easier to keep moving during long exercises or basketball games. The banking barrier used in the midfoot increases your stability during quick movements and directional changes and works alongside a herringbone outsole for an extremely good grip.
These basketball shoes offer an almost perfect balance of comfort, durability, and grip for both players and casual users alike.
Check Price on Amazon ➞
10. adidas Men's Marquee Boost Low Basketball Shoe
These well-designed adidas basketball shoes have been made using a classic style like so many shoes before them, giving you a great level of Boost Cushioning and protection while also making sure that they fit really well. This Boost Cushioning is meant to return energy back to you after every step, lowering fatigue and keeping you on the move for much longer. The mesh used in the upper section gives them a considerable breathability boost without lowering their durability, and the padded heel collar makes them even more comfortable to use on uneven or difficult ground that would typically lead to ankle pains.
This is another pair of adidas basketball shoes that combines comfort and effectiveness into a great sports shoe.
Check Price on Amazon ➞
Adidas Basketball Shoes Buyer's Guide
Buying new basketball shoes, just like any kind of trainer, requires some careful planning and forethought. You could walk right into any shop and buy some adidas shoes right off the shelf, but there is no guarantee that they will work, that they will last very long or even that you will like wearing them. The best way to get the best adidas shoes is to do proper research ahead of time – not to find the specific trainer you want, but to get an idea of which features you need so that you can narrow down your search before you even start it.
Branding
Adidas has a lot of branded shoes, and this extends to basketball shoes too. For example, Adidas Harden vol.4 are branded by James Harden, who many consider one of the best basketball players in NBA history. As you'd expect, Adidas Harden vol.4 is meant to copy the style of James Harden: they are created as the 'signature shoe' of James Harden and use features that James Harden would likely use himself. Not only that, but as the Adidas Harden vol.4, they are not the first shoes created by adidas alongside James Harden.
There is also Adidas Dame, a similar trainer style created to represent Damian Lillard. The Adidas Harden vol.4 and Adidas Dame are similar, but they both offer different features and designs that make them different enough to make them unique. For example, the Adidas Harden vol.4 (as well as the Harden vol.1, Harden vol.2 and Harden vol.3) have quite a high focus on protection and durability – Damian Lillard shoes might be focused on something else.
Of course, you don't want to let this sway you too much. The best Adidas basketball shoes will be whichever ones can offer you features you like: don't buy Damian Lillard shoes if they are not going to suit you, even if you like Damian Lillard. Even a hardcore Damian Lillard fan should avoid buying shoes just because his name is connected to them unless they know it is something they will use.
Durability
Let's say you have 3 adidas basketball shoes in front of you (in pairs). All 3 adidas pairs will only last for so long, but at a glance, it can be nearly impossible to tell which will last the longest. This is because shoes handle durability differently to many other products – instead of relying purely on the outside layer, basketball shoes have to go up against all kinds of difficult weather conditions, bad terrain, and other threats and hazards. Even just casually walking in your new pair will wear them down eventually. So, how would you choose between the 3 adidas shoe types if you could only pick one?
Most of the time, high-quality materials make a big difference. However, you want them both inside and outside the trainer – one of the best ways that some companies can save money is by only using the valuable materials on the outside. This is still useful, but once the inside layers wear down, you will be stuck with a much less comfortable piece of footwear. Good durability applies to both the inside and the outside of a product, and basketball shoes are no exception.
Speaking of exterior durability, remember that weather can be your biggest threat, but not the only one. Footwear that can stand up to heavy rain might easily come apart in warm heat or by being scraped along the ground since physical protection doesn't always equate to weather protection. Try to match this to your situation, too: if you are indoors, you probably won't need weather protection, so it becomes less important than if you play basketball outdoors.
Comfort
Like all sports, basketball requires comfortable footwear. You have to move a lot, constantly change direction and sometimes even make leaps of faith in order to make progress in the game, and that means that your footwear has to stand up to that kind of punishment as well. Many adidas products focus on making these tasks much easier, such as the adidas Pro Bounce shoes: the 'Pro Bounce' feature is meant to give you instant comfort and help you rebound with extra force after every step or jump.
Good comfort can come in many forms. This could be padding, cushioning, softer materials, more flexible designs, or even something as simple as more space for your toes to move around in. Every person will have their own preferences on what they find most comfortable in shoes, so there is nothing wrong with sticking to a design that you personally find more comfortable even if it is not as popular.
Are Adidas Good Basketball Shoes?
Adidas is often considered to be one of the best brands for basketball shoes purely because of how popular they've become and the amount of basketball footwear they can produce. Unlike most smaller companies, adidas often have multiple lines of basketball shoes out at once, including ones sponsored by major players or ones that expand on their original product lines with new versions of the same item. There are so many that you can often spend hours just looking through adidas gear and still have more to look through later.
Of course, if you are dead-set on getting adidas footwear, then you have to find the best adidas shoes you can. The adidas brand covers so many different bases that there is really not any specific way you should start – a lot of the adidas shoes on offer could work, even if they aren't specifically made for basketball.
What are the Best Shoes for Basketball?
The best choice of shoes you can use for basketball, adidas, or otherwise comes down entirely to your own preferences. Some people are focused on features like durability and cushioning to maximize their performance during a game, while others who play casually might want something that is more comfortable and relaxing to wear. Many people might even play sports other than basketball using the same shoes, which can force them to look for features that will work in multiple games at once.
Adidas shoes are quite often purpose-made for one sport, but that doesn't mean that they can't be used for others. If you are just looking for gear that will work during basketball games, then that is always an option. However, if you want something multipurpose that can work for various sports and you want a single piece of footwear that suits an entire range of activities, you can usually find something that fills that niche too.
Try to avoid getting convinced to buy footwear that you don't need or won't use. Shoes are a very personal thing, and each person has their own preferences, foot sizes, and individual wants that might change the sort of shoes they end up looking out for.
Conclusion
These reviews and this buyers' guide should have helped you get a vague idea of what you'd prefer to look for in your new adidas shoes, but remember that your own research is the most important part! Adidas is a brand that covers hundreds of different footwear designs, and there will always be a new set of shoes on the way that could replace an older design or give you something more suited to your preferred way of playing basketball. At the end of the day, the only person who knows what kind of shoes you will want to use is you, so don't hesitate to start looking for exactly what you want.
Expert Tip
The weight of your shoes plays a large part in how fast you can move your feet. More weight leads to slower movement, and the only real advantage might be slightly more stability.
Did You Know?
Your feet can expand later in the day. Try to get your foot sizes measured in the afternoon if you can, since this will stop you from buying shoes that are actually too small.