10 Best Cross Training Shoes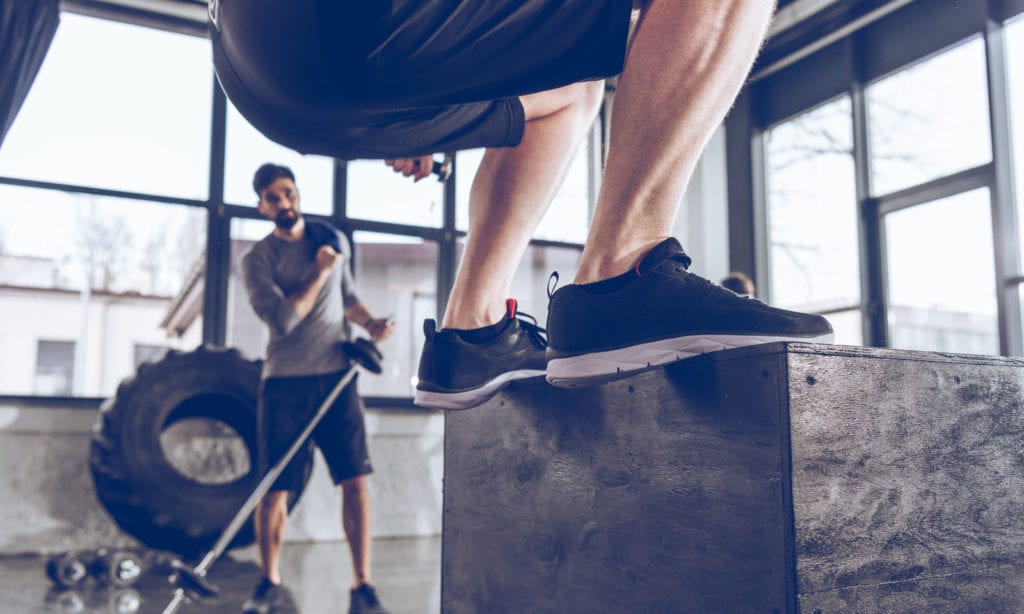 Like regular types of running, cross training requires a lot of difficult and intense movements, especially if you are taking on tough routes or deliberately pushing yourself to get past your previous records. Nothing's stopping you from slipping on a generic pair of running shoes, but you will suffer a massive loss of performance if there is even a small issue or missing feature that gets in your way.
If you want to exercise and train yourself properly, then you need to get the best gear available, no matter how long the search takes. Shoes aren't just to cover your feet – they are for protection, support, and sometimes even personal safety, depending on the weather conditions you are dealing with.
View the Best Cross Training Shoes, Below.
1. New Balance Women's FuelCore Nergize V1 Cross Trainer
These women's cross training shoes are built with a very low silhouette, using the same design as a lot of slip-on shoes to give you an ultra-lightweight set of running footwear. The REVlite foam used in the midsole section provides far more support and comfort than a generic midsole design, while the tough outsole backs it up with better protection and shock absorption.
The simple lace-up design, combined with the low heel, makes it easy to adjust the shoes to fit your feet without bringing much harm to vulnerable areas, like your ankles or heels. The removable insole can be replaced with your own custom insert for a more personal fit, too.
These cross training shoes are ideal for tackling a wide range of running styles and trails, giving you plenty of support without covering up a large area of your ankles in a way that might restrict your movements.
Check Price on Amazon ➞
2. NOBULL Women's Training Shoes
These high-quality cross training shoes use a lightweight and breathable mesh-like upper layer to keep your feet safe and comfortable in hot weather, as well as reducing the chances of sweat getting in your way or harming your skin. The durable SuperFabric used in this seamless design also massively improves its strength and abrasion resistance without putting your feet at risk of irritation.
The strong outsole has a specially-chosen pattern of bumpy lugs that provide excellent traction on a range of surfaces, both indoor and outdoor while retaining the same support and padding across all kinds of terrain. On top of that, these cross training shoes use a special high-carbon guard to protect the sides of your feet from bumps and bashes.
These are some of the best cross training shoes when it comes to keeping your feet supported and safe, but they are also very breathable and flexible, making them great for dozens of situations.
Check Price on Amazon ➞
3. New Balance Men's 20v7 Minimus Cross Trainer
These cross training shoes use a special nylon-infused yarn to give the design far more protection, support, and durability than a standard shoe's construction without adding any more weight, letting them properly support your feet on a range of different surfaces. They are ventilated using a custom-made mono-mesh that is used as built-in "windows," providing better airflow and cooling in key areas without leaving your entire foot exposed to the elements.
Thanks to the durable EVA sole, these cross training shoes can absorb shocks really well and prevent foot fatigue, making it easier to keep moving even if you are on rough ground with a lot of dips and slopes.
In terms of protection and support, these cross training shoes strike a good balance without being overly bulky or too heavy to use effectively. This makes them an excellent choice for difficult paths and trails that put your shoes under a lot of stress and pressure.
Check Price on Amazon ➞
4. RYKA Women's Influence Cross Training Shoe
These synthetic cross training shoes boast a high-traction outsole that has multiple excellent benefits, including faster pivoting, better stability, and a much stronger grip on natural ground. The flex-foil and fuse layers used on the supper section lead to improved support and protection, while the mesh still means that your feet can breathe properly and cool down in warmer weather.
Dual-density foam is used inside the midsole for more padding and protection, while a special EVA layer helps cushion impacts and "bounce" you back up with each step, making it much easier to run on uneven ground that would normally cause foot pains and fatigue.
These cross training shoes offer a massive amount of protection with almost no direct downsides, making them an excellent option for tougher and more unpredictable terrain where you need as much support and padding as possible to stay safe.
Check Price on Amazon ➞
5. PUMA Men's Tazon 6 Fracture FM Cross-Trainer Shoe
These men's cross training shoes rely on strong synthetic materials to give you the excellent performance and comfort you need. Rather than mesh, they use a mostly solid (but perforated) design that allows for breathability without leaving you vulnerable to rain and other water sources, as well as a durable gum rubber sole that can handle most types of terrain extremely well.
The low-heeled design makes it easier to keep your grip on both flat and non-flat surfaces. This also makes it easier to pivot quickly or make sharp turns, which can be important if you want to push yourself without slowing down to change direction.
These cross training shoes focus on the essentials before anything else, giving you a very simple yet reliable pair of running shoes that can deal with a wide range of different situations and hazards.
Check Price on Amazon ➞
6. New Balance Women's 711 v3 Cross Trainer
The strong EVA sole built into these shoes makes them perfect for absorbing shocks and other bumps, resulting in much more protection when you are on difficult terrain or uneven natural ground where slips and stumbles are quite common. The lace-up design means that it is easy to adjust each shoe to fit your preferences, rather than having to rely on a single fit that could end up hurting you.
Thanks to the low-heeled design, you will get a better grip on almost any surface, especially ones that aren't perfectly flat. This also makes it easier to go up and down slopes in wet weather without slipping and makes it harder to fall over on soft ground (such as dirt or sand).
These cross training shoes balance breathability and grip with strength and protection, giving you the best of both worlds without leaning too heavily towards one or the other.
Check Price on Amazon ➞
7. Reebok Men's Crossfit Nano 8.0 Flexweave Sneaker
These cross training shoes offer plenty of breathability and flexibility thanks to the NanoWeave upper section, which also helps improve its overall level of comfort while you are wearing them. This is backed up with a strong foundation layer and toe box, which protects weaker parts of your feet from harm if you bump them into something solid.
The cushioning around the forefoot area reduces foot fatigue without making your heel feel "floaty," and the stable outsole design means that it is much easier to keep your grip on non-flat surfaces made of softer or rougher materials, including natural slopes and pathways. On top of this is a specially-molded insole that is designed to cushion each individual step, reducing foot fatigue and pain.
The grip, protection, and flexibility offered by these shoes make them some of the best cross training shoes for people who need to stay safe and move quickly.
Check Price on Amazon ➞
8. Nike Metcon 4 Mens Cross Training Shoes
These low-silhouetted cross training shoes use Flywire technology to make them fit much more comfortably and securely, as well as a special midsole that improves stability without acting as over-the-top padding. The mesh used around the heel and ankle area offers breathability in areas that other shoes often overlook, helping you cool down and reducing the chance of sweat irritating your skin during long exercise sessions.
The low-profile design of the heel is meant to help you with more than just running – it reduces drag when you are performing things like handstands or push-ups, making it easier to keep your balance and stay stable.
These cross training shoes are comfortable, stable, and perfect for handling exercises both indoors and out, as well as keeping you stable during more complicated routines or warmups that could normally result in you falling over or injuring yourself.
Check Price on Amazon ➞
9. Nike Women's in-Season Tr 8 Cross Training Shoes
These women's cross training shoes mix durability and comfort well, combining durable and flexible materials to keep you safe without getting in the way of your cross training routines. The mesh used for most of the upper section improves breathability and gives you slightly more room to move, while the sides and back use a more solid set of materials to ensure that your shoes fit properly.
The design also includes rubber pods in certain areas to help prevent wear and tear, dramatically boosting their life and making it harder for them to wear out during normal exercises. The built-in Flywire cables also help your mid-foot area stay stable for longer.
While these cross training shoes may not look too special, they use great materials and offer plenty of protection, as well as more resistance to problems that can wear down regular footwear.
Check Price on Amazon ➞
10. Vibram Men's KSO EVO Cross Training Shoe
These toe cross training shoes use individual toe sections to give you a much better grip on almost any surface, as well as allowing a full range of motion for each toe independently. To back this up, it uses serrated lugs that provide a sticky-feeling grip on both natural and man-made materials, as well as a durable set of outsole materials that help prevent wear and tear from long-term use.
The tongues of these cross training shoes are padded to prevent skin irritation, and the design uses a face lacing system that makes it easy to put on, adjust and take off your footwear at almost any time. The construction uses mesh in key areas to give your feet more ventilation and make cooling down much easier.
While toe-based cross training shoes might look odd at first, they can be incredibly useful if you need better grip and traction.
Check Price on Amazon ➞
Cross Training Shoes Buyer's Guide
Buying shoes has always been quite tricky, but it gets harder when exercise is involved. Not only do you need to worry about the usual elements, like size and comfort, but durability, grip, support, and dozens of other factors become much more important. This is especially true for cross training, where you can end up doing a completely new activity at almost any time. It is not easy to prepare for cross training due to its varied (and sometimes random) nature – the best you can do is to focus on finding a pair that fills as many of your needs and niches as possible.
Support
Support is one of the most vital parts of any exercise shoe since you need to make sure that your feet are actually receiving some kind of benefit. If a shoe doesn't support your foot, then it is probably actively getting in the way of your ability to exercise properly, especially when it comes down to something like running or jogging. With cross training, you have absolutely no idea what you will have to deal with next in your routine, which can lead to you trying to exercise in a way that your shoes aren't designed for.
Support isn't just for the sake of the shoes, but that is also a big point. Support means structure, and structure means more resistance to outside sources of damage. If you aren't careful, a badly-supportive pair of shoes might end up falling apart around your feet, which can be annoying even if it doesn't actually harm you.
Speaking of harm, that is also a key reason to have good support. If you bash your foot into something, a decent construction will take some of the force away, and will offer proper protection to help your foot avoid minor damage entirely. On the other hand, if support is almost non-existent, even the smallest pebbles might end up hurting your skin, which leaves you feeling much worse after any kind of workout.
Related: Shoes for CrossFit.
Insoles, Outsoles, and Midsoles
The sole of a shoe matters more than almost any other part, and for a good reason. It is your primary source of padding, comfort, traction, protection, and performance, and a bad sole can ruin an otherwise perfect shoe design. In fact, many people end up going for lower-quality shoes purely for the soles, and this can actually work well if it is done right.
Your insole is the part that your foot touches and generally acts as nothing but padding (there can be some exceptions, though). The entire job of the insole is to keep your feet comfortable and safe, as well as preventing things like foot fatigue or skin rubbing. Most of them will use foam or some other soft material, and they can either be flat or molded into a certain shape (generally one that is meant to fit an average footwell), so you might have to compare a few yourself.
The midsole is the layer between the other halves of the sole. Not all shoes have them, but they are often a mixture of protection and padding, helping your feet stay comfortable while still offering a small amount of defense. They are also sometimes responsible for the stability of your cross training shoes, depending on how soft the insole is.
Finally, there is the outsole. This is the part that makes contact with the ground, meaning that it has to be the most durable and damage-resistant. It is also the part that is responsible for traction and gripping, so a good set of lugs or a specially-designed base is important if you want to avoid slipping over easily. These can be made from a wide range of materials, both natural and synthetic, and there are literally thousands of designs to choose from on the modern market. Some companies even have a special copyrighted shape or style of outsole that only they can use.
Fit
Like all shoes, the fit matters. If your shoes are too large or too small for your foot size, they are going to be uncomfortable and might even lead to you getting hurt in the future if you aren't careful. Smaller shoes will dig into your skin and rub against your feet, whereas larger ones can make you trip over and might have supports that are causing your feet to bend in strange ways.
Always be aware of your foot size before you buy any shoes, no matter how recently you think you checked. It is better to be safe than sorry. Keep in mind that many people have one foot that is half-a-size smaller than the other: always use the measurement of your largest foot if you can, since it is better to have one shoe that is slightly too large as opposed to one that is slightly too small.
Expert Tip
Some cross training shoes will let you insert your own insoles, which can be useful if you have oddly-shaped feet or an existing condition that needs special support. It can also be an excellent way to replace the existing insoles if they wear out.
Did you know?
A cross training shoe needs to deal with a lot of different exercises, so it is sometimes a good idea to have more than one pair to fill particular niches. For example, you might have one pair for outdoor exercise and one pair for indoor workouts.