10 Best Running Shoes for Heavy Men in 2021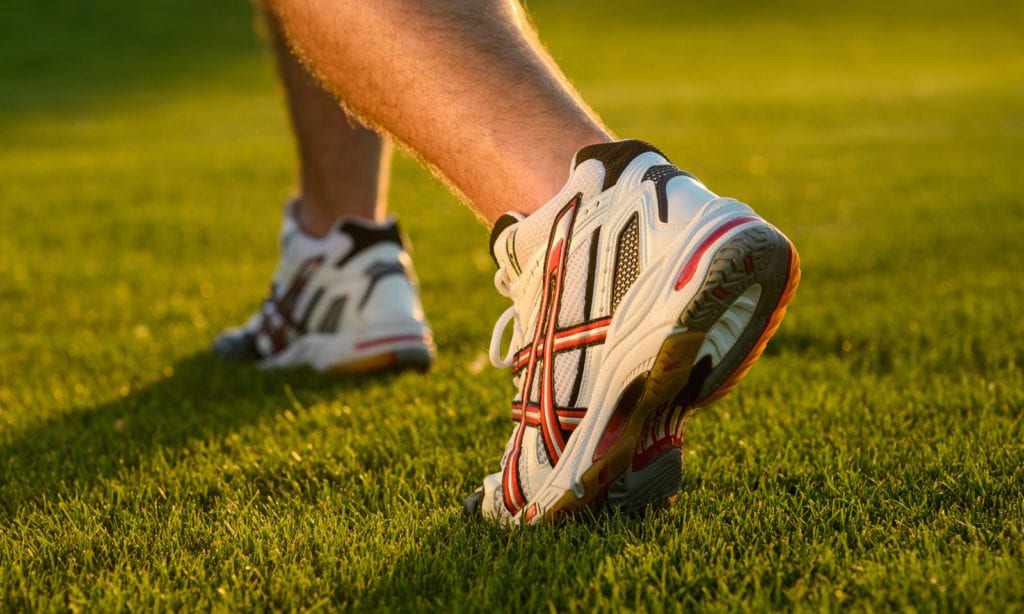 Running isn't exactly the easiest form of exercise, and it can get especially difficult for heavier runners who don't have the luxury of a low body weight. The same issues can arise whether it is body fat, muscle or some other source of weight entirely: you need to use more energy to run if you have a higher weight, and you're also going to need shoes that can stand up to holding a heavy weight without breaking or wearing down quickly. The heavier you are, the more important this will be, especially if you're planning on building muscle instead and aren't necessarily aiming to lose weight.
View the Best Running Shoes for Heavy Men, Below.
1. Brooks Mens Adrenaline GTS 19 Running Shoe
These streamlined running shoes are focused on cushioning and responsive movements, keeping you safe and making it easier to watch your footing on all kinds of surfaces. The streamlined and breathable fabric upper section makes them perfect for running in hot weather without feeling sweaty or weighed down, and the design as a whole is fairly lightweight to help with fluid movements. Inside the shoes are some high energizing cushioning and some stability-focused support features to keep you safe and let you run for longer without suffering foot fatigue, while the plush tongue and collar combined with the comfortable mid-foot pieces maximize comfort.
These running shoes are perfect for heavier runners that might want more comfort without adding extra weight to their feet, especially in warmer conditions or climates.
Check Price on Amazon ➞
2. ALTRA Men's ALM1948G Paradigm 4.5 Trail Running Shoe
The excellent level of support offered by these high stability shoes makes them perfect for heavy runners that might need extra protection on difficult ground, using cushioning and padding to prevent foot fatigue and pain during longer runs. The Altra EGO midsole improves both durability and comfort while you're on the move, and the flexible overall design is very good at tackling uneven ground or awkward terrain. Despite the straightforward appearance, it uses a sculpted 5mm insole to offer extra guidance with every step, as well as a relatively low weight to keep you feeling light and help you move quickly with a good level of foot-based guidance.
The cushioning in these shoes makes them ideal for both light and heavy runners that want less foot fatigue and more physical support during their long, tiring runs.
Check Price on Amazon ➞
3. ASICS Men's Gel-Venture 6 Running Shoe
These synthetic running shoes use a range of different materials to provide excellent flexibility and durability on almost any terrain. The heel has a special gel cushion that acts as a strong point of shock absorption, making hard ground much less wearing on your feet, while also using a one-piece gum rubber sole to deal with softer surfaces like sand. The upper also had a stitched toe cap for improved durability, as well as a 10mm sole differential that's supposed to help you move faster for longer. Not only that, but the synthetic materials used for the upper are breathable, helping you stay cool and keeping your feet safe during longer runs where sweating and fatigue is more likely.
These running shoes can tackle all kinds of surfaces equally well, making them a good pair of shoes for heavy runners of all types.
Check Price on Amazon ➞
4. Brooks Mens Beast '18
These extra-cushioned running shoes are designed to provide as much support as possible to heavier runners, using a special Extended Progressive Diagonal Rollbar section to make your feet stick to a natural, safe movement pattern. The synthetic sole is extra-durable and uses dozens of small lugs to provide better grip on a wide range of surfaces, working alongside the low-heeled design to give you more control over your foot placement. Above this, the fabric upper provides breathable, flexible, and comfortable protection from the outside world, backed up by a reinforced heel counter to keep the structure of the shoes holding together for much longer.
These are great running shoes for heavy people, offering more comfort and structure alongside a good mixture of breathable, tough and protective materials.
Check Price on Amazon ➞
5. ASICS Men's Gel-Kayano 25 Running Shoes
These gel-cushioned shoes use special rearfoot and forefoot sections to add a huge amount of shock absorption to a simple design, making them much more comfortable to wear during long runs and improving the overall stability of the runner. This design also allows for faster transitions between different running stances and styles, making them suitable for handling varied terrain. A special system of supports inside each shoe reduces their weight without sacrificing any durability, which works well alongside the exoskeleton heel construction that's meant to improve durability even further. The upper section, mostly made of mesh, is seamless and breathable to prevent skin irritation and fatigue.
Heavier runners will find these running shoes perfect for dealing with mixed terrain and awkward ground that would normally tire their feet out or cause irritating pains.
Check Price on Amazon ➞
6. Saucony Men's Ride Iso Running Shoe
These training shoes use a special cushioning design that's meant to provide constant comfort during a run, making it much easier for heavier runners to stay safe and avoid fatigue. The mesh upper section provides extra breathability and a more adjustable fit to work with wide feet and is backed up by structural supports that hold the entire shoe together properly and increase its overall durability. The cushioned insole and PWRFOAM midsole offer better comfort and softness while moving, placed above a tough rubber outsole that's designed to work on a range of surfaces using a varied grip pattern. Even better, the woven heel means that the rearfoot is equally resistant to wear and tear.
As running shoes for heavy runners, this shoe design offers a good balance of stability and durability to help you deal with difficult ground and avoid wearing out quickly.
Check Price on Amazon ➞
7. Mizuno Men's Wave Rider 23
These mesh-based lace-up running shoes have a high level of breathability that allows a lot of air to naturally come through, making them suitable for hot weather or people who sweat often. The gum rubber sole is durable enough to stand up to all kinds of terrain without being too rigid, giving you an extra level of flexibility and stability. Not only that, but the shoe design has a weave plate inserted into it that provides even more cushioning and stability with no direct downsides, helping you keep your balance and run for longer without having to worry about extra weight.
These are extremely good running shoes for heavy runners, focusing entirely on support and stability without reducing comfort or putting you in danger of harming your feet during long runs.
Check Price on Amazon ➞
8. Saucony Triumph ISO 5 Men's
These running shoes use a neutral shoe design that's meant to work for runners of any weight and style, giving you a 30mm sole design that can offer much greater comfort and support regardless of your overall weight. The mesh upper improves breathability and flexibility as well as comfort, while the cushioning underneath keeps your feet safe and provides slightly more support to reduce the chances of foot fatigue interrupting your run. While the sole is slightly heavier than most, it's also able to keep your feet far away from any sharp or damaging pieces of terrain, ensuring that you're less likely to step on something that will harm you directly.
These running shoes work really well for almost any situation, providing plenty of stability and cushioning that allows them to work for both light and heavy runners.
Check Price on Amazon ➞
9. Nike Men's Air Zoom Pegasus 36 Running Shoes
The perforated design of this shoe pair gives them a much higher level of breathability without reducing their stability, allowing them to give you a slimmer design that's much less bulky and heavy than similar shoe styles. The special Flywire cables on the interior add even more support to the design without adding extra weight, and the Zoom Air unit means that you're getting a much more responsive feeling with every step of your run. Overall, the shoe is not only comfortable but can conform to your foot shape for a much higher level of comfort without forcing you to adjust the laces very much.
These might be some of the best running shoes for heavy running fans, offering great cushioning with no major structural weaknesses or design flaws.
Check Price on Amazon ➞
10. Saucony Men's Echelon 7 Running Shoe
The tough EVA sole used in these running shoes makes them much more durable compared to other designs, providing better protection, cushioning, and support on rough ground. This also ensures that the shoes last longer than normal: combined with the synthetic upper and improved heel support, this results in much better performance over long periods of time. Reflective elements on the heel make you more visible in darker areas, and the extra-plush insole leads to improved cushioning regardless of your running style. On top of all that, the Orthotic insole design is meant to offer better arch support and a large boost to your foot comfort.
The design and special materials of this running shoe pair make them perfect for any heavy runner that's worried about the durability of their shoes in the long-term.
Check Price on Amazon ➞
Running Shoes for Heavy Men Buyer's Guide
Good running shoes can already be a pain to find if you're not sure exactly what to look for, and it gets much harder if you're a heavy person that has different criteria compared to those of a lighter build. Not only do certain things (such as comfort and durability) become much more important, but you might also be more limited in scope, and there can be certain designs that just won't work for you in a practical way. In fact, the best running shoes you can find might not even be ones that lighter people end up looking at since the differences in your search terms and important features can take you to wildly different brands.
If you're looking for the best running shoes for heavy runners, or just want to find the best running shoes for your specific needs, then the best way to start looking is to try and narrow down what you should be trying to find.
Durability
Heavy runners put more weight on their shoes, and a shoe can only take so much punishment before it begins to break. Shoes for heavy runners should almost always be more durable, and should usually have a midsole or other durability-boosting features. Durability comes in many forms, so it's important to understand that it's not as simple as focusing on a single area of the shoe.
The insole, outsole, and midsole can wear down quickly if a shoe doesn't have the right kind of protection, even if it's supposed to be strong. Heavier runners will be squishing them against the ground more frequently, leading to faster wear and tear. Not only that, but the rest of the design – especially weaker areas, such as a shoe forefoot without a toe box – can get damaged in the same way, which leads to the shoes becoming much less practical and comfortable over time.
The midsole is often said to be the best way to gain durability since all midsole designs fit between the outsole and insole: even a basic midsole design can provide an extra level of strength, and all midsole styles are built into the shoes in a way that makes them hard to break. Some shoes are designed entirely around a midsole, using it to counteract the weakness of the rest of the shoe.
Stability
Without stability, shoes stop being practical. Not only is stability caused by a mixture of features depending on your definition and needs (arch support, energy return, a crash pad, a midsole, or even a full support exoskeleton), but different people will need different amounts. Unlike regular support, where you're hoping to avoid pain in your feet altogether, stability is more focused on how that shoe can make sure that you stay upright and safe during a run. After all, heavy runners might be at greater risk if they fall, and even a small trip can cause injuries or pains that cut your run short.
Always try to look for a good level of stability: shoes with features that correct your stride, like arch support or slightly angled soles, can make a lot of difference when you're actually in the middle of a run, even if they feel odd if you're wearing them while stationary. Different runners have their own preferences and tolerances for certain stability features, so it's good to try and understand what you'd be happiest using.
Support
While you might consider support and stability to be the same thing, they can be broken down into two definitions. Stability is about keeping you upright, while support is about making sure that you aren't damaging your own feet during a run due to the way you move or the type of gait you have. Good support will correct everything you're doing wrong: a heavy runner might end up moving their foot arch in the wrong way, but the right kind of arch support can fix that. The same can also be said for people who might unintentionally angle their feet or make certain strides incorrectly.
Runners who are already experienced at running can usually get around this, but it's still a good idea to have support wherever possible. Like stability, even one decent supportive feature can help you avoid entirely unnecessary pain and fatigue, improving your performance dramatically.
Breathability
Breathable materials reduce the amount of sweat on your feet, help you stay cool, and generally lead to a much more comfortable running experience. Heavy runners, especially heavier runners without much muscle, are going to sweat a lot more than lighter ones, and sweat is both uncomfortable and sometimes even irritating on the skin. The more breathable a shoe is, the easier it gets for you to invalidate this sweat and stay active for longer, especially in hot weather where you might begin to sweat even before you've begun to run.
The most common breathable material is mesh, which is also known for being much more comfortable and stretchy but lacking in stability. To counteract this, a lot of shoe designs have supports and frames to back up this mesh. If you're not comfortable with that option across the entire shoe, some also have perforated materials or small patches of mesh in key areas, which keeps a lot of the durability that the shoe would have originally had.
What is the Best Shoe for Overweight Runners?
It would be easy to name a single brand as the best for heavier runners, but that's not actually possible. You might prefer the Brooks Adrenaline GTS over the Mizuno Wave, but that doesn't mean that everybody will find them better. Some heavier runners might swear by New Balance or Hoka One, even though New Balance and Hoka One create entirely different shoe types. Just because one person recommends the Brooks Adrenaline GTS doesn't mean that the Mizuno Wave isn't worth your time, but it also doesn't mean that it is, either.
In short, the best shoe for heavy runners is the one that you find most comfortable, regardless of anything else. No two people are exactly the same in terms of their preferences when it comes to running shoes, so something like the Mizuno Wave won't necessarily be the best option for you.
What Weight is Considered a Heavy Runner?
There isn't a single value that's defined as the very edge of a "heavy runner" section since it's entirely up to the runner themselves. Because of how running works, runners often put at least an extra 50%-200% of their body weight on key joints and bones, a lot of which can translate into the running shoe itself: as you can expect, most people consider "heavy" runners to be people at a weight where this percentage increase becomes a serious problem. This weight mostly goes into the insole, midsole, and outsole, which can wear down quickly if you aren't careful.
What is the Best Support Running Shoe?
Runners need support, and the midsole is often the best way to get it. A good midsole can not only provide extra cushioning and protection, but many midsole designs are also the second most durable part of the shoe. Since they're between two other soles, a midsole can also be one of the most varied parts of the design: you might get a midsole that adds only durability or a midsole that's focused entirely on comfort, but most midsole designs are meant to offer a balance of all features you need.
If a midsole is out of the question, then a toe box can also be a good option. A toe box adds more structural strength and protects you from bashing your toes into things. However, it's still a good idea to look for a decent midsole if one is available since they can have a significant impact on the entirety of the shoe, not just one part.
Expert Tip
Energy return can be a good way to judge how well shoes work for you. Energy return is essentially a concept of shoes that can "bounce" your feet back up, providing extra energy for each step. This is mostly done with a custom midsole in the design.
Did You Know?
You don't need to start out at full speed. Many heavy runners pick a shoe that's meant for high-speed sprinting, but it's often recommended to start slow and improve from there (especially if you're trying to lose weight and aren't very fit, to begin with), so choosing more basic shoes isn't a bad idea.
Conclusion
The shoes on this list are meant to be some of the best options for heavier runners, but remember that no two people are the same. If there's a shoe that you like that isn't mentioned here or isn't recommended by another runner, you don't have to ignore it and go with the popular option.
As long as you're comfortable, safe, and getting good results that are having a positive impact on your health and fitness, any shoe can work! It's up to you which features and designs you care about most, so take your time and look around for something that suits you on a personal level. The most important part of any exercise routine is being able to do it in a healthy and comfortable way.