10 Best Running Shoes For Shin Splints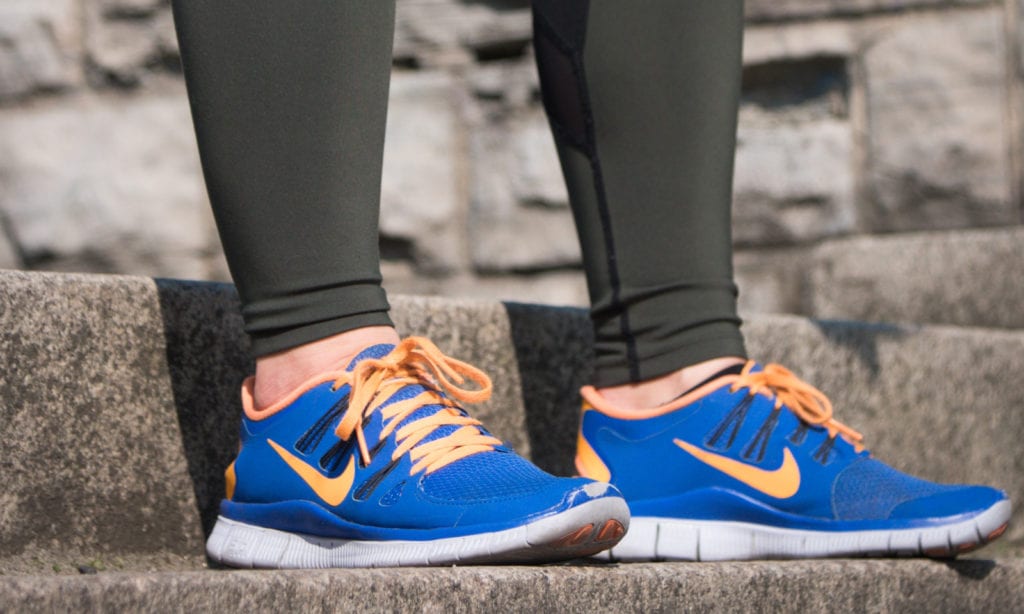 Shin splints are one of the most common – not to mention most annoying – injuries a runner can suffer, creating a pain around your shins or lower legs that makes it incredibly hard to keep going, and might even make it painful to walk around when you are back home. Leg pains of any kind are a problem if you aren't an avid runner, but thankfully, there are ways to drastically reduce the chance of getting shin splints. The easiest way is to make sure that you are wearing the right shoe – a large percentage of foot pains are caused by the shoes themselves, rather than the activities you are actually wearing them for.
Below are ten of the best running shoes for shin splints we could find, along with a few reasons they are worth picking up for yourself if you get a chance.
View the Best Running Shoes For Shin Splints, Below.
1. Brooks Women's Ghost 11
These Brooks running shoes use a balanced design and cushioned materials to stay comfortable and durable during long runs, as well as staying light enough to avoid weighing you down when you are on the move. The shock-absorbing Segmented Crash Pad outsole helps make each step much softer, and the mesh on the upper section allows the entire design to stretch.
Not only that, but this shoe is well-ventilated for use in warm weather, which makes it easier to keep sweat off your feet.  You can also remove the insole to replace it with your own, so you are not forced to use a potentially uncomfortable arch shape.
These shoes are ideal for running, long-distance walking and treadmill exercise, combining comfort and ventilation in a very reliable way.
Check Price on Amazon ➞
2. Mizuno Women's Wave Inspire 15 Running Shoe
The Mizuno Wave technology used in this shoe allows it to stay flexible and durable in a range of different situations, still providing excellent cushioning and stability regardless of the surface you are walking or running on.
The mesh upper section offers excellent breathability while being flexible and stretchy enough to accommodate larger feet and thicker socks, but the insole is designed for as much comfort and support as possible, giving you a good mixture of protection and freedom. This, along with a high-quality midsole, makes each step softer and adds much more durability to your footwear.
These shoes take a typical design and upgrade it with new materials, turning it into a comfortable and durable piece of running footwear.
Check Price on Amazon ➞
3. ASICS Mens Gel-Venture 6 Running Shoe
These men's running shoes by Asics are made with abrasion-resistant materials that add an extra level of protection to your feet, as well as a breathable mesh upper section covered by durable overlays for better support and structure.
The strong gum rubber sole makes it far easier to stay stable on almost any surface, while the lace-up design gives you plenty of ways to adjust how your shoe fits and feels. Unlike a lot of running shoes, the design not only has a removable EVA insole and built-in EVA insole, but a toe bumper that protects your toes from sudden impacts.
These running shoes are surprisingly tough and durable, acting as a protective piece of footwear for almost any kind of exercise.
Check Price on Amazon ➞
4. Saucony Women's Cohesion 10 Running Shoe
Boasting an injection-molded EVA midsole and strong rubber outsole, these women's running shoes focus on protection and comfort more than anything else. The excellent flexibility and cushioning make it far more comfortable to use than more rigid running shoes, and the simple lace-up design makes them suitable for a wide range of purposes, from exercise to casual footwear.
The excellent grip design also means that you'll be able to keep your footing on a wide range of surfaces, even if these running shoes are slippery or wet from the rain.
These shoes are excellently-designed, mixing durability and comfort really well to create reliable exercise footwear that can double as casual shoes if needed.
Check Price on Amazon ➞
5. Brooks Men's Adrenaline GTS 19
These comfortable trainers are ideal for exercise use, offering a higher level of comfort thanks to its textile lining and textile interior that help keep your feet cushioned.  The removable foam insole can be replaced with your own or left there to provide a nice layer of padding with each step.
Not only that, but the flexible midsole provides both support and cushioning while you are on the move, giving you the best of both worlds. The outsole is made of durable and flexible HPR Plus rubber that's equally versatile, allowing these shoes to protect you while also being comfortable enough to wear for long periods of time.
These trainers are perfect for people who want to balance comfort and protection, making them some of the best running shoes for shin splints if you've got an active life.
Check Price on Amazon ➞
6. Nike Women's Air Zoom Vomero 13 Running Shoe
These running shoes by Nike use circular-knit mesh to provide excellent ventilation to the top of your feet, keeping you cool and dealing with sweat on hot days. The extra padding and cushioning in the design of this Nike shoe ensures that you'll stay comfortable while you are on the move, while the pressure-mapped sole design helps provide even more protection and comfort to the bottom of your feet.
This is pushed even further by a well-molded insole that's able to soften any impacts that would hit your feet, as well as a soft foam midsole that's very hard to damage.
These shoes provide a lot of comfort and security, making them easy to wear even if you have sore feet, tired legs or shin splints.
Check Price on Amazon ➞
7. New Balance Men's 990v4
These lace-up men's running shoe is built with a breathable mesh and supportive overlays made of leather, giving them an equal amount of structure and ventilation without leaning too far in either direction. The gum rubber outsole has been designed for as much foot protection as possible, while the flat heel gives you much more stability when you're on rough ground.
Alongside that is the collar foam, which uses a dual-density design that's very comfortable and acts as an extra layer of padding around your ankles and shins. Thanks to the ENCAP technology used in their sole design, these shoes are much more stable than your average trainers.
The extra collar padding makes these some of the best running shoes for shin splints, especially when it comes to helping your feet heal naturally.
Check Price on Amazon ➞
8. Salomon Men's Speedcross 4 Trail Running Shoe
These running shoes use an "aggressive" grip design that makes it easy to keep your balance on almost any surface, ranging from slippery mud to dry, flaky dirt mounds. The strong rubber sole ensures that your feet won't feel as much force, and the overall design is focused on getting as much traction and precision as possible with every step. Thanks to the large treads, you can easily take on any kind of natural surface and material, with the extra traction and penetration making it incredibly hard to slip over or fall.
These running shoes are built for use on natural terrain, and the extra grip comes in handy if you're dealing with slopes or awkward ground that could hurt you if you fall.
Check Price on Amazon ➞
9. ASICS Men's Gel-Kayano 25 Running Shoes
The strong gum rubber sole used in the design of these running shoes makes them perfect for taking on all kinds of terrain, and the Ortholite insole helps keep your feet safe from sudden impacts or sharp objects. The flat heel improves your grip strength when you're standing still, and the basic lace-up design means that you're not stuck fiddling with the shoe when you're just trying to loosen or tighten it slightly. On top of that, thanks to the Flytefoam midsole, you'll feel much more cushioning than you might first expect.
These men's running shoes are simple but effective, taking an existing design and making it better without introducing annoying gimmicks.
Check Price on Amazon ➞
10. HOKA ONE ONE Women's Clifton 4 Running Shoe
These shoes use an unconventional external design that allows the shoes to be lightweight and breathable, but without losing other key features in the process. The mesh upper section helps improve ventilation, while the synthetic overlays that support it keep the shoe's shape properly.
The SpeedFrame construction on the interior also helps keep your forefoot safe from harm and irritation, and the fabric lining improves breathability even further at no cost to the shoes' strength. Not only that, but its wide forefoot helps improve comfort and stability in a natural way.
The sheer level of comfort and low weight makes some of the best shoes for shin splints, especially if you still need to walk around a lot while they are healing.
Check Price on Amazon ➞
Running Shoes For Shin Splints Buyer's Guide
Buying shoes will always be complicated in some way, whether it's trying to get the measurements right or comparing different designs to see which ones you like best. However, once you have shin splints, it gets even harder, since you've got to pay a lot more attention to your own comfort and safety if you want to avoid sudden pain while walking or running. The best running shoes for shin splints aren't a particular design or style since it's different from person to person, but there are certain features that are much more useful than others.
Understand Shin Splints
Before you buy anything that's meant to correct the problem, you should understand what shin splints actually are, since it's not something that everybody's experienced before. It's essentially a pain on the inside of your leg that's caused by putting more pressure than normal on your feet, which a lot of new runners experience due to their bodies not being prepared for it.
Shin splints get even worse if you are using bad exercise techniques and gear – badly-fitting shoes, jerky movements while running or just being off-balance can all cause it or make it worse. While it's nowhere near as bad as a broken leg, it's still bad often enough to stop people from running until it heals, and there's not always a way to accelerate the healing of the problem. The best you can do is wait until it repairs naturally and avoid doing things that can make the pain worse.
The last thing you should do is try to power through the pain, especially in the long run. While you might have to put up with some minor pain if you're walking a short distance, you should never just assume that it'll go away if you fight it. Shin splints are a minor problem in the grand scheme of things, but making it worse can cause extreme pain, swelling, or even significant medical damage, and in some cases, might even cause regular muscle cramps that make it almost impossible to do anything.
The Fit
There isn't a way to quickly and easily "cure" shin splints with footwear alone, but as long as the shoe fits properly, you shouldn't have any issues with keeping yourself from doing even more harm to your body. A tight fit will cause shin splints to get even worse, especially if they're rubbing against the sore areas directly and causing them to heal slowly (or not at all). In extreme cases, a tight pair of shoes might even make the shin splints worse, or you could find yourself in too much pain to actually walk anywhere while wearing them.
The best way to avoid hurting shin splints is to make sure that nothing rubs against the sore areas, so the more space you have between your shins and the shoe's materials, the better. On the other hand, a shoe that's too loose will cause even more problems, since this can open up other areas of your feet to harm or injuries, including painful friction burns. Finding a good fit is incredibly important if you want to avoid harming your feet even more.
Keep in mind that the bottom of your shins are positioned slightly higher than your ankles, and quite a few shoe designs don't stretch up that far, meaning that this won't always be a problem. However, even if your shoes leave your shins exposed, you'll still want the best fit possible, since bumps and slips can cause extreme pain if you are already suffering from pressure-related shin splint problems.
Comfort
Comfort is key when it comes to letting your feet and legs heal, and shin splints are no exception. Since they're often caused by repeated pressure on your shin areas, you'll want to have as much padding as possible to counteract this. Think of it like a sore back – if your back were hurting, you'd rest on a chair or bed where the soft materials make the pain far less noticeable. It's the same idea, except with the bottom of your feet: if you've got more cushioning, less force from each step is going into your legs, meaning that your shin splints aren't being subjected to as much force.
Comfort doesn't always just have to be relegated to the soles, though. The more comfortable you are in general, the easier it'll be to walk around with shin splints, so finding things like heel or collar padding is still useful even if it's not directly helping with the pain. Plus, the more comfortable you are, the less likely you are to walk in a way or at an angle that makes the shin splints worse, which has a positive effect on how they will heal.
If you absolutely have to walk around while they're healing (whether it's part of your job, a hobby, or just because you don't want to sit around waiting), make sure you prioritize comfort as much as possible. The most important thing is that your shin splints heal, so don't worry about other features that don't make as much of a difference: the only exception might be things like good grips and traction since they can help you avoid slips or other problems that could make the shin splints extremely painful.
Protection
Alongside comfort, there is also protection: while the two are easy to confuse, they have a very different effect on how your shin splints heal. Comfort is more for your own benefit and the faster healing of the shin splints, but proper protection can also help them heal faster and reduce how likely they are to happen again.
For example, if you are running on a concrete surface, that is a lot of force going into your feet. Cushioning will deal with some of it, but a lot of the force will still go up to your legs. Proper protection can stop this: a solid outsole (and midsole, if one's available) will absorb a lot more force than foam cushioning, meaning that far less of the impact is actually going into your shin areas.
"Shock-absorbing" often seems like a marketing buzzword, but it's actually really important for situations like this since there aren't really any other ways to reduce the shock force of each step while running. Even if it only reduces the amount of force by one-fifth, that's still one-fifth less damage being done to your shins, which can help them heal faster and reduce the chance of them even occurring in the first place. Look for things like EVA soles, shock-absorbing padding, or other notable additions, since these are often specially designed to reduce the impact force of your steps – generic sole designs are more focused on grip and traction, which is still useful but far less helpful in the short-term.
As an extra note, it might be worth looking for shoes with removable insoles or flat interior shapes. These will often let you add your own insoles, meaning that you can choose one that's perfect for your foot shape, which in turn will often help reduce the amount of force being pushed into your feet (even if it is only by a little bit).
Expert Tip
If your shoes don't seem to be helping as much as you'd like, try combining them with compression socks. These add some extra comfort and structure to your lower legs without getting in the way of your footwear.
Did you know?
Extreme shin splints can also be the result of tibia fractures, which are much more serious. These are rare to get from running, but if the pain is far higher than usual, you should check with a doctor to make sure it's not caused by a damaged bone.