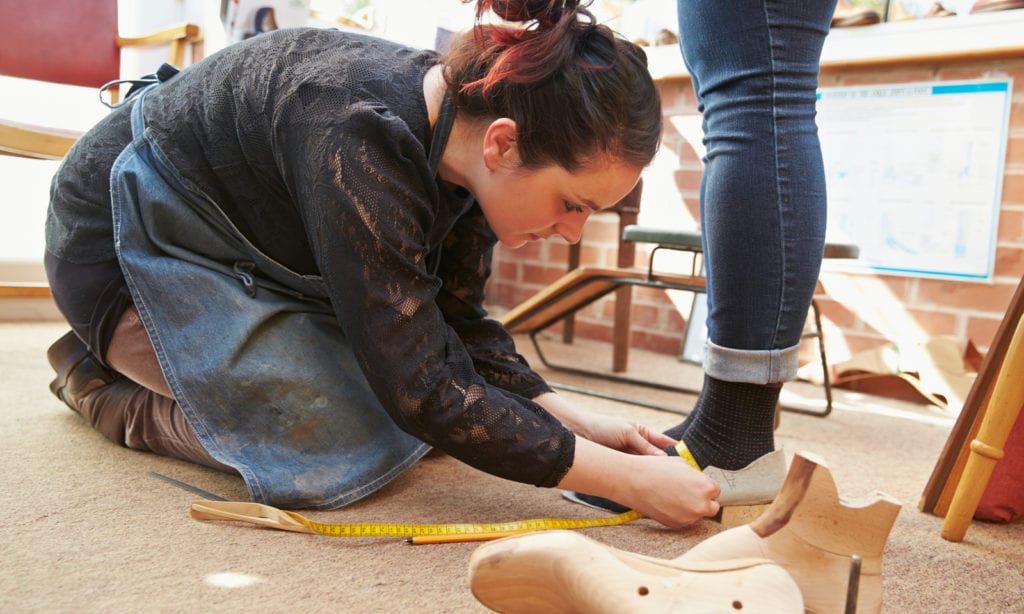 Trying to make shoes is not as complicated as you might think. While it depends on the design you are going for and the fabric, leather, or other materials that you want to use, it is entirely possible to make custom shoes from scratch. The only hurdle is learning how to make shoes that you can wear comfortably and securely.
If you are interested in finding out how to make shoes, then here is a useful guide to get you started in creating custom shoes with a range of different techniques, materials, and ways of fitting everything together. Remember that the shoemaking process is complicated, so make something easy first.
Step 1: Planning Your Pair of Shoes
Before you can even work out how to make shoes, you need to know what kind of shoes yo are making. Everything from the color and materials to the size of the shoe can matter since you can't really change gears when your shoe is already half-built. Plan, measure and learn how you want your shoes to look when they are completed.
Sketching
If you're good at drawing shoes or have access to digital image editing programs, you can try to piece together a visual style for your shoe. This process is as easy or as complex as you make it since it depends on what you are trying to add to each shoe. The clearer your design for your shoes, the easier it becomes to guide yourself to the final product that you want your shoes to resemble.
If you struggle at sketching it out, you can always look for similar shoes online that you want to borrow the design from. You do not have to use the same materials or style, but it can still be a good point of reference. This applies to boots, sandals, and any other footwear you want to learn to make.
Getting a Last
A last is a solid object that shoes are built around. Generally, they need to be around the same size and shape as your foot and work best when they are made from a harder material like wood. The last serves as the support for the shoe while you start putting it together and are also meant to make sure that the shoe can actually fit your foot size.
There are two ways to get lasts: the first is to craft your own by making a cast of your foot, while the second is just to buy them online. For many people, casting their feet is the more reliable option.
Casting Your Feet
To cast your foot, you need an empty box that can serve as the cast itself, as well as enough molding material to properly hold your foot. Prepare the molding material, put it into the box (enough to cover your foot), and then stick your foot into the material until it comes up to just above your ankles. After about 20 minutes, the mold should be ready.
Once that is done, you have to remove your foot, which means using a knife to carefully cut away the material until you can get your foot free. Then, you can use the empty space to pour in casting materials – once they set inside the space that your foot made, you should have an accurate cast of your foot.
Remember that you will need one for each foot, so always keep enough material spare to do both.
Creating the Last
Once the cast has set, you will need to turn it into a last. This usually means that you need to crumple up paper or other supplies until you can round off and smooth out the last itself. It does not need to be perfectly accurate to your design; it just has to be usable.
Step 2: Creating Your Shoe
Once you have a last to work with, you can continue to build up the shoe from scratch. Shoe making techniques can vary, but the easiest way to get the process started is to measure and cut out the material pieces that you will need. To do this, try to sketch out the patterns you want on the last itself since you will eventually be removing it anyway.
Remember that a shoe pattern and design does not have to cover the entire last. If you want a low-necked shoe, you can sketch this out too – the last is just meant to show you where your foot will sit on top of the insole.
Cutting out Patterns
Cut out your patterns from the masking tape. For example, if you have two layers of leather with one on top of the other, cutting out the shape of the one on top can let you measure the dimensions exactly.
Cut out as many of these pieces as you can. Ideally, you will want a toe, counter (the back of the shoe), vamp (the part around the laces), and the part that sits in the middle-front of the shoe. Of course, this depends on the design that  you are aiming for.
Once you have these patterns, flatten them out. This takes the three-dimensional shape and makes it into a two-dimensional shape, meaning that you can measure them more accurately. It is important to flatten them properly since you need to use them as a reference for other parts of the process.
Marking the Pieces
Once you have your pattern parts flattened out, measure them, then trace them out on a piece of paper. Ideally, you will want to leave at least a quarter-inch allowance for seams since it's a lot easier to leave excess fabric now than trying to add it later. A larger allowance might help people with limited sowing experience even more.
Once you trace out these shapes (as well as a tongue, if your shoe needs one), label them just in case you lose track. Now it is time to make these pieces into proper shoe components and get shoemaking.
Creating Your Pieces
From here, you need to pin a sheet of your chosen material onto your first sketches. This could be leather, fabric, or basically anything else you want to use – using the patterns as a guide, mark out the shape of the pieces you're using, then cut them out of the material sheet.
Be sure not to cut out the sketched pattern on the original itself: you'll want the paper with the measurements and tracings on since you can flip it over to use it for both shoes.
This should leave you with the original sheet of tracings (with no damage) and separate pieces of leather or fabric that are ready to be added to a shoe. You should cut out a second set to create the inner layer, which can be a softer material if that's how you want your shoe to be designed.
Step 3: Sewing Pieces Together
With two sets of cut-out-pattern-pieces, you need to start sewing them together. If you experience difficulty with trying to sew fabrics, then some advice will be mentioned later on. Assuming you are familiar with it, there are two main ways to sew these shoe parts together.
Lining up the pattern and pinning them together so that the extra material allowances line up, then sewing within that allowance in a straight, smooth pattern.
Cutting off one of the piece's allowances, then overlapping it with another piece and stitching the fabric that way. This removes the need to invert the fabric later on.
Remember that you can sew by hand or with machines, and there are benefits to both. For a durability-focused shoe, it is often best to stick with a machine.
Other Sewing Tricks
If you are not that good with sewing in shoes, there are some simple tricks that can add extra strength make your shoe stronger.
Use Darts
The dart trick (sewing stronger seams to provide more shape) can make shoes tougher. Identify which side of the fabric will actually be visible, then sew the folds back together so that they provide more structure to the pattern and shape that you are working with.
You need to make a strong stitch, but if you experiment with some spare material, it is not too hard to get the hang of what makes a solid hand-stitch much more reliable. This can be important around the soles.
Tie Off Strings
Always try to tie off a string once a stitch is finished. This can take a while to learn properly, but it is almost necessary if you want to be sure that your shoe will hold together properly. Make the strings as safe as possible, and do not let them slip out.
Use The Last
Always refer back to your last when stitching and sewing. The last is the perfect way to check if something will be able to work based on the size and angle of your feet, so be sure to use it every step of the way. Shoe making is all about the last since it represents your feet – which your shoes need to fit.
Handling Leather
Leather can be a tough thing to work with. Every step up until now can work, but that doesn't mean that every step will work, especially with tougher leather types. It can be harder to learn how to use leather properly, but there are some ways to make it a bit easier.
One optional shoe making step involves banging holes into the leather itself, making it easier to stitch through them. This can take almost nothing to do – a cheap hammer and awl will work – and can save plenty of hassle later on, although not everybody likes this method.
Remember that leather is still just as sewing-friendly as fabric, even though it is a tougher material. Sowing and stitching by hand can be harder, but you can still learn to work with leather quite quickly if you practice. Even without pre-made holes, it shouldn't take long to sow the leather.
Attaching the Inner to the Outer
When you are ready to attach the inside of the shoe to the outside of the shoe, you reach a step that can be tricky to figure out for the first time. The best way to do this is by lining up seam allowances (placing the wrong sides of the patterns outwards) and stitching along that, but some people find this too fiddly to do properly.
Really, as long as you can fit the outer layer over the inner layer, your shoes should be fine. Use whatever method is best for you since each shoe design may work better with a different shoemaking method.
Step 4: Adding the Details
Details aren't just pattern elements but the things that are important to a shoe without being part of the structure. This includes the tongue, the eyelets, and other things that a pair of shoes should generally have.
The Tongue
The tongue is easy to forget, but it becomes an important part of understanding how to make shoes once you realize that it is missing. To create a decent tongue, you need to take two independent pieces and line them up the wrong way around, then sew along the allowance of the shoes.
The idea here is to take the tongue and then invert it from the bottom outwards, meaning that the sown parts are kept inside. If you can't invert them fully and the corners still appear to be stuck, use something to poke them through the shoes and invert them yourself.
Once the tongue is properly prepared in both shoes, you just need to attach it to the shoe itself. A few careful stitches can easily tack it on without making it susceptible to wear and tear – there aren't really any advanced shoemaking tips for this.
The Eyelets
Eyelets are important for any shoe that needs to be laced up, and that means making holes. You can buy dedicated eyelet tools for this, and they are often the best way to add them to a pair of shoes since they reduce the chance of mismatches or inaccuracy across a pair of shoes.
If you are on a very strict budget, other tools will work, but don't expect them to be as reliable. You can teach yourself to make eyelet holes accurately, but it will take quite a while to learn, and it isn't really necessary if you have a proper tool.
The Laces
Laces are just as necessary as the eyelets that hold them. Hand-making laces is possible, but it's much easier to just use pre-made laces from other shoes or even just use ones that you bought separately. Check that the eyelets are on correctly before doing this part of the process, just in case.
Step 5: Making The Sole
The soles are perhaps the hardest part of shoe making, mostly because you usually need to make the shoes first and then add them to the finished body. The insole, midsole, and outsole all need you to learn different techniques.
Insole
Shaping the interior of the full sole is important if you want lasting sole protection. It should be a soft, simple sole material like cork or leather. Soak this sole in water for about 24 hours, then tie it to the bottom of the last and let it dry in the sun. This will give it a lasting arch.
If you want the insole to be flat, then you can just attach it like normal. Flat or not, you need to pare down the sides to make it the right size for your shoes or boots.
Outsoles and Heels
Outsoles are generally just done with another layer of slightly tougher material (or the same material, if you prefer). If you want heels in each sole, then create a heel out of that material and use it to pad out the back of each sole: heels don't need to be much more than an extra 'block' or 'box' that can support your feet as professional heels do.
Other Shoe Making Tips
Shoe making can be complicated, but there is a whole craft community out there that knows how to make shoes for less than the shoe industry charges. Here are some key shoe making tips for the tricky parts of the shoe making process.
Think before you add: do your shoes need more padding on the bottom, or will that alter how they fit on your feet?
Complete each step and do a full check before moving onto the next. Moving from one step to the next step with the process only half-done can make your shoes fall apart easily.
Learn from the shoe making community. Thanks to shoemaking groups, you can find special supplies and make the process cost less.
Use your hands. Shoe making is messy, but making shoes can take a long time if you refuse to touch the shoes or boots you're making.
Simplify your pattern. A complex pattern can come with a lot of shoemaking issues if you aren't experienced enough to make it all work.
Store them well. Buy or make a box to protect your shoes, whether they're tough boots or sandals.
Keep track of the process. If you are making one shoe at a time but forget how to make a certain part of some sandals, for example, both sandals can turn out differently.
Make shoes that suit your skill level.