How to Make Shoes Smaller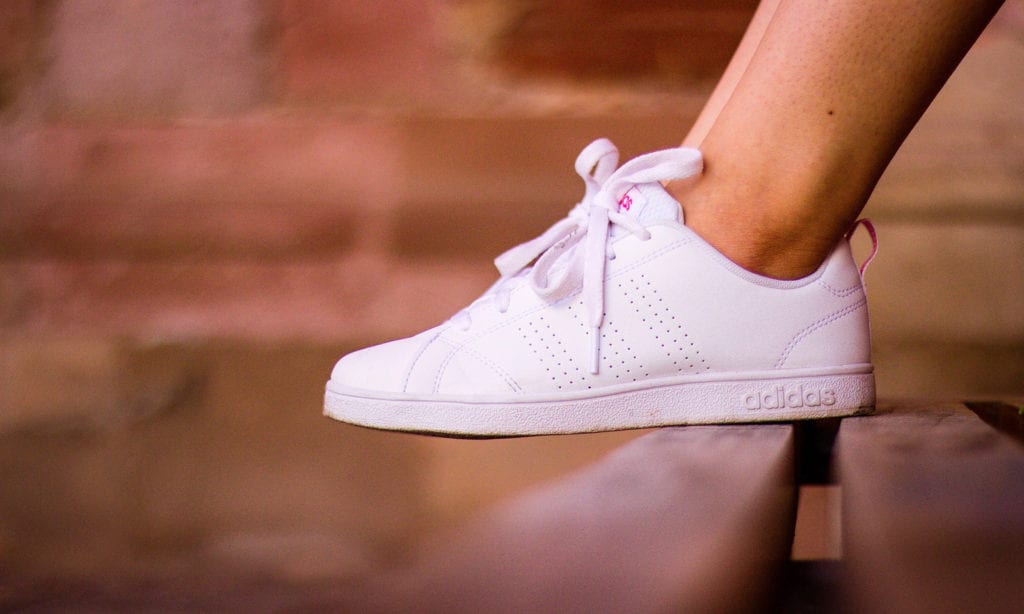 Finding the right shoe size can be difficult and is especially challenging as sizing can vary by shoe type or brand. There are ways to make shoes fit better and more comfortably if they're too big. Below are a few ways to do so.
Are My Shoes Too Big?
Shoes are hard. Sometimes the space inside the shoe is smaller than expected, while other times, the shoes fit smaller feet worse due to the materials they use. Whatever the reason, if you are reading this, then you want to know how to make shoes smaller, and that means that you have a pair that are already too big.
Shoes can need shrinking in multiple ways at the same time. Sometimes they are too long but fit perfectly width-wise. Other times, the shoe has too much open width but is long enough. You might have the completely wrong shoe size altogether.
Should I Make My Shoes Smaller?
Trying to make your shoes fit means that you have to actually work on your shoe directly, and not all shoes are designed to provide that kind of customization. Certain types of shoes will be harder to work with, and if you are not careful, you can make your shoes much worse: make sure that you know what you are doing before you start trying to shrink a big shoe.
How to Make Big Shoes Fit
There are multiple ways to shrink big shoes, fit them to smaller feet, or just make a big shoe properly conform to your foot shape and heel. Some are easier than others, but all of these tricks have worked in one way or another.
Swapping out Insoles
Often, the reason that big shoes fit poorly is because of the insole. Not only can a big insole take up extra space, but depending on your foot shape, they can make shoes uncomfortable too. While insoles and soft pads are great for your feet, they can also bulk up a shoe's interior.
Thanks to the varying material choices used in insoles (gel, fabric, foam, leather, and so on) as well as the wide range of designs, a full insole can easily be bigger than you need it to be. The solution? Rip out the insole and replace it with something else.
In big shoes with removable insoles, you can basically just open the neck, pull the insoles out, and then put your own inserts in. In shoes that have built-in inserts, there are ways to cut them out as well, but this might take more time to set up. Either way, you want to make the inside of each shoe smaller.
Use Shoe Fillers
While they will not work if you wear open-toe shoes, shoe fillers are great for any loose footwear. These fillers are meant to make a big shoe feel smaller by acting as extra foot cushions in key areas, almost like regular shoe inserts. A ball of foot cushions can quickly help you make big shoes fit by padding out the areas that feel loose.
Remember that ball of foot cushions like this might still need some tweaking. Just like shoe inserts, you will often have to try and trim them down to fit shoes smaller than the designer intended.
Add Another Layer
Some people prefer to reduce open space in their shoe by wearing another insole layer on top of the first. This is not always easy to do, but you can turn existing insoles into midsoles by adding shoe inserts on top. This is a decent idea if you can quickly buy something that suits your shoe, but it will not be as reliable or provide the same full-scale solutions as another, more specific method.
Use Thick Socks
A thick pair of socks can be a simple way to make a shoe smaller without actually making it smaller. This makes your feet technically bigger, which can bump you up to a slightly larger shoe size. Good socks can also be very comfortable, which might give you an excuse to take out removable inserts and open up more space inside your shoe.
Stuff the Toes
Stuffing the toes with a soft and padded material can stop each shoe from sliding across your feet. This solution works best with thin materials like a cotton ball clump or tissue paper, reducing the effective length of a shoe without altering the width. If the length is the only part that you have a problem with, this method is perfect.
Remember that this method relies on you making your own toe inserts, so you can always adjust the material you use on the fly. You can replace the tissue paper with toilet paper at any time or even swap to a cotton ball mass. Just remember that it will not work with a pair of open-toe shoes.
The tips of your toe section can take a while to fiddle with, but once you are wearing the shoes, your feet should push the padding into the tips of the shoes anyway.
Stitch in An Elastic Band
If you are comfortable with sewing, then you can try to fit an elastic band inside your shoe to try and pull the materials together. This gives you a smaller fit, and if you do it right, it will not get in the way of your foot. Just remember to use strong elastic bands if you try this method: buy better ones than the cheap, thin bands that you can get in large packs.
Safety pins can work here if you are not good with sewing. Just remember that you need to apply them correctly.
Use Water to Shrink Shoes
Shoe shrinking is a step up from every other method, and it leaves you with a chance of damaging your shoe pair if you are not careful.
To do this correctly, you need to apply water to the shoes with a spray bottle (for formal leather or suede shoes) or just by dunking them in a container of water (for casual shoes). Once they are soaked properly, you just need to let them dry, either in sunlight or with a hairdryer.
If you wear the shoes after they dry, then you might notice that they feel different. Instead of getting larger and more open by soaking in the water, the leather will shrink down to a smaller foot size. A shoe tree can help here, making sure that the shoes will shrink to a size that you can wear.
Try Heel Liners
Heel liners, also known as heel inserts (not to be confused with insoles), are heel pieces that fit against the back heel part of your shoe's inside. A good liner can prevent a shoe from slipping, shorten its length, and make it much more comfortable overall.
Many of them are meant for high heels, although some are suitable for heels, flats, and most other kinds of shoe. Even if they are meant for high heels, as long as you can fit the liner into another shoe, it should work just fine.
These heel strips are also suitable for open-toe shoes since most open-toe designs still have heels for pads. The exception is open shoes like sandals, which just have straps.
Use Tongue Pads
Tongue pads are strips of material (from fabric to leather) that you can usually insert to make big shoes fit the top of your feet properly. While they will not always make shoes smaller on their own, they can serve as a useful tool if you want to make a pair of shoes more comfortable on top.
Visit A Cobbler
If all else fails, a cobbler can work. They fix shoes for a living, and that means that they understand how to alter a pair of shoes effectively. This can be expensive compared to buying new shoes, but for a pair of dress shoes you plan to wear on major occasions or boots that have sentimental value to you, it can be invaluable.
There are plenty of ways for a cobbler to modify your boots, from changing the heel parts to shrinking the shoes entirely. If you have no idea how to make shoes smaller, this is a great place to check if you are desperate.
Should I Learn How to Make Shoes Smaller?
It is rare that you will really have to alter your shoes like this very often, but if you plan on wearing an older pair that do not fit properly anymore, it can be something useful to learn. Knowing how to work with heel liners can be useful when dealing with heels in the future, too, since they have more benefits than just making your heels larger.
Should I Just Buy New Shoes?
Going on Amazon and buying new shoes is definitely an option if you are stuck, but it means that you still have your old shoes too. Remember that Amazon and similar marketplaces also have affiliate systems, which can mean that you will have specific shoes advertised – and not necessarily the ones that you want.
The price of getting thick socks or a heel liner is much lower than new shoes, so trying to tighten the fit can open up plenty of ways to save money and still get comfortable in your footwear.
Are These Methods Risky?
Some of these methods have a chance of damaging your shoes, but only some of them, and most of the damage is very low-level. For example, thick socks could technically stretch shoes out, but in practice, most socks will not unless your feet are already too large for the shoes. The riskiest methods are the ones that take extra care to perform, like sewing or trying to force-dry shoes with a hairdryer.
What About Open Shoes?
Open shoes are the hardest ones to work with. If you can't tighten straps on open shoes (or there are not any), then a lot of these tricks might not really work. However, you can still usually stretch out open-top or open-toe shoes, and there is generally still the option of adding a new insole as long as you can properly secure it. Just be wary of the fact that many open shoes are more fragile and vulnerable to damage.
Expert Tip by Alexis DeSalva Kahler
If your shoes don't fit quite right, that doesn't mean you have to return them or get rid of them. Try adding inserts or insoles, or even using water, before taking them to a cobbler for professional assistance.