12 Best Camp Shoes in 2021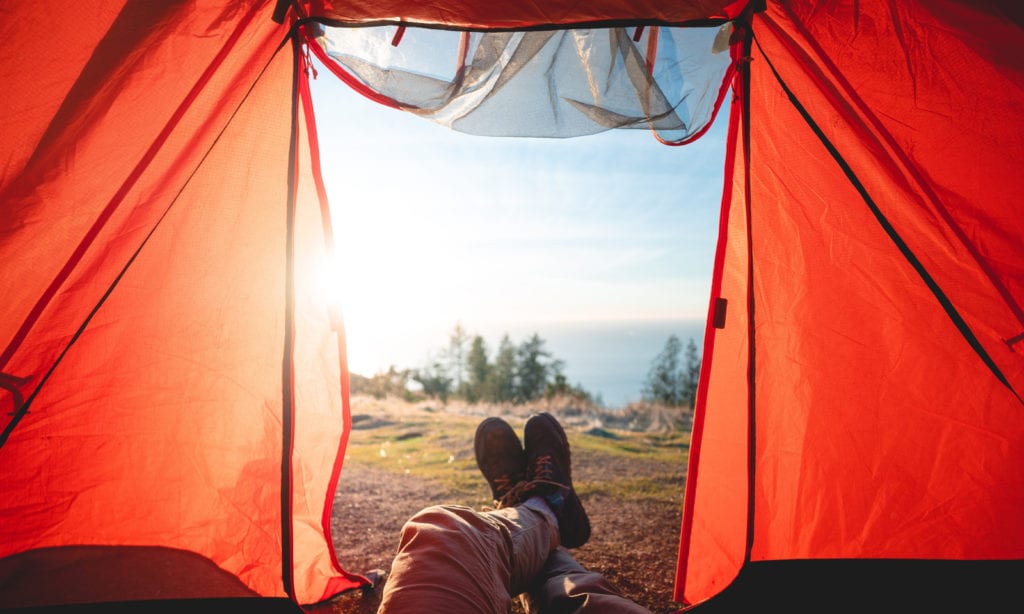 Camping shoes are a practical necessity for those who love the outdoors and want to experience optimal comfort while on their adventures. However, which camp shoe depends on the environment in which you are planning to travel. We have compiled a list of the top 12 camp shoes for use in a variety of locations to help you find what is best for you.
View the Best Camp Shoes, Below.
1. Mishansha Mens Womens Water Shoes
If you are looking for quick dry camp shoes that can handle diverse terrains with water, the Minshasha unisex shoes may the best choice for you. Their lightweight wear resistance makes them ideal for use at the beach, surfing, sailing, boating, and a whole host of other water sport activities, as well as activities such as yoga, river crossings, and beach volleyball.  So, if you like many activities, these may be the camp shoes for you.
A combination of lycra material and a rubber sole with several holes in the bottom allow for quick draining and cross ventilation. This also means a cooler shoe environment, adding extra comfortability. Elastic straps remove the annoyance of tying laces and enable adjustments according to the foot's width, a great plus for those with a high instep. Also, these camp shoes are easy to take on and off, with a pull strap at the heel to avoid damaging the back of the shoe.
These best camp shoes are super versatile and the best shoes to use in a range of different sports and leisure activities from river crossings to a day of hiking.
Check Price on Amazon ➞
2. KEEN Men's Newport H2 Sandal
If you like optimal breathability, these supportive camp shoes may be the best choice for you. Not only for rivers or water activities, but their razor siped outsole, and 3mm lugs give way for excellent traction for use on trails or around camp. Their open toe design makes them lightweight and breathable, allowing for air circulation and a quick dry after a long day. Compression-molded midsoles allow for optimal comfort.
Made from 100% washable polyester, these sandals feature odor-reducing Aegis Microbe Shield this product combines durability with long-lasting freshness.  It is advised to buy these shoes in a ½ size larger than your usual size, as the style of these camp shoes means they are a slightly smaller fit.
The odor-reducing Aegis Microbe Shield upper surface on the product is an added plus for sustainability.
Check Price on Amazon ➞
3. Crocs Classic Clog|Comfortable Slip-on Casual Water Shoe
A classic, these slip-on camp shoes are renowned for their comfort and durability. With a shaft measuring 8" from the arch and heels of 1" these crocs are designed with comfort in mind with their slingback heel making them easy to slip on and off.
These unisex camp shoes can be worn for any occasion, whether around the house, beach, a lightweight camp, walking, or gardening. Coming in a variety of colors, you don't need to worry about dirtying these camp shoes, as they are designed with ease of cleaning and quick drying in mind.
Crocs are a classic, and their versatility and sheer comfort are a staple regardless of age.
Check Price on Amazon ➞
4. ALEADER Men's Quick Drying Aqua Water Shoes
The Aleader Quick drying camp shoes combine water grip and excellent traction for use in slippery conditions. For those who prefer the comfortability and aesthetic of a trainer but want air circulation and a cooler shoe environment, this product may be the best for you. This is achieved through the careful combination of a hydrophobic engineered mesh upper exterior and ComforDry sockliner and an arch support insole. Such features allow for quick drainage technology.
The solyte midsole makes this product extraordinarily lightweight, durable with a potent bounce back. With rubber pods strategically placed, Aleader offers vegan, cozy, and stylish water shoes for those who are avid travelers and adventurers.
Alongside being very aesthetically pleasing, the hydrophobic mesh exterior is just one of many features that make this lightweight, durable shoe a staple for any outdoor lovers' wardrobe.
Check Price on Amazon ➞
5. Teva Women's Original Universal Sandal
The Teva Universal Sandal comes in a variety of colors. A classic, founded in the 1980s by a Colorado River Guide, this camp shoe is designed for athletes, outdoors, and enthusiasts alike. It features hook and loop webbing straps and an essential padded heel to prevent any irritation or blistering to the skin. The sole of this sandal is carefully designed with a contoured EVA footstep and midsole for much needed cushioning. While the slight curve supports the arch of the foot, these sandals are also adjustable to fit a variety of foot sizes and widths.
Sandals are an essential part of any outdoor lovers' wardrobe. However, the Teva Universal Sandal offers a versatile style that can be worn regardless of the occasion or style.
Check Price on Amazon ➞
6. Birkenstock Essentials Unisex Arizona EVA Sandal
Birkenstocks have long been a classic outdoor camp shoe, that has seen an emergence in high street fashion too. This is thanks to not only their pleasing aesthetic design that comes within a multitude of colors and designs but primarily their comfortability.
These slip-on sandals are designed to perfectly fit the curves of the foot, with a deep heel to support the heel bone and toe grip for support and built-in arch support. This contoured footbed means the four arches ensure even weight distribution and proper posture.  Making them the best camp shoes for comfort as they perfectly support the curvature of your feet.
Birkenstocks camp shoes will forever be a classic, loved for the ease of slipping on and off with effortless support and durability.
Check Price on Amazon ➞
7. KEEN Women's Howser Slide Hiking Shoe
The KEEN Slide on Hiking shoe is the ultimate mix of cozy and comfortable. Sustainability meets innovation with the KEEN cush technology. Made from a blend of recycled PU, cork, and memory foam that perfectly contours to your feet. These shoes adjust around your feet and your own lifestyle throughout the day. But this is optional as the KEEN cush can be removed if necessary.
The upper shoe consists of waterproof nylon, which is complemented by a soft microfleece lining, that is suitable for outdoor lovers venturing into colder conditions.
The Keen camp shoes provide a great alternative to the traditional outdoor sandal, and it has been made with comfort and warmth in mind, great for hiking and camping.
Check Price on Amazon ➞
8. Teva Men's M Ember MOC Slipper
Look no further if you are searching for a shoe offering more luxury than that of the classic sandal or trainer. Teva pioneered the sport-sandal category, providing adventurers with confidence and comfortability.
These Teva's slippers offer warmth and quality, made from textile and synthetic material with a polyester and suede overlay. They feature a rib-knit collar and with elegant webbing detail. Great for those who like their hiking gear to contain a level of luxury. An EVA foam midsole offers lightweight cushioning, and these deluxe slippers incorporate a rubber outsole for excellent traction.
While these slippers take more care than the likes of a synthetic sandal, needing to be washed by hand, their suede detailing adds a new aesthetic to the traditional outdoor shoe.
Check Price on Amazon ➞
9. Sanuk Women's Yoga Sling 2 Sandal
These are the ultimate flip flops for yogis worldwide but also those who like a super comfortable shoe. What sets this shoe out from others is not only its bohemian-esc design and two-way stretch knit upper, that is kind and gentle on the skin, but also rather uniquely, the footbed is made from a real yoga mat. Incorporating the practice into its every feature. The footbed of these flip flops is sealed, and a rubber sole enables excellent grip which also makes this sandal easy to clean and very durable.
These camp shoes stand out from the rest, it is clear through the style and design that the practice of yoga was kept in mind. Which, by nature, enables its comfortability to be enjoyed by yogis and non-yogis for a variety of occasions.
Check Price on Amazon ➞
10. Skinners | Minimalist Barefoot Sock
These shoes are perfect for all minimalists out there and those who like a lightweight camp gear. It is not difficult to understand why they are award-winning. Combining portability, versatility, and revolutionary design. These alternatives to all skin shoes enable you to have a soft yet protected touch to the ground and are gentle on your feet. With a functional and visually appealing design, their anti-abrasive Swedish polymer ensures comfortability and protection all in one.
Ideal for running, road trips, and even water activities, these lightweight socks have many of the pros of a shoe, with added freedom for those looking for a closer to barefoot experience. A pair of these camp shoes even come with a bag for ease of travel.
The Skinners barefoot camp shoe design is ultra-breathable, bringing you even closer to the outdoors while sufficiently protecting your feet, purchasing a pair contributes to a lightweight camp.
Check Price on Amazon ➞
11. Baffin Base Camp Slipper
An essential for campers, the Baffin Base Camp Shoes, will ensure you a snug experience. These boots are insulated and feature adjustable dual bungee to trap heat inside for superior warmth.
These camp shoes are man-made, with a synthetic sole and waterproof technology to avoid any slips or leaks. While a foam-based interior creates a hybrid of comfort and practicality. The sole consists of thermo-set polymers to achieve a perfect balance of protection, warmth, and low weight. A pair of these are the best camp shoe to add to your gear.
Any avid campers will know how temperatures can plummet around the evening, a pair of these camp shoes are the answer to ensuring you are kept sufficiently insulated throughout cooler periods.
Check Price on Amazon ➞
12. Muck Boot The Original MuckBoots Edgewater Camp Shoe
The Muck Boot is another great slip on shoe, simple in design a pair of these hiking boots offer an easy to clean surface. Made from around 4mm CR Flex-Foam with natural rubber reinforcement, they are super stretchy and comfortable. While some shoes can get too hot in summer, these camp shoes feature a breathable air mesh technology to prevent overheating and aid circulation. Waterproof and insulated these hiking boots are great for a variety of activities, including camping, gardening, sports, and water sports.
The Muck Boots are low maintenance, easy to clean, easy to get on and off camp shoes, and a great back up pair of gear.
Check Price on Amazon ➞
Buyer's Guide to Camp Shoes
There are many factors to consider when investing in a pair of the best camp shoes that meet your specific needs and protect your feet. With boots, sandals, and even socks to choose from, we have compiled a buyers guide to highlight important factors to consider prior to purchasing your new pair of camp shoes to make sure you and your feet are happy.
The first thing to consider prior to purchasing camp shoes is the environment they will likely to be used for. Shoes come in all different varieties to accommodate different climates, surfaces, and environments. Naturally, if the weather is hotter, you may be more likely to gravitate towards a pair of sandals. It is true there are many sandals that are a great choice of outdoor gear.
However, shoe engineering has come a long way. Breathable technologies aid air circulation, while water-resistant, quick-dry materials will ensure your feet won't overheat or stay wet for long, even in some boots. On the other hand, cooler weather may suggest investing in a pair of snug boots that are properly insulated to protect your feet from the cold.
However, keep in mind the camp shoes dual function, to be adequate to use on any surfaces that may be encountered while on your outdoor adventures, to prevent any hazardous slip. Looking for soles that provide excellent traction is always a good choice, especially for those who like watersports.
As a buyer, you should also consider whether the shoes will be exposed to aquarium environments where you would like your feet to be fully protected. In this case, an aqua shoe may be preferable to an on-toe sandal. Lastly, buyers should consider how frequently the camp shoes will be used, if you like to camp often, then maybe invest in a pair not only renowned for their durability and longevity but also how easy they are to clean and maintain.
Expert Tip
Have your feet in mind, let them breathe, and prevent possible blistering, which can be the demise of a good afternoon or two, which could be otherwise spent taking part in fun activities.
Did you know?
Often a spare pair of camp shoes are carried with backpackers while they do river crossings. This makes it all the more important that whether they are a pair of boots or sandals, that they are lightweight to carry with you while your other pair of shoes dry. Lightweight shoes also prevent trailing around while being weighed down by your backpack.