10 Best Water Shoes For Men
If you like to spend your free time in the seas and oceans, water shoes can be a man's best friend. Whether you are out in a kayak, scuba diving, or just relaxing at the coast on vacation, a pair of water shoes can keep your feet protected while you splash around. The best water shoes will dry quickly, through drainage holes, and will provide sturdy support and protection for the ground under your feet.
While many experienced rowers, swimmers, and divers will know a good pair of water shoes when they see them, it can be hard to know where to look, or what makes men's water shoes the best they can be. To help you out, we have compiled reviews of the best water shoes for men available.
View the Best Water Shoes For Men, Below.
1. Mishansha Quick Dry Water Shoes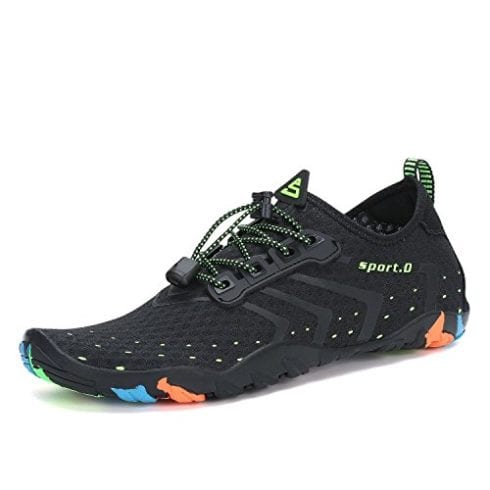 These water shoes by Mishansha are designed with protection in mind. The spandex upper material will avoid any wear and tear. This includes both the damage caused by saltwater and the general damage caused through regular use. Not only do these Quick Dry Water Shoes protect themselves, but they also protect you, thanks to their anti-slip rubber soles.
As well as avoiding damage, they also look great. With a wide range of colors available, you can choose the pair that match your holiday spirit or your serious sailing attitude. The main benefit is how quickly they dry, with drainage holes getting rid of excess water as you leave the sea. No more heavy walks along the beach with the help of these. What is more, when you get back to your deck chair, you can slip them off without hassle thanks to the elastic shoe straps.
These water shoes for men use lycra uppers in order to get the most protection possible. You won't need to worry about them wearing down, and your feet will have great support.
Check Price on Amazon ➞
2. Merrell Men's All Out Blaze Sieve Water Shoe
The second pair of water shoes for men on our list are these All Out Blaze Sieve shoes from Merrell. Merrell is a reliable manufacturer, and these shoes are designed to be as convenient and useful as possible. In fact, whereas most shoes here are designed for use in water, these are actually made for hiking as well. This means that they have all the benefits of hiking shoes, while also being easily drained.
The 'sieve' like holes in these shoes have significant benefits in terms of both water drainage and ventilation. This means that your feet won't be bothered by seawater or even just sweat. If you are likely to get sweaty on a long hike, these shoes are designed to eliminate odors anyway, so you should stay fresh. They come in a couple of different colors so you can pick your favorite, and they also have a stretch collar and speed laces for your comfort and convenience.
Merrell has produced these men's water shoes for hiking as well as water sports, with plenty of comfort through its stretch collar and odor resistance.
Check Price on Amazon ➞
3. Zhuanglin Drying Aqua Water Shoes
Zhuanglin has produced the next pair of water shoes for men on the list, and they are some of the best available on the market today. These Quick Drying Aqua water shoes not only look great, but they are some of the most comfortable too. This is achieved through the use of a ComforDry sock liner, which gives the insoles plenty of padding and cushioning while maintaining the light and breathable feel.
Your feet get plenty of air through these shoes, and it comes from all directions. The holes in the sturdy rubber soles work well to drain excess water when you swim but also allow your feet to stay cool. More importantly, the upper material is made of mesh, so you can feel the breeze and prevent your feet from sweating. What is more, these water shoes for men come in a wide range of colors, so you can choose the best water shoes to suit your style.
Not only do these water shoes for men look great with their wide range of colors, but they also feel great thanks to the comfortable lining and the breathable mesh design.
Check Price on Amazon ➞
4. Crocs Men's Swiftwater Wave Sandal Flat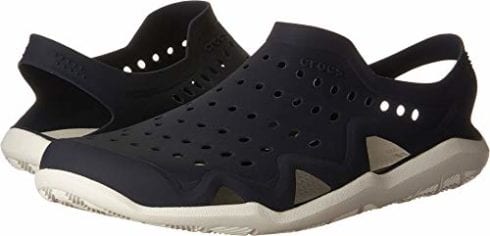 Crocs are a huge, well known, popular brand in the world of summer shoes. They are famous for producing comfortable and convenient footwear, and that stretches right up to their swimming sandals. These Swiftwater Wave sandals are designed to be lightweight and breathable. That is largely down to the perforated rubber in the upper material. This means plenty of air can get into your feet to keep you cool on the beach.
As always with Crocs, these water shoes for men are available in a range of colors that can keep any wearer happy. As well as being bright, they are also sturdy and reliable thanks to the synthetic material that makes up the entire shape of the shoe. The outsoles themselves are even sloped to allow the water to rush off the side and keep your feet dry.
These water shoes for men are produced by a well known and reliable brand. They use durable rubber to protect your feet and feel as lightweight as any sandals.
Check Price on Amazon ➞
5. Crocs Men's Swiftwater Mesh Sandal
Another offering from Crocs is the mesh version of their sandals. Mesh is a much sought after material when it comes to swim shoes, mainly due to the breathability it provides. If you want your footwear to be light and airy (and if you are swimming, you definitely will), then this synthetic mesh upper material really can't be beaten. This airflow is furthered by the ventilation holes through the top of the sandals.
As well as ventilation to keep your feet cool, those holes are ideal for draining water. This means that if you have been in the sea or the pool, it won't be long before any excess water has drained off your feet, and you can get dry again. The well-known brand makes these more expensive than some mesh sandals, but the reliability and comfort are undeniable, especially since there is foam cushioning throughout the insole.
These Crocs are more suited to the water thanks to their lightweight mesh design, which will feel tighter against your feet while staying very breathable.
Check Price on Amazon ➞
6. Speedo Men's Seaside Lace 5.0 Athletic Water Shoe
Speedo is another popular swimwear brand that has produced a pair of water shoes for men. These Seaside Lace 5.0 water shoes come in a few different colors so you can customize them to your own liking. They are also very lightweight, so you will be comfortable when walking around, and they won't hold you back if you want to swim with them on either.
In terms of water protection, they are designed perfectly to push water away and to stop you from slipping. Firstly, the outsole is made in such a way that the surrounding water should stream off the sides and not slow you down. They are also designed to dry very quickly. This is partly due to the mesh upper material. Of course, this mesh also makes them breathable, so your feet will have plenty of air. These water shoes for men can be a bit expensive, but they are good value if you are willing to splash your cash.
Speedo has made these the perfect shoes for getting wet, as the whole outer material is designed to push water away and dry quickly so you won't slip.
Check Price on Amazon ➞
7. Neo Sport Premium Neoprene Wetsuit Boots
Now for something slightly different, we have a pair of water boots. As you can guess from the name, these water shoes for men are designed to go with a wet suit, for the more seasoned swimmers, and they rise up your ankle. The main benefit of wet suit boots is that they can keep you warmer. In that sense, these are only really useful for wet suit owners who will be swimming or diving in cold open water.
Nonetheless, they have plenty of features that are useful to all users. Primarily, they come in a range of different thicknesses. As well as choosing the size of the boot, you can choose the size of the sole. This means you can pick your balance between protection and weight. In terms of protection against objects below, they are also puncture-proof, so you won't cause any damage if you stand on some rocks. For your ease and comfort, they have a simple zip to help you take them on and off, and a rugged traction sole to stop you from slipping.
These are the perfect water shoes for experienced scuba divers, and other users of wet suits who are likely to find themselves in cold water.
Check Price on Amazon ➞
8. Vibram Men's Five Fingers, V-Aqua Water Shoe
Finally, we have a unique pair of water shoes for men. The Vibram Men's Five Fingers water shoes have a slightly odd-looking design, where they fit around each of your toes like a glove would fit around your fingers. There is no doubt that this will get you some funny looks on the beach, but if you are serious about having swim shoes in the water, the benefits are clear and great.
Having such a unique fit means they move naturally with your foot. This is the closest that swim shoes can get to feeling like you are barefoot. This feeling is made better by the silicone used inside the shoe to give you as secure a fit as possible. What is more, these water shoes are completely vegan. With no leather or other animal products used in making them, you can trust that you are doing less damage to the environment as well as fulfilling any personal requirements.
This is one of the more unique water shoes for men designs, which fits around your toes to give the most natural experience when moving through the water.
Check Price on Amazon ➞
Water Shoes For Men Buyer's Guide
When it comes to buying water shoes for men, there are plenty of things to keep in mind. Men choose to buy water shoes to optimize their swimming, kayaking, diving, but also to protect their feet against any dangers lurking on the seabed. There are a range of features of water shoes that fulfill these goals for the people who wear them, and you should look out for them if you want to find the best water shoes for men available.
Protection
Firstly, you want your water shoes for men to protect you from whatever is underneath. We are all too aware of how uncomfortable it can be running across a beach and losing your footing in the sand, or finding an uneven rock hidden under it. When you are in the water too, there is always a chance you kick something at the bottom, which you'd rather stay away from. The same goes for swimming pools and lakes.
Water shoes solve this problem by having thick rubber soles. Like your trainers, these should give you enough protection from any sharp objects or rocks, so you don't hurt the sole of your feet. If they are good enough, they will also keep your footing right so that you don't twist an ankle on uneven ground. The best water shoes for men will manage to do this while staying light and not affecting your swimming.
Comfort
As well as protecting your feet from injury, the best water shoes for men will be comfortable to wear. If you are swimming in cold water or running on a hot beach, the best way to stay comfortable is through drainage and ventilation. Holes in your water shoes can stop water from weighing you down, and also letting the breeze keep your feet cool during exercise.
Breathable mesh is a popular material for the upper part of water shoes. This is seen as a good thing because it gives plenty of ventilation to your feet. Whether you are normally sweaty or not, it is good to have plenty of air around your toes so that your feet don't smell, and the shoes don't get sticky. This is especially important for water shoes, as most of us only use them when on the beach in hot and sunny weather.
Comfort also comes from the support that water shoes for men can provide. The soles should be thick, so you don't twist an ankle, but also well-padded and cushioned so that your feet have the support and comfort they need. You don't want to be weighed down, but there should be enough material under your foot so that it can bounce back after hitting the ground. Firmer materials can cause you harm, so it is a good idea to choose water shoes for men with light fabrics and foam.
Quick Drying
 It goes without saying that water shoes for men are going to be used in the water. Even if you just wear them when you are walking around the pool, they are probably going to get a bit wet at some point. There is very little worse in life than having wet socks or shoes when you are in the hot sun or trying to exercise. If you are swimming, trapped water can slow you down a lot too. It is important that your water shoes for men have plenty of drainage, through holes in the upper material or the soles.
You should also pick a pair that will dry out quickly. This isn't much of a problem with waterproof sandals, but the lighter materials that you swim in can be very absorbent. Ideally, your water should be very thin and dry off easily without you having to take them off and squeeze the water out.
If you wear them in open water, this can actually be pretty unhygienic as well. The dirty water in lakes, seas, and oceans will probably make your shoes and feet smell bad after a while, so it is important that they can dry off quickly. The best water shoes for men will be machine washable, so you can get rid of any bad odors when you need to.
Expert Tip
If you want shoes to wear in the sea, you should check if your chosen pair is machine washable, so you can avoid any unpleasant smells from the water.
Did you know?
Most of the best water shoes for men use mesh in their upper material. This is because it can give your feet some air as well as helping the flow of water.