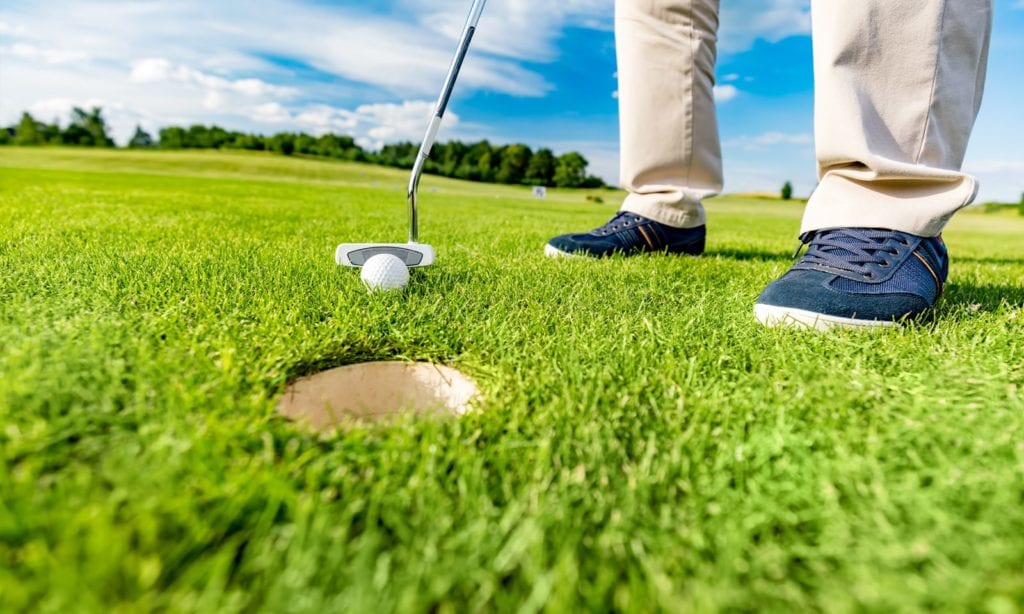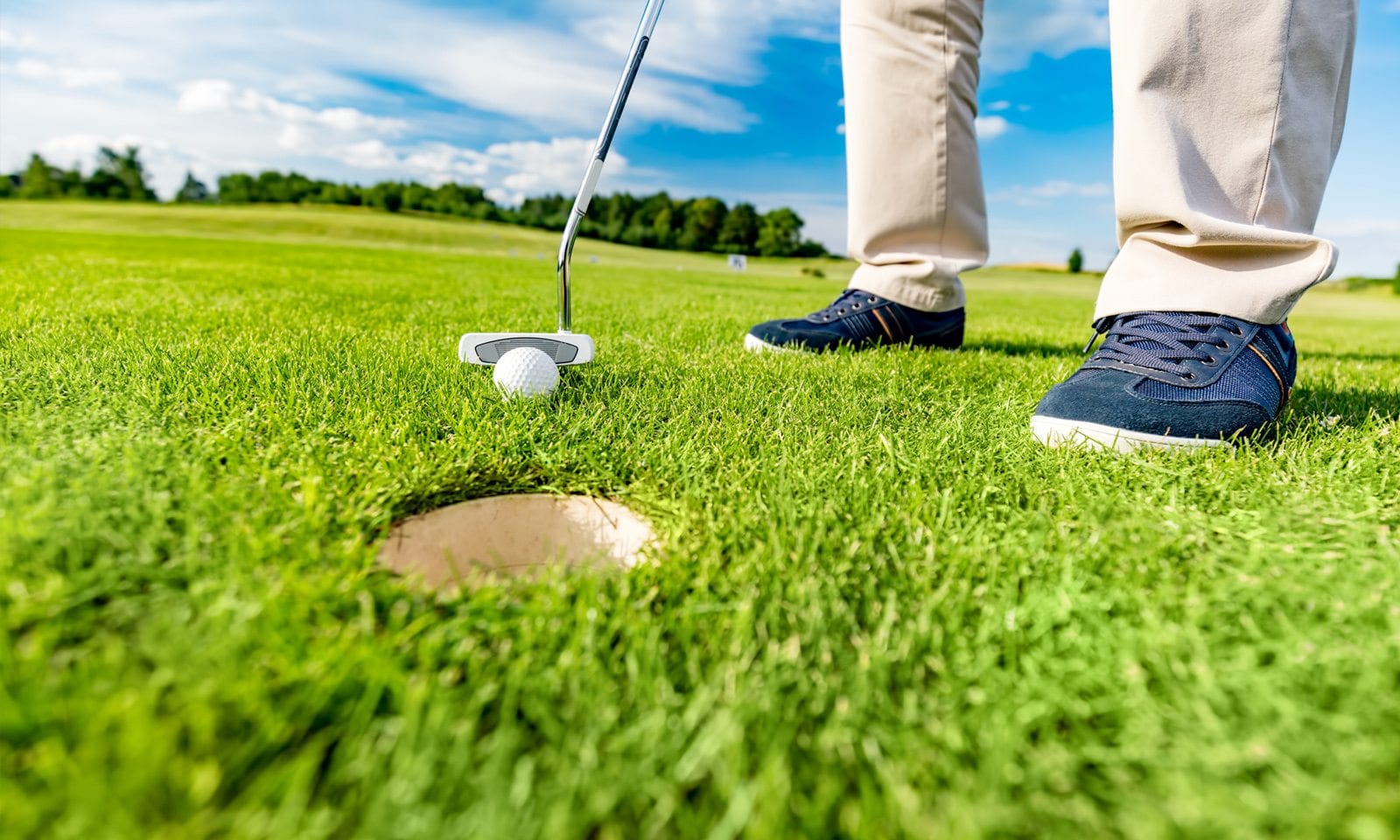 In this article, we're going to show you some of the best golf shoes on the market today. We'll talk about how these athletic shoes differ from everyday sneakers and how they can help boost your game. We combed through all of the options out there, judging products based on their design, performance, value, reviews, and durability. In the end, we came up with our list of the 10 best shoes for golfers and we're sure that, after reading this article, you'll be able to find the pair that's perfect for you!
Every sport places different demands on the athlete's feet, requiring a shoe specifically designed to meet these requirements. Whether that be sneakers designed for tennis, or cross country running shoes (click here for guide), Golf is no different.
Whether you're trudging through the rough, tackling soft ground, or dealing with wet conditions, having the right pair of golf shoes is going to make all the difference in the world. But there are a lot of choices out there and the last thing that you want is to find yourself on the links wishing that you had a sturdier or more supportive pair of golf shoes.
But finding the right pair of golf shoes can be frustrating. There's a wide range of options out there. And how do you decide what's more important? Do you want a pair of shoes designed for cushioning and stability or is an improved feel and better flexibility more important? Is it better to have spikes or purchase a spike-free shoe?
Related: Athlete's Foot Cream.
View the Best Golf Shoes on the Market, Below.
1. adidas Tour360 Boost Mens Golf Spiked Shoe
Adidas Golf has established themselves as one of the best brands in the world when it comes to athletic performance gear and the adidas Golf Men's Tour360 Boost Spiked Shoe is one of the top mens golf shoes on the market today.
Features and Support
The Tour 360 features 360Wrap technology, which totally surrounds your foot for a comfortable, snug, fit with optimum midfoot support and stability. For dynamic control, it features independent heel-to-forefoot flexibility and control from Torsion Tunnel and its enhanced arch support. Plus, it features full-length Boost foam and TPU material, which creates energy, capsules that store and release energy as you walk on them for unrivalled cushioning, energy, and responsiveness.
And for improved stability, this spiked golf shoe features a dual-density 10-cleat puremotion outsole with CenTraXion and 10 ThinTech spike cleats for unparalleled grip in any condition.
Waterproof
These shoes were designed to tackle any course condition and offer exceptional waterproofing that is perfect for use in damp grass or on rainy days.
Material
The Tour360 Boost Golf Shoe is made from high-quality leather that looks great while delivering impressive comfort, breathability, and durability. It's a very well made shoe made for serious golfers.
Style
Designed with a sporty, athletic look, these shoes feature a striking toe stripe and come in 14 different color combinations. While the look might seem retro to some, it's a clean, stylish design that ensures you'll look sharp on any course.
Value
The adidas Tour360 Boost Golf Shoe is one of the best options out there for the serious golfer. You're going to be paying around $200 for these shoes, making them more suitable for golfers who hit the links fairly regularly instead of someone who's only going to be golfing twice a year.
But if you're looking for great style and fantastic comfort, support, grip, and durability, buying a pair of these Adidas TOURshoes is one of the best investments you can make.
Check Price on Amazon ➞
2. ECCO Biom 2 Hybrid Golf Shoe (Men's)
Looking for a premium ECCO golf shoe? Look no further than the ECCO Men's Biom Hybrid 2. This ultra-premium comfortable hybrid golf shoe comes at a hefty price tag but it was designed to offer unparalleled support and comfort with an impressive stylish look.
Features and Support
The ECCO Biom Hybrid 2 are spikeless golf shoes built with a durable, non-slip gum rubber sole and its ultra-premium insole support system features silicon printing that allows them to fit the human foot like a glove. This allows these low-to-the-ground shoes allow you to maintain stability during your swing. And with comfortable padding that hugs your feet, users rave that these shoes are amazingly comfortable while delivering exceptional support.
Waterproof
Designed with HydroMax weather protection technology, these shoes are waterproof, warm, and breathable, making them great year-round options for even the most adventurous golfer. Golfers praise these shoes for keeping their feet dry and warm even on cold, rainy days.
Materials
These premium hybrid golf shoes are made from leather and synthetic material for optimum durability. The outer material is made from yak leather, offering three times the strength and durability of regular leather.
Style
These top-quality ECCO golf shoes are designed with a great attention to detail and are made in a variety of color and pattern combinations. They are stylish and trendy but have a classic golf feel to them and, thanks to their spikeless outsole, they're perfect for wearing both on and off the course.
Value
If you're looking for a budget shoe, there are some other fantastic options on our list but if you're looking for a premium and comfortable hybrid golf shoe that looks great and will withstand several seasons of wear, these are one of the best purchases that you can make.
They deliver exceptional support and impressive comfort while being incredibly stylish. Plus, they offer great water and cold protection, ensuring that your feet will stay warm and dry in any weather condition. Try the ECCO Cool as an alternative.
Check Price on Amazon ➞
3. PUMA Men's Grip Sport
If you're looking for a comfortable, lightweight golf sneaker that is guaranteed to keep you comfortable all day long, then the PUMA Men's Grip Sport is a great option.
Features and Support
These golf sneakers are designed with an extra-roomy fit for added comfort and feature a super breathable performance mesh and sporty midsole, designed to keep your foot cool and comfortable on those warm summer days. A TPU perimeter wrap adds support and stability during your swing and its rubber sole has added grip and stability, allowing it to maintain a decent grip and stability on dry or damp grass.
Waterproof
Due to the mesh design of these PUMA golf sneakers, they're not waterproof. This means that you're better off not using these shoes on rainy days or when there's excessive dew on the course.
Materials
Designed with performance upper mesh, these shoes are lightweight, durable, and offer maximum breathability. A durable rubber sole ensures that you can maintain steady traction while allowing you to wear these shoes both on and off the course.
Style
These shoes are inspired by PUMA's line of running shoes and have a similar style and look to their classic running shoes. They might not be a great match for golfers looking for a more formal or stylish look but are great for anyone seeking an athletic, sneaker-type comfortable golf shoe.
Value
While you might not get the waterproof protection offered by some of the other sneakers on this list, these PUMA golf shoes come in at a relatively affordable price and are incredibly comfortable. They offer solid support but are best suited for anyone who only golfs in good weather. But if you're looking for an athletic, golf sneaker at well under $100, it's one of the best values around.
Check Price on Amazon ➞
4. FootJoy GreenJoys Men's Golf Shoes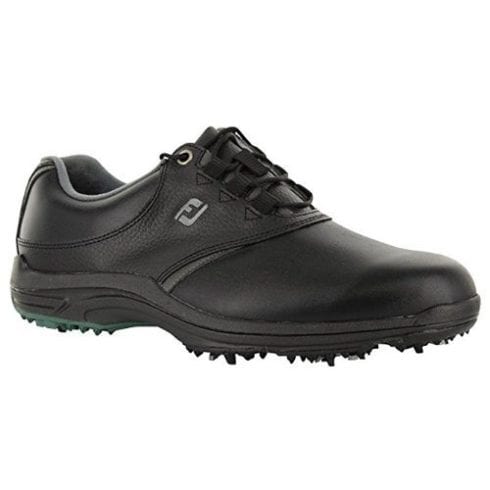 FootJoy manufacturers some great golf shoes and the GreenJoys Men's comfortable Golf Shoe is no exception. The company has discontinued this line of shoes to introduce some newer models but they're still available on sites like Amazon, where you can score a pair of these excellent athletic shoes at a fantastic price.
Features and Support
These shoes are built on the Austin Last, which offers full rounded toe character and a full fit across the forefoot, instep and heel. Their rubber outsole features rubber Black Widow cleats for outstanding gripping performance and traction, even on wet turf. And its lightweight cushioned fit-bed offers impressive underfoot comfort, support, and shock absorption.
Waterproof
GreenJoys aren't waterproof, so you won't find a waterproof warranty attached to these shoes. But they are designed to be water-resistant, making them capable of handling light dew or damp conditions
Materials
These shoes are made from synthetic leather and PVC for durability and easy cleaning while still delivering the feel and look of genuine leather.
Style
There are several styles of GreenJoys available and they are certainly a stylish, classy pair of golf shoes that will look great on any golf course.
Value
FootJoy GreenJoys Golf Shoes are very popular among avid golfers and are noted for their excellent support and comfort. They provide excellent grip for power swingers and are a stylish option for any beginner or pro. They're one of the best values on the market today and you can find a pair of these fantastic golfing shoes for well under $100, making them a great value for anyone looking for a top product at an affordable price.
Check Price on Amazon ➞
5. Skechers Performance Women's Go Golf Birdie Golf Shoe
Skechers has invested a lot of money in improving their line of performance golf shoes and the Women's Skechers Go Golf Pro Birdie Golf Shoe is simply on of the best, sneaker-style golf shoes on the market today.
Features and Support
Skechers Go Golf Birdie Shoes are designed with the company's 5Gen foam, which is a highly responsive, and lightweight cushioning foam. For superior grip and stability on any turf, the durable TPU outsoles are made with Soft spikes replaceable cleats, which deliver long-lasting support and traction, even on wet turf.
Waterproof
You wouldn't expect a pair of mesh-top golf shoes to be waterproof but these skechers performance shoes are designed with Skechers H2GO Shield which features sealed seams and waterproof protection, making this a great all-weather option for any serious golfer.
Material
These shoes are designed with a synthetic TPU outsole and textile uppers for exceptional breathability and comfort.
Style
These Skechers Performance Go Golf Pro shoes are fantastic-looking golf shoes with an athletic running shoe look. Plus there are over 15 color combinations to choose from, allowing you to choose the look and style that's just right for you. They're fun and sporty and will look great on the green or in the clubhouse.
Value
These shoes are one of the best values on the market today. They receive consistently glowing reviews for their responsive support, unparalleled comfort, lightweight, and style. They cushioning and support system ensures that you can walk the course for hours without blisters or foot pain and their soft spike deliver impressive turf grip.
Skechers delivers a lot of shoe for the money with the Skechers Go Golf Birdie Women's Golf Shoe. You can also get a Skechers performance mens go golf shoe.
Check Price on Amazon ➞
6. ECCO Biom Hybrid 2 (Women's)
ECCO is one of the top names in golf shoes and their Women's Biom Hybrid 2 Golf Shoe delivers an exceptional comfort fit and golf pro performance that is a pleasure to wear, even during the longest days out on the course.
Features and Support
These ECCO Biom Hybrid golf shoes are designed with E-DTS Hybrid Technology for tour-quality friction and fit your foot anatomically for maximum comfort, stability, and traction. And a two-component TPU outsole features ECCO Dynamic Traction that is incredibly durable and uses 800 traction angles for optimum grip.
Waterproof
These shoes are designed with HYDROMAX, treated leathers allowing them to stand up to cold, wet days on the golf course while leaving your feet warm and dry.
Materials
Instead of regular leather, the Biom Hybrid 2 are made with yak leather uppers that are 3 three times as durable and offer improved weather-resistance and breathability. Golfers rave about these shoes offering impressive breathability while being very effective at keeping your feet warm and dry.
Style
ECCO designed these women's golf shoes with a modern sneaker look. They come in a variety of color combinations and all feature reflective overlays and graduated decorative dots along the sides for a clean, stylish look.
Value
ECCO is a premium brand and a these high-quality golf sneakers will cost you close to $200. But sometimes you get what you pay for. These shoes provide unparalleled comfort fit and thanks to their anatomical design, they'll fit your feet like a glove while providing exceptional support.
The low-to-the-ground design ensures that you'll have traction and stability while allowing you to wear these shoes while golfing or on the road. They're a great purchase for anyone looking for a high-end, durable, waterproof pair of golf shoes designed with a nice, modern style.
Check Price on Amazon ➞
7. FootJoy Women's Casual Collection Spikeless Outsole Golf Shoes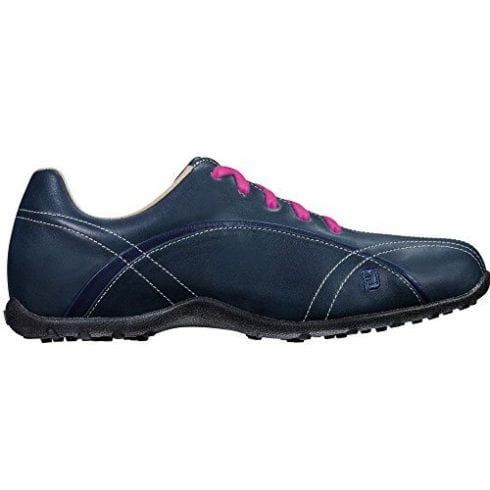 FootJoy has been manufacturing cutting edge golf shoes for years and their Casual Collection Spikeless Golf Shoes are one of the most innovative additions to their product line, delivering impressive comfort and durability with a stylish, classical look.
Features and Support
These shoes are designed for golfers who want a casual, lightweight option. They feature a full-rounded toe and a slightly narrow heel. The textile lining and insole is well padded for comfort and the durable DuraMax rubber outsole delivers great, spikeless outsole delivering turf-gripping performance.
Waterproof
While these shoes might not be great in a downpour since they aren't backed by a waterproof warranty, they are water resistant thanks to their rubber outsole and waterproof upper, allowing you to wear them on damp turf.
Materials
The uppers of these stylish shoes are made from padded leather for added comfort and breathability. And a durable rubber outsole with slight rubber grips ensures that you can count on these shoes delivering a solid grip and stability on dry or wet grass.
Style
With several color options available, it's easy to find a pair that perfectly suits your taste. And with a round toe and classic golf style, they are perfect for anyone looking for an alternative to many of the athletic sneaker-style golf shoes on the market.
Value
The FootJoy Women's Casual Collection Golf Shoe is one of the best values on the market today. They are relatively affordable and lightweight. Many golfers claim that these shoes are so comfortable that they can easily be mistaken for a pair of slippers.
The leather uppers and durable rubber soles are well made and add to the style and appeal of these shoes. With good traction and versatility, these are shoes that you'll be using on and off the course. You can also try the footjoy hyperflex, footjoy freestyle and the footjoy prosl.
Check Price on Amazon ➞
8. New Balance Men's Minimus Sport Golf Shoe
New Balance has been offering some very exciting innovations since getting into the golf shoe game and the Minimus Sport Golf Shoe is one of their best offerings yet. Designed for fans of minimal athletic shoes, these sporty golf sneakers are one of the best options out there.
Features and Support
The Minimus Sport Golf Shoe features are flatter than some options, with a 4mm drop midsole that boosts balance, ground feel, and sensory feedback. A REVlite midsole is 30% lighter than other foams while delivering exceptional durability and responsiveness.
For support, these shoes feature a welded thermoplastic stability cage pro while its Ortholite insole keeps your feet cool and dry by wicking away moisture. And, with a durable dual-density rubber outsole, these spikeless golf footwear deliver great traction when you swing.
Waterproof
Since the Minimus is designed to be a lightweight mesh option, it isn't waterproof. But it does feature good sealing and a water-resistant upper, allowing it to handle light morning dew or slightly damp conditions.
Material
These lightweight shoes are designed to mimic minimal running shoes, delivering extreme comfort fit and support in a lightweight body. Because of this, they are designed from synthetic fabric, featuring a lightweight mesh upper, thermoplastic polyurethane stability cage pro, cushioned insole, and durable rubber outsole.
Style
The New Balance Minimus is a stylish golf sneaker designed for the sporty golfer. They come in either black or green and grey and feature a clean, modern look similar to an athletic running shoe.
Value
The shoes are moderately priced and are a great value for anyone looking for a lightweight, high-performance golf sneaker. They are lower to the ground than some other options, giving you a more natural fit and feel. And they deliver the exceptional cushioning, support, and traction that any golfer wants in a good shoe.
Check Price on Amazon ➞
9. Callaway Men's Coronado Golf Shoe
If you're not a fan of the current trend of runner/golf shoe hybrids that have taken the market by storm and are looking for a more traditional option, then the Callaway Men's Coronado Golf Shoe is definitely worth checking out. It features a simple style but has more than enough design elements to make anyone seeking a high-performance shoe very happy.
Features and Support
The Coronado features a TPU Fusion-Lite outsole with Champ Slim-lok cleats for great ground grip and stability. Inside, its Opti-Soft EVA midsole delivers soft cushioning, natural ground feel, and exceptional comfort. And an Opti-Vent mesh liner helps eliminate heat by providing better breathability. The Coronado is designed to be comfortable but snug, making it perfect for traditionalists who want more support in their golf shoe.
Waterproof
Callaway designed this excellent golf shoe with a reliable waterproof design that is backed by a 2-year warranty. This means your feet will be warm and dry in any weather condition.
Material
These are well-made, premium golf shoes designed with genuine leather uppers and a synthetic thermoplastic polyurethane outsole. The sole is durable and delivers stability while the leather offers comfort, support, and breathability.
Style
The Coronado has a more traditional look than many options out there today, making them ideal for golfers who want a subtle, classy-looking golf shoe. But they feature some modern touches like the vented sides along the heel or the contrasting spikes, which keep them from being too formal. Overall, they're a solid blend of traditional and modern, making them a great alterative to many of the flashier options on the market.
Value
The Callaway Coronado delivers classic style, impressive support, great traction, and exceptional comfort. Plus, they're backed by a 2-year waterproof warranty and are made from durable, breathable genuine leather. While most shoes with these qualities tend to cost a fortune, the Coronado is moderately priced, making it one of the top values today.
Check Price on Amazon ➞
10. Puma Golf Women's PG Blaze Disc Shoes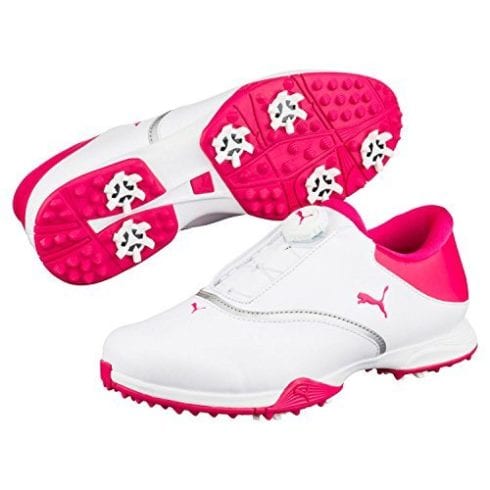 If you want a fashionable, comfortable women's golf shoe, Puma's PG Blaze Disc Shoes are perfect for you. Stylish and spikeless, these shoes will impress you on and off the course.
Features and Support
These shoes are designed with a disc technology that offers superior performance and unparalleled comfort. Simply use the micro-adjusting dial to quickly and easily secure your foot for a consistent, custom fit.
Plus, these shoes feature a molded EVA insole that offers support and comfort while helping to regulate foot temperature. These spikeless shoes are low-to-the-ground for added control and stability and feature a durable rubber outsole that is great for keeping a steady grip and stability on the turf while swinging your golf club.
Waterproof
The PG Blaze Disc Golf Shoe is designed to withstand the elements and is a great all-year shoe that is backed by a 1-year waterproof warranty.
Material
These are high-quality golf shoes made with full-grain leather uppers, heavy gauge threading, and comfortable inside padding. This provides the breathability, support, and comfort you'll need when tackling 18 holes. And the rubber outsole is durable and maintains a solid grip and stability on wet turf.
Style
This Puma golf shoe is designed to be sleek, traditional, and classy. They feature clean lines and a classic design but the disc closure system and striking contrast in colors gives them a modern, athletic feel. Low-to-the-ground and with a spikeless outsole, you can wear these golf shoes on the course or on the streets.
Value
Priced at around $100, these are one of the best values on the market today. The Puma PG Blaze Disc Golf Shoe is comfortable and gives you the support and grip you need to really boost your golf game. And with breathable, durable leather uppers, a sleek but traditional design, and the fast-locking disc closure system, it has some of the features you'd only expect to find in premium golf shoes.
Check Price on Amazon ➞
11. Under Armour Spieth 2 BOA Golf Shoes
One of the newest golf shoes to hit the market is Under Armour's upgrade to their popular Armour Spieth One Golf Shoe, the Armour Spieth 2. Featuring the ultimate in lightweight support and designed in the brand's trademark style, it's one of the top golf shoes available today.
Features and Support
The Spieth 2 is manufactured with Clarino microfiber leather for optimum breathability, durability, and support. Plus, its smart-woven upper is incredibly strong but lightweight, with TPU fibers that keep your foot secure and stable.
An integrated lacing system offers a locked-in fit and the adjustable powerband BOA golf shoes precision closure delivers fast and customizable stability and support. And its TPU outsole is durable and features Rotational Resistance Spikes for superior turf-gripping power.
Waterproof
The Armour Spieth 2 is designed with GORE-TEX construction and a microfiber leather upper allowing it to be 100% waterproof and backed by a 2-year waterproof warranty.
Material
This is a high-quality golf sneaker. It's made from premium Clarion microfiber leather, a TPU smart-weave padding, lightweight EVA midsole, and durable TPU outsole. Under Armour is essentially using the best in natural and synthetic materials in the construction of this shoe.
Style
You can tell that this golf shoe was designed with insight from a 3-time major champion like Jordan Spieth because, while traditional, it boasts a sleek, modern style that is perfect for playing golf just about anywhere.
Value
These shoes are designed to be a premium product for serious golfers or dedicated enthusiasts. At just around $200, they are a considerable investment but they are stylish, durable, and come packed with the features and support that any high-end golf shoe should offer. They're impressively lightweight and comfortable, deliver great traction, and are guaranteed to keep your feet dry and warm all year round.
Check Price on Amazon ➞
What to Look for When Buying Golf Shoes
Some golfers believe that the most important item in their game is what's in their golf bag. But when you consider that the average golfer walks between 4-5 miles during an 18-hole round, it's clear that it's the shoes on their feet that really make the difference. Whether you're a seasoned golf pro or a beginner, there are a few key factors you should consider when purchasing a pair of golf shoes.
When searching for the right pair of golf shoes, you should consider flexibility, support, waterproofing, material, style, and price. While some golfers shop for shoes with only one of these factors in mind, if you really want to buy a pair of shoes that are going to take your game to the next level, you should take all of these categories into consideration.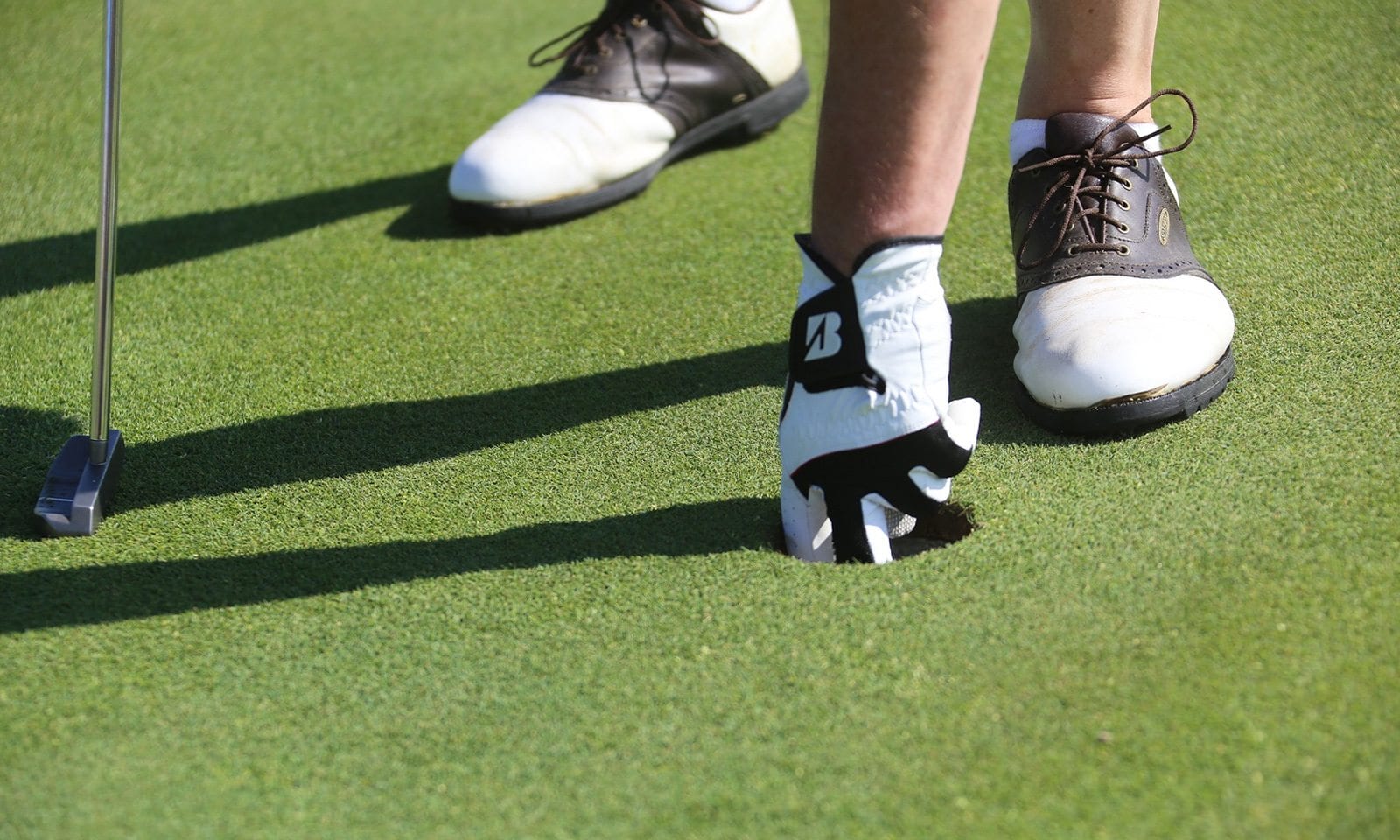 Some golfers might place more value on certain factors over others. For instance, a strong swinger might want a shoe that offers solid support while a light swinger might want more flexibility. But by looking at each factor and taking your level and style of play into account, you can find the pair that's perfect for you.
Let's walk you through the buying process, taking a look at each of these factors in more detail. This way, when it's time to get that new pair of golf shoes, you'll know exactly what you're looking for.
Flexibility and Support
Every golfer has different feet and a different golf swing. Golfers who prefer walking the course instead of hopping on a golf cart might need a shoe with a very flexible outsole. Meanwhile, someone with a lot of lower body movement during their swing might need more stability. This means it's a good idea to consider your golf swing, body mechanics, and how much you walk when looking for golf shoes.
That's not mentioning the fact that some experts claim that wearing the right pair of shoes can increase your golf swing speed by an average of 3 to 4 mph. So before buying a pair of shoes, it's a good idea to pick it up and check out how much support it offers as well as how flexible it is in the toe and outsole.
Related: Women's Golf Shoes.
Waterproof
You might think you don't need a waterproof golf shoe because you don't plan on playing a round of golf in the rain. But what about those rounds you play walking through the early morning dew? Or the times you hit the links after it rained the night before? Nothing is going to put a damper on your golf score like being uncomfortable. And what's more uncomfortable than waterlogged socks?
Thankfully, many of the top brands on the market are now manufacturing their shoes with waterproof materials. Some brands even offer a warranty, guaranteeing that their shoes will remain waterproof for 0, 1, or 2 years. And for anyone certain that a waterproof shoe is an overkill, there are water-resistant options that will let you play in the damp grass without an issue.
So unless you're sure that you'll never be playing in rain, or even damp grass, it's a good idea to stay away from mesh-topped shoes. Instead, look for a pair of waterproof shoes or, at the very least, a pair that offers some water-resistance.
Spikes or No Spikes?
Years ago, if you wanted a golf sneaker, there was no choice but to get a shoe with spikes or cleats. But technology has evolved and there is now a variety of flat, spikeless outsole sneakers on the market. Both styles come with some pros and cons. So deciding which is best for you really is a matter of personal preference. Spiked golf sneakers deliver exceptional support and traction, allowing you to enjoy a firmer, more stable grip and stability on any terrain.
Plus, for anyone playing in rainy weather or tackling a course with a lot of rolling hills, the added traction offered by cleats are going to prove invaluable. Recent innovations have allowed manufacturers to develop a spike golf shoe that is lighter and more flexible than their predecessors, allowing golfers to enjoy a balance of comfort and support. The downside is that sneakers with plastic cleats will require you to change the spikes on occasion.
And, if you golf fairly frequently, this can quickly become expensive and time-consuming. Plus, some golfers find the need to change their shoes when hitting the clubhouse or the 19th hole rather inconvenient. And you can definitely forget about wearing your spiked shoes to and from the golf course. Spikeless outsole shoes for golf have become a very popular alternative over the past few years.
Not too long ago, these golf sneakers were only used by beginners but today there are several golf pro players on the golf circuit sporting this versatile golf footwear.  These shoes are designed with rubber studs or dimples on their soles, which provide a fair amount of traction.
Plus, they're far more stylish and comfortable, allowing you to wear them in the clubhouse or on the street for a fashion statement. This means that you don't have to worry about having a change of shoes with you when heading to the golf course from your home or office. And many golfers who favor walking the course instead of riding in a golf cart swear by these golf sneakers since they're far more comfortable and better at eliminating foot pain – read more in this study.
The disadvantage to spikeless outsole shoes is that, while they are very flexible, lightweight, and stylish, they aren't designed to give you the traction that a good set of plastic or metal cleats can offer. This makes them less than ideal for golfers who hit the green when it's raining.
Material
More and more brands are now using man-made fabrics and materials when manufacturing the outsole and upper portion of their golf sneakers. This means that many of the top shoes on the market now offer improved stability, comfort, and waterproofing. There are several popular materials used today including leather, waterproof fabrics, and synthetics. Leather has long been one of the most popular materials for the manufacturing of golf shoes.
The processed leather is used on the exterior of the sneaker, allowing it to fit snugly without stretching. Most leather shoes are designed in a saddle style, offering better stability and, thanks to leather's excellent breathability, they're ideal for golfing in hot summer months. Leather shoes can also feature a waterproof guarantee of a year or two, but this is normally found in high-quality leather shoes that will be priced accordingly.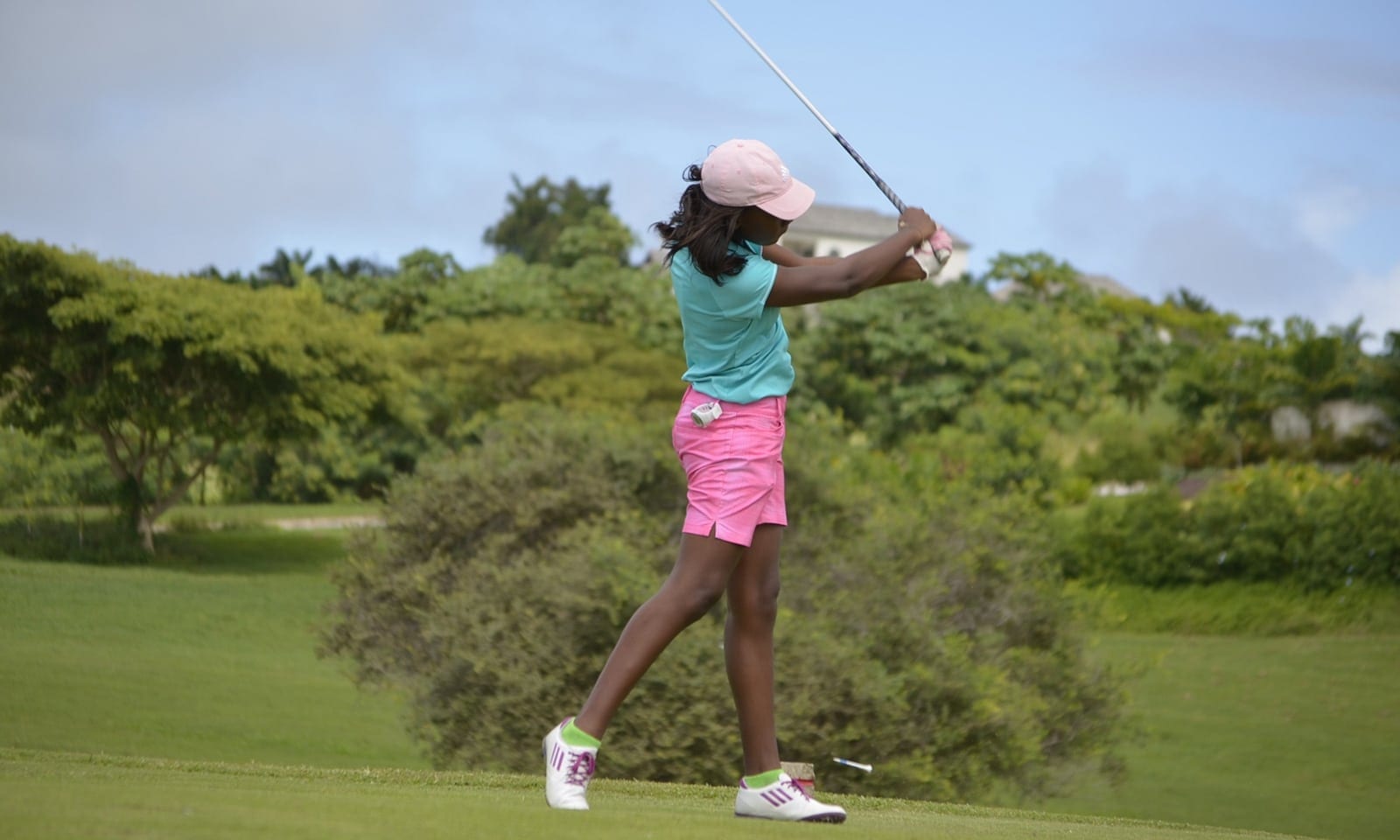 Waterproof materials are also quite common today. When looking for the most efficient waterproof material, there are some brands that have developed their own proprietary fabrics but the material commonly used by a majority of the top brands is Gore-Tex. This thick but breathable material is completely waterproof and far warmer than leather shoes, making them perfect for golfing during those colder months.
And for those on a budget, there is synthetic fabric out there that is an affordable alternative to leather golf shoes. These shoes are designed with a synthetic, or man-made, fabric that covers the upper part of the shoe instead of the other options, which cover the entire exterior of the sneaker.
This fabric is made from polyester, which protects the shoe's outer shell while being much thinner and lighter when compared to leather options. Shoes made from synthetic fabric are comfortable and far more affordable than other options on the market but you'll sacrifice a bit of breathability compared to leather sneakers.
Style
There's nothing more subjective than style. There are tons of styles out there to choose from such as athletic sneakers, dress shoes, and traditional saddle shoes. And while golf shoes were once fairly conservative with only neutral colors and a formal golf shoe style to choose from, there are now golf shoes that look similar to running shoes and come in a variety of colors.
If finding the right style is tough, think about how your dress on the course and try to match the style of your shoe with your golfing attire. Another good tip is to choose a style that fits the course that you most frequently play at.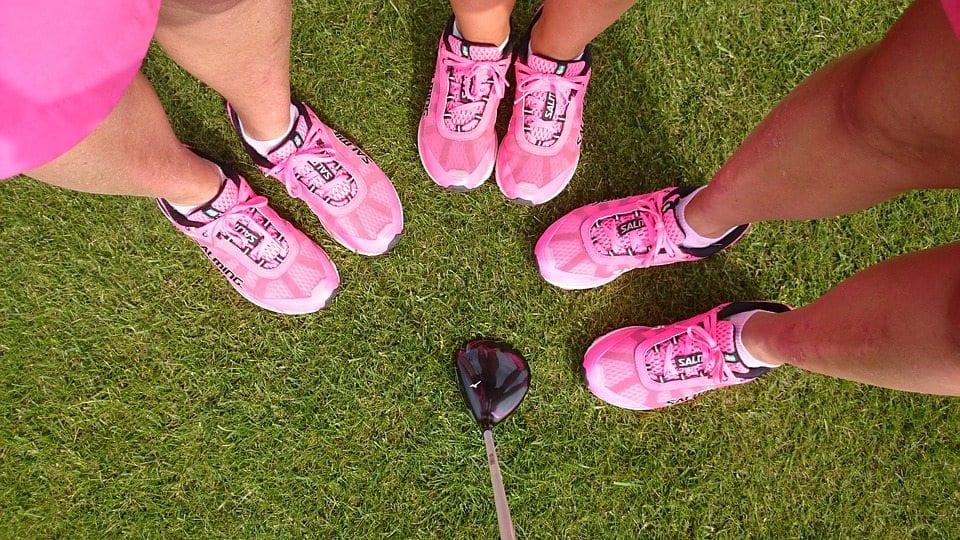 Traditional or premium golf shoes might be a perfect fit for someone who golfs at a formal country club while someone playing at a more contemporary public course or who does most of their swinging on a driving range might be more comfortable in a golf shoe with a more athletic sneaker style.
Price
Some golfers might put more emphasis on support or style but the majority of people are going to place just as much importance, if not more, on price. There is a wide price range out there and almost every shoe brand offers an entire line-up that spans from affordable to high-end. This means that you can find golf sneakers for as low as $30 and over $300.
How much you spend is entirely up to you although you might have to make some trade-offs when purchasing a budget pair. This means that a $50 pair of synthetic golf shoes might not have the durability or waterproof guarantee that a $100 pair of leather shoes offer.
This is why most avid golfers will tend to spend an average of $100 on their golf shoes since they value a 1 or 2 year waterproof warranty and better craftsmanship. The best thing to do is consider how frequently you play golf and how serious you are about the sport.
If you golf several times a month, then you're going to find great value in the performance, comfort, and reliability offered by a high-end pair of golf shoes costing up to $300. This is because you're going to be wearing the shoes often and in the case of golf shoes, you get what you pay for.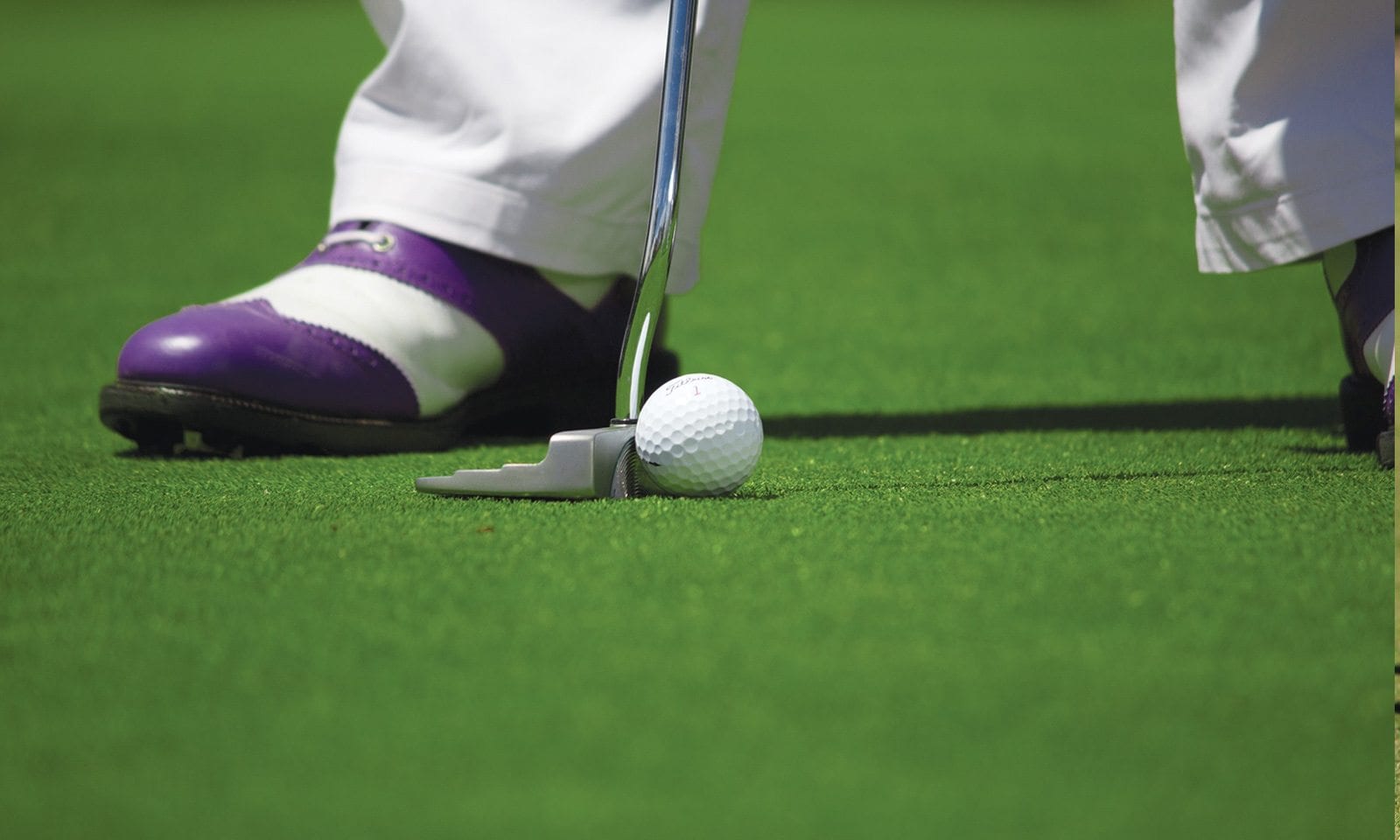 But if you are someone who only tends to hit the course 3 or 4 times a year, you can't go wrong with a $40 pair of trainers or synthetic golf shoes since the shoes won't see regular use and a low-end pair from a quality brand will do the job. This doesn't mean that a serious golfer still can't land a bargain.
In fact, golf shoes are just like any attire and last year's models will normally be available at huge discounts once the new line up hits the stores. This means that bargain hunters can score fantastic deals on high-end golf shoes if they shop for the brand and style of shoe they want but are willing to purchase the previous season's releases.
Let's take a look at some of the best golfing shoes on the market today. We reviewed all of the most popular brands and models and have come up with this list of the top 10 golf shoes of 2021 that are sure to help you improve your game.
The type of shoes you wear for golf can really make a difference to your game, as this website suggests. For more info on golf shoes, read the study.