15 Best Water Shoes in 2021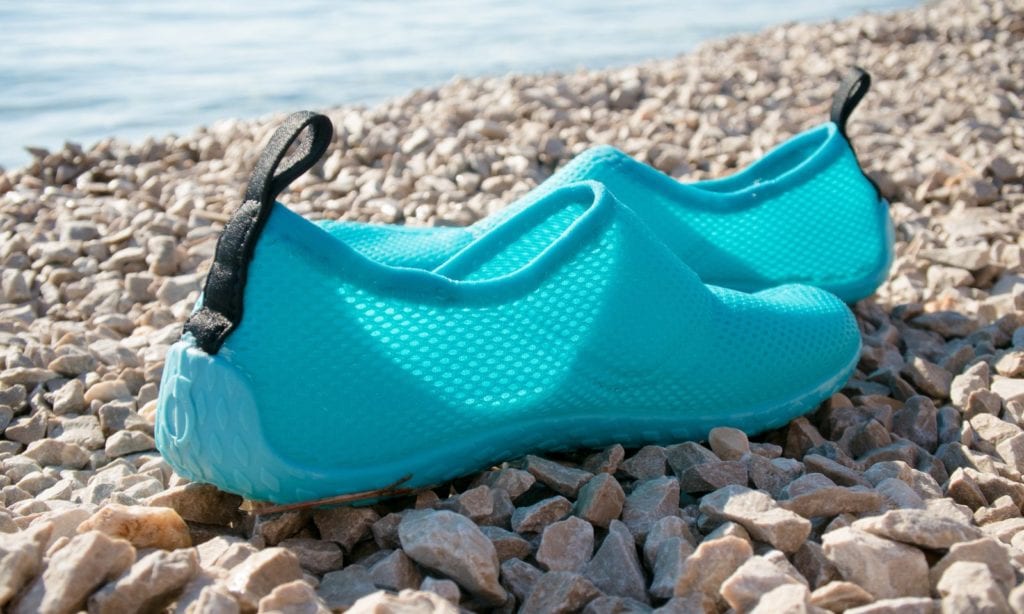 If you like to hike, swim, kayak, or simply get out in the rain, water shoes are a necessity. They provide protection, traction, and comfort. Not all water shoes are created equal, so you should spend some time getting to know what characterizes a good option. Considering features like drying time, fit, and materials help ensure you will be pleased with your purchase. Below, we've reviewed some of the best available options to guide your purchase.
View the Best Water Shoes, Below.
1. Speedo Men's Water Shoe Surfwalker Pro 3.0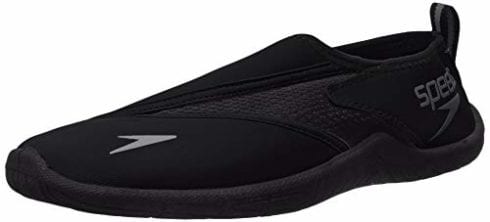 It's not surprising to find out that Speedo makes some of the best water shoes out there. When you put your feet inside of these, you will be getting a decent amount of support and excellent traction. The S-trac outsole provides you with a fantastic grip, whether you're walking on wet slippery rocks or running along the boardwalk. You will also get incredible breathability, which allows for quick-drying. Dry water shoes equal dry feet, which is precisely what you need. When looking at shoes for in the water, you want products that are comfortable and easy to put on. These water shoes provide both of the above needs. The upper is made from neoprene, which offers a good stretch. This stretch also makes it easy to pull them on and take them off. You don't have to worry about them weighing you down either. These men's water shoes weigh less than a pound.
Our Verdict: These water shoes are comfortable, stylish, and versatile. They will be an excellent addition to your shoe collection.
Check Price on Amazon ➞
CHECK PRICE ON ZAPPOS ➞
2. Merrell Men's All Out Blaze Sieve Water Shoes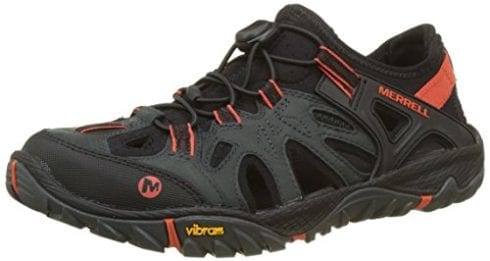 When you want a truly versatile pair of water shoes, these Merrell's may be the perfect fit. They are lightweight coming in at only one lb 5 oz, and they offer an excellent lug depth to improve your grip on slippery surfaces. The materials are made to last and provide a waterproof design. There are a variety of different colors available to suit your individual style. Additionally, they are easy to put on and take off because of the stretchy collar. These shoes look very rugged and will be great whether you are participating in water activities or merely hitting the trail for a walk. Some consumers even choose to wear these water shoes for men on a daily basis. They look great in a casual situation.
Our Verdict: This trusted brand makes a great pair of shoes for water. Not only that, but they are also excellent on the trail or for daily wear, making them truly versatile.
Check Price on Amazon ➞
CHECK PRICE ON ZAPPOS ➞
3. VIFUUR Water Sports Shoes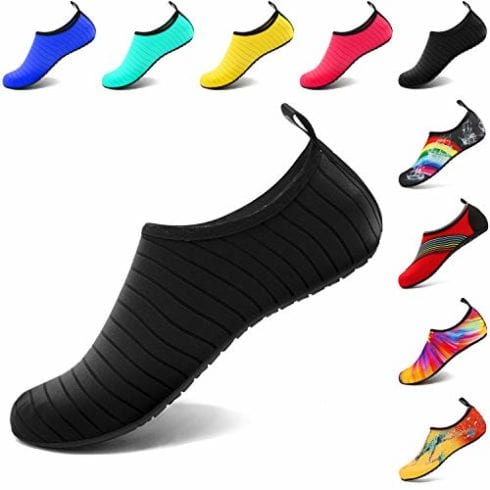 These are some of the best quick-drying water shoes available. They are extremely affordable, but they also come in a large variety of different colors and patterns. When wearing these water shoes, it is going to feel like you are wearing your favorite pair of socks. The upper is a bit stretchy and very breathable. The outsole is going to help protect your feet and provide you with some grip. Consumers love to wear these while participating in yoga classes, swimming, weight training, and many other occasions. These will keep your feet comfortable, and they are available for everyone. You can get a pair for kids, men, and women alike.
Our Verdict: Whether you're looking for affordable water shoes or stylish ones, these are a perfect option. They will fit into any budget and protect your feet while doing a variety of activities.
Check Price on Amazon ➞
CHECK PRICE ON ZAPPOS ➞
4. Aleader Women's Mesh Slip On Water Shoes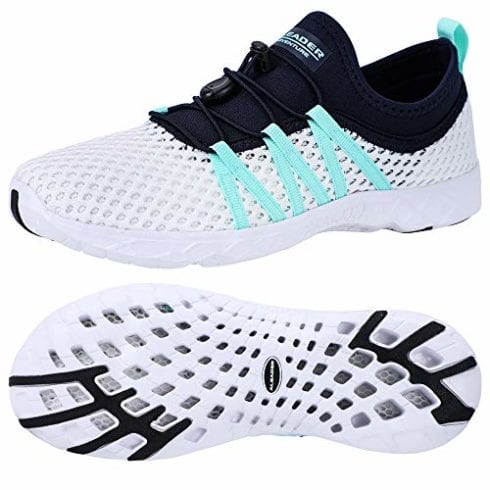 This pair of water shoes come in a variety of different colors. The design is easy to put on and take off. They use a midsole that offers excellent bounce back to improve comfort levels. These water shoes are also quite durable. You will have excellent traction while wearing them in Slippery situations. They utilize a sock liner that adds cushioning and aids in keeping your feet cooler, healthier, and drier. The design uses a breathable mesh upper that will dry exceptionally quickly. The grip outsole will allow you to wear them without worrying about falling. Additionally, the outsole uses drainage holes to ensure your feet day as dry as possible while wearing these water shoes.
Our Verdict: These water shoes utilize a smart design that will help keep your feet dry and comfortable. When trying to avoid waterlogged toes, these are an excellent option.
Check Price on Amazon ➞
CHECK PRICE ON ZAPPOS ➞
5. Crocs Men's Swiftwater Wave Sandal Flat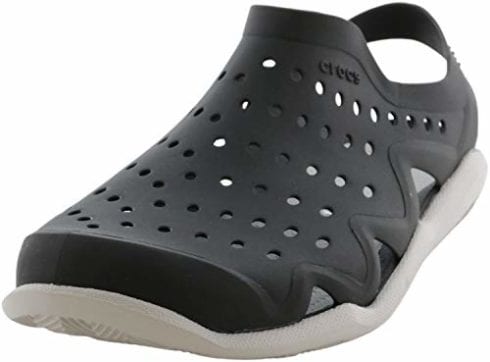 These Swiftwater mesh sandals are great whether you're headed to the beach or out for a walk. The upper is perforated so that water can move away from the inside of the sandal with ease. This one water sandal stands above many others in the same category. Crocs Swiftwater Mesh Sandals are comfortable, and they stay in place because of the slingback heel. There are channels on the outsole that also help move water away from the shoe and improve your grip. There are many different color variations available, so getting a pair to suit your style can be done easily. Additionally, these water shoes come from a trusted brand and are relatively affordable. You will get excellent durability when you invest in a pair of shoes made by Crocs.
Our Verdict: Your feet will dry quickly while wearing these water shoes. Consumers generally love the comfortable design and fit of Crocs shoes.
Check Price on Amazon ➞
CHECK PRICE ON ZAPPOS ➞
6. Ryka Women's Hydro Sport Training Water Shoe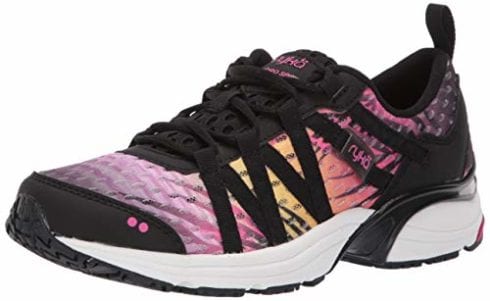 When you are looking for comfortable athletic water shoe, these may be the perfect option. They are styled like a sneaker but will transition well when participating in water sports or other Aqua Water Adventures. Whether you're participating in water aerobics or playing a beach volleyball game, these are excellent water shoes. The mesh upper is combined with synthetic materials making them perfect for use as a trainer ordering water Fitness. Tongue and collar of these shoes for in water are padded to improve comfort. They also provide excellent lateral and medial support. The midsole is molded out of EVA foam and utilizes drainage ports.
Our Verdict: These water shoes are outstanding for those that lead active lifestyles. Additionally, they won't slow you down because of the speed lace system and slip-on design.
Check Price on Amazon ➞
CHECK PRICE ON ZAPPOS ➞
7. Neo Sport Premium Neoprene Wetsuit Boots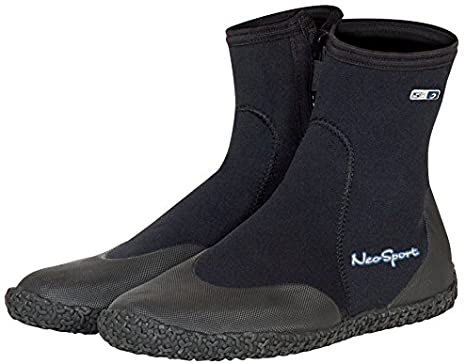 You don't have to be into diving while wearing a wetsuit to utilize these water shoes. These water shoes for men and women come in various styles that will keep your feet safe from punctures. The sole thickness varies depending on your specific needs. They can be worn during all different types of weather and temperatures to keep your feet comfortable and dry. They are glued and sewn to provide you with excellent durability. A zipper can be found on the side, and it makes putting them on and taking them off very simple. There is a barrier behind the zipper so that water can't get inside of these boots.
Our Verdict: While these water shoes are not going to work well for swimming, they will offer excellent versatility elsewhere. The sole will protect the bottom of your feet and provide you with excellent traction and grip.
Check Price on Amazon ➞
CHECK PRICE ON ZAPPOS ➞
8. KEEN Women's Newport H2 Sandal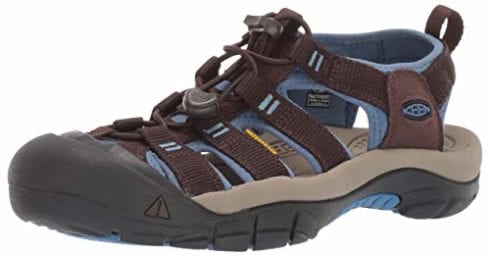 You are getting a superior value when you decide to go with these quick-drying aqua water shoes. They utilize polyester webbing and a cut-out design to ensure your feet stay dry through all of your water-related adventures. These Women's Water Shoes offer great support and stability. They use a lightweight midsole that has a contoured arch that makes them extremely comfortable. You should know that this shoe does run a bit small when it comes to fit, so ordering a half size larger than your normal size is going to be advantageous. These water shoes are also very flexible. They use multi-directional grooves for improved ground contact and a better feel under your feet.
Our Verdict: If you want to support your feet through all of life's adventures, this is an excellent pair of water shoes that will stand up to the task. The shoe is built to keep your feet comfortable and supported no matter how long you decide to wear them.
Check Price on Amazon ➞
CHECK PRICE ON ZAPPOS ➞
9. Speedo Men's Seaside Lace 5.0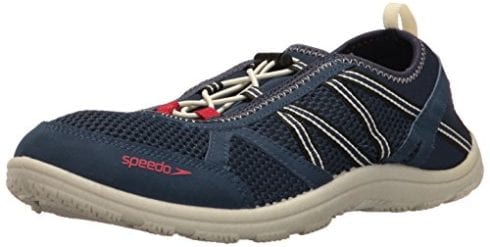 These men's water shoes are some of the best in their category. These athletic water shoes have recently been updated. They now sport and improved outsole that helps move water away from the shoe. Additionally, the updated design has brought better slip-resistant than previous models. When you are traversing slippery surfaces, these will help you keep your footing quite nicely. It is worth notice that these water shoes are also lightweight. The mesh upper provides excellent airflow to help keep feet dry. When putting shoes in the water, you want to make sure they are made of lightweight and breathable materials.
Our Verdict: It should go without saying that not all men's water shoes are created equal. You will get a fantastic design and fit while wearing these quick drawing shoes.
Check Price on Amazon ➞
CHECK PRICE ON ZAPPOS ➞
10. Vibram Men's Five Fingers V-Aqua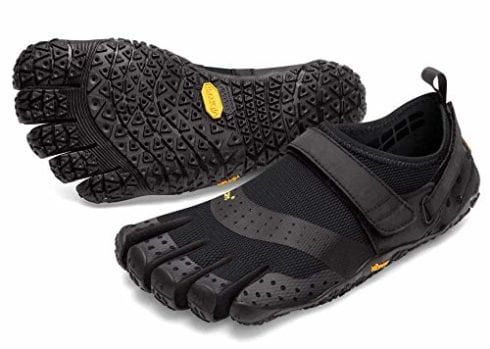 When you want to feel comfort similar to walking around in your bare feet, these are the best water shoes available. They fit like a low-top sneaker and provide you with an extraordinary amount of grip. There are perforations throughout the shoe to improve drainage. You will get excellent performance while wearing these shoes for a variety of different activities. They are machine washable, which means they will always smell great regardless of how much you sweat in them. They are a bit pricey, but they are worth every penny. These water shoes have a decent amount of adjustability and come in a few different colors to suit your style. The materials will ensure that they are quick-drying and can be worn for watersports and other outdoor adventures.
Our Verdict: You get excellent support with these men's water shoes without feeling like you are wearing any shoes at all. The fit is adjustable and comfortable for extended wear.
Check Price on Amazon ➞
CHECK PRICE ON ZAPPOS ➞
11. adidas outdoor Terrex CC Jawpaw II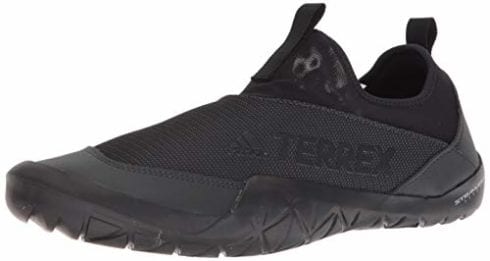 This slip-on style of water shoe is lightweight and durable. They have a solid construction and weigh less than 20 ounces. The upper materials offer quick-dry capabilities, and they are also quite flexible. These water shoes offer great breathability and excellent traction while in wet conditions. While wearing these, your feet are sure to be comfortable due to the textile lining used inside of the shoes. The midsole and the outsole are perforated to ensure proper drainage while wearing them in water. When you participate in water sports, these are suitable shoes that will provide you with the fit and feel you may have been searching for.
Our Verdict: These water shoes offer excellent durability and comfort. They sit like a low top sneaker, which will give you an excellent range of motion while wearing them.
Check Price on Amazon ➞
CHECK PRICE ON ZAPPOS ➞
12. Mishansha Barefoot Water Shoes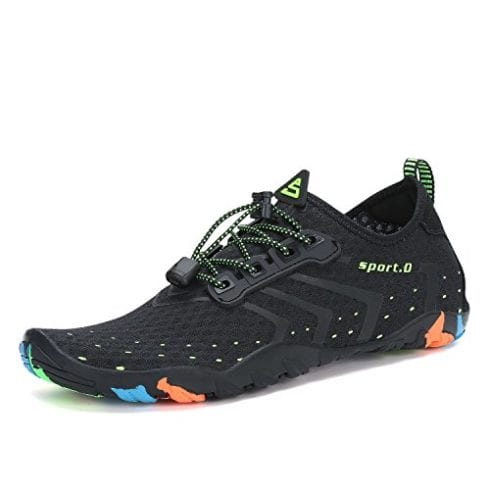 If you want to get a pair of water shoes that feel like you are wearing nothing at all, these could be the perfect option. They are not only affordable, but they also come in a wide variety of color and style options. The upper utilizes materials that are resistant to salt, wear, and excessive stretching. They are breathable and ultra-lightweight. The cross ventilation and fast-draining system will keep feet comfortable and dry no matter what activity you are participating in. There are holes in the bottom of the outsole to ensure that water can flow out of them easily. You can adjust to the fit of these water shoes quickly with the elastic straps. This ensures you will have perfect fit weather, boating, kayaking, surfing, playing volleyball, or participating in various other exercises and activities.
Our Verdict: These water shoes prove that you don't have to spend a small fortune for excellent grip and Superior durability. You can buy several pairs because they are affordable, and each pair will fit your style of the day.
Check Price on Amazon ➞
CHECK PRICE ON ZAPPOS ➞
13. Columbia Men's Drainmaker Water Shoe
These are one of the best water shoes you can buy if you are looking for versatility. They are styled like a sneaker which makes them perfect to wear during water sports or other sporting activities. The Attack Lightfoot bed and frame offer excellent cushioning, too. These water shoes are absolutely fantastic when it comes to absorbing shock. This leads you to better feeling feet, no matter how long you wear these water shoes for. One of the best features of them is the adjustable laces. This makes the fit and feel of the shoe exceptionally customizable. You will get Superior Traction in wet conditions, and the soles will not mark or mar surfaces. Whether you are on a slippery dock, rocks, or a boat deck, these will keep you grounded and stable.
Our Verdict: These water shoes can be worn daily and hold up to life's adventures. The sneaker style is versatile and comfortable during all of life's situations.
Check Price on Amazon ➞
CHECK PRICE ON ZAPPOS ➞
14. Zhuanglin Quick Drying Aqua Water Shoes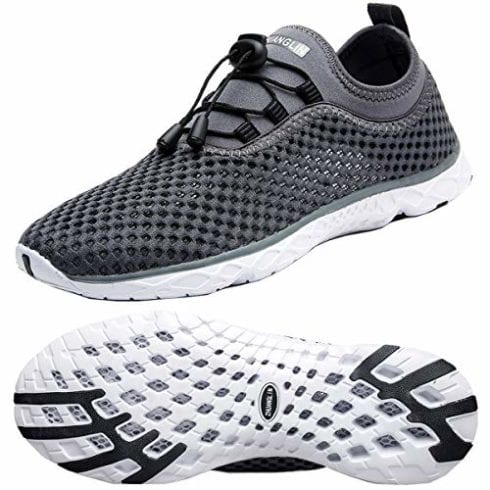 These shoes from Zhuanglin are some of the best water shoes on the market because they are incredibly affordable and extremely breathable. The mesh upper dries quickly and allows your feet to breathe while wearing them. The midsole is lightweight and durable. It is excellent at absorbing shock and provides you with a good bounce back. The outsole gives you Superior grip and provides Stellar traction when you find yourself on a slippery surface. You will get a decent amount of support and a stellar fit because of the way these water shoes are made. It will almost feel as if you are going out without a shoe on at all. You will also find that the sock liner provides you with exceptional cushioning. The liner will help improve the environment in which your feet are sitting.
Our Verdict: Your feet will stay truly dry in this pair of quick-drying water shoes. They are one of the best options because of the large mesh fabric of the upper and the drainage holes built into the rubber outsole.
Check Price on Amazon ➞
CHECK PRICE ON ZAPPOS ➞
15. adidas Terrex Summer Water Shoe
These water shoes do not look like any other water shoes you may have looked at before. They genuinely do look like a standard sneaker, but they have much more to offer. They sit like a low-top sneaker and are true to size. They feature a lace closure so you will get the perfect feel while wearing them. They are ventilated, and the upper is made of an open mesh. The Climacool technology is going to keep feet dry and comfortable regardless of the conditions you are facing. There are multiple colors and styles available. You will get excellent breathability and sure footing when you are on slippery surfaces. If you do get this water shoe wet, it is going to dry quickly. Adidas uses a Traxion outsole, which does provide grip in every direction.
Our Verdict: Let's face it; you never know when you may need to wear a pair of water shoes. The best water shoe options will be able to be worn throughout your day without appearing like a typical water shoe.
Check Price on Amazon ➞
CHECK PRICE ON ZAPPOS ➞
Best Water Shoe Buyer's Guide
Before you invest in a water shoe, you need to understand what features are the most important. Considering things like material, traction, style, and price will all play a role and how satisfied you are with your chosen water shoes. Let us take a look at a variety of different categories to help you nail down the perfect water shoe for your situation.
Material
Purchasing a water shoe that uses a quick-dry material is going to be advantageous. When your feet are submerged in the water, it can cause a variety of different problems. So quick-dry materials will help you avoid things like blisters, chafing, and waterlogged feet.
Most of the best water shoes are going to be made from various forms of textile or leather materials. Typically, these will be in the form of mash as mesh offers Superior breathability. The sole of your shoe will more often than not be made of rubber. Brands like to use rubber for the outsole of their water shoes because it provides excellent traction and grip.
When you start to figure out which water shoes you want to purchase, you shouldn't just go by their appearance, for obvious reasons. Breathability in the upper material is imperative. You should also make sure that the upper material fits snugly and is not too tight. The description of the water shoe you are looking at will likely inform you whether or not it offers a bit of stretch. If this information is not listed in the manufacturer's breakdown, you can look over consumer reviews to find out if they will be the best water shoes for you or not.
Traction
One thing you should want to pay attention to is traction. Your water shoe traction will determine whether the shoes are suitable for water sports, swimming, or other active water-related adventures. When you face one slippery surface or another, you need to know that your feet will stay firmly beneath you. A slip could result in injury and can be easily avoided when using water shoes that offer the best traction.
Many people will tell you that your number one priority when it comes to a water shoe should be traction. When you are walking along wet rocks, down the beach, or on a boat, traction is what will help you stay upright. Many Waters shoes will have drainage trenches and rubber pads built into the soles to improve your grip and peace of mind.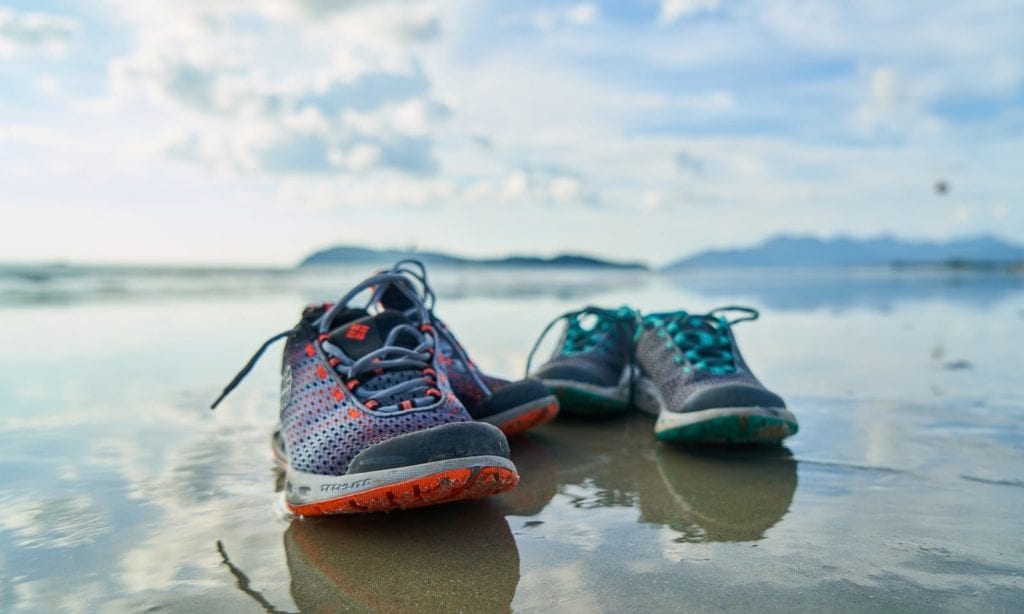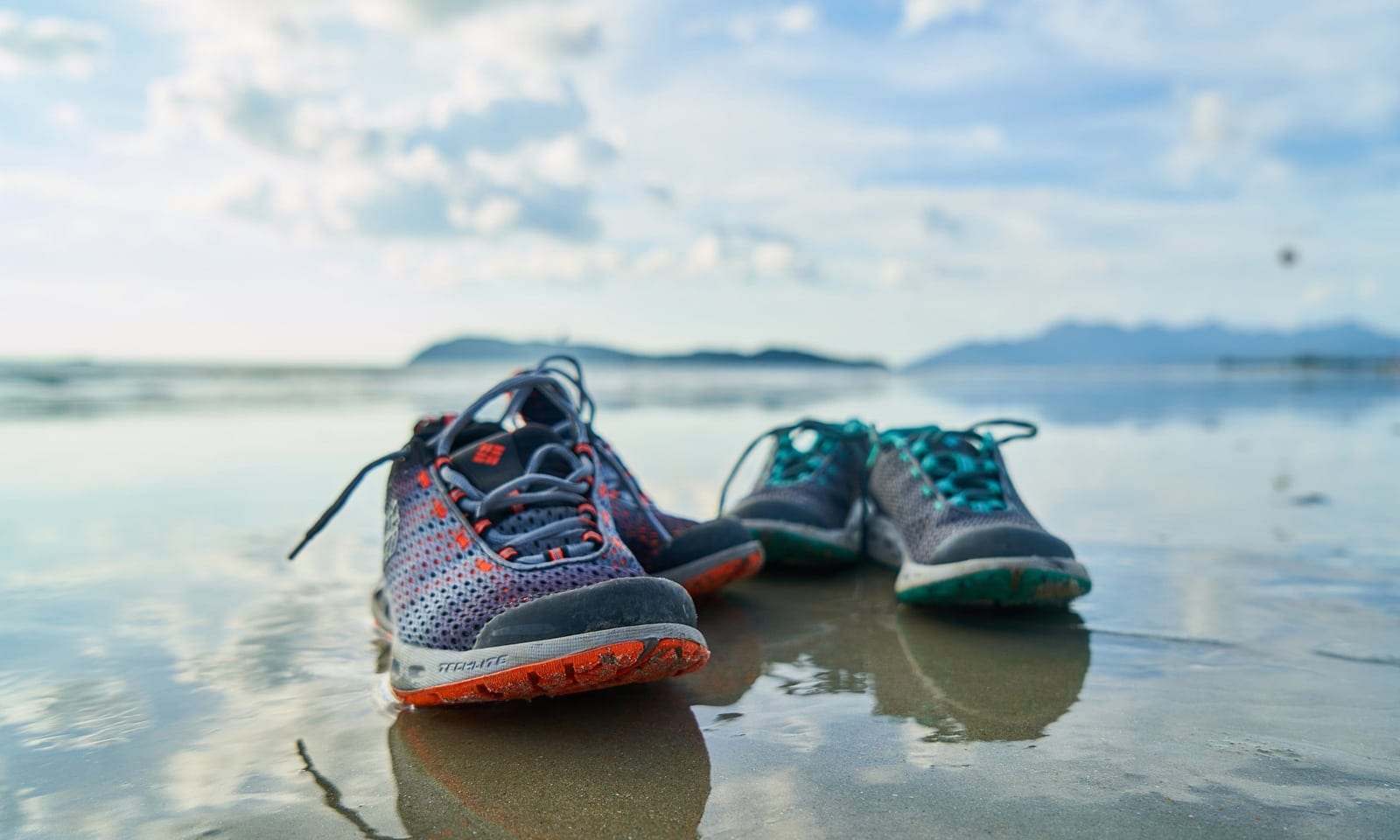 Style
There are many styles of water shoes that are similar to slippers, sandals, sneakers, and more.
A water sandal is a good option for warm weather, but doesn't provide all over coverage and may make your feet more susceptible to injury. Such styles are comfortable and dry quickly, but typically lack support. Another option is water shoes that are similar to sneakers, which are versatile and provide more support than others. This style will give you comfort and can be worn in and out of the water, for maximum use.
Some find it best to wear a slipper style of water shoes, which are good options for water related activities because they slip on and off. However, they're not as durable and are limited in terms of support. One of the best features of this style is the fact that they provide great breathability and flexibility, so you likely won't even feel like you're wearing shoes.
Breathability
Breathability is one aspect of a water shoe that you should not avoid looking into. The best shoes will be made of mesh, and they will likely also have other ventilation aspects built into them. One option that you look at may only utilize a mesh upper, While others will include holes for draining, in the bottom, and throughout the upper material. These are going to work best when you need a shoe that will dry extremely quickly and help the skin on your feet avoid constant wetness.
All of the best options in this category will allow for exceptional breathability. It will not only improve the feeling of wearing the shoe, but it will also help them maintain durability with frequent where. Water can damaged materials when they take too long to dry. So, finding a genuinely breathable one will ensure long-lasting quality, comfort, and style.
Water Shoes Frequently Asked Questions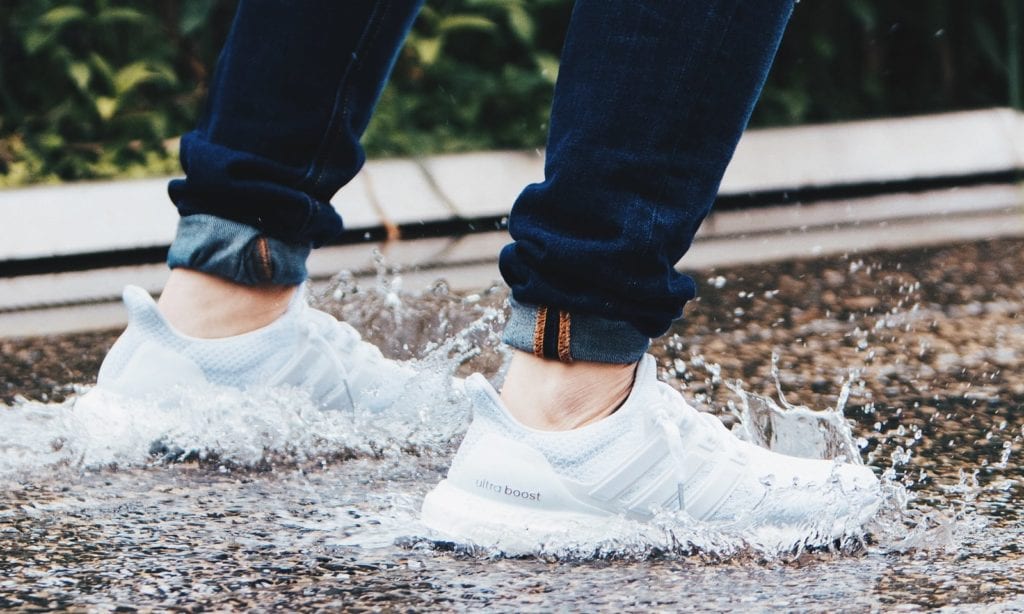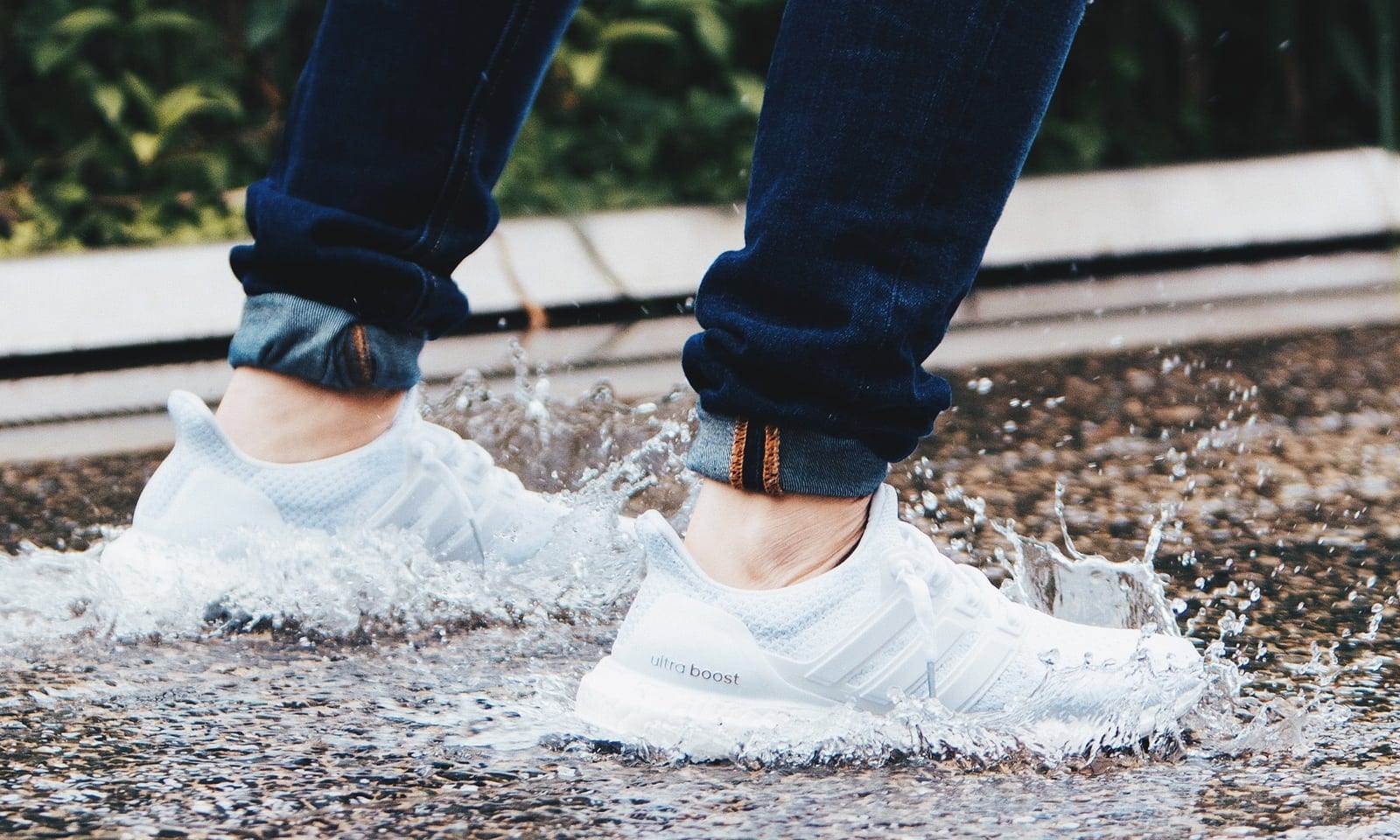 Why Should I Invest in Footwear Made for Water?
When you are in a slippery situation, this type of shoe is going to ensure that your feet stay firmly planted below you. Wearing an ordinary shoe in the water is not going to be beneficial during aquatic activities. They tend to get waterlogged, causing blisters or even leading to problems with athlete's foot. Investing in this type of shoe will ensure that you get a fantastic grip, traction, comfort, and support while participating in all different types of water-related activities. You can acquire them for a reasonably affordable cost, and they will last you a decent amount of time.
What Activities Can I Wear this Type of Shoe During?
Whenever you participate in any type of water-related activity, wearing a shoe meant for water is going to be a perfect match. Whether you are participating in sports, boating, surfing, diving, swimming, fishing, or hiking, a reliable pair of shoes made for the water will be advantageous. They are also fantastic when you are headed to the beach and exploring the coastline. They will give you protection from sharp objects and provide you with extra support.
Is a Water Shoe Slip-Resistant?
When you start to look at this type of shoe, you're going to realize that traction and grip are some of the main components in them. When you are on a wet surface, it can be unpredictable. Using an outsole made of rubber will ensure that your feet stay on the ground with your shoes in water. There are different types of bottoms used in this type of shoes, so you'll want to make sure you are getting one that offers excellent kicking power. A rubber sole with grips or plugs on it will give you better traction than those formed from simple rubber. If you are crossing rocks or boulders making sure that you have shoes with lugs well make sure that you don't slip and fall.
Should I Wear Socks with This Type of Shoe?
Regardless of the style you choose, most shoes made for water will sit close to your feet and offer a liner to keep your feet warm. This is going to make it so that you do not need to wear socks. Many of the shoes in this category will feel similar to a sock while you are wearing them. There are some types that you may want to pair with socks. If they do not provide you with any sort of thermal protection, you may end up with cold toes, and adding a pair of neoprene socks can help keep you warmer. If you are going to be participating in activities with cold water, it may be advantageous to purchase a pair of quick-drying socks. Additionally, there are hybrid options that act as water and hiking shoe. If you are going to be traveling off the Beaten Track and traversing rough terrains, a pair of socks may help you avoid uncomfortable rubbing and possible blisters.
Conclusion
Breathability and drainage are two important features of water shoes, as they will keep your feet in the best condition. Look for quick-drying material to ensure you'll have optimum comfort and effectiveness regardless of the activity. A breathable style means the shoes will dry quicker and can last longer, giving you more wear and bang for your buck.
Remember to choose breathable styles and materials to ensure your feet will be comfortable and you'll get the maximum wear out of your shoes
Did You Know?
Most water shoes offer drainage holes in the bottom of the shoe. This is excellent during water sports and activities but may make them difficult to wear for other activities when socks are involved.