10 Best Police Boots in 2021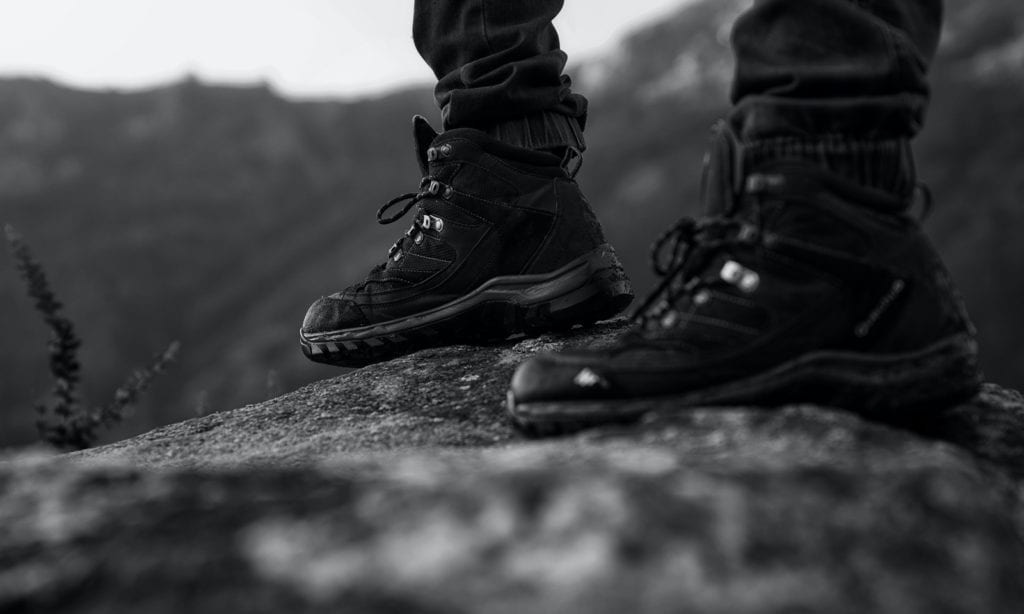 If you're a law enforcement officer, you want to ensure that your boots are fit for purpose. The best police boots should provide an officer with three main features. The boots must be comfortable, as it's likely they will be on your feet all day, and there can be times where you will be on your feet all day, too, so it's essential that they remain comfortable no matter how long you wear them. Police boots should be protective for your feet too, which means that they need to have a strong toe cap and offer water resistance, slip resistance, and electrical hazard protection.
The third important feature that police boots should deliver is durability. You must be able to rely on your boots to be there for you every day of the year, just how you are there for your community every day of the year. As long as the boots tick these three critical boxes, then you can be certain that you're investing in a top-quality set of boots that deliver good value-for-money. To ensure that you invest your hard-earned dollars wisely, consider this list of the top ten police boots on the market and the buying guide that follows it.
View the Best Police Boots, Below.
1. Bates Men's 8″ Ultra Lites Tactical Boot
Bates Ultra Lites boots are well-known amongst law enforcement officers and have been a popular choice for the police for more than a century. These police boots offer a lot of quality. They feature Bates DRYguard waterproofing, which means that your feet won't just be dry in these boots but also cool. This form of waterproofing is known for its breathability. They're a breeze to put on and take off thanks to the side zip that's on them. Unlike many police boots, this pair is lightweight due to the rubber outsole that they have.
This outsole is also designed to offer exceptional grip and traction, even when you're walking on slippy floors. They're constructed from high-grade materials with the upper being composed of 70% full-grain leather and 30% of synthetic materials. As with all Bates police boots, this pair is built to last, and they're well worth the price.
These high-quality Bates Ultra Lites boots are one of the best choices for law enforcement officers due to their lightweight yet durable construction, as well as the high-grade rubber outsole that's resistant to slippage.
Check Price on Amazon ➞
2. Danner Men's Acadia 8″ Boot
If you're seeking premium quality police boots and are willing to pay extra to get them, then these Danner police boots are one of the best choices you could make. They're constructed from leather and Cordura, while the outsole is made from Vibram rubber, renowned for its grip and durability. This pair of boots also have a Gore-Tex lining that's highly breathable.
Your feet can be inside these policeman boots all day, and your feet shouldn't become too sweaty or overheated. In terms of numbers, these boots have a 3/4" platform, a 1 1/4" heel, and a shaft that's about 8 inches from the arch. The high ankle offers a lot of support for your feet too. If you're a fan of heavy-duty boots, then these are also a good choice, as that's always what Danner delivers.
They're high-quality boots for police built to last, but the best feature they offer is profound comfort and support. Add into the mix how breathable they are, then these are one of the best police boots you can choose.
Check Price on Amazon ➞
3. Under Armour Men's Stellar Tactical Boot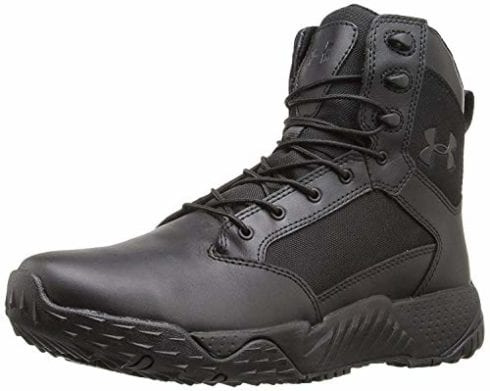 These Under Armour police boots are one of the best options available in terms of value-for-money. They're tactical boots that feature all the important features that a police officer could hope for. The sole is made from a high-grade rubber that is sure to last a long time, no matter how long you spend out on the streets. Each work boot has an upper that's made from DWR-treated leather and 900D nylon. This makes them breathable in the summer and warm for the winter.
They're also designed to keep your feet and boots smelling good as they feature anti-odor technology that's built into the Ortholite sock liner. Under Armour is perhaps best known for its sports shoes, and as a result, these boots are also flexible, allowing for quick movement on your feet. They're also waterproof, so you don't need to worry about rain or snow seeping into them.
When it comes to value-for-money, then these tactical boots are hard to beat. They deliver all the key features that police officers require while remaining very comfortable, even when worn for long periods.
Check Price on Amazon ➞
4. Bates Men's GX-8 Gore-Tex Waterproof Boot
Warm, waterproof, and comfortable. These are undoubtedly one of the best tactical boots on the market, which is what you'd expect from Bates. Each tactical boot has a YKK side zip that allows for easy removal when you're in a hurry. The waterproofing that these police boots offer is down to the GoreTex membrane integrated into them and is also breathable.
Each police boot has a slip-resistant rubber sole, which is also built to help with shock absorption. Another excellent feature of these police boots is the substantial amount of support your ankles receive while inside them. And, typically for Bates, this pair of boots are built to last you years of usage and can be worn every day regardless of the season.
These water-resistant boots are made by one of the best tactical boot manufacturers around. They deliver quality in every area, making them a safe choice for any law enforcement officer.
Check Price on Amazon ➞
5. Danner Men's Tachyon 8 Inch GTX Duty Boot
These Danner tactical boots are heavy duty and are made from full-grain leather that's made to stand up to all the rigors of life as a police officer. Besides the leather, these boots have 500 Denier nylon uppers, as well as having hard-wearing rubber soles. The toe on these boots for police can be polished so that they look as sharp as your uniform does. They're lace-up boots that offer a secure, snug fit for your feet that is also very comfortable, which is enhanced by the 3-layer comfort system integrated into them.
One of the best aspects of these work boots is that they are lightweight, weighing only 1.2lbs each. You don't need to worry about them setting off any metal detectors either, which can be handy if you need to enter facilities that have them regularly. These boots also don't need to be broken in, and they're ready to wear during a shift right out of the box.
These tactical boots look smart, can be polished easily, and can be worn without any long break-in period, which easily makes them a top choice for all police officers.
Check Price on Amazon ➞
6. Under Armour Men's Valsetz Rts 1.5 Military Boot
This is another great pair of boots from Under Armour that is built for tactical purposes. The Valsetz RTS boot is one of the best tactical boots for vegans, too, as they're made entirely from synthetic materials, so there's no leather on them at all. These tactical boots feature a ClutchFit ankle support system that ensures that your ankles are given the support they need all day every day. They have a TPU safety toe cap that ensures that your toes are always protected.
The rubber outsole offers a lot of grip and is slip-resistant too. The EVA midsole is incredibly light, which also enhances the lightweight nature of these tactical boots. In fact, each boot weighs approximately 12.58 ounces. The height of each tactical boot is 7 inches. They've got very long laces too so that you can securely tie them.
Valsetz RTS boots are one of the best pairs of non-leather, all-synthetic tactical boots on the market that will keep your feet protected and comfortable.
Check Price on Amazon ➞
7. Smith & Wesson Breach 2.0 Tactical Size Zip Boots
Smith & Wesson firearms are known for their reliability. And that same reliability is present in these tactical boots that have been made by Smith & Wesson. These boots are tough, durable, and built to withstand a wide range of terrains and weather conditions. Comfort is provided by a lightweight, EVA midsole, as well as a steel shank that ensures your feet get optimum support once inside the boots. Leather and nylon are the two main materials used to construct these boots, and they both contribute to the rugged robustness of them.
The rubber outsoles are slip-resistant, and the boots are also water-resistant. Considering the price, these are certainly up there with the best tactical boots on the market in terms of value-for-money.
These tactical boots fall into the budget price category. Still, typically for Smith & Wesson they also provide you with the best quality around, making them a safe value-for-money choice.
Check Price on Amazon ➞
8. 5.11 Tactical Men's ATAC 2.0 8″ Boots
These 5.11 tactical boots have been thoughtfully designed, including features such as a hidden knife pocket and a shock absorption system that's highly effective. Each boot has a YKK side zip. Tactical boots by 5.11 are also known for their premium comfort, exactly what these boots offer. They've got a breathable tongue that offers a lot of airflow. And they also have footbeds that are made from Ortholite, which will allow you to remain comfortable no matter how many hours you're on your feet.
These tactical boots are made from full-grain leather than can be polished to a very shiny finish. These 5.11 tactical boots also have an Achilles flex zone that you'll find offers you a lot more easy maneuverability, allowing you to be quicker on your feet.
If you want to make sure that you're light on your feet, as well as comfortable, no matter how long you're on your feet, then these tactical boots have all the top features to provide you with everything you need.
Check Price on Amazon ➞
9. Adidas Men's GSG-9.2 Training Shoe
Law enforcement officers are often surprised when they discover that Adidas manufacturers the boots that SWAT teams and GSG9 special forces groups wear. But they do. And it is these tactical boots that they wear. Each boot has an excellent TRAXION outsole that's built to deal with all conditions, which is why it is slip-resistant. These police boots are also water-resistant. And each waterproof boot has a top that's made from full-grain leather, ensuring that your feet don't get overheated thanks to the breathability of this form of leather.
In terms of numbers, they're typical for the best tactical boots, as they have a 1.5" heel and a 1" platform, while the shaft measures somewhere between 6" and 12" from the arch. The price of this pair of boots is very reasonable, too, especially when the quality of these work boots is taken into account.
Adidas makes them, but they don't look like sneakers or feel like sneakers, but they offer that same comfort that's so associated with Adidas. If these boots are good enough for the GSG9 special forces teams, then they're a good enough boot for many law enforcement officers.
Check Price on Amazon ➞
10. Reebok Work Rapid Response Tactical Boot
These Reebok police boots feature ballistic nylon and leather uppers that offer a lot of durability and robustness. As you'd expect from one of the best police boots on the market, each boot has an XTR composite toe cap that's as strong as steel. Each tactical boot features a Foot Force F2A Athletic insole, which offers a significant amount of comfort. Your feet feel as if they're inside a pair of sneakers rather than a tactical boot.
You can take these police boots off in a matter of seconds due to the high-quality side zip. Tactical boots should always be safe too. And these boots come fitted with electrical hazard protection. They're also ideal for a police officer who goes through a lot of metal detectors, as this pair of boots will not set them off.
They offer the comfort of sneakers while providing you with the protection of work boots. They're loaded with lots of handy features, too, making them a top pick for the best tactical boots for police on the market.
Check Price on Amazon ➞
Buyer's Guide to Buying the Best Police Boots
When it comes to police boots, then there are several top features that you must keep an eye out for before you spend your dollars on them. In this buying guide, you'll discover exactly what those key features are so that you make make sure to purchase the very best police boots on the market. The key to all police boots is three main features, which are comfort, protection, and durability. The following features will ensure that you choose boots that tick these three essential boxes:
Comfort
When it comes to footwear, comfort has to be one of the most important features, and that's certainly true for tactical boots too. A tactical boot provides comfort when it has insoles that are made from a soft material. Some companies who manufacturer tactical boots will include athletic insoles that resemble the insoles that you find in sneakers. One manufacturer that offers such insoles is Reebok. The next feature that will contribute to comfort is the midsole. An EVA midsole is a solid choice in terms of comfort. You tend to find that an EVA midsole will be flexible, cushioned, and supportive to ensure comfort long-term.
Breathability will play a huge part in the comfort that the tactical boots offer you. The materials that the boots are constructed from will define just how breathable the boots are. Full-grain leather tends to be a common material that you'll find on tactical boots, and if it is combined with a synthetic material, such as nylon, then this can offer optimum breathability.
To ensure that your feet don't overheat while inside the boots, then you will want to choose a pair of boots that have a moisture-wicking lining. Some tactical boots will also have anti-microbial linings, and this can help with keeping your boots smelling good, even if your feet get sweaty after a long shift on the beat.
Water Resistance
The last thing that any office wants is for water to enter into their boots, so it is important to choose a waterproof set of boots. Most tactical boots will be water-resistant. But always check that the boots are waterproof before you purchase them. With some boots, you may need to check if there is any aftercare to ensure that your boots remain water-resistant.
It's important to note that while some tactical boots made from leather will be waterproof, the water-resistant leather will still require conditioning and treatment so that it doesn't dry out. It can seem quite confusing for boots to be waterproof but for the leather still to crack and need conditioning but it's an unfortunate fact. Then again, this isn't the case for all water-resistant tactical boots.
Shock Absorption
If you're called to action and need to chase a perp, then you'll need a shock-absorbing design to your boots. Many of the best tactical boots on the market will include shock absorption.
Side Zipper or Laces
It depends on the person as to what is preferred out of a side zip or laces for securing the boots. Many officers believe that fully laced boots are more secure, and, as a result, that they are more comfortable to wear too. But tying and untying laces can end up costing you time. Especially if your boots set off metal detectors, and you need to keep taking them off and putting them back on.
That's where a side zipper can come in very handy. With a side zip, then you can take your boots off in a few seconds. Then again, for officers who prefer laces, then you should consider boots that have a speed lacing system built into them.
Slip Resistant Outsole
You must be able to stay on your feet during work, especially if you have to take chase after a perp. A slip-resistant rubber outsole is a top feature to look out for when choosing your next set of tactical boots for this very reason. These outsoles will offer a lot of traction and grip. It means that you can just as easily run or walk on asphalt as you can on a dirt road or rugged terrain.
No office wants to slip or fall over. To ensure your safety – and the safety of your community, it is critical that you pick boots that have an outsole that is resistant to slippage. Rubber is the most common material that is used for this form of outsole. In some cases, Vibram rubber is used, as with the Bates tactical boots that topped our list.
Toe Cap
Tactical boots have to keep your feet safe. That's why a strong toe cap is critical. There is a wide range of toe caps available. For example, an XTR composite toe cap is quite a popular form of toe cap on tactical boots. But each manufacturer will favor its own design. Just ensure that the boots have received good reviews for their toe caps so that you can ensure that your feet remain safe and protected.
What are the most Comfortable Police Boots?
As with any form of footwear, the pair of comfortable boots for you might not be as comfortable for another police officer. Police boots come in a wide range of styles. The top features to look out for when it comes to comfort are the footbed, which should be soft, and often a memory foam material can make for a comfortable boot. The boot should also offer ample support for your ankles, so make sure that you pick a police boot that is tall enough to support your ankles. Whether the boots are composed of leather, ballistic nylon, or purely synthetic materials, then they should be breathable.
Each boot should be waterproof, too, as you don't want to end up getting wet feet while you're out on duty. Moisture-wicking can also help to keep your feet dry even when you work up a sweat. Some police officers like their tactical boots to be lightweight while other law enforcement officers prefer heavy-duty boots, so you need to make sure that you pick a pair of tactical boots that offer the right weight for your needs.
There are lots of great police boots that offer all these features. Perhaps one of the top-performing boots on the market is Bates Ultra Lites. When you have an Ultra-Lite boot on your feet, then you're certain to be comfortable. But each boot that made our list of the best police boots offers a lot of comfort.
What Boots do Police Officers wear in the UK?
There is no designated boot for the UK police. Every policeman and policewoman in the UK will choose a tactical boot that can be relied on. For a boot to be worn by a UK police officer, the boot will need to be comfortable so that the officer can remain ready for action, even when on their feet for a long time. The tactical boot will also have to offer water-resistance, as no law enforcement officer will want wet feet, so the boot will need to be waterproof. The boot needs to provide enough warmth for outdoor shifts in the winter.
But it's also necessary that the boot is breathable and has moisture-wicking so that the police officer's feet don't get overheated in the summer. It's important that a tactical boot to be worn by the UK police must also be black, and the boot should be polishable too so that the boot can match the smartness of the police uniform.
Also important for a UK policeman or policewoman is that the boot has a slip-resistant sole, and shock absorption capabilities are a must too. It is up to the officer herself if the boot has a side zip or doesn't have a side zipper. Most UK police officers will choose a laced boot, but it is up to the officer to what police boot she chooses.
What kind of Boots do Navy Seals Wear?
Navy SEALS are similar to the UK police force in that no designated boot must be worn. But just like the UK police, Navy SEALS will choose a boot that is built to stand up to the rigors of the missions that they set out to do. That means that one boot will be suited to one mission while another boot will be better suited to another mission. Just like a police boot, a boot for a Navy SEAL will need to be protective, comfortable, and built to deal with the weather conditions and terrains that a Navy SEAL's feet will be walking over and through.
Water-resistance is a must when it comes to a Navy SEAL boot. A shock-absorbing design will be essential too. And tactical boots for the Navy SEALS should also be slip-resistant. Generally, Navy SEALS will choose a lace-up boot, but it's not entirely necessary, and you can easily find a Navy SEAL wearing a side zip tactical boot. If you're a Navy SEAL who is stationed in a hot climate, then you'll want to keep your feet cool too, so a breathable boot is necessary, and moisture-wicking can also deal with any sweating.
The toe cap on the boot will be important too, as there is a chance of shrapnel falling on your feet, so you want to ensure that the tactical boot has a toe cap that's as strong as steel, even if the boot doesn't actually have a steel toe cap. The key for a good boot is the same as what it takes for a top recruit for the Navy SEALS.
That is toughness. A Navy SEAL boot has to be tough. It's going to be going to some rugged terrains and will need to perform in the harshest environments. For that reason, a Navy SEAL boot has to be more than just a work boot. It has to be the hardest working boot around. Only then is this boot fit to sit on the feet of a Navy SEAL. Because that's how hard a Navy SEAL works too.
Do Police Boots set off Metal Detectors?
If you're a police officer, then there's a good chance that you will be regularly entering facilities where there are metal detectors. Prisons, airports, banks, and even schools have metal detectors. And if you're going into these locations regularly, then you don't want to have to remove your boots each time you go in and out. That's why it's important to check that the police boots you choose are designed to pass through metal detectors without setting them off. Not all police boots will do this.
But some boots will. If you decide that this isn't one of the top features of your boots that you care about, but that there is a good possibility of you still needing to pass through metal detectors often, then it might be a good choice to go for boots that have a side zip, as this will allow you to take the boots off quickly, and to put the boots back on your feet just as quickly too. It takes much longer to take off lace-up boots, so you must keep this in mind when picking your next pair of police boots.
Do you need to Break in Police Boots?
Police boots will often be made from multiple materials, with leather being an essential component. If you've ever worn a tactical or work boot made from leather before, you'll remember that they don't offer comfort right away. The leather is stiff. The boot can cause blisters and discomfort until the leather has softened and the boots have been broken in. You would be right to expect that police boots need to be broken in if they are made from leather. But this isn't always the case.
For example, the Danner boots on our list require only a very short breaking in period, and many people who wear these boots have insisted that no breaking in period was needed at all. Also, some tactical boots are constructed from synthetic materials. If the boots are constructed from synthetic materials, they do not need to be broken like non-synthetic tactical boots need to be. It's worth remembering that a good pair of police boots will last you a long time.
It's a good idea to choose the right boots regardless of if they need to be broken in or not. Yes, breaking in boots can be an inconvenience, but this period will quickly become water under the bridge and can be forgotten. Pick the right boots. Don't pick boots purely because they don't need to be broken in. You want your feet to be comfortable long-term, not just for the first week or two after purchasing the new boots.
Conclusion
Now you know what the ten best tactical boots are, you're in a good position to choose your next pair that will serve you just as well as you serve the community. When picking boots to be worn for law enforcement purposes, then they must satisfy three key pieces of criteria. The first is that the boots should offer the wearer comfort. That means that they should have a soft yet supportive insole, as well as a flexible, cushioned, and supportive midsole. An EVA midsole is always a good choice in this regard.
For the boots to be comfortable, they need to be breathable, so ensuring that the upper is made from materials such as ballistic nylon, full-grain leather, or high-quality synthetic material is necessary. The lining inside the boots can also contribute to comfort, as well as to reduce the odor inside the boots. So, check what each boot offers before you pick your next pair.
Protection is the second most important area for tactical boots. A strong toe cap is essential to keep your feet protected. Water-resistance will keep your feet dry. And a rubber sole that's got a lot of traction will ensure that you don't slip, even if you're chasing a perp. Durability is the third key area. You want your boots to last. They should be made from high-grade materials, and they should be manufactured by a company that you can trust too.
All the boots on our list have been made by reputable brands that promise to provide you with long-lasting quality. As long as you pick boots that satisfy all these key areas, then you can be certain to have invested your money wisely. But, just one more thing, as the famous TV detective Columbo used to say. Value-for-money is important, of course.
These boots are very important, though, as they'll be on your feet while you're serving your community daily. So don't try to cut costs. Spend the extra bucks to get a pair of boots that will be on your feet for years of service.
Expert Tip
An officer of the law will spend a substantial amount of time on his or her feet. For that reason, it's critical to remember comfort when picking a pair of boots. Yes, protection and durability are undoubtedly important. But boots can have a toe cap that the sharpest knife won't slice, and leather uppers that water will never penetrate, and neither of these features will matter if you dread putting on the boots each morning. Make sure to focus on comfort when you're picking your next pair of tactical boots.
And, also, don't skimp on price. If you're a full-time law enforcement officer, then these boots will be on your feet for at least 50 hours a week (if not longer), so don't try to cut costs. Spend the money, and then your future self will thank you due to the everyday comfort that your new boots will provide.
Did you know?
Back in 2007, law enforcement officers were punished by an unusual means. Policemen and policewomen who had been found to break the force's rules were made to wear pink Hello Kitty armbands as punishment.