Tactical boots are very useful and have many good qualities. They can be used on a daily basis at work if you work in a job that requires a whole load of numerous things, like working in the military, or maybe you work as a police officer. The tactical boots will be able to protect your feet from anything falling on them so it can save them from a lot of damage if you work somewhere that can be quite dangerous at times.
Tactical boots are really able to save you from a lot of injuries as well that's why it's always worth investing in a pair. Therefore, we've put a list together of all of the best tactical boots around so you won't have to be searching for ages to find your ideal pair.
Related: Best Waterproof-ready boots.
View the Best Tactical Boots, Below.
Buyer's Guide To Tactical Boots
When it comes down to deciding what tactical boots to purchase it can create quite a big dilemma. This is because a lot of them have a whole load of different features to compare and choose from, and this is what makes the decision difficult. Therefore we've put together a little list of the things you need to look out for before you do purchase a pair of tactical boots.
Outside Material
What the material is on the outside of the tactical boot is very important, this is because they will need to be made from something really very sturdy, durable and reliable. Most tactical boots tend to be made from both leather and other fabric or synthetic materials. These types of materials are the strongest types of materials that they can actually be made from, and they are guaranteed to last you a very long time.
Other materials may still be good, but you will need to read the description to see exactly what they can offer you, as some of them may actually have different features.
Design
The design is a very important factor about a tactical boot; you will notice that some of the tactical boots may be higher compared to some of the others. This is just one of the features that you need to look at, because if they are higher up, then it's likely that they will be able to support you a bit more and they will also be able to protect a bit more of your leg.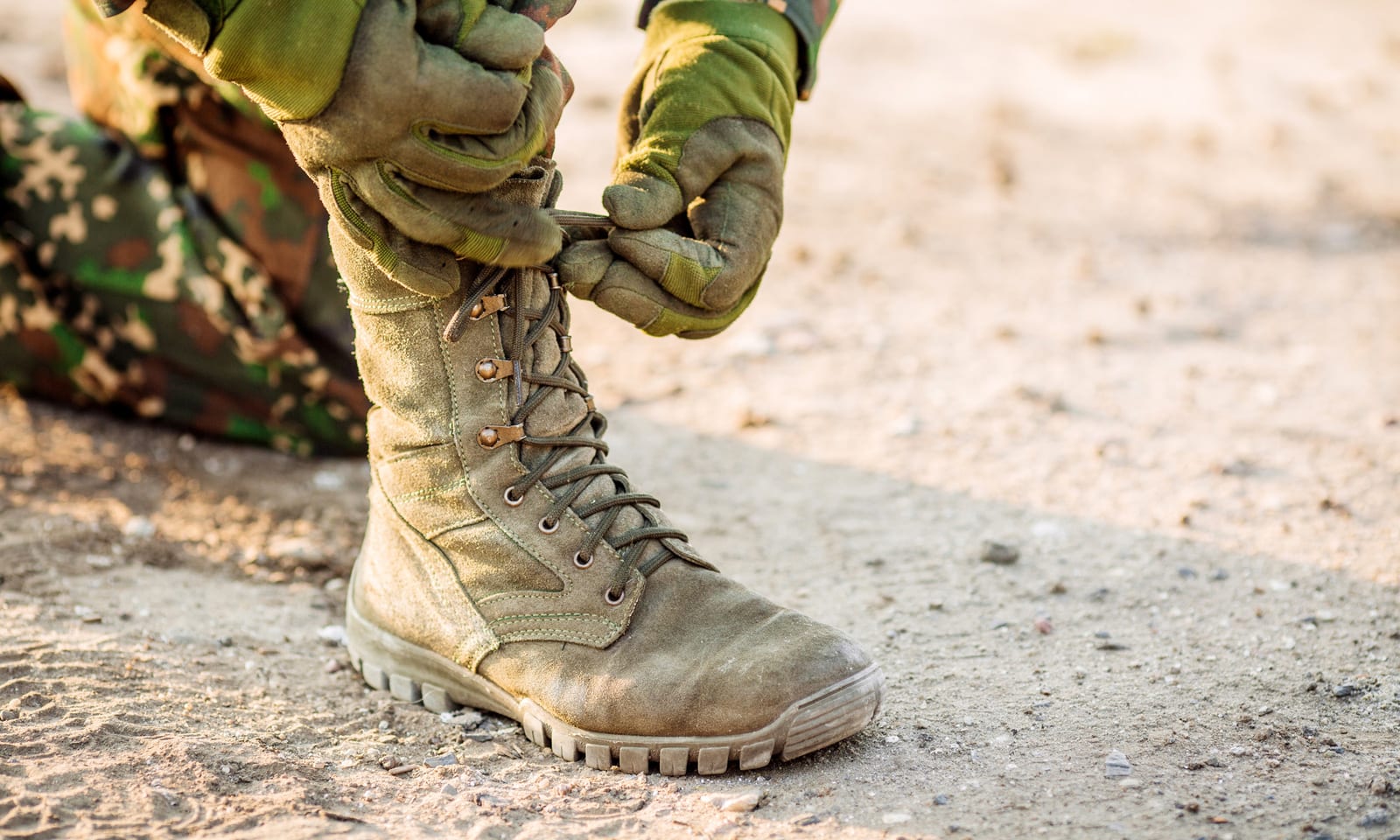 Not only this but the more material that the tactical boot has, the more likely that the boot can have additional features like hidden pockets. These types of features are really ideal if you're working in the military, as it will allow you to store other weapons, so you can defend yourself. Plus, some of them may have features to prevent you from getting any blisters or sores.
Anti-slip Sole
This is a very useful feature that you should really consider because it will actually make it a hell of a lot safer for you when you're running about on your job. It is able to make the boot not slip on liquids like oil and even other more dangerous chemicals. If you need a pair of tactical boots for your profession, then this is definitely something you need to consider, as you never know what situation you might be running in to.
What are Tactical Boots?
Tactical boots are boots that have been specially made to be able to keep stability in mind. Therefore they are able to handle different types of terrains that you may want to walk or run across. They can actually be used for numerous things, for instance; they could be used in the military or they could even be used for hobbies like walking.
They have been specially designed to give your foot and ankle extra support when your completing tasks that might require risks, this is also able to benefit your feet because the tactical boots have been specifically designed to protect your feet under extreme stress. Even if you have to carry items that may be too heavy for your specific body type, then the boots will be able to help and guide your feet through these tough missions.
How to Clean Tactical Boots?
Your tactical boots are bound to get dirty at one point or another, whether you are out hiking or even just on the streets they are able to get dirty anywhere you wear them. It can be quite difficult to clean them because one thing you don't want to do is put these types of boots in the washing machine. If you were to do this the combat boots will either be ruined or your washing machine will be.
Before you do go to clean your tactical boots, it's best to find out exactly what material they are made out of. You will be able to find this out in the description of the product. This is because each different material will need to be cleaned slightly differently.
Firstly, you will need a soft bristle brush to brush away any dried mud or dirt that will be on the boots. If there are any marks or scuffs on the boots, then you will need an eraser to remove these. If there are more marks on the boots that won't come off with either of the methods above then you may have to dampen a cloth in white vinegar or a gentle detergent, this will get any stains off that have been a bit of a problem to get rid of.
How to lace Tactical Boots?
First of all, you will need to put the boots on your foot then pull your socks up so they go further up your leg compared to the tactical boots. The laces should then be put into the first two holes at the bottom of the boot, so they create a horizontal line. After this you will need to cross each of the laces over so they create a diagonal line either side, kind of like an 'X' shape.
Then rethread them through the next holes that are just above it and carry on this pattern until you reach the top of the tactical boot. You may notice that once you reach the top, there may still be quite a bit of lace left over. You can then join both of the laces together and start wrapping them around the top of the boot.
Once you have wrapped them around the boot twice, you will then need to take whatever is left over from the lace and push it under the lace that you have just wrapped around the boot, so when you pull the lace through it, it should be facing towards your head when you hold it tight. After you have done this, then all that you need to do is tuck it into the inside of the tactical boot.

Conclusion
There are many different tactical boots that you can purchase online, or you can even purchase them from specialist stores in the United States. Tactical boots can be very useful to wear, and if you're in a profession that requires you to run on a range of different terrains or in a variety of different weather conditions, then these are ideal. This is because they have many suitable features that will prevent you from having any difficulties running on different surfaces, for instance, a lot of them have an anti-slip feature.
It's important that you do compare the different tactical boots that you find online because quite a lot of them will have different features when you compare them to one another. Therefore you don't want to end up purchasing a pair that might not have as many amazing features compared to another pair. Another thing to always look out for are the factors that we've discussed in our buyers guide before you buy a pair of tactical boots.
Expert Tip
If you want to make your tactical boots the shiniest ones while you're at work, then it's best to use a veteran boot buffer to be able to do this. Learn to clean them here.
Did you know?
Tactical boots are actually able to increase your speed, agility, your ultimate performance, and your accuracy. Therefore they will never hold you back.