10 Best Shoes For Roofing in 2021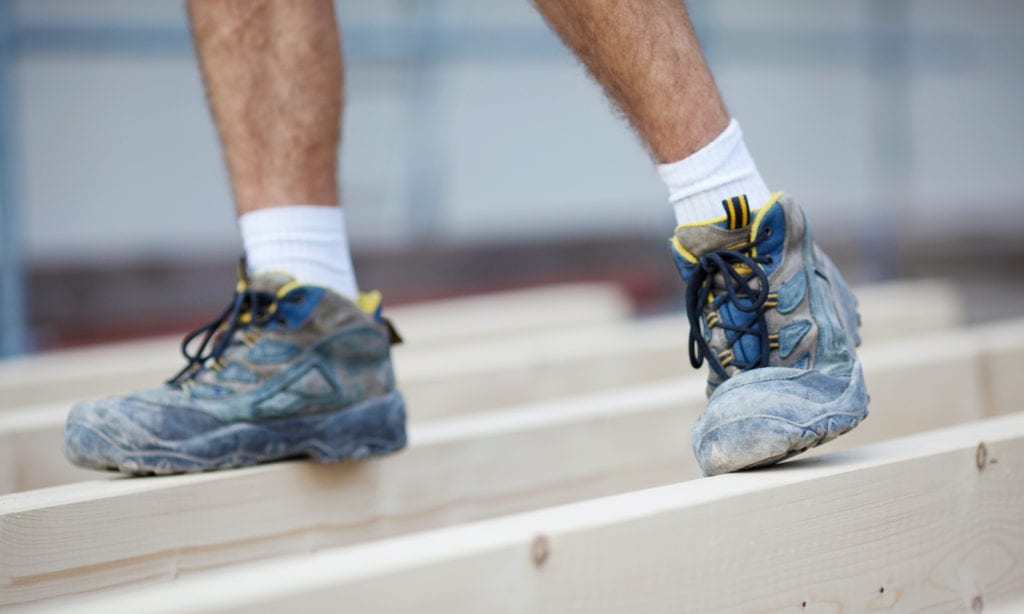 Roofing isn't easy, and having the right kind of clothing for the job can make it slightly more straightforward if you are struggling to handle everything using your regular leisure outfits. Not only can good shoes protect your feet from both short-term and long-term harm, but they are also great for helping you stay stable, making it easier to grip onto a roof and even dealing with sharp surfaces or dangerous materials that can harm your skin and break up regular boots quickly. But how do you choose the best roofing shoes for each situation, and what kinds of features or design elements matter most if you are looking for a brand new pair of shoes?
View the Best Shoes For Roofing, Below.
1. Merrell Men's Moab 2 Vent Hiking Shoe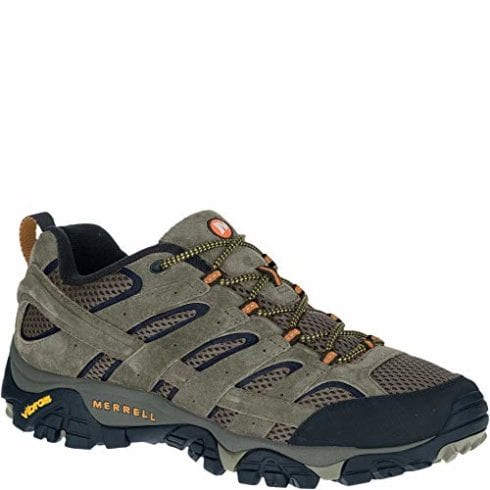 These hiking shoes are made with an excellent mesh and suede leather upper section, offering breathability and protection in equal amounts. The special closed-cell foam materials used in the tongue help remove debris and manage moisture, keeping you more comfortable in less-than-ideal conditions. Thanks to the multi-directional and multi-design grip, you can keep your feet properly gripping on almost any surface for a long time, making roofing and other tricky tasks much easier to handle. Even better, they use a rubber toe cap to add extra protection from bumps and bashes without increasing the shoes' weight, and the lace-up design allows for very precise fit adjustments.
These hiking shoes work extremely well on a huge range of surfaces, providing great support if you use them as roofing shoes or general-purpose DIY footwear.
Check Price on Amazon ➞
2. Red Wing Heritage Men's Moc 6″ Boot
These classic-style boots use full-grain leather for extra durability and strength, as well as a design that is supposed to be tight on the foot without harming your skin. It also contains a cork midsole and leather insole that can both adapt to your foot size and shape, giving you a personalized fit that can help you work all day long without injuries or safety issues. The Traction Tred outsole allows for a better grip and keeps your feet stable for much longer, making roofing and other tricky tasks much easier as a result. The Goodyear welt construction also makes sure that they won't fall apart easily, improving both their lifespan and your personal safety.
These make great roofing shoes for people who want to look good while they work, combining durable construction with an excellent design to give you the best of both worlds.
Check Price on Amazon ➞
3. Reebok Men's Crossfit Nano 8.0 Flexweave Sneaker
These flexible sneaker-style shoes use a special rubber sole with a minimal drop design that provides decent grip on a range of smooth surfaces, helping your keep your feet still without putting yourself in danger of falling over. The lace-up closure makes them easy to fit a range of foot types, and the mesh-like synthetic upper section can offer both breathability and flexibility while still being just as durable as other work boots. It also uses a toe box to help you make sure your toes are kept safe while you work, and the entire design is lightweight to make movement much easier without weighing you down or adding too much bulk to your steps.
These make great roofing shoes for people who want to look good while they work, combining durable construction with an excellent design to give you the best of both worlds.
Check Price on Amazon ➞
4. Irish Setter Men's 6″ 83605 Work Boot
These full-grain leather work boots are designed with an EVA outsole that can resist high heats and other forms of damage, helping to keep your feet safe without weighing you down. This also lets them avoid electrical hazards, using a gum rubber outer layer to stop them from reaching your body. The work boots can easily be laced up to fit your foot shape exactly, and the non-woven lining made of nylon means that you will be much more comfortable if you are on your feet for a long time. Not only that, but they are also resistant to marking, abrasion, slippery surfaces, and damage from oil or gas.
These make great roofing shoes for people who want to look good while they work, combining durable construction with an excellent design to give you the best of both worlds.
Check Price on Amazon ➞
5. Thorogood Men's American Heritage Safety Boots
These men's American Heritage boots boast a slip-resistant, oil-resistant outsole that can handle most forms of damage during roofing - they can also help to keep your feet properly stable on smooth or rough surfaces, and the low heel gives you more control over the placement of your steps. Thanks to the lace-up design, it is easy to adjust the work boots to fit your foot size and shape, and the cotton lining makes it much more comfortable to wear them for day long jobs or other extended periods of time. You also get a removable dual-density insole that can absorb shocks to help you stay comfortable and protected for much longer.
These men's American Heritage work boots could be some of the best roofing shoes on the market thanks to their protective and stable nature.
Check Price on Amazon ➞
6. Danner Men's Bull Run Moc Toe 6″ Work Boot
These steel toe work boots use a contrasting stitch to provide better overall durability without adding more weight to the design. This also works with the open-cell footbed to provide more cushioning and protection to your feet, all while making sure that the gum rubber sole can handle physical damage and give you a better grip on almost any surface type. The design also contains a steel shank and stitch-down construction that is designed to provide better long-term quality, and the design as a whole is supposed to resist oil and slips to ensure that you won't fall over or lose your grip when you are trying to keep your feet steady during a roofing task.
These work boots provide plenty of protective features while still using a basic design that is easy to wear all day long.
Check Price on Amazon ➞
7. XTRATUF Performance Series 6″ Rubber Ankle Deck Boots
These rubber-based work boots are completely waterproof, keeping your feet dry and safe from harm thanks to the non-marking and slip-resistant rubber sole design. The breathable lining has antimicrobial properties to get rid of various bacteria and fungi as well as making it easier for your feet to breathe, and you can use the simple pull loops to get them on and off without having to struggle for long. They are surprisingly lightweight despite their shape and size, offering complete protection up to your angles while only weighing around 3.3 pounds and making it much harder for you to fall while roofing.
These work boots are some of the best in terms of water protection, using a fully-rubber design to maximize safety and provide excellent support regardless of the situation you need to tackle next.
Check Price on Amazon ➞
8. Timberland PRO 53009 Wedge Sole Soft-Toe Boot
These leather work boots have a 100% leather upper section that offers far better support and structure than most other boot designs, giving you a simple lace-up fitting system that allows for quick adjustments without forcing you to fiddle for too long. The custom EVA midsole gives you all the extra comfort and support you need to make sure that you can do your work with complete safety, and the heel pull on the back of each boot means that you can quickly pull them off without having to struggle. Other than that, the main feature is quality: the boots offer plenty of protection and durability as well as good traction on most surface, with the added benefit of electrical hazard protection from the rubber sole.
If you need leather work boots that combine good quality with excellent traction, this is one of the best choices on the market.
Check Price on Amazon ➞
9. Merrell Men's Moab 2 Mid Waterproof Hiking Boot
These heavy-duty work boots use a range of different materials to combine the traits of waterproof leather and breathable mesh into one boot, letting your feet breathe while sealing out unwanted moisture. The closed-cell foam used for the tongue also helps get rid of debris and protects your feet from harm, and the outer layer is made with a mixture of suede and leather to get the best parts of both materials. Alongside this is a rubber sole that can handle most types of damage without issue, as well as a removable insole that is specially contoured to provide improved arch and heel support. The heel itself also contains an air cushion for added support and comfort.
If you need leather work boots that combine good quality with excellent traction, this is one of the best choices on the market.
Check Price on Amazon ➞
10. Timberland PRO Men's Barstow Wedge Boot
This leather work boot design is meant to be as protective and stable as possible, using a speed-lacing design and built-in electrical hazard protection to make sure that you don't get caught off guard. The dual-density insole helps you avoid foot fatigue and improves safety, while the mesh tongue means that you don't need to worry about debris or dust getting into your boot while you are working. Each boot also has a rubber sole that offers natural abrasion, slip and oil resistance while being able to support your movements really well, and the simple overall design means that it is very easy to wear for almost any purpose. As a nice touch, they are also made with recycled and sustainable materials.
If you need a work boot that puts safety and support above all else, this may be one of the best options for you at the moment.
Check Price on Amazon ➞
Shoes For Roofing Buyer's Guide
Buying shoes for roofing is difficult, just like buying shoes for any other kind of work. Workboot designs can vary between brands, shapes, and even certain countries, and it is not always easy to make sure that you are only looking at work boot types that you will actually want to use. However, if you can figure out what kind of features you need and want in your shoes, it can become much easier to find shoes for roofing that will fit into your current range of gear well. After all, roofing is no different to any other niche task: there are very specific features you might want or need if you are planning to do it safely.
Materials
The materials used in a work boot can dramatically change its positives and negatives since no shoe can be perfect at everything. One material choice might make it more geared towards support, while another could make it a piece of safety equipment instead. Beyond that, you can have material combinations that promote movement, flexibility, breathability, cooling, heat retention, physical protection… there are so many options to choose from, but each one also has a downside. For example, a heavy leather boot that is meant to be strong and sturdy isn't likely to have the same kind of flexibility that a mesh-based boot will, but both can be valid choices for roofing boots depending on your needs. It isn't just a question of your preferences, but also the kind of situation you will be dealing with.
Leather
Leather is one of the most popular options for roofing boots (or shoes for other work-related purposes), offering a good mixture of safety and protection without being too lightweight or weak on its own. As a baseline, leather is generally said to be the best starting point, since it can often withstand more damage than weaker synthetic materials without being as heavy as the tougher ones. However, you need to keep in mind that leather isn't always used on its own, and you will sometimes find that the best shoes mix leather with other materials to get the benefits of both.
Mesh
Mesh is much less common in these types of shoes since it is one of the weakest and least protective materials that can be used in work boots. However, some roofing boots can benefit from having mesh, especially if it is made in a way that keeps water out – the added flexibility and breathability can be important in hot weather, and it also means that you are not as restricted if you are standing on a sloped surface. It also has the extra benefit of not needing to be cleaned as often, although it can be hard to repair if it rips.
Synthetic Materials
Synthetic materials come in a range of different types, but they are usually supposed to be on par or better than leather. Many of them will have a particular feature that they try to offer: some will be flexible, others will be breathable, and a select few might even be designed to absorb damage so that the structure of the roofing boots doesn't get weakened instead. There are so many that it can be difficult to choose just one, especially since a lot of them have specific brand names or general nicknames that can make it hard to keep track of which materials are actually being used.
Choosing materials is the most important part of buying shoes for roofing (or any other purpose) since these materials are the key part of the design. It doesn't matter how well-built they are if they can't stand up to a common hazard, in the same way, that it doesn't matter how flexible shoes are if they are too heavy for you. You need to find a balance between every element if you want the best shoes you can find since there is no single type of shoes that can do everything perfectly.
The Outsole
The outsole of your roofing shoes is probably the second most important part of the design since it is the area that has a direct connection to the ground. Even the smallest change in an outsole can alter how your shoes feel and the way that they work on certain surfaces. Like regular materials, there is no design that does everything perfectly, so you once again have to think about the kind of features you need and the sort of conditions you expect to work in most of the time.
The first thing you will want to look for is the grip – better grip equals easier movement and support on non-flat surfaces, as well as making it easier for you to handle difficult tasks without hurting yourself or falling over. Most shoes that focus on grip not only advertise non-slip materials but actively adjust the way the sole looks, having deeper gaps and/or larger lugs to make more of a grip surface. Flatter outsoles don't offer as much conventional grip, but depending on the design, they can still be quite good at it. Smooth outsoles are usually the weakest in terms of grip, but certain materials (especially sticky rubber) can handle themselves well at angles and on flat slopes.
Remember that roofing boots usually need to work while you are standing on a roof: there is no point buying roofer boots that can't handle slopes since you are most likely to be wearing the roofer boots on sloped surfaces anyway. Of course, this depends on the roof itself: if you have mostly flat areas that are only slightly sloped, it might not be as important for you.
Flexibility also plays a large part in sole designs, just like the overall materials of the shoe. If roofer boot soles can't bend, then it becomes much harder to adapt to curved, rough surfaces, or other types of roof that aren't perfectly flat. For example, if you have a tiled roof, you are technically walking across bumpy ground where better flexibility would be useful. You don't want them to be too flexible, of course: if it is too flexible, it won't have much protective value, so striking a balance is important. This can sometimes be fixed with steel shanks, which a lot of work shoes contain as standard.
Finally, the outsole materials themselves are important, but not just for your feet. If you are using the shoes for roofing and have to stand on the roof itself, you want something that won't cause much damage to the roof parts. A good example is shingles, which can't hold that much weight before breaking or falling off: heavy, rigid outsoles might cause them to snap off very quickly. Metal roofing, in a similar vein, can easily be marked or damaged by a heavy set of roofing boots.
Support and Structure
There is no point in wearing roofing shoes if they are not going to offer you any kind of meaningful support, especially ankle support. Knowing that the structure of your roofer boots can keep you safe and comfortable makes a big difference, but many people underestimate just how big that difference can actually be in practice. After all, the difference between slipping over and staying steady isn't just a convenience feature: it can sometimes literally save a life. Roofer boots are no exception, and since you will often be standing on a high roof with very few places you can grab, if you start to fall, you will want all the support you can get.
Ankle support is often overlooked, but it is incredibly important. Your ankles are the main joint that helps you direct each step, as well as one of the joints that is most responsible for you staying safe on difficult ground. Without any kind of ankle support, you are more likely to slip, and that can have a knock-on effect of causing your ankles to get damaged too. Even a token amount of ankle support can be better than nothing, and most roofer boots provide ankle support simply by extending up to just past the ankle.
Arch support is slightly different. Arch support refers to the support being given to the arch of your foot, helping you move in a comfortable way and keeping your feet from getting sore or fatigued easily. Without a good level of arch support, you are more likely to get sore feet or need a rest, and you might even hurt your soles (as in, the soles of your real feet).
Regular support is also important. Support equals safety, and safety can keep you from getting serious injuries if you fall off a roof or slip and harm your foot. Not only that, but support usually leads to a better overall structure for your shoes: the best shoes are not only protective but able to protect themselves to a certain extent, making sure that they won't collapse if they are bumped too hard or damaged in a certain way. Without this kind of support, it is very difficult to make sure that your "best shoes" will last for very long if you get hit with unexpected bad weather or accidentally slip and fall.
Branding
Shoe brands aren't usually just a name: they can sometimes indicate particular features or design choices that you can't really get elsewhere. It is a bad idea to just ignore brand names entirely, even if you are not that bothered about getting something that is popular: you never know when you will find a brand that appeals to you because of one small detail or feature in their shoes.
For example, Cougar Paws is known for creating shoes that use magnetic soles, allowing them to stick to metal surfaces much more effectively and keep you steady to make certain tasks easier. Other Cougar Paws products are similarly designed to handle specific types of terrain, adding more traction or a better level of flexibility to help you deal with awkward ground. This means that many people turn to Cougar Paws if they have a very difficult roof layout since their products make excellent shoes for roofing.
Another good product line is Thorogood Men's American Heritage, which is known for using things like wedge soles and leather or steel toe boxes to provide better stability and protection without changing the external design of the shoe. Unlike Cougar Paws, Thorogood Men's American Heritage aren't designed for any specific purpose, meaning that they can work as excellent shoes for roofing but still be practical for other purposes too. Because of this, Thorogood Men's American Heritage is a more general option, but that doesn't make it any better or worse than the others.
As a third example, look at Timberland PRO: this collection is made as purpose-built workwear, using tough leather and a range of safety features to keep workers happy and give them all of the cushioning they might need. Because they are meant for utility reasons, they have great arch support, but most Timberland PRO shoes follow a similar structure that limits their flexibility. That being said, Timberland PRO is still worth using due to the amount of punishment they can take, the inclusion of steel toe caps and other safety gear, and the fact that they are very reliable overall.
Cougar Paws, Timberland PRO, and Thorogood Men's American Heritage shoes are only three sets of options you could try, though. The best shoes for your personal needs could be some other brand entirety, so don't hesitate to look around for other options if you need to! If you need more details, you could either leave a reply on a company's social media or send your name & email to them so that you can ask them questions directly.
Watch out for biased reviews, though. Many sites might work with an associates program (like the Amazon Services LLC Associates Program) designed to provide a means for advertisers to earn advertising fees. Through an affiliate advertising program, an affiliate advertising on their sites to earn advertising money is going to be biased and might have a "best shoes" feature that promotes their preferred products. This isn't necessarily a bad thing if they are honest, but make sure you research on multiple sites if possible.
The Fit
While it might seem obvious, the fit is vital to any kind of roofing shoe you buy, especially since each roofing boot is going to be slightly different in terms of how it looks and feels. If a shoe doesn't fit properly, the negatives will always outweigh the benefits: it will hurt, feel uncomfortable, and might even lead to long-term pains or injuries if you refuse to take it off. It doesn't matter whether it is made of tough, durable leather or flexible mesh: boots made for a size larger or smaller than you aren't worth using, and the best shoes are the ones that fit you in a way you are happy with.
What is the Best Work Boot for Roofing?
Roofing work can be tricky, and the best boots are the ones that suit you properly. However, there isn't a global "best" option when it comes to roofing shoes: each person will have their own opinion on which shoes are best at roofing depending on their needs and preferences. You need to keep your own needs in mind if you are planning to use your shoes for roof work: even something as small as a preference for leather shoes can matter.
What do you wear for Roofing?
Aside from shoes for roofing, you also need to keep a set of other clothing that is best used for roof work. Safety isn't limited to your feet: leather boots will keep your feet safe, but won't protect your hands from electric shocks or cuts. It is up to you what you want to keep: some people might find it best to keep leather working gloves around for all-purpose work, while other people might just wear whatever clothes they have available. Be sure to keep your safety a top priority whenever you are on a roof, no matter the reason.
What are the Best Shoes for Metal Roofing?
Everybody has their preferences when it comes to the best shoes for roofing, and sometimes the "best" shoes for roofing will be different from somebody else's preferences. However, most people agree that the best shoes for roofing on a metal roof will be those that can avoid damaging it: aside from niche features like magnetic soles, it is a good idea to have soft outsoles. Some leather types can damage the roof, especially if the shoes are heavy.
Conclusion
If you've read through this whole article, you should have an idea of how to find the best shoes for roofing and the sorts of features you might need to look for. Remember that one person's best shoes for roofing can be another person's worst shoes: everything, from the type of leather used to the shape of the shoe, can make it appeal to different people. If you find the best shoes for roofing (in your opinion), don't be afraid to go for them even if they aren't used by many other people. At the end of the day, it is important to choose shoes that suit your needs first and foremost, whether they are leather, mesh, synthetic, or even rubber.
Expert Tip
A flat sole can be useful if you want to be able to balance naturally: as long as it has at least a small amount of gripping power, you can handle steep roofs quite well, but you will want extra safety measures just in case.
Did you know?
Metal roofs are often the most slippery, making them very dangerous to deal with. If it is too steep, you might even need to set up a rope that you can hang onto just in case you fall.