10 Best Slip-On Work Boots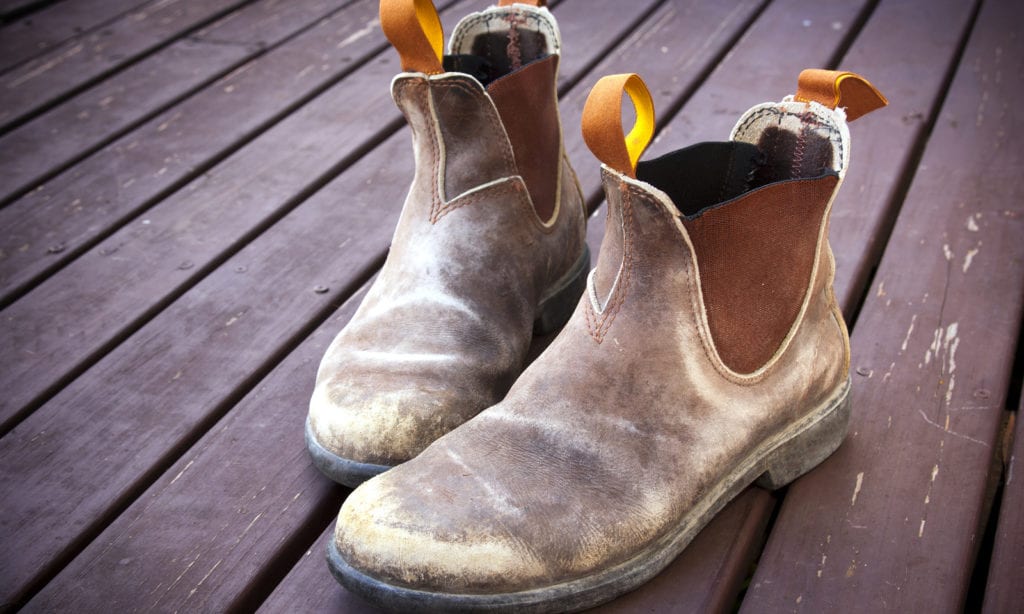 Physically-demanding jobs often involve duties that can put certain parts of your body at risk, and your feet are no exception. Whether you're working with heavy machinery, carrying around large objects or moving across slippery surfaces, you will often find that work boots give the extra protection and comfort you need to do your job properly. In many cases, slip-on shoes are the most convenient, since you can quickly put them on without having to struggle with laces and straps.w
But how do you decide which pair to buy? With so many shoe brands and designs on the market these days, it can be hard to narrow down your search, especially if you're looking for something with very specific features or design elements.
Below is our list of ten different slip-on work boots that can keep your feet safe and comfortable in a hurry, as well as the features that make them stand out from the rest.
View the Best Slip-on Work Boots, Below.
1. Wolverine Floorhand Waterproof Work Boot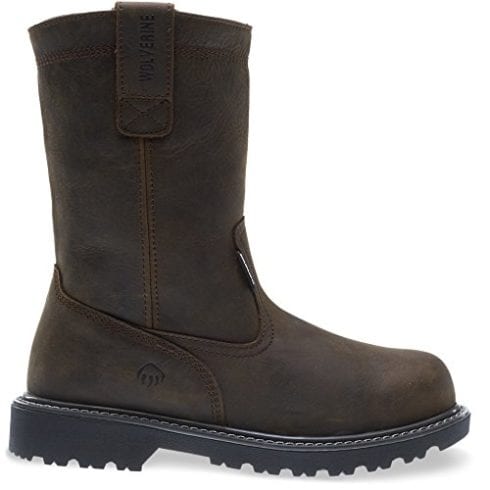 These soft slip-on work boots are built for maximum water-resistance, offering a waterproof exterior and a moisture-wicking interior lining that keep your feet dry and stop sweat from building up in hot weather. The ten-inch shaft reaches quite a distance up your leg, so you can easily combine it with long socks or standard trousers to provide complete protection from the elements when you are outdoors.
Due to the low weight of the materials, they're made from, these slip-on work boots are also surprisingly lightweight and easy to move around in, giving you a full range of movement and an excellent grip on the surface you're standing on.
These boots are reliable, durable and can keep your feet safe and dry, offering an excellent level of protection from all kinds of weather conditions.
Check Price on Amazon ➞
2. Ariat Men's Workhog Pull-on Waterproof Pro Boot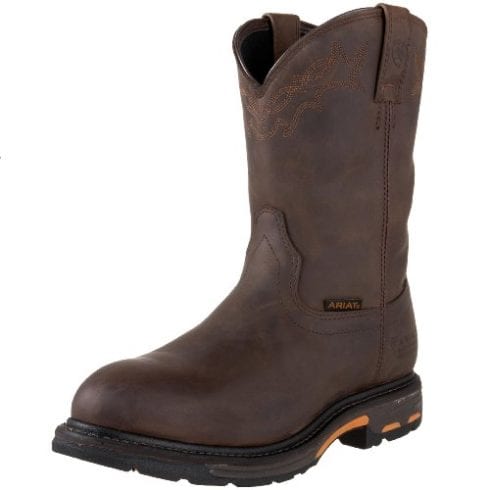 These tall, western-style slip-on work boots use a specially-designed platform section to reduce the overall level of foot fatigue you will feel after long periods of use. The ATS Max materials and EVA midsole provide an excellent level of shock absorption that makes each step much less taxing on your feet, and the wider-than-normal shank section provides extra stability while you're on the move.
If you are working around industrial equipment or wet weather, you'll also find the anti-sip and oil-resistant outsole of these slip-on work boots useful, which allows you to retain your grip on a surface in situations where other boots would simply slide around.
The extra gripping strength and stability provided by these slip-on work boots make them perfect for wet weather, oily floors, or smooth surfaces, especially in industrial workplaces.
Check Price on Amazon ➞
3. ROCKROOSTER Work Boots for Men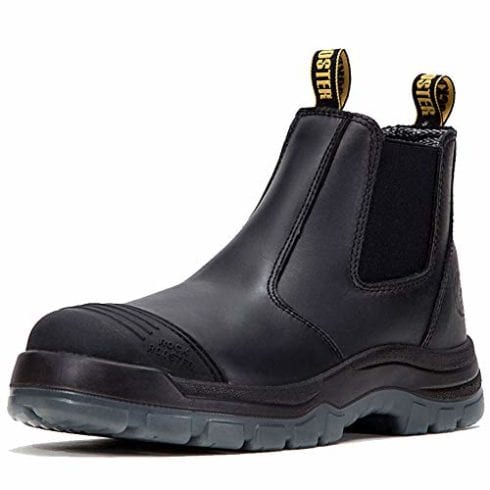 These heavy-duty slip-on work boots are able to endure a lot of damage while keeping your feet safe, dry, and fatigue-free, using a range of different materials to stop poor weather or dangerous surfaces from interrupting your daily routine. The steel toe cap and built-in ankle supports help you avoid sudden pain and foot sores, while the COOLMAX fibers in the shoe's internal surfaces will wick away any sweat or water vapor that builds up.
The durable, long-lived outsoles they come with are able to resist most normal forms of wear and tear, leaving your feet with extra padding that won't wear out over time or fall apart from overuse.
Although their visual design doesn't show it, these slip-on work boots are extremely good at protecting your feet from physical and weather-based damage in both the long-term and the short-term.
Check Price on Amazon ➞
4. Dr. Martens Icon Industrial Steel Toe Boot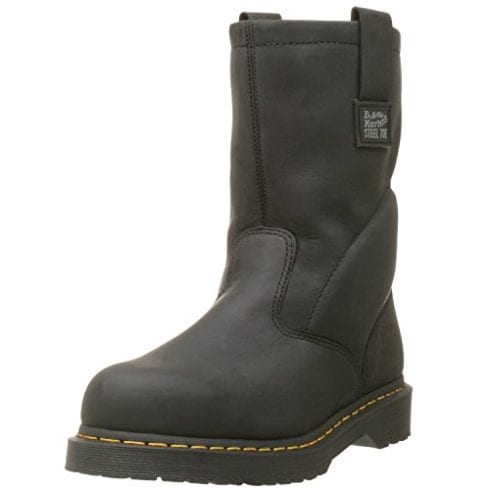 These strong-looking slip-on work boots are designed for industrial situations, providing a lot of physical protection alongside an excellent level of gripping power and slip resistance. The wide opening makes it easy to fit your feet into them while you're wearing padded socks or other protective gear, and the air-cushioned sole reduces fatigue while still allowing you to grip onto surfaces exceptionally well.
As an added extra, the antibacterial materials used on the insole deal with odors and sweat at a faster rate than usual, so you won't be in as much discomfort if you've been wearing these slip-on work boots all day. Thanks to the steel toe cap, you've also got a slightly increased level of protection from anything you might bump into or stub your toes on.
Industrial situations call for industrial-level protection, and these boots are able to keep you safe and dry while also minimizing the fatigue and discomfort you'll feel during your work hours.
Check Price on Amazon ➞
5. Caterpillar Men's Revolver Pull-On Soft Toe Boot
These simple-looking slip-on work boots excel at giving you no-frills protection, focusing on the basics rather than mixing all kinds of niche elements together. The relatively soft toe sections provide some padding against any surfaces you bump into, and the anti-slip outsole ensures that you'll be able to stay stable on wet or oily surfaces.
Thanks to their straightforward design, these boots also offer an excellent level of long-term durability and short-term strength, dealing with physical damage easily and holding together for a lot longer than many other boot designs. They're simple, versatile, and can handle a range of different situations and workplace environments without running into safety issues or problems that it can't handle.
If you're just looking for a good pair of slip-on work boots that can handle most situations flawlessly, you might find yourself using these.
Check Price on Amazon ➞
6. Justin Original Pull-On Work Boots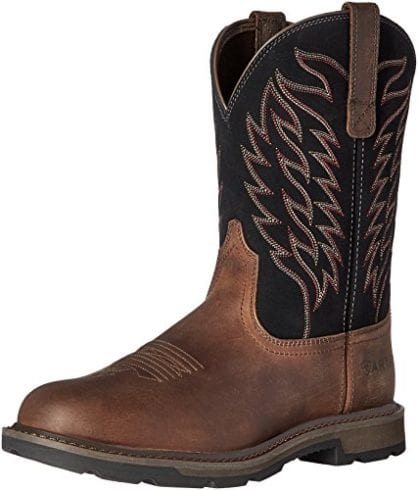 These slip-on work boots use a distressed-leather outer layer that's designed for maximum comfort and water resistance, taking inspiration from classic western boot designs that are easier to put on in a hurry. The built-in pull tabs make it extremely easy to slide these slip-on work boots on, even if you're wearing socks, and the Dri-lex lining keeps you comfortable and dry in almost any situation.
As with many work boots, the outsoles are slip-resistant and provide an exceptional level of grip strength, meaning that you'll be able to stay steady on surfaces much easier than with other footwear. If that wasn't enough, you could also use the fifteen-inch shaft to cover up an extra protective layer, or even tuck in your trousers for full coverage of your entire leg.
These boots are incredibly easy to slide on thanks to the built-in pull tabs and wide shaft. However, they're still just as durable as any other protective footwear, especially when you're dealing with slippery surfaces.
Check Price on Amazon ➞
7. Muck Chore Classic Rubber Work Boots
These rubber wellingtons might differ from standard slip-on work boots in terms of design, but they also provide excellent protection from any kind of weather, completely blocking water and other liquids while still allowing you to move around freely. On top of that, the triple-reinforced toes and quadruple-reinforced heel make the most vulnerable parts of your feet much more secure, absorbing shocks much more efficiently.
Since these boots are made almost entirely out of rubber, they're surprisingly lightweight and flexible, meaning that they can easily stretch to accommodate larger feet or extra layers that you might be wearing. Thanks to their waterproof qualities, you'll usually only have to worry about your own sweat, but the lack of heat-retaining materials makes this a moot point in all but the warmest weather conditions.
While they may not be the most convenient option if you're moving around a lot, these wellington boots are incredibly good and blocking out water and keeping your feet safe from all kinds of workplace hazards.
Check Price on Amazon ➞
8. Georgia Boot Homeland Wellington Work Shoe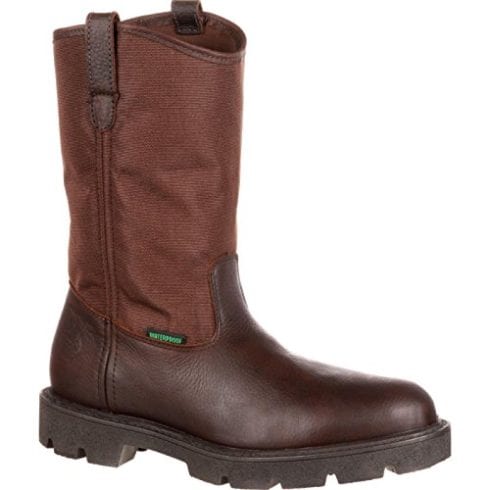 These wellington-style slip-on work boots take the large, protective design of standard wellington boots and combine it with the materials of standard work shoes, creating a waterproof and flexible set of footwear that can keep you dry and mud-free while still being cool enough to wear during the summer months.
The built-in polyurethane footbed lasts for a long time, ensuring that your feet will always have some padding, and the thick rubber outsoles make sharp objects, or slippers spills far less dangerous to deal with. The interesting grip pattern of the bottom of the sole helps you retain your balance without getting caught up on certain industrial surfaces.
These boots are an excellent mix of standard boots and wellingtons, providing excellent protection and comfort without feeling bulky or awkward to wear.
Check Price on Amazon ➞
9. Timberland PRO Powerwelt Wellington Boot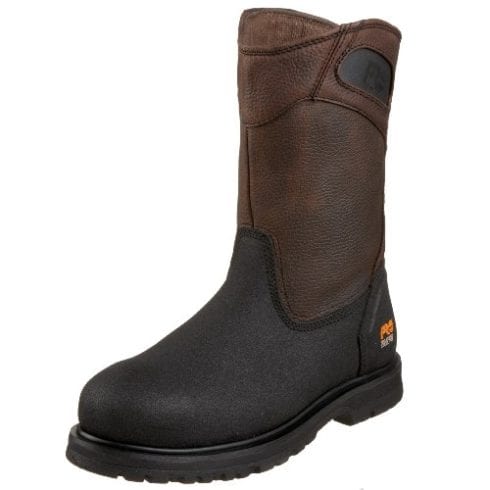 The excellent tread pattern on the outsole of these slip-on work boots makes them perfect for gripping onto slippery surfaces, but the material of their main body hides a similarly useful design: they're up to ten times more abrasion-resistant than standard leather boots, slowing down their rate of wear and tear dramatically without adding much to their overall weight.
Not only that, but they're built in a way that can automatically regulate heat, cooling down your feet on hot days and preventing a build-up of sweat under most conditions. This is bolstered by the moisture-wicking materials used in its design, as well as the well-constructed seams that hold together and prevent water from seeping into these slip-on work boots.
While they're shorter than some other wellington designs, these slip-on work boots provide plenty of protection to your feet while also being hard to wear down, meaning that they'll last for a long, long time.
Check Price on Amazon ➞
10. Carhartt Steel Toe Leather Pull-On Work Boot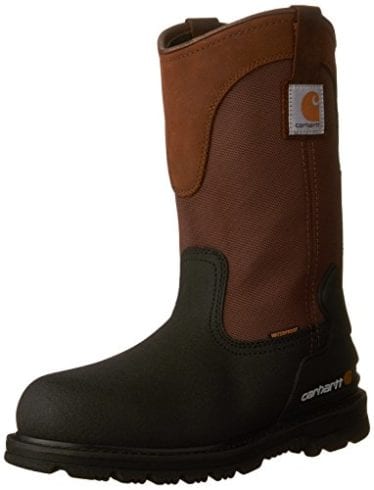 These steel-toed wellingtons are an excellent choice for anybody who needs breathability and water-resistance at the same time. Their upper section is made with a mesh that allows air to easily flow in and out, while the lower section of these slip-on work boots is dedicated entirely to keeping the wearer comfortable and stopping water from getting in.
Thanks to the LiteFire insulation used as part of its internal lining, they can also help regulate your body heat and keep the warmth trapped inside during colder weather, making them suitable for outdoor use in almost any situation.
These shoes are perfect for retaining heat and letting out sweat, as well as keeping your feet supplied with fresh air that can cool you down if you're overheating.
Check Price on Amazon ➞
Buyer's Guide
Like all footwear, choosing a pair of slip-on work boots isn't as simple as picking up the first pair you come across. You need to be sure that they're suited to your needs and that – more importantly – they're actually high-quality enough to last you for longer than a few weeks. It also depends on how and where you're going to use them, since there's no such thing as a "jack of all trades" shoe, and every boot has inherent downsides in its design or materials.
Where you'll Be
Not everybody who buys slip-on work boots will be using them in an indoor environment, and some climates will have different weather patterns to others. For example, you probably won't need water resistance if you spend most of your work hours indoors around water-free industrial equipment, but it becomes extremely important if you're outdoors in a wet climate for most of the day.
This also comes into play with durability. Things like heavy rain and snow can wear down certain materials quickly, but constant sunlight and warm weather can damage others, and sometimes this damage can result in the boots becoming uncomfortable to wear.
What you'll Be Doing
Of course, you also need to know what you'll be using them for. If you're in a situation where physical protection is a significant concern (such as construction or demolition, or operating machines that can put you in danger if used incorrectly), having shoes that can dampen or absorb shocks and impacts can make a huge difference.
This is most often seen with steel toe caps – while they can't prevent serious injuries, they'll make it easier for you to shrug off falling debris or stubbed toes and keep on working, and also make it easier to kick things out of the way if there's an emergency (such as a stack of boxes falling over or something getting jammed in a doorway).
On the other hand, if weather-related damage is more of a problem, you should try to focus on water resistance and insulation if possible. If your feet overheat or start getting too damp, you can easily end up with serious pains that can cause long-lasting damage to your skin, and might even result in you needing to visit a doctor to get them treated. The more protection you can get, the more likely you are never to encounter these problems.
Related: Waterproof Work Boots.
How Well They Fit
While it sounds obvious, slip-on work boots are actually affected by sizes more than you might expect. Since they don't usually have any straps or ways to adjust them, you'll have to rely on their natural flexibility if a certain part of your foot is too large or wide. However, the less space you have between your feet and the walls of the shoe, the more it can rub against your skin, causing blisters and short-term pain that's incredibly difficult to avoid.
Certain wellington-style boots are also designed with the intention of letting you wear thicker work socks underneath or even tucking your trousers into them for added protection. If they're too thin, you might not be able to do this properly, which can lead to even more blisters as well as damaged or worn-out socks.
How Tight Should My Boots Feel?
Ideally, you'll want shoes that are relatively easy to slip on, but still, take a little bit of force. A boot that's too loose can slip off at almost any moment, especially if it gets stuck in mud or a spilled industrial adhesive. This can also cause more rubbing and skin blisters since the boot will be moving around your foot a lot rather than staying in relatively the same position – in some cases, this might even cause it to wear out faster since the inside layers are being bashed around and rubbing against your socks or under-layers.
However, they should also be loose enough not to feel restrictive. If a boot is too tight, it might start cutting off a proper airflow and trapping in sweat or heat and might even lead to temporary skin damage in areas where it's particularly close to your skin.
Most people have one foot that's half a size bigger than the other, so try to judge the size based on your larger foot – it's better for them to be slightly too large than slightly too small, especially since you can use thick work socks to make up the difference.
Should I add my own Insoles?
While some people prefer to use their own insoles, especially if they're for a medical reason, it really depends on the boot you're using. A large insole can add a decent amount of height to your foot, which might not be ideal for boots with a low top – however if you've got room to use them, it's definitely worth trying. This can help add extra padding to footwear that doesn't seem to have enough, which might make them far more comfortable in the long run.
Keep in mind that these slip-on work boots are likely going to be used for work purposes, though. If you're using a sole that you really don't want to get damaged or wet, it might be best to leave it out if possible, especially if you're working in a situation where water damage and physical impacts are quite common footwear hazards.
Should my outsoles be Thick?
A thick outsole can protect your feet really well, even if it doesn't have much actual padding. They help stop sharp objects from sticking into the bottom of your feet and can easily raise you above small puddles of water, oil or other liquids, preventing it from affecting the main parts of your shoe.
However, this isn't as important as many other parts of the design. Don't reject a boot just because of its sole size, especially if it makes up for it with the other parts of its body or internal layers.
Expert Tip
If you're trying to judge the size of a boot, make sure you try it on – if it doesn't take any force to slide on, it's usually too large.
Did you know?
Not all slip-on work boots lack laces – however, they're not as important as they are with standard boots, and they're often mostly for aesthetic purposes.