10 Best Work Boots for Women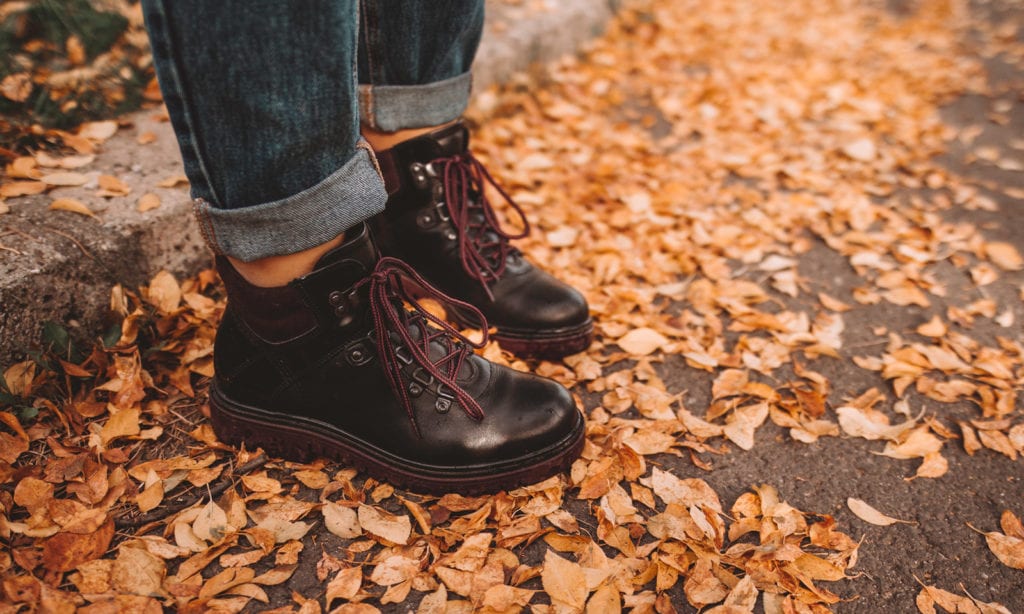 Work boots are often your first and last line of defense against any floor-based hazards in the workplace, whether it is ice from cold weather or corrosive materials that might have spilled on the floor. However, since most work boots are marketed towards men, it can be challenging to track down comfortable working boots for women that still hit high levels of quality and durability.
The last thing you want is for your shoes to fall apart in the workplace, but it could take a while to find boots that live up to your needs. Here are ten of the best work boots for women, as well as some advice on how to choose your own and what features to look for during your searches.
View the Best Work Boots for Women, Below.
1. Timberland Women's White Ledge Mid Ankle Boot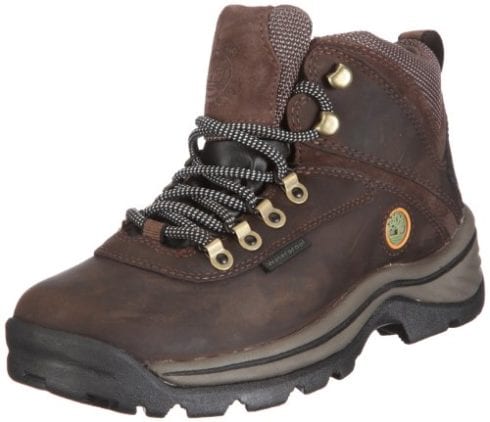 These simple mid-ankle boots are made with tough leather for a high level of water resistance, dealing with spills and wet weather effectively to keep your feet warm and dry. The shock-absorbing cushioning and EVA layers used inside each boot provides better physical protection, working alongside a set of rubber lug soles for greater traction and steadier grip on all surfaces.
Thanks to the trail-ready design of the boots, they are perfect for jobs that require a lot of outdoor work and can easily fit with any other outdoor gear you might already own. Once they are on your feet, padded collar and gusseted tongue prevent debris from getting side, ensuring that you will be able to focus on the task at hand without interruptions.
These women's work boots are simple but extremely versatile, making use of a simple design that is perfect for handling a range of weather conditions and workplace hazards.
Check Price on Amazon ➞
2. Caterpillar JACE ST Industrial Boot
These industrial women's work boots are capable of protecting against electrical hazards, making use of rugged but reliable materials that can handle up to 600 volts in dry conditions. In terms of physical protection, the design also uses a steel toe cap that can keep the front of your feet safe from sudden impacts or dropped objects, as well as a PU footbed and PVC midsole that both increase shock absolution and foot support in every situation.
These are backed up with a steel shank that can offer even better support and stability, as well as a sole design that prevents slips. To increase comfort, the upper section uses a combination of suede and wool that can offer increased comfort and protection in most situations.
These steel toe work boot pair provides excellent durability and excellent safety features, making it one of the best work boot options for dangerous workplaces with a lot of electrical equipment.
Check Price on Amazon ➞
3. Skechers for Work Workshire Peril Steel Toe Boot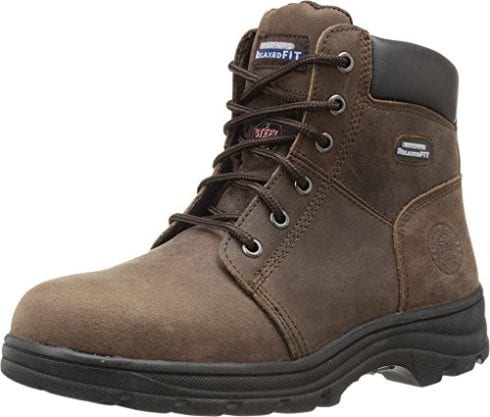 These simple work boots have a standard lace-up design that is easy to adjust depending on the situation, working alongside a very cushioned interior to give you maximum comfort while you work. The leather exterior is resistant to most types of wear and tear from bad weather, and the front section of each boot uses a steel toe cap that can prevent toe injuries or other pains when working around a lot of heavy objects.
Stitching accents and reinforced seams along the upper improve durability without adding weight, and a padded tongue and collar combination stops debris from slipping inside to ruin the comfort the boots provide. Not only that, but an oil-resistant outsole allows for great traction on almost any surface, indoors or outdoors.
These simple steel toe work boot pair provides excellent safety features and great durability, making it one of the best work boot options for preventing workplace injuries.
Check Price on Amazon ➞
4. KEEN Women's Targhee 3 Mid Waterproof Boot
These hiking boots double as great work boots for outdoor areas, offering improved protection from a range of hazards through protective yet lightweight materials. The mesh upper grants more breathability without sacrificing support, and the combination of leathers and textiles used for the outer layers means that you get a mixture of strength and comfort that other boots can't give you.
As a standard lace-up boot, adjustment is easy, and the built-in leather mud shield system stops mud from getting into areas where it can seep into the shoes themselves. On top of that, a TPU heel capture means that the heel is much more stable, improving grip and safety on all surfaces or terrain types.
This is an excellent pair of work boots for people who want excellent weather protection, using a mesh and leather upper to provide relief in a range of different weather conditions and outdoor spaces.
Check Price on Amazon ➞
5. Caterpillar Women's Echo Work Boot
These steel-toe work boots are designed to be as protective and stable as possible, using a slip-resistant block-heel sole to offer extra comfort and grip on a variety of surfaces. Nubuck leather adds natural waterproofing to the boots and keeps weight down, helping you move through rain or wet areas.
The design also offers a good amount of electrical hazard protection for dealing with sudden shocks, mainly through the strong rubber sole that can ground the wearer regardless of where they are standing. Each of the SRX outsoles is meant to be as comfortable and reliable as possible, staying durable while also helping you maintain your footing on awkward slopes or wet ground.
These women's work boots are straightforward and very protective, keeping you away from water, electrical hazards, and even slips that other boots can't handle.
Check Price on Amazon ➞
6. Timberland PRO Direct Attach 6″ Steel-Toe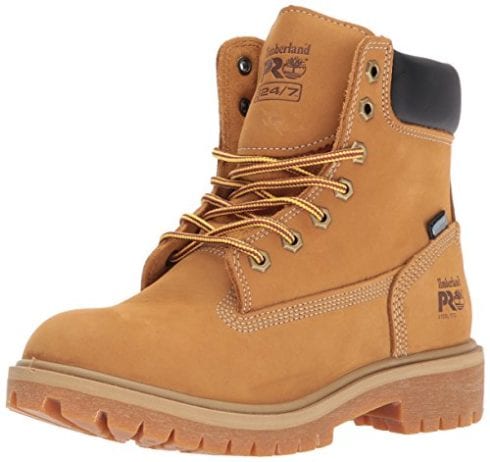 The added insulation in these steel toe work boots means that they can manage your foot temperature extremely well, making sure that you stay warm and comfortable in even the coldest environments. 200 grams of insulation, as well as oil-resistant rubber outsole lugs and a durable exterior, mean that these boots are capable of keeping you properly protected for long periods of time across a wide variety of situations and locations.
In terms of internal cushioning, Timberlands' 24/7 comfort system offers better arch support and works to reduce foot fatigue, making each step softer and preventing a slow build-up of foot pain during long working hours. Thanks to the great block heel design, you can also stay stable on wet and slippery surfaces for far longer.
If comfort and safety are equally important to you, these work boots are an ideal choice, providing a good balance of both to make difficult tasks and awkward ground a lot easier to deal with.
Check Price on Amazon ➞
7. Caterpillar Waterproof Construction Boot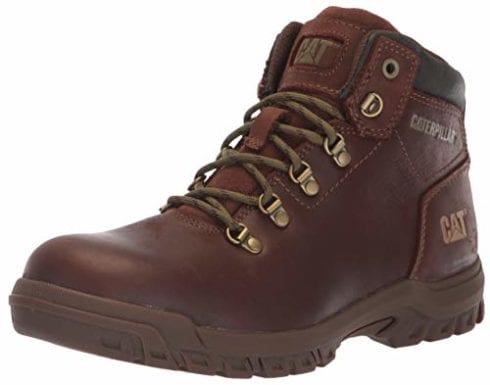 The steel toes used in these work boots keep the front of your feet safe from harm, covering the toe area in extra metal that can withstand most minor bumps and bashes. The excellent slip-resistant rubber used in the base of each boot gives you far greater stability when walking on slopes or wet ground, and the design is also capable of dealing with electrical hazards up to 600 volts in strength (in dry conditions).
This outsole is also resistant to abrasion and can tackle water or oil perfectly, making it much easier to stay comfortable and dry either indoors or outdoors. For comfort, the nylon mesh lining improves breathability and adds a softer layer to the inside of each boot, along with a removable footbed for improved shock absorption.
These are good all-round work boots for tackling areas or jobs where safety comes first, giving you better toe protection and resistance to most common threats that you might face while working.
Check Price on Amazon ➞
8. WOLVERINE Women's Floorhand Wp Work Boot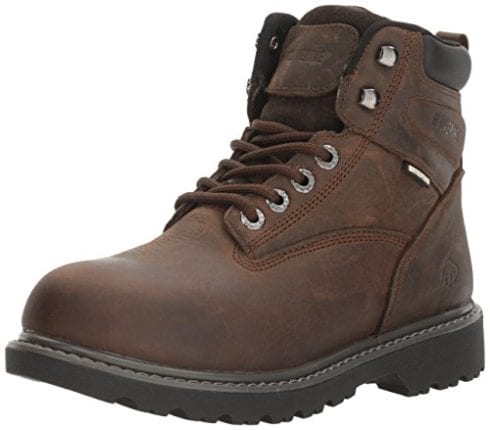 The full-grain leather used in the construction of these work boots can keep your feet safe and secure for far longer, resisting oil, water, and general abrasion extremely well without weighing you down too much. The rubber block heel sole and carefully designed lugs give you a better footing on slippery surfaces while the comfortable tongue section stops rainwater from getting in while you are busy working.
A lightweight cement construction means that you can deal with fatigue much more effectively, especially during long days, where it can build up faster. If that wasn't enough, a simple lace-up closure with metal eyeholes allows for quick adjustments to the fit of the boots, giving you a secure and tight fit with only minimal fiddling required.
These are some very protective work boots that can offer plenty of safety features all at once, making them a top choice for staying safe and comfortable in the long-term.
Check Price on Amazon ➞
9. Timberland PRO Women's Titan
These tough work boots use lightweight and durable protection to offer higher levels of safety in the workplace, as well as a dedicated TiTAN safety toe that can endure a range of different hazards with ease. Antimicrobial linings and breathable upper materials grant you better heat management and hygiene during long working hours, while the Powerfit comfort system adds extra ergonomic elements to boost support further than normal.
The inclusion of a tough rubber sole and extra soft-toe padding provides all of the comfort you might need without making foot fatigue any more common, especially considering the large block heel that is perfect for taking on tough or slippery surfaces with limited ways to support yourself.
This is another set of safety toe boots that are perfect for dangerous or hard-to-cross natural ground, but they can also offer excellent protection while working indoors too.
Check Price on Amazon ➞
10. Adtec Women's Work Boots 9″ Steel Toe Logger
These tall women's work boots are built with high-quality 'crazy horse' leather that has been specially treated with wax, giving it extra water resistance and making it harder for oil to seep into the material. The rubber outsole is also oil-resistant and makes use of strong, defined lugs that can help you climb natural terrain or grip onto wet surfaces with far less chance of falling.
A tough steel toe, concealed underneath the leather, gives extra protection to the front of your feet while adding minimal weight, and the tall shaft is padded for greater comfort in wet or cold weather. As a tall boot, the lace-up closure can easily be adjusted at any time, and each eyelet is made of tough metal that won't break apart easily.
If you need larger boots for increased protection, this pair is perfect for keeping you safe from falling objects, wet weather, and even slippery slopes.
Check Price on Amazon ➞
Work Boots for Women Buyer's Guide
Choosing heavy-duty work shoes isn't easy, and getting secure, comfortable work boots can be even harder. When you are specifically trying to find boots for women, the market can become even smaller, so it isn't always that simple to find the best womens' work boot options compared to looking for men's choices.
There are some ways to narrow your search for working boots (womens', men's, or unisex) if you know where to start looking. Here are some ideas for features that you should look into when you are buying work boots, womens', or otherwise.
Steel Toe
A steel toe work boot uses one of the most basic safety features available: an alloy toe. The alloy toe of a steel toe work boot adds increased protection to the front of your boots without bulking it up at all, and the extra weight of the steel is often minor at best. This might not sound that useful at first, but a good steel toe work boot can use this safety toe to block objects that might fall on your toe area, which can be one of the top causes of workplace injury. Even outside of work, items can fall into your toe area completely by accident, and a steel safety toe makes sure that it won't cause injury.
While a steel toe work boot is often the standard option for many companies, you should still make sure that you are actually getting a safety toe work boot if you want one. Not all companies will include a steel toe, so assuming that a pair of boots will have a steel toe can leave you disappointed.
Environment
If you want to keep your feet comfortable, you need to keep your feet dry and at an average temperature. For most women, work boots with moisture-wicking materials and extra insulation can be a huge benefit – no women like to be cold during challenging tasks, and the best boots rectify that before it even happens. You might notice that many work boots for women are even designed with comfortable interior padding, but some work boots for women even use the padding as a form of heat insulation.
Remember that moisture-wicking and insulation only matter in the right environments. The best work boots for women working in cold rain are ones that can block the water, but the best work boots for women that work in hot and dry areas are going to be completely different. Match your boots to your surroundings. Remember that non-marking work boot soles can be useful indoors, too.
Foot Fatigue
Both men and women have issues with foot fatigue. Even some of the most popular work boots for women can cause foot fatigue if you work long hours or walk around a lot. Features like memory foam or dual-density soles can prevent this from becoming as much of a problem: memory foam adjusts to your foot shape, while dual-density soles absorb impacts better. Walking out in heavy work boots for women with a heavy steel toe can hurt the soles of your feet, but memory foam comfort and improved shock absorption will help a lot.
Protection
Of course, the ideal work boots for women are the ones that offer the best protection. Comfort matters a lot, but safety is still a top priority. Good hazard protection (especially against water, oil, and electrical shocks) is important in many workplaces, but not all of them. If you are trying to find the best and safest work boots for women, consider the hazards you are likely to face while wearing them at work. One Timberland Pro women's work boot might have better shock absorption than another Timberland Pro boot, even if they seem similar at first.
Slip-resistant work boots for women are usually the best choice overall, though. A slip-resistant set of work boots can stop women from slipping in dangerous areas, both indoors and outdoors. In some cases, slip-resistant work boots might even offer more comfort while walking around since the slip-resistant base prevents stumbles and makes it much easier to cross slippery ground or surfaces.
Conclusion
If you are still on the hunt for the best work boots for women, don't be afraid to keep searching for specific terms. 'Steel toe boots for women' or 'comfortable work boots for women' aren't bad search terms at all, and the work boots above might give you an idea of which boots many women end up buying. At the end of the day, women work just as hard as men, so having the same level of foot protection during your work is important. Companies understand this, and the amount of work boots specifically made for women has skyrocketed in recent years.
It shouldn't take you long to find a good pair of boots for women that would perfectly fit with your work conditions or environment, especially if you can narrow your scope to pick out something much more specific. Whatever you choose, make sure that it is perfect for you and that it will keep you safe in the long-term.
Expert Tip by Alexis DeSalva Kahler
The more specific the search, the more relevant the results. Consider adding keywords, such as "steel toe boots" to your online searches.
Did You Know?
Originally, women's work boots were just men's boots in a smaller size. This has changed over the years, and the designs are now usually distinct to work with different foot shapes.