7 Best Diabetic Slippers For Swollen Feet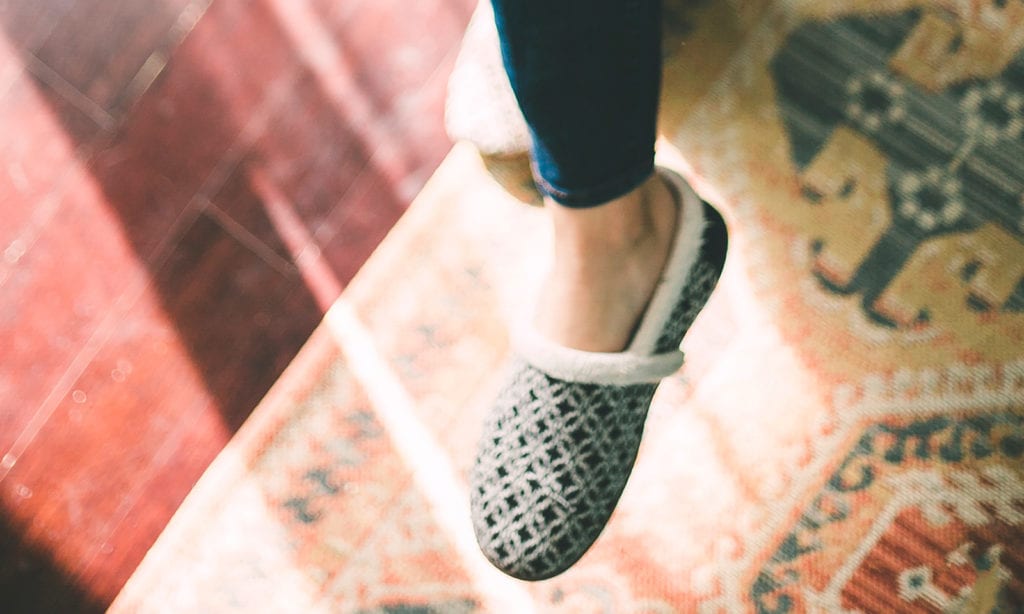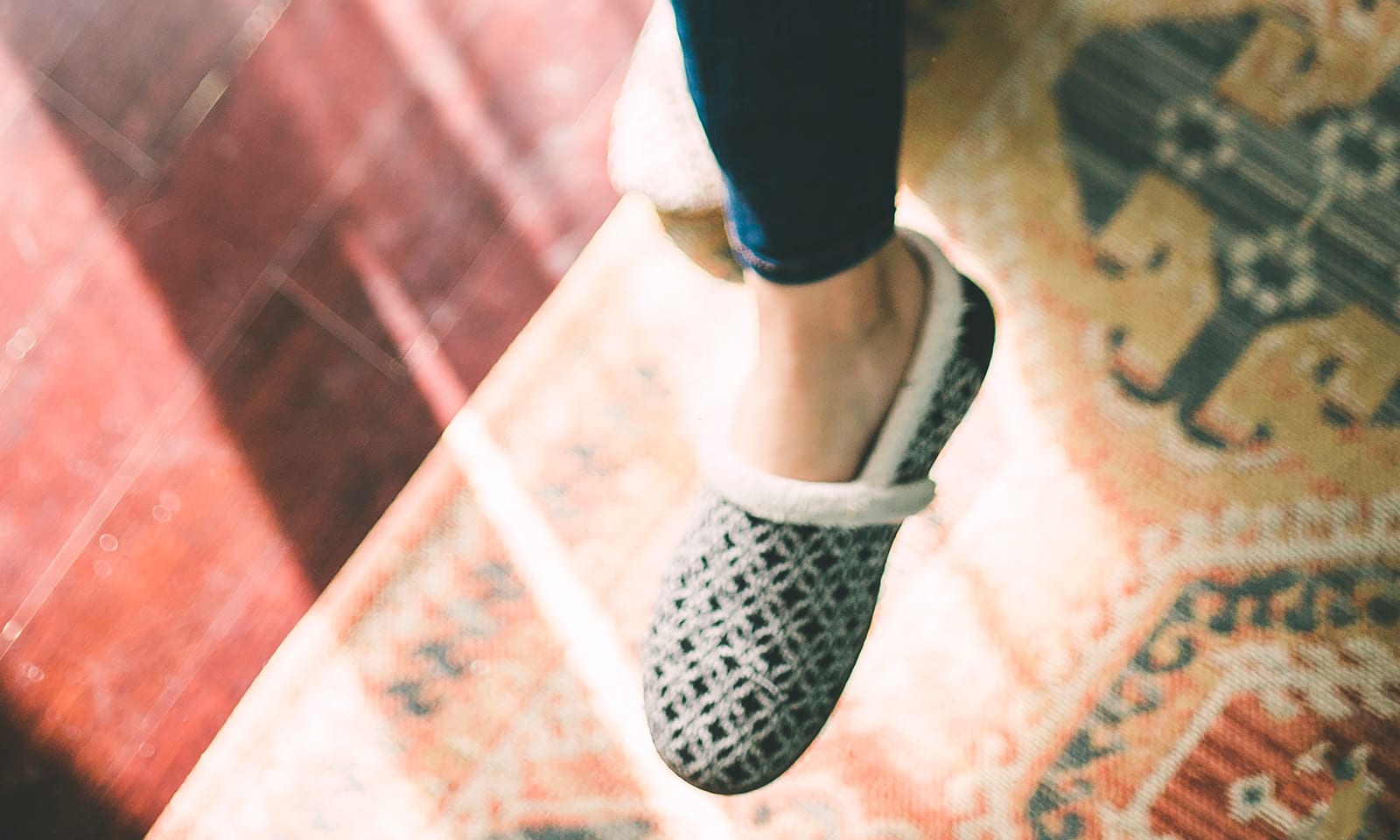 At the end of a long day, there is nothing people like better than coming home to slippers, and when you have diabetes, your feet suffer so much from pain.
That is why we have written this review with the best diabetic slippers that will soothe swollen feet.
View the Best, Below.
1. Git-up Women Soft Wide Slippers
These women diabetic slippers have a wide fit, and the hook and loop closure makes the fit adjustable. These slipper shoes have a black or blue knitted upper that will help the feet breathe. These slippers would be suitable for men and women due to the adjustable size and black shade.
The thick insole is one of the best features, according to reviews. Another great feature of these slippers, from the reviews, is the durable slip-resistant rubber sole.
These diabetic slippers are comfortable due to the cushioned insole and the knitted upper that is breathable to prevent sweating.
Check Price on Amazon ➞
2. LongBay Women's Furry Memory Foam Diabetic Slippers
These are some of the best slipper shoes to help women with diabetes and swollen feet. They are lined with a woolen material. The best feature of this footwear, according to reviews, is the cushioned footbed. The reviews say the cushioning is high-quality.
These slipper shoes feature a non-slip sole. There are three colors for this footwear, including the classic black. They are affordable with free shipping from the online shop. You can shop for these online easily.
According to reviews, these are some of the most supportive slipper shoes as the footbed is high-density and responsive.
Check Price on Amazon ➞
3. LongBay Men's Memory Foam Diabetic Slippers Comfy Warm Plush Fleece
These diabetic shoes for men offer extra support to pressure points of the foot. The black fleece lining is warm and offers a lot of comfort.
Many reviews from an online shop claimed that the high-density cushioning offered a lot of support to swollen feet and is an effective pain treatment. The cushioned insole is designed to relax the arch of the foot and alleviate pressure. These house shoes for men also feature a non-slip sole.
These diabetic slipper shoes for men are comfortable with a high-density footbed that supports pressure points of the feet.
Check Price on Amazon ➞
4. Git-up Diabetic Slippers Shoes for Men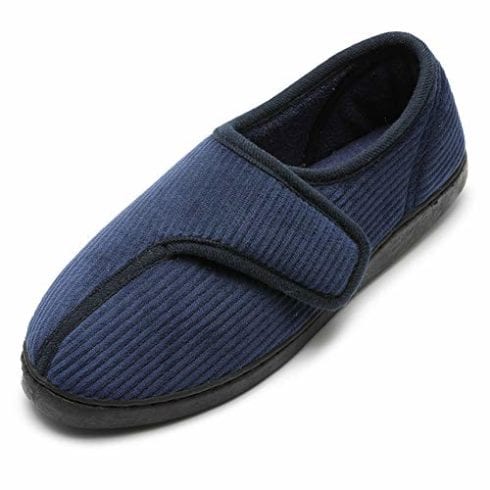 These diabetic slippers for men are designed with a knitted material that is breathable to prevent sweating and keep the shoes in good quality condition. They can be adjusted to accommodate your desired fit, are easy to wear, and have an anti-slip outsole that is black.
These are attractive slippers that come in classic shades like blue and black. The cushioned insole can increase blood flow in the feet by allowing the toes to spread. You can shop easily for these shoes online.
These are comfortable, stylish slippers that provide a breathable upper and an extra-wide toe box to allow for natural movement of the feet.
Check Price on Amazon ➞
5. Men's 80-D Memory Foam Diabetic Slipper with Adjustable Closures
These are versatile diabetic slippers as they have an extra-wide toe box and an adjustable strap. This means they can be used to accommodate a range of foot sizes and give extra room when your feet are swollen. They feature a white Sherpa lining. This white Sherpa lining is breathable, which keeps the shoe in good condition for longer.
These extra wide diabetic slippers are suitable for indoor and outdoor use due to the non-slip outsole. They come in various colors at the online shop, including black and blue. They are machine washable, so you don't have to worry about getting your new slippers dirty once you have brought them home from the shop.
These diabetic shoes offer a lot of support through the wide toe box and breathable White Sherpa lining that allows the feet to remain cool.
Check Price on Amazon ➞
6. GaraTia Women's Memory Foam Diabetic Slippers
These slippers for women have a lot of good customer reviews, with some of the reviews claiming these to be the 'perfect' shoe for those who suffer from pain. They are well-made shoes for women that come in bright colors. This means, instead of having yet another pair of black shoes or dark blue slippers, you can choose bright, feminine shades at the shop.
The top of these slippers is wool-lined, which makes them warm and cozy. The knitted top is flexible, which is one of the best features. Being able to stretch the feet will improve blood circulation and reduce swelling. You can shop easily online for these slippers.
These slippers are comfortable with a fleece-lining and offer arch support through the memory foam insole.
Check Price on Amazon ➞
7. DENACARE Men's Diabetic Slipper with Wide Width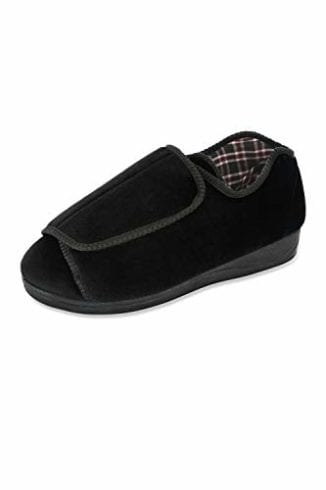 These slippers are easy to wear and can accommodate any shaped foot as they are extra wide with stretchy materials. The strap can also be adjusted to accommodate any foot swelling. Wearing these slippers can help reduce pain in your feet as the cushioned insole cradles pressure points. It offers arch support and allows the foot to stretch naturally, bringing back blood circulation.
The top of these slippers is made from a soft, knitted fabric that is flexible. The slippers are available in the various color of the material, including the classic black and blue. As they are available in black and blue shades, these slippers can be worn by both men and women so you can shop for anyone.
These black and blue diabetic shoes are lightweight, supportive, and made from flexible materials to fit any foot.
Check Price on Amazon ➞
Buyer's Guide
Why Does Diabetes Cause Swollen Feet?
Diabetics are likely to suffer from pain and swelling in their feet due to poor blood sugar control with leads to nerve and circulation problems.
This is why wearing diabetic shoes is an important thing to do and recommended. As you can see from this review, many slippers available provide different forms of support for your condition.
Diabetic slippers can reduce pain by cushioning and supportive the feet. This is not only useful when walking, but can also aid your health when you have stopped walking too. Diabetic footwear is designed to cradle pressure points of the feet, alleviating stress and improving blood flow to reduce swelling also providing needed protection.
Many people with diabetes suffer from issues in their feet such as neuropathy and edema and you will find that there are many home remedies out there that may soothe these condition however the first thing we'd urge you to please try is wearing supportive footwear such as these diabetic slippers which you can buy at a physical shop or an online shop.
What Are The Best Diabetic Slippers?
From our reviews, you can see there are many good products out there to reduce foot pain that you can shop for. However, if you do not have time to read all reviews and instead want to find the best products to shop for instantly, we are going to recommend some brands here.
As well as the products in this review, footwear by Git-up and Long Bay are great for diabetics. These companies has a good range of slippers that can provide the support diabetics need.
Likewise, considering any durable slippers is a good option. Slippers should be made from soft and flexible materials, which you can see many listed in our reviews.
There are different options to shop for out there for people with a foot condition or diabetes.  Any shoe that fits correctly with length and width having supportive cushioning is a good product is a good option.
Conclusion
Painful foot conditions are a common side effect of diabetes. Treat yourself to a new pair of slippers you like from a shop to help with your feet and overall health as finding the right shoes that fit well and are supportive can reduce swollen feet.
If you need help finding one pair of slippers that have features for comfort and support, please consult this review page.
Wearing supportive, cushioned footwear will reduce pressure in your feet to prevent pain.
Did You Know?
Diabetic neuropathy is a type of nerve damage that usually results in swollen feet.
Disclaimer
The content is not intended to be a substitute for professional medical advice, diagnosis, or treatment. Always seek the advice of your physician or other qualified health provider with any questions you may have regarding a medical condition.
Sources: https://www.healthline.com/health/plantar-fasciitis , https://www.nhs.uk/conditions/plantar-fasciitis/