12 Best Chef Shoes in 2021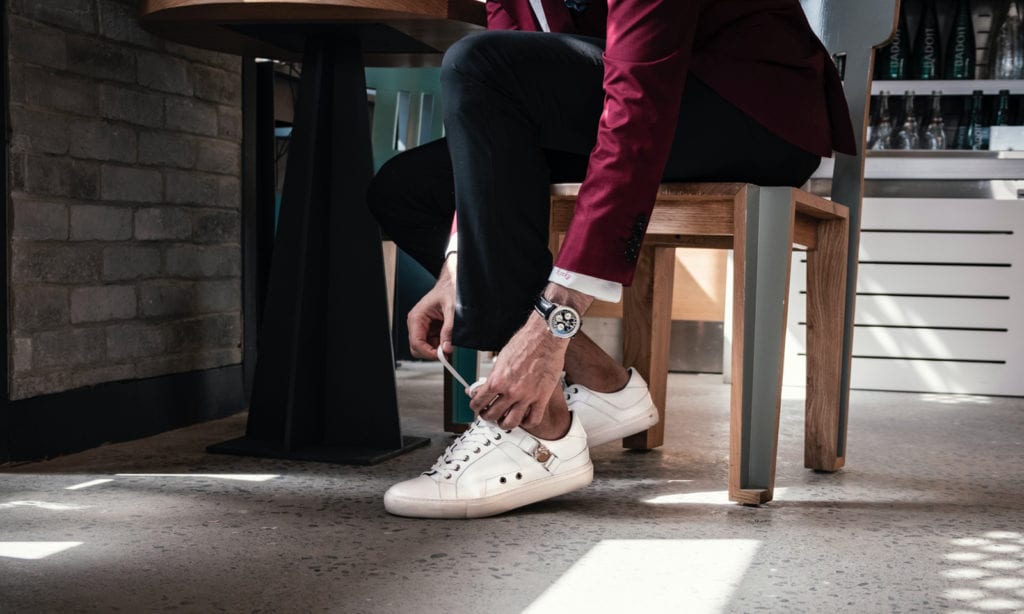 Today, we're looking at chef shoes. Of course, life would be easy if you could just go into a shoe shop and grab the nearest pair you like the look of, but so much more thought needs to go into your decision. After all, your working conditions may differ, and you're exposed to dangers like sharp knives and hot pots and pans. You also need extra grip to protect against slips and spills. You need to be able to stand comfortably while lifting heavy things, like sacks of flour and trays of ingredients.
There is a lot to think about. While there's a lot of choices out there, and lots to think about, we're here to make your life easier. With this in mind, today we're going to share our complete guide and reviews to the best chef shoes around. We'll detail everything you need to know about the top 12 products, exploring what materials they are, examining customer ratings, and giving you everything you need to decide which shoes are right for you.
Plus, we'll even explain our definitive buying guide, so you know exactly what you're looking out for while shopping. We'll cover all buying points to keep you up to date the latest information on how to find the best chef shoes not only on the market but specifically for you. Okay, formalities out of the way, are you ready? Let's get into it.
View the Best Chef Shoes, Below.
1. Skechers Mcallen Flex Advantage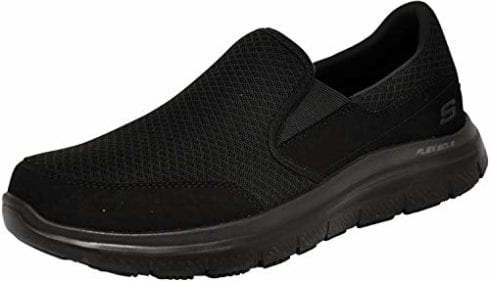 Unless you've been living under a rock the last few years, you'll have heard of the dominating trainer and shoe brand known as Skechers. Founded back in 1992, there's no denying Skechers has created a lasting legacy, and for many good reasons, it makes them an ideal choice for chef shoes.
These are slip-on shoes, so getting them on and off is no hassle at all, only made easier by the elastic sides. You won't even have to worry about any laces coming undone and accidentally to cause another slip potential slip hazard. You'll definitely relish the open interior, though, which provides a loose fit around your foot. This means no smelly or sweaty feet, which would typically leave you uncomfortable after multiple hours on your shift.
The final key feature you've just got to pay close attention to here is the memory insole made of foam. This is such an attractive feature because it means the sole can actively mold to fit your foot's shape naturally, without having to worry about being too solid.
This ultimately provides your feet with bespoke support, unlike what any other sole can provide. It will actively reduce the chances of you falling prey to the health, physical, and posture risks commonly associated with being a chef.
Extremely comfortable and no hassle, it's no wonder Skechers is known for producing some of the best shoes. With these shoes, Sketchers should be proud of their thousands of five-star reviews. You can't go wrong.
Check Price on Amazon ➞
CHECK PRICE ON ZAPPOS ➞
2. Dansko Women's Professional Clog
If you're on the hunt for a professional shoe that's durable enough to withstand every shift's stresses, no matter what situations you find yourself in, these Dansko shoes are well worth your attention. Designed for women, these are available in both leather upper and fabric versions, and the slip-on design means you never have to worry about the hassles of laces or Velcro straps.
These shoes for chefs are a little more expensive than some of the other shoes on our list and take a little while to break in, but they're really worth every cent when it comes to quality. The padded collar for comfortable walking is also a nice touch.
These leather clogs are great. They fit comfortably, thanks to their larger size, the combination of leather and humanmade synthetic materials make them super-durable. As a chef, these work shoes are sure to give you everything you need. A true quality experience.
Check Price on Amazon ➞
CHECK PRICE ON ZAPPOS ➞
3. Crocs Bistro Graphic Clog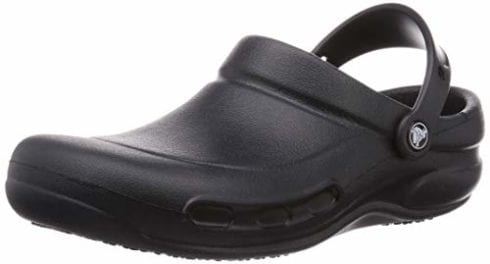 The chances are you've heard of Crocs, and there's a reason this shoe brand is such a world-renowned household name. No, that's not because people hide them away in their houses as their guilty pleasure shoes; it's because they're simply so comfortable.
Spending hours on your feet in the kitchen can be stressful for your feet, but with these Crocs hugging you, you'll never have to worry about feeling foot pain again. Light and incredibly supportive by design, the low 1cm heel means you'll be level at all times, and the slip-on design makes it easy for you to kick them off after a long day.
Available in seven stylish colors to suit what you're looking for, including black, if you need to stay professional, and the easy-clean design ensures they're always up to scratch with your kitchen's hygiene policies. All in all, these are great chef shoes, no matter what angle you're looking at them.
Crocs are renowned for a reason, and this chef shoe is no exception to the rule. Designed to be worn in professional kitchen environments, you just can't go wrong. You may need to look past the looks if they are not your thing, of course. However, once you put these on, you'll wonder what you've been missing all this time!
Check Price on Amazon ➞
CHECK PRICE ON ZAPPOS ➞
4. Skechers Felton Slip Resistant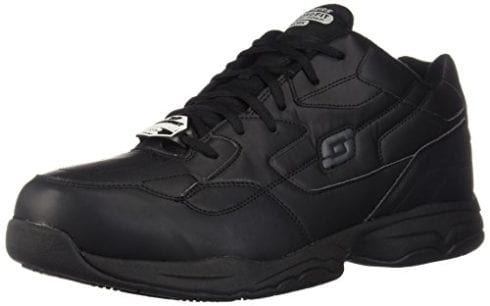 I told you we'd be mentioning Skechers more than once, and that's quite rightly because the trainer and shoe brand are just so good at what they do. Also known as 'Skechers for Work', this is a very supportive shoe that's a great choice if you've had trouble staying comfortable with other brands.
In our guide, these are the first lace-up trainers, and you'll find plenty of attractive features, such as the padded tongue and collar that adds a bit of extra cushioning to your feet and a slightly bouncy rubber sole that ensures you'll always have a spring in your step.
In need of a relaxing fit? These Skechers chef shoes will provide for you every single time. All the features of these shoes, from the non-slip sole to cushiony insides, gone are the days of feeling stressed out at work because your feet hurt. We've never heard of a shoe being described as 'empowering', but this is as close as it may get.
Check Price on Amazon ➞
CHECK PRICE ON ZAPPOS ➞
5. Birkenstock Professional Unisex Profi Birki
If you find yourself slipping over at work or nearly slipping over, it's about time to invest in some proper shoes that support you and help you stay on your feet in the best way possible. Birkenstock may not be the most well-known brand globally, but with thousands of positive reviews and an affordable price tag, there's no doubt they'll deliver the experience you're looking for.
We won't bombard you with facts about these shoes since all you need to know is that they're multi-gendered, one-size-fits-all, made from very long-lasting synthetic materials, and you can even keep them clean in the dishwasher - perfect for chefs.
A lot of work has gone into making these shoes as effective as they are, and this is easily reflected in public opinion. Everything, from the arch support to the slip-resistant nature of these shoes, aims to help you have complete freedom while at work.
Check Price on Amazon ➞
CHECK PRICE ON ZAPPOS ➞
6. Skechers Squad SR Food Service Shoe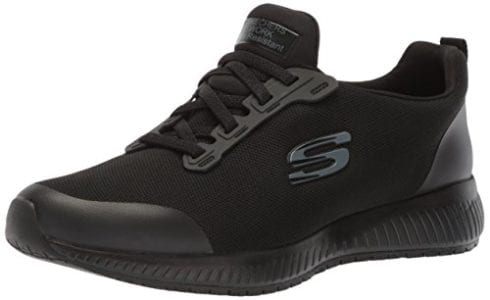 When it comes to chef shoes, Skechers is in no way short of options for you to try. As the name of these shoes suggests, these are shoes designed to excel in a working environment. The 100% synthetic build makes this one of the most durable chef shoes on our list, and can even protect you against slips and electrical hazards.
However, these shoes really stand out with their flexibility. You can pretty much bend these shoes whichever which way you want without them breaking, which is perfect for the more nimble-footed chef and those who just want to chuck them off at the end of the day.
There's a reason these shoes top the best-selling lists on Amazon in both Healthcare and Food Service shoes. As for shoes that can't break and help protect your feet, there's never been a better time to try them out for yourself.
Check Price on Amazon ➞
CHECK PRICE ON ZAPPOS ➞
7. Merrell Men's Encore Gust Slip-On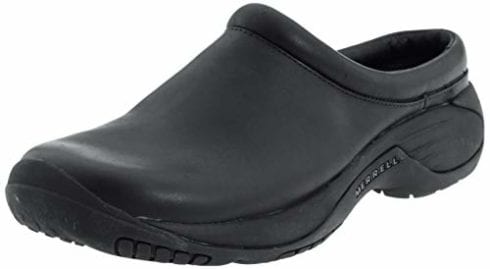 While synthetic shoes are comfortable, few are more comfortable than leather shoes, nor do they protect your feet from sweat and moisture as well. Affordable and lightweight, these Encore Gust shoes are a great example of how beneficial leather shoes for chef workers can be.
While designed to be slip-on, that's the only kind of slipping that's going to take place. The M-Select GRIP sole means you'll remain stable, even if the floor is covered in spillages or leaks.
There's also unique Merrell features here, including an air cushion in the heel that absorbs shock. The bonus EVA compression molded framework in the heel to help you remain balanced and comfortable, which is ideal if you spent many hours on your feet.
Merrell has really pushed the boat out with these slip-on chefs shoes, and in many applications and workplaces, you really can't go wrong with these shoes. Comfortable. Affordable. Lightweight. Everything you could want your best chef shoes to be.
Check Price on Amazon ➞
CHECK PRICE ON ZAPPOS ➞
8. MOZO Grind Slip Resistant Canvas Sneaker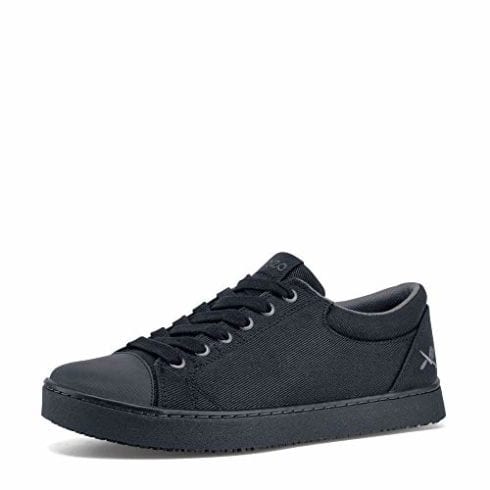 Mozo is one of the most reputable shoe brands in the world, and a wonderful example of what they can achieve and the experience they provide comes in the form of the Grind Slip Canvas sneakers. We love these sneakers because although they're designed to be a viable chef shoe, they're still good looking and attractive enough to be worn anywhere, in any situation. They're smart, sophisticated, and look great.
There's also plenty of features here that secure these shoes on our best chef shoes list, such as waterproof yet breathable enough to prevent smelly feet after long hours at work. Plus, these shoes are slip-resistant, easy to clean, and even 100% vegan. It's a win all round, no matter which way you look at these shoes.
Some of the best of the best; that can't be denied. This chef footwear line goes really easy going on your feet and isn't going to create any unnecessary stress that could cause long term damage. They will easily be the go-to options for many chefs around the world.
Check Price on Amazon ➞
CHECK PRICE ON ZAPPOS ➞
9. VANGELO Professional Clog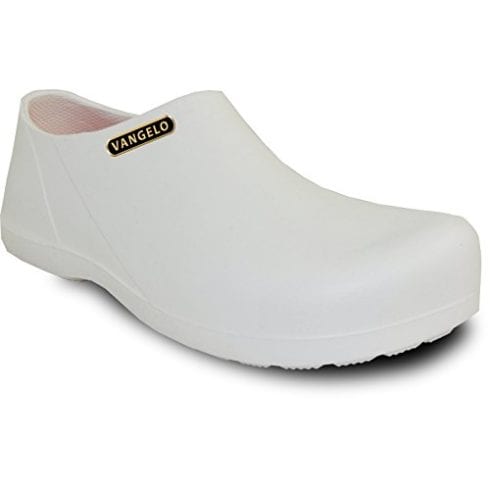 Designed for all kinds of workplaces, the VANGELO anti-slip shoes are the chef shoes to go for if you're looking for a great, all-rounded pair of shoes that excel in all uses you could possibly want them for.
This means you can use these shoes for gardening, nursing, and the kitchen; the durability is tough. What's more, these shoes have an incredible slip resistance and water resistance level that keeps your feet dry and can even protect you against hot liquids.
Available in three colors and styles and a plethora of sizes, as well as being easily washable, it's easy to see that these clog kitchen shoes will tick all the boxes for pretty much everything a chef will be looking for in a pair of chef shoes.
While designed to be worn in a multitude of work environments, there's no denying that these chef shoes excel in all areas. It's clear why VANGELO have patented their outstanding technology.
Check Price on Amazon ➞
CHECK PRICE ON ZAPPOS ➞
10. Birkenstock Unisex Professional Boston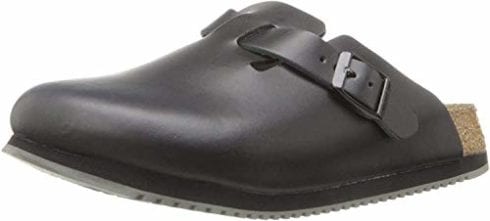 Back to Birkenstock now, this time focusing on their unisex addition to the market. Made from 100% leather, we're sure you'll agree these are some of the most stylish non-slip chef shoes on the market that look and feel great.
The synthetic sole also means you'll enjoy maximum comfort, and with a 0.5-inch platform, you won't have to worry about staying balanced, and the cork footbed is ideal for molding to fit the shape of your foot.
All in all, this is a fantastic pair of chef shoes that are designed with your feet in mind. With optimal support and the fact these work shoes are certified as being slip-resistant, these are a bespoke solution you're sure to love.
Backed by hundreds of four and five-star reviews, it's easy to see why these chef shoes are so popular. Chefs around the world regard these shoes as being some of the best work shoes out there, and for you, they stand a very high chance of being the perfect fit.
Check Price on Amazon ➞
CHECK PRICE ON ZAPPOS ➞
11. Skechers Cessnock Food Service Shoe
Do you find your feet get sweaty and moist while you're at work, and hate the cloggy shoes you'd typically be wearing? Skechers have yet another addition you're going to want to pay attention too, and may even want to put at the top of your list.
Made from a very breathable, lightweight mesh, these are essentially slip-on shoes, but you get the security of bungee laces. There's no heel, so you won't be unbalanced, even when working long hours.
Reading the specs of these shoes, you'll be treated to some insane levels of grip. The memory foam insole they claim to have isn't that great, but if you treat yourself to some insoles to suit you, these are trainers that simply won't disappoint.
Again, we can't stress enough just how great Skechers trainers are, and while you may want to upgrade the foam insole, there are few work shoes like these ones.
Check Price on Amazon ➞
CHECK PRICE ON ZAPPOS ➞
12. VANGELO Professional Slip Resistant Clog
To conclude our list of the best of the best chef work shoes out there, we've chosen this true winner. As far as non-slip shoes go, these are up there when it comes to the best of the best, whether you're a chef or working in any kind of nursing or kitchen environment.
These are clogs designed and manufactured to the ASTM Industry-standard, providing you with optimal amounts of grip. Despite being a clog variety, these shoes are ultra-lightweight and incredibly comfortable thanks to the Ortholite removable memory foam sole.
These features are packed into one affordable shoe, actually the most affordable work shoes on our list, making them a great deal. They are patented in the US to ensure you can't find this high quality anywhere else; you can keep your feet dry, painless, and ache-free. You won't be able to find many chef shoes rated higher than these.
These are literally award-winning shoes, and as certified as a chef shoe can get. These shoes are even endorsed by Guy Mitchell, chef at the White House, so you know these are shoes to be trusted.
Check Price on Amazon ➞
CHECK PRICE ON ZAPPOS ➞
Chef Shoes Buyer's Guide and Breakdown
Now for the creme de la creme of our chef shoes guide, defining what you need to look out for and consider to ensure you're buying the perfect pair of shoes. Hopefully, you've seen above in our list and thought, yes, these shoes are perfect for what I'm looking for, and if you're in that category of reader, I salute you and wish you the best of luck with your new work shoes.
However, you may be thinking along the lines of yes, these shoes look great, but I'm not sure which ones are right for me, and if this sounds like you, then this is the guide for you. We're going to talk about everything you need to know about buying chef shoes, including what features and specs to look for out to find the perfect pair. No more wasting time. Let's get right into it.
Do You Need Chef Shoes or Will Regular Do?
When you're working in a kitchen environment, you're subject to plenty of hazards that you just don't have with other workspaces. Perhaps the most common of these are spills. From hot liquids to oils (more of which we'll speak about below, your feet need to be protected from the substances themselves and the slip hazards that they create. You don't want a serious accident or injury on your hands.
In a professional setting, casual non-slip shoes or trainers just won't cut it. You'll want a little extra on your work shoe to make sure you're supported and comfortable, especially when you consider how many long hours you can be working. That's not even getting started on problems that pain from pressure points can create, and the strains of being on your feet all day.
This is why getting yourself a proper pair of chef shoes is so important. Let's check out some of the criteria you need to be thinking about with all this in mind.
Looking for Practical Non-Slip Shoes
Above all, no matter what kind of shoes you choose, they need to be practical. This means providing you with support and security and comfort, which is quite a wide topic, but don't worry, we're going to break it down.
Imagine wearing flip-flops or skate shoes with no grip. They would simply be no good.
Ergonomic Shoes
Consider how many hours you work and how many of those you're standing on your feet for. Eight hours. Ten hours. Maybe even twelve-hour shifts. That's a lot of pressure on your feet, especially when you're actively moving around.
This clarifies the need for ergonomic shoes. Some of the features you'll look for here include shoes that come with arch support, actively hold your foot's weight, and a suitable heel to suit your natural body posture and prevent you from developing bad posture habits.
The best chef shoes will have a flex advantage, so you have a bit of bounce in your step. Sure, having ultra-comfortable shoes may seem like a dream, but working in these shoes for so long will only cause long-term health dangers that may not even be repairable in the long-term.
The pain you'll feel with inadequate shoes is especially common in your feet, heels, and lower back. An ergonomic non-slip shoe will also be made of durable, high-quality materials that will keep their shape, even with excessive use. This is why you should always think about paying a little extra for shoes that are going to serve you, not just opt for the cheapest pair you can find.
We cannot stress enough how important this is. If you're wearing a chef shoe that doesn't come with adequate arch support, you're dramatically increasing the risk that you can develop arthritis in your foot, which is not a condition you want to be dealing with.
Seeking Out Comfortable Non-Slip Shoes
It's all well and good finding the most ergonomic and supportive slip-ons you can find to look after your health, but if your shoes aren't the right balance of ergonomic and comfortable, this creates a whole new set of problems.
Again, think about how long you're left standing on your feet all day and imagine doing this with bricks under your feet. It's not worth the pain.
So, when looking into the comfort that a non-slip shoe can provide, make sure you're looking for features like a memory foam insole that can mold to match the shape of your foot or at least a removable insole, so you can take it out and replace it with a special insole if you require it.
Other features like a padded collar around the top of your work shoe can help with comfort around the ankle, and an open toe-box is essential when it comes to letting the tips of your feet breathe a little. Foam footbed-type slip-on shoes are becoming very common these days, so it shouldn't be too hard to find affordable shoes with these comfortable features.
The last thing you'll want to remember is that not all the best chef shoes are comfortable. Yes, this sounds like a paradox, but if you're wearing orthopedic shoes because you're actively trying to correct your posture or have health issues, then these shoes aren't typically comfortable. Still, you'll need to wear them because they're serving a purpose.
Buying by Design
There are a few different shoe types out there to consider, such as slip-on kitchen shoes, lace-up, high fit, clogs, and a few others. Most of the time, this will solely depend on your personal preference and how you like to work.
For example, if you like to skate around the kitchen at high speeds, lace-up kitchen shoes will probably be best for you. However, note that while lace-up shoes provide a secure fit, slip-on shoes may be better since they won't come undone and potentially cause a slip hazard.
Think About Materials
When choosing which kitchen shoes are best for you, the material your shoes are made of is very important. Moving backward and forwards on your shoes for hours at a time, day in, day out, will quickly wear through most typical shoes, so you're looking for flexible yet hardy materials that can keep up.
Of course, we're talking about materials like leather upper designs and padded collars, or EVA foam. On the sole of your kitchen shoes, you'll want to look for materials like rubber and foam that can bend while you move but are durable enough to survive the standard kitchen environment.
We'll talk more about cleaning your shoes in a bit, but having a shoe made out of the right materials means you can easily keep your shoe clean. We've even listed some options above if you fancy making your life easy by being able to chuck them in the dishwasher, even if they have leather upper parts!
Let Your Feet Breath
It can get very hot and sweaty in even the best shoes, so you'll want to take a quick look at how breathable your shoes are to prevent moisture from building up.
Of course, moisture is inevitable, especially when you're running around because you're short-staffed again. It's all about giving that moisture a chance to evaporate. High quality kitchen shoes made with proper materials tend to do this as standard, and most product descriptions will describe this feature if they offer it.
Resistance is Not Futile
When you're working in a kitchen environment, you can bet your bottom dollar you're going to come into contact with spills and leaks from time to time. No one likes wet feet, so ensure you're looking for kitchen shoes with water-resistant qualities.
For example, non-slip resistant shoes with leather upper features tend to be water resistant by nature, and a padded collar can help keep moisture out. If you have a shoe like a rubber shoe or EVA foam, some of these shoes can even be oil-resistant, which is a very nice layer of protection.
If you're wearing standard fabric shoes, you're just going to get the moisture to seep into your shoe and make your feet wet and uncomfortable.
Shoes That Grip (Slip Resistant)
Hand in hand with the consideration above, you need to think about your grip. Most kitchens are designed with sterile, smooth floors, and when you add liquids of any kind on top of these, things get slippery very quickly.
Since you're probably focused on the dinners and the tasks at hand, there's much less chance you'll see the hazards, especially with the kind of pace a kitchen will run at, but having non-slip shoes will help to overcome these problems.
This is why it's important to get yourself some slip-resistant shoes. Look for the kind of grip your shoes are offering, and ensure they'll keep you upright when you need it most.
Keeping 'Em Clean
The highest quality pairs of chef shoes will always allow you to keep them clean easily, which is essential when you're in the kitchen. Leather, foam, and rubber shoes will easily wash under the tap, and there are even some slip-resistant shoe types out there you chuck into the dishwasher to make your cleaning process even easier.
Looking Good While You Work
The style will be the last thing on your mind for many chefs, but it's nice to look professional while you're doing what you do best or even looking how you want to look while you're at work. It obviously also depends on fashion style rules your kitchen allows you to follow. There are plenty of styles of shoes out there with plenty of colors and designs, so know now you have plenty of choices to think about when it comes to aesthetics.
This consideration also covers the kind of shoe you may like to wear, such as lace-up shoes or slip-on shoe types. A slip-on shoe tends to be the go-to choice when it comes to chefs because they're easy to put and take off, and the lack of lacing means they're impossible to untie themselves while working, which can lead to a trip, slip, or fall in itself.
Check the Customer Reviews
We live in an age where you can easily check how good a shoe (or any product for that matter) is, simply by heading online and checking out the customer reviews. If you're looking at a website like Amazon, this is a great way to gauge for yourself how good a product is, and what other chefs and customers thought of the shoes.
After all, you're probably not going to spend your money on a one-star shoe. It's important to look at which brand you're buying from and then look at the reviews. We mention looking at the brand because if you look at a brand like Crocs or Skechers, you know these shoes are a household name because they're so good. Maybe not so pretty looking, but they're very effective at getting the job of looking after your feet done.
That's not to say an unknown brand won't be as good, but that's where the review process comes in. If you can see a shoe with thousands of customer reviews telling you the shoes are five stars, then the chances are you're looking at a very good shoe.
While on this note, it can be a good idea to still with the well-known brands, especially since they're well-known for a reason. Companies like Skechers and Crocs have been around for such a long time, and they really have mastered the art of creating work footwear that's fit for purpose.
If you're unsure whether a brand is the right, high-quality fit for you, just online search the brand's name and see what their story is. If they've been about for a few years, you know they mean business and aren't just producing cheap shoes while trying to rip you off.
Matching Your Kitchen's Safety Practices
Before you head out and buy a new pair, you need to think about your kitchen, and what kind of safety practices are in place. What are the rules in your place of work? This is an important consideration because you don't want to buy a pair that could cost a lot of money, only for your workplace to tell you that they're not good enough and don't meet your kitchen's safety standards.
As a rule of thumb, always ensure you're checking the rules, so you make the best decision that you won't have to go back on. This is especially important when you're moving into a new kitchen at a new job role. Some kitchens are far stricter than others.
Expert Tip
Don't worry so much about the cost of your shoes. Professional chef shoes can be expensive, but when your health and physical well-being are literally on the line, there's no better way to invest in yourself.
Did you know?
While it's important to look after your physical health, the biggest health problems and concerns come from the lifestyle associated with being chef, such as the stress from working long hours, and diabetes from not eating properly.