The 10 Best Kitchen Shoes For Chefs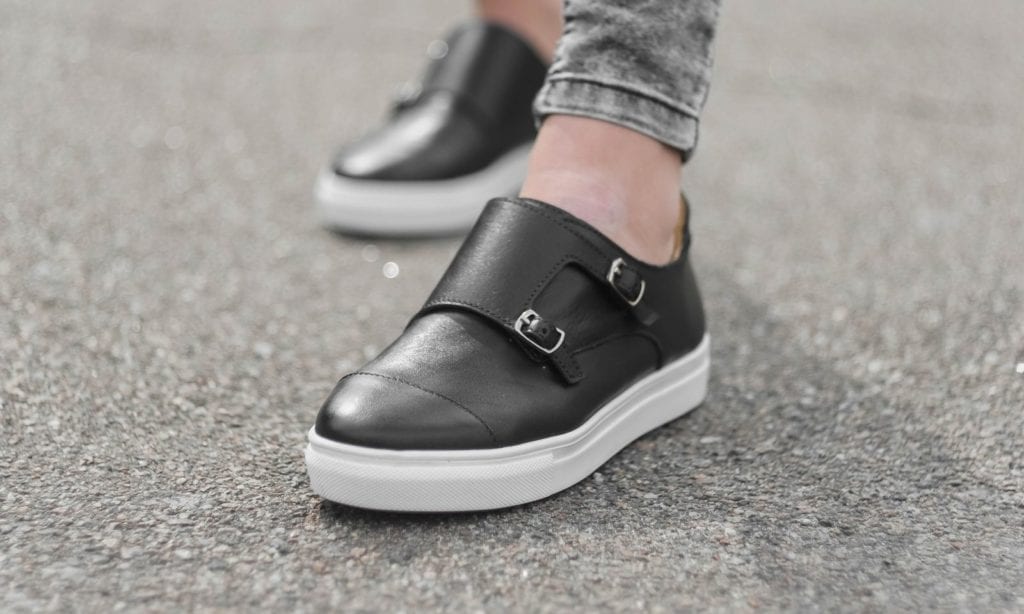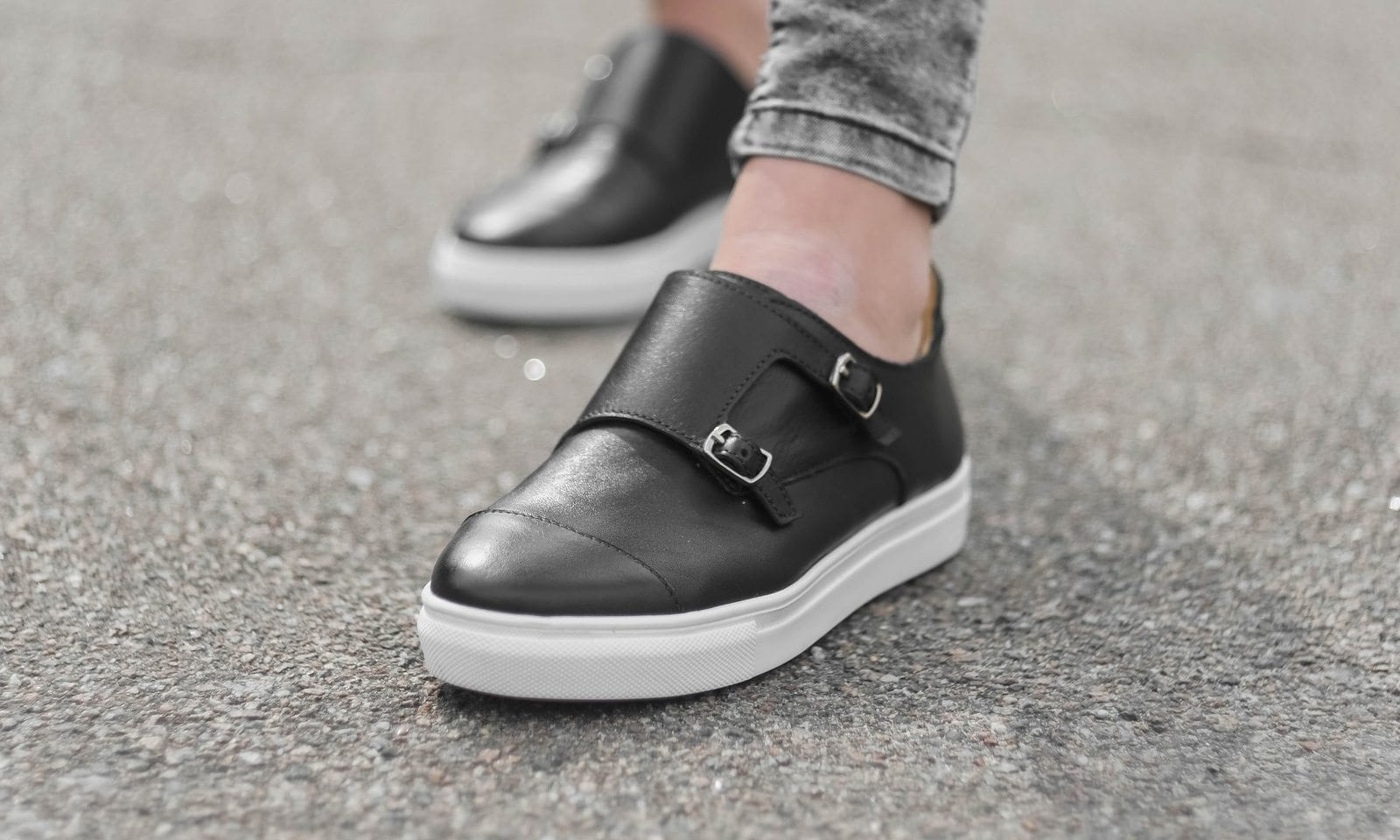 Working in a kitchen means long hours on your feet so having the best kitchen shoes is important. Chef shoes should be practical and functional, and should provide both comfort and protection. Having specialized shoes that are designed specifically to cope with this work environment will make all the difference to your working experience.
Preventing accidents in the kitchen high-quality chef work shoes allow staff to concentrate on their work. You can find similar shoes for nurses here. We take a look at the best on the market, taking into consideration the style of the shoes such as lace-up, clog-style or slip-on, the material of the shoes, as well as other factors, such as breathability and water resistance.
View the Best Shoes for Kitchen Work, Below.
1. Skechers for Work Flex Advantage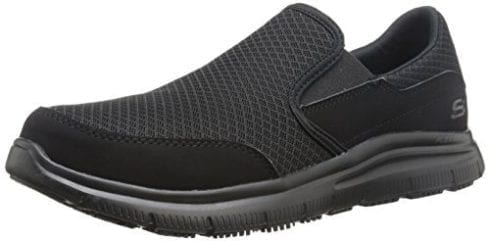 Skechers is a brand best known for its quality non-slip work shoes and the Work Men's Flex Advantage is a prime example of their shoes. These shoes offer all the qualities a kitchen worker needs, comfort, protection and non-slip soles. The slip-on style kitchen shoes of the Flex allows for easy on and off of the shoes and the mesh fabric upper makes these shoes are very breathable and comfortable to wear.
The elastic side gores at the opening of the shoes to ensure that they remain on your feet without slipping off, the padded collar adds to the comfort level along with the memory foam insole. Safety in the kitchen is paramount and the Flex is designed to meet the ASTM F2413=2011 EH requirements.The composite toe is lightweight and non-metallic, and the steel safety toe will protect your toes against impact from falling objects.
However it is designed for strength to protect your toes from the impact of falling objects. Another great safety feature of these shoes is their slip resistance. The outsoles are tested to Mark II ratings and will protect you from slipping on wet or oily surfaces, which are common hazards in the kitchen.
A comfortable, well designed slip-on shoes that will keep your foot well protected while working in the hazardous environment of the kitchen. Its non-slip soles and composite toe with steel toe box ensure your safety, while the padded collar and memory foam insoles ensure your comfort. The elastic side gores keep the shoes securely on your foot at all times.
Check Price on Amazon ➞
2. Merrell Jungle Moc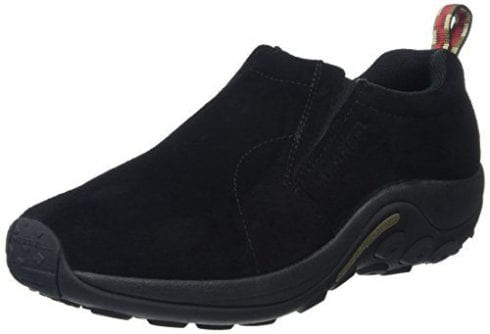 This a stylish, durable and waterproof shoes that will serve any kitchen worker well and let them work their long shifts on their feet in ultimate comfort. The synthetic leather upper is durable and waterproof with the M SELECT DRY membrane, it will keep water out and allow moisture to escape keeping your feet dry at all times.
The EVA Footframe in this slip-on style shoes, along with the padded collar and molded nylon arch shank and Merrell Air Cushion in the heel, which is shock absorbing, keeps your feet in ultimate comfort and provides the stability you need in the kitchen during those long shifts. M SELECT FRESH prevents foot odor.
The dual elastic insets at the entry of the shoes ensure that it stays firmly on your foot at all times. Traction on the shoes are provided by non-slip rubber outsoles that have 3mm lug depth traction to grip on any surface no matter what you may encounter such as water, oil or grease.
Superior stability, comfort, and traction along with best style this synthetic leather upper, slip-on shoes provide you with the Merrell Air Cushion in the heel for shock absorption and an elastic gore at the opening to keep the shoes firmly on your foot at all times. Excellent traction with non-slip sole keep you safe when walking on hazardous surfaces.
Check Price on Amazon ➞
3. Crocs Specialist Vent Clog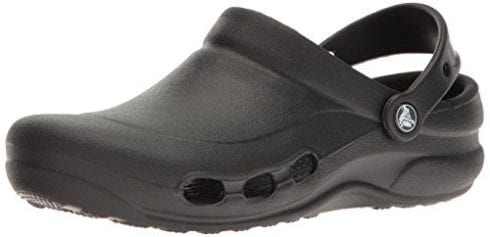 A classic clog from Crocs that combines comfort, breathability, style and of course protection are the best ones to wear in the kitchen, these are ones that are designed to ensure your feet stay supported and comfortable throughout your long work day. Comfort is a must in any kitchen shoes and the Croc does not disappoint, the massaging footbed, which includes standard circulation nobs, Crocs Specialist Vent and patented croslite which softens and molds to your foot to ensure the best fit keep your foot comfortable at all times.
The closed toe design and dense vamp area will protect your top foot and toe from injury and the dual function strap secures the shoes to your feet at all times so you know they will not slip of at inopportune times. Vented side panels which are recessed to protect from spills, allow for excellent airflow through these shoes which will keep your foot cool and fresh.
These shoes have a roomy fit so your foot, which will swell with long hours on your feet, will always be accommodated without being squeezed and this reduces fatigue in your foot while on your feet for long hours. The soles of the Crocs are non-skid and non-marking with superb traction to ensure your safety. The shoes are also extremely easy to clean and sterilize.
This non-slip, clog style shoes are the best for kitchen staff to use when working. A closed toe keeps your toes safe and a strap at the back ensures the shoes stay securely on your feet all the time. Non-skid and non-marking outsoles round out these great shoes. Roomy and comfortable with massaging footbed.
Check Price on Amazon ➞
4. Dansko Professional Mule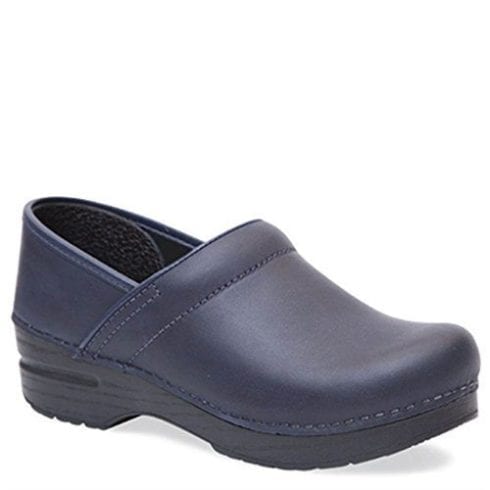 Standing for long hours can be torture if you do not have the right shoes, and the Dansko Women's Professional Mule are the right shoes for any kitchen worker to use. From chefs to cleaners and everything in between need a good comfortable and protective shoes in a kitchen environment. The leather upper of these shoes are not only supportive but are some of the best looking it is also waterproof. The heel on the shoes measure about 1.75" and the platform 1".
The mule has a round-toe with a rocker bottom to prevent fatigue and the padded instep collar and leather sockliner ensure that you get maximum comfort. The open-cell PU foam footbed is breathable to allow for the best airflow, keeping your feet cool. A reinforced toe box ensures that the most vulnerable part of your feet are protected in case of an accident, and the rubber sole provides non-slip traction to prevent accidents at work such as slipping or falling.
The Dansko offers you comfort, protection, and traction coupled with the best style. The leather upper is stylish and supportive and this coupled with the round-toe and reinforced toe box, padded instep collar and leather sockliner ensure that you get the most comfort from the shoes. These are superb professional shoes for all female kitchen staff to use.
Check Price on Amazon ➞
5. Skechers Work Soft Stride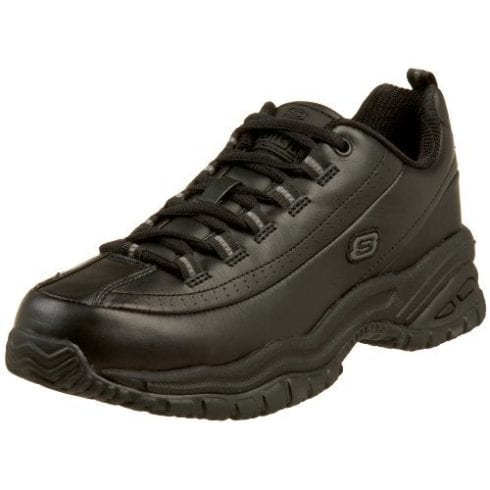 Another fantastic offering from Skechers. These are fantastic looking shoes as well as providing all the comfort, style and protection you will need when working in a kitchen environment. The perforated paneling allows for the best airflow. The shoes meet the ASTM F2413-2011 EH requirements and Mark II for slip-resistance. The tread pattern on the shoes offer the best grip and the removable outsole is designed to be replaced when it has reached the end of its life.
The inside support is tremendous with a foot-hugging PU insole which is also removable to be replaced with your own orthopedic insoles should you need to. The padded tongue and collar of the shoes add to the comfort levels and the handy pull tab at the heel help you to fit your foot perfectly.
These lace-ups have a stylishly crafted leather upper with detailed stitching and side panels to allow your foot to breathe. The soles are slip resistant with superb traction and durability. These are the best work shoes for any woman working in a kitchen environment.
These lace-up style work shoes not only have the best look on your feet but provides the protection, comfort, and durability you when working in the kitchen. Designed to be EH and OSHA compliant, you can be sure you are protected from slipping and other accidents. Lightweight and breathable with the best support, comfort, and stability.
Check Price on Amazon ➞
6. Skechers Work 76690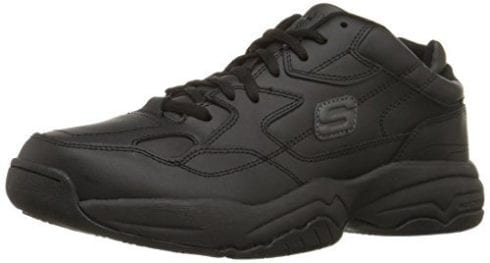 These are athletic styled lace-up work shoes with a leather upper that is durable and stylish. The Work Men's 76690 will provide you with the comfort, support, stability and traction you need when working in a kitchen and spending long hours on your feet. The EVA midsole is cushioned for comfort, and the PU footbed is removable so if you require a customized orthopedic inner you can replace it with your own. The shoes are very lightweight and provides a very snug fit to keep your foot supported throughout the day.
The synthetic leather uppers of the shoes not only offer style and the best looks but is also water resistant and superb durability. The rubber outsole of the shoes have exceptional traction and is designed to be slip-resistant and tested as such to Mark II OSHA standards, so you can be sure you will not be slipping when walking on slippery, wet surfaces.
One of the best non-slip lace-up shoes that offer not only stylish good looks but superb quality, comfort and protection for your feet when working in a kitchen. The PU footbed is comfortable and also customizable so if you require your own orthopedic insert you can replace it. Lightweight and durable these are great kitchen shoes.
Check Price on Amazon ➞
7. Skechers USA Diameter-Guy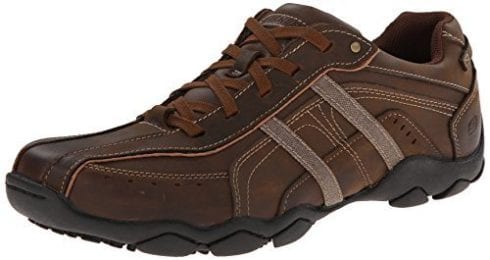 A sporty looking sneaker styled shoes that offer you comfort, style, durability and a the best fit, it is one of the best types of shoe for use in a working environment where non-slip, safety styled shoes are a requirement. The oiled leather with canvas detail uppers give the shoes a really great look and the lace-up style not only secures your foot in the shoes, but also offers the best fit.
It also, along with the stitching accents and top metal studs make these are very durable shoes, while the padded collar and tongue and fabric lining offer not only the best breathability but also supreme comfort. The removable memory foam insole is removable to allow you to fit your own orthopedic inners should you require them, the shock absorbing midsole has a cushion effect for extra comfort.
It has a bicycle style toe and synthetic sole. The flexible rubber outsole give the shoes a non-slip base and some of the best traction control on all types of surfaces making then very safe work shoes in any environment and are some of the best for people working in kitchens.
These are not only a stylish shoes to wear when out and about, they are also great kitchen workers shoes that provides a non-slip sole, comfortable midsole and inner, the inner is replaceable with your own orthopedic inner, making the shoes customizable to suit your needs. Flexible rubber sole offers great traction on any surface.
Check Price on Amazon ➞
8. Merrell Jungle Moc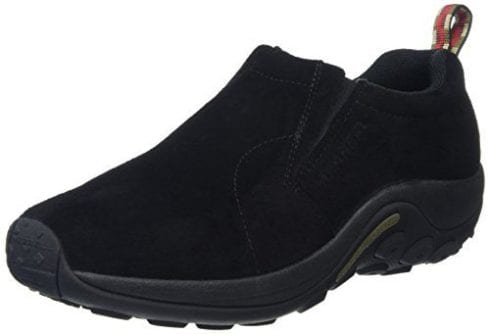 The suede leather and synthetic upper on the Merrell Women's Jungle Moc give it a great look so you can step into the kitchen in style. It is a simple design yet durable and casual slip-on shoes. The Aegis antimicrobial treated lining will ensure that your shoes remain fresh smelling and the Merrell Air Cushion heel provides ultimate comfort, along with the underfoot Merrell air cushion which also provides supreme support for your foot.
The FIT.ECO EVA contoured footbed, molded nylon arch shank, and EVA footframe all adds up to extreme comfort and shock absorbing qualities. The mesh lining of these shoes are breathable to keep your foot cool and comfortable throughout the long shifts in the kitchen.
The shoes are non-slip with a sole that offers a 3mm lug depth, the superb traction on the shoes ensure that you will not slip, slide or fall at work and offers great stability. These are fantastic work shoes with all the features that any kitchen worker requires.
Kitchen workers look for supreme comfort, great stability and a touch of style when they are looking for shoes and they will find it in the Merrell Women's Jungle Moc. Merrell air cushion in heel and underfoot along with EVA footframe and EVA contoured footbed provide superb comfort and the 3mm lug depth on the sole offers exceptional non-slip traction.
Check Price on Amazon ➞
9. Skechers Softie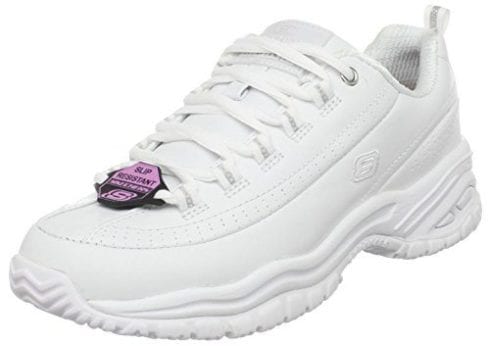 Skechers provides great ladies work shoes that is both stylish and comfortable as well as being durable and offering stability and supportiveness, one of the best types of shoe for the kitchen worker to wear. The Leather upper with lace closures gives these shoes a casual, athletic style look. The lace-up keep your foot nice and snugly tucked into the shoes.
The soft leather is both comfortable and supportive as well as being extremely durable. Perforated accents on the side of the shoes allow your feet to breathe and the padded tongue and collar add another level of comfort. There is a pull tab situated at the back of the shoes.
The heel height is 15". PU comfort insoles are removable and replaceable with your own orthopedic insoles if necessary.  This is a safe non-slip kitchen shoes, these shoes are compliant with the OSHA. The thick rubber outsoles not only provide a level of comfort as well as superb traction to cope with any hazardous surface.
Great looking soft leather uppers with a synthetic sole, comfortable PU removable comfort insole and more is why this Skechers is one of the best kitchen shoes on the market. The padded tongue and collar add to the comfort level and the perforated accents on the side allow your foot to breathe. The thick rubber outsoles provide non-slip traction.
Check Price on Amazon ➞
10. Skechers Work Rockland Systemic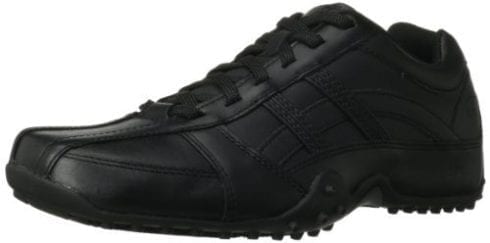 Skechers does it again with the Work Men's Rockland Systemic, one of the best non-slip work shoes on the market and one of the best types of shoe in the Skechers collection as well as being one of their most popular style for men. These are Oxford-style casual shoes that features a lace-up closer, low-profile rubber outsole and they meet the Mark II non-slip standards as well as the EH standards for safety in the workplace.
These stylish shoes have a leather upper, and leather overlay which makes these shoes ultra-durable. These are extremely comfortable shoes for those long shifts you have to be on your feet in the kitchen. The grip of these shoes is outstanding. The rubber sole is designed with the Skechers distinctive tread pattern that will offer you grip on any surface.
The shoes feature an extra grip that from the sole and up the heel to the perimeter, this helps the traction grab and grip the surface. Water, oil, and grease are no match for this great non-slip kitchen workers shoes.
A work shoe that does not look like a heavy duty work shoes. Leather uppers and leather overlays give is a very stylish look, low profile soles offer supreme traction and this is enhanced with a rubberized outer sole that extends up the heel to the perimeter. These are safety shoes that meet all the OHSA requirements as well as the EH standards.
Check Price on Amazon ➞
Buyers Guide Questions
When considering which work shoes will be best for kitchen workers, there are a number of non-negotiable requirements. Non-slip soles, comfortable insoles, and outsoles, as well as breathable material, are three of the most important aspects of any chef shoes. Chefs and cooks and kitchen workers all around the world need the best footwear that keeps their feet comfortable and keeps them safe while walking on wet and oily surfaces.
Having specifically designed non-slip shoes is not merely a nice to have in this profession it is a must-have.  The footwear they use should be water resistant, non-slip, and have protection against an object that may fall from tables etc
The best of these types of chef shoes are not only functional, they are also extremely comfortable and safe shoes, and durable. They also should comply with all safety regulations such as the OHSA and EH. There are three basic styles of chef shoes, slip-on, clog or mule style and lace-up closures.
Slip-Ons
Slip-on shoes are a favorite with chefs and other workers as they are easy to slip on and off. The lack of laces is seen as a bonus as they cannot come loose and form a tripping hazard while working. Another benefit of having slip-on shoes is that the chef does not have to stop and tie up loose laces, which wastes time and can be quite arduous if they have to wash their hands every time when this happens.
When looking at selecting slip-on shoes, the fit is very important as the shoe must be secure on your foot.  Many have elastic around their opening to keep the shoes in place. Another consideration when selecting your slip-on as with all other shoes is their comfort.

Lace-ups
Lace-ups are not as popular as some of the other styles due to the fact that the laces can come loose, they can also be very restrictive if not tied correctly. They are extremely durable shoes, with only the laces needing replacing from time to time and they also give you all the benefits of a slip-on in terms of style, comfort, and traction.
Many of these shoes are heavy duty work shoes with steel toes and more, this makes them slightly more heavy than your slip-on or clogs style shoes, the benefit of these shoes is the best fit they provide and the secure lace closure to ensure that the shoe will remain on your feet at all times.
Clogs & Mules
These are a very popular style of shoe for many female and some male chefs. They are extremely comfortable to wear and are designed for people who spend a lot of time on their feet. When you are looking at a Clog or a mule style, you need to consider the safety aspect. Some of these shoes do not comply with the safety aspects of having a closed toe to protect your feet from spills, especially from hot liquids, and of course protection from falling objects.
Many of these types of shoes do offer just as much safety aspects as the other styles though, along with the comfort levels that Clogs and Mules are known for. Whichever style you chose, you need to ensure you get a product that provides the ultimate comfort levels, the best support, and stability. They should be non-slip, waterproof and offer you the protection from spills and falling objects. They should also be durable and have a great fit.
Being on your feet the whole day, or throughout your shift, the humble shoe is one of the most important aspects of your work uniform and you should take time and care when deciding which one you are going to use, in order not only to prevent sore feet and body at the end of the day but also to avoid unnecessary accidents in the kitchen that can lead to serious injury.
What Are The Most Comfortable Chef Shoes?
Chefs are on their feet all day long, this can be physically and mentally challenging and having footwear that keeps your feet protected, comfortable and supported is worth every cent you spend on them. Wearing chefs work shoe, does not mean you need to kit yourself out with a heavy work boot, in fact, this type of shoe is not the best for a chef. Chefs look for lightweight, comfortable shoes that are safe as well.
Heavy shoes weigh you down when you spend a lot of time on your feet, as well as being less durable than their lightweight counterparts. Working in a kitchen there are many hazards you may encounter, water or oil on the surface of the floor is only one of them. Kitchen tools are heavy, some are sharp and if they fall they can injure a chef's foot and lead to serious accidents. Having the right one prevents a lot of these injuries from occurring.
Spills are a daily occurrence in the kitchen and one that protects the chef's foot is imperative. Hot oils, water, and other substances can burn your feet, and can cause other accidents in the kitchen which again can lead to serious injuries. Taking all the hazards a chef is exposed to and the long hours they spend on their feet the type of shoe that a chef would find best is one that is ultra-comfortable.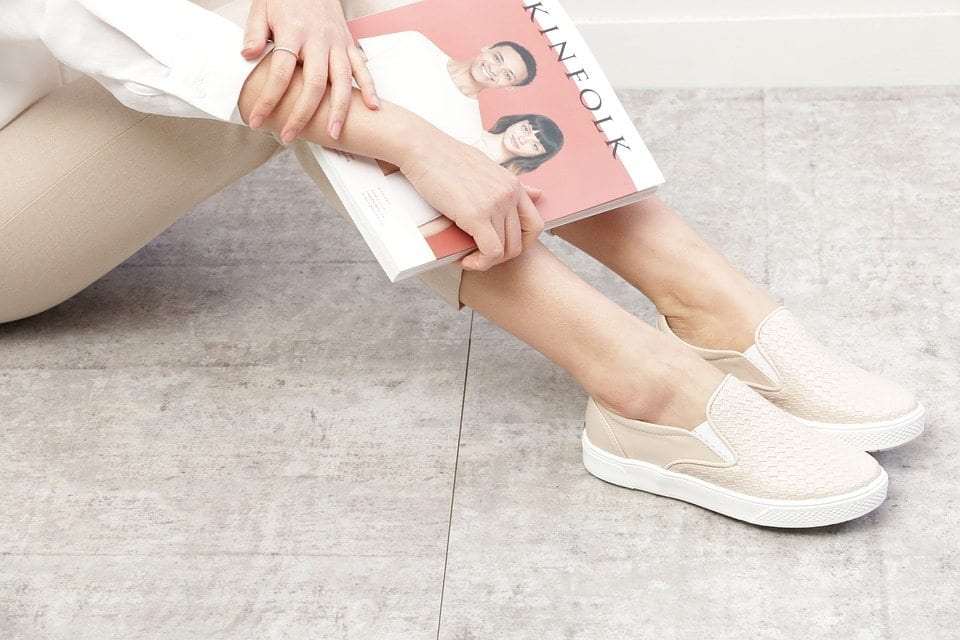 There are many brands and styles on the market, however, most offer the same type of comfort levels. Insoles are important when it comes to comfort levels. Having a product that allows you to replace your insole with a customized orthopedic one, or simply replace the insole when it has reached the end of its lifespan is the best, and makes the product more durable too.
Customized insoles can also help you to correct any foot issues you may have such as pronation, callouses and other problems. The soles of the shoes should not only offer a level of comfort, but also non-slip qualities for safety. The uppers of the shoes should be waterproof to protect against spills and they should also offer breathability.
Your feet tend to swell and get hot when you stand all day, so having airflow through your footwear will make them a lot more comfortable to wear for long periods. Ultimately the most comfortable chef's footwear will come down to your own personal preference in shoes, whether they be lace-up, clog, or slip-on, the one you chose will give you the best fit, great comfort, and superb protection.
What Are The Top Chef Shoes For Sore Feet?
If you suffer from sore feet, having orthopedic insoles will make all the difference to your shoes and the comfort you have during your working day. They are designed to offer the level of comfort you need, concentrating on the way your feet are shaped and offering the cushioning where you need it most. There are a lot of shoes on the market from Skechers and Merrill in particular that allows you to replace the inner soles of their shoes with your own insoles.
Another aspect of these types of footwear, that tends to cause you to have extremely sore feet, is if you are wearing a lace-up and you do not lace it correctly.You can cause your foot to be too restricted and when you stand the whole day, this can cause extreme pain in your feet and arches.
This is one of the reasons that people who generally suffer from sore feet tend to opt for the mule, clog or slip-on style. They are a lot more airy and roomy than your average lace-up closure as well as being easy to slip on or off.
What Are The Most Popular Chef Shoes For Flat Feet?
First, it is important to understand what flat feet are. People are said to have flat feet if they have a low arch or no arch at all. The arch of your foot is what acts as a shock absorber when walking, standing or for any movement on your feet. The arch is what helps to cushion the impact from your ankles, knees, and hips as well as your feet.
People with flat feet are more prone to incur injuries and often experience other aches and pains not only in their feet but their body, as well as sore feet, put a lot of pressure and stress on the body. People with flat feet need to select the right shoe to give them the support they need and do not get from naturally from their arches.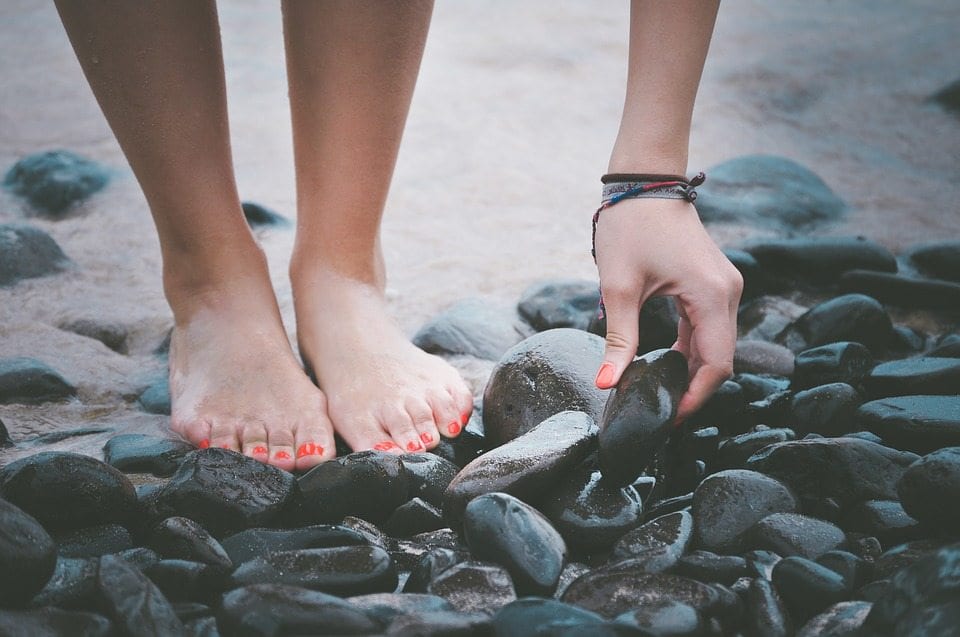 It is also important to remember that choosing one with a removable and replaceable inner sole will add to the comfort levels of people suffering from flat feet. There are three main aspects to look at.
Support
When you suffer from flat feet, this is one of the most important aspects. Generally, you will look for one that adds some extra support to allow for the support your arch would usually give you. Shock absorbing inner soles, midsoles, and shoes that lift your arch slightly are the best types to look for.
Stability
People who suffer from flat feet are likely to turn their ankle inward when they are walking. This causes great stress on the ankles, feet, and knees and can lead to you turning your foot over, leading to injury. Your arch is what ensures you land properly on your feet when walking but without the arch, pronation is a real problem.
Footwear that stabilizes your feet, giving you the support in the area of pronation is important, this is where having replaceable insoles will also make a difference.
Motion Control
Shoes that contain this feature offer medial post of dual density foam. In other words, they contain a harder foam just below the medial side of the arch and sometimes all the way up to the heel. This makes it ultra-supportive and allows you to control the way your feet land, and allows you to limit the amount of pronation you experience.
Flat-footed people should take great care when selecting their shoes, and select the right comfort level and style of the shoe is important. Lace-up shoes for people with flat feet are best as they offer you great support and the footwear will fit firmly on your feet at all times keeping your feet stable and supported.
What to Look For In Kitchen Shoes?
There are a few qualities you need to look for in a product that is best for wearing in a kitchen environment. Comfort, style, support, stability and of course the best grip. Having a lightweight one is also important as you are going to be on your feet for many an hour and you don't want to be weighed down by your shoes.
Material
The material of the product you choose is extremely important. It will determine the durability, support, and breathability of the footwear. Working in a kitchen puts a lot of strain on your shoe and leads to a lot of wear and tear, so you need a material that will be able to handle this kind of pressure. Breathability of the footwear is one of the most vital points of a kitchen shoe.
A kitchen is a very hot environment to work in and when your feet are hot they tend to swell and make your feet very uncomfortable, no matter how comfortable a pair you have selected. Having a water resistant one is also important, in fact for safety reasons the upper of the shoe needs to be able to resist water. Spilling is a daily occurrence in the kitchen and it is often hot, boiling water or oil that spills, and you need one that will protect your feet when this happens.

Comfort
The comfort of the footwear is arguably one of the most important aspects of a great kitchen shoe. The ergonomics of the product should provide the support and stability you need to keep your feet stable and comfortable all day long. The footwear you choose needs to provide the right arch support, stability and of course comfort to help prevent injury or damage to the feet.
When you are standing for long periods, you can experience discomfort from bad posture, as well as joint pains, muscle and bone pains as well as damage to ligaments of the leg. Having the most comfortable shoes are important as they will allow the kitchen worker, whether it be the chef, cook or cleaner to concentrate on their work and avoid unnecessary accidents, instead of on their sore feet.
Having orthopedic inserts can help to correct posture and of course to help with other problems offering the specific support you need. Selecting the right footwear that has the option of a removable inner sole is best for people with foot problems.
Gender
It may seem like a simple thing but selecting a gender-specific footwear can make all the difference. A man's and women's foot differ on many levels. They need support and stability in different areas, and of course, for the type of fit, you get from the different gender-specific shoes. A man's foot tends to be wider and their sizes are designed to accommodate this.
So a women's size seven offering will be a little too narrow for a man and a man's size seven will be a little too wide for the best fit for women. It is always best to select the one that is designed for your gender to get the best fit and maximum comfort.
Grip
Many of the accidents that happen in a kitchen derive from skids, slips, and falls. In order to avoid these accidents having a non-slip or slip resistant one can help you to avoid a lot of these accidents. All kitchen staff should select a product that has a grippy non-slip sole on their footwear to ensure their safety when walking on surfaces that may have water, oil or grease on them, which is often the case in kitchens.
Weight
The weight of the shoe is important. For a shoe to be flexible and comfortable it needs to be lightweight. Also, a lighter shoe allows you to move easier and reduces the amount of wear and tear your shoes have to endure, which adds to its durability. When you are going to be standing or walking for long periods you need a shoe that will not weigh your foot down, so a lighter shoe is more desirable for kitchen workers to use apart from all its other benefits such as flexibility and durability.
Are All Kitchen Shoe Slip Resistant?
All kitchen shoes should be non-slip and comply with the OHSA standards for slip resistance. Having a slip resistant or non-slip shoe when working in the kitchen is a must-have. When you are working in an environment where it is likely that you are going to encounter water, oil, grease and other debris on the floors, you need a shoe that is going to prevent you from slipping, sliding and falling which can all lead to serious injury and not only to yourself.
Whatever style of shoe you chose, make sure that you get the best comfort, stability, support, and grip you can to ensure that your working day is safe and does not put unnecessary strain on your feet and body.

Where to Buy Kitchen Shoes?
You can shop for your kitchen shoes at your local shoe store or online. Most shoe stores will have a range of non-slip work shoes for you to choose from. You can also shop online for your kitchen shoes at the supplier's websites or if you are looking for an easy, fast way to shop and have the option of various brands and styles then you can shop at online stores such as Amazon.com.
How Do you Clean Kitchen Shoes?
Cleaning your kitchen shoes is quite simple. First, apply some plain water to remove all the dirt and debris there may be. You should remove your insoles and wash them separately allowing them to air dry. For the main body of the shoe, you can fill a bucket with lukewarm water and add a small amount of mild liquid detergent, then, making sure that your insoles are removed, place the shoes in the bucket to soak. For top-notch cleaning, try a top-rated shoe cleaner kit.
Once your shoes have soaked for a while, remove them and place them in an area to air dry, do not pat or rub dry as you could damage the shoe. Replace the dried insoles and you are ready to head off to work in a pair of clean work shoes.
Conclusion
When you are considering which kitchen shoe is best for you, focus first on practicality and function. You need specialized shoes to ensure you avoid accidents and damage to feet and body. Non-slip, durable, water-resistant and breathable shoes are the best types to wear when working in a kitchen. These qualities will not only keep your feet comfortable but will also help you to avoid unnecessary accidents that can lead to injury when working in a kitchen.
The type of kitchen you work in (and how many hours you work) will influence the type of shoe that's best for you. All those working in a kitchen will benefit from footwear that is supportive, non-slip and water resistant.
Top Pick
Skechers have long been a well-known brand in the field of work shoes, providing shoes that are comfortable, supportive, and stable. The non-slip qualities in their soles. Because of these attributes which are all found in the Work Men's Flex Advantage, it should be no surprise we have selected them as the best choice of kitchen shoes for 2021. The Flex offers easy on and off with the slip-on style design.
The mesh uppers allow the shoe to breathe keeping your feet cool and comfortable throughout your day. Elastic side gores at the opening of the shoe make sure that they remain fixed on your feet at all times and the padded collar and tongue, along with the memory foam insole add to its ultimate comfort. The Flex complies with EH requirements as well as OHSA standards making it a safe work shoe for the kitchen environment.
The lightweight and non-metallic composite toe along with the steel safety toe ensure that your feet and toes are protected from falling objects. The slip-resistant outsoles allow you to avoid slipping, skidding or falling accidents which can lead to serious injury – see the factors associated with this here.
Premium Choice
The Merrell Men's Jungle Moc is not only one of the safest kitchen shoes around it also offers you the best style and durability. The synthetic leather upper provides a waterproof quality to protect your feet from spills. The M SELECT DRY membrane will not only protect from spills but will also allow moisture to escape to keep your feet cool and dry at all times. The EVA Footframe on the slip-on shoe, along with the padded collar and molded nylon arch shank and Merrell Air Cushion in the heel all combine to provide you with the comfort you need.
Shock absorbing qualities allow you to protect your feet from the impact of walking, running and standing for long periods. The M SELECT FRESH keeps your feet feeling and smelling fresh no matter how long your feet are confined to the shoe. Non-slip is non-negotiable when you work in a kitchen environment – click here for the study.
The rubber outsoles of these shoes are the best and have a 3mm lug depth for the best traction and grip on any surface and will help you to avoid accidents (see the slipping statistics here) from slipping on water, oil or greasy surfaces which are often encountered in the kitchen environment. With all of these great features along with its style and durability, it is no wonder that we have selected the Merrell Men's Jungle Moc as our premium choice for 2021, and worth the money you will spend on it.
Great Value
A clog style shoe is one of the most comfortable and breathable shoes on the market for working men and women who work in a kitchen and will not only support your feet but offer the protection they need as well. When it comes to comfort the Crocs Specialist Vent Clog will not disappoint. The massaging footbed, along with the standard circulation nobs, to ensure that your foot is not only comfortable but receives the best blood circulation to prevent pain and fatigue.
The patented croslite feature lets the shoe soften as it gets hot and molds to your foot providing one of the best fits around. The closed toe design and a dense vamp area to protect the top of your foot and toe from injury and this combined with the strap keeps your foot secure at all times. Airflow is provided by vented side panels that are recessed in order to protect your foot from spills.
The sole is non-skid and non-marking offering superb traction and the shoe is very easy to clean and maintain. Will all of these great features and one of the best prices available for these types of shoes, the Crocs Specialist Vent Clog is our great value choice for 2021.