12 Best Driving Shoes in 2021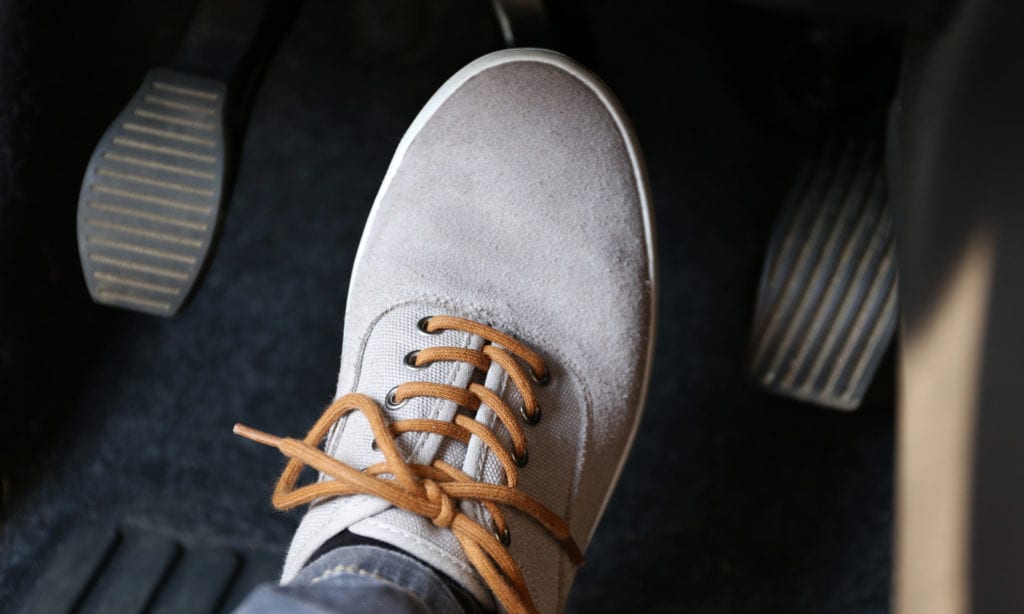 Driving shoes are not the most well-known concept, but they can actually be quite useful when you understand what they're for. In a way, they're like extensions of your pedals – they are specially designed to give you better control, comfort, and safety when your feet are on the pedals, as well as helping you avoid foot pain and fatigue on really long drives. However, they're not quite as easy to choose between as regular shoes – a lot of the usual designs and features won't be as important, whereas others will become much more valuable or useful.
Knowing what to look for is the first step to choosing the best driving shoes you can find. Here are a handful of our favorites, as well as the reasons they are far more than just a regular pair of shoes.
View the Best Driving Shoes, Below.
1. Bruno Marc Men's Bush Driving Loafers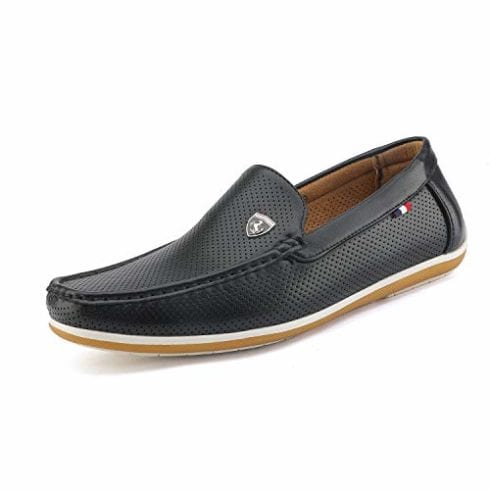 These Italian-style loafers use a surprisingly soft latex insole, designed with a hidden padded layer that keeps the bottom of your feet comfortable without looking bulky. The lightweight outer materials are hand-sewn together, providing a more personal fit than shoes sewn by a machine, and the flexible upper section gives you a greater level of control over your movements. Thanks to the non-skin outsole, you can easily keep your grip on the pedals even if your shoes are wet from the rain, and their relatively wide design leaves plenty of room for special inserts or padded layers you might want to add.
These driving shoes are simple, comfortable, and can work well with any custom inserts and insoles you might want to swap in.
Check Price on Amazon ➞
2. Cole Haan Men's Grant Canoe Camp Slip-On Loafer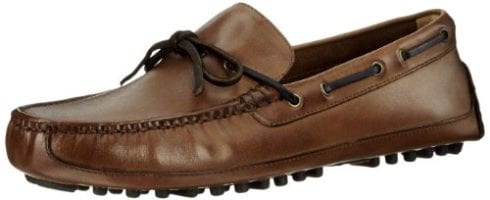 These slip-on leather shoes use an extremely grippy rubber-stud-based sole that provides an excellent level of traction, whether you're using the pedals or simply walking around as normal. The nubs on the driver's heel mean that your feet won't slip off the pedals at the wrong angle, making it much harder to lose control.
In terms of style, they mix a standard slip-on loafer style with hand-sewn materials and an appearance that is simple enough to work in almost any outfit, whether you are in a casual setting or using them as part of a mostly-formal set of clothing.
While they may look like standard loafers from above, the gripping nubs on this shoe's outsole allow for a much more stable ride while you're using the pedals, and make walking around regularly much easier on nearly any surface.
Check Price on Amazon ➞
3. UBFEN Quick Dry Water Shoes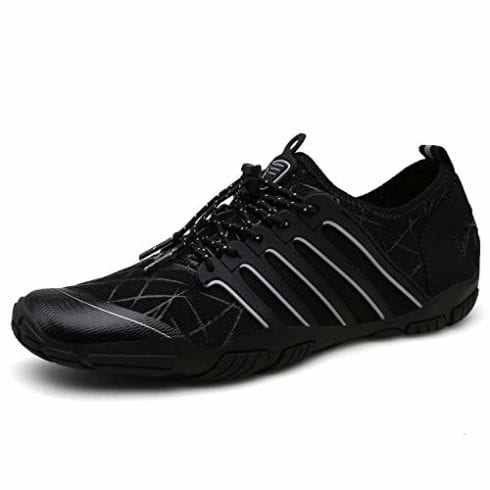 These multipurpose shoes are designed for a range of different activities, incorporating a lot of features into a single design. The stretchy and breathable fabrics on the upper section keep your feet comfortable, while the durable lower section and sole offer plenty of protection: not only that but the design also has small holes that allow water to drain out, meaning that they are easier to use in wet weather.  The soles themselves are much more durable than standard shoes, giving you a stronger grip and better protection on a range of different surfaces.
These shoes are ideal for multiple activities, but they can make for excellent driving footwear thanks to their comfortable and water-draining soles.
Check Price on Amazon ➞
4. adidas Men's Seeley Skate Shoe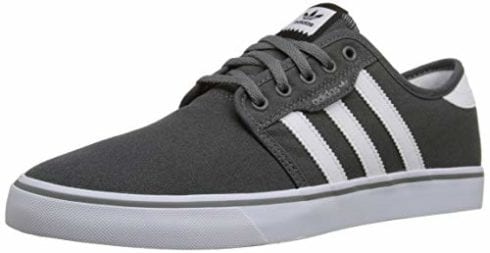 These casual skate shoes boast an abrasion-resistant design that makes them far more durable than they first appear. This, along with the vulcanized rubber outsole, keeps your feet protected from bumps and scratches while you are on the move – the suede-style upper section, on the other hand, offers a surprisingly comfortable and well-fitting place to keep your feet sheltered from bad weather.
While they may not seem special at first, these shoes are a great mixture of comfortable and protective, balancing the flexibility of a trainer with the strong sole of an exercise shoe.
Check Price on Amazon ➞
5. PUMA Men's Ferrari Drift Cat 5 Sneaker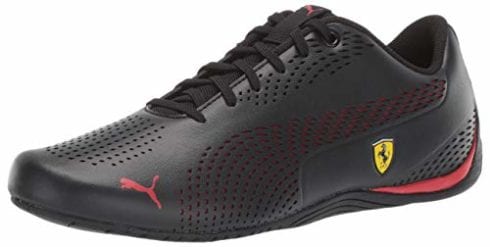 These leather trainers use a strong, grip-friendly gum rubber outsole that gives you plenty of stability on almost any surface, regardless of whether they are wet or dry. Thanks to their motorsport-friendly design, they're both flexible and comfortable, offering an excellent level of movement and control while still being relatively reliable and durable. The perforated holes in the upper section improve ventilation without feeling too exposed or vulnerable to rain, which makes it far easier to stay cool in warm and humid weather.
If anybody could make good driving shoes, it'd be Ferrari, and these well-ventilated sneakers are no exception.
Check Price on Amazon ➞
6. Sperry Men's Hampden Venetian Slip-On Loafer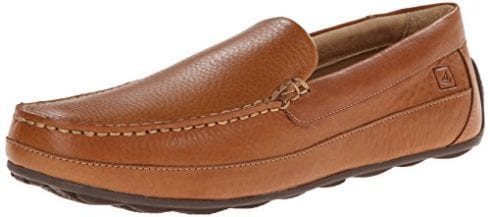 These slip-on loafers make for excellent driving shoes, combining the simplicity of regular loafers with the padding and durable sole of a more complex heavy-duty shoe. Not only are they well-stitched and hand-sewn for a higher-quality finished product, but they are also surprisingly flexible, allowing them to bend and flex to suit your feet better when they're on the pedals of your car. Thanks to the excellent outsole quality, they also offer a great level of gripping power and won't slip around, even on wet surfaces.
These shoes are perfect for both casual and formal drives, offering plenty of grip and ventilation while still being suitable for nearly any kind of outfit or occasion.
Check Price on Amazon ➞
7. ECCO Men's New Jersey Slip-On Loafer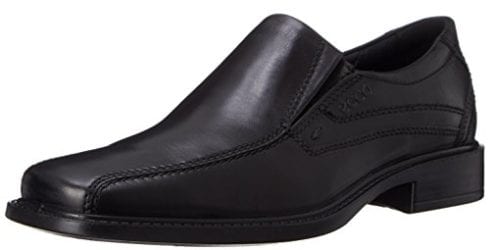 These leather loafers use a blocky heel and simple, slip-on design to give you a much less flat-feeling piece of footwear, allowing you to grip onto uneven or non-flat surfaces without slipping off easily. The direct-injected rubber outsole is built for maximum shock absorption and comfort, keeping you safe and protected without being unsteady or unbalanced as you're trying to walk around normally. Thanks to the overall stylish design of these shoes, they can fit into nearly any situation, including formal events.
While they're not quite the most stylish shoes on the market, these loafers are a perfect mix of style and practicality, especially when it comes to using them as driving shoes.
Check Price on Amazon ➞
8. Twisted X Men's Leather Lace-Up Driving Moccasins
Moccasin loafers seem to be a really popular choice of driving shoe, and these shoes make it easy to see why. The genuine leather upper area provides an excellent, stylish texture, while the carefully-molded midsole area uses real EVA materials to provide a great level of physical protection. Below that is the rubber outsole, which offers a much greater amount of grip than most standard loafers thanks to the indent-based design.
These shoes are very low-key while still being stylish, being both comfortable and durable without looking over-the-top. Plus, thanks to the great outsole, they're ideal for wet and slippery surfaces.
Check Price on Amazon ➞
9. Beverly Hills Polo Club Men's Driving Shoes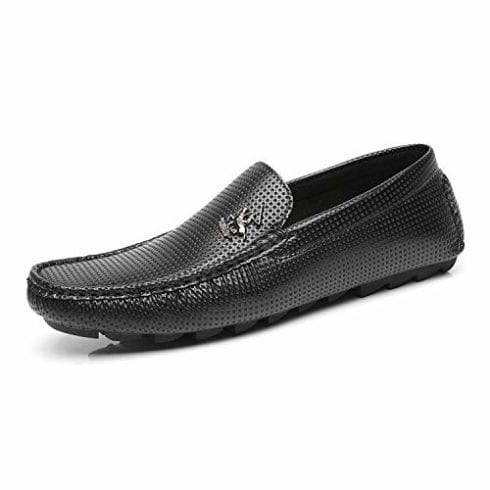 These loafer-style driving shoes are simple, straightforward, and easy to put on in a hurry, offering a nicely-padded insole and strong outsole that keep you comfortable and protected throughout the day. The textured synthetic leather that makes up the majority of its upper section is a very versatile navy blue color, letting it blend in with almost any kind of clothing and still look good. Not only that, but the toe area is carefully stitched for extra detailing and protection, both when you're walking around and while you're driving.
If you're just looking for something that can get you through the day while keeping your feet safe, comfortable, and stylish, these driving shoes may be exactly what you need.
Check Price on Amazon ➞
10. Labato Slip on Driving Shoes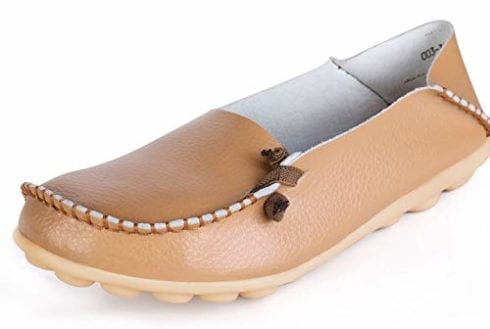 These flat-styled women's loafers are very low-cut and simplistic on the upper section, providing very straightforward protection and comfort that doesn't over-pad your feet or bring in unneeded features and design elements. However, the sole is made with an excellent circle-based grip style that allows you to easily keep your balance on nearly any surface, even if it's uneven or angled. The fold-down back and memory foam insole help you stay comfortable almost anywhere, regardless of the situation.
These driving shoes may look strange at first, but they're actually incredibly comfortable, and the simple design hides a lot of useful features and extra materials.
Check Price on Amazon ➞
11. PUMA Men's Vedano Leather Slip-On Shoe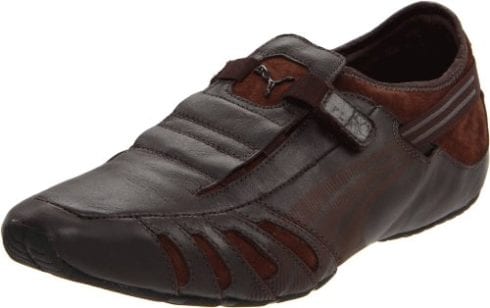 These race-inspired sneakers have their own built-in driver heel, extending the grip of their outsole all the way to the back of the shoe without adding any extra weight or bulkiness. The leather used in the majority of its upper sections adds a little more style and class to them, while the gum rubber sole keeps you protected and prevents wear and tear from general use. Not only that, but the simple hook-and-loop tightening system means that you don't have to struggle with laces, especially if you're in a hurry.
These shoes are simple, effective, and stylish, keeping your feet safe and protected while still being both comfortable and flexible in most situations.
Check Price on Amazon ➞
12. CLARKS Men's Ashmont Race
These leather slip-on shoes use a thermoplastic sole with separate lugs, providing an excellent amount of stability and gripping power without feeling too casual or awkward to wear frequently. Thanks to the Ortholite foam acting as the midsole, you'll have extra padding compared to standard loafers, making it easier to endure long periods of driving or walking without running into foot fatigue or muscle pains. Since the upper section is designed to be breathable, you'll also feel much cooler, even in hot weather that would normally cause your feet to overheat in shoes.
These shoes are great for a range of different outfits and occasions, and they can double as really good driving shoes if you need something simple and versatile.
Check Price on Amazon ➞
Driving Shoes Buyer's Guide
Buying driving shoes can be as tricky as buying any other kind of footwear, with the added issue of the requirements being much more limited in scale – there aren't as many factors and features you can filter out when you're searching around for a new pair, which can make it seem like there's far more to the process than there actually is:
The Fit
One of the biggest mistakes you can use with driving shoes is getting a pair that don't really fit. Unlike normal footwear, which you'll generally be wearing for extended periods of time, driving shoes are only really meant to be worn in short bursts, or for more extended periods while you're driving around. This means that you'll be most likely to realize they're hurting your feet while you're on the road, and stopping the car to change footwear isn't always a realistic option. It can even put you in danger of a crash or collision if you aren't careful.
Remember that not all driving shoes are slip-on models, either – some will still use laces, straps and other tightening methods, which can make them much more limited than you're expecting if you're buying driving shoes that are technically equal to what you might need. Depending on the shape and size of your feet, you might need to go half a size larger.
Also, keep in mind that most people have one foot that's bigger than the other – if you're re-measuring your feet, make a decision based on the largest foot, rather than the smallest. This will save you the trouble of having a pair of shoes that's too tight for one of your feet.
The Grip
Speaking of crashes, losing your hold on a pedal can be a serious problem for drivers of any skill level, especially when you're in the middle of a long drive or moving at high speeds. If your foot slips off the brakes or the acceleration, you might end up ramming into another car, and it will still be considered your fault.
This also matters a lot when you're using driving shoes to walk around – like regular footwear, a good grip can be the difference between you slipping over or keeping your balance on certain surfaces, and it's entirely possible that you could end up hurting yourself if you're moving on a sloped surface or over uneven terrain.
Not all grip styles are equal, and they don't all treat surfaces in the same way – some are meant for softer ground, others are better for hard surfaces, and others still might only work on dry ground or flat flooring. Matching the grips to your needs is incredibly important.
The Style
Style matters a lot more than you might think since driving shoes are generally seen as a high-class item by many people. In some cases, having a pair of extremely poorly-made and cheaply-designed driving shoes can be more damaging to your image than not having any at all, especially if they don't fit with the kind of outfits you normally wear.
If they're just for personal use, you'll have a lot more leeway in the designs and styles that you can choose, but you should always try to get the best and most stylish pair possible if you have a job or hobby that requires you to look as good as possible.
Keep in mind that not all driving shoe styles are designed in the same way. Some will be almost exclusively meant for formal occasions, whereas others might be a mixture of formal and informal, or just a variant of completely casual footwear.
Durability
While it doesn't matter as much as regular shoes, durability can still play a huge part in how useful your driving shoes are. The more they wear out, the more danger you might accidentally put yourself in since they could fall apart or lose some of their gripping strength while you're driving somewhere. In a worst-case scenario, they might even start to wear down in ways that make them impossible to use on pedals properly, leaving them utterly useless for driving.
Extra durability also translates to better protection for your feet, which can matter quite a lot. While you aren't exactly moving your feet around yourself, the bumps from driving a car can still lead to muscle pain if they're not handled correctly, and a collision with an object or another car can subject the bottom of your feet to an extreme amount of force, leading to serious pain if you're not careful.
Flexibility
Being able to bend and flex your footwear is an important feature that some companies end up ignoring in favor of style or better protection. While this isn't always a problem, you might find yourself feeling uncomfortable if your car's pedals are designed in certain ways, and it can also make your driving shoes much less suitable for walking medium-to-long distances. This is especially true if you're often moving over open terrain, since rigid shoes will struggle to deal with surfaces that aren't flat, making them wear out faster.
Flexible materials might take some extra effort to look after, though – many people prefer to leave wooden shoe trees in them to help them retain their shape since flexible footwear is more vulnerable to sagging from overuse or long-term wear and tear.
Expert Tip
Not all driving shoes are designed to be worn with socks, so make sure you know what you're buying in case you get a pair that don't fit your needs.
Did you know?
Keeping tissue paper in your driving shoes when you aren't wearing them will help them keep their shape, but won't add any extra weight if you're carrying them (such as while traveling).