What is Zion Williamson's Shoe Size?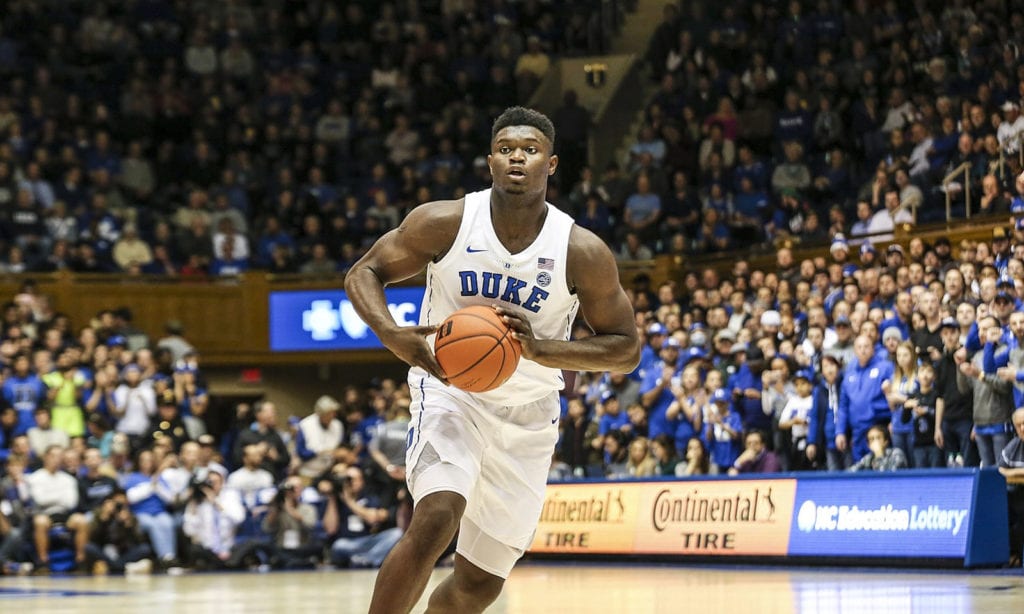 Zion Williamson, New Orleans Pelican No.1, was born on July 6th, 2000. Making the 19-year-old one of the younger members of the National Basketball Association (NBA). Williamson's rise to fame was swift, following his stint with the Duke Blue Devils, he was selected for the Pelicans in the 2019 NBA draft. Here is everything you need to know about the NBA player, from his impeccable skills to his rise to fame:
1. Wears an Impressive Size 15 Shoe
Turning heads at an impressive 6'7″ and weighing in at 285 pounds, he wears size 15 shoes and is the second-largest of NBA players after Boban Marjanovic. It is no wonder Williamson was crowned with a name that would both parallel his talent and size and, shortly, foretell his future. Williamson was named Zion, after Mount Zion, the highest point in Jerusalem after his great-grandma and mom knew he'd be special. Indeed between eighth and ninth grade, he grew from 5ft 9inches to 6ft 3inches and secured a season after being selected for the NBA draft at 18-years-old.
2. Landed a $75 million Shoe deal with Nike's Jordan
Before even playing an NBA game, he landed a deal with Nike on their Jordan shoe Brand. This is the largest shoe deal on record for an NBA rookie. Adam Zagoria reports that the Nike Jordan shoe deal is worth $75 million over seven years. Originally Nike was in the spotlight when Zion burst through a pair of his Nike shoes and attained an injury on the court in a game against the University of Carolina. Seemingly this didn't stop Nike from forming an alliance in their biggest shoe deal since the Nike and LeBron James shoes.
He debuted a pair of Nike Jordan shoes for his 'Bayou Boys' range on January 22nd, and they hit stores on March 13th.
3. Serves Effortless Dunks from the Free-throw Line
While Williamson's' predecessors such as Michael Jordan, Brent Barry, and Vince Carter have won dunk contests from close to the free-throw line, Williamson does so with remarkable ease despite a 285-pound frame.
4. Topples Records for the Highest Vertical Leap in Duke History
Zion Williamson had a surprise in store for Duke, who were ill-prepared when he became the first to outjump their vertical leap test. After readjusting the height of the bar to account for the magnitude of Williamson's skill, he topped records at 40 inches.
5. So Famous in High School that Drake Wore His Jersey
Zion Williamson was still in high school when Drake sported his jersey. Williamson tweeted an image of the artist sporting his high school Jersey in what can only be imagined as a state of awe, and what he later said was "an indescribable feeling."
6. Was on SLAM Magazine Cover at 16 years Old
It is no secret that the rise to fame of Zion Williamson was swift as a new, young and upcoming player for the New Orleans Pelicans. Just check out the June 2017 issue of slam, which asked of the world "Are you ready for Zion Williamson?"
7. He has Been Compared to LeBron James
Fans and analysts like to compare Williamson to LeBron James, as well as Michael Jordan, although it is hard to compare the two remarkable players. NBA player Kevin Durant described Williamson as a "once-in-a-generation type Athlete." Williamson plays the power forward position and is known for his almost weightless effort on the court despite his size.
8. Offered Football Scholarship by LSU
It is no wonder Williamson was offered one scholarship at LSU. After all, he was ranked top five players in his 2018 class at Duke as their five-star recruit.
On the court, Williamson earned his reputation. Once, during the rising stars game, he threw down a dunk at such force that he bent the backboard. Subsequently, his teammates at Duke would nickname him Zanos, after they thought of him like the super-strong Marvel Villian Thanos.
9. Comes From an Athletic Family
After dabbling with other sports, Williamson set his sites on basketball at just five years old. After that, he was fixed, training every morning at 5 am. He was heavily influenced by his stepfather, who, like Williamson, was a former college basketball player, Lee Anderson, helped him with his skills as a point guard.
10. Has an unlikely History with Anthony Davis
Williamson joined Anthony Davis and Kevin Durant as the only freshman to collect 50 steals and 50 blocks in one season alone. Although he recalls that after once being denied a signature by Davis, he tries to sign every child's autograph, so they don't have to endure the same disappointment.
11. A Welcome from Drew Brees
Zion received a warm welcome upon joining the New Orleans players. His first season as an NBA star was initiated by Drew Brees, who hooked him up with an unsolicited autographed Jersey. The jersey which read "Zion welcome to the family. Let's dance," has become a phrase of Zions since.
12. Is Ready to go After Suspension Due to Injuries
At the end of 2019, he sustained injuries to his right knee in the final preseason game against the Knicks. However, Zion is now back and ready to go. David Griffin, the Pelicans executive vice president of basketball operations reports on Williamson's good physical and mental health.