10 Best Marathon Shoes in 2021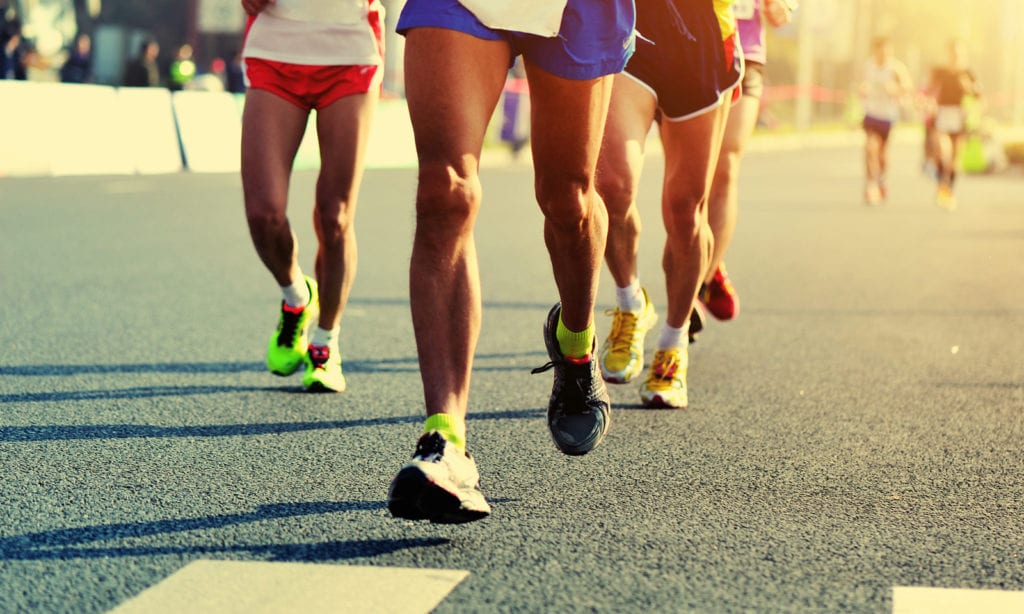 Running a marathon isn't easy, and your running gear can play a massive part in how comfortable, safe, and energized you feel while you are on the move. The most important item of clothing in this situation is your shoes: you are supposed to be running in terms of distance rather than speed, which completely changes the types of features that you will find useful. A set of casual or running shoes can work well, but if you want to get the best results possible, it is vital that you pick out some shoes that you know you can rely on. Marathons aren't just a short sprint, and your footwear needs to reflect that.
View the Best Marathon Shoes, Below.
1. Brooks Men's Adrenaline GTS 19
These running shoes are designed for cushioned support and excellent stability, helping you tackle a vast range of terrain types without breaking your stride. The specially-designed cushioning materials are able to make you feel energized with every step, letting you keep up the pace and avoid feeling fatigued easily.  The overall design is very similar to many other running shoes, but the breathable and flexible fabrics used for the upper section make it easier to stay cool and keep moving in hot weather – this works alongside the rubber sole to ensure that you are comfortable, stable and extremely well-protected on almost any kind of ground, natural or not.
These shoes take a classic design and rebuild it using better cushioning, lighter materials, and more consistent protection, making them perfect for marathon runners who want to stay comfortable and safe without using some bulky, unusual-feeling footwear.
Check Price on Amazon ➞
2. New Balance Men's 1080v9 Running Shoe
These high-quality marathon shoes use a specially-engineered mesh layer to provide maximum breathability and better support while you are running. The special "fresh foam" used in the midsole gives you a massive boost in comfort, but still gives you full control over your movements, letting you take advantage of the streamlined design and supportive Ortholite insole.
The outsole is made with tough rubber that uses dozens of hexagonal lugs, making it much easier to grip onto dozens of different surfaces without the risk of suddenly slipping over or stumbling. In fact, the entire outer section uses a range of synthetic materials that provide a mixture of padding, protection, and comfort in nearly any situation.
These running shoes offer plenty of comfort and flexibility, making them ideal for marathons that require a lot of careful footwork. The extra comfort and padding also help you stave off foot fatigue.
Check Price on Amazon ➞
3. adidas Women's Adizero Tempo 9 Running Shoe
These classic running shoes combine low weight with excellent stability and a reliable set of materials, giving you great performance during long marathons and runs. The rubber outsole is designed to take on all kinds of soft or firm ground, and the mesh upper section provides better ventilation in warm weather.
Despite not weighing very much, the design also uses a special stabilizing system that helps you keep your footing almost anywhere, as well as cushioning that makes it far easier to deal with foot fatigue and other small irritations. Rounding it all out is the stretchweb technology used on the outsole, which lets it flex slightly to give you greater control over your movements.
These marathon shoes may look straightforward from the outside, but they are some of the best marathon shoes for handling mixed ground during marathons that take you beyond paved streets.
Check Price on Amazon ➞
4. Saucony Men's Kinvara 10 Running Shoe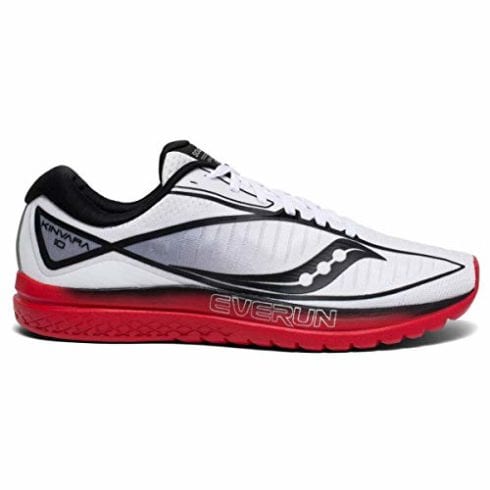 These high-quality men's running shoes use a special EVA midsole to massively cut down on foot fatigue and other kinds of pain, as well as an EVERUN insole that gives you significantly more padding than you may have expected. The upper section is made with a support-friendly yet breathable mesh that keeps your feet cool and dry while still helping you power through difficult parts of your run or marathon. Making this even better is the neutral construction, chosen to give you plenty of versatility when you are trying to deal with mixed terrain types or unexpected slopes and dips.
The versatility and flexibility of these running shoes make them some of the best marathon shoes for general-purpose use available at the moment, giving you a tremendous amount of support and comfort without sacrificing performance.
Check Price on Amazon ➞
5. Brooks Women's Ghost 12
These lightweight, easy-to-wear women's running shoes offer excellent cushioning and support without forcing you to stick to a certain kind of terrain. The build-in Segmented Crash Pad system helps absorb shocks from every step, as well as helping you keep control of every step you take. The custom-engineered mesh used in the upper section increases ventilation while also making them much more flexible around your feet, and the BioMoGo DNA cushioning on the insole works to keep your feet feeling protected and comfortable in nearly every situation. These marathon shoes also provide slightly more energy with every step, making it easier to keep running for longer.
These shoes are light, flexible, and protective, acting as some of the best marathon shoes for people who like to move quickly and hate feeling like their footwear is dragging them down or getting in the way of their running.
Check Price on Amazon ➞
6. ASICS Men's Gel-Nimbus 21 Running Shoes
These men's running shoes are built with a special gel cushioning at the forefoot and rearfoot areas, massively increasing their shock absorption and helping you keep better control of every step you take while you are out for a run. This also helps you transition between different running styles on hard surfaces, making it much easier to deal with multi-terrain marathons. The flexible midsole acts as extra support and boosts your performance further, while the high-abrasion rubber outsole offers a vast amount of durability that many other running shoes struggle to match. All of this is contained in a simple, streamlined design that is familiar and incredibly easy to wear.
These marathon shoes are simple, powerful, and very durable, giving you a mixture of useful features that can make even the toughest marathons far easier to finish regardless of how much running experience you have.
Check Price on Amazon ➞
7. Brooks Women's Glycerin 17
The design of these running shoes allows for smooth transitions between surfaces, letting you tackle mixed terrain really easily without having to constantly change your running style in awkward ways. The natural cushioning provided by the DNA LOFT materials in the midsole helps you stay comfortable and focused, while the OrthoLite insole boosts this comfort even further with every step and gives you immediate relief from foot fatigue. The outsole is made of a tough rubber that can offer two different lug styles for increased traction, and the specially-engineered mesh upper section gives you far more flexibility for a better fit in every situation, as well as massively increased breathability.
These shoes make for some of the best marathon shoes on the market if you are looking for comfort, padding, and natural protection, mixing all three into a single great design.
Check Price on Amazon ➞
8. Nike Zoom Fly Flyknit Men's Running Shoe
These all-synthetic men's running shoes use a unique mixture of materials that combine durability, comfort, and flexibility while still staying lightweight and reliable for dozens of different situations. The carbon-infused nylon plate built into the design improves protection and cushioning further than a generic design, and the Nike React system adds an entirely separate second layer of cushioning to make even the most challenging ground much easier to deal with. The outsoles have a varied design that provides greater traction and stability, as well as making it easier to push off the ground with every step and keep your own pace going.
These marathon shoes are unique in quite a few ways, and the sheer amount of firm cushioning in the design makes them incredibly useful for runners who find other shoes too soft and squishy for them to use on varied ground.
Check Price on Amazon ➞
9. ASICS Women's Gel-Kayano 25 Running Shoes
These women's running shoes are made using a mixture of different materials that help them stay comfortable, light, and protective. The Impact Guidance System technology used in the sole design makes it much easier to keep your natural gait while also running at a higher level of efficiency, making it far easier to manage longer marathons without risk of foot fatigue. Backing this up is the DuoMax support system, which reduces the shoes' weight and provides a massive boost to the support they offer. Alongside that is a comfortable OrthoLite X-40 insole, offering moisture-wicking and great breathability, as well as a very flexible midsole that brings a huge increase in structural integrity.
These are some of the best marathon shoes for people who rely on extremely high foot support to move quickly, offering you a vast range of supportive features without leaving you feeling uncomfortable or exposed.
Check Price on Amazon ➞
10. Saucony Women's Ride ISO 2 Running Shoe
These specially-designed running shoes use plenty of mesh to ensure that your feet can always breathe, as well as making the design far more flexible when it comes to running for long periods of time. The ISOFIT and FORMFIT technology used in the construction also helps each shoe adapt to your feet and running style, providing more personalized comfort for an easier marathon. At the front of both shoes is a mesh toe box that leaves the front of your feet protected yet ventilated, and the backs use a special heel design that makes it easier to rest on the rear of your foot without harming yourself.
The heavy use of mesh in these shoes makes them perfect for marathon runners who want to stay cool and comfortable, especially in hot weather or situations where sweating could significantly impact performance.
Check Price on Amazon ➞
Marathon Shoes Buyer's Guide
Buying shoes always takes a while, but choosing a pair specifically for running marathons can get much harder. A marathon isn't just a short run for fifteen minutes or so – it is a long commitment, and you need all the support, strength, cushioning, and performance-boosting you can get! However, trying to track down a good pair is very hard if you haven't figured out a starting point yet. Once you narrow down your requirements and personal preferences, it becomes much easier to point out the kind of marathon shoe you want to wear.
Cushioning
Running puts a lot of pressure on your feet, and running a marathon means that you will be feeling this pressure without having much of a chance to rest or relax. The longer the marathon, the more your feet will need to deal with, so proper cushioning is often the most important part of a shoe for professional marathon runners.
The cushioning can come in multiple forms, but it is most commonly found through the midsole and insole. The best marathon shoes will have at least one layer of nothing but cushioning (the insole, generally), and sometimes also rely on the midsole to act as a second layer of cushioning to reduce the overall amount of force going into your feet. The outsole's job is to protect you, rather than keep you comfortable, so you will always want them to have separate 'roles' and with an appropriate set of materials.
For many people, foam (including memory foam) is the ideal form of cushioning, since it can easily adjust to your foot shape and will mold into a form that suits you personally. However, this isn't always the case – foam tends to be very soft, whereas some people prefer a firmer and more rigid kind of comfort that forces their feet into a certain position instead. Try to figure out which works for you in the long-term: even if one is more comfortable, you will need whichever option can keep you feeling safe and energized throughout an entire marathon.
Terrain
One of the biggest mistakes you can make when buying running shoes is choosing something that fits the wrong kind of terrain. Some marathons, mainly those in big cities, will take place entirely on concrete roads and flat pathways, with only a tiny amount of natural ground (if any) involved. Even if you run through a park, you will generally be expected to stick to the path unless it is clear that the route crosses some grass or dirt. A shoe that can tackle these artificial paths is almost mandatory if you want to stay comfortable, but one that is built for natural terrain won't be as helpful.
On the other hand, if your marathon is taking you through the country, expect a lot of dirt roads and open grass. There might still be some paved areas, but even if there are, you can generally run on the side of them instead, since they will be surrounded by grass. In these cases, a shoe that can work well on most kinds of natural ground is incredibly important, especially when it comes to rough terrain that might involve slopes or uneven surfaces.
Some marathons might take you across both, either intentionally or just because of how the route is set out. For these, try to find shoes that can deal with both man-made and natural paths: they may be slightly less effective at both, but they will also be much more versatile, especially if you are changing terrain constantly and don't want to end up with sore feet halfway through the run.
Traction
Proper traction and grip can be the difference between a successful marathon and a serious injury, depending on where you are running. If you can't grip a surface properly, the chance of a slip or stumble increases dramatically, and you are also likely to see a massive drop in your performance and efficiency even if you are putting all your effort into running. Not all types of grip are ideal for all terrain types, but in many cases, it is simpler than that.
A shoe with a relatively smooth gripping surface, such as one that uses creases rather than lugs, will only really work on flat and almost-smooth ground. This can be fine in a city and is often much more comfortable to wear as a regular shoe after the marathon is over, but anything too uneven or rough will start to become a problem. Not only will you struggle to grip onto the surfaces properly, but you might even notice sudden pains from any objects that happen to poke up into the bottom of your shoe.
Lugs, on the other hand, are great for natural ground, giving you a massive increase in traction and letting you push yourself further even on tough slopes or surfaces that don't have many smooth spots. Unfortunately, they can also be difficult to wear on the smooth ground. Sometimes, since the lugs are designed to 'dig in' to the surface a little bit. If they can't do that, then it might feel like your shoes are extended higher than they should be.
The design of the gripping surfaces also matters. Lugs still need to be arranged in a sensible way, just like how smooth soles have to have a design that can grab on to the concrete, stone, and other flat ground properly. Make sure you check the design of the outsole before making a purchase, just in case.
Expert Tip
Take advantage of return offers to try out your shoes. Marathons are big and physically-exhausting events, so if something doesn't feel right about your footwear, you can always send it back and get a different size or swap them out for a different design.
Did you know?
Almost all humans have one foot that's slightly larger than the other, generally by half a size. Your feet will also grow larger as the day goes on, especially if you've been moving often (such as running a marathon). Try to measure your feet near the end of the day, and base your purchase on whichever foot is larger. This avoids unexpected issues with your shoes, not fitting as they should be.