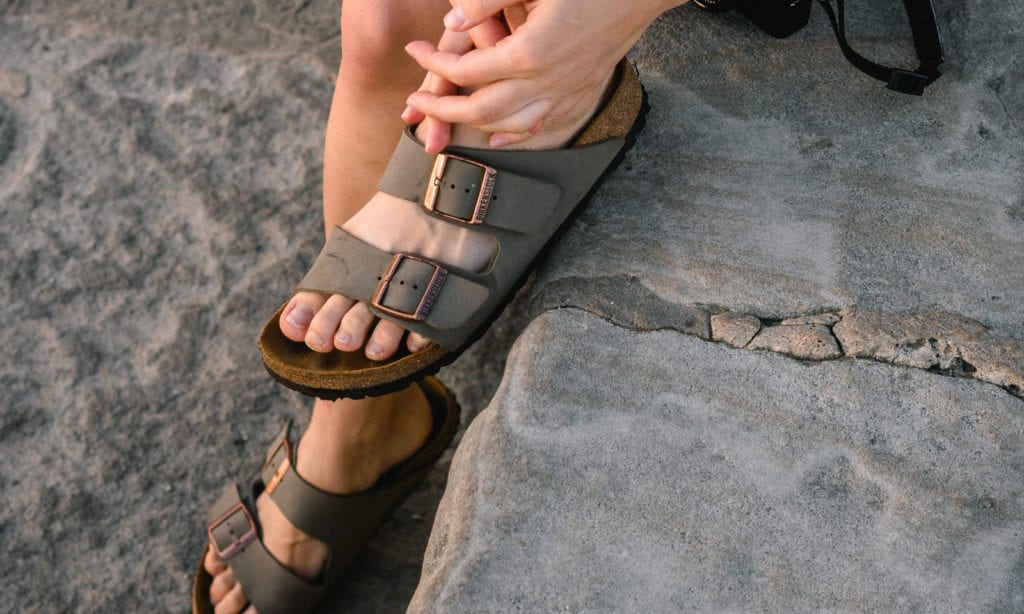 A good pair of running sandals will keep your feet safe without the confinement of a normal running shoe, allowing you to enjoy your runs with less hassle and more freedom of movement. Even if you aren't an avid runner, running sandals are built to be comfortable and durable. And there are plenty of options to choose. In the guide below, you'll find some available styles along with tips to help you decide which will suit you best.
10 Best Running Sandals
1. KEEN Men's Clearwater CNX Sandal
The KEEN men's Clearwater CNX running sandals boast a water-resistant upper, making it a quick-drying and long-lasting pair of sandals for people who enjoy outdoor activities near water or streams. The PVC-free water repellent sheds the water away before it can soak in, helping to keep your sole dry and your feet comfortable. Improved traction from the multi-directional flex grooves gives you a boost to your natural flexibility, with the added benefit of also making ground contact more reliable and free of imprints or marks. Synthetic materials for both the upper and lower provide you with a good balance of strength and comfort, including a good amount of underfoot and arch support.
The multi-directional sole choice makes these into amazing sandals for almost all outdoor activities, keeping you stable and secure regardless of how you move or where you are going.
Check Price on Amazon ➞
2. Xero Shoes Z-Trail
These lightweight and thin running sandals offer a small and compact size that still boasts great comfort and protection, using a 10mm thick sole that can easily be rolled up for convenient transport. The improved durability is boosted even further by a great level of water resistance, meaning that the running sandals can dry quickly and don't retain water or slow you down if you run across wet ground. A zero-drop heel gives you a natural posture and helps you move comfortably, regardless of your running style, while the Z-shaped webbing creates a secure fit over your foot at any running speed.
The relatively minimalist design of these barefoot running sandals actually makes them great for most situations, easily holding onto the shape of your foot and keeping you comfortable despite the thin outsole design.
Check Price on Amazon ➞
3. Xero Shoes Z-Trek
These barefoot sandals are designed to work with your feet to create the barefoot running experience in a safer and more comfortable way, allowing for a natural fit to the bottom of your feet. The flexibility of the materials that Xero Shoes have used means that the sandals can easily flex along with your feet and the Z-style webbing prevents them from slipping off when you are going at high speeds. Extremely reduced weight and a thin outsole make them a very convenient choice of running sandals, cutting out anything that could slow you down and leaving behind a minimalist running sandal that is both functional and comfortable.
If you want alternate minimalist options, then these minimalist running sandals are designed to cut out anything that could make your experience worse, making it feel like you are running completely barefoot at all times.
Check Price on Amazon ➞
4. Teva Men's Original Sandal

These running sandals use a very straightforward design with a universal strapping system, allowing you to get them on your feet and start your run in almost no time at all. A simple hook and loop closure allows for quick adjustments at any moment, and the quick-drying polyester webbing used for the upper adds some water resistance and durability to the design without ruining the style. A Durabrasion rubber outsole on each foot provides maximum traction and protection while you run but also doesn't weigh you down or make you feel like you are wearing normal shoes. Thanks to the simplicity of the sandal design, they are great for almost any outdoor activity.
These are excellent running sandals for people who need quick-drying, minimalist, and comfort-focused sandals that aren't bulky or heavy - something that not many companies can get right even if they use the correct materials.
Check Price on Amazon ➞
5. Luna Sandals Mono Winged Edition
These minimalist sandals are designed with a durable set of synthetic materials, including a Vibram Morflex system and a relatively thick sandal base that can handle a wide range of terrain. The simple buckle system allows for easy adjustment once they are on your feet, letting you alter them to feel perfect regardless of your foot shape. This unique adjustment system also sets them apart from other sandals for running by having a single continuous strap, meaning that there is no need to loosen and tighten multiple parts at the same time. The use of EVA and natural rubber in the sole boosts traction and strength even further than normal.
This is a simple running sandal for people who want high quality from the materials rather than any performance gimmicks. Even the straps are designed to be as simple as possible without cutting quality or durability.
Check Price on Amazon ➞
6. Xero Shoes Jessie
This pair of running sandals use a super-minimalist construction that cuts each running sandal down to its most basic form, using only the necessary materials. They are made with a simple strap system and an extra toe strap to keep the sandal properly aligned but are otherwise free of restrictions, meaning that you can stay barefoot and comfortable with a high level of free flexibility. The natural feel and motion on offer ensure that you aren't getting any unwanted arch support that could work against your feet, and the soft woven design of the straps improves comfort without constricting the front or back of your feet.
This pair of sandals offers one of the most minimalist designs on the market, making them an incredibly compact set of lightweight footwear that can still provide good comfort and protection during a run.
Check Price on Amazon ➞
7. Teva Women's Tirra
These sports-focused running sandals are made with high-quality materials for maximum comfort, including an outer layer of nylon that can endure most outdoor conditions without breaking down. The simple hook-and-loop closure, combined with the high-stability nylon shank, means that it is easier than ever to run comfortably while wearing them. These three straps can all be adjusted independently to fit different foot sizes and shapes, working well alongside the EVA top sole and compression-molded EVA midsole to provide better performance and comfort regardless of the trail you are following or the surfaces you are running on.
These running sandals are an incredibly good choice for anybody who wants to look good and feel good while following a tough trail, giving you high comfort and even better stability without resorting to bulkier, heavier materials.
Check Price on Amazon ➞
8. Vionic Men's Tide Toe-Post
The full-grain leather and textile upper of these running sandals make them a very attractive choice, combining comfort with style to give you multi-purpose footwear that is more comfortable than a barefoot run. The EVA footbed offers even more protection and strength compared to most other sandal models, with the straps running between the toe area to give you more freedom of movement. A heel height of one-inch grants you slightly more padding than you might expect, and the no-frills nature of the design makes it feel simple and authentic during a run. Even better, the shape of the insole itself has been tweaked through Vionic's bio-mechanical techniques to give you great support while you run.
These are simple sandals that work really well for trail running as well as casual use, offering you a solid alternative to going barefoot without being bulky, heavy, or uncomfortable to wear for long periods of time.
Check Price on Amazon ➞
9. Chaco Men's Z1 Classic Sport Sandal
The polyester used in the upper of this running sandal design helps turn the straps into high-tensile webbing wraps, allowing them to easily fit your feet to a customizable degree of tightness. The buckle closure provides more security with your fit than a normal hook-and-loop system, and antimicrobial materials in the insole help remove any odor your feet might have after a long run. Not only that, but the solid CachoGrip rubber outsole uses a 3.5mm-deep lug design for far better stability on all surfaces, making sure that you won't fall over easily or lose your grip on tougher slopes. A low heel also improves stability and control at any speed, not just during your daily run.
These sandals are a great option for casual use, giving you better protection and comfort than running or walking barefoot while still being lightweight, simple, and very practical for a wide variety of different uses.
Check Price on Amazon ➞
10. Vibram Five Fingers Women's V-Soul Fitness and Cross Training
These toe sandals use a separate toe box for each toe on your foot, giving you a very natural-feeling way to flex and move without being too restrictive. While it isn't exactly the same as running barefoot, the Vibram XS TREK sole offers much better wet traction and a higher tier of flexibility compared to normal running shoes. On top of that, the low weight and excellent choice of materials mean that they can stay comfortable and lightweight in any situation, giving you far better foot protection and higher traction without forcing or going too far and limiting how you can move.
If you don't want to be barefoot outside but still want to feel that level of flexibility, then these women's running sandals offer a unique take on the idea that can make a big difference in your next run session.
Check Price on Amazon ➞
Best Running Sandals Buyer's Guide
Choosing the best running sandals on the market isn't always about the complex things, but the basics. If you want the best running sandals for your specific needs or niches, then you need to understand what you actually want from your sandals before you purchase any. Here are some things to consider when looking for sandals that you might want.
Comfort
Staying comfortable in your running sandals is a hugely important part of any run. Not only does it give each foot more of a connection to how you feel while running, but well-made running sandals and running shoes are often much more comfortable. Even if you aren't a born-to-run athlete, you want to be sure that your sandals are made with materials that offer good comfort since an uncomfortable pair of sandals comes with more cons than it does pros. In fact, sandals without good comfort can often be classed as a con all on their own.
There are a lot of ways that sandals can struggle with comfort, and the straps are a big part of it. Straps that don't properly hug your foot are more likely to come across with a bad fit, which can easily make them feel as if they were made for a different size. Even worse, many sandals are specifically designed with straps that are meant to hug your feet properly, so ones that feel loose can often result in you falling over or your footwear slipping off as you move.
However, the key point with comfort is the materials. All sandals live and die by the materials that they use, and the wrong materials can have more cons than pros. For example, one of the main cons of bare leather is that certain types can irritate the skin on the bottom of your feet, whereas the main cons of some synthetic materials can be the added weight or the fact that they aren't entirely natural.
With comfort, almost anything can impact how comfortable sandals feel, so it is entirely up to the individual to decide what they want. Some people prefer certain materials on their feet due to the softer feel, while other people might like to have something more solid, even if that means losing out on some cushioning. There can even be times where a softer outsole will make sandals less comfortable for certain people since it can alter the way that they have to walk or make their steps feel slightly more 'floaty.'
If you are getting your first pair of sandals and don't have any major experience with trying to run in sandals, this can be tough because you won't have a frame of reference for the comfort you should be feeling. If that is the case, aim to try on as many sandals as you can for a while, even if it is just by borrowing them from a family member. Running sandals are very different from running shoes in terms of the feel you get and the overall style of the designs, so you can't always rely on your experience with a normal shoe to help.
Style
Even if sandals are comfortable, that isn't always enough. The way that sandals look and feel are equally important, and the look of your sandals can matter more than you might think: something that is "just a look" could actually really change how the sandals work. For example, trail running sandals might look different to normal beach sandals, and that is because they are – they are fundamentally built for different things and will work differently on your feet.
The most obvious difference is style is between men and women since some sandals are only built for men or women, respectively. Unisex sandals that cover both men and women are quite easy to find, but many people prefer sandals specifically for their sex due to the niche differences that aren't really possible on unisex styles. Buying sandals meant for the opposite sex is just as risky as buying shoes in the same category since one of the biggest cons is the fact that they might simply not fit on your feet at all.
Like shoes, the style of some sandals might not be a massive difference overall, depending on the design. Some types are only going to have small tweaks, like a special toe box or a more lightweight rubber sole to help with trail running. However, there are also some big outliers, such as minimalist sandals.
Minimalist Barefoot Running Sandals
Minimalist sandal designs have become increasingly popular in recent years, and they cut out most of the excess parts of the design to give you the most bare-bones footwear possible. Unlike a minimalist shoe, there is generally nothing but the insole, outsole, and straps left: if you buy a minimalist sandal, you are usually getting high-quality parts, but with a look and design that removes everything that isn't necessary to reach your best running potential.
Minimalist designs can be appealing, and many people like them, but it is important to remember that running in sandals isn't the same for everybody. You might like some Xero Shoes minimalist options in concept, but in reality, you could prefer running in sandals that feel bulkier and aren't as lightweight or bare.
Zero-drop minimalist options are similar but are made with an almost completely flat design. There might still be a multi-directional lug pattern, but a zero-drop heel.
Colors and Patterns
The aesthetics of your shoe choice doesn't matter as much when you are just running in sandals, but it can still be a fairly large personal choice. There isn't always a way to change the look of a sandal once you own it, just like how you can't really paint over a shoe without proper preparation, and that is not even mentioning parts like the straps or rubber sole that might be built straight into the body. Having a design that you like and feel confident in can also sometimes help with your running performance, as strange as that might sound.
You won't necessarily see details about the physical appearance of your sandals in books like Born to Run by Christopher McDougall, and that is because it is really up to the individual. Some people treat them like a shoe and go for whatever looks the most practical, while others are more focused on standing out and having something flashy. Since sandals aren't a shoe, you can afford to be a bit more creative, but there are still definitely ways to choose a style that stands out in the wrong way.
Practicality for Running in Sandals
Whatever you end up choosing, you want your sandals to actually work in the situation they are in, just like choosing shoes for any other purpose. If you need sandals that are lightweight, have a strong rubber sole and outsole of 5 .5mm, have a specific heel cup size and keep every toe exposed, then you want something that can do all of those things (or at least most of them, if all of them isn't possible). This buying guide can't really lock down the best options for this, since any buying guide can only go so far – like buying shoes, the entire process is based on what you want from a shoe (or sandal, in this case).
Also, like shoes, there are certain types that are going to be better than others. You would choose shoes with a strong outsole for trail walking, so you will choose sandals with a strong outsole for trail walking and running as well. You always need to get something where the cons are minimal, and the benefits work in your favor – pros that you will never use may as well be cons since they can increase the price you pay.
Breaking it down to pros and cons can help, but even then, some cons are subjective. If you are running on a trail, a solid sole can be a major plus, but it might become one of the cons if you don't want your sandals to mark the flooring. Even something as small as a 5 .5mm sole size can become a downside if you are wanting something under 5 .5mm. Even some brands, like the Z-Trek line, can be more or less desirable simply because of the Z-Trek name and a particular design quirk or detail.
Features like a multi-directional lug pattern on a sole are going to be amazing in very specific circumstances, but in other cases, you might just want something that will look good and feel lightweight. Don't get more carried away than you have to be, but also don't hesitate to look at more expensive models that a company has made. Every piece of footwear made by a high-quality brand is going to be made with similar features (and usually made to the same standard), so you can get an idea of what to expect based on the past products that the company has made before.
Accuracy
Always make sure that the shoes you are looking at are being advertised honestly. This isn't a major worry for large brands, but when buying from resellers or little-known outlets, you never quite know what you might be getting. One of the biggest risks you can run is buying something like Xero Shoes Z-Trek sandals from a third-party group since their 'Xero Shoes Z-Trak' product could be a knock-off. Even then, if the Z-trek is accurate. Amazon is a relatively safe site to find the best options, but some Amazon accounts are made to sell products at a higher price than elsewhere, and one or two might not even dispatch the right products.
In most cases, if a site is a participant in the Amazon Services LLC associates program, they will make it obvious on the page somewhere. Even if a site is advertising products on Amazon indirectly, they will still be honest about it and use details from the Amazon page itself. Watch out for fake information, though, especially if it links to an Amazon page: you could easily go $400 overboard with products that don't actually suit your needs properly. On the other hand, it would also be easy to go $400 under your maximum budget and end up with the same problem, so you still need to search carefully.
Conclusion
Finding the right running sandals depends on your needs and the right choice will vary based on a person's foot, activity and even climate. Regardless of your needs or style preferences, trying on shoes before buying is especially helpful for shoes meant for an activity, such as running. If you're unable to try on before buying, check return policies and consider if you're able to try on a variety of options before deciding which works best for you.
Expert Tip by Alexis DeSalva Kahler
Don't pay extra for features you don't need. Look for shoes that provide the benefits you want and don't get hung up on the "extras
Did You Know?
Not all people can run with sandals in the same way, especially if they have certain health conditions or physical issues. You might find that an unconventional design feels more comfortable to you in that case.