10 Best Sandals For Plantar Fasciitis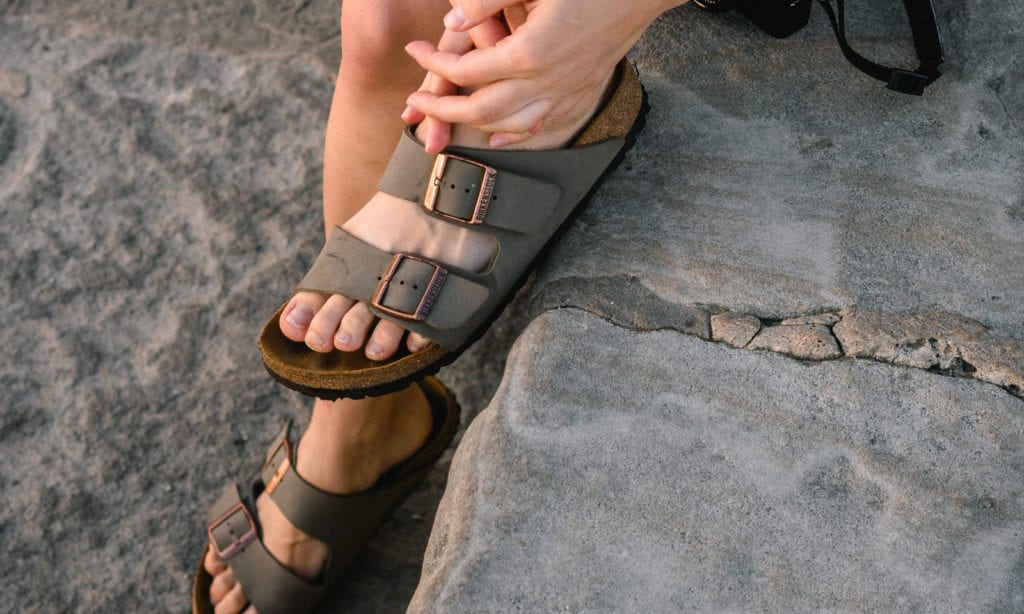 Plantar fasciitis is a common health issue that causes pain in the feet. If you experience a burning, stinging, or tingling sensation in the arch of your foot, then it is likely that you are suffering from plantar fasciitis. With this condition, walking can be difficult, which is why finding the right footwear is important, as you can get the support you need daily through your shoes.
In warm weather, you want your feet to breathe without compromising comfort. This review includes the best sandals for those with plantar fasciitis, so you find comfortable, supportive and seasonally appropriate footwear and avoid your pain from worsening.
The 10 Best Sandals For Plantar Fasciitis
1. OOFOS – Recovery Slide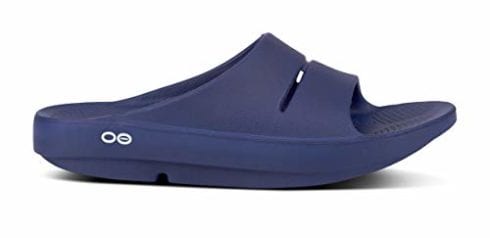 These are slider sandals that are made from foam, making them lightweight and perfect to put on in hot weather. As they are made from foam, these sandals are water-resistant, which makes them versatile. They use Orthaheel technology for shock absorption. This makes them the best for people with plantar fasciitis as this condition makes every step painful.
These sandals feature a patented EVA footbed that cradles your arches and reduces pain. They are machine washable, which makes them easy to wear and versatile for all summer occasions. These shoes are available in a wide range of sizes to suit a range of people.
These shoes are ideal for foot conditions due to the Orthaheel technology and arch support provided.
Check Price on Amazon ➞
2. Crocs Men's and Women's Classic Flip Flop
Crocs are a renowned brand for their comfortable footwear, and these sandals are no exception. They are unisex, which means they can be worn by both men and women. This sandal is lightweight and waterproof, making them versatile. This sandal has a deep heel cup that can protect the correct foot position. They are easy to wear as they are flip flops.
These shoes can reduce plantar fasciitis pain through the contoured footbed. This cradles the heel and arch, supporting the correct foot position. They are made from a flexible Croslite material, and the sole is shock-absorbing. The open design allows the feet to spread naturally, which supports a good blood flow. This can reduce swelling and the pain that comes with plantar fascia.
These sandals are very comfortable with the foam footbed that molds to the shape of your feet.
Check Price on Amazon ➞
3. Vionic Sandal with Concealed Orthotic Arch Support
These Vionic sandals are the best for plantar fasciitis pain as they have been designed by podiatrists. This means they offer all the support your feet need, including shock absorption and a durable rubber outsole. The EVA footbed on this Vionic shoe offers targeted relief to pressure points of the feet. This includes a deep heel cup and specific arch support. They can comfort your feet all day long, which is why they are some of the best.
These Vionic flip flops are available in a range of colors. They are great quality flip flops that are made from leather for the upper. Vionic is a renowned brand for footwear, and its quality can be seen in these shoes. Leather is a naturally durable and flexible material making these shoes excellent quality. The insole cushioning cradles the arch, which makes these Vionic sandals some of the best for all kinds of foot and heel pain.
These Vionic flip flops are of great quality as they are designed by podiatrists and have a contoured footbed to alleviate pain when walking.
Check Price on Amazon ➞
4. Crocs Men's and Women's Classic Lined Clog
This is yet another option from Crocs for both men and women. These sandals are the classic clog style that offers a lot of support that helps reduce foot pain. They have a contoured footbed, which makes them super comfortable to have on all day long, making them one of the best. The ankle strap is adjustable to keep the shoe in place when walking. This is a unisex style for both men and women. They make a brilliant new pair of shoes for the summer as they are lightweight with air holes for ventilation.
They are waterproof and can be worn in a range of locations, making them versatile. The foam interior offers lightweight cushioning to keep you comfortable every step of the way. They are an extra-wide style that allows the toes to spread naturally to reduce swelling.
These are lightweight sandals that can be worn by men, women, and children that have a good width to the toe box, making them comfortable.
Check Price on Amazon ➞
5. Birkenstock Unisex Arizona Sandals
These sandals are made from Nubuck leather. The footbed is contoured to cradle the heel and toes, supporting the foot when walking. These are unisex sandals, and the straps have adjustable buckles. This is a flip-flop sandal, which means they are slide-on shoes.
This sandal for plantar fasciitis has a durable sole with a deep lug pattern to provide a good grip. These are one of the best sandals to help with comfort, and as they are made from durable materials, they will last a long time. This makes them an excellent value.
These sandals are high-quality with durable materials offering comfort and support to your feet.
Check Price on Amazon ➞
6. Upgraded Orthotic Flip Flops with High Arch Support
These are some of the best sandals for foot conditions like plantar fasciitis as they are orthotic designed. This means they have been specially designed for comfort. They offer some of the best arch support as the shoes are designed with a higher heel and contoured footbed.
One of the best features of these sandals is the durable rubber sole. It is a lightweight sandal with an excellent tread for comfort. They may be one of the best shoes for plantar fasciitis as they have a cushioned insole that cradles pressure points, like the arch and heel, all day.
This shoe offers a lot of comfort as the insole is soft, cushioned, and has a high arch to protect your posture when walking.
Check Price on Amazon ➞
7. BYRIVER Spring Massage Slippers Sandals Shoes
These are unique sandals that are ideal for men and women with plantar fasciitis. They are designed with massage beads on the insole that target specific areas of the feet. These sandals are the best for relieving painful and swollen feet. There are three color options for this sandal making them suitable for both men and women. Likewise, the strap has a Velcro closure so it can be adjusted to accommodate swelling and different size feet.
These are specific foot acupoint stimulation slippers that should be worn around the house and after a day on your feet. They should be worn for multiple hours a day to reduce stress and alleviate pain in your feet. It is important to note that the massage beads are not soft, and it can take more than one wear to feel the benefits of this shoe.
These are special acupoint sandals that have massage beads that help stimulate the pressure points of the feet.
Check Price on Amazon ➞
8. AEROTHOTIC Original Orthotic Comfort Thong Style Flip Flops Sandals
This sandal for women is a stylish shoe that offers the pain relief you need when dealing with plantar fasciitis. They are made with an orthopedic insole that reduces back and heel pain, providing a lot of comfort to women. The straps are available in different colors.
The sandal provides arch support and is water-resistant, which is why they are one of the best. They are true to size, which helps you find the perfect pair when shopping. They look stylish and have a glittery strap, making them a good new pair to buy for summer.
These orthotics sandals are stylish, with a sleek design, and feature a contoured foot insole that offers arch and heel support.
Check Price on Amazon ➞
9. Crocs Literide Clog
This pair of sandals is an update from the classic orthotics clogs. They are also made from synthetic materials that are lightweight and soft on the skin. This sandal is aesthetically pleasing and has a streamlined design that suits both men and women. The outsole is lightweight and durable.
This sandal for plantar fasciitis can be worn by both men and women. They feature a shock-absorbing heel cup that supports the back of the feet to ensure the right posture when walking. They are easy to wear as they are clogs with a strap across the back of the foot to keep them in place when walking.
This sandal is a comfortable clog that is easy to wear and has a contoured footbed that offers support to specific pressure points.
Check Price on Amazon ➞
10. Orthofeet Proven Plantar
These sandals for plantar fasciitis are of great value as each purchase comes with a 60-day wear test. These are orthopedic shoes that are lightweight and breathable to keep you cool all summer long. They have a closed-in design with an extra-wide toe box that allows the toes to spread naturally to support blood flow.
These shoes for plantar fasciitis are adjustable with a hook and loop closure. The insole does feature air cushions to cradles pressure points, easing pain in the heels and ball of the foot, which provides a lot of comfort. These are wide fit sandals for plantar fasciitis with a soft, flexible upper, making them supportive.
These are supportive shoes for orthotics issues, with a cushioned insole and a wide fit that helps improve blood circulation.
Check Price on Amazon ➞
Buyer's Guide
What Are The Best Sandals For Plantar Fasciitis?
The best sandal for an issue like plantar fasciitis will need to be both supportive and comfortable. They will have cushioning in the insole that can cradle the foot and help take the pressure from certain parts of the feet, such as the heel and arch.
There should also be features that provide the correct foot position and help you keep your posture when walking, as this also reduces pain.
A wide toe box is also something to consider, as this can be supportive of your balance and also allows the toes to spread inside the shoe. If a pair of shoes allows your feet to move inside of them, blood circulation will be supported, which may reduce swelling.
Considering the look of a pair of sandals is also important, as you want to find a pair that you will want to have on your feet all summer long.
However, the main thing to consider when it comes to finding a sandal that will help with foot pain is the cushioning inside. You want to make sure that a sandal will provide support to all areas of the feet, especially to pressure points like the heel, arch, and toe.
While a sandal may not feel comfortable right away, as most shoes cannot be worn without a break-in period, they should offer support over time.
Conclusion
Finding sandals for plantar fasciitis may seem like a difficult task, but there are a lot of options available that don't comprise style or support.
To find the sandal that's right for you, consider features, such as interior EVA cushioning, design, and fit. Plantar fasciitis can be a painful condition, and you should not sacrifice support in your footwear.
As well as considering the supportive features, you also want to make sure that you like the look of the shoes. If you like how the shoes look, you will be more likely to wear them and get the support you need.
Expert Tip by Alexis DeSalva Kahler
Considering footwear that has a wide toe box. This will allow for more circulation and less swelling.
Did You Know?
Plantar fasciitis is an inflammation of the band tissue in the feet, which is spread between the heel and the toes.
Sources: https://www.prevention.com/, https://www.nhs.uk/conditions/plantar-fasciitis/