10 Best Running Shoes for Bad Knees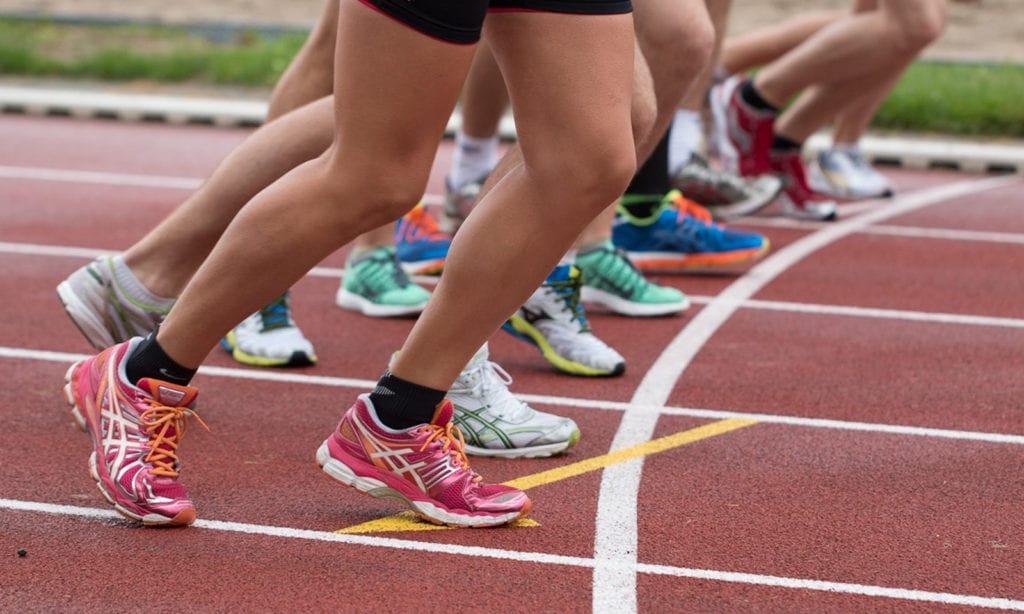 Knee pains can affect everybody, regardless of how healthy and active they are. Whether you are a long-time runner or just starting out for the first time, you'll probably end up having to deal with sore, clicky or worn-out knees that make it temporarily much harder to complete your regular running goals. Even if you're not a frequent runner, having knee problems can still be really uncomfortable, and even something as simple as walking around your own home can become a painful experience until your knees heal properly.
Below are ten pairs of running shoes for bad knees that should help you avoid knee pain, as well as making existing issues far less of a hassle in day-to-day life.
View the Best Running Shoes for Bad Knees, Below.
1. ASICS Women's Gel-Venture 6 Running-Shoes
These flexible running shoes use a combination of breathable mesh and durable synthetic materials to create an upper section that's comfortable, protective, and extremely useful for a variety of different activities. However, the EVA sockliner on the inside helps prevent foot pain in the long term, and can even be removed to make room for your personal supports if you have orthotic issues or a medically-prescribed insert. Not only that, but thanks to the design of the outsole, you'll be able to benefit from extra EVA padding without the shoe itself being vulnerable to damage from long-term use.
These running shoes take a simple design and build upon it slightly, turning them into footwear that's great for anybody who needs some extra support or protection surrounding their feet or knees.
Check Price on Amazon ➞
2. Brooks Women's Adrenaline GTS 19
These streamlined shoes use a very basic general design, but it's the materials that set them apart. The perforated fabric upper section helps you stay cool and cushioned in almost any weather, while the foam insole ensures that the shoe molds to your foot shape, preventing you from having to walk and run in ways that hurt your knees. The relatively strong and padded soles help absorb shocks while you're wearing them, meaning that you won't be putting as much force and pressure on your legs during tough walks or on uneven surfaces.
These women's running shoes are stylish, simple and don't rely on any over-the-top features, taking an existing type of shoe and reworking it for extra comfort and pain relief.
Check Price on Amazon ➞
3. Saucony Women's Cohesion 10 Running Shoe
The rubber soles of these running shoes make them ideal for taking on tough terrain, but the EVA layer and built-in heel grid also add plenty of cushioning and shock padding, keeping your feet safe and secure on both even and uneven surfaces. Thanks to the fairly subtle use of mesh on the upper section, you'll be able to stay cool without having your feet exposed to rainwater, and the soft collar ensures that your ankles will stay nice and supported the entire time.
These running shoes focus on the passive parts of protecting your feet, meaning that they won't get in your way when you're trying to focus on a walk or run.
Check Price on Amazon ➞
4. New Balance Men's 1080v9 Running Shoe
These men's running shoes are designed for as much ventilation and support as possible, using a design that's meant to help prevent irritation and pain wherever possible. The EVA sole dampens impacts and absorbs shocks while the soft upper section keeps the important parts of your feet comfortable, and the foot-supporting construction means that they can help you walk even if you're struggling with knee pains. Alongside that is the simple lace-up design, which makes them easy to adjust for a variety of different foot shapes, inserts, and sock types.
While these running shoes might look fairly average on the outside, they're hiding a lot of useful material choices and design elements that make them perfect for dealing with joint pain and foot fatigue.
Check Price on Amazon ➞
5. ASICS Womens Gel-Kayano 24 Running Shoe
These all-synthetic women's running shoes are ideal for people who need more support, mainly thanks to the flexible materials and breathable mesh used in the design. However, the strong gum rubber sole and flat heel provide plenty of extra stability and physical durability, as well as making it far easier to move around on uneven and non-smooth surfaces. The fairly wide design of the shoe, coupled with its flexible nature, means that you can easily add your own inserts if you've got a specific medical issue or type of pain that requires a custom insole.
These running shoes are perfect for any woman who wants to stay safe and protected without relying on flashy, over-the-top footwear.
Check Price on Amazon ➞
6. Mizuno Men's Wave Rider 22 Running Shoe
These breathability-focused men's running shoes use a lot of mesh materials to increase the amount of ventilation in the design, making it much easier for air to flow through in warm or humid weather. However, when it comes to protection, the strong outsole combined with the soft and cushioned insole provides a vast amount of shock absorption while still keeping you comfortable, supported, and free from fatigue. As if that wasn't enough, the shoes also use an articulated heel zone system that provides, even more, cushioning in key areas of your feet.
These running shoes are great for almost any kind of terrain, and the high amount of padding ensures that pain and fatigue are much less of a problem.
Check Price on Amazon ➞
7. Hoka One One Women's Bondi 6 Running Shoe
In terms of physical padding, these women's running shoes are perfect for dealing with repeated impacts from running and jogging, thanks to the Ortholite insole and padded collar. Alongside that is the EVA midsole, which keeps your feet safe from surfaces that would otherwise feel painful to run across, as well as providing solid support for people who take their exercise seriously. The mesh used in these running shoes upper section allows for greater flexibility and ventilation regardless of the situation, as well as making it far easier to use your own special inserts and/or socks to stay comfortable.
The extra padding in these running shoes makes them ideal for taking on tougher surfaces and terrain types, as well as making it easier to recover from sudden pain or fatigue that might slow you down.
Check Price on Amazon ➞
8. Nike Men's Revolution 4 Running Shoe
These men's running shoes use a very simple design that makes them perfect for almost any kind of foot, with a soft midsole and insole helping to keep you comfortable no matter what kind of footwear you are used to. The strong rubber outsole provides more protection and grip than standard running shoes thanks to its indent-style design, and the mesh materials used in the upper section allow for better breathability around the front and sides of your feet, making it easier to recover from fatigue after a long walk.
These running shoes focus on the essentials, making protection and comfort their main design elements while still being versatile enough for a range of different purposes.
Check Price on Amazon ➞
9. Skechers Men's Energy Afterburn Lace-Up Sneaker
These lace-up sneakers don't seem like running shoes at first, but they're designed for all kinds of athletic activities. The extremely supportive sole helps your feet avoid fatigue and pain while also dampening impacts from slips and falls, while the soft, padded tongue and collar stop the shoe from rubbing against your skin while you're on the move. This, combined with the padded heel and non-slip sole design, makes it incredibly useful in a wide range of different situations and locations, even if you're already sore and fatigued and just want to avoid further issues.
While sneakers might not be your first choice, this pair makes for incredibly good running shoes, especially if you're worried about support and padding.
Check Price on Amazon ➞
10. Salomon Men's Speedcross 4 Trail Running Shoe
These high-quality men's running shoes are built and designed with balance and grip in mind, using a very well-designed sole that provides excellent grip strength and stability to make rougher surfaces much easier to deal with. The EVA midsole provides an excellent amount of protection while still offering cushioning and padding, combining the strength of a walking boot with the comfort of a standard exercise shoe. Not only that, but they're made with materials that are both relatively flexible and surprisingly durable, making them great all-round footwear for nearly any outdoor situation.
These running shoes offer a great mixture of durability and flexibility, being soft enough to stay comfortable while still being durable enough to handle all kinds of wear and tear you might encounter.
Check Price on Amazon ➞
Running Shoes for Bad Knees Buyer's Guide
Buying running shoes is already difficult enough as it is, but finding the best running shoes for bad knees is an entirely different problem. If you don't know what you're looking for, it is very easy to end up buying something that ends up being less helpful than you expected, and you might even struggle to keep up a regular exercise routine due to them.
The Fit
The best way to prevent unnecessary pain is to buy running shoes that fit you – while it might seem like a really obvious point, a lot of people end up paying for shoes that don't suit the shape and size of their feet. This can cause a huge range of problems, and there isn't an easy way to solve it, short of buying a completely new pair that fit better.
For starters, a shoe that's too large is very easy to trip over in, no matter how careful you are. This can lead to both minor and major injuries and puts your feet in much more danger than they need to be in – however, if you have bad joints, it's also easy to stumble in a way that makes your joints even worse, or re-open injuries that were in the process of healing already. If you already have bad knee joints, something as minor as a small sprain can be enough to completely stop you from moving properly for a while.
Shoes that are too small can lead to similar issues, although the damage and injuries are more direct – you might end up with blisters and bruises on your feet, making it harder for you to wear them properly in the future, and there's always a chance of your toes getting squished in uncomfortable ways after wearing them for an extended period of time.
The Outsole
The outsole of your running shoes makes a big difference in terms of how much your shoes will protect your feet, as well as how much padding they'll offer in general. They help compensate for the shape of your feet if your arches are flat or really high, and a thin outsole will generally lead to you feeling more impacts while you're walking or running around.
A bad outsole might also lead to more injuries in the long run, since you'll not have as much between you and the ground – stumbling onto something or falling from a higher-than-usual height can be much more of a problem, since there's no material to help dampen the impact and absorb the physical shocks. Because of this, more of the force from each impact goes straight into your feet and legs, making it far more likely that you'll end up getting hurt that way.
The Midsole
While midsoles aren't always necessary, they can make a big difference under certain circumstances.  The average insole will work as an extension of the outsole and the midsole, providing slightly more cushioning and physical protection alongside whatever's offered by the existing sole parts. However, in some cases, a midsole will be built with materials that aren't used anywhere else: things like memory foam or ventilation holes, which can't be safely used on the outsole and might be too uncomfortable to use on an insole.
Running shoes without midsoles aren't necessarily worse, and they can sometimes add too much padding to feel comfortable, so it's mostly down to personal preference, as well as what you'll be using the shoes for. Excess padding can feel unnecessary if you're only jogging or taking walks, but it can sometimes be an almost necessary feature if you're regularly taking part in intense runs and sprints, including things like marathons or self-set challenges.
The Insole
The insole is all about comfort, and making sure that your feet are safe is an important part of using any piece of footwear for exercise purposes. However, with running, there's a lot of situations where you can end up in pain simply due to the activity itself, especially if you don't have all the cushioning necessary to keep your feet feeling safe and protected.
Some insoles are also designed to mold to your feet in certain ways, which can have a significant impact on how they feel – for example, things like memory foam will provide a very comfortable and personal fit, which isn't really possible with regular insoles unless you get them custom-made.
On the other hand, some people prefer using insoles that wick away moisture, letting their feet stay dry and sweat-free in humid weather or during intense exercise. Again, this is mainly down to personal preference, especially if you only take part in certain exercises or live in a climate where a certain feature is far more important than others.
Traction
The grip your soles offer matters a lot on almost any terrain since it allows you to scale rougher surfaces and deal with slippery ground without falling over and hurting yourself. If you've got sore joints or issues with your knees, a slip can be much more serious, and not having the grip to keep yourself upright can make rain, ice, wet surfaces and loose ground incredibly risky, limiting where you can go and what kind of activities you can do.
Keep in mind that traction also makes a difference when you're going up and down slopes, especially if you're doing so in bad weather. A slip down a slope can lead to more than just a small injury, and bad knees will make it hard to get up sloped surfaces regardless, making it extremely difficult to scale things that aren't relatively flat.
Support
When you're dealing with sore or injured knees, one of the most important features you'll need is foot and leg support. Poor support might lead to you falling down often or causing more injuries to yourself while you're out and about, and it can also result in injuries not having the right kind of support to let them heal properly. This often causes injuries to last longer or keep re-appearing without fully healing themselves.
Poor support is worse than no support since it can make injuries heal and repair in the wrong ways. While this isn't a huge problem for smaller injuries, it can lead to larger ones being much more severe than they normally should be. There's also the problem of a slip or fall causing more harm since there's not enough support there to keep your feet in the right position or to absorb some of the force that'll end up going into your legs instead.
Durability
Having your shoes wear out is always an issue, but it's even more of a problem when you're relying on them to prevent pain. The less durable your shoes are, the more likely they are to start falling apart in certain places or under certain conditions, with things like rainwater and mud being much more likely to cause them damage if you don't keep them dry and clean.
This is especially important if you have medically-diagnosed issues or injuries that need to be taken care of over a long period of time. A shoe that doesn't last long might lose some of its protective features, leading to your injuries healing slower than you assume they would – if you're using things like orthotic inserts or custom-made supports and molds, they could also end up getting ruined if something damages your shoes.
Expert Tip
The best running shoes for bad knees are the ones that fit you best personally – there's no global "best option."
Did you know?
Most professionals recommend that you replace your running shoes every 400 miles or so to stop them from wearing out on you – however, even after this, they might still be fine as casual or walking shoes.