10 Best Shoes For Jumping Rope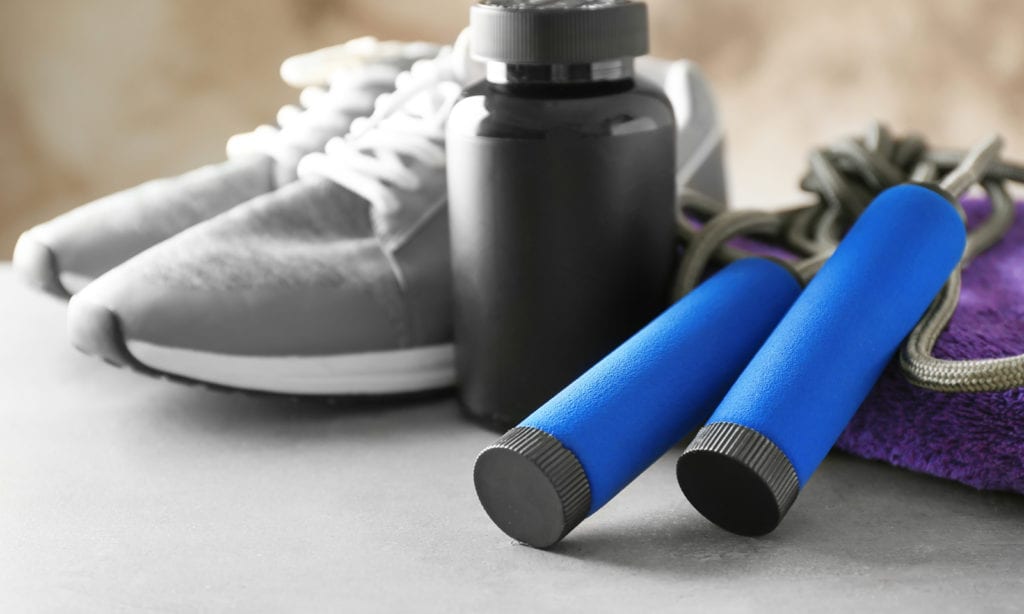 Jumping rope is a great way to exercise and can be a fun activity for even the most casual exercisers. Your shoes might not seem important, but you shouldn't overlook them. Having a strong grip and plenty of padding is essential for lots of physical activities, and jumping rope is no exception. Below are ten of the best shoes for jumping rope, as well as why they may be important to consider for your exercise routine.
View the Best Shoes For Jumping Rope, Below.
1. Reebok Women's CROSSFIT Nano 8.0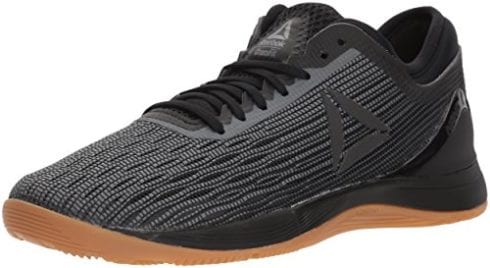 These flexible shoes have been designed for stability and strength without sacrificing your mobility, using a range of different materials to provide footwear that's lightweight, tough, and comfortable on your feet. The forefoot has flex grooves that allow it to bend more than a regular pair, and the cushioned rubber sole protects the vulnerable part of your heel from accidental stumbles or slips if you don't quite land properly on the ground. You also won't need to worry about the toe area breaking or showing signs of overuse, since it's reinforced against most of the damage that high-intensity workouts would cause.
A mixture of durability and flexibility make these shoes ideal for jumping rope, especially if you're doing it on a hard surface.
Check Price on Amazon ➞
CHECK PRICE ON ZAPPOS ➞
2. NOBULL Men's Training Shoes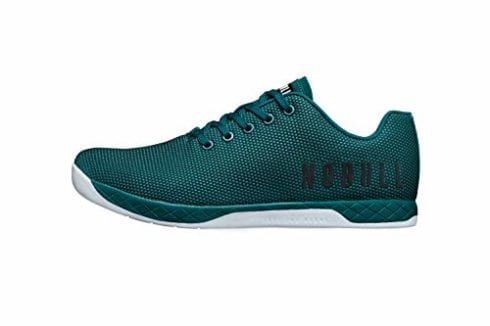 These training shoes use a very simple design that doesn't rely on any gimmicks, acting as straightforward footwear that gives you a much higher level of protection, control, and stability than trying to do things barefoot or in socks. When it comes to jumping rope, the seamless construction gives these training shoes plenty more strength when compared to regular footwear, and they'll be able to absorb the impact force from hard stomps without taking any permanent damage or showing signs of wear and tear. The lugs on the outsole and flexible guard plates make them practical for outdoor use, but they keep their excellent grip on any surface.
These shoes are ideal a range of different environments and excellent for jumping rope, offering durability and protection that a standard pair of exercise shoes won't be able to match.
Check Price on Amazon ➞
CHECK PRICE ON ZAPPOS ➞
3. New Balance Women's 711 v3 Cross Trainer
The synthetic sole of these trainers make them much more comfortable and stable than they might first appear, and the foam used in key areas around its design adds an extra level of comfort and breathability without altering the shape of your shoes. The strong synthetic sole of these trainers keeps your feet feeling cushioned and bouncy while the flexible forefoot area gives you plenty of room to stretch your toes, as well as making it easier to move across uneven or sloped surfaces without wearing down or splitting the materials. Thanks to the trim design, they'll fit in at the gym, jumping rope, at casual events or even just as regular outdoor footwear.
As shoes for jumping rope, these trainers are both flexible and lightweight enough to give you better control of your movements, both on the ground and in the air.
Check Price on Amazon ➞
CHECK PRICE ON ZAPPOS ➞
4. Inov-8 Men's All Train 215 Cross-Trainer Shoe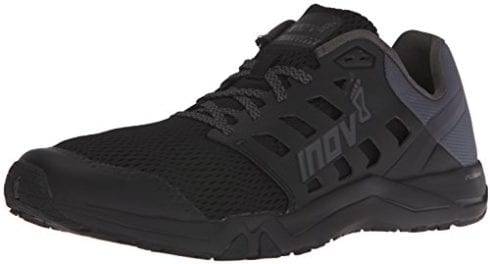 When it comes to stability, these shoes offer excellent grip thanks to the sticky rubber sole and the ability to work with heel-lock tying methods, reducing the chance of you slipping over on almost every surface. The ADAPTERFIT Met-cradle follows the motion and shape of your feet when you're moving, providing better support and comfort without forcing your foot into a certain position or angle – this is incredibly useful for jumping rope due to the repeated impacts you'll be dealing with. Finally, a cushioned and flexible midsole adds more protection without weighing you down or adding any bulk to your footwear.
Although they're designed for running first and foremost, these shoes are great at dealing with the physical impacts from jumping rope, even on hard surfaces.
Check Price on Amazon ➞
CHECK PRICE ON ZAPPOS ➞
5. ASICS Womens Gel-Fit Sana 3 Cross Trainer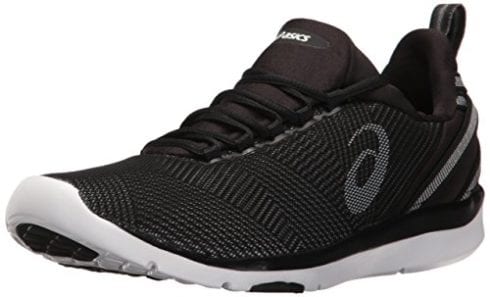 These women's trainers are designed with a MON-SOCK system that completely replaces the usual tongue that you'll see on other shoes, instead using a sock-like sleeve that contains your foot in a comfortable extra layer for added support and protection. The rear area of the shoe using a GEL Cushioning System to absorb shocks and sudden impacts – a useful feature for landing jumps properly – and the criss-cross pattern of its materials increases flexibility without sacrificing its regular durability and strength, boasting a seamless design that doesn't leave any weak points or areas where you skin can rub against stitches and gaps.
The sock-style inner layer of these shoes make them comfortable, but the real benefit is the extra cushioning, which can absorb shocks really well.
Check Price on Amazon ➞
CHECK PRICE ON ZAPPOS ➞
6. Vibram Men's KSO EVO Cross Training Shoe
These shoes have a surprisingly helpful design, with each toe being separated to allow for better movement and easier grip on uneven surfaces. The tongue uses a subtle layer of extra padding to add more comfort without feeling like it's pushing against your skin, and the tough rubber sole helps protect the bottom of your feet from all kinds of harsh terrain.
However, the toes are still the most notable part of its design – being able to move the toes independently adds much more grip and flexibility in your movements while still absorbing shocks, making activities like jumping rope much easier and safer.
The design of these shoes makes them ideal for use outdoors, but the added grip can come in handy on any kind of ground, both indoors and out.
Check Price on Amazon ➞
CHECK PRICE ON ZAPPOS ➞
7. Nike Womens Free RN Flyknit Running Shoes
These flexible shoes use Dynamic Fit technology to ensure that they're always fitting correctly on your feet, with the flexible and padded collar and tongue being both comfortable and supportive features that don't get in the way of your movements. The removable insole and built-in midsole are both made of a soft and responsive foam, whereas the lightweight and durable outsole keeps you protected from rough or solid ground, as well as absorbing small shocks and impacts that would otherwise go right to your feet.
On top that, the rounded heel makes it easier to land from stumbles or slips that would otherwise make you fall over, making them a great choice for jumping rope.
These shoes are a great balance of comfort, durability, and support, and don't rely on any obvious or overused gimmicks to keep you safe, giving you a reliable piece of exercise footwear.
Check Price on Amazon ➞
CHECK PRICE ON ZAPPOS ➞
8. Under Armour Men's UA Charged Bandit 3
Originally designed for runners, these shoes strike a neutral balance between comfort and flexibility, offering a surprising amount of cushioning without feeling sluggish or bulky to wear. The upper area is designed to be breathable and lightweight, while the lower section prevents damage to your feet thanks to a strong rubber outsole that covers key areas of your feet with thick padding.
A Charged Cushioning midsole in each shoe gives you a bouncier, more energetic-feeling piece of footwear without making your feet feel uncomfortable or cramped, and the flex grooves in specific areas of the shoe offer slightly more flexibility in places where it matters.
These shoes are ideal for taking on all kinds of physical activity, and jumping rope is no exception, especially if you're worried about the impact forces.
Check Price on Amazon ➞
CHECK PRICE ON ZAPPOS ➞
9. Nike Women's Free Tr 8 Running Shoes
These Nike fitness shoes have been specifically designed for as much breathability and comfort as possible, using a thin sock-like liner to keep your feet safe and secure while still letting sweat out and cool air in. The gum rubber sole is durable enough to withstand a lot of repeated impacts and stomps without showing signs of damage, and the foam below your heels and toes will help keep your feet safe from damage if you hit the ground harder than you expected. The Flywire straps built into the design help keep your feet supported without adding any extra weight.
These shoes offer an excellent level of support and protection while jumping rope without sacrificing any of its other important features, like weight or breathability, in the process.
Check Price on Amazon ➞
CHECK PRICE ON ZAPPOS ➞
10. Inov-8 Men's F-LITE 260 Knit (M) Cross Trainer
These versatile shoes use a StickyGrip rubber outsole to ensure that your feet can get a proper hold on whatever surface you're standing on. The META-FLEX technology used to produce its upper half allows for a much greater range of movement and bending, meaning that your foot isn't restricted by the shape of your shoes – this can be incredibly important for jumping rope since you need to land as safely as possible.
A large portion of the shoe is made with knitted fabric that acts as a breathable, lightweight alternative to the weaker mesh designs you see on most other exercise shoes.
These flexible, durable shoes are great for exercise in general, but the strong grip makes them especially useful for landing jumps and avoiding falls or slips on smooth surfaces.
Check Price on Amazon ➞
CHECK PRICE ON ZAPPOS ➞
Shoes For Jumping Rope Buyer's Guide
While most normal exercise shoes will work well, the best shoes for jumping rope are the ones that can absorb a lot of force. Unlike many other solo exercises, your feet will need to deal with almost constant pressure from direct repeated impacts with the ground, rather than the natural ones you'd get from running or walking. Not all shoes are designed for this, and some will wear out quickly as a result, so you need to choose wisely before you buy a pair. Knowing which features to consider is essential when making a purchase, and those are outlined below.
Protection
Unlike most other activities, it's entirely possible to suffer injuries when jumping rope without actually doing anything wrong, so having optimal padding and shock absorption is a must.
Most non-exercise or non-casual shoes will lack any kind of proper padding, and they should be avoided. A solid sole and insole will transfer the impact force of each directly into your feet, which can be extremely painful in the long run and can lead to significant injuries. Casual shoes are slightly better, but the padding can still be quite thin, and there's no guarantee that there will be anything more than a slightly thicker sole made of rubber.
Proper exercise shoes will often have enough padding to keep you safe, but it can still vary from between different styles, designs, and manufacturers. Some will be made purely for specific activities, which might mean that this padding is concentrated into smaller areas rather than spread out across the entire foot. Others might use internal pads or protective layers rather than relying on just the sole.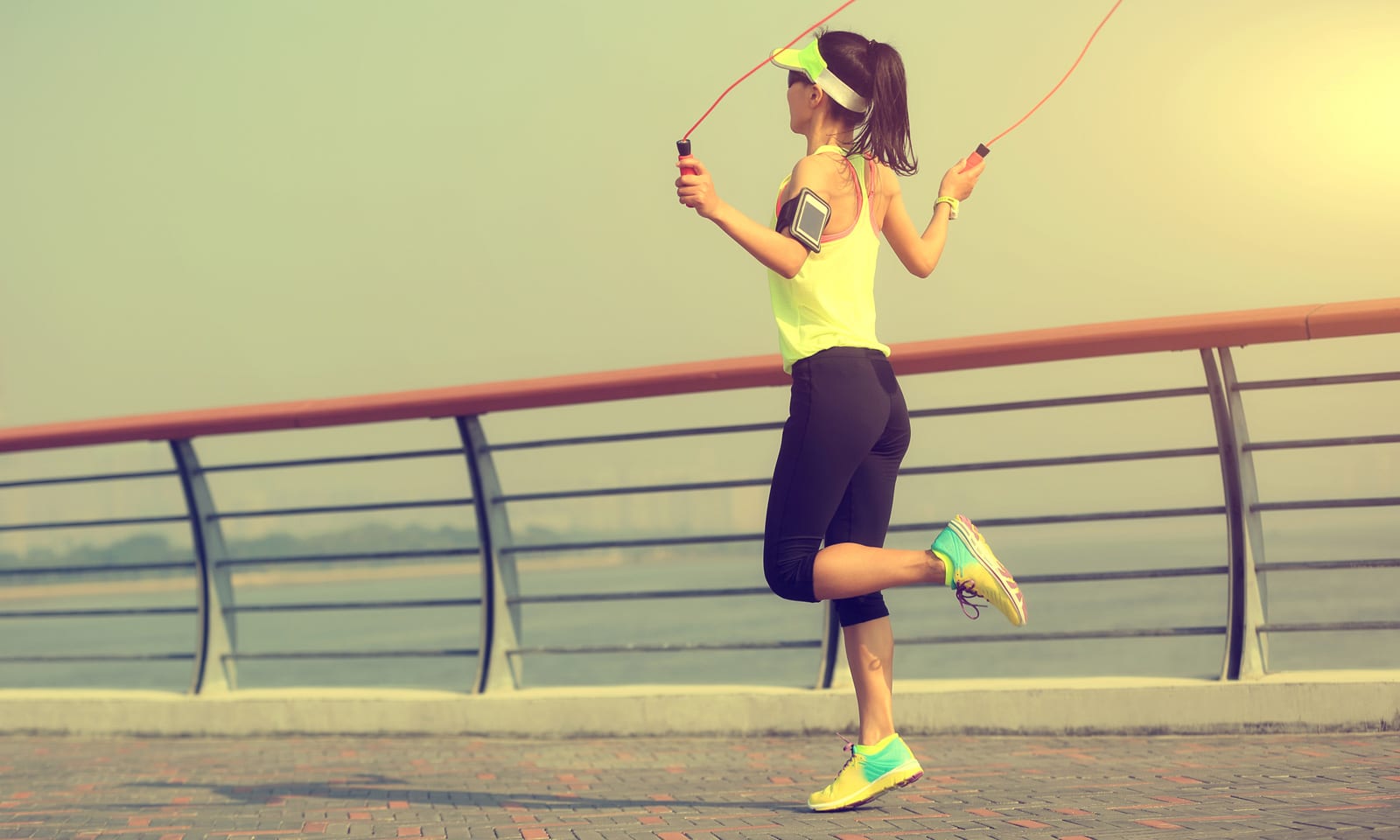 Support
Support can quite literally be the backbone of your exercise shoes since it prevents you from losing your balance or harming yourself by standing in a way that your shoes aren't meant to allow. This is especially important for exercise since you'll be putting your feet through motions that are intended to wear you out and break down your muscles – the more support you have, the less painful it will be to walk around while you're recovering, especially after an intense exercise session.
Support prevents you from losing your balance or harming yourself, which is especially important for this exercise. The more support you have, the less painful it will be to walk even after an intense exercise. session.
Support can also affect how long your shoes will survive before they are too worn out to use again. Better supports stop bits of material from falling off or tearing, and can sometimes be connected to seams or edges to increase the durability of the connection between different parts of the shoe. This can stop them from splitting apart if they get hit with force from an angle they're generally not designed to handle, which is useful for jumping of any kind. Some shoes are also designed with a different kind of support and are meant to help people with uncommon foot shapes by giving them more padding or material to rest on in key areas. This can be important if your feet are flatter or more arched since you'll need as much protection and comfort as possible.
Materials
The basic materials used in a shoes' design can completely change how it feels and functions, especially when used for exercise. For example, a mesh or knitted layer will add breathability at the cost of durability. On the other hand, leather and smooth synthetic materials will do the opposite, adding a lot of protection from bad weather and water at the cost of having almost no ventilation value unless holes are added – this can make it harder to get rid of sweat and water vapor from humid air. Since your feet are often the sweatiest part of your body, this could also lead to skin irritation or damage if you don't take any measures against it.
The sole is also an incredibly important part of any shoe, and it can be made from a variety of materials. Rubber is one of the most common, but there are plenty of others (too many to list). For example, Crepe Rubber is excellent for dealing with abrasion, whereas Gum Rubber is often seen as a slightly softer and bouncer type. EVA, on the other hand, is better than rubber when it comes to shock abortion but can often lack protection from uneven ground, which can make it easier for stones and other debris or litter to wear it down slowly.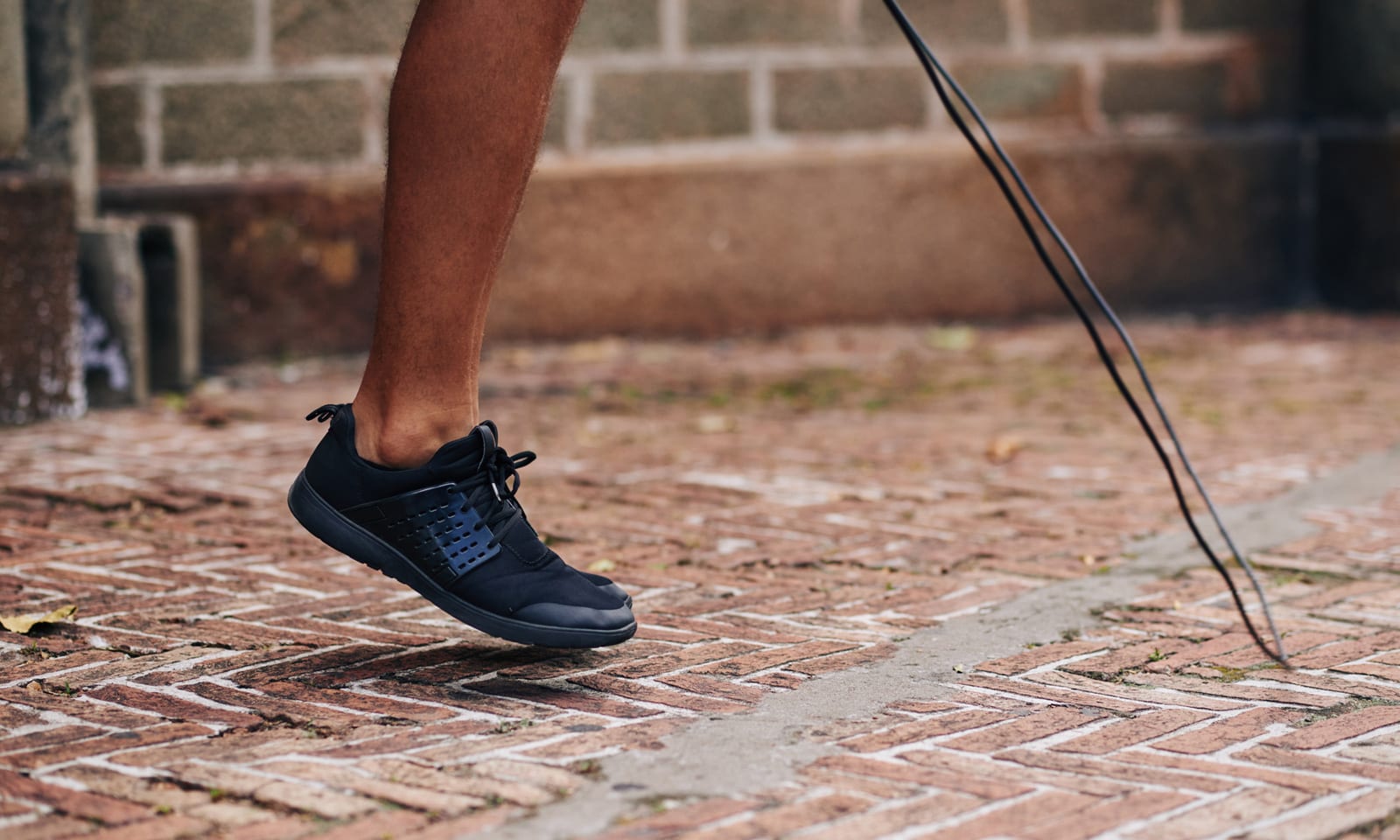 Conclusion
As with any form of exercise, jumping rope requires the proper footwear to reach peak effectiveness and protection. Padding and support are particularly important when it comes to this activity, even more so than other forms of exercise, given the amount of shock absorbed from constant jumping. There are plenty of options to choose from, but be sure to consider materials (outer and on the sole), as well as support and padding before deciding what to buy.
Expert Tip by Alexis DeSalva Kahler
Deeply padded shoes may feel heavier, which will provide protection but may affect your speed.
Did YouKnow?
You can use removable inserts to give yourself more protection or padding in certain types of shoe, meaning that you won't be stuck with a single layer.