Jumping rope is a great way to exercise without needing to buy a whole set of equipment and can be a fun activity for even the most casual exercise fans. While the rope you buy is definitely important, you shouldn't overlook the importance of the shoes you're wearing – having a strong grip and plenty of padding is essential for lots of physical activities, and jumping rope is no exception.
Not only will you be jumping frequently, but you'll probably be on a smooth surface, and there's plenty of ways you could end up injuring yourself if you don't prepare with the right footwear. Below are ten of the best shoes for jumping rope we could find, as well as the reasons they could end up being an important part of your exercise routine.
View the Best Shoes For Jumping Rope, Below.
Shoes For Jumping Rope Buyer's Guidew
While most normal exercise shoes will work well, the best shoes for jumping rope are the ones that can absorb a lot of force. Unlike many other solo exercises, your feet will need to deal with almost constant pressure from direct repeated impacts with the ground, rather than the natural ones you'd get from running or walking – not all shoes are designed for this, and some will even wear out quickly due to their design not compensating for it, so you need to choose wisely before you settle on a pair.
There are some features that matter much more than others when it comes to jumping rope, and knowing where you should focus is essential when it comes time to make a purchase.
Protection
A key part of any exercise gear is keeping yourself protected, and jumping rope pits you against something that many people never really need to do in day to day life – jumping. Unlike most other activities, it's entirely possible to suffer serious injuries without actually doing anything wrong, so having optimal padding and shock absorption is a must if you want to stay safe.
Most non-exercise or non-casual shoes will lack any kind of proper padding, so it's important to avoid them at all costs. A solid sole and insole will transfer the impact force of each just directly into your feet, which can be extremely painful in the long run and can even lead to significant injuries if you don't correctly brace yourself. Casual shoes are slightly better, but the padding can still be quite thin, and there's no guarantee that there will be anything more than a slightly thicker sole made of rubber.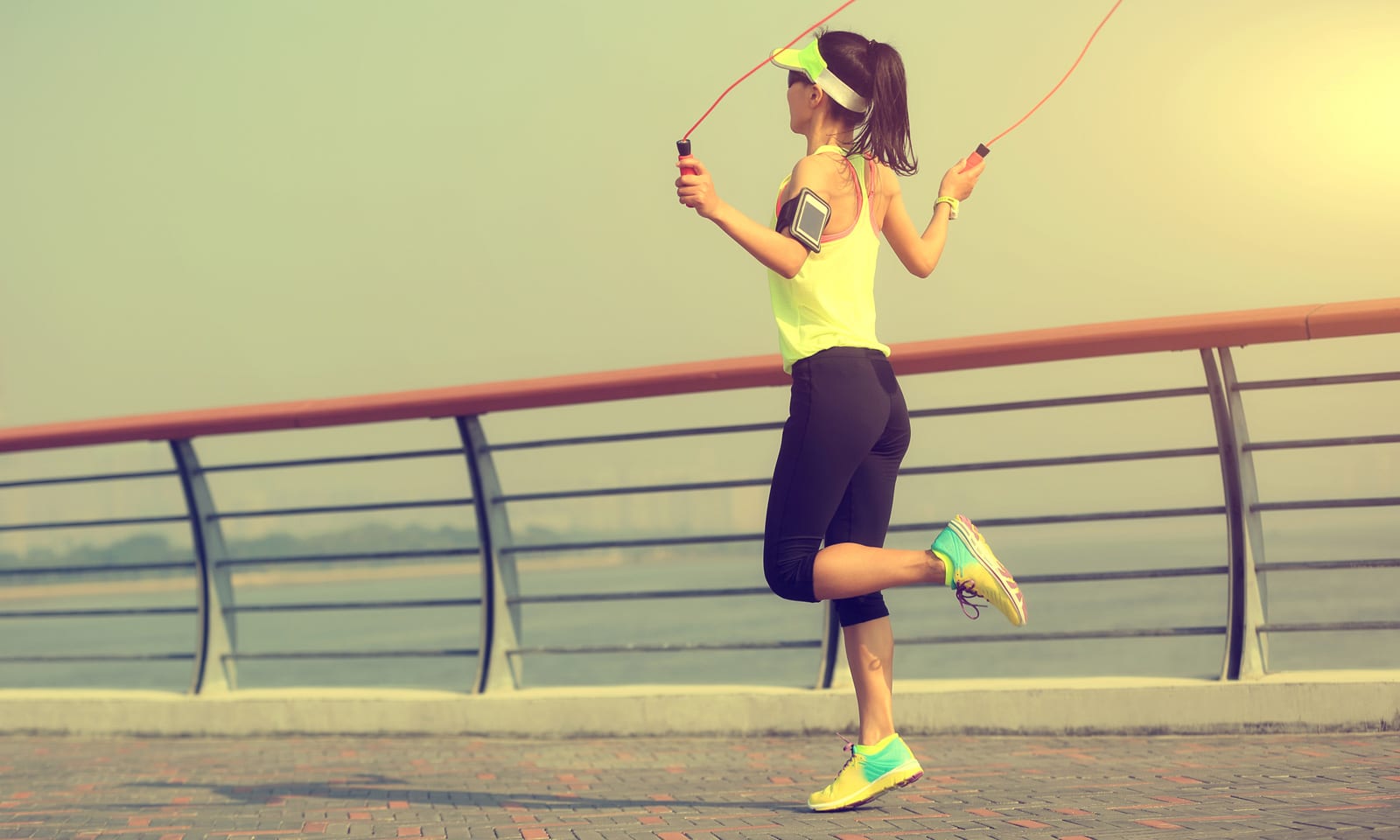 Proper exercise shoes will often have enough padding to keep you safe, but it can still vary from between different styles, designs, and manufacturers. Some will be made purely for specific activities, which might mean that this padding is concentrated into smaller areas rather than spread out across the entire foot, whereas others might use internal pads or protective layers rather than relying on just the sole.
Support
Support can quite literally be the backbone of your exercise shoes since it prevents you from losing your balance or harming yourself by standing in a way that your shoes aren't meant to allow. This is especially important for exercise since you'll be putting your feet through motions that are intended to wear you out and break down your muscles – the more support you have, the less painful it will be to walk around while you're recovering, especially after an intense exercise session.
Support can also affect how long your shoes will survive before they are too worn out to use again. Better supports stop bits of material from falling off or tearing as easily, and can sometimes be connected to seams or edges to increase the durability of the connection between different parts of the shoe. This can stop them from splitting apart if they get hit with force from an angle they're generally not designed to handle, which can be useful considering that not many shoes are purpose-built for jumping of any kind.
Some shoes are also designed with a different kind of support and are meant to help people with uncommon foot shapes by giving them more padding or material to rest on in key areas. This can be important if your feet are flatter or more arched than usual since you'll need as much protection and comfort as possible – jumping rope can be painful after long periods of exercise, and this pain will only get worse if you aren't wearing shoes that are designed for your foot shape.
This is also important for younger teens, since they might still be growing, and there's always a chance that their feet could develop incorrectly if they spend a lot of time exercising.
Materials
The basic materials used in a shoes' design can completely change how it feels, looks, and functions, especially when you're using them for exercise purposes. For example, a mesh or knitted layer will add breathability at the cost of durability, which can be incredibly important for some sports and a terrible idea for others. A lot of trainer designs use mesh in some areas, but others are almost entirely mesh on the top section, which will provide a much higher level of ventilation at the cost of the strength and weather protection that other materials can have.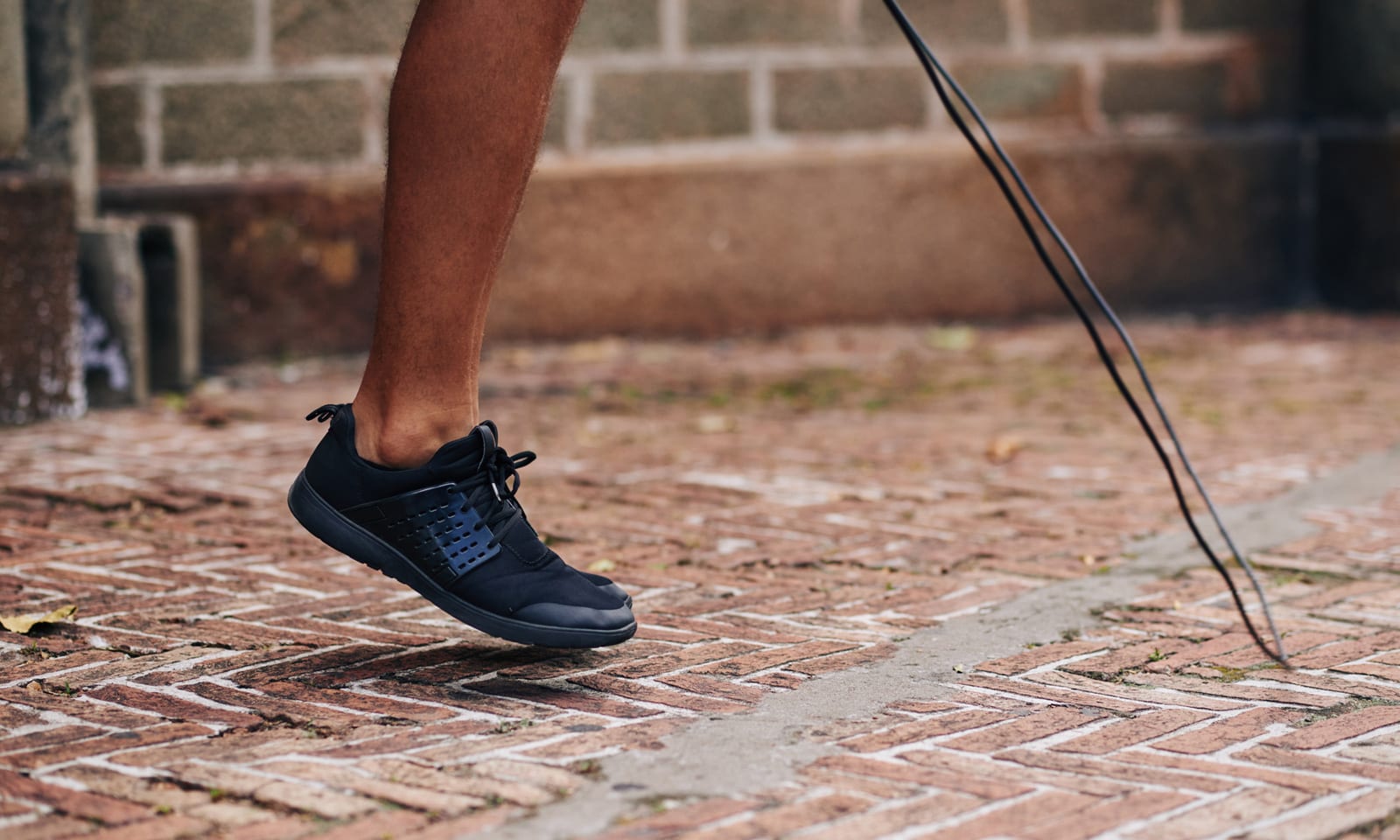 On the other hand, leather and smooth synthetic materials will do the opposite, adding a lot of protection from bad weather and water at the cost of having almost no ventilation value unless holes are added – this can make it harder to get rid of sweat and water vapor from humid air, which can be a problem if you're exercising hard enough to break out into a sweat. Since your feet are often the sweatiest part of your body, this could also lead to skin irritation or damage if you don't take any measures against it.
The sole is also an incredibly important part of any shoe, and it can be made from a variety of materials that all have their own benefits and drawbacks. Rubber is one of the most common, but there are so many types that it's challenging to list them in a general sense. For example, Crepe Rubber is excellent for dealing with abrasion, whereas Gum Rubber is often seen as a slightly softer and bouncer type.
EVA, on the other hand, is better than rubber when it comes to shock abortion but can often suffer in terms of protection from uneven ground, which can make it easier for stones and other debris or litter to wear it down slowly.
Synthetic soles can vary from manufacturer to manufacturer, but large companies might have a patented or copyrighted name for the specific mixture of materials they use, so you might have to research them separately.
Expert Tip
Heavier shoes can actually be useful for building leg strength, but they'll also alter your timing – If you're going to use them, make sure you're in a safe place in case you fall.
Did you know?
You can use removable inserts to give yourself more protection or padding in certain types of shoe, meaning that you won't be stuck with a single layer.