10 Best Trail Running Shoes for Women in 2021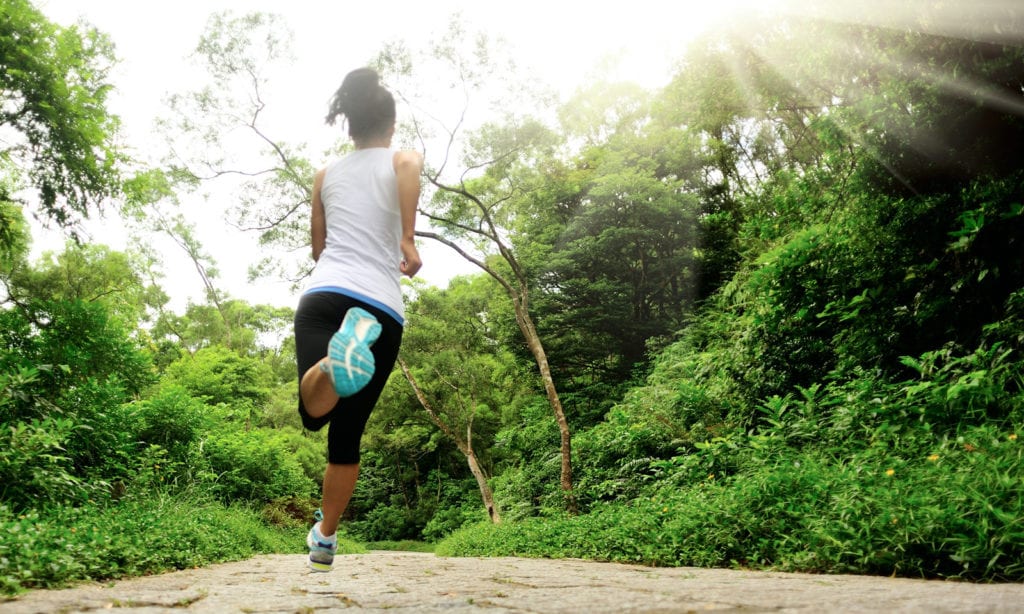 Running shoes are your main source of support, protection, and stability while you are trail running, regardless of whether you are running for twenty minutes a day or taking part in a handful of long, spread-out marathons. However, like all exercise footwear, buying some isn't as simple as picking a particular style or design: you always need to consider things like the terrain you will be on, the running style you use, the shape of your feet and the sort of weather conditions you will be up against, among other things – it is not a simple decision, and it can take some time to find a good pair.
View the Best Trail Running Shoes for Women, Below.
1. SALOMON Women's Speedcross 4 Trail Running Shoe
These trail running shoes use a water-resistant upper to help protect your feet from bad weather and puddles, as well as a mesh insert that helps keep the neck of the shoe tight around your ankle so that no debris, dirt, or small pebbles can get inside. To make sure that you're as safe as possible during long-running sessions, the gum rubber outsole has been made using special Contagrip technology that helps you keep your footing on all kinds of terrain, even wet slopes or muddy ground. Thanks to the Quicklace closure system, you can easily tighten or loosen your laces without needing to fiddle with knots and tangled strings, all while the general design makes sure that the shoes stay tight around your feet.
These shoes are light, easy to use, and make the hard parts (lacing and fit adjustments) much faster, so they're perfect for runners on the go.
Check Price on Amazon ➞
2. Brooks Women's Cascadia 14
These women's trail running shoes combine durability with a great fit, using a special internal saddle system to ensure that the shoes are always properly tightened around your feet without being too cramped or uncomfortable to move around in. The built-in mudguard protects your feet from water and debris while still letting them breathe and deal with sweat - this, along with the durable TrailTrack rubber outsole, makes it much easier to keep your balance on all kinds of terrain. Even better, it has a pivot post system that helps your feet stay level, even on rough ground that would normally hurt.
This is another trail shoe design that offers a good mixture of durability and functionality, making it one of the best options for all-weather runners.
Check Price on Amazon ➞
3. Saucony Women's Grid Excursion TR12 Sneaker
These running sneakers use a GRID cushioning design to help keep your feet comfortable and secured in place, making it much less likely that you'll slip and fall while you're trying to move around properly while also giving you a higher level of protection from hard surfaces. The specially-designed outsole uses triangular lugs to improve your level of grip even further, while the overall design makes heavy use of mesh to improve breathability and reduce weight, meaning that they won't slow you down regardless of the terrain you're dealing with.
These trail running shoes for women take a regular sneaker shape and expand on it slightly, offering the same level of mobility for far less effort. The special athletic shape also makes them far more useful for varied ground types.
Check Price on Amazon ➞
4. ASICS Women's Gel-Venture 7 Running Shoes
The design of these trail shoes makes them perfect for absorbing shocks thanks to their tough gum rubber sole and built-in gel layers. The synthetic materials used for the upper provide greater flexibility and breathability compared to other types of trail shoes, and the straightforward lace-up closure means that you are always able to make quick adjustments on the fly. Not only that, but the outsole uses a type of rubber that offers extremely high abrasion resistance, as well as multidirectional lugs that give you better traction on a variety of surface and terrain types. Each part of the upper is built to be durable and sturdy, dealing with almost any situation fairly well.
These trail running shoes offer both protection and grip for handling all kinds of awkward ground, making sure that you can deal with all sorts of terrain at a moment's notice.
Check Price on Amazon ➞
5. Merrell Women's Glove 4 Trail Runner
These trail running shoes have a breathable mesh lining built into their design, helping you cool down and remove sweat from your feet without having to stop and rest. The basic lace-up closure is easy to adjust and can tighten each shoe really well, while the tough outsole uses a special protection pad to keep you safe from underfoot harm while you are on the move. Not only that, but the rest of the outsole is made with Vibram materials that can protect and support you even further with each step. The subtle lugs on the sole give you far better traction without pushing you off-balance, helping you stay stable for much longer.
This trail shoe is essentially a more flexible, less rigid sneaker or trainer that can work well on a variety of surfaces, making it a great option for all kinds of runners who want something that they can rely on without feeling bogged down.
Check Price on Amazon ➞
6. La Sportiva Women's Bushido II Running Shoe
These all-synthetic trail runners' shoes have a slip-on design that's supposed to help them fit without putting pressure on your feet for added comfort, as well as a special heel design that's meant to help with that even more. They even wrap around your feet slightly like a sock, improving protection even further. The lugs built into the outsole wrap around the edges for improved grip, as well as ensuring that you get far better stability on a variety of terrain types and slopes. On top of that, the dual-compound rubber used as part of the grip surface can handle both wet and dry terrain equally, and the unique tongue design improved breathability for dealing with humid or hot weather.
These trail shoes use a range of different materials to cushion and protect your feet regardless of the terrain, whether it's a flat road, rocks you're climbing over, or a dirt hiking path.
Check Price on Amazon ➞
7. ALTRA Women's Superior 4 Trail Running Shoe
These lightweight and reliable shoes take the usual low weight and wide front of normal shoe designs. It uses a special foam insole to provide much better security and support on each foot while you're on the move, as well as using a special lug pattern for a sticky feel when you're walking on normally-slippy surfaces. The built-in toe box lets your toes relax and stay safe from small bumps, while the contoured tongue design can wrap around a narrow area of the forefoot to help offer a better fit. Thanks to the seamless design, it's not only much safer but can also help improve breathability without letting water and debris in near to your feet.
Unlike a lot of rugged and durable shoe designs that are built to handle technical terrain first and foremost, these trail shoes focus on the wearer's comfort and safety above everything else.
Check Price on Amazon ➞
8. HOKA ONE ONE Women's Challenger ATR 4
The HOKA One straightforward women's shoes for trail running offer a dual-layer design that incorporates mesh into the shoe structure, improving breathability without sacrificing any durability or long-term protection in the process. Alongside that is the toe-cap design that improves protection from the front, as well as a heel counter that's built into the back of the shoe for greater foot support. However, the most useful feature is the built-in EVA midsole, offering cushioning and extra shock-absorbing without adding more weight or bulk to the design of the footwear, working alongside a tough lugged sole to make doubly sure that you won't fall over or slip easily no matter the situation.
The HOKA One running shoes are far more than just basic footwear, offering a good balance of low weight, stable grip, and high protection to keep you running in almost any weather.
Check Price on Amazon ➞
9. Inov-8 Women's Trailtalon 235
These breathable trail shoes use a mesh upper section to provide a high level of cooling and moisture-removing, making it much easier to stay comfortable for longer regardless of the weather or terrain you're dealing with. The heel cage built into the rear of the design improves your overall stability on all kinds of trails, while the gum rubber sole improves traction and protection as well as absorbing small shocks from a sudden slip or drop. Thanks to the toe bumpers, they can also help you avoid sudden pain from sharp rocks or unexpected slips, and the gusseted tongue means that nothing can get inside your shoes to interrupt your rhythm.
These shoes provide a lot of regular protection from smaller problems, making it a great option for lone runners that just want to avoid things like small stones or dirt during their runs.
Check Price on Amazon ➞
10. Topo Athletic Ultraventure Trail Running Shoe
These trail running shoes are built for maximum traction and effectiveness when you're on the move, making use of things like a Vibral XS Trek outsole and three-part EVA midsole to provide high levels of both protection and stability with every step. Not only that, but the gusseted tongue offers good resistance to smaller issues like dirt and pebbles, and the entire outside mesh is fully abrasion-resistant while still being very breathable. Even better, there are drainage gills on the sides of the shoes to get rid of water quickly, making them suitable for use in very wet weather or places with lots of puddles and small streams.
Protection is always useful, and this trail shoe design offers a huge amount of it without weighing you down or making the design too complicated to wear for longer periods of time. They're suitable for both dry and wet weather in equal measure.
Check Price on Amazon ➞
Trail Running Shoes for Women Buyer's Guide
Finding the best running trail shoes for your personal preferences or needs can take a while, especially if you're not entirely sure which features you need more than others. However, if you can figure out what you actually need and the kind of features, extras, or design changes you might find useful, you can really narrow down the search and make it much easier to choose a trail shoe design that actually works for you. The hard part is actually finding a decent set of features that work well for your preferred running style, trails, and local weather conditions. A single set of the "best women's shoes" isn't really a 'thing' since different women have different priorities.
Water Resistance
Most trails will be in natural places, and natural places rarely have the benefit of proper drainage systems or a way for water to flow off paths. Even if you're not in an area that can flood, it's still entirely possible that you'll end up having to deal with rainwater puddles, small sections of muddy ground, or even just natural streams and rivers that don't have any kind of bridge yet. The better your shoes are for handling water, the less of a problem they become.
One of the best shoe features regarding water is waterproofing: while it's unlikely that many trail running shoes will have complete waterproofing for their users, you can still find the designs that use tightly-sealed designs and water-resistant materials to ensure maximum protection from sudden bodies of water, especially if you step in them directly. This also has the added benefit of keeping out things like dirt, dust, and tiny pebbles.
Some designs will struggle to resist water: trail shoes that use breathable mesh can often let water in, and there are very few materials that offer breathability while also being waterproof. A lot of materials, such as leather and some major synthetic uppers, are actually very resistant to water, but it depends on the design and how the shoe is actually put together. The best designs will be able to offer at least a decent amount of waterproofing and protection possible regardless of the materials used.
Weight
The weight of your shoes can cause the same issues as any other workout or exercise shoes, but with the added issue of being much more dependent on the kind of trail you'll be dealing with. Heavier shoes take longer to move around in and are often more exhausting to use, but that doesn't mean that they're completely useless.
For one, heavier shoes are more likely to have things like a rock plate or toe box: features that can offer far more protection. Both a toe box and rock plate add more weight onto the shoe but add an extra layer of durability and safety, which can come in handy if you're often around rocky or harsh ground where even a small stone can be sharp enough to harm your feet. Technical terrain is the best place for these features, especially if you're a solo trail runner who doesn't really have a way to get back home quickly if you get injured.
However, in most cases, you'll want to search for a shoe that's lightweight. The lighter a shoe is, the less it slows you down, which can be extremely useful for people who prefer the best speed over the best protection. If you're on a trail that's mostly smooth surfaces with minimal debris, there's no reason to go for something heavier unless you prefer a specific feature, and lighter shoes will generally also be more comfortable due to the lack of foot fatigue they can cause.
Still, you don't want to go to any extremes if you don't need to: a shoe that's too lightweight will not only struggle to even fit in a feature like a rock plate, but they might cut certain corners entirely. For example, some light shoes use an entirely mesh upper, which leaves basically no protection from water and can make them far less structurally supportive. The lighter the shoes, the less stable the materials might be, which can result in your shoes actually being far less protective than you'd expect.
Fit
If your shoe doesn't fit, you need to find one that will. The fit of a shoe is the best and most important part of its design relative to your own foot shape, and it's easy to end up with one that's too large or small for your feet.
Trail shoes that are too small can be extremely uncomfortable – not only does each shoe dig into your feet and actively harm your skin, but it might even cause abrasion problems of its own – all it takes is one day of long-term walking to cause blisters, cuts, irritated skin, etc. Know your size before you buy trail footwear since even one shoe size difference can completely change how everything feels on your feet.
Shoes that are too large are equally annoying, but not for the same reasons. If you find that a shoe is even one shoe size bigger than your feet, it can make it much more likely that you'll stumble or fall while you're on a trail, and will feel slightly uncomfortable at best. Remember that women and men have different feet size scales, and some countries will use completely different shoe sizes scales altogether.
Brands
It's easy to turn to brands to find the best trail shoe for women, but that isn't always the same. Don't search through a single brand's catalog looking for the one shoe that you want: try to look in multiple places and don't let brand names influence you too much. Brand loyalty can blind you to options that are more worth your time and money.
For example, let's say you've been wearing the Salomon Sense Ride 2, but want something new to replace the worn-out pair you have. While you could just re-buy another pair of Salomon Sense Ride 2 shoes, you might also want to move over to the Saucony Peregrine ISO for a different feature they have. Which do you go for? Even though the Salomon Sense Ride 2 has served you well so far, the Saucony Peregrine ISO might have features that are more relevant to your current needs.
It's also quite common to get mixed up with brands and individual shoe types. Your brain might confuse ' Hoka One' for 'One Speedgoat,' or get confused between the difference between the Speedgoat 3 and Speedcross 5. The difference between them is listed on the Speedgoat 3 and Speedcross 5 pages, respectively, but it's very easy to search for the wrong thing. If you aren't paying attention, you might even buy yourself a Speedgoat 3 when you were hoping to get a Speedcross 5, meaning that you don't get the features you were expecting and might even end up having to buy another pair of Speedcross 5 shoes separately.
Are Trail Running Shoes Good for Everyday use?
Different shoe designs are used for different things, but it's quite easy to sort out which ones are also usable as a general day-to-day shoe. For example, the ALTRA Lone Peak and the Peregrine ISO look completely different, but both are equally simple enough to double as great footwear, even if they have things like a toe cap or toe box. However, unlike the Peregrine ISO or Lone Peak, you'll have other footwear that's only meant for trail use and is hardly the best option for other situations.
In many cases, your trail shoes will be some of the best footwear for protecting yourself, so there's no reason to not use them in other places. Things like a toe box can really help since a toe cap adds even more protection and doesn't have much of a downside. So yet, your Lone Peak shoes will work well in everyday situations, although they still work best on a trail rather than a paved surface, so Lone Peak shouldn't be used in favor of every other brand unless you really want to use them in your regular routines.
Expert Tip
There's no single best design for any kind of shoe, both for men and women. The best option is simply whatever works best for you, even if other women don't agree. Everyone is different, so the idea of 'best' varies from person to person.
Did You Know?
Despite the stereotype, not all brands focus on the best fashion for women's shoes and recognize that many women who want to take on trail runs need the best equipment. Very few trail shoe brands rely on the idea that women focus on looks over the performance when it comes to footwear.