10 Best Dad Shoes in 2021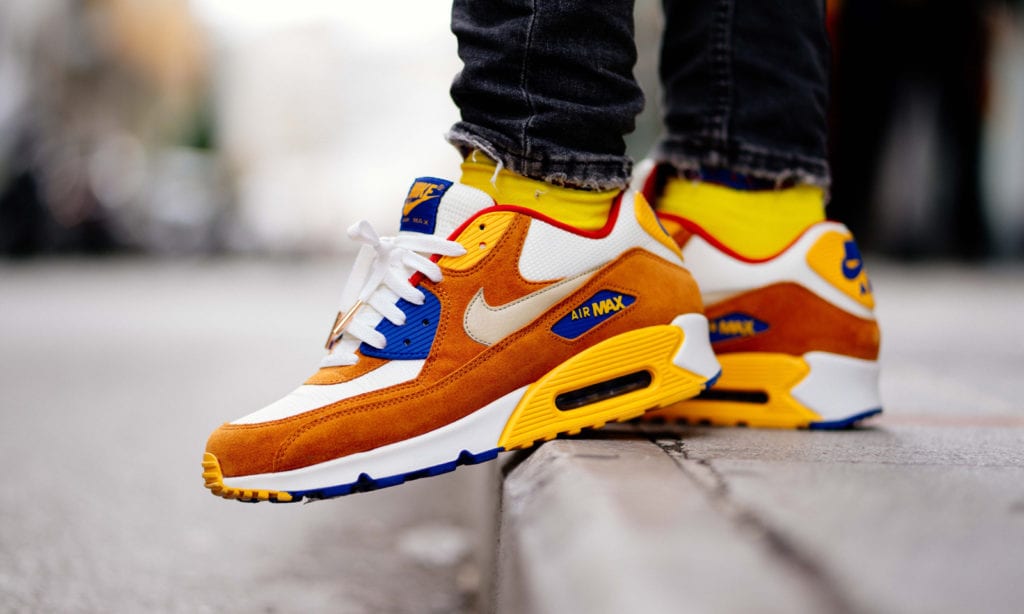 Dad shoes have a bad reputation of being boring or unfashionable, but those days are over. If you're looking for a shoe that's both extremely comfortable and good looking, then we've got you covered. Below you'll find shoes that will provide both of these features plus more, so keep scrolling.
View the Best Dad Shoes, Below.
1. Nike Men's Air Monarch IV Cross Trainer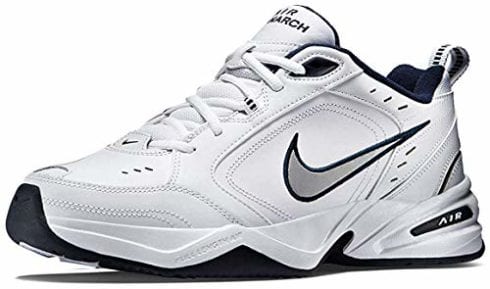 These Nike Air sneakers are perfect for all-day wear and for exercising. They have some great features like the air cushioning, which makes the shoe very comfortable to wear and will keep your feet supported throughout the day, plus it is the full-length of the sneaker. Another great feature is the breathability of these shoes; this is an important feature if you intend to work out to make sure your feet don't get overheated.
The midsole is light on these Nike Air shoes, which takes away some of the chunky midsoles and gives the sneaker a lighter feel. The grip on the sole is perfect for any ground type, so you won't need to worry about slipping.
A pair of dad shoes from Nike Air that incorporates great features like air cushioning, breathability, and traction.
Check Price on Amazon ➞
2. Adidas Men's Yeezy Boost 700 Inertia
This is a pair of dad shoes with a difference; not only are they Adidas, but they are also designed by Kanye West, making these the ultimate fashionable shoes to give your dad style maximum credit. Noticeably is the huge chunky midsole design, which is a feature of Adidas Yeezy sneakers, making you stand out in a crowd.
They are super comfy, and if you care about the environment, the materials used in this sneaker are eco-friendly, which is a bonus. A mixture of materials feature on this shoe, and there is a mesh feature to allow your feet to breathe as you walk around. These shoes are ideal for any occasion and look great with any outfit.
The best style of dad shoe on the list are these Adidas Yeezy sneakers. If you like to make your fashion presence known, then these are the best shoes to buy.
Check Price on Amazon ➞
3. Adidas Originals Men's Yung-96
Were you raised in the '90s, or are you a fan of all things '90, then these Adidas Originals will transport you back in time and make you feel like you are there. These dad sneakers have the chunky midsole style that is also lightweight, allowing you to walk around in these all day long. Plus, the laces are adjustable on this dad shoe to achieve the fit you prefer.
If you like exercising, these sneakers make the best running shoes that will support your feet throughout. The sneaker features the Adidas trademark 3 strips on the side, and if you like a plain-looking sneaker, these fit the brief and are not too fancy like some other dad shoes on the list.
A dad shoe that puts you back to the '90 in style. The shoe is comfortable and can be worn for long durations of time without the shoe weighing you down.
Check Price on Amazon ➞
4. New Balance Men's 608 V5
The perfect New Balance dad shoe that is super comfy and will support your feet all day long no matter if you are walking around or running around the street. The best feature of these dad shoes has to be the cushioning that is incorporated into this shoe. There is all-over cushioning, including a memory insert and ABZORB technology that absorbs shock in the heel area, which is great if you intend on making these your running shoes.
These shoes offer great support, including a strong back to keep your ankle secure. The leather upper also gives a secure feeling so you can wear your dad shoe all-day long.
There New Balance shoes have a plain style but have some amazing features; best of all is the comfort and support they provide.
Check Price on Amazon ➞
5. Nike Mens M2K Tekno Lifestyle Dad Sneakers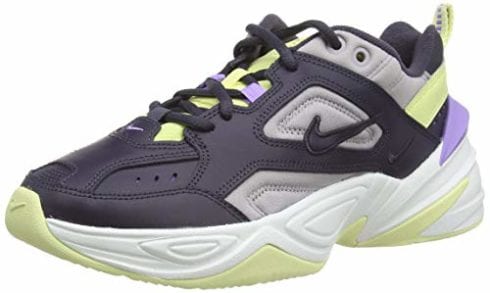 The Nike M2K Tekno dad sneakers are great for anyone, especially those who love the '90 style of sneaker. The padded tongue design feature makes you feel like you are back in that era, along with the chunky midsole design. Nike M2K Tekno shoes are great for any type of sport or general everyday wear. The traction on this shoe will get a good grip on any surface, and you can adjust the laces so you can have an optimal fit at the same time. The rubber outsole has a good design and ensures these dad shoes will last.
This Nike M2K Tekno dad shoe is comfortable and can be tailored to your preferred fit.
Check Price on Amazon ➞
6. PUMA Men's Thunder Sneaker
A dad shoe that has all the great features of a PUMA shoe but with a retro design including the chunky midsole that completes the look of these shoes. The best dad shoe if you are looking for a low-rise upper but also with great support at the back for a secure fit while you go about your business. This shoe has a large mesh area on the upper, which lets your feet breathe and gives maximum airflow. There is a handy loop on the upper to help you get these shoes on quickly, perfect if you are always in a rush and need to run out the door.
These dad shoes are great for any activity and have a great retro design that will catch the attention of others.
Check Price on Amazon ➞
7. Fila Men's Strada Disruptor
This dad shoe is the definition of chunky, with a wide midsole and an upper to compliment to provide a bold look. These dad shoes are undoubtedly '90's retro, but the best news is that even though they look clumpy and heavy, they are very lightweight. So, you can get these on and walk around all day without feeling tired, plus these dad sneakers will protect your foot from shock each time you take a step. They have great cushioning, and even better is you can take out the insert if you want a bit more room inside.
An ideal dad style shoe if you want to be seen and if you like a retro design that is comfortable and lightweight.
Check Price on Amazon ➞
8. Skechers Men's Classic Fit-Delson-Camben Sneaker
Need a dad shoe that has a casual look and will go with any attire? These Skechers sneakers are for you. They are lightweight, so they can be worn for prolonged periods without holding you back or giving you painful feet. Plus, to add to the comfort of these dad shoes there is a memory foam insole that will mold to the shape of your foot for optimal comfort.
The upper at the front of this sneaker is soft and will let air circulate your feet as you move around, keeping you cool and fresh. The shoe can grip to a range of surfaces and keep your foot secure at the same time.
The best dad shoe if you want to go casual any time of the year and feel supported throughout the day.
Check Price on Amazon ➞
9. Champion Mens 93Eighteen Big C Low-Top
A classically designed pair of dad shoes that you will love wearing at any time or occasion. Unlike many other dad sneakers, these have a patterned lining with the Champion brand logo, which will slightly show even when your foot is inside to give you a unique looking sneaker.
The leather upper is strong and will support your foot as you walk, and there are air holes at the top to allow your feet to breathe. The laces let you choose the fit you like and what suits your walking style, while the rubber outsole grips to a range of surfaces.
These Champion sneakers are supportive and comfortable and will last a long time.
Check Price on Amazon ➞
10. Globe Men's Sabre Skate Shoe
If you like the skater look, then these Globe Sabre dad shoes are your best buy. They have the unmistakable design of a skate shoe, which is chunky with a bit tongue and a small toe box. The laces can be adjusted, so you get the fit you want, whether you want your foot looser if you are walking around or if you want them tighter if you are at the skatepark. The sneaker is very durable and is very comfy due to the decent amount of cushioning.
If you like to skate, this is the best dad sneaker to buy to complete your look.
Check Price on Amazon ➞
Dad Shoes Buyer's Guide
Dad Shoes
I guess you are wondering where the name came from? Well, as the name suggests, it's something your dad may have worn a few decades ago. These types of shoes are unique in their design and are known for having a chunky look to them. Many of the styles were prominent in the '90s or around that time, and most of the big brands like Nike and Adidas still produce sneakers with the classic retro design.
Comfort Features
As with all shoes, the comfort that they provide you is one of the most important aspects to consider when choosing a shoe to suit your needs. There are a range of comfort features in the shoes on this guide and is mainly given by the cushioning that is incorporated inside the shoe. Some shoes will have better cushioning than others, although a lot of cushioning isn't for everyone. The Fila Men's Strada Disruptor sneakers have a removable insert if you prefer less cushioning and want more room for your feet to move around, or are ideal if you have a wider foot and need that extra space for your foot to feel at ease.
Air cushioning is another type of comfort feature that is present in the Nike Air Monarch IV Cross Trainer shoes, which will give you comfort even if you are doing a high-intensity workout. Meanwhile, the New Balance 608 V5's have a memory foam insert and have built-in technology that absorbs the shock and minimizes your foot's impact.
The Globe Men's Sabre Skate Shoe has Nitrocel technology built into the shoe to keep impact to a minimum. This is great if you are skating and land on the ground hard when you jump off the board. Some of the shoes on this list have a tongue that has padding in it to provide comfort to the top of your foot and keep your foot supported as you walk or run along.
Lightweight sneakers also add to the overall comfort of the shoe and are best for long-duration wear. Even though the shoes on here are chunky, it doesn't mean that they are heavy to walk around in, so these shoes are perfect for looking bold but are light for the feet.
Breathability is another aspect that ensures your feet are comfy. Most of the shoes on this list have a good amount of either mesh or air holes so that the feet can breathe and air can flow in and out of the shoe.
Upper Material Design
There is a mixture of upper designs on this guide. Some of the sneakers have a leather upper, which is strong and sturdy, while others have a more flexible upper that allows you to move around more freely. A mixture of materials can be found on these sneakers above, including leather, synthetic, textile, mesh, and suede. All of these materials make fantastic uppers that are durable and supportive for the feet.
If you are conscious about the environment and try to live a more sustainable life, then the great news is that the material on the Adidas Yeezy Boost 700 Inertia is eco-friendly.
Traction
This is the grip that your sneaker has, and all shoes on this list have great traction. They can grip to any surface so that you can walk along the sidewalk, the park, the indoor gym, and many other surfaces and know that your sneaker won't slip.
Suitable Activities for These Sneakers
Many of the sneakers on this guide are great for normal daily activities from walking around town to wearing them all-night at the club. Some of the sneakers are good for running in while others are not so good for this and would only be suitable for gentle exercise.
If doing long-distance running or an intense workout, it may be best to choose a shoe that is designed especially for that activity instead of a dad shoe. These sneakers are more for the look and feel, rather than exercise.
Which Dad Shoes are the Best?
It's hard to say what the best dad shoe is as they are all great. If you want the most fashionable, then the Adidas Yeezy Boost's are a great choice. For maximum cushioning, then the New Balance 608 V5's will support you all-day. If you want to exercise, the Nike Air Monarch IV's are very suitable.
What Brand Does the Best Dad Shoe?
They are all good. Nike, Adidas, New Balance, and the others are well-known brands and have a reputation for producing long-lasting and great sneakers for all foot types. Many other brands haven't featured on this guide and make great dad style sneakers and offer the same guarantee of quality and performance.
If you generally keep to one brand of sneaker, then you can choose a dad shoe by that brand, or if you fancy a change, there are plenty of brands to choose from on this guide.
Expert Tip by Alexis DeSalva Kahler
If you plan to use your shoes for walking, running or other activities, look for breathable characteristics, such as mesh, to promote ventilation.
Did You Know?
The characteristics of a dad shoe are a chunk design and are retro mainly from the '90s.