10 Best Skate Shoes in 2021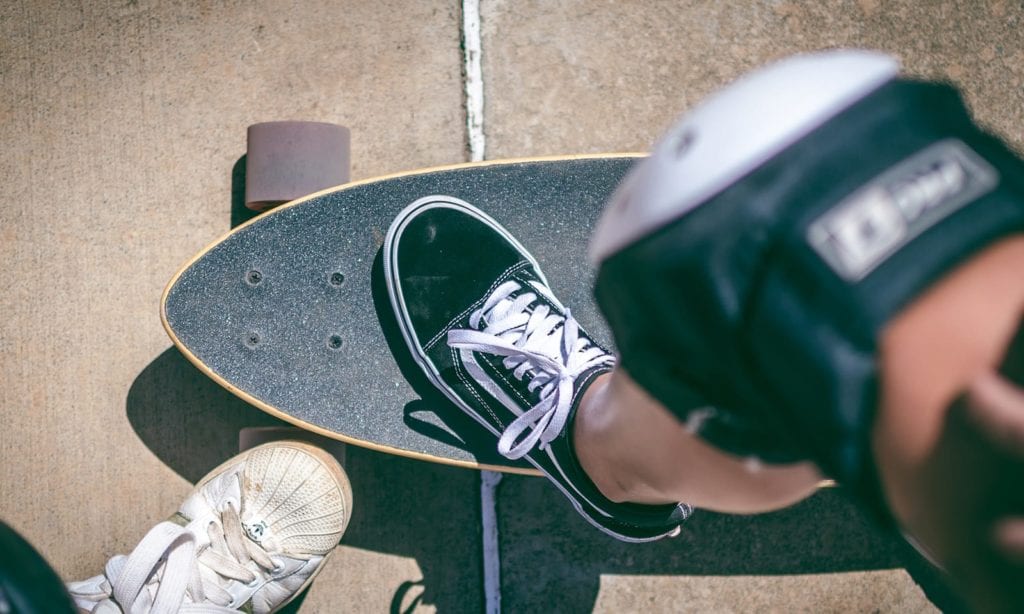 The best skate shoes are ones that are durable, with great board feels to give the skater control. The challenge is finding skater shoes with the right balance between durability and control. Regular gym shoes aren't tailored to a skateboarder's needs. To find the best shoes for skateboarding, you'll need proper ventilation, comfortable yet long-lasting soles that grip the board and cushioning.
In this skate shoe review, we've researched skate shoe brands from Adidas to VANS and everyone in between to find the top skateboarding shoes to fit your needs. With pro reviews and customer reviews, we've narrowed it all down for you. Below are the top 10 skating shoes of 2021, broken down into their cuts, materials, and styles.
Into cycling? Check out our favorite cycling shoes.
View the Best Looking Skate Shoes, Below.
1. DC Men's Court Graffik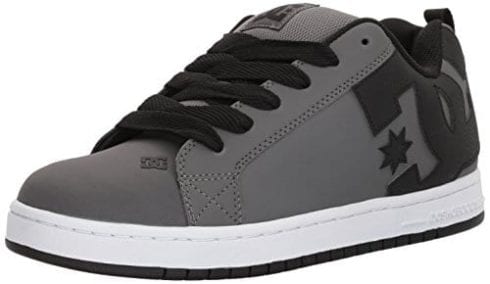 Graffiks are among the best DC skate shoes you can find. These leather shoes are some of the toughest skate shoes but are still comfortable to walk in. They have a grippy pill pattern tread for a nice board feel.
High, Mid, or Low-Cut
The Graffiks are low-cut skating sneakers that offer good breathability and lightness. As with all low-cut shoes, these have good cushioning.
Materials
These shoes are made of leather, a popular choice next to suede. There's a rubber sole that's comfortable to step on and a pill pattern tread for good grip. Graffiks are pretty breathable with their low-cut style, ventilation holes, and a lightweight tongue made of mesh. Both the tongue and collar are padded. With its leather and its strong stitching, these are very durable skate shoes.
Appearance
There are 25 colors, though most of them are variations on black or grey. There are some white pairs and one that's black with bright turquoise laces and accents.
Check Price on Amazon ➞
2. adidas Originals Matchcourt High Rx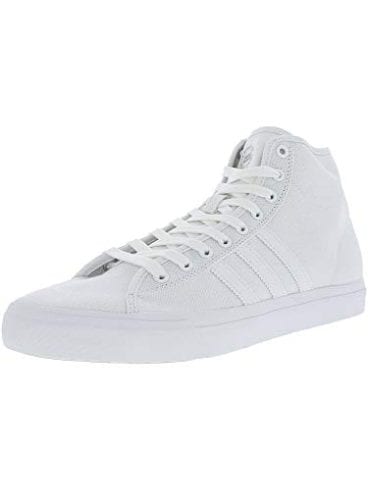 The Matchcourt is a top skate shoe that offers as much protection as possible. They have leather, textile, and synthetic materials.
High, Mid, or Low-Cut
The Matchcourts are skateboarding high tops that provide lots of stability and padding, making them the safest option of all the skate shoes in our skate shoe review. High-cuts have less ventilation but can be nice and warm in cold weather.
Materials
These shoes are leather and textile. The sole is synthetic, and the upper is canvas. There's a molded EVA sockliner that's comfortable and supportive. The inner fabric lining makes them breathe better. The outsole is vulcanized. This means that the wearer does not need to break them in first.
It also means they're very flexible, have great board grip, and can absorb impacts. They are some of the best adidas skate shoes for durability because of the reinforced toecaps. Vulcanized outsoles make them more at risk for abrasion over time, however.
Appearance
The Matchcourts come in 13 colors. There are many black and white options. All have the signature adidas stripes on the side.
Check Price on Amazon ➞
3. C1RCA AL50 Adrian Lopez
The C1RCA AL50 Adrian Lopez shoes are mostly leather and have durable reinforcements in the toe area.
High, Mid, or Low-Cut
This is another low-cut shoe made breathable, light, and cushioned.
Materials
TheseLopez skate sneakers are made of leather. The rubber soles are comfortable. The toe is reinforced with triple-stitching. The wraparound sole has a toe bumper for protection and abrasion resistance. The breathable mesh tongue and the collar are padded. The leather construction and reinforced toe with toe bumper make these great, sturdy shoes for skating.
Appearance
What are the best skate shoes for a unique style? The C1RCA AL50s have a few unusual designs, making them some of the coolest skate shoes around. There is an option of a pattern of frowny faces, another of smiley faces, and one with skulls and crossbones. There are 16 styles to choose from.
Check Price on Amazon ➞
4. DC Pure Action Sport Sneaker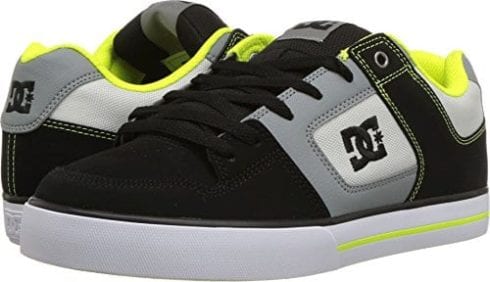 DC Pure Actions are well-ventilated board shoes made of hardy leather, with cup soles that need breaking in.
High, Mid, or Low-Cut
The DC Pure Action is another low-cut shoe. It's breathable, light, and comfortable.
Materials
This is yet another skateboarding sneaker made of leather. There's padding in the collar for a snug fit. At the medial side, there are breathable drainage ports. Instead of a vulcanized sole like most of our top 10 skate shoes, this shoe has a cup sole.
Cup soles need to be broken in, unlike vulcanized soles, and they are superior to vulcanized soles in durability. They also do a really good job of resisting abrasion.
Appearance
The Pure Actions come in 27 colors. These have a color variety that goes way beyond black, white, and grey. Instead, you'll choose from shoes that are, yes, black, white, and grey, but many of them with bright color accents.
Check Price on Amazon ➞
5. VANS Atwood Skate Shoes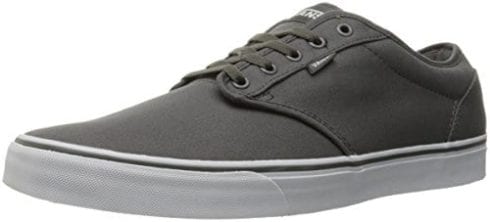 These are some of the best VANS skate shoes, with comfy vulcanized synthetic soles and grippy waffle outsoles.
High, Mid, or Low-Cut
The Atwood Skate Shoes are, as is standard for skate shoes, low-cut in design. They're comfy with their cushioning, lightweight design, and breathability.
Materials
VANS Atwood shoes have a synthetic sole that's vulcanized. The waffle outsoles have a very strong grip on the board. There's comfort as well as safety from the padded tongue and the collar. Wearers find these shoes to be very comfortable overall. The vulcanized sole makes them slightly less sturdy than if they were cup soles.
There are complaints, overall, that these shoes will wear down too quickly. However, they are a bit more comfortable since they are vulcanized.
Appearance
There are 37 colors, including many options in reds and blues.
Check Price on Amazon ➞
6. adidas Seeley Skate Shoe
These adidas shoes are synthetic in construction with vulcanized rubber soles and smooth, abrasion-resistant uppers.
High, Mid, or Low-Cut
This is yet another low-cut shoe providing breathability, low weight, and cushioning.
Materials
The adidas Seeley shoes are made from synthetic materials and a comfy rubber sole. You'll find a vulcanized rubber outsole for maximum grip to the board. The upper material is smooth and resistant to abrasion. Again, vulcanized outsoles are not as great for durability.
Appearance
Unfortunately, there are only 6 color options to choose from. Most of these are grey and black with the white adidas stripes. There is one red pair.
Check Price on Amazon ➞
7. Etnies Scout Sneaker
The Etnies Scout Sneakers are not billed as skate shoes like most of the other top 10 skateboard shoes, but their abrasion resistance and vulcanized outsoles do a good job.
High, Mid, or Low-Cut
The Etnies Scout Sneaker are low-cut, making them breathable, light, and comfy.
Materials
These are made of textile. Unlike all the rubber soles we've listed in our skateboard shoe review, the Etnies have synthetic soles. The midsole is made of exposed STI Evolution Foam and has rubber pods. These are very comfy with a mesh upper that breathes well. They also have elastic heel support.
Most importantly, they have smooth abrasion-resistant uppers like the adidas Seeley Skate Shoes, and the outsoles are vulcanized for a sure board grip. The midsole is fused with the outsole, making them weigh less overall. The vulcanized outsole make these not the most durable skate shoes.
Appearance
Out of all the shoes on our skateboard shoes review, these have the most style selection. There are 70 looks to choose from, though many are combinations of black, gray, and white.
Check Price on Amazon ➞
8. New Balance Men's 331v1
These New Balance skateboarding sneakers have a textile construction. They are some of the best men's skate shoes for comfort because of their foam inserts and vulcanized soles.
High, Mid, or Low-Cut
The 331v1s are cool skate shoes featuring a low-cut design that helps with breathability, lightness, and cushioning.
Materials
These are textile shoes with comfortable rubber soles. There is a foam insert for added comfort. The sole is vulcanized, so they don't need to be broken in beforehand. The vulcanized soles make them thinner, softer, not as durable. The textile construction is not as durable as shoes made of leather or suede.
Appearance
The 331v1s have only 4 colors to choose from, making them the shoes with the least styles among our top 10 skateboarding shoes. They come in blue, grey, black, and white.
Check Price on Amazon ➞
9. Osiris Mesa Skateboarding Shoe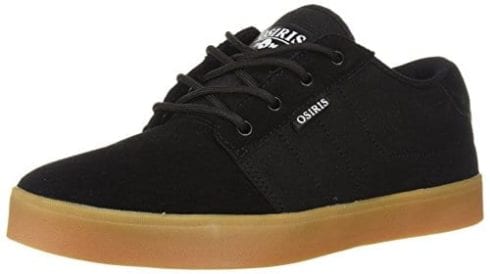 Osiris Mesas are cool skateboard shoes made of textile, suede, and synthetic, with removable EVA insoles and vulcanized outsoles.
High, Mid, or Low-Cut
The Osiris Mesa is a low-cut shoe for comfort, breathability, and a lightweight.
Materials
These shoes have a textile and synthetic construction, with the uppers made of suede and canvas. The tongues' tops, the lace closures, the toe box, and the heel backs are suede, making them some of the best suede skate shoes on the market. The soles are made of rubber. The insoles are cushioned EVA that can be removed.
The tongues are padded with elastic straps, giving them a more snug fit that prevents accidents. On the interior is a breathable mesh liner. The soles are also vulcanized, increasing the board feel. Also, there is a grippy herringbone tread pattern. These shoes are pretty durable since parts of them are made from suede.
Appearance
There are 13 styles, mostly in grey and black.
Check Price on Amazon ➞
10. Globe Willow Skateboarding Shoe
The shock absorbent Globe Willow shoes are made of leather. They have a secure fit and vulcanized, grippy S-Trac outsoles.
High, Mid, or Low-Cut
This is another low-cut style, which makes the Globes good skate shoes for breathability, cushioning, and lightness.
Materials
The uppers of the Globe Willow Shoes are made of leather. The soles are rubber. The Shockbed™ footbeds resist hard impacts and are very comfortable. The padding on the tongue and collar is pretty sparse, resulting in a secure, safe fit. The vulcanized S-Trac outsoles are grippy and flexible for great board feel. The leather makes them nicely durable.
Appearance
There are 17 color choices, including gold and a few blues.
Check Price on Amazon ➞
Buyer's Guide
In order to find you the best shoes to skate in, we've organized this guide to give you as much information as we can in a concise, simple format. First is the cut of the shoe, or how high the part around the heel rises, which impacts comfort, breathability, and safety. Then the materials of the shoe are discussed at length (broken up into how they affect board feel, protection, durability, and breathability). Lastly, we'll make sure you have plenty of styles while you're skating.

High, Mid, or Low-Cut
The cut of the shoe is an important distinction that shouldn't be overlooked. High-cut shoes are ones that go up to above the ankle. This is the most stable and protective shoe you can get for skating. The main drawback is that these are naturally not very well-ventilated. However, this makes them a great shoe to wear during the fall or winter if it's cold out. As an example of high-cuts, look at the adidas Originals Matchcourt High Rx.
Low-cut shoes make up the bulk of our top skating shoes and are pretty standard when it comes to skating shoes. They're not as supportive or as padded as high-cuts, but you'll get a bit more cushioning and a more lightweight shoe. Mid-cuts act as an in-between. They give stability, protection from impacts, and are fairly comfortable.
Materials
This is important. "Materials" covers the upper materials usually made of suede, leather, canvas, or a synthetic. But it also covers the sole which is comprised of the outsole, midsole, and insole. It's where we'll talk about board feel, protection, durability, and breathability. Board feels is what you're looking for. If you're not aware, it's basically the way you'll grip and control your skateboard. This board feel comes from the toe of the insole where there should be very thin padding.
Also, a vulcanized shoe will have more board feel than a cup sole shoe (see a couple paragraphs down for explanations of vulcanized and cup soles). Speaking of insoles, they have another important job: protecting you from impact. Insoles should absorb shock as much as possible. That's why the heel of the insole has its padding thickened. For added protection, there is also plenty of padding on the sides and the tongue.
This is all to make sure that the shoe is as snug as possible. A loose shoe is asking for injury. Next, to board feel and protection, durability is something to look out for. Many shoes made for skating will start to wear out very quickly (see maintenance tips below in the "How long do skate shoes last?" section).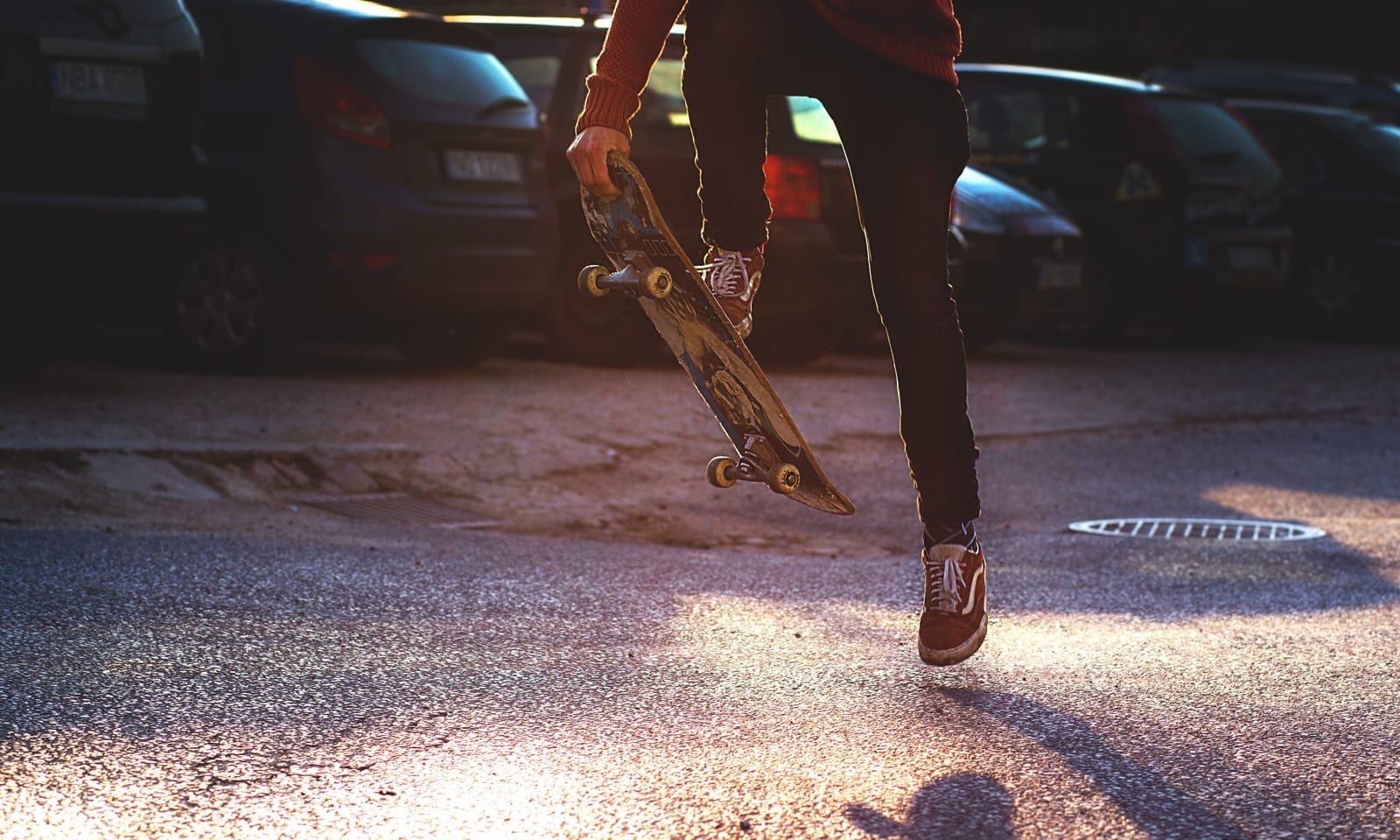 Besides using Shoe Goo and super glue to patch and prevent the inevitable holes, you should look first at vulcanized versus cup sole shoes.Vulcanized shoes are ones that have the outsole, midsole, and insole glued together, not stitched. They're flexible and have great board feel while also absorbing impacts, and they don't need breaking in.
Unfortunately, they're not as durable as the other type of sole, the cup sole. Cup soles are stitched together, stiffer, heavier, and a lot more durable in the long run. What about the rest of the shoe's durability? Shoes made from suede are what you'll see most. They're tough but still flexible and will only become more flexible after long use.
Next is leather. It's obviously tough but doesn't give as much stretch. The shoes made of canvas. They're not extremely durable, but often they make up part of the shoe, along with the leather.
Appearance
Skating culture has its fair share of aesthetics. Your shoes should be functional, but you also want to create an impression before you start skating. Many of our top ten skateboarding shoes come in varying shades of black, grey, and/or white. Others have splashes of color. For example, the DC Pure Action Sport Sneakers have 27 colors, many of them black or white but with big accents of pink or blue.
The Globe Willow shoes have options in a few blues and even bright gold. The Etnies Scout Sneakers have the largest selection with about 70 color combinations. The C1RCA AL50 have some awesome skate shoes: there's a pair with a pattern of frowny faces, another with smiley faces, and one with skulls and crossbones.

What kind of Skate Shoes Should I Get?
This comes down to what types of skateboarding tricks you're doing. Shoes for skaters should vary, depending on your style. Good shoes for skateboard tricks like ollies, slides, and grinds are ones with vulcanized soles. Vulcanized soles are less durable but have more flexibility.
Skaters doing more intense tricks like aerials will need the thick cup soles. These thick soles protect the foot from the shock of impact, and they are more durable.
How to lace Skate Shoes?
There are many styles of lacing. A popular method is the reverse criss cross.
Start at the eyelets (holes) near the toe. Put the right half of the shoelace into the lowest right eyelet, and put the left half into the lowest left eyelet.
Then the shoestring that's on the left of the shoe should be crossed over and put through the second eyelet on the right side of the shoe. The shoestring on the right should be crossed over to the left, second eyelet and fed
through the same way. Now there should be a horizontal line between the bottom eyelets and an X at the second row of eyelets.
The criss cross done in the second row of eyelets should be repeated on the third row, and so on.
When you get to the last row of eyelets, you can tie off your laces. The left shoestring should be knotted close to the eyelet on the inside of the shoe. Do the same for the right.
Lastly, cut off the extra shoestring, leaving a half inch to an inch of string.
How long do Skate Shoes Last?
If you're practicing your tricks daily, even the best skateboard shoes will only last a few months or less until you rip a hole in them. So it doesn't matter if you have expensive skate shoes or cheap shoes. Even good cheap skate shoes can become your longest lasting skate shoes if you take care of them. You can use Shoe Goo adhesive to patch up any holes.
You can also do some maintenance on them before they're even used. Just put super glue along the stitching, at the areas you think will tear from your tricks. Shoe Goo can also be used to maintain your laces, but once you put it on, you can longer loosen or tighten them.

Conclusion
This review gave a quick overview of the top skate shoes, their vulcanized and cup soles, durability, protection, and some tips on lacing and maintenance. But if you're brand new to skating, we suggest you take a look at some online skating forums. Many of your questions have already been answered by hundreds of practiced skaters who have their own ideas on the top skateboard shoes.
Most of these people are happy to help beginning skaters get started. If you don't yet have any skater friends, the forums can be a great place to turn to. Reviews on Amazon will tell you how true to size these shoes are. Some run big, some run small, but others fit as perfectly as your regular shoe size does.
In the best reviews, you'll also get word on just how long they lasted, including how often the shoes were worn and what purpose they served (some use them for skating, but others use the shoes for walking or for work). Our parting advice would be: Know yourself, know your shoes.
Whether you practice ollies, kickflips, grinds, aerials, or other moves, you may already know what parts of your shoe need the most reinforcement.  There are hundreds of shoes for skateboarding, but the best skateboarding shoes are the ones that fit your needs (and your feet).
Expert Tip
Get a snug size shoe and lace them properly so you don't hurt your ankles while practicing.
Did you Know
There are over 11 million active skateboarders in the world today.