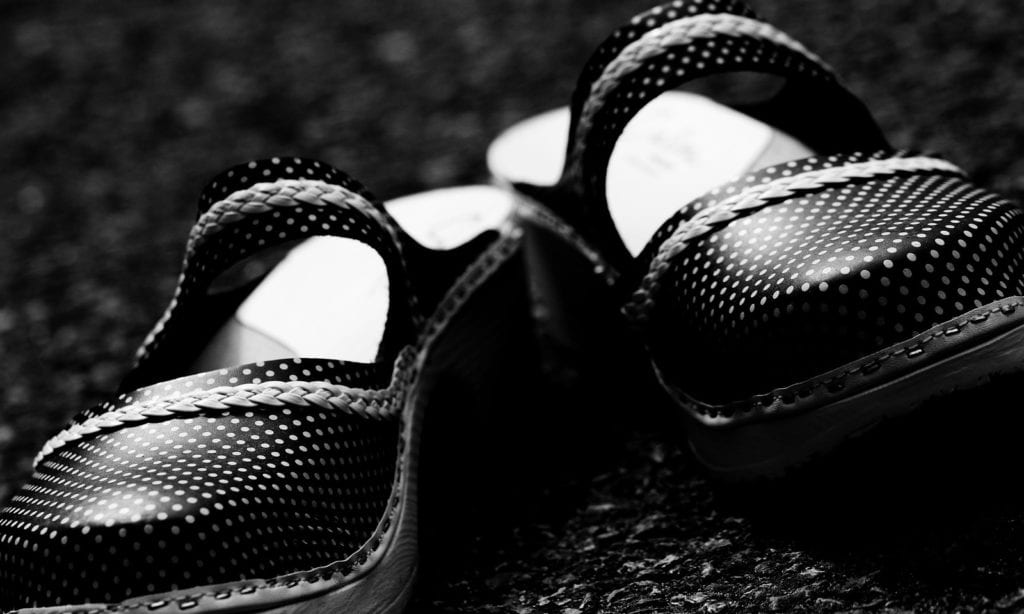 Finding comfortable footwear can be a tricky process, and this can be made even more difficult if you are shopping for shoes for work as they also need to look professional. Sanita and Dansko are two brands of professional clogs that offer high-quality, comfortable, and supportive footwear of a similar standard.
When shopping for comfortable footwear, you are likely to come across Dansko and Sanita. Clogs can be a great option for so many people, especially those in jobs like nursing or care where being on your feet all day is required.
To find the best footwear, we need to compare the two brands Dansko and Sanita, so you can see which is best.
Please note, this review is written as part of the Amazon Services LLC Associates Program, an affiliate advertising program designed to provide a means to earn advertising fees by advertising and linking products. You can register using a name, email, and business name.
Sanita Vs. Dansko Clogs
When it comes to comfortable, supportive footwear that you can wear to work, clogs are a popular option. Both Sanita and Dansko are great brands for clogs, and their clogs are similar in both quality and appearance, which can make it hard to choose between the two.
However, for this review, we are going to take a closer look at Sanita Vs. Dansko clogs to help you make the best decision for your feet.
While both Dansko, Sanita clogs have a similar appearance, there are some key differences. Dansko clogs, in particular their new design of the shoe, has a broader heel than Sanita clogs. This broader heel base and thicker rubber piping on Dansko clogs are designed to prevent ankle rolling, which can cause pain and issues in the feet.
Although Sanita clogs do not have as thick of a heel base or rubber piping, their cleaner design can still be very supportive of the feet. This is because their thinner shoe is designed to reduce chafing of the skin, which is something many people complain about with clogs.
To find which brand has the best clogs, we have to look into various features and access them in terms of support and comfort. As both have a similar design, both brands can be worn in a professional setting, and clogs are known to be a good comfortable shoe to wear for a long period.
Despite this, some people have claimed that both Dansko and Sanita clogs can take some getting used to because of the high arches. They claim that this can make it hard to get the shoe on your feet in the first place, and there can be some chafing at the back because of this. But ultimately, it is these high arches and the overall shape of clogs that make them so supportive in the long run.
Let us take a deeper look into the clogs offered by Sanita and Dansko to help you find the best clogs available.
Review: Dansko Clogs
Dansko Shoes is an American company that outsources its products, including its clogs, to China. This makes their footwear affordable and accessible to a range of people, which is why this is such a popular brand.
While the style of clogs usually follows the same standard, Dansko clogs are known to have a deeper heel base and rubber piping. This is designed to provide more stability in the arch and ensure the correct foot position when walking, but it has been reported that this can make the shoe quite uncomfortable.
Dansko is APMA approved, which is a good sign of their quality, but one thing that is important to note about this brand is the fact they have changed the style of clogs from what they used to be. For many years, Dansko manufactured footwear with Sanita, which is why the two brands are commonly compared.
However, in 2008 Dansko changed the design of the classic clogs to what we see today with a deeper heel base, and while this works for some people, it is not as universally comfortable as the shoes once were.
As they make clogs, Dansko is still a good brand for those looking for comfortable shoes. Clogs offer a lot of arch support and have a wide toe box that allows the feet to spread naturally, so balance can be provided.
Review: Sanita Clogs
As we have mentioned, both Dansko and Sanita used to work together to create clogs which is why their shoes share a lot of the same features.
However, following their change of design, Dansko is no longer in the same league as Sanita, and in comparison, this brand runs a little behind. Sanita, on the other hand, is a company that has been making shoes since 1907.
They are a European company, and all of their shoes are made in Europe to a high standard.
Like Dankso, the clogs by Sanita have a wide fit, and they are easy to wear as they are slip-on shoes. They have a wide toe box that supports natural balance and offer a lot of arch support, which is why they are so comfortable.
Both brands use leather to make their shoes, and leather is an excellent material due to its durability and comfort. Sanita clogs are of great quality, and their leather uppers not only look good but make the shoes flexible and durable.
When they are taken care of properly, leather shoes can last a very long time even with repeated wear. Although Sanita clogs may be more expensive than Dansko, who ship their products to China for manufacturing, it is clear to see which is the better quality.
In terms of size, Sanita clogs are easy to wear, and they slide onto your foot. This is the same as all clogs, but what makes Sanita the better option is the fact they do not have thick rubber piping. Customers have found that this thick rubber piping can make it hard to get the shoe onto their foot in the first place, as it makes them quite heavy and chunky.
Sanita clogs are lightweight yet durable due to the leather upper, and one pair will last for years to come. This means you can fall in love with these shoes without worrying about them falling apart quickly.
Wearing these clogs can be a way to control foot and back pain. Many people like nurses who spend a long time on their feet suffer from back pain, and that is exactly what clogs by Sanita are designed to combat. Looking into the customer reviews of these shoes, it is clear to see that wearing them every day can make back pain better as they provide a lot of support through the arches.
The sole of these shoes has good traction to help provide stability and balance. While the sole of a Sanita clog is not as thick or deep as the sole on Dansko shoes, this does not usually cause too much issue. A thicker sole can provide more stability, but many reviews have reported that it also makes the shoe heavier, which can be uncomfortable.
Which Is Better? Sanita Vs. Dansko
Both Sanita and Dansko have some similarities in their clogs. In terms of the size and support offered, it is clear that one brand is better.
Sanita has been in the business a lot longer, and they started making clogs years ago in 1907. This gives them better experience in the industry and more time to perfect their clogs. This could be why in terms of comfort, Sanita is a clear front-runner.
Clogs are a great pair of shoes to fit all feet, as Sanita offers a good size range to make sure that people with different needs can still get this high level of support. The narrow back of these shoes is designed to keep them secure on the feet, improving the fit even more.
While Sanita does not have a deep heel like Dansko clogs, this is actually a bonus. This has made sure that Sanita clogs are not as heavy and are the most comfortable pair of shoes to wear for hours on end.
It is clear to see from customer reviews which brand people love, and we are certain that you too will love Sanita clogs.
This clog is made to a high quality and is manufactured in Europe using genuine leather to ensure longevity. They have an excellent fit, and even though the clog is designed to be best for a wide foot, the range of sizes from this brand makes them accessible to more people.
We are certain that you will love the Sanita clog, and it is available widely on Amazon. They are simply made to a different quality and standard, which when you consider the rating of the two products is clear to see.
The Sanita clog is the best choice when it comes to comfortable, supportive footwear, and we think you will love them.
This review is written as part of the Amazon Services LLC Associates Program, an affiliate advertising program designed to provide a means to earn advertising fees by advertising and linking products.
For more information, leave your name, email below.
Rights reserved.
References