10 Best Flip Flops with Arch Support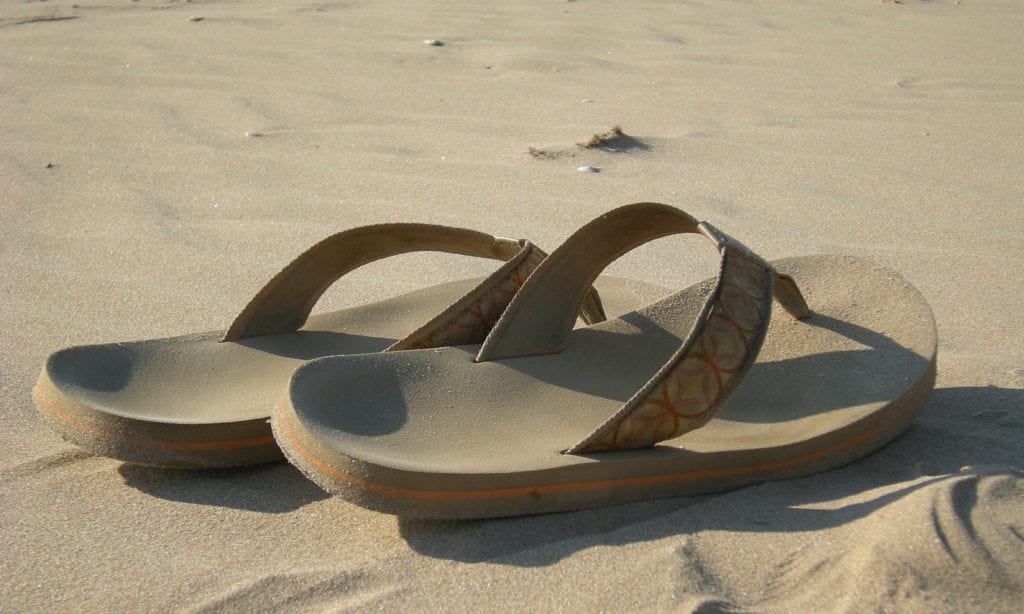 Most people love a nice pair of flip flops for the summer months, they are easy to slip on and off, even easier to clean after an impromptu beach trip and help you to keep your feet cool during that hot weather. The only problem is that flip flops are notoriously bad for your overall health during those summer months. Your feet are essential to the health of your body, unsupportive shoes can cause you a multitude of problems; from plantar fasciitis to back pain and any of these problems will definitely dampen your summer.
So, we have collected for you ten of the most supportive flip flops to provide your feet with adequate support. Flip flops are one of the best parts of summer, they pair nicely with most outfits, but picking the right pair for your feet can make all of the difference.
View the Best Flip Flops with Arch Support, Below.
1. OOFOS Recovery Thong Sandal
OOFOS has created an excellent pair of flip flops with arch support, which with over a dozen colors, you can match to any outfit in your summer closet. Comprising a lightweight orthotic-conforming synthetic foam, these flip flops offer you comfortable support while being casual enough that you can wear them all day. OOFOS has also designed these flip flops with a non-slip inner sole, so you feel more support and less likely to slip when wearing these in the heat, the inner sole design also provides fantastic arch support.
OOFOS has designed these flip flops with arch support with the aim to help your feet recover following intensive workouts, however, due to the unique design and all-over foot support, you will be able to wear these flip flops with confidence in any scenario.
We liked the sole of this shoe, the non-slip element is excellent, and the amount of arch support provided is brilliant for wearing these flip flops for long periods of time.
Check Price on Amazon ➞
2. Vionic Women's Tide II Toe Post Sandal
This Vionic flip flop is a simple yet elegant design with a patent leather style strap in various colors to match your wardrobe. The footbed of this design of women's flip flops has a triple enhanced motion control to help correct your gait and improve your posture, protecting your feet and wider health.
The diamond-shaped sole has been included to ensure a good grip on all walking surfaces, protecting you from slipping when walking, with a midsole that absorbs any shock when walking to further protect your feet. The point to be aware of with this pair of flip flops is that due to the orthopedic design, you will need to allow time for this pair to be broken in. Professionals recommend a maximum wear period of a few hours per day until they are worn in.
We loved the triple motion control built into these flip flops with arch support, it allows for an excellent support system for your feet and hours of comfort, once they have been broken in.
Check Price on Amazon ➞
3. Crocs Women's Capri V Sequin Flip Flop Sandals
Crocs is a leading name in footwear and strive to make their shoes both comfortable and stylish, their new range of flip flops is no different. With a chic sequin design across the foot strap, this design can be paired with both casual and more elegant wear to suit any situation. The sole of this pair of flip flops with arch support is made of Croslite foam for both the footbed and insole, giving superior arch support while being lightweight and comfortable.
Due to this being the fifth version of this design, the flip flops have improved over time, incorporating modern technology as the design develops. You will find these flip flops thinner than previous designs, but with no less support, the straps are leather to give you a comfortable and soft wearing experience. The sequins and slight heel give a feminine feel to casual footwear.
We liked the design of this pair of flip flops with arch support, with an elegant design that moves from casual to dressy depending on the rest of your outfit.
Check Price on Amazon ➞
4. OluKai Men's Ohana
This pair of flip flops have been designed for day-long wear in all situations, OluKai has made a pair of flip flops that will conform to your foot shape from the first wear, and the ability to feel broken in immediately. We recommend that you buy these flip flops a half size smaller than your usual foot size as although they may feel slightly tight when you first put them on, they will loosen quickly and mold to your foot shape.
These flip flops with arch support have an ICEVA lining to make the wearing experience softer and smoother while still providing your foot with full support from the toe to heel. The foot strap on this design is extremely soft to allow for continuous wear and prevent blisters from forming, and an EVA midsole allows for your body weight to compress the shoe into a perfect fit.
We liked the effort made with these flip flops for comfort in addition to foot support, the manufacturers have used materials to help to make the wearing experience more comfortable.
Check Price on Amazon ➞
5. Skechers Reggae-Trailway Flip-slop Sandals Flop
Skechers have created a stylish and sporty flip flops with arch support using high-quality materials, which will keep your feet comfortable and supported in all situations. Comprising a soft leather strap, with a synthetic footbed, your foot will remain supported through day-long wear, with a mesh lining to allow your foot to breathe and remove any moisture on your skin. Skechers have also included a hard sole with excellent grip for outdoor walking.
The strap of this shoe can be customized in three different colors to suit your personality and wardrobe and to help catch other people's eyes. This pair of flip flops incorporates orthopedic technology to ensure a high level of support for your entire foot, and the outer sole of this pair of flip flops with arch support was made with a shock-absorbent finish to protect your feet when walking throughout the summer season.
We especially liked the sole of this shoe, the support and comfort provided by the inner sole are exceptional, and the design of the outer sole to provide shock absorbency when walking makes this pair of flip flops with arch support incredibly easy to wear for long periods of time.
Check Price on Amazon ➞
6. Vionic Unisex Wave Toe-Post Sandal
Vionic has created a pair of unisex flip flops that have an orthotic insole which will support your foot and help with a number of podiatry causes of pain. This pair of flip flops with arch support has podiatrist recommendations globally. The design and fit on your feet will also help to keep your feet in the correct position to avoid pronation and to keep your posture correct during wear.
These flip flops have a slightly padded inner sole with a soft lining to allow you comfort while walking and a wave-patterned sole, which will afford excellent surface grip even in the event of a summer shower. You can choose the style and design of these flip flops with arch support to differentiate them from other customers and make them individual to you. A deep heel cup has been built into the sole of these flip flops to afford you a better grip when walking.
We liked that the design of this pair of flip flops with arch support allows for greater podiatry comfort and reduction of pain experienced by wearing less supportive summer shoes.
Check Price on Amazon ➞
7. Crocs Unisex Modi Sport Flip Flop
Crocs has designed a flip flops with arch support using their patented Croslite material for the entire shoe, giving a unique design to their comfortable and ergonomic option. Featuring circulation nubs throughout the inner sole, this pair of flip flops encourages your foot circulation in addition to improvements to your posture and increased support for your feet.
A unisex design in which you can customize the colors of the upper sole, this shoe allows you to show your individual style with a brand of flip flop you know you can trust. A giant in the market of footwear Crocs has succeeded in creating a comfortable flip flop specifically for beach use, but that can be used in all situations with excellent grip on the outer sole that won't leave marks on your indoor floor surfaces.
We like the design of these shoes, they are comfortable and unique, with the ability to customize the inner sole you can truly show your individuality when purchasing this pair of flip flops with arch support.
Check Price on Amazon ➞
8. Reef Womens Sandals Slap 3
Reef's flip flops have been designed with beach life in mind, specifically, the ability for your flip flops to transition from use in water, to use on sand, and finally use on the street. This pair of flip flops with arch support seamlessly combines athletic footwear with beachwear. This pair of flip flops combines synthetic nubuck and leather, which keeps your feet comfortable yet supported throughout any activities you participate in.
There is no need for wearing in period with these flip flops due to the arch support included in the design, and an innovative inner sole material that will provide full support from heel to toe. The molded rubber sole gives you the traction and grip you will need if walking on hard surfaces, and also if moving across rocks at the beach.
We liked the versatility of this pair of flip flops with arch support. You can use them for effective support, in water, on the sand, and on the pavement without feeling any difference in comfort levels.
Check Price on Amazon ➞
9. SOLE Men's Sport Flip-Flop
SOLE has created a pair of men's flip flops specifically designed to aid recovery after exercise and to do this, they have included an extra-wide sole with an included metatarsal pad, which will help to keep your foot supported in the right position for longer wear of these flip flops. SOLE has assessed what customers want from a flip flop and have tried to include as much as they could in one design. This pair of flip flops will mold to your feet to give you a comfortable wearing experience day after day, while also giving you brilliant arch support and a design that will offset posture and gait pain and problems through long-term wear.
The upper straps are designed in a range of colors to suit you better, and the sporty design makes them popular with men who are looking for something they can customize but also receive supportive wear from. SOLE has also included an anti-slip sole to this pair of flip flops with arch support to help you to stay safe during whichever activities you enjoy participating in.
We liked the sporty design of these flip flops, specifically made for those of us who like to exercise. You will feel the benefits of the recovery period support, all while still looking sporty when wearing these flip flops throughout the summer.
Check Price on Amazon ➞
10. Chaco Men's Flip Ecotread Flip-Flop Sandal
This simply designed flip flop from Chaco is both extremely supportive and environmentally friendly, with a rubber sole made of 25% recycled materials we wouldn't blame you for choosing the final pair on our top ten list. With a similar design for both men and women, which can be customized in color, these flip flops with arch support have an excellent reputation. Chaco has included its BioCentric technology in the inner sole to give support to your feet, especially around the arches.
With a non-slip, non-marking outer sole, you can wear these flip flops with arch support with confidence on all surfaces. A deep heel cup gives you further support when wearing for longer periods of time, and helps to correct posture and gait pain as you walk.
We liked the economically friendly design of this pair of flip flops with arch support. Using materials that are partially recycled, you can have a comfortable, supportive pair of flip flops while also helping the environment.
Check Price on Amazon ➞
Flip Flops with Arch Support Buyer's Guide
When buying a new pair of flip flops, you should ask yourself the same questions you do when buying any other pair of shoes; what will I be using them for? How long will I be wearing them? Which type of foot shape do I have? All of these questions are essential for finding a pair of shoes (or flip flops) that you can wear comfortably for any length of time.
Scorching Summer
Summer is a time for convenience, for most of us, if we are lucky, the weather is hot and the days are longer and brighter. As a result, we want to be outside as much as possible, relaxing after work, socializing with friends, working on your suntan, and enjoying a change from the coolness of spring. When moving from work to relaxing it is all about comfort and quickness for a lot of us, spending as little time as possible in that transitional period of changing clothes and packing bags to enjoy leisure time. Flip flops are the perfect pair of shoes to slip on and go, they are also very easy to clean if you end up unexpectedly spending time on the beach.
The only problem you can find with wearing flip flops is that some cheaper flip flops are generally flat and made of soft materials such as foam, which wear through quickly and provide no support to your feet and posture when being worn. Wearing ill-fitted or low standard flip flops during summer months can cause lasting pain in your heels and back, and although very accessible, we strongly recommend you look to purchase something that provides a little more support.
How Supported flip flops can help
If you already suffer from podiatry issues and use orthotic shoes throughout the working day, flip flops are an excellent alternative for using in your home, flat slippers can exacerbate pain where arch support flip flops will allow your feet to breathe while continuing to fulfill your usual support needs.
 If you are using flip flops for longer periods of time, such as during the day, over the weekend, or for going for walks in the evening, arch support flip flops can quickly become essential, even if you did not previously experience pain. Without the correct level of support for your feet, you could find that you begin to experience heel, leg, hip, and even back pain from ill-fitting flip flops.
The best way we have found to counteract this is to start with a good pair of supportive flip flops right at the beginning of the summer – there is nothing worse than finding that you have to miss a day at the beach because your feet are so painful you can't wear sandals.
Closet Essentials
Just because you need a little extra support when wearing casual shoes does not mean they need to look like orthopedic shoes. There is a wide range of stylish flip flops on the market, which will provide you with the required support while fitting in with your favorite summer outfits. With several of the pairs, we have tried out being sold in multiple colors, you can choose the color or style that suits you and your clothing choices.
 The activities you wish to compete in, in the flip flops you are purchasing, are equally important, choosing the right design for the activities you plan to partake in can aid you in reducing future foot pain. If you are planning to wear flip flops for a prolonged period of time, a stylish but supportive pair can be a fun and practical purchase.
Expert Tip
When buying any type of footwear you must consider the condition of your feet before wearing them and the shape of your feet, if you have high or fallen arches, arch-supporting shoes are essential.
Did You Know?
Ineffective arch support can contribute to a number of health problems and pain in several joints and muscles throughout your body, pain, which can take months to resolve.