10 Best Ice Cleats in 2021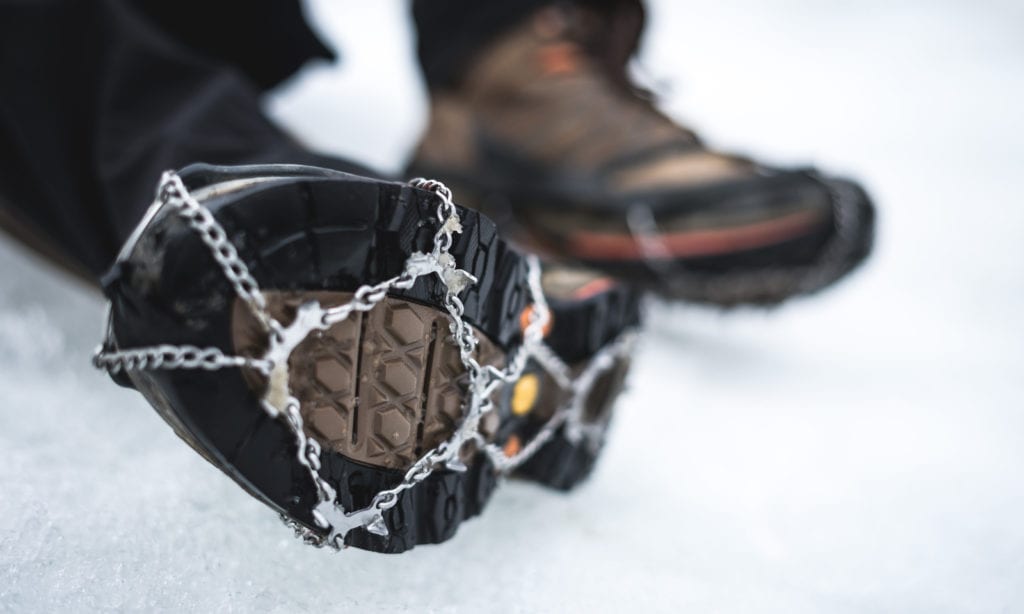 Ice can be one of the hardest hazards to walk across, regardless of how thick it might be. It doesn't matter if you are wearing sandals, running shoes, or even high-quality army boots: ice will eventually make you slip over, and there isn't always a way to predict how slippery a surface will be until you have already started walking over it.
Ice cleats can be an effective way of getting around this problem by adding some extra grip to the bottom of your shoes, but even then, you will want to choose the right tool for the job. Here is our list of the ten best ice cleats on the market at the moment, along with some advice on choosing your own.
View the Best Ice Cleats, Below.
1. Yaktrax Walk Traction Cleats for Walking on Snow and Ice
These light-duty and high-traction cleats are designed to be wrapped around shoes with ease, using a unique spike-free coil design to promote more fluid movement and faster walking speeds. These high-strength steel coils are fully abrasion-resistant and are linked together by a reliable poly elastomer material that can stretch and flex as needed to prevent damage.
A rubber guard at the front provides slightly more physical protection, as well as keeping the traction system connected to the shoe in a comfortable and stable way. All of this works together to create a simple, safe, and easy-to-use set of cleats that are perfect for crossing snow and ice.
This ice cleat design steps away from using spikes made of steel but still manages to offer great traction with an easy-to-put-on system that can cover most shoes well.
Check Price on Amazon ➞
2. Hillsound Trail Crampon Traction Device
This high-grip set of ice cleats are made with spikes of carbon steel that measure two-thirds of an inch long, allowing them to dig into ice and snow for easy movement on even the toughest surfaces. The elastomer harness can fit a wide range of footwear and comes with a simple strap that can be tightened or loosened depending on the shoes being used inside it.
They are also designed to offer improved fatigue reduction and weight dispersion alongside the excellent traction and come with a puncture-proof bag to allow for easy storage when you are not actively using them.
These ice cleats put great traction before anything else, ensuring that you can keep your footing in icy conditions where slipping could be incredibly dangerous.
Check Price on Amazon ➞
3. Cimkiz Crampons Ice Cleats
The eighteen sharp spikes of stainless steel used in these ice cleats give them the best traction possible, helping you tackle almost any kind of terrain in extreme weather conditions without slipping. A reliable thermoplastic elastomer harness offers the same feeling as rubber, but with much more consistency and strength behind it, even at low temperatures.
The harness can hold together even at negative 45 degrees Fahrenheit and won't tear or snap as you try to take it on or off. This added flexibility also means that you get far more comfort out of the unit while wearing it, and you can use the included carry bag to safely transport it around between uses.
If you need ice cleats that are easy to carry but can still give you long-lasting protection, this may be one of the best pairs on offer.
Check Price on Amazon ➞
4. ICETrekkers Diamond Grip Traction Cleats
The high grip offered by these aggressive cleats makes them perfect as traction devices, improving your ability to walk across winter ice and snow without so much as a small fall. The sling that holds the entire traction unit together can remain elastic and flexible beyond sub-zero temperatures, and the self-clearing design means that you won't need to worry about ice getting into any cracks or causing the connections to stick.
Speaking of the connections, they are made of steel aircraft cable, strong enough to endure a vast amount of damage without even the smallest amount of wear and tear. This cable is riveted into the rest of the sling, making the bindings between them even more reliable and preventing them from snapping apart suddenly.
These cleats are almost all steel, leading to excellent traction and even better strength when taking on surfaces covered with snow and ice.
Check Price on Amazon ➞
5. Unigear Climbing and Hiking Traction Cleats
The eighteen spikes on this set of ice cleats are all made of heat-treated stainless steel, allowing it to dig into the ice and secure your footing even when you are trying to move up and down slopes. The spike distribution places twelve at the forefoot and six at the heel, outing all of the power in your forward strides and making sure that the long-lasting soles can find a proper grip on the ground beneath you.
A thermoplastic elastomer harness offers the flexibility needed to keep moving properly, as well as an abrasion-resistant and anti-tear cover that can keep your feet secure for a long time with no sign of damage.
These shoe spikes are able to dig into even the toughest layers of ice and keep you moving forward, providing enough bite to push through winter weather without suffering a scratch of wear or damage.
Check Price on Amazon ➞
6. Limm Crampons Ice Traction Cleats
Instead of regular spikes, this design uses steel crampons that offer multi-directional support and traction, letting you move through snow and ice without naturally forcing you to go forward. The combination of durable and lightweight materials used to create the ice grippers make them highly portable and very resistant to winter conditions, while the rubber membrane and thermoplastic elastomer harness stay flexible in cold weather to reduce the chance of accidental damage or tears.
Thanks to the slip-on design of the harness, you can fit them around most shoes in mere seconds, and they remain usable even during sub-zero temperatures without risk of them breaking apart or snapping.
The unconventional multi-directional crampons used as part of these ice cleats means that they are incredibly good at handling rough ground and can be used in places where regular spikes might end up being unpredictable.
Check Price on Amazon ➞
7. STABILicers Walk Traction Cleat
These snow cleats are designed to prevent falls and slips across a range of different surfaces, relying on multi-directional and heat-treated steel traction plates that can cover a full 360 degrees of movement when performing any outdoor activity. The high-performance materials are capable of standing up to sub-zero temperatures and taking on tough surface contact with no loss in durability or stability.
Even better, they are suitable for fitting around a range of shoe types and are easy to put on whenever they are needed. An aggressive tread mold along the sides of the harness can even help when walking at odd angles or across very bumpy ground.
This set of ice cleats might seem standard at first, but they are perfect for slippery surfaces where you will need to move in all directions to complete certain activities or tasks and can help prevent slips on angled surfaces or rough ground.
Check Price on Amazon ➞
8. EnergeticSky Ice Cleat Spikes
These high-quality ice cleats use both a welding chain and stainless steel chain as their connectors, improving durability drastically while also offering a much stronger and more reliable design that can cross ice quickly and efficiently. The aggressive treads and cleats prevent slips on even the smoothest ground, while the easy-to-wear construction of the harness means that you can adjust it to work on winter boots with ease.
Not only does this improve traction in snow and ice conditions, but the cleats double up as great tools for tackling angled terrain, mud, ice-covered puddles, and many other natural hazards or road-blocks. With 19 different spikes spread out along the sole, there is plenty of added grip to make use of.
These cleats make use of real chains to provide an incredible amount of durability, making them perfect for situations where you need the best traction possible and don't care about a low-profile look.
Check Price on Amazon ➞
9. ICETRAX V3 Tungsten Winter Ice Cleats

The low-profile design of these snow and ice cleats are perfect for getting subtle traction boosts while out in the snow, making use of the best traction grippers possible to help you maintain your footing without needing to use a full chain system. The cleats are easy to slip around footwear with only a few small adjustments and are lightweight enough to be stored in a small bag or container when not in use.
An aggressive tread design around the ice grippers themselves allows you to take on winter conditions with almost no effort, and a secure fit system called StayOn prevents the cleats from dropping off after a few steps. The heel is also reflective, making you visible in low-light conditions.
The simplicity of these cleats makes them one of the best choices for people who need pure ice grippers for shoes but don't want the hassle of a full chain system or large spikes.
Check Price on Amazon ➞
10. STABILicers Maxx 2 Heavy-Duty Traction Cleats
The custom ice grippers used in the design of these cleats give you an easy way to get improved traction over winter conditions, all while providing excellent heel coverage and proper support that can last through even the worst environmental hazards. An adjustable SureFit system means that you can tailor the cleats to the boots you are wearing for even more personal traction and protection.
The high-quality materials mean that the cleats won't break down due to the cold snow or the repeated steps that you will be taking on rough ground. They also reduce the chance of the bindings slipping apart when they get wet, meaning that the cleats can help during winter rain too.
This is another set of ice cleats that can be surprisingly useful when dealing with ice and snow, combining a simple design with great materials to create something incredibly versatile.
Check Price on Amazon ➞
Ice Cleats Buyer's Guide
When you are on the hunt for the best ice cleats on the market, it helps to figure out where to start your search. Ice cleats can be just as hard to sort through as the shoes that they attach to, and finding the best ice cleats for your particular needs or situation isn't as easy as it might seem. In fact, it can take a lot of effort if you don't take some time to consider what you actually want to look for.
Terrain
Remember that ice cleats won't always be dealing with snow or ice on a flat surface. Cleats that work well on flat patches of ice might struggle against ice on a slope, whereas a high-traction ice cleat design might be able to manage both at once. On the other end of the spectrum, high-traction ice cleats with big spikes can become much harder to use in soft snow over mud, and there isn't always a way to adapt a single set of ice cleats into being perfect for every type of terrain.
In the worst-case scenario, you might have to put on and take off different sets of cleats every time you encounter terrain that your current ice cleat choice can't deal with. However, this can be a large hassle and cause all kinds of issues involving transporting multiple cleats at the same time, so you need to try and identify the terrain that you might be dealing with most often. If you can get the best traction options for that kind of terrain, you minimize the risks that you will be facing. This is especially important if some terrain is more dangerous than others, such as ice being more likely to cause slips than snow.
Terrain might also impact the kind of shoes you want to wear. If you are just going to be wearing your ice cleat choice on open fields with flat ground, you might not need to go for large winter boots. This means that cleats designed for winter boots might not be as appealing unless they are easy to adjust to the size of the shoes you will be wearing. On the other hand, you might find that boots are necessary for certain locations, meaning that ice cleat designs for running shoes aren't as desirable.
Traction
Traction is everything. High-traction cleats are best in almost every situation, and high-traction cleats with sharp spikes made from stainless steel that bite into ice are even better. If you are struggling with low-traction options that struggle against thicker snow and ice, you may find it harder to move through the slippery ground without falling. Unless you need them for a very specific purpose that doesn't involve grip, low traction almost always leads to more accidents, especially on slippery snow or ice.
Traction comes almost entirely from the cleats themselves, whether it is spikes or some other grip method. Some designs might allow the soles of boots to come into play as well, but only then dealing with soft snow – solid ice underneath the snow will still reply on the spikes.
Design
There are two major types of ice cleat: those that use spikes and those that use other assorted ice grippers. Both have their benefits and drawbacks, but neither of them is a worse option overall, so you should pick the cleats that suit you best. If you decide that you want a more subtle gripper for smaller amounts of snow and ice, then that can be a perfectly valid choice, especially since many slippery surfaces can still be quite thin. On the other hand, if you want spikes that can really dig into the ground, they are a good choice too.
The main downside of spikes is the spikes themselves: they can't be worn indoors, they damage anything you step on, and they can sometimes become stuck in muddy ground. The sharpness of the spikes also has a chance of injuring you while you are trying to take them off, although many designs are easy to put away and can be rolled up or placed in a special bag for safe storage.
Grippers aren't as effective at cutting through thick sheets of ice, meaning that they might be lower-traction cleats overall, but they are still good for winter snow and are easy to wear. They might also be easy to fit over smaller boots and are definitely easy to store compared to spikes.
Conclusion
Finding the best cleats for your boots isn't easy when the snow arrives, but there are still plenty of options to choose from. You might want stainless steel cleats that are easy to put on in a hurry before you go ice fishing or ones that are easy to put on a specific type of snow boots that you own. Whatever you choose, whether they are for your own personal pair of ice fishing boots or a general set that you can share between all the boots you own, there will always be the best option out there for you to try.
Expert Tip
The best way to choose cleats is to try them on – even if there is no snow, you can get a feel for how they interact with your boots and the way that they dig into surfaces.
Did You Know?
Some cleats are designed to work best with a certain brand of boots or shoes or otherwise meant to fit into a particular style. You can use them with other types, but they might not be as effective.