10 Best Waterproof Boots in 2021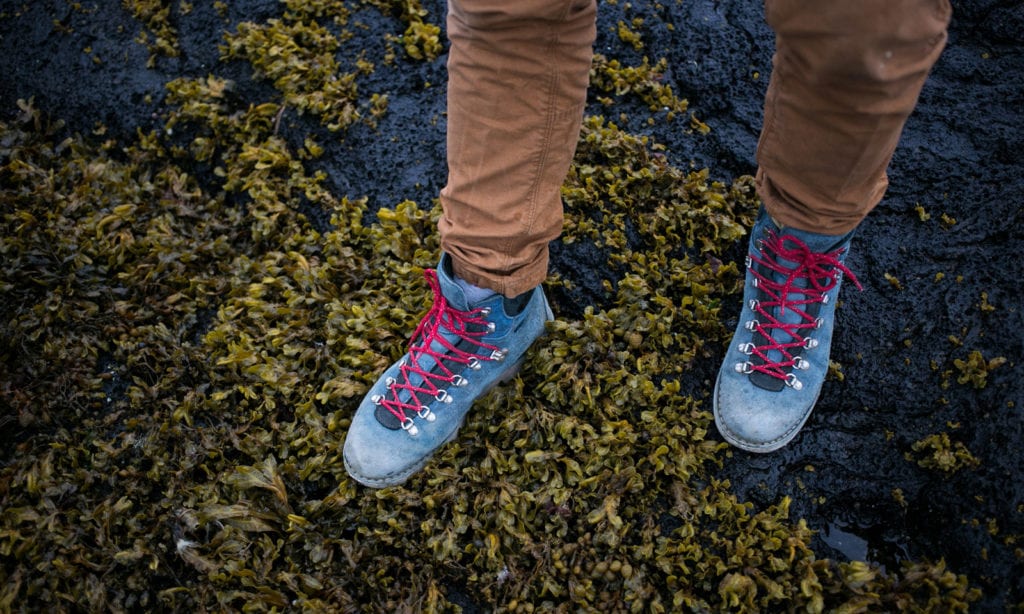 Having a pair of waterproof boots can be great, whether you live in a wet area or you're planning a hike, and it might rain. Having proper boots for the right occasion can really make a difference in your activity. The decent fitting waterproof shoe can keep your feet dry, comfortable and supported for whatever you want to do in life. Whether you're off to a snowy mountain or you're taking the kids to school, you'll soon start to realize how much a great durable pair of waterproof boots can become your best friend.
Of course, depending on your sex, the shape of your feet and what you're intending to do within your waterproof boots, can all influence what type of waterproof boot you're looking to buy. We've decided to help you out on your quest to find the perfect waterproof boots, so sit back and relax while you browse our top ten favorites.
View the Best Waterproof Boots, Below.
1. Timberland Men's Waterproof Ankle Boot
If you're after a pair of 100% leather waterproof boots then look no further than these fantastic Timberland's. With the height of an ankle boot, a rubber sole and a platform of 0.5 we think you'll love walking around in these boots. These Timberland's come with a premium full-grain waterproof leather upper, seamless waterproof construction and a rustproof speed lace for secure lacing.
We loved that these Timberland boots really are your go-to waterproof boot, just pop them on your feet and you're prepared for any adventure.
Check Price on Amazon ➞
2. Teva Women's W Delavina Ankle Boot
Who says you have to give up on style for practicality? These Teva Women's ankle boots are a brilliant pair of ankle-height supple waterproof suede boots. With a little heel of 1 inch you'll be able to tackle any terrain, stairs, roads, and pavements without having to say goodbye to the feeling of a slight heel.
The 100% suede will also have you feeling luxurious and ready to take on the world. Overall, the Teva brand has been an outdoor industry leader since the early 1980s. So you can be sure that you'll be able to walk across canyons, near rivers, or anywhere your heart wishing to roam in these quality waterproof boots!
We love that the brand Teva comes from the Hebrew word meaning nature and these waterproof boots really do support our outdoor lifestyle!
Check Price on Amazon ➞
3. Honeywell Servus Comfort Men's Work Boots
These Honeywell Servus Comfort Men's Work Boots really are made for the workplace. The design of these boots consists of a PVC polyblend injection with molded construction and it is seamless and 100% fully waterproof. These boots are also still made with the customers comfort in mind and feature a flexible outer as well as an outer body which is resistant to degradation from agricultural chemicals, fertilizers and animal waster!
We think you'll love these from the first moment you step into them. Thanks to the lightweight foot form contouring which cushions your feet alongside the deep angle cleated outsole which prevents you from slips and falls on slippy surfaces; in these Honeywell boots you'll never be uncomfortable at work again.
We love how well made and durable these boots are so we can stop worrying about the health and safety of our feet at work and get on with the job in hand!
Check Price on Amazon ➞
4. Hi-Tec Men's Bandera
These Hi-tec waterproof boots were built for the fierce men ready for an adventure! These suede boots feature a breathable but waterproof membrane which keeps your feet dry while allowing moisture to escape. There's also rustproof lace hardware which can withstand any weather elements you're likely to face!
And there's also a steel shank which ensures your foot is stable against the uneven terrain you're going to meet on your travels. We also adored the rugged rubber outsole which provides traction in any conditions!
The best thing about these Hi-Tex Men's Banderas is the overall design the suede overlays, striped nylon straps and logo on the tongue and heel just make us and our feet feel amazing.
Check Price on Amazon ➞
5. Skechers Men's Verdict
You may have heard about this great brand before, but now Skechers are here to provide you with an additional pair of shoes to join your others, and they're waterproof ankle boots! These boots feature a leather upper and a lace up front, these ankle boots are great for everything from hiking to the dinner table.
Thanks to the stylish brown suede and padded black leather color you'll be feeling comfortable and stylish as you walk around in these Sketchers. We just love how perfect these boots are for everyday use, and we think you will too!
These boots are so durable that even after 9 months they'll still look and feel amazing. They are definitely the most comfortable boots we've ever tried on!
Check Price on Amazon ➞
6. SOREL Women's Winter Carnival
These waterproof boots are for those women that are ready to embrace their inner snow queen and not let any form of snow stop them in their tracks! Thanks to the 100% textile and synthetic leather mixed with nylon and sherpa you'll be able to roam around the snow to your heart's content and feel both warm and dry in these amazing Sorel Winter Carnival boots.
These Sorel's really are a great looking versatile waterproof boot, whether you're looking to walk the dog, pop to the shops or go for a drink after a night on the slopes you won't look out of place wearing these gorgeous boots.
We love the design of these Sorels so much. As they come right up to our mid-calf, they really do compliment any leg, and we also feel amazing in them thanks to the inner lining and cushion insides.
Check Price on Amazon ➞
7. Columbia Men's Bugaboot Plus III
These Columbia Mens Boots were definitely built for the men raring to take on the snow or for the amazing dad who's about to make a snowman with the kids. This waterproof boot is brilliant in snowy weather and provides up to 200 grams of insulation, features thermal reflective liners to help keep you safe and can be worn in temperatures of as low as -25f.
We think you'll find these great for stomping around in the snow, this is thanks to the combination of leather, nylon and metal hardware which really keep your feet safe and supported.
We just love Columbia as a brand for winter boots in general, they've always been known for producing some of the best technology, and high-quality materials and this model fits this standard.
Check Price on Amazon ➞
8. UGG Women's Kesey Boot
Who would have thought our favorite comfy band could bring us boots to suit us even in the rain. These UGG's are brilliant in the rain, ice and cold winters this is thanks to the 100% cow leather and rubber sole which allow you to take control against the elements. They're great for those who live in coastal cities, but they also make great traveling companions especially if you're heading across Europe and the UK in particular.
We think you'll love them as they are super cute and ridiculously comfortable meaning you can wear them all day, go hiking, go shopping and still make it in time for those hostel drinks.
These UGGs are just too darn fashionable for us to resist their classic chestnut color with a Victorian style flare, they just make us feel amazing even if we are walking through the rain in them.
Check Price on Amazon ➞
9. Merrell Women's Captiva Buckle Boot
When it's raining, and you still need to dress up, it can be a pain trying to find the right pair of shoes to match an outfit. Fortunately, these Merrell's are great for a smart casual look. You'll be able to go outside and walk the dog and then still go to work in the office without anyone complaining about your attire. Overall, these boots are just amazingly crafted and look amazing with jeans, dresses, and skirts.
The height on these boots come up pretty far on our calves which really keep us dry during those rainy Fall days.
Check Price on Amazon ➞
10. Timberland Women's Kenniston 6″ Lace-up
We love Timberlands as they've always been a classic boot that's just great with any outfit and for any occasion where ever you find yourself. We love these women's in particular as they're great for hiking and walking the dog. These Timberlands feature a 100% leather body and a synthetic sole which keep you dry and supported.
If you're concerned about the environment too, you'll be happy to know that these Timberlands have been made from 50% recycled PET mesh lining. This means you'll be able to enjoy a new purchase without feeling like you're destroying the planet.
These waterproof boots are brilliant for those who usually find boots are always too wide for them.
Check Price on Amazon ➞
Buyer's Guide To Waterproof Boots
Why You Should Invest in Waterproof Boots
Many people think there is no point in buying waterproof boots as they feel they're just a gimmick and don't really work. WRONG. Here's a bunch of reasons as to why you should own waterproof boots. They keep your feet dry, and without them, you might end up with athletes foot. You can avoid getting blisters with a waterproof boot as they trap out the moisture. They keep your feet warm and stop you getting cold during a long hike.
Different Styles of Waterproof Boots
Bad weather, especially wet weather can really put a dampener on your plans. If you want to avoid this, there's only one way to stay dry in the rain, sleet, and snow and that's by investing in a solid pair of waterproof boots which will keep your feet protected from whatever precipitation comes your way. Not all boots are made the same; however, some are better in the snow, and others are better to go for drinks and dinner in.
Fortunately, most types of boot these days are made with waterproof material or can be waterproofed with wax yourself. In this paragraph, we thought we'd help you cover the different types of boots out there on the market so you can find the right pair for you. One of the most common types of waterproof boots is the hiker, these are great for a variety of uses and usually feature a rugged aesthetic. You'll find many of these make great waterproof boots.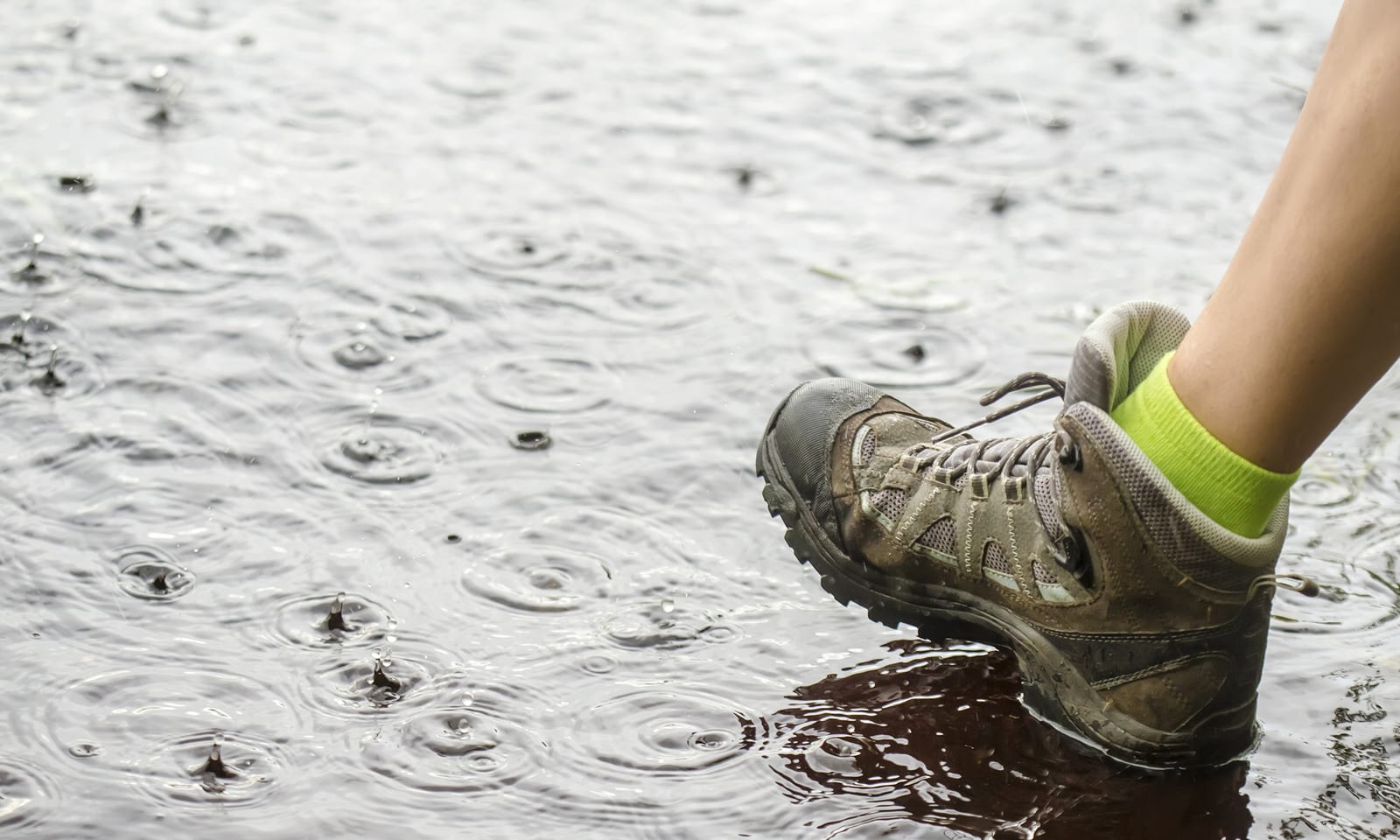 Then there is the Moc Toe, which is one of our favorites to be quite honest. These style boots are often suede with an exposed seam and as they're made with leather can usually be made waterproof if you can't find a waterproof model out there on the market already. For you women out there one of the most classic boots no matter what the fashion is the logger or otherwise known as Western Style which has been around since the 1800s.
These make ideal waterproof boots due to the height. The cowboy boot has been around, well since the cowboys and although they've been in and out of fashion over the years they always make great waterproofs. They're a classic American boot that everyone loves with a leather upper and a high shaft of 8inches. You'll still be able to keep your feet dry in these waterproof boots.
The Chelsea boot, on the other hand, is more of a Britsh classic, mostly made famous by bands like The Beatles. They're often shorter and fall just below the ankle, but they look amazing when paired with jeans.
How to know your Boots Fit?
When investing in a pair of good waterproof boots you want to make sure they fit correctly. We've come up with a handy go-to guide to test if your shoes are the right size for you or not. When you're wearing a boot, you should always feel well protected and cozy. Apart from the heel, the heel should always feel loose but not slip.
This is to make sure you can still walk in leather boots before you've broken them in. Your foot should sit evenly spaced inside the boot. For instance, the ball of your foot width will be at the widest part of the shoe. Finally, the vamp of your boot should be as snug as possible.
How to Waterproof Boots?
Over time the original waterproofing on your boots can start to wear off, or you may have a pair of shoes which you think could do with becoming waterproof. Depending on how much you wear them you won't need to do this too often, but we advise reproofing your boots reasonably often to get the best of out your waterproof boots. Dubbin wax is excellent for keeping the protective waterproofing layer on leather boots.
To waterproof your boots, you should firstly, clean your boots, see below for more info. Then use a hairdryer to heat your boots up, merely move your hair or boot dryer around the boots. You can then easily apply your wax to your boots, and if you're still struggling, you can always heat your wax up to help it spread more easily.
Once everything is warmed up and ready, you can then apply the wax to a cloth and apply it evenly all over the boot. Repeat this until you feel you boots are sufficiently covered and then leave overnight before taking them out with you in the rain!
How to Clean Waterproof Boots?
As we wear our favorite waterproof boots, they begin to get dirty and sometimes the rain isn't even enough to keep them clean. It's important to note if you want to waterproof your boots, you should also clean them like this first. To clean your boots, you should first brush off any clumps of dirt or mud and then scrub your shoes with something like a footwear cleaning gel. Gels like this are great for being able to give you that extra hand in removing dirt particles.

How to tell if Boots are Waterproof?
Many people buy boots which are water resistant but not waterproof. The proof of this can be found in the hydrostatic head test. Waterproof boots out there on the market today should be able to tolerate at least 1000mm of water pressure before they leak. Whereas boots which are only resistant can only handle 200mm.
You'll also be able to tell the difference when wearing boots which are just water resistant as your feet will get colder easier as the water is slowly starting to seep in even if you don't realize it, to begin with.
Expert Tip
It doesn't matter how expensive your boots are, or if they're made from leather, you will always need to reproof them!
Did you know?
Good quality leather boots should easily last for up to five years. If they don't make it to at least five years, you need to consider buying better quality boots.