10 Best Military Boots in 2021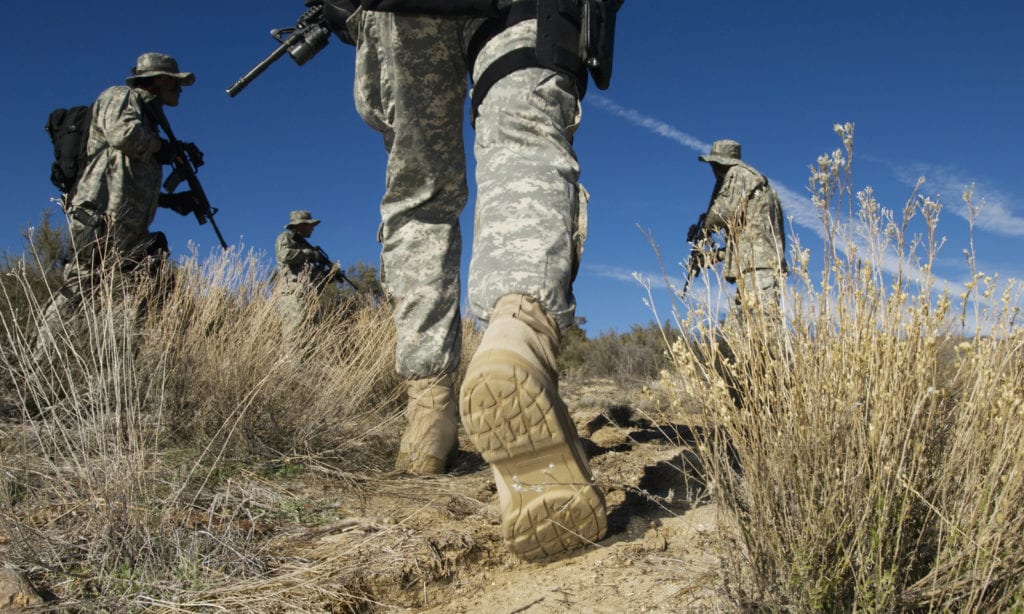 Military boots, also sometimes called combat boots or tactical boots, are as useful for fashion as they are for practical reasons. They have a multitude of uses, especially for hikers, walkers, or other people who might need more padding and protection than usual, but they can also be a great addition to your wardrobe regardless of how much exercise you do.
Still, like all types of footwear, it can take quite a while to find a reliable pair that suit you properly. There are plenty of different features, measurements, and extra parts that you will want to look out for, especially if you are worried about them fitting you perfectly in the long-term.
View the Best Military Boots, Below.
1. Smith & Wesson Men's Breach 2.0 Tactical Boots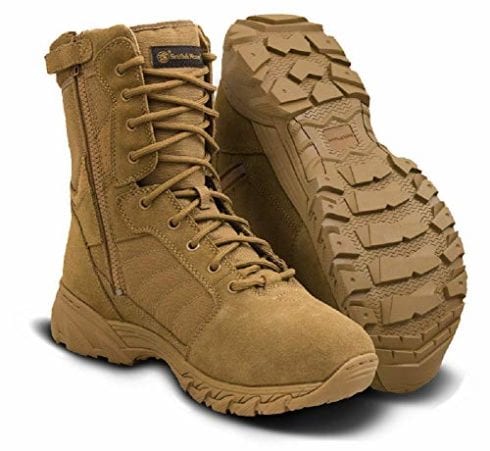 The Breach 2.0 boots are designed for high quality and plenty of durability, enduring a wide range of different weather conditions and terrain types thanks to the tough leather and nylon upper body. The tongue of each shoe has been gusseted to prevent dirt and small stones from getting inside while you are on the move, as well as offering some better weather protection.
The shoes' soles are equally strong, using a lightweight but durable EVA midsole and a slip-resistant rubber outsole to help you handle all kinds of ground, regardless of whether it is smooth and slippery or rough and painful. They can even work well in urban settings without wearing down like regular walking boots might.
These military boots are ideal for taking on almost any challenge, letting you climb up steep natural slopes just as easily as you can walk along slippery concrete.
Check Price on Amazon ➞
2. Belleville TR550 Khyber Hybrid Boot
These lightweight hiking boots use a classic military combat boots style as a base, keeping the same great grip and durable construction while also adding some new materials and extras. The outsole is made with VIBRAM IBEX, allowing it to stay breathable and durable even during intense walks, and the specially designed orthotic insole ensures that your feet are kept in a safe, healthy position for as long as possible.
The specially designed "hell kicker" overlays on the heel and toe sections make it easier to take on difficult ground, as well as protecting the weakest parts of the design from damage if you slip or bash them against something.
These military boots are tough, durable, and perfect for pushing through varied terrain without having to stop and adjust your footwear. The "hell kicker" overlays make them much more durable than you might expect, too.
Check Price on Amazon ➞
3. RYNO GEAR Tactical Combat Boots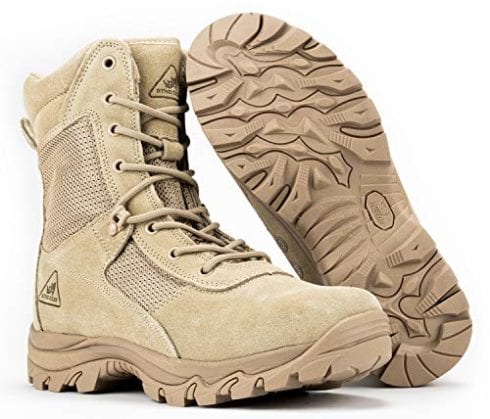 These military boots use the same kind of ballistic nylon seen in regular army gear, providing the design with a ridiculous amount of durability and keeping the vulnerable parts of your feet protected from all kinds of dirt and debris. The padded collar works alongside this to help you stay comfortable while you are on the move, as well as making sure that nothing can slip inside your footwear and start poking at your feet directly.
The breathable mesh lining improves airflow, while the shock-absorbing removable insoles cut down on foot fatigue during long walks. Thanks to the anti-slip rubber outsole, you can climb up wet terrain and surfaces with ease.
The high-quality materials in these military boots offer great protection from the outside world, which can be incredibly important when you are taking on difficult hikes and rough trails.
Check Price on Amazon ➞
4. Under Armour Men's Valsetz Military Boots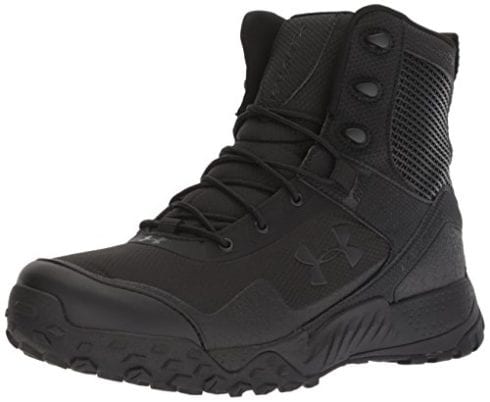 These synthetic military boots have specially designed TPU toe caps that can stop the fronts of your feet from slamming into hard objects, keeping your toes out of harm's way on even the most difficult ground. It also uses welded PU film to add far more abrasion resistance than most other footwear, as well as an anti-microbial insole with an Ortholite-based design that keeps you both safe and comfortable. Below that is a high-traction outsole that makes use of big rubber lugs to make keeping your balance much easier, even on smooth surfaces and in wet weather conditions.
The reliability and strength of these military boots make them an excellent choice for anybody who needs comfort and durability in equal measure, especially outdoors. The EVA midsole and comfortable insole set them apart from other boots that don't offer the same level of protection.
Check Price on Amazon ➞
5. Garmont T8 Bifida Tactical Boot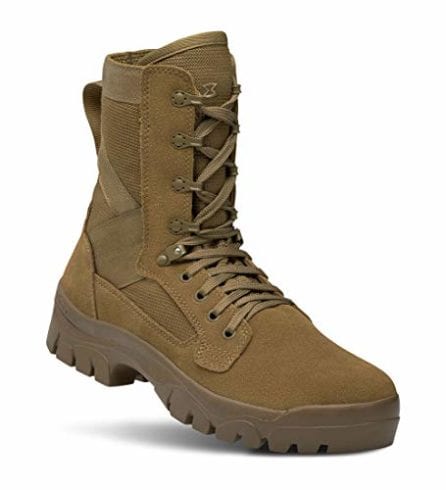 These tactical military boots are made using a mixture of various different materials, focusing on durability and protection wherever possible. The nylon webbing and suede outer sections provide plenty of resistance to light weather and sudden bumps, while the PU insole stays breathable without sacrificing any of its support or comfort. It also uses an EVA layer that absorbs shocks and reduces the chance of your feet getting fatigue.
Alongside this is a slip-resistant and grip-capable rubber outsole that can work on nearly any terrain, both rural and urban. Each boot is designed to deal with any weather you might face but still stays lightweight enough to help you push through.
These military boots are great for nearly any kind of weather, meaning that they can be a useful addition to your wardrobe if you live in an area where rain, snow, or cold winds are very common.
Check Price on Amazon ➞
6. Danner Tachyon 8 Inch Coyote Military and Tactical Boot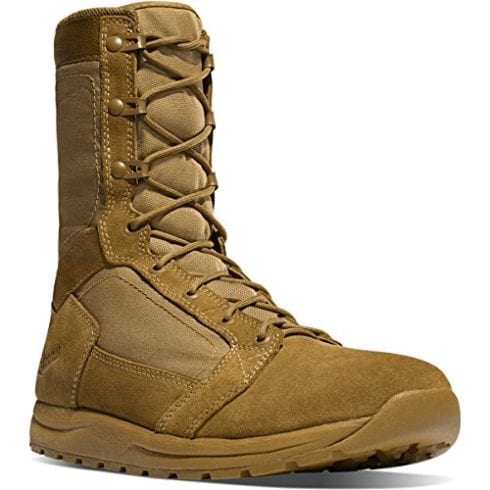 These military boots use a synthetic upper section that is designed to reduce their weight as much as possible, helping you stay ready to move at almost any time. The abrasion-resistant materials used as a toe cap protect the front of your feet from bumps and bashes on difficult ground, while the strong gum rubber sole can deal with most normal terrain perfectly.
Thanks to the almost-perfectly-flat rear part of the outsole, it is very easy to keep your grip on a vast range of surfaces, and it is very difficult to lose your balance if you are being careful. The pentagon-shaped lugs also mean that you can dig into loose natural ground for better traction, even while you are just walking.
The low weight of these military boots, combined with their high durability, makes them perfect for walking in areas where you don't want to wear heavy boots for the entire day.
Check Price on Amazon ➞
7. 5.11 Tactical Men's ATAC 2.0 Combat Military Boots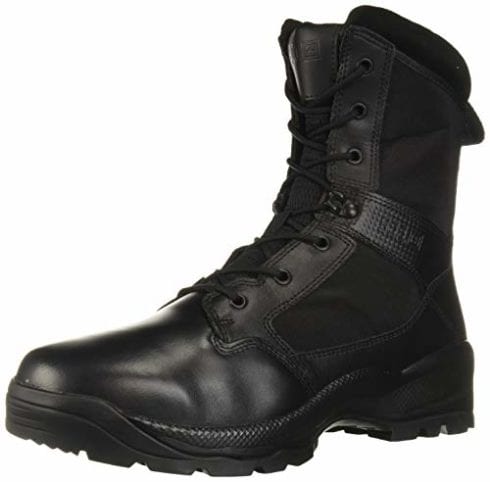 These high-quality combat-focused military boots are designed to keep your feet safe for as long as possible, making full use of their construction to give you a comfortable and secure set of footwear. The built-in Shock Mitigation System dramatically reduces the chances of foot fatigue and painful impacts if you stumble or drop from a mild height, while the slip-resistant outsole means that you can keep your footing on all but the steepest or most slippery of surfaces.
The inner lining of these boots is made with moisture-wicking materials that remove sweat and humidity from your feet, keeping you dry and getting rid of a common source of foot pain or irritation. They even have a hidden pocket on the upper section for storing small tools.
These military boots combine high durability with excellent mobility to give you a great set of hiking, walking, and climbing footwear.
Check Price on Amazon ➞
8. Oakley Men's Light Assault Boot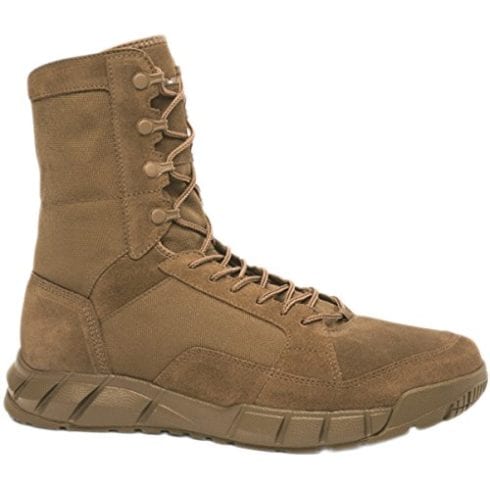 These light assault military boots use a layer of EVA materials as the midsole, letting them reduce shocks with every step and prevent foot fatigue from long-term hiking. This extra protection extends to the outer layers, which are made of a solid rubber that can protect your feet from bad weather and sudden bumps. The Cordura used on the exterior is able to reduce each boot's weight while also improving breathability, helping airflow through to your feet to cool you down.
This ventilation also helps with sweating and humidity, making sure that you don't need to deal with the irritation it can cause, making challenging walks slightly easier.
These military boots are well-ventilated, very protective, and ideal for hiking in areas where there are dozens of different terrain and weather types to deal with, especially if you want to avoid foot fatigue.
Check Price on Amazon ➞
9. Reebok Work Men's Rapid Response Rb Rb8894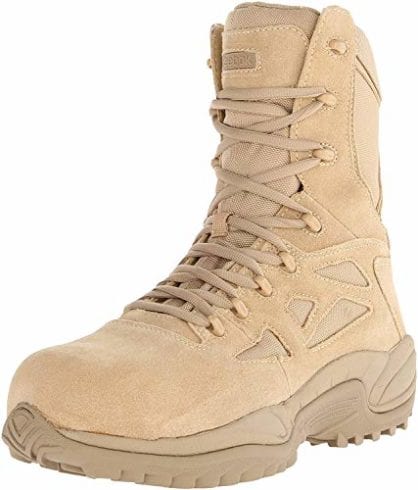 These comfortable military boots use heavy-duty materials and a very comfortable, durable construction to ensure that your feet are always safe and healthy, even if you are moving across difficult terrain or taking part in a very long walk. The ballistic nylon used in the design adds an extra level of durability and strength that is normally reserved for army or law enforcement clothing.
On top of that, the boots have EVA midsoles and "Shock Eliminator" heel cushions that act as a huge amount of padding, reducing foot fatigue by an extreme amount and giving you far more control over your movements with every step. The outsole pushes this even further by acting as an aggressive gripping surface, letting you quickly and easily balance yourself on all kinds of rough or uneven terrain.
These military boots are simple, reliable, and provide protection against all kinds of natural dangers or hazards.
Check Price on Amazon ➞
10. ROCKY Men's Rkc042 Military and Tactical Boot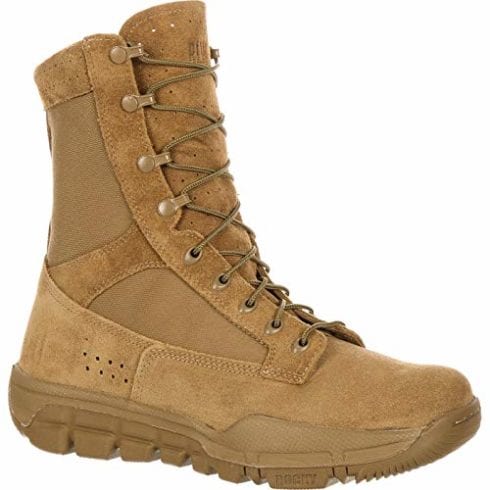 These tactical military boots have been constructed with synthetic materials to give a level of protection that is beyond the limits of normal boots. They have a specially-designed insole that helps protect and cushion your foot each time you take a step, which can be removed at any time and replaced with your own. The multi-directional outsole is made with a rough, sticky rubber that can grip onto a wide range of surfaces with ease.
The Air-Port insole helps circulate air around your feet each time you move, meaning that you are much less likely to have to deal with sweat during hot days or long walks. Thanks to its incredibly low weight for a boot of its type, it also won't slow you down.
These are some of the best military boots for warm weather, using a great cooling system that provides a natural flow of air.
Check Price on Amazon ➞
Military Boots Buyer's Guide
Like all boots, military boots have multiple different designs and features that can set them apart from one another. It isn't just branding, either – there are dozens of different combinations of features you might find, all of which will be good for different things. Some might be better for warm weather, whereas others could end up being only meant for a certain type of terrain. Knowing what to look for ahead of time can make a huge difference in what shoes you end up actually buying.
Durability
Military boots are generally meant to be used in tough terrain, so they need to be durable. Even outside of a military context, they are often used by hikers and avid walkers, which means that they will be under a lot more pressure than casual footwear. The more durable they are, the less they will start to fall apart after long periods of heavy use.
There's a lot of different factors that can go into a shoe's durability, but the materials are often one of the most obvious. Weak materials are much more likely to get damaged from water, heavy use, bumps, or even just sudden impacts and can wear out quickly if you aren't careful. The more you are subjecting them to, the quicker this wear and tear will start to show, so strong materials are almost always incredibly important if you want shoes that can endure extreme conditions.
On the other hand, if you are only planning to use your military boots as casual footwear or in very specific situations and locations, it might not be as important. If you aren't using your boots as much, slightly weaker materials can sometimes help you save a little bit of money, especially if you live in a climate where extreme weather doesn't really happen.
Comfort
Comfort is also extremely important. If you aren't comfortable wearing your shoes, then something is wrong – they are either too small, shaped incorrectly, or not providing the support your feet want and need. No support leads to serious problems in the future, including potential issues with walking or even malformed feet, so you want to stay as far away from discomfort as possible.
Look into shoes with soft or cushioned insoles and padded sides. These can be more comfortable than you might expect and adds an extra layer of protection while also making your feet feel safer and reducing the chance of fatigue or pain setting in. Generally, the more padding you have, the more comfortable your shoes will feel, meaning that some designs will simply be softer than others based on which materials they've used.
On the other hand, padding can also work against you. If you have a very specific foot shape, the wrong kind of padding might actually harm your feet and cause health problems if you aren't careful. You will always want your shoes to accommodate your feet rather than your feet, having to sit at an awkward angle inside your shoes.
Weather Suitability
The ability to stop water from getting onto your feet makes a huge difference in terms of how you can use your shoes since it opens them up to be used in new weather conditions or locations. The more water resistance a pair of military boots offer, the better they will stand up to rain and puddles, making them more useful in wet weather and climates. If you can see yourself having to move through heavy rain and snow, or just walk through puddles and streams, then proper water protection is important.
On the other hand, hot weather can also be a problem. In this case, you will want more ventilation and a way to let hot air out of your shoes. This will generally also mean that you will need to get rid of sweat, which takes even more ventilation since sweat can lead to skin irritation or cause massive discomfort on long walks. However, in many cases, ventilation and water-resistance are almost mutually exclusive, with a few exceptions. This means that you will have to decide which situation you are more likely to face – or simply buy two pairs of boots – unless you can find a decent middle ground.
Beyond that, there is also heat and cold. While it is a very minor part of footwear most of the time, it really depends on the conditions you will be facing. If you are dealing with a lot of cold weather, then shoes that allow for thicker, warmer socks might be useful. In hotter months, you will want to try and stick with lighter, thinner shoes instead to help the heat dissipate.
Weight
Heavy boots take a lot more effort to move around in, but lighter boots will often lack the extra protection you could need. Finding a good balance is important since there is no point buying boots that are too light or heavy to deal with your preferred walking or hiking styles. It also has a connection to your own strength – heavy shoes need more force to move, which leads to you being stuck with slower movements.
Lighter shoes are generally better, but not always. Make sure that the lower weight is intentional, and not because the shoes lack the materials that you'd want for protection and stability. It is easy to buy the lightest option available without understanding why it is so lightweight in the first place.
Expert Tip
Always focus on shock absorption where possible. Padding won't make as much of a difference if the full force of the shock is still going into the bottom of your foot.
Did you know?
Most military boots are lace-up by default, but not all. Some use special side-zippers that can help you slip them on quickly, which is excellent for people who don't want to lace them up every single time.