12 Best Winter Hiking Boots in 2021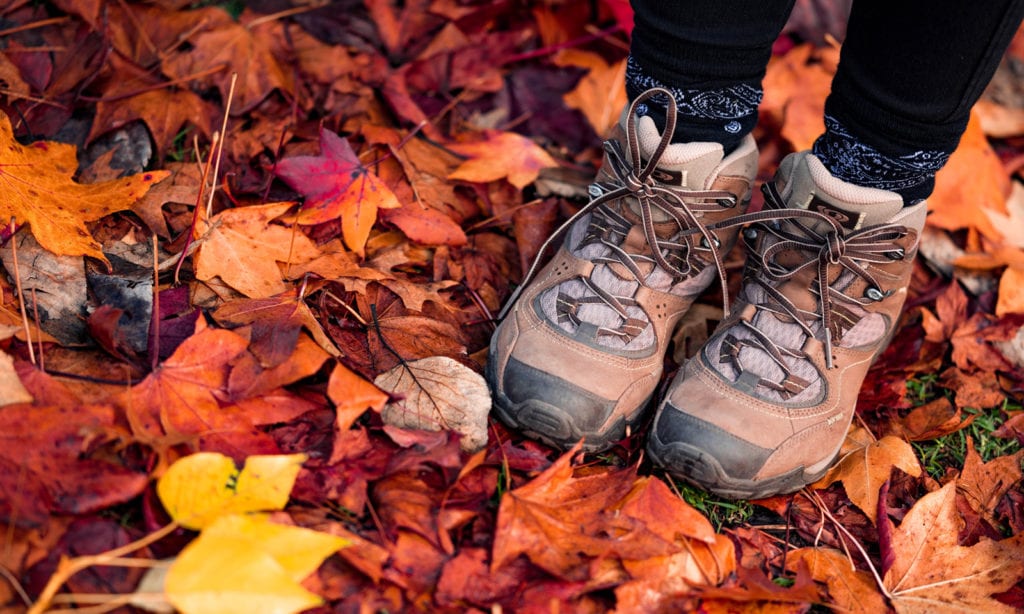 Hiking can hard to prepare for at the best of items, and adding winter weather into the mix makes it even more challenging to choose a new pair of hike boots. Finding the best set of hiking boots for winter conditions can be more complicated than it sounds since there is a lot of different factors to keep in mind: you are not just dealing with snow, but things like ice, freezing weather and slush areas that might soak through your footwear if you aren't careful. On top of that is the fact that hiking can be dangerous, so you will want the best hiking boots to make sure that you don't fall from a high cliff or stumble down a steep slope.
View the Best Winter Hiking Boots, Below.
1. Columbia Women's Ice Maiden II Insulated Snow Boot
These woman's snow boots are made with a suede exterior that balances protection and movement well, along with a lightweight Techlite midsole that acts as an extra layer of cushioning against hard surfaces. The fur around the neck of the boots keep your feet warm by stopping cold air and slush and ice from getting inside while you are wearing them, and the design has 200g insulation that avoids adding more bulk to the design. To help with traction, the Omni-Grip rubber outsole is meant to reduce your chances of slipping dramatically, adding a reliable grip surface to the low-heeled shape for better control of your foot placement.
These boots are a jack-of-all-trades option that work well for a huge variety of situations, making them great for day-to-day use in any cold conditions.
Check Price on Amazon ➞
2. Danner Men's Mountain 600 4.5″ Hiking Boot
The waterproof upper section of these winter hiking boots is made with a combination of full-grain leather and waterproof suede, providing full water protection to help keep your feet warm and stop the cold air from making you uncomfortable if you have to cross wet areas. The built-in TPU heel frame adds extra support to the design of each boot, and you also get the benefits of an open-cell Ortholite insole to provide extra comfort. Alongside that is the Vibram Fuga outsole, which uses a rubber compound to offer 'Megagrip' technology that is perfect for dealing with both wet and dry terrain of almost any type, even deep snow.
If the weather is a constant problem for you, these winter hiking boots are designed to help you tackle wet ground and rain without having to worry about extra discomfort.
Check Price on Amazon ➞
3. DREAM PAIRS Women's Mid Calf Winter Snow Boots
These winter boots are designed specifically for cold weather, providing 200G Thermolite insulation that is supposed to work up to -25 degrees Fahrenheit (-32 Celsius). To make sure that the boots cover more of your feet, they have a side zipper that is easy to seal for improved protection against the weather. Not only that, but they are resistant to water, cold winds, and physical damage, letting them stand up to all kinds of hiking trails and protecting your feet from common causes of harm or irritation. On the bottom are some lightweight and high-traction rubber soles that are perfect for keeping your feet warm and stable during bad weather.
These winter hiking boots are not only comfortable, they are designed to handle cold weather while also protecting you from any serious harm or discomfort during your hike.
Check Price on Amazon ➞
4. Kamik Men's Nationplus Boot
The design of these men's winter ankle boots allows them to be almost entirely waterproof, using a range of both synthetic and natural materials to provide as much protection from water and snow as possible. A textile inner layer keeps you comfortable for longer and acts as extra padding, while the gum rubber sole underneath keeps your feet safe from physical harm and improves your level of grip on most surfaces. Thanks to the moisture-wicking lining and antimicrobial insole, you are much less likely to feel discomfort in wet conditions, and the boots have a speed lacing system to make loosening or tightening the fit extremely convenient.
These boots add a high level of synthetic insulation to a strong textile and leather upper that is entirely waterproof, keeping you comfortable even in awful weather.
Check Price on Amazon ➞
5. SOREL Women's Winter Carnival Waterproof Boot
These high-shaft boots are designed to be both stylish and great at providing insulation, using various synthetic materials to create a design that is resistant to all kinds of bad weather. The lace-up closure lets you easily adjust the fit, and the faux fur around the neck keeps out debris, water, and pieces of snow to ensure that you are always warm and cosy. The rubber sole, while simple-looking, has a grip pattern that is able to work well on most terrain without being specific to any situation, and each boot is designed to work well outside of a hiking context if you want to wear them as regular winter boots.
These hiking boots aren't exclusively meant for hiking and could end up being some of the best winter boots you've owned even if you don't hike often.
Check Price on Amazon ➞
6. Columbia Men's Bugaboot Plus IV
These waterproof and thermally-insulated men's hiking boots are perfect for winter weather, giving you a huge amount of water protection while still letting your feet breathe properly. They can keep you dry and comfortable through most conditions, and they also have a seam-sealed design with 200G insulation to keep you as warm as possible even in really bad winter weather. The design is similar to a lot of heavy-duty boots, and they are able to offer incredibly high traction thanks to the non-marking Omni-GRIP outsole and TECHLITE midsole that are focused entirely around boosting your hiking performance. Full-length laces make fit adjustments incredibly easy, too.
These hiking boots could end up being some of the best winter boots you've owned even if you don't hike often as they can be worn as everyday footwear.
Check Price on Amazon ➞
7. Sperry Top-Sider Women's Saltwater Emboss Wool Boots
These uniquely-designed woman's winter boots use rubber and wool rather than conventional materials like leather, providing a much better level of insulation and comfort without relying on gimmicks or extra features. The rubber wraps around the bottom half of the boot to give you extra protection and stability, leaving the soft wool for the upper section where it can be the most helpful. Underneath all that is a non-marking outsole that uses very a very subtle pattern for simple gripping and excellent traction on most surfaces. You can use either the laces, the side zip, or both to quickly take off or put on the boots as needed.
These winter hiking boots are an excellent choice for anybody who wants to stay warm and comfortable in cold winter weather.
Check Price on Amazon ➞
8. Kamik Men's Greenbay 4 Cold-Weather Boot
These tall winter boots are completely waterproof, giving you full protection from deep snow and cold water to make every hiking trip much more comfortable. The opening of each boot can stretch out to about 20 inches around, and you have the option to tighten it using pull straps to get a personalized fit. The recycled Thermal Guard lining adds another form of synthetic insulation alongside the natural protection of the nylon exterior, and you have a simple Velcro strap at the bottom of the upper section to adjust the fit around your ankle. The well-designed rubber sole also gives you an incredible boost to traction.
The design of these winter boots makes them perfect for handling wet conditions, especially rain and slush.
Check Price on Amazon ➞
9. UGG Women's Classic Short II Boot
These classic Ugg boots are meant for maximum comfort in as many situations as possible, using a mixture of sheepskin and other fur-like materials to keep you warm and give you a huge amount of insulation. The synthetic inner lining adds some extra structure and cushioning to each while making it even more insulated, and the slip-on design means that you don't need to worry about fiddling with a lacing system or strap. Not only are they warm, but the extra comfort makes them perfect for use outside of hiking, too, meaning that they are an excellent winter boot in general.
While they might not seem like conventional hiking boots, this boot pair is ideal for anybody who wants maximum insulation and comfort during their daily routines.
Check Price on Amazon ➞
10. SOREL Men's Caribou Winter Snow Boot
These waterproof winter hiking boots are designed to keep you warm by using a heavily insulated exterior, as well as a faux wool cuff on each boot that traps warmth inside and makes sure that snow and other debris can't reach your feet. The seam-sealed design means that no water can seep in easily, either, and each boot has a removable insole that provides extra warmth and cushioning. Even better, the handcrafted shell made of vulcanized rubber that goes around the outsole gives you much more grip and traction on most surface types, even in wet weather or on thick patches of snow.
Keeping your feet dry is the primary goal of these hiking boots, and they pull it off exceptionally well thanks to the 100% waterproof design.
Check Price on Amazon ➞
11. UGG Women's W Adirondack III
These tough Ugg winter boots use leather and lambskin to give you a balance of comfort and protection, all contained inside a single waterproof design that's been seam-sealed for maximum durability and effectiveness. The 'dry tech' used in the construction is also meant to prevent leaking or water absorption, and the rubber sole uses a lugged design that makes it easy to keep your feet steady on all kinds of wet surfaces. The simple lace-up closure means that adjustments are easy, and the wool around the ankles helps prevent debris from getting inside while also trapping heat near your feet to keep you warm.
This is another pair of winter Ugg boots that give you an insulated, warm, and comfortable option for casual hiking and walking around town in both light and medium snow levels.
Check Price on Amazon ➞
12. Muck Boots Arctic Ice Extreme Winter Boot
These classic boots use an all-synthetic exterior that is designed to be as protective as possible, keeping you warm and making sure that snow, rain, mud, dirt, and other irritating types of debris can't get anywhere near your feet. The interior uses a soft fleece lining that adds extra insulation and makes the boots much more comfortable to wear for long periods, while the outsole uses a high-traction design that is supposed to work well on all set surfaces. This outsole is made with Vibram materials, boosting the durability of each boot and making it much easier to keep your feet safe from harm.
These boots are all about being practical, giving you a tough upper and a reliable sole to help you get through winter weather with minimal issues.
Check Price on Amazon ➞
Winter Hiking Boots Buyer's Guide
Choosing the best winter hiking boots for your needs and preferences is much harder than it sounds, mainly because hiking itself can already be a complicated hobby to buy boots for in the first place. When you introduce the specific niche of winter hiking, you have to narrow your search even further, especially if you want to find out which walking boots best suit your needs out of the thousands of individual brands and designs available on the modern market.
Thankfully, you can make things easier by focusing on specific features one at a time to see which ones you actually need: there are a lot of features that might seem helpful in practice, but won't actually make a difference when you wear your boots in snow and are actively trying to keep warm in them.
Warmth
The main reason that you might want new boots for the winter will usually be extra warmth. Many hiking boots, especially ones made for general purpose hiking, will be designed with a warmer season in mind. Winter hiking boots need to be insulated and very good at managing your heat, something that other designs aren't going to be as good at: in fact, a lot of them are designed in a way that helps you lose heat, not retain it, and using a boot like that can actually be dangerous in winter weather. The colder it gets, the more risk you are putting yourself under by not wearing a proper winter boot.
Warmth can be handled in a range of different ways, but insulation is the most obvious. Whether it is natural or synthetic insulation, having an insulated pair of winter hiking boots will make it much easier to avoid freezing and the issues that it can cause. For example, maybe a boot has a leather upper that is backed up with some faux wool lining or a completely sealed design: these are small things, but they can contribute heavily towards your ability to stay at a safe temperature.
Some boot designs will be more focused on insulation than others: you might see a boot with an upper that forgoes all other features in favor of being insulated, which can be a good choice if that is what you need. For most people, though, insulation should be mixed into the design that is also durable, comfortable and easy to wear, so finding a good balance of insulation materials compared to other important parts of a boot makes a massive difference.
Waterproofing
A waterproof membrane in an otherwise basic boot can suddenly make it perfect for winter weather. This is because, as you'd expect, having waterproofing means that snow and rain aren't problems anymore, and they are the two things that can make some boots feel incredibly uncomfortable. Hiking is about staying comfortable and safe wherever possible, so winter hiking is easier if you are able to completely ignore the snow, rain, slush, or pools of water around you. Any boot that has a well-made waterproof membrane should be suitable for use in winter, even if it is a design that normally wouldn't be: for example, the Oboz Bridger isn't meant for winter, but it works as a winter hiking boot anyway.
Of course, there are ways to make waterproofing even better. Compare the Oboz Bridger to the Vasque Snowburban: since the second pair are specifically made as winter hiking boots, they are also designed to retain warmth through insulation and have a fully-sealed construction to stop snow or water from leaking inside. Both of these make the waterproofing much more meaningful since your feet are better protected.
Waterproofing doesn't have to be a dedicated system, either. The Merrell Thermo winter hiking boot line often uses a cushioned neck area to make sure that water can't get through the top of your boot, meaning that your feet aren't being affected by any drips that go down your legs. This has the added benefit of meaning that the upper also protects you from debris (like small stones, pieces of snow, cut grass, or even sand) from getting into the boot and making you uncomfortable. This isn't something that the Merrell Thermo line has all rights reserved on, many boots use design techniques like this.
Closure
The closure is one of the biggest points you can notice when buying boots, regardless of whether they are winter hiking boots or for some other purpose entirely. There are three main closure options: a full lacing system, Velcro hook-and-loop straps, or side zip. Some boot designs only have one, others will have two or even all three depending on how they are made. Really, it depends on your preferences, since the differences between them are minimal.
A regular lacing system (as seen on boot brands like Keen's Summit County line) are the most adjustable, using a standard set of laces that go up the upper section of the boot. They can be loosened and tightened in a very customizable way, but it can also be hard to handle them sometimes, especially if you are on a tight schedule and don't have much time to mess around with the fit. Velcro is the exact opposite, trading some customization and strength for the ability to quickly undo and redo the straps within seconds.
Zips are one of the least flexible, since you can only have them up or down, but they are also one of the most convenient: you can unzip a tight shoe to make it into a slip-on option, then put your foot in, zip it up, and it is suddenly tight enough that it can't slip off until the zip is undone. The only problem to watch out for is a zip that might 'ride' downwards, but you can easily tighten them again by just raising the zip back up.
Durability
Like regular walking boots, winter hiking boots need to be durable. Not only are they expected to be used for long periods of time, but they are also going to be up against tough terrain and weather conditions that can wear them down quickly. However, there are quite a few different ways that boots can become more durable, and they are not all immediately obvious. Ideally, you will want at least one major durability-boosting feature per pair, although more is always better.
First of all, some boots use supports to reinforce their structure, especially if they use soft and flexible materials as their upper section. A good support can make a shoe of any size much more solid without making it heavy, something that can be useful if you are wanting to keep the weight of your gear down. It isn't just limited to flimsy materials, though: mountaineering boots made of waterproof leather might still use reinforcement supports purely to provide stronger protection, even though it might not be necessary. This is most often seen in the form of a toe cap, but there are dozens of ways that a generic design can become stronger with some small additions here and there.
The sole is another area that needs to be strong. Companies like The North Face (which make hiking and travel gear) will often have their own branded sole designs, but that doesn't mean that you always have to buy from companies like The North Face. A strong sole that can also offer good traction is one of the best features you can get in hiking footwear, especially winter hiking gear. After all, winter brings about snow and ice, which can be difficult to handle if you don't have a decent outsole.
Materials matter, too. The materials used in a boot can change how durable it is, even if the design is the same. Full-grain leather is generally seen as the superior option compared to regular leather, but you might find two shoes with practically identical designs. This doesn't mean that they are going to be equally durable, so it is important to look into their materials first.
What is the Warmest Winter Boot?
If you are looking for maximum warmth, an insulated boot is always the best idea. Insulated winter gear might cost a slightly higher price, but it is still worth having proper insulation compared to the low levels of warmth offered by other designs. Even if you are not expecting it to get that cold, insulation generally also equals to comfort, since many of the boots that offer it rely on internal padding as well. Since most insulating materials are soft, this can translate to some of the best cushioning you've seen in a long time.
Choosing a single boot isn't really possible, though. Every boot is the best at something for somebody, but that doesn't mean that all customers will want the same things. The best option for staying warm is whichever winter boot you feel warmest and most comfortable in, even if it is something that other people don't seem to like. The only person who will usually wear your boots will be you, so you don't need to be concerned about what other people think.
What are the Best Winter Boots for Ice?
Ice is one of the most annoying hazards you can encounter on a trail, and it is not always easy to deal with if you are wearing the wrong kind of boot. Since ice is (usually) going to make a surface slippery unless it has been gritted, you will want the highest possible traction on your outsole. Ideally, you will be able to find a way around the edge of the ice, but that is not always possible, so a shoe that can help you stay stable and stop you from slipping over is often the best choice for handling patches of ice.
Conclusion
If you are still interested in finding some new winter hiking boots for your next trail, feel free to use any of the advice here as a starting point! There is a lot to consider when it comes to finding the best boots for your preferences, but the twelve options up above might be worth your time. Even if they are not what you are looking for, they might be a nice place to start your search, and they can give you an idea of the features that you do want in a winter boot. Whatever you choose, hopefully, this buyers' guide has given you a better understanding of how choosing winter boots is a much more specific and niche task than getting regular boots for hiking.
Expert Tip
Not all ice will be as slippery as you expect, but it is the unexpected ice ("black ice" or "clear ice") that can be a real danger since it is very difficult to see. Even if you don't think there is ice ahead, good traction can save you from a sudden injury if any black ice happens to be waiting for you on the path ahead.
Did You Know?
Breathability still matters. A lot of winter shoes still use breathable materials to help your feet stay happy and avoid chafing or other skin-harming issues, and some of these designs even find a way to stop much cold air from getting in.