10 Best Shoes For Overpronation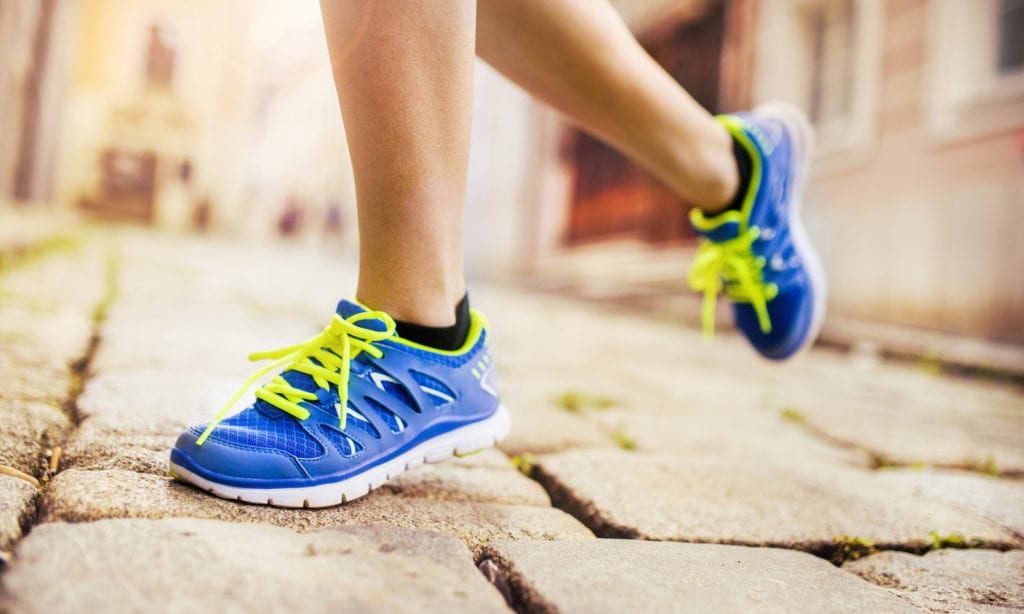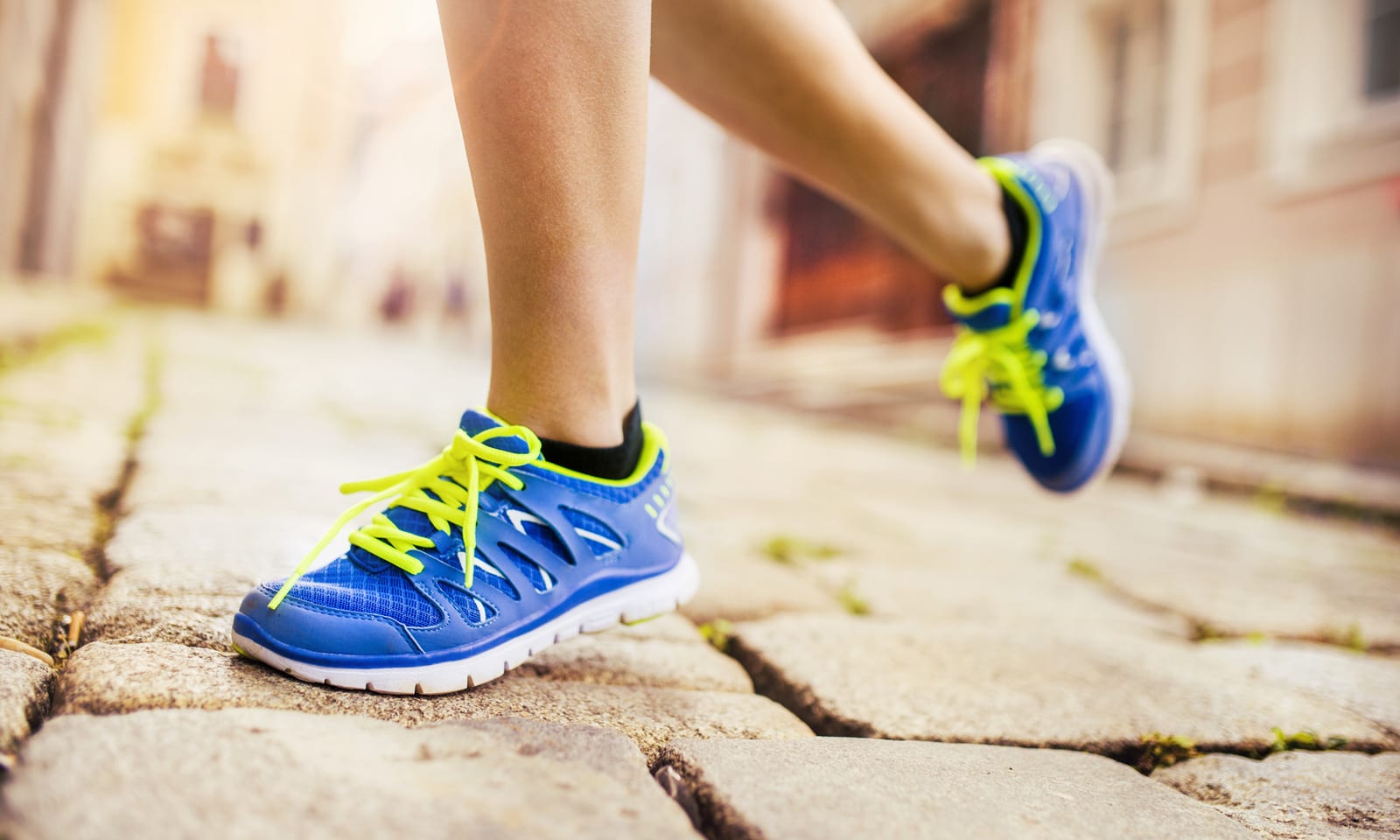 Overpronation in simple terms can be described as being 'flat-footed,' and this can be a significant cause of injuries in runners – causing pain in the feet, knees, hips, or back. But fear not! This annoying problem can be helped by choosing the right shoes for Overpronation.
Providing stability and support to the foot is key, as an unstable foot which moves about freely, causing the arches to roll inwards in a non supportive shoe, will cause all sorts of aches and pains, which, if not taken care of, could lead to injuries which take the enjoyment out of running and worse still, can derail the runner entirely!!
By choosing the right footwear, you can protect your feet and prevent the onset of injury! We've done the research for you and have identified the top 10 leading shoes for Overpronation on the market. Let's check them out…
Related: Shoes for Underpronation.

View the Best Shoes For Overpronation, Below.
1. Brooks Men's Adrenaline GTS 19
This running shoe from Brooks offers a holistic Guiderails Support System. This innovative design works to prevent excessive movement of the foot, thereby reducing the impact placed on the knees. The BioMoGo DNA and DNA LOFT cushioning give the perfect level of supportive cushioning underfoot, without losing any of the responsiveness during running, while offering all of the durability and comfort you would expect from this well-regarded brand.
This is a running shoe designed specifically for Overpronators. The quality of which will ensure that the wearer will experience optimum comfort and support at all times.
Providing impressive foot stability with its innovative Guiderails Support System, as well as great supportive cushioning, this Brooks running shoe will be the go-to shoe for many runners, who value the comfort, support, and quality it offers from its design and manufacture.
Check Price on Amazon ➞
2. ASICS Women's Gel-Excite 4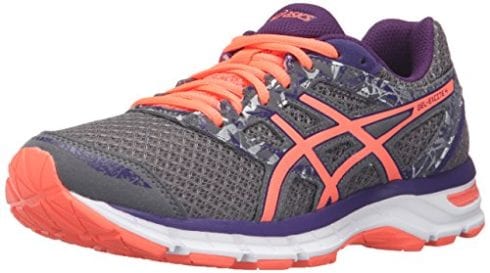 These ASICS Gel-Excite 4 running shoes are ideal for low mileage running as they are designed first and foremost for comfort. Being specially crafted with gel cushioning in the rear of the foot together with SpEVA foam in the midsole, it's easy to see that comfort is a key feature in the design. The enhanced mesh holes on the upper section allow for breathability while the AHAR+ rubber outsole ensures excellent traction and durability.
These Asics Gel Excite 4 Ladies Running Shoes have a padded ankle collar for superior comfort throughout your run making these running shoes great for those who Overpronate. The shoes have mesh paneling for enhanced breathability, while the AHAR+ rubber outsole provides excellent traction and durability.
These shoes have been crafted with GEL cushioning in the rear of the foot, SpEVA foam midsole, with an abundance of comfort and support, these ASICS running shoes are ideal for runners suffering from Overpronation!
Check Price on Amazon ➞
3. Under Armour Men's HOVR Sonic 2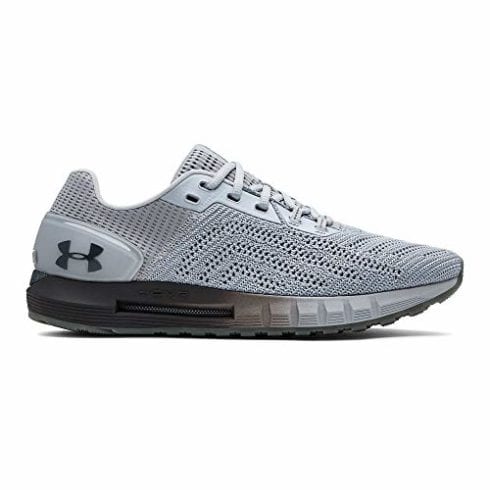 The Under Armour HOVR Sonic 2 is a running shoe which has been designed to be lightweight while offering plenty of cushioning and an extremely smooth transition. This is a running shoe designed to endure distance running with additional flexibility. The UA HOVR cushioning feels like zero gravity. It gives incredible cushioning and shock absorption when the foot hits the ground. Micro thread uppers encase each foot and provide fantastic breathability.
The compression-like fit adapts to the changing shape of your foot as it moves through the gait cycle. The fabric wicks away any sweat, thanks to the moisture-managing technology, to allow the wearer to stay damp-free and comfortable during any intense exercise.
An external heel counter wraps around the rear of the foot to improve stability and helps to anchor the foot to the midsole of the shoe to reduce in-shoe slippage. These design features make this an ideal shoe for distance runners who suffer from Overpronation, providing the runner with the foot security and support they crave!
A super lightweight running shoe offering fantastic support and cushioning due to its unique design which anchors the foot to the midsole – designed to provide comfort and support to distance runners with Overpronation issues.
Check Price on Amazon ➞
4. Brooks Women's Adrenaline GTS 19
This latest shoe from Brooks is named as the Go-To-Shoe for a good reason! Featuring an excellent GuideRails Support System, this updated, cool running shoe will give its wearer great support plus comfortable yet responsive cushioning. This latest upgrade from Brooks will offer the runner a great cushioned stable ride. The Brooks Women's Adrenaline GTS 19 is an excellent choice for runners with flat or medium arches – so an excellent choice for runners with Overpronation!!
The BioMoGo DNA and DNA loft midsole are sure to keep the foot supported and stable, while the engineered mesh gives breathability. A great feature is the removable molded foam insole which is also textile lined to give impressive long-lasting cushioning.
The Brooks Adrenaline GTS 19, has excellent flexibility and the BioMoGo DNA and DNA loft midsole work together to provide softness and support to the runner. The great design of the ultra-flexible HPR Plus rubber outsole provides excellent surface traction too! Despite all of these super cool features, this running shoe weighs a mere 272.2 grams.
Brooks running shoes are a Go-To brand for many runners and offer fantastic support and cushioning for those with Overpronation. The manufacture and design of this latest upgrade provide the awesome features which keep this running shoe at the top of its game!
Check Price on Amazon ➞
5. ASICS GT-2000 7 Men's Running Shoes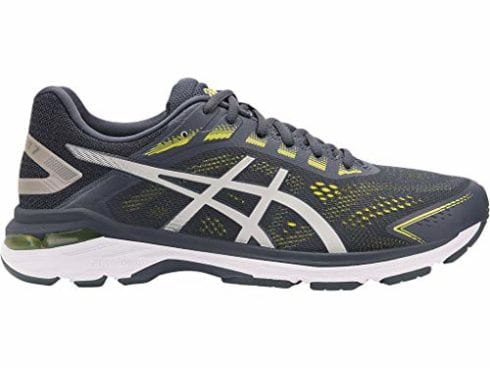 This ASICS GT 2000 is designed with rear and fore-foot Gel systems at contact points, which, in addition to the flight foam technology, gives this running shoe a super sleek look, while also being a lightweight shoe! This is essentially, a supportive shoe, with design features to keep the foot stable during lateral movement.
The Dynamic Duo Max gives firm support to the arches through a stable, supportive, cushioning system which is designed to help prevent Overpronation, especially for those with flat arches! Essentially, this is a stability shoe which has great features on the outsole. A Guided Trussock System, helps to prevent the foot from moving side to side, and the neat Guidance Line of the outsole, helps to guide along the individual gait whether the wearer is a heel striker or a midfoot striker.
The ASICS GT 2000 is a running shoe which offers all the features a runner needs. Its excellent design provides fantastic support and cushioning, while the unique Dynamic Duo Max together with Guided Trussock System and Guidance Lines offer the protection needed by runners with Overpronation- making it a Go-To running shoe!
Check Price on Amazon ➞
6. Nike Women's Lunarglide 9 Running Shoe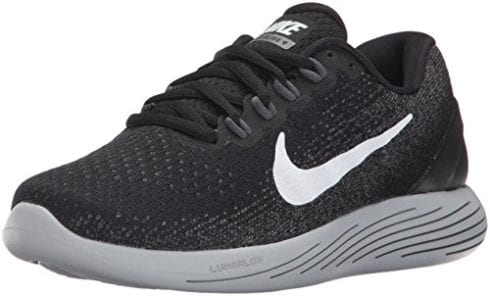 This latest updated version, the Nike Women's Lunarglide 9, has Lofted Flywire cables which are both thicker and softer and disperse pressure, which in turn supports the midfoot. Breathability is provided by the design of the one-piece knit upper, which ventilates the foot to keep it cool and comfortable. Flywire cables give great support to the foot – the Flywire cables are also integrated into the laces providing additional support when the laces are tightened.
The midsole is designed with the unique Dual density Lunarlon foam. This feature uses a soft injected Phylon (IP) core foam directly underfoot, and a slightly firmer injected unit sole (IU) carrier foam. The combination of both densities of foam helps to absorb impact, while the laser cuts on the side of the midfoot help create a smoother heel-to-toe transition.
A lightweight foam lining around the ankle provides a plush, luxurious feel. With every stride made, the outsole pods spring into action giving a tremendous responsive feel. The inner, breathable sleeve gives a sock-like fit for excellent comfort.
The Nike Women's Lunarglide 9 Running Shoe is a lightweight running shoe which offers excellent support through its Loftwire Cables and impressive shock absorption and responsiveness through its unique design of Dual density 'Lunarlon' foam. It's lightweight, and Breathability in addition to a host of other cool features will make this running shoe a popular choice for the ladies!
Check Price on Amazon ➞
7. Merrell Women's Siren Edge Hiker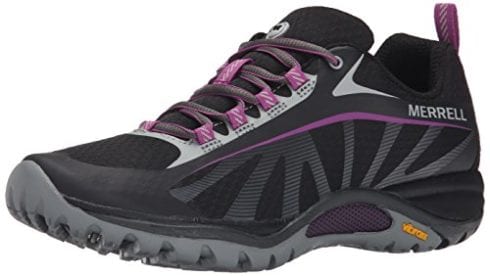 This athletic hiker is described as being engineered for the way women move. It has a host of cool features which offer all of the detail you would expect to find in a good hiking shoe. The upper section of the shoe is manufactured using a mesh and synthetic fabric which is light and breathable, with a traditional metal hook and lacing closure and a bellowed tongue to keep out debris.
Merrells unique design – the Select™ FRESH antimicrobial agent reduces shoe odor while the Kinetic Fit™ TRI insole is contoured to the shape of the foot with a great triple zone arch support and molded nylon arch shank to provide light support. Further excellent features are provided by Merrells Q FORM™ 2 insole and midsole technology, which is gender-engineered for women, to provide natural alignment and superior comfort.
On the outsole, Merrells M Select™ GRIP gives incredible durable traction that grips when and where you need it -Essential for hiking over rough, slippery terrain! This excellent hiking shoe offers so much and is super lightweight at approximately 516 g
The unique manufacture and design of this shoe provide stability and support, so makes an ideal choice for those who suffer from Overpronation or flat arches. The technology used in the manufacture of this shoe makes it durable, slip-resistant over wet or dry ground, yet lightweight and comfortable.
Check Price on Amazon ➞
8. New Balance Men's 860v9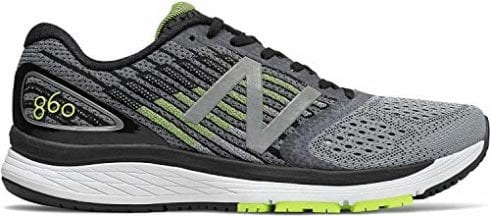 This Men's running shoe is manufactured and designed to deliver Stability, Reliability, and Cushioning. Manufactured using a 'TruFuse' midsole which joins a supportive medial post to help reduce pronation and reinforce each step. A great product for those with problematic arches as it's responsive cushioning and support are designed to give the wearer confidence to enjoy the run mile after mile and go the distance!
The engineered mesh on the upper, has a lightweight, breathable design, making it suitable for use in Spring and Summer. The outsole features a blown rubber outsole as well as a dual density midsole, both of which deliver a supreme level of comfort and cushioning. Despite all of the neat features on offer, this running shoe is lightweight, weighing in at approx 327.5g.
The New Balance Men's 860v9 running shoe is designed to be worn in Spring and Summer. Its key features are Stability, Reliability, and Cushioning, which it delivers well. The Dual Density midsole with its responsive cushioning and support is particularly suitable for runners with pronation problems.
Check Price on Amazon ➞
9. Saucony Women's ProGrid Integrity ST2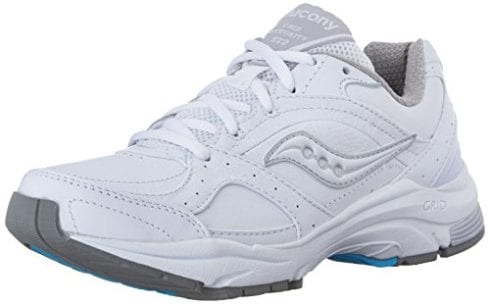 The Saucony ProGrid Integrity ST2 is a walking shoe which looks smart but delivers an excellent performance. The full-grain leather upper features a forefoot Stretch Zone and top lacing for a comfortable fit. This shoe boot not only looks good but delivers on comfort too! For walkers who have pronation issues, this would be a good choice as it is an extremely comfortable and plush shoe that makes walking for hours at a time effortless.
The non-marking outsole is durable and can be used for both indoor and outdoor activities due to its unique rubber outsole. This hiking shoe is manufactured using PROGRID Cushioning, this shoe provides incredible cushioning in a lightweight package. Recommended for those with Pronation issues as it's PROGRID cushioning offers incredible support for the feet! A casual walking shoe which delivers on comfort and durability and looks good without looking dorky!
A lightweight, smart looking walking shoe which delivers on comfort and cool style. The non-marking sole means it's an excellent shoe for indoor or outdoor use. With all of this design and comfort, this walking shoe is a sure-fire winner in the smart, yet cool and functional race!
Check Price on Amazon ➞
Buyer's Guide Choosing Shoes For Overpronation
 What is Overpronation?
'Pronation' refers to the natural motion of your foot during walking and running. Overpronation creates a strain to the big toe and second toe, creating instability in the foot. This instability then causes more rotation in the foot, and the tibia bone in the lower leg, which can cause injuries such as shin splints, stress fractures, and knee pain.
Alternative: Shoes for Supination.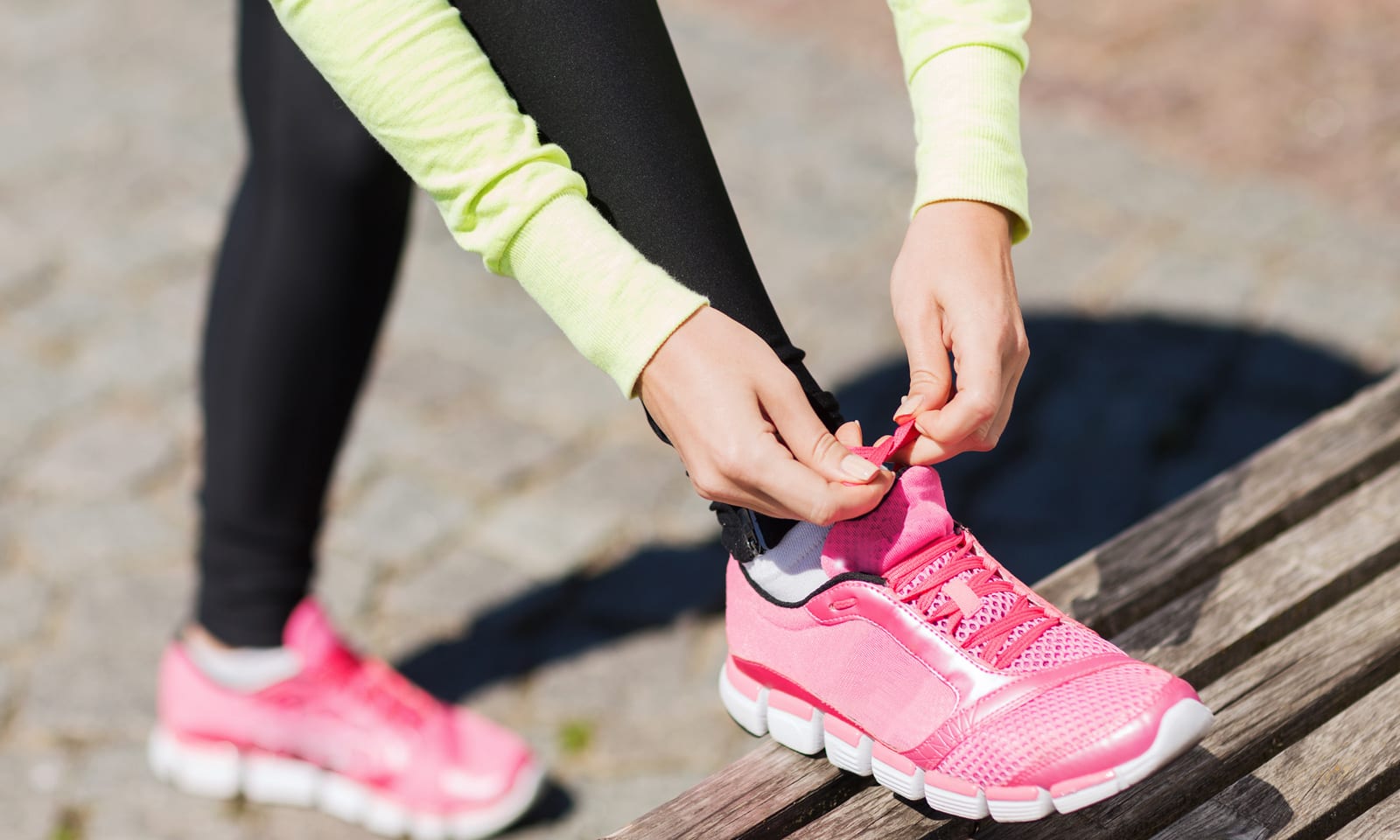 Overpronation also causes additional stress on the ligaments and tendons of the foot, causing heel pain, which further increases the risk of injury. If Overpronation is an issue, careful consideration needs to be given before buying any shoes.
What Causes Overpronation?
Overpronation' is a term used to describe the placement of the foot during the action of walking or running, where the arch of the foot is flat or very low. Sometimes this is described as being 'flat-footed.' Overpronation happens when the arch of the foot collapses excessively downwards or inwards.
How can Overpronation be corrected?
Generally, there are three treatment options available:
Wearing good quality supportive shoes
Wearing orthotics, e.g., supportive insoles
Doing regular exercises to help strengthen the arches and muscles of the foot
What are Overpronation Shoes?
These are shoes which are carefully designed to offer stability and support to the foot, to prevent excessive foot movement and prevent the ankle from rotating inwards.

Experts Tip
The market is awash with suitable footwear for those with foot issues, and the prices can vary widely too! Take time to research the market and choose wisely – your feet are the foundation of your body, so treat them well!
Did you know?
Overpronation is often the common cause responsible for most running related injuries? Prevention is better than cure, so make time to get your feet checked!!
Here's how…
Diagnosis: Firstly, any foot problems need to undergo a thorough diagnosis to ensure that the correct condition is identified. If adequate support is not given to the foot, this can cause a range of injuries -not only to the feet but also to the ankles and knees!
Injuries that can result from Overpronation can include: shin splints, bunions, heel pain, plantar fasciitis, chronic lower back pain, and stress fractures in the foot or lower leg.
Research: As you would expect, there is a wide range of footwear available on the market, but caution is advised before rushing to buy. It is recommended that the customer takes time to speak to staff who have the knowledge and can give suitable advice, and more importantly, try a range of footwear to see which ones offer the best support and comfortable fit for your individual needs.
Take the time to research, visit shops, and try on an extensive range of footwear before making the decision to buy.