10 Best Shoes for Standing All Day in 2021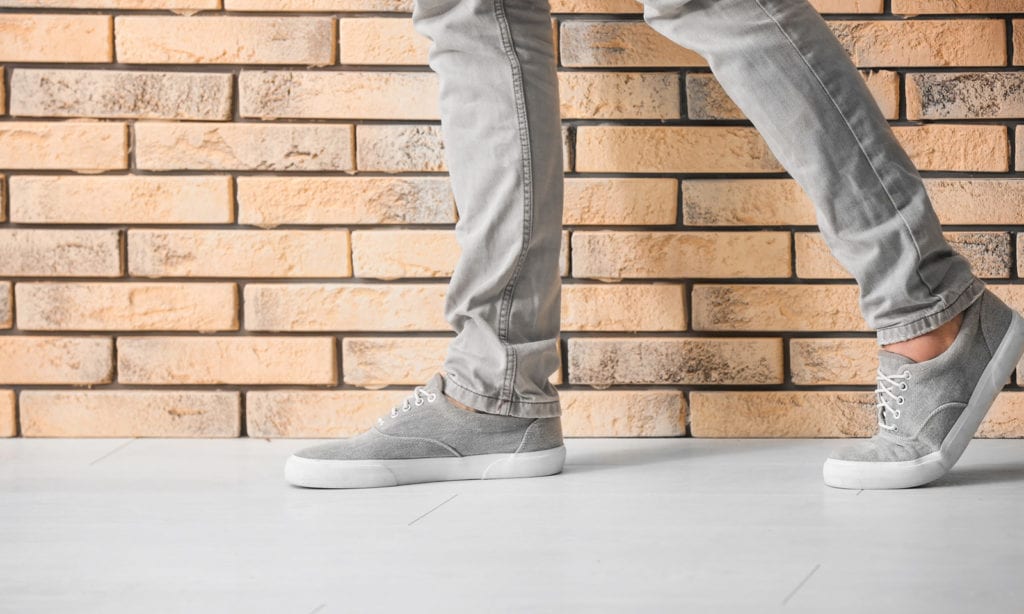 It's easy to find a pair of shoes that will suit you on a personal level, but the context of what you need changes when you have to do it for an entire day. A lot of jobs, hobbies, and lifestyles these days don't give you a lot of time to sit down, so you'll be on your feet for a long time without any breaks or chances to relax.
The best shoes for standing all day are simply the ones that keep you as comfortable as possible during your daily routine, rather than relying on any gimmicks to strange design choices. Below we've reviewed ten pairs of shoes that could be just what you're looking for, either for work, leisure or a mixture of both at once. Be sure to also take a look at our guide below for what factors to look out when finding the right comfortable shoe for you.
Related: Shoe Inserts for Standing all day.
The Best Shoes for Standing All Day
1. New Balance Men's MW577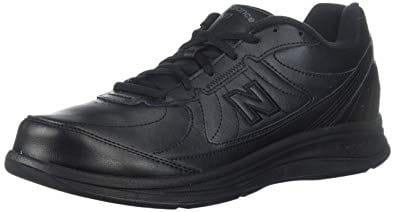 These rubber-soled shoes provide extra comfort to avid walkers and regular commuters, using a midsole made of polyurethane to add more support and padding to all of your movements and steps. The shoe's tongue and collar are similarly padded, stopping them from rubbing against your feet after long periods of use. The outsole is durable enough to deal with most types of damage and has enough grip strength to keep you stable on wet floors.
These shoes also have a midsole that provides an extra layer of cushioning, which can make them far more comfortable than regular shoes once you 'break them in' and get used to how they feel. This, combined with the flat instep and single-color design, makes it suitable for a lot of different purposes and locations. Since they don't use any kind of mesh, they can also protect your feet from rain, water, and general humidity.
These shoes are excellent for people who have a lot of walking in their daily routine, especially if it takes them outside in poor weather.
Check Price on Amazon ➞
CHECK PRICE ON ZAPPOS ➞
2. Brooks Men's Addiction Walker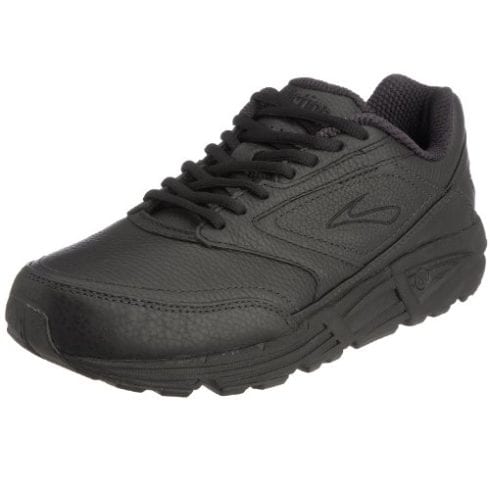 These leather walking men's shoes for standing all day are great for long hikes and outdoor routines, offering excellent support and a strong underfoot grip without trapping heat against your feet. The soft synthetic soles give you an extra level of comfort and protection on rough ground, but don't weigh you down and limit your movements. The design itself uses a range of different techniques and materials to help improve your day-to-day life while wearing these shoes: the MC Pod configuration helps support your foot and make long walks less taxing on your muscles, while the HPR Green outsole improves traction on wet ground or slippery surfaces.
The soles of this shoe are meant to absorb shocks and impacts, making use of extra cushioning and dense, durable double-layered sole to protect you from sharp rocks and sudden impacts. Thanks to the low arches used in the design, it can easily fit most feet without feeling restrictive or stuffy.
These shoes can fare well in a lot of situations, and the padding means that you won't be uncomfortable after wearing them for a full day of work or walking.
Check Price on Amazon ➞
CHECK PRICE ON ZAPPOS ➞
3. Skechers Women's Sure Track Trickel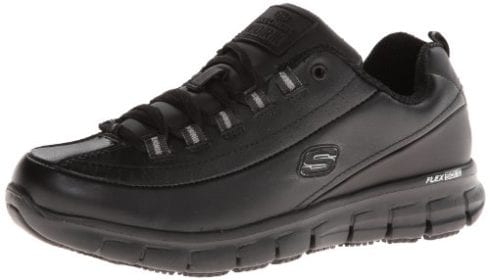 Slip resistance is the main focus of these shoes, and they've been designed to provide the maximum possible grip on all kinds of surfaces while still being comfortable to wear. The smooth leather exterior helps protect your feet from water and humidity conditions while the perforated sides provide ventilation in warm weather. The design of these shoes makes them suitable for both work and home use, and the durable construction means that they won't get damaged through general day-to-day use.
The main selling point, however, is the soles – they've been specially designed to let you keep a tight grip on any surface you're standing on, even if it's at a steep angle or gets slippery when covered with water. Shock-absorbing midsoles and a layer of memory foam mean that your shoes will adapt to fit your feet, keeping them secure and comfortable while making accidental falls much less likely to damage them.
These shoes are great for outdoor work, especially thanks to the strong grip it gives you, but they can also blend into indoor outfits perfectly.
Check Price on Amazon ➞
CHECK PRICE ON ZAPPOS ➞
4. Crocs Men's and Women's Classic Clog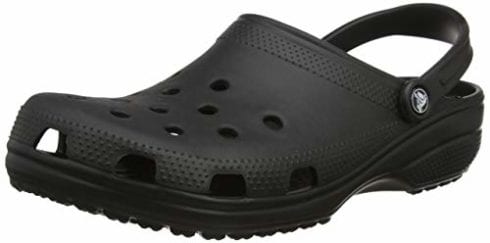 These crocs use synthetic soles and a variety of flexible materials to create a comfortable, functional pair of shoes. The lightweight construction and open, ventilated design help keep you cool in warmer weather, letting you stand around in the sun without overheating or feeling uncomfortable. Crocs use more padding than most regular styles of shoe, meaning that you won't be putting as much pressure on your feet if you're stood up for long periods of time without a break.
The traction provided by the soles makes it easy to walk across almost any surface, whether it's smooth, wet flooring or dry sandy beaches, without losing your footing or slipping over. They're easy to remove and can be slipped on in seconds, making them surprisingly versatile even if you're using them in the workplace – their instantly-recognizable design uses an adjustable heel strap to make it fit nearly any wearer.
Although crocs are sometimes mocked for their colorful appearance, their design makes them comfortable in plenty of situations, even while you're busy at work.
Check Price on Amazon ➞
CHECK PRICE ON ZAPPOS ➞
5. Grasshoppers Women's Windham Slip-On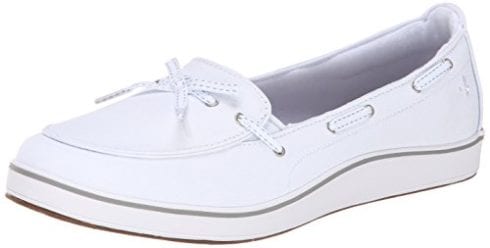 These fabric boat shoes are as easy to wear, as they are to put on, using a slip-on design that ensures you'll be able to take them off whenever you want without having to fiddle with laces or straps. The removable insole lets you replace it with your own specialized ones if you have certain foot conditions or a high instep, and the interior surfaces are designed to wick away moisture as fast as possible if you're using them in humid or wet conditions.
Not only that, but the inside of the shoes are designed to control odors from excessive sweat, making these slip-on shoes great for hot and sunny weather – especially if you're barefoot or wearing warm socks. The arch support built into the design helps flat-footed wearers feel more comfortable on long walks, especially if they're spending most of their day on hard surfaces.
These shoes are easy to wear and don't get hot, sweaty or wet very easily, making them great for use both indoors and outdoors as a casual everyday shoe.
Check Price on Amazon ➞
6. Clarks Men's Bushacre 2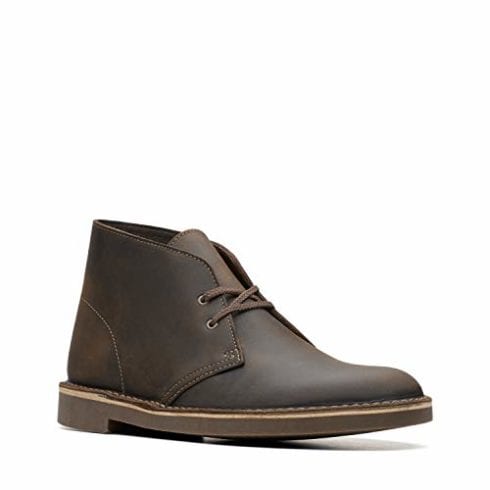 These reliable boots are made of a mixture of leather and rubber, giving them plenty of flexibility and durability in most weather conditions. They can endure a lot of wear and tear, both in terms of how they look and how well they're holding together, meaning that they don't have the usual weakness of other leather shoes – the fact that they can't take a lot of damage before falling apart.
The low-heeled design lets them support and cushion your feet on both flat and smooth ground, and reduce how much stress your feet are subjected to while you're wearing them, making them great for long-term use in situations where you don't get much chance to sit down or relax. Thanks to their semi-formal appearance, they're suitable for work and social events that you can't wear casual clothing at, and won't stand out too much from most outfits.
These shoes are great for semi-formal occasions where you can't get away with wearing softer-looking casual shoes.
Check Price on Amazon ➞
CHECK PRICE ON ZAPPOS ➞
7. Skechers BOBS Women's Bobs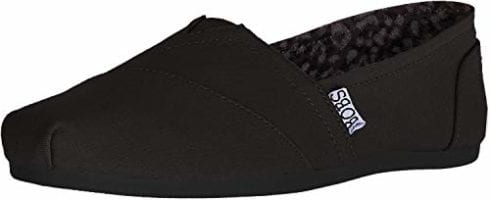 These slip-on shoes are designed for comfort first and foremost, offering a surprising amount of shock absorption thanks to its memory-foam-based insole. Thanks to this, they're incredibly comfortable to wear – both on the move and in one place – and can eventually stretch to fit your feet perfectly. The flexible materials used in its design make it easy to wear on uneven ground, regardless of whether you're barefoot or wearing socks, and the synthetic sole helps prevent damage from small pebbles or sharp rocks.
The arch pillow built into the insole helps keep your feet comfortable even if you have a high instep, and can absorb shocks from daily use as well as accidental slips. Although they will eventually get smelly if you use them too much, washing them is easy, and they don't need to be dried in any special way.
They take a while to break in, but these shoes are a great alternative to going barefoot and can keep you comfortable during day-to-day routines.
Check Price on Amazon ➞
CHECK PRICE ON ZAPPOS ➞
8. Rockport Men's World Tour Classic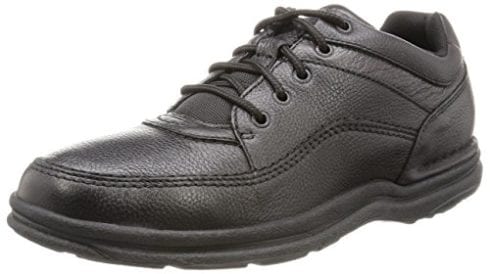 These lace-up boots use shock-absorbent padding to reduce how hard your steps will feel, making long daily walks much less painful for you. They're designed to conform to your foot shape for a more comfortable fit, meaning that they'll become much easier to wear the longer you use them. The padded tongue and collar protect your feet and lower shins from painful rubbing and skin irritation, while the rubber sole helps you stay gripped onto a huge range of surfaces without slipping over.
The front half of the shoe is more flexible than its design implies, letting you walk across awkward and uneven surfaces without damaging your shoe's structure or hurting your feet. Thanks to its low weight, your legs won't get as tired during long work days or lengthy walks, keeping you on your feet for longer.
The durable yet flexible design of these boots make them ideal for all kinds of outdoor work, especially in places where you'll often need to travel over rough ground.
Check Price on Amazon ➞
CHECK PRICE ON ZAPPOS ➞
9. Propet Men's Life Walker Strap Sneaker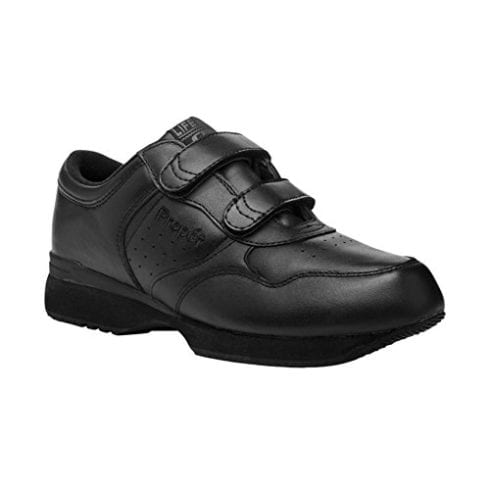 These Velcro-strapped sneakers offer an excellent level of protection and flexibility without sacrificing their simple, straightforward shape. The single-color design lets them blend in fairly well with all kinds of informal and semi-formal outfits, including work outfits at some more relaxed companies, so you'll be able to mix them into your normal clothes without any issues. The easy-to-adjust Velcro strap gives you plenty of control over how tight your shoes feel, which could easily make them your best shoes for standing all day if you're normally limited to lace-based styles.
They're also really easy to take off and put on at a moment's notice, meaning that they can be incredibly handy if your daily routine involves a lot of spontaneous travel or sudden calls to come into work. The leather used in its design also gives it a slight amount of water resistance, but there are still holes in the side and the area above the toes for better ventilation.
The Velcro straps used in these sneakers compliment it's versatile, flexible design really well, making them a really convenient pair of shoes for both leisure and work purposes.
Check Price on Amazon ➞
CHECK PRICE ON ZAPPOS ➞
10. CLARKS Women's May Marigold Slip-On
These loafers offer a lot of comforts and cushioning in an unobtrusive, open shoe that lets your skin breathe without exposing too much of your feet. The slip-on design means that they can easily be put on or taken off within seconds, making them great for people who have to travel on short notice, and the synthetic sole helps keep your footsteps soft to reduce the chance of your feet hurting during long walks.
The Ortholite footbed built into the shoe's sole layers provides an extra layer of cushioning on the inside of your shoe, letting it adjust ever so slightly to better suit your foot shape and preferred style of walking. The medium heel and one-color design of these shoes make them ideal for formal and semi-formal occasions, meaning that they can easily double as work shoes in a variety of different businesses and situations.
These shoes can work extremely well both at home and in the workplace, blending into most outfits and providing plenty of comforts regardless of where you are.
Check Price on Amazon ➞
CHECK PRICE ON ZAPPOS ➞
Shoes for Standing All Day Buyer's Guide
Shoes aren't always an easy thing to buy when you need them for a specific purpose, especially since you'll need to consider a lot of different factors depending on what you're looking for. In the case of standing for long periods of time, there's certain design choices and elements that you need to focus on more than others.
Flexibility and Space
One of the biggest issues with wearing shoes all day is that your feet can be compressed into them, leading to serious pain at worst and – in some cases – major skin issues. Extra room allows your feet to move slightly, reducing how much of an issue it can be, and can sometimes help eliminate the skin irritation or rubbing you can often get from tight shoes.
If they're flexible, you'll also get rid of the issue of having to walk around flat-footed all day, which can damage the way your feet are shaped in the long-term.

Padding
Padding is one of the most important parts of a comfortable shoe, and not just in the sole. While too much padding can lead to a shoe feeling much tighter than it actually is, you'll usually want as much as possible to lessen the stress on your feet. This is even more important for shoes that use the padding to conform to the shape of your feet – they're far more comfortable and supportive than shoes with flat soles, especially if you have a high instep.
Soft soles can also be useful if you're spending most of your time on hard, non-carpeted surfaces. These will not only reduce how much noise your footsteps make but will also put less stress on your feet during long workdays.
Durability
Although durability isn't as important as some other factors, it still plays a big part in how you can use your shoes. Not all shoes are meant to be used consistently for long periods of time, which can wear them down if your job or daily routine requires a lot of walking. Even if you're just standing around without needing to move much, you can still wear down the shoes over time, and less durable ones will start to show signs of damage earlier.
How do I make Shoes more Comfortable for Standing?
The easiest way to make your shoes feel more comfortable is to add your own padding and insoles – many shoes will let you remove certain parts to substitute your own, especially casual ones that are based on fairly simple, flexible materials. If you can't remove them, you can always add them as an extra layer – this is quite common for formal shoes and can have the added side effects of giving them a slightly tighter fit.
How much space Should there be in Shoes when Standing?
The best shoes for standing all day are the ones that leave room for your feet to move, but there's a certain point where you've got too much space for them to be comfortable. Being able to wiggle your toes is generally a great sign, so you should always test to make sure there's room for your toes to move – if you're able to move almost your whole foot, you might need to add more padding to your shoes to make them fit better.

How do you lace up your Shoes for Standing?
The way you lace up your shoes affect how it supports your feet, and certain methods are better than others. If you want to avoid your shoe slipping off, cross the laces over at the top of the shoe to pull the top of the shoe neck closer together – that'll make it harder for the shoe to slide down your foot.
On the other hand, if you have a high or low instep, add more or fewer crossover points on your laces, respectfully. This loosens (or tightens) the way your shoe stretches over your feet, making it more appropriate for your foot shape and adding an extra level of comfort for when you're standing around long-term.
Expert Tip
The best shoes for standing all day will be the ones that leave a little bit of space for your feet to swell – this happens naturally during the day, so a perfect fit in the morning won't always be as perfect in the afternoon.
Did you know?
About a third of all people have one foot that's about half a size bigger than the other – factor this into your purchases and make sure that all your shoes feel comfortable on the bigger foot, rather than fitting everything to the smaller one